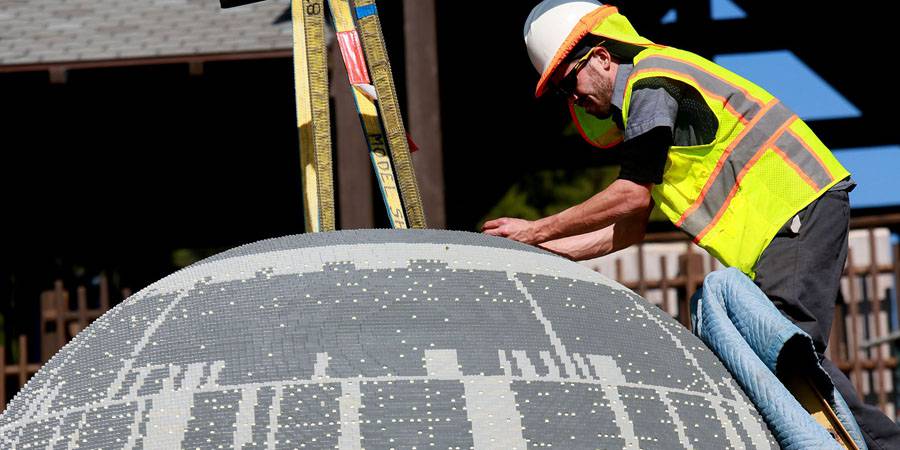 Brian Curran
LEGOLAND California New STAR WARS Miniland Death Star Display Opening March 5
February 12, 2015
Just in time for the return of the popular Star Wars Days (March 7th & 8th)…The newest addition to Star Wars Miniland, The Death Star is set to make its debut at LegoLand California!
CARLSBAD, Calif. (Feb. 11, 2015) – The LEGO® Star Wars™ Miniland Death Star Model Display has arrived to LEGOLAND® California Resort! The planet shaped LEGO® model, made out of more than a half million LEGO bricks, stands 13-feet high, 8-feet wide and weighs more than 1,900 pounds. The LEGO Death Star is the largest LEGO model to be added to LEGO® Star Wars™ Miniland and opens to guests on March 5.
Under the watchful eye of R2-D2, a team of builders used a fork lift to maneuver the massive LEGO model into position high above LEGO Star Wars™ Miniland, which opened to guests in 2011. The LEGO Death Star is designed from the version featured in Star Wars Episode IV: A New Hope. The new model display also features the famous trench run scene where Luke Skywalker maneuvered his X-Wing fighter through the combat zone to destroy the Death Star. Below the LEGO Death Star, guests are invited to use their imaginations to construct their own LEGO starships at building stations, while LEGO X-Wings, Tie Fighters and Y-Wings circle overhead.
The unveiling of the new LEGO Death Star on March 5 kicks-off the fan favorite, LEGO Star Wars™ Days event on March 7 and 8, where guests can spend the day participating in Star Wars™ related activities. LEGO Star Wars™ Miniland Death Star Model Display is included in the cost of admission to LEGOLAND California Resort. For ticket prices, operating schedule and additional information, visit www.LEGOLAND.com or call 760-918-LEGO (5346).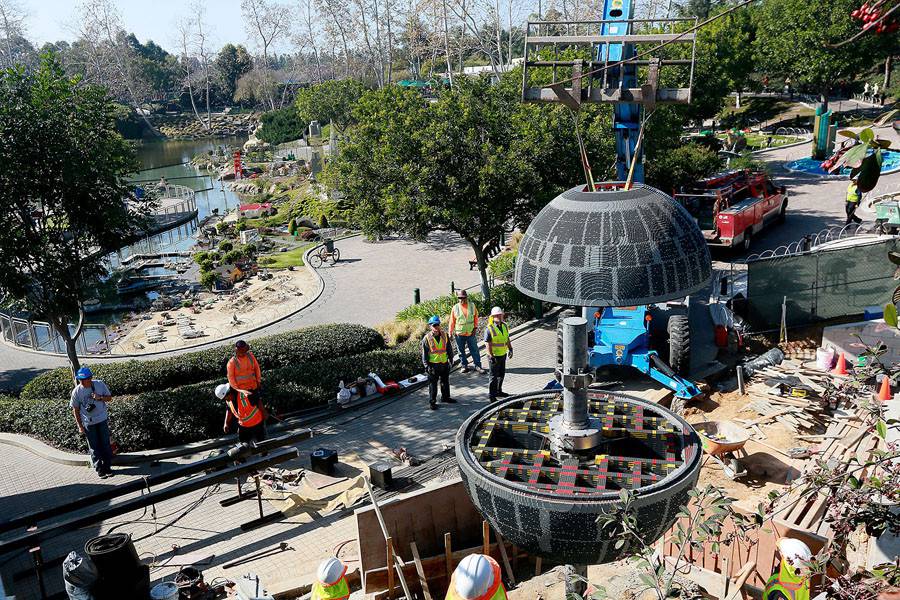 LEGOLAND® California Resort includes LEGOLAND® California, SEA LIFE® Aquarium, LEGOLAND® Water Park and LEGOLAND® Hotel. All are geared for families with children between the ages of 2 and 12. At LEGOLAND California, you'll find more than 60 rides, shows and attractions including LEGO Star Wars™ Miniland Model Display, Pirate Reef and Dino Island. SEA LIFE Aquarium is home to more than 5,000 living creatures and incorporates LEGO® models into a child's voyage to the depths of the ocean featuring play zones, fun facts and quiz trails. LEGOLAND Water Park features more than seven slides, sandy beaches and the unique Build-A-Raft River. New this year, LEGO Legends of Chima Water Park presented by Cartoon Network where guests splash about in a Lion Temple Wave Pool, slide out of a crocodile's mouth and race LEGO boats. The nation's first LEGOLAND Hotel features 250 rooms, all themed either as pirate, adventure, or kingdom plus more than 3,500 LEGO models throughout the three-story hotel. For more information, visit www.LEGOLAND.com or call (760) 918-LEGO (5346).