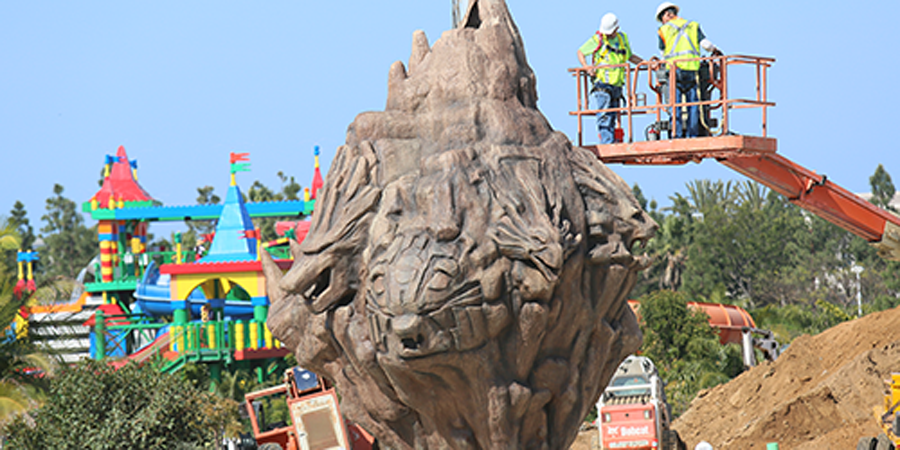 Brian Curran
Legends of Chima Water Park Opening at Legoland CA Memorial Day Weekend!
April 4, 2014
Legoland California Resort construction crews are working hard to finish the new Lego Legends of Chima water park, scheduled to open Memorial Day Weekend. Continue reading for more details on the new water park!
Press Release:
CARLSBAD, Calif. (April 3, 2014) – Who says moving mountains isn't possible? LEGOLAND® California Resort took on that challenge by bringing one of the largest features of the new LEGO® Legends of Chima Water Park presented by Cartoon Network to Carlsbad from Lake Elsinore. The 40-foot tall "floating" Mt. Cavora will be featured in the new interactive Lion Temple Wave Pool, one of the new areas in the Chima Water Park opening May 24, 2014.
This icon from the LEGO® Group's newest hit product "Legends of Chima," was created for the Resort by Storyland Studios in Lake Elsinore, CA and took a team of 20 builders more than four months to design and construct. A caravan of workers traveled in the early hours of the night moving power lines and other obstacles to ensure a safe journey for the colossal Water Park feature that was installed with the use of a heavy loading crane. The floating mountain, known for providing the great energy source "CHI" to the eight animal tribes, is 23-feet tall, 13-feet wide and weighs more than 11,000 pounds. Mt. Cavora can be seen from anywhere inside the Water Park as it "floats" 40-feet above the wave pool releasing 400 gallons of water every minute for guests to splash about and enjoy. An animal from each tribe is represented on Mt. Cavora: a lion, an eagle, a crocodile, a gorilla, a bear, a rhinoceros, a wolf and a raven.
Areas featured in the new LEGO Legends of Chima Water Park include: Lion Temple Wave Pool – The centerpiece of the new Water Park where guests make their way through a LEGO® archway and into an interactive wave pool designed for families with young children. Cragger's Swamp – This hands-on water play area invites guests to ride water slides, blast water cannons and jets and slide through the head of a massive crocodile. More than 50 interactive water play features will delight young guests in water that is only one foot deep. Eglor's Build-A-Boat – Following in the unique interactive play experience introduced with Build-A-Raft River at LEGOLAND® Water Park, Eglor's Build-A-Boat gives children the opportunity to use their creativity and bring their imaginations to life. Young guests can build their own boat and race against their friends and also build their own LEGO scene in Chima on any of four base plates set in front of model scenes. Wolves' Den – This is the place to grab a bite when guests get hungry! Enjoy tasty food surrounded by collectibles gathered by the clever wolf tribe. Explorers Forest- In this lush and tropical forest, guests will be greeted by Gorzan the Gorilla in his 15-foot tall mech suit. Rhino Beach – This sand filled oasis offers guests a place to get some shade, lounge and rest. Speedorz Arena- This interactive play area lets guests race their Speedorz through unique obstacles. Forever Rock- Featured just outside Cragger's Swamp, the iconic rock contains a smaller rock acting as chalk board for kids to tally their achievements just as Cragger and Laval did. For those that want to kick back and stay awhile, 15 new cabanas surround the area for rent.
LEGO Legends of Chima Water Park is included in the cost of admission to LEGOLAND Water Park. For ticket prices, operating schedule and additional information, visit www.LEGOLAND.com or call 760-918-LEGO (5346).
LEGOLAND® California Resort includes LEGOLAND® California, SEA LIFE® Aquarium, LEGOLAND® Water Park and LEGOLAND® Hotel. All are geared for families with children between the ages of 2 and 12. At LEGOLAND California, you'll find more than 60 rides, shows and attractions including LEGO Star Wars™ Miniland Model Display, Pirate Reef and Dino Island. SEA LIFE Aquarium is home to more than 5,000 living creatures and incorporates LEGO® models into a child's voyage to the depths of the ocean featuring play zones, fun facts and quiz trails. LEGOLAND Water Park features more than 7 slides, sandy beaches and the unique Build-A-Raft River. The nation's first LEGOLAND Hotel features 250 rooms, all themed either as pirate, adventure, or kingdom plus more than 3,500 LEGO models throughout the three-story hotel. For more information, visit www.LEGOLAND.com or call (760) 918-LEGO (5346).
MERLIN ENTERTAINMENTS plc is the leading name in location-based, family entertainment. Europe's Number one and the world's second-largest visitor attraction operator, Merlin now operates 100 attractions, 10 hotels/3 holiday villages in 22 countries across 4 continents. The company aims to deliver memorable and rewarding experiences to its almost 60 million visitors worldwide, through its iconic global and local brands, and the commitment and passion of its managers and more than 20,000 + employees.
Merlin has twenty attractions and one hotel in North America – including two stunning LEGOLAND Resorts – LEGOLAND Florida with its theme park, water park, and LEGOLAND California theme park with water park, SEA LIFE aquarium and themed hotel; Madame Tussauds celebrity wax attractions in New York, Washington, D.C., Las Vegas and Hollywood; LEGOLAND Discovery Centers in Chicago; Dallas/Fort Worth; Kansas City Missouri; Atlanta, Georgia; and Westchester, New York; Toronto, Canada; and SEA LIFE aquariums in Phoenix, Arizona; Kansas City, Missouri; Dallas/Fort Worth; the Mall of America in Minneapolis and Charlotte – Concord – underlining the company's position as the world's biggest global aquarium operator. Visit www.merlinentertainments.biz for more information.