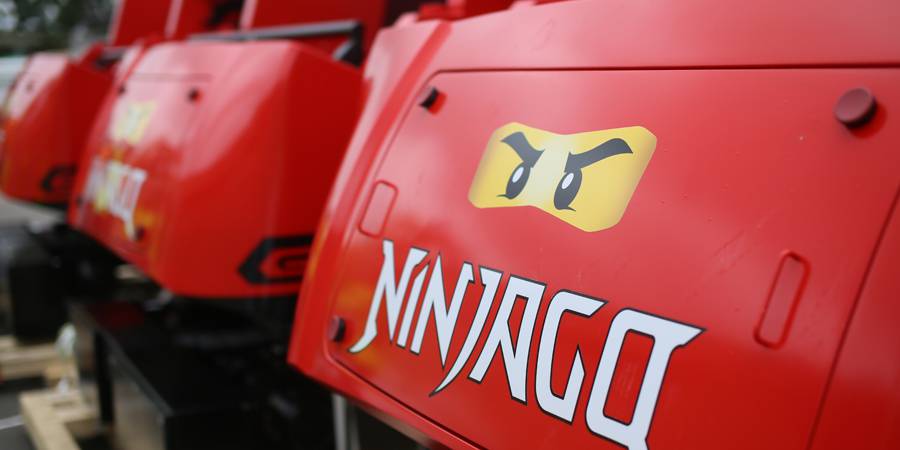 Brian Curran
Get Ready to Ride Like A Ninja at LEGOLAND!
January 18, 2016
Get ready to ride like a ninja! Ride vehicles begin arriving at LEGOLAND CALIFORNIA RESORT for NINJAGO The Ride
World's First Ride to Feature New Interactive Technology Opens This Spring!
CARLSBAD, Calif. (January 15, 2016) – NINJAGO™ World is coming together at lightning speed as the ride vehicles for the cutting-edge new NINJAGO™ the Ride began arriving today at LEGOLAND® California Resort! Arriving from Germany, the 2,500 -pound red vehicles were unloaded as construction continues and the ride track is installed in this new land set to open this spring.
Using technology never experienced at any other theme park in the world, guests will be able to control the outcome of their adventure through the power of their hand gestures. Through 3D imagery, high-tech sensors and the use of hand movements in a striking motion, up to four riders per car can blast animated fireballs, lightning, shockwaves and ice as they travel through dojos to master their skills before heading into battle. Riders collect points for their training and battle efforts throughout the ride and scores are displayed when their quest is completed. 4D effects such as heat, smoke and wind are also incorporated throughout the adventure, giving guests the ultimate interactive experience.
NINJAGO World features LEGO® building stations, a game to test reflexes, spinners to test balance, Asian cuisine and a new shopping venue.
Based on the popular property LEGO NINJAGO™, which is brought to life by The LEGO Group through a line of construction toys and a TV series on Cartoon Network, guests will enjoy interactive elements and this new ride where guests harness the power of four elements and use teamwork to battle the Great Devourer. The ninja excitement will be felt around the globe as NINJAGO The Ride is being unveiled at both LEGOLAND California Resort and LEGOLAND Billund Resort in 2016.
NINJAGO The Ride will be included in the cost of admission to LEGOLAND California Resort. For ticket prices, operating schedule and additional information, visit www.LEGOLAND.com or call 760-918-LEGO (5346).