Kris Van de Sande
Star Wars Days 2017 at LEGOLand California
Article
June 20, 2017
The LEGOLAND California Resort was once again invaded by Star Wars for its annual Star Wars Days on the weekend of June 3 to 4, 2017. This year's event was also graced with the recently opened The Force Awakens Miniland Model Display at Star Wars Miniland along with a variety of other family fun activities. If you missed out on this year's Force-filled fun, we'll share with you what you missed below!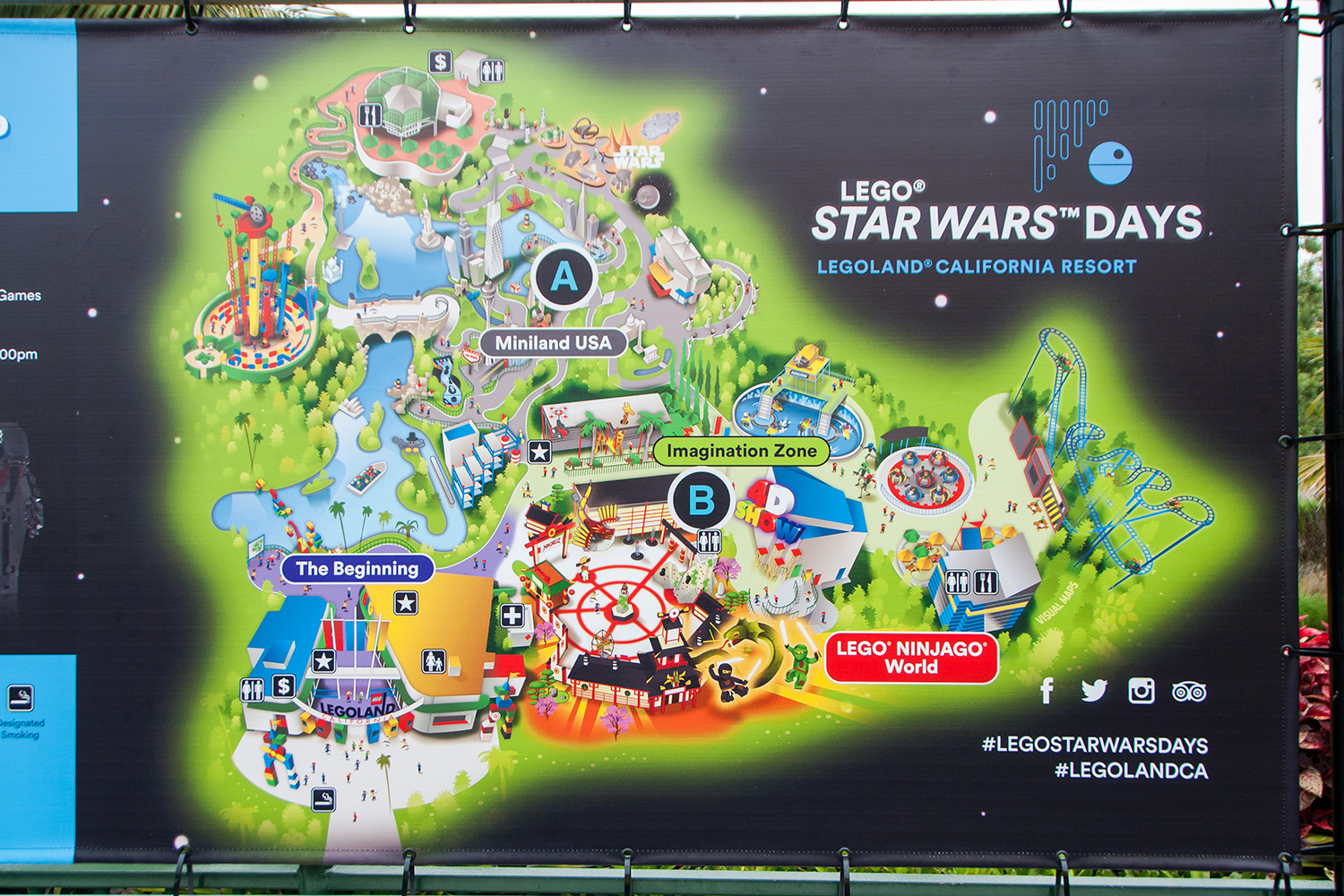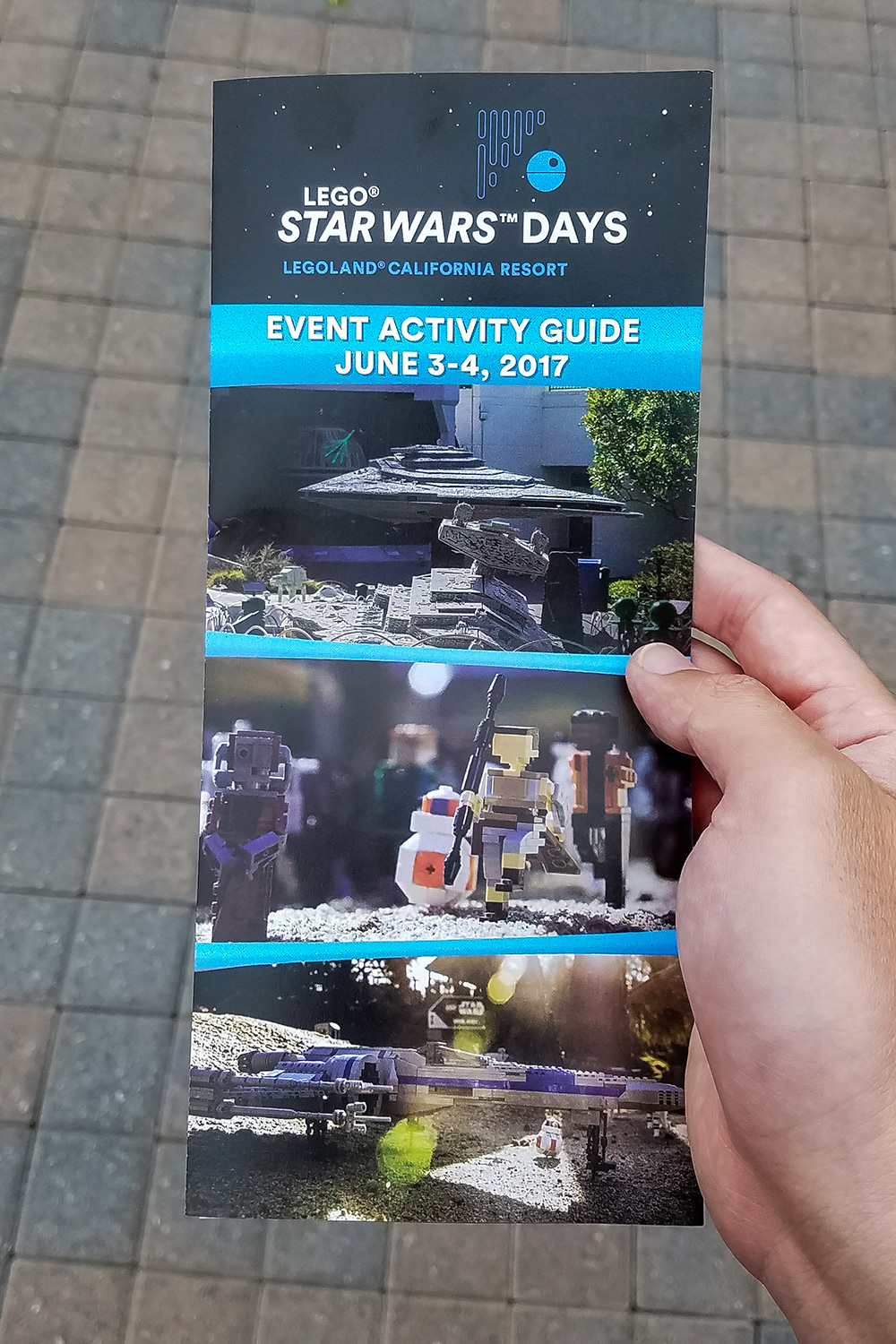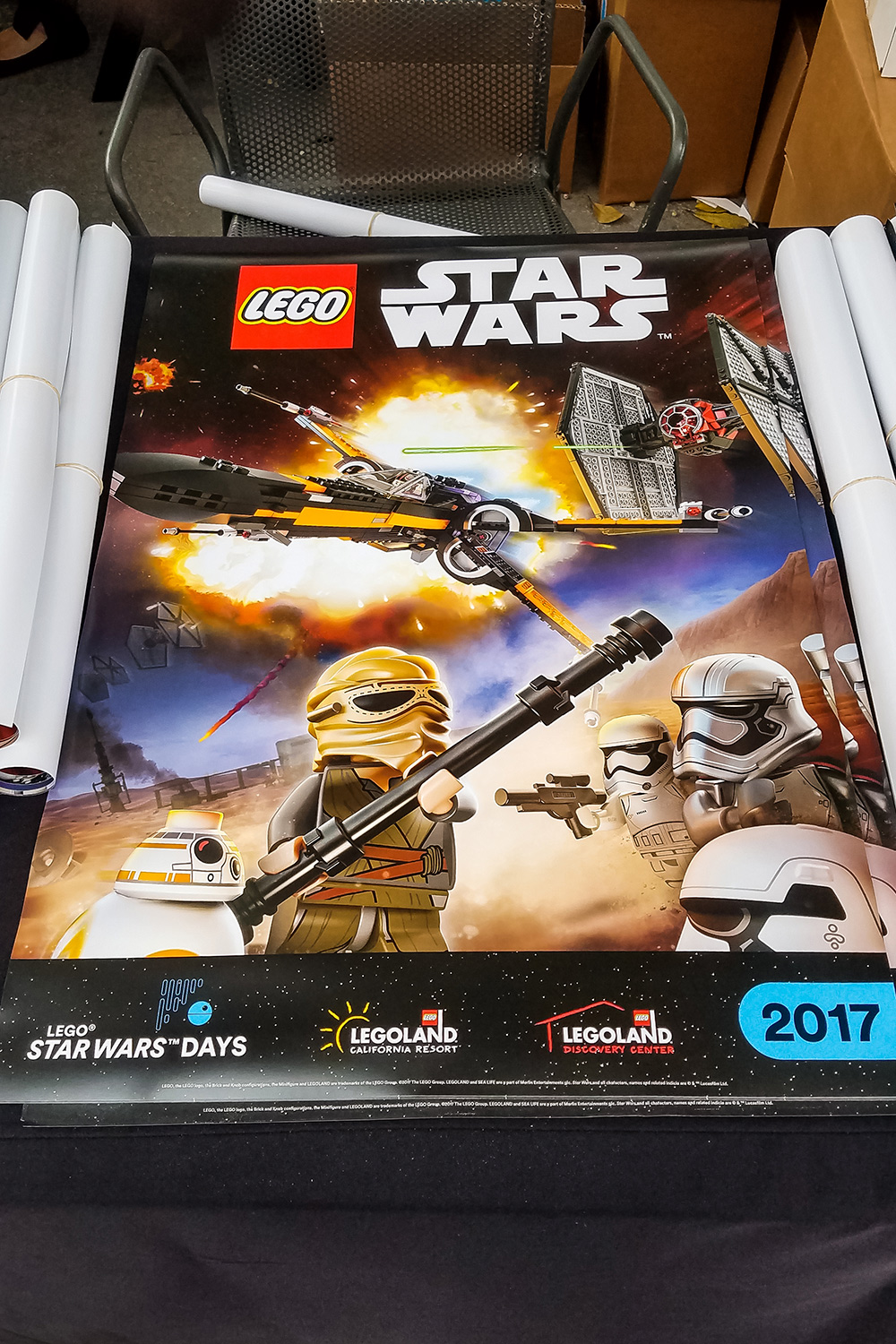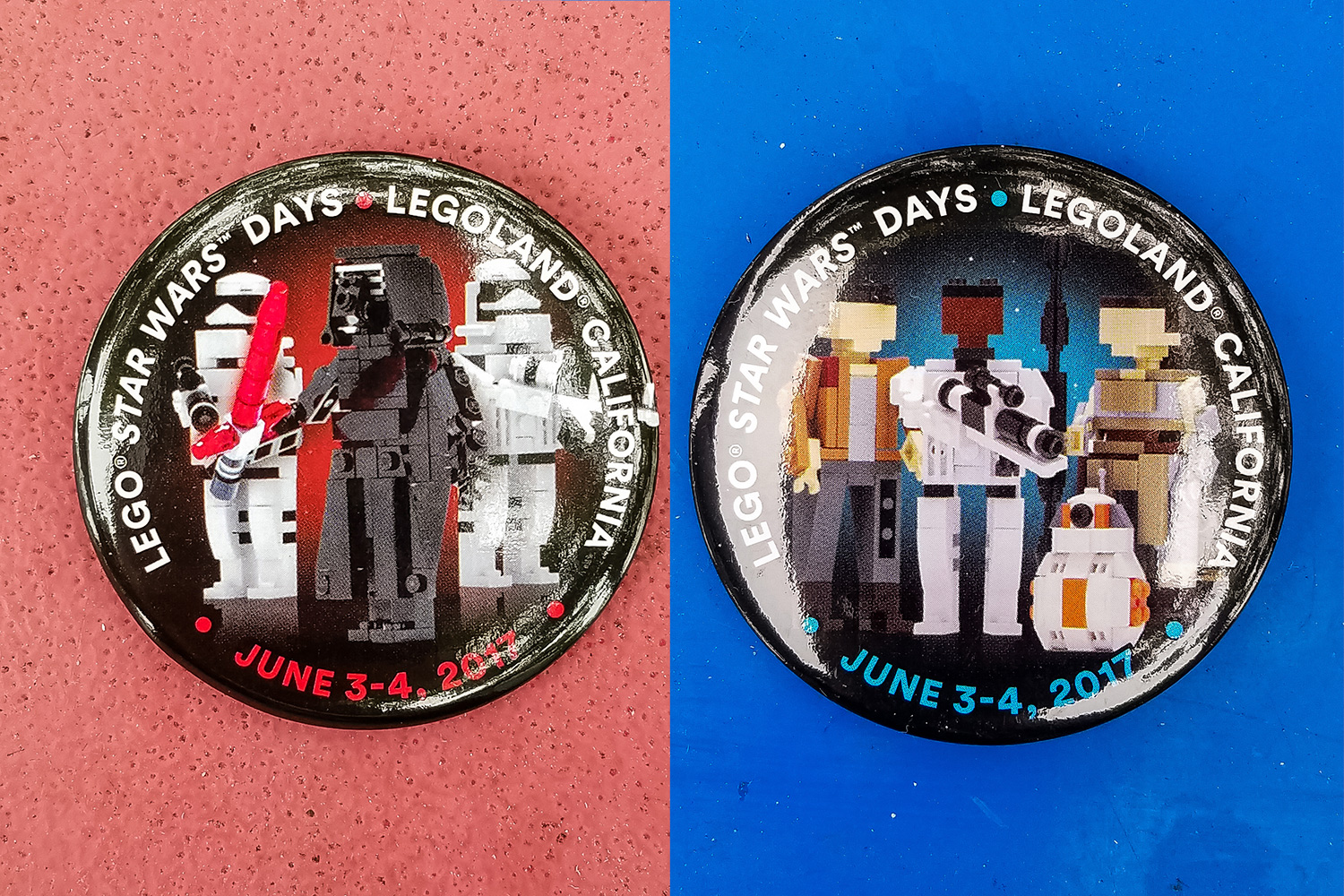 The Opening Ceremony
Those who lined up at the opening were treated to a ceremony featuring Star Wars Costumed Fan Groups. Star Wars characters flanked each side of the entrance as Boba Fett, Darth Vader, and Kylo Ren menacingly "greeted" guests as they walked by.
Once the open ceremony completed, guests were let through the gates and were invited to take photos with the Star Wars Characters. There were quite a variety of characters ranging from minor characters like Stormtroopers and Biker Scouts to bigger role characters like Anakin Skywalker, Queen Amidala, and Darth Vader.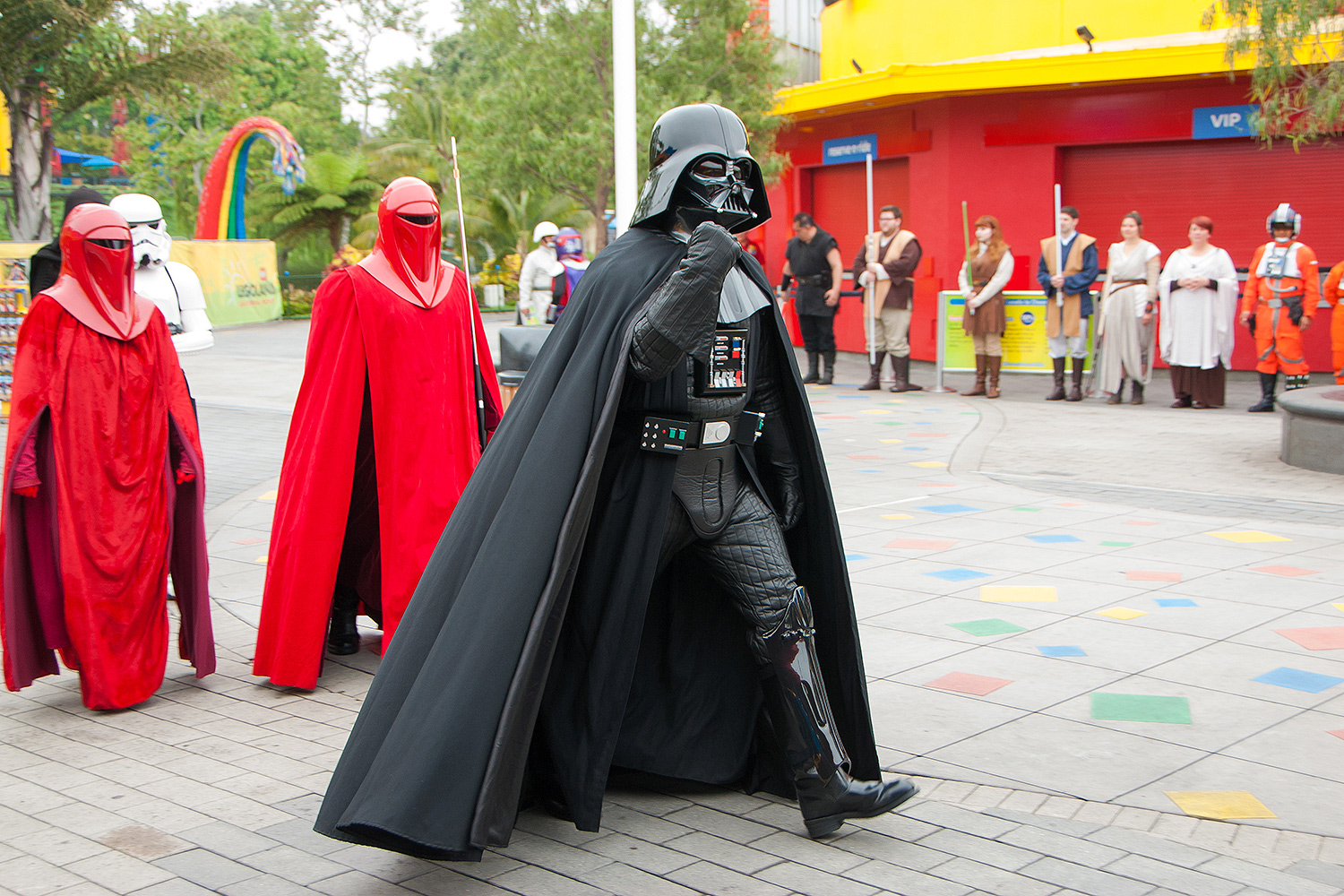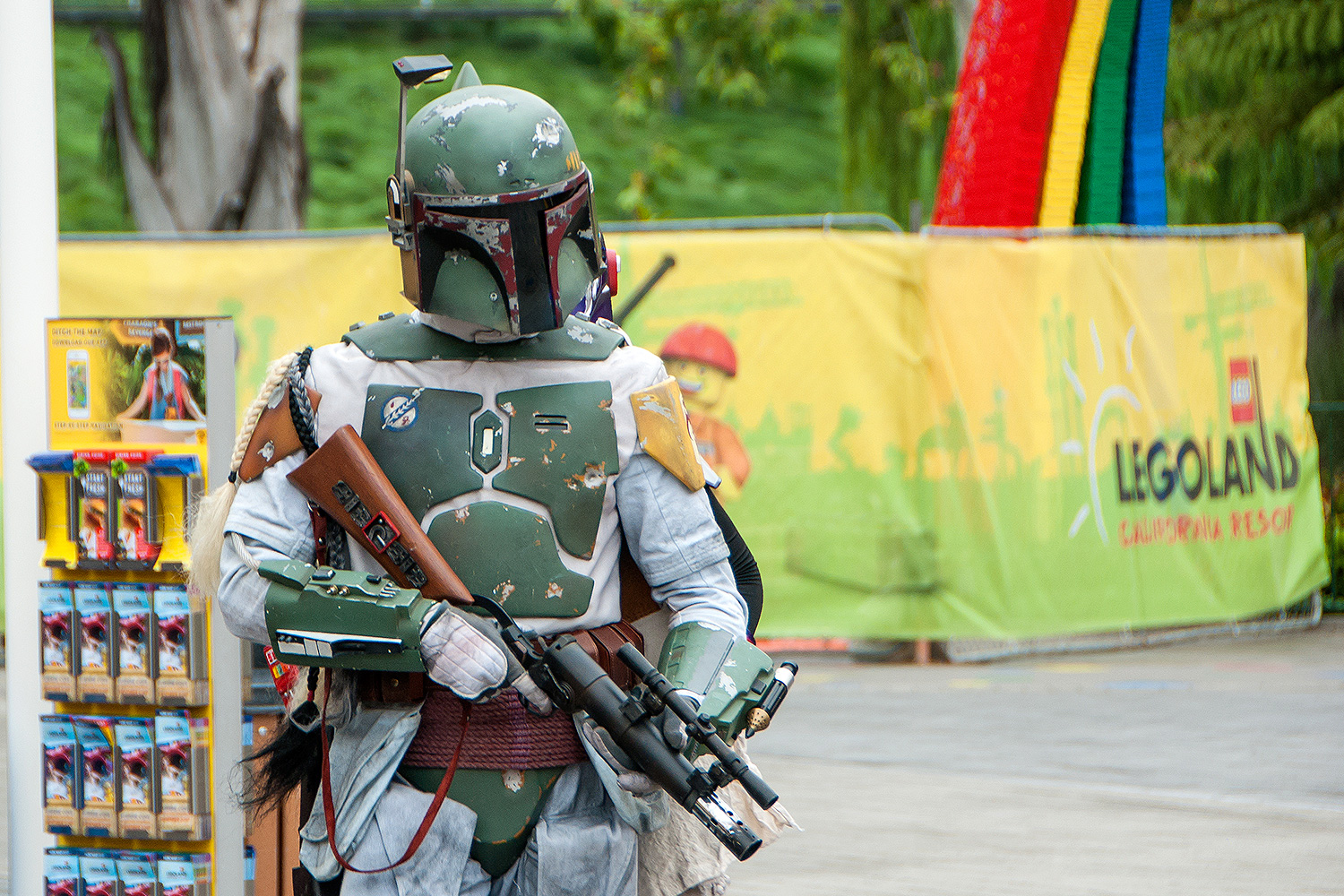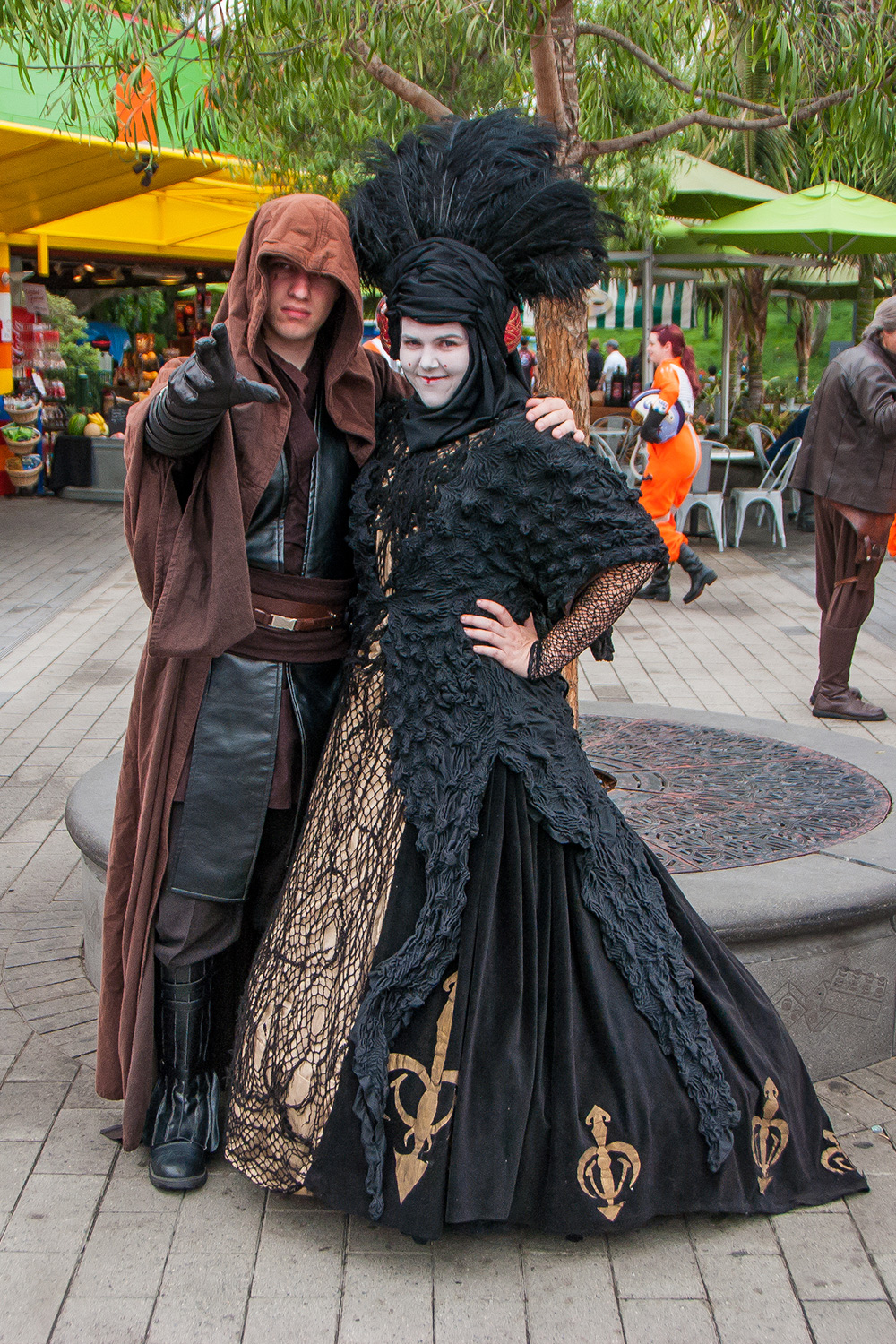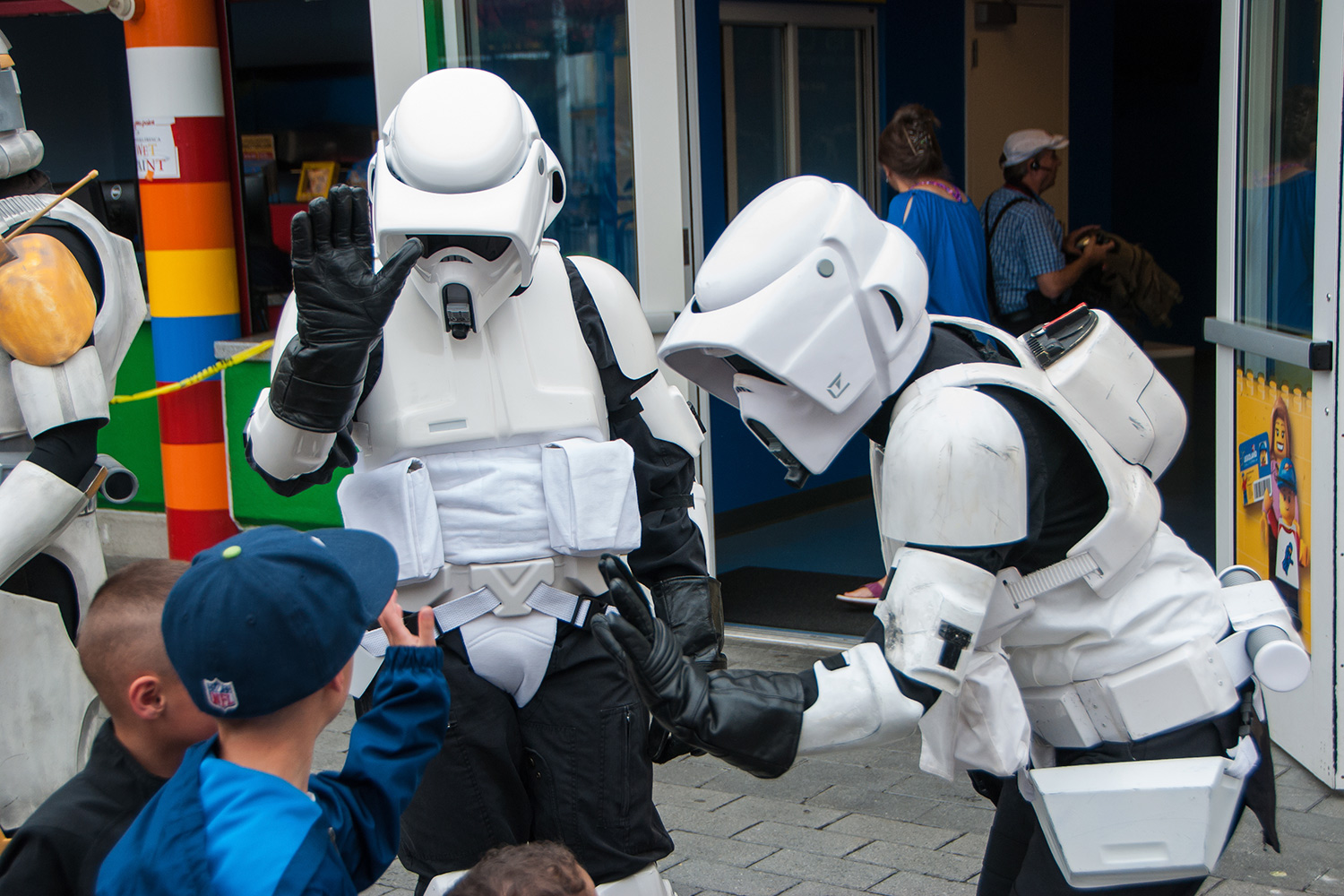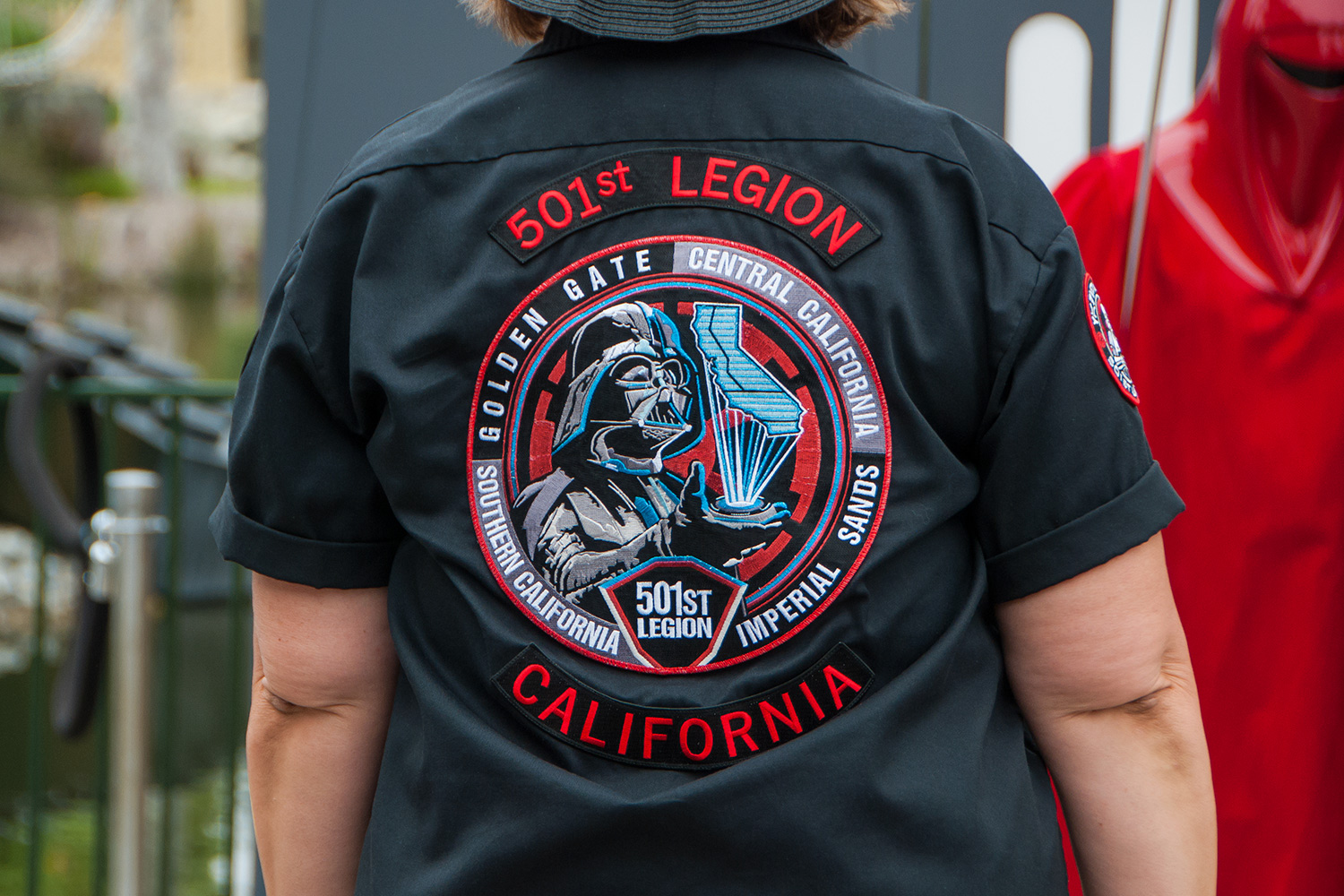 LEGO Star Wars Meet and Greet
Those who missed the opening ceremony in the morning had plenty of other chances throughout the day to partake in Meet and Greets with their favorite Star Wars Characters. Located at LEGOLAND's The Beginning was a backdrop of the Death Star corridor. Guests were able to take photos with Star Wars characters throughout the day.
Another Meet and Greet location was set up in Miniland. It was a starry backdrop for Meet and Greet opportunities with LEGO Darth Vader.
LEGO Darth Vader is probably one of the most adorable things I have ever seen!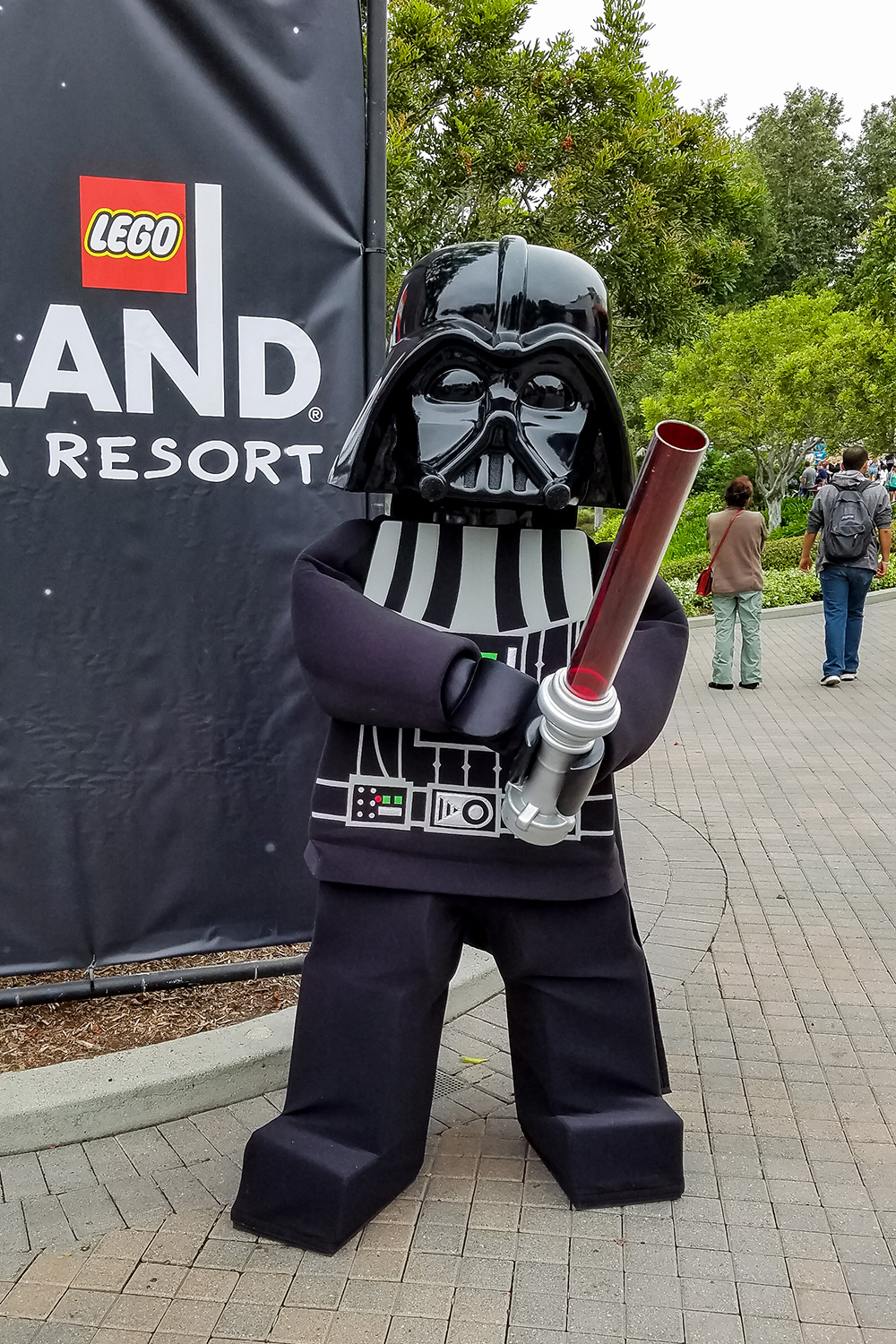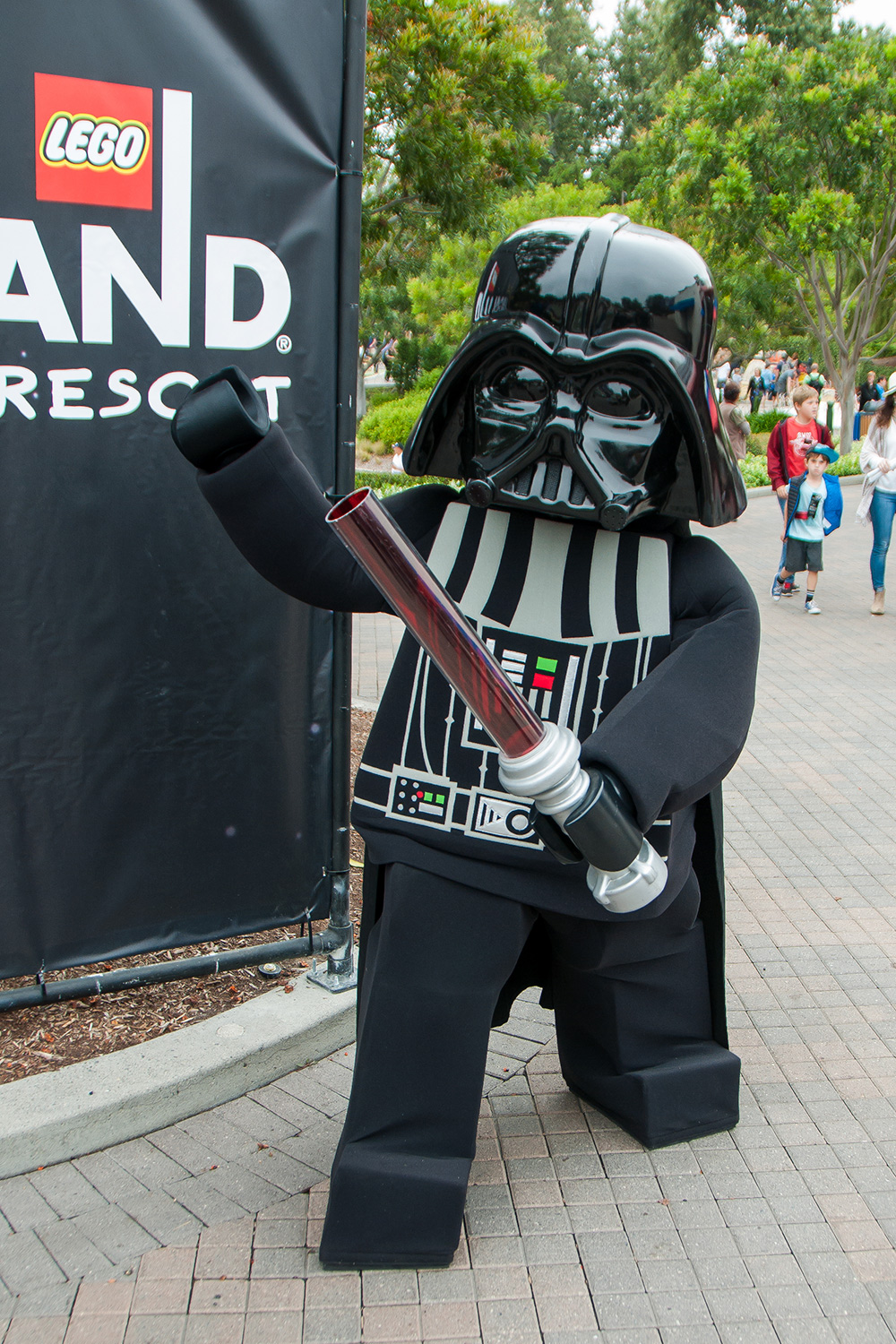 LEGO Star Wars Fan Gallery
The LEGO Star Wars Fan Gallery sat on the Model Shop rooftop which featured custom Star Wars builds, scenes, art work, and photographs from Star Wars fans. It was also the location where guests were able to pick up their free buttons and poster.
Fans fashioned their own imaginative LEGO Star Wars creations. It was a joy to see what amazing creations Star Wars fans were able to come up with just using LEGOs, like a movie theater showcasing Star Wars: Episode IV's famous trench scene or a Stormtrooper helmet made entirely of LEGO Stormtroopers.
Towards the back of the Model Shop rooftop featured Star Wars art work and photos. Most of the pieces were LEGO inspired but there were a few art work that weren't in the theme of LEGOs.
My personal favorites were the LEGO Stormtroopers photos living seemingly child like lives, like hiding in a field of flowers or playing with a paper boat.
Probably the most impressive piece of the Fan Gallery was the LEGO recreation of the Battle of Hoth. It was literally the center of attention!
At one end of this behemoth piece was a LEGO AT-AT Walker and a bunch of LEGO Snowtroopers relentlessly attacking Echo Base.
On the other end, the Rebel Alliance did all they could to defend the base while the LEGO Millennium Falcon and X-Wings readied their ships to escape.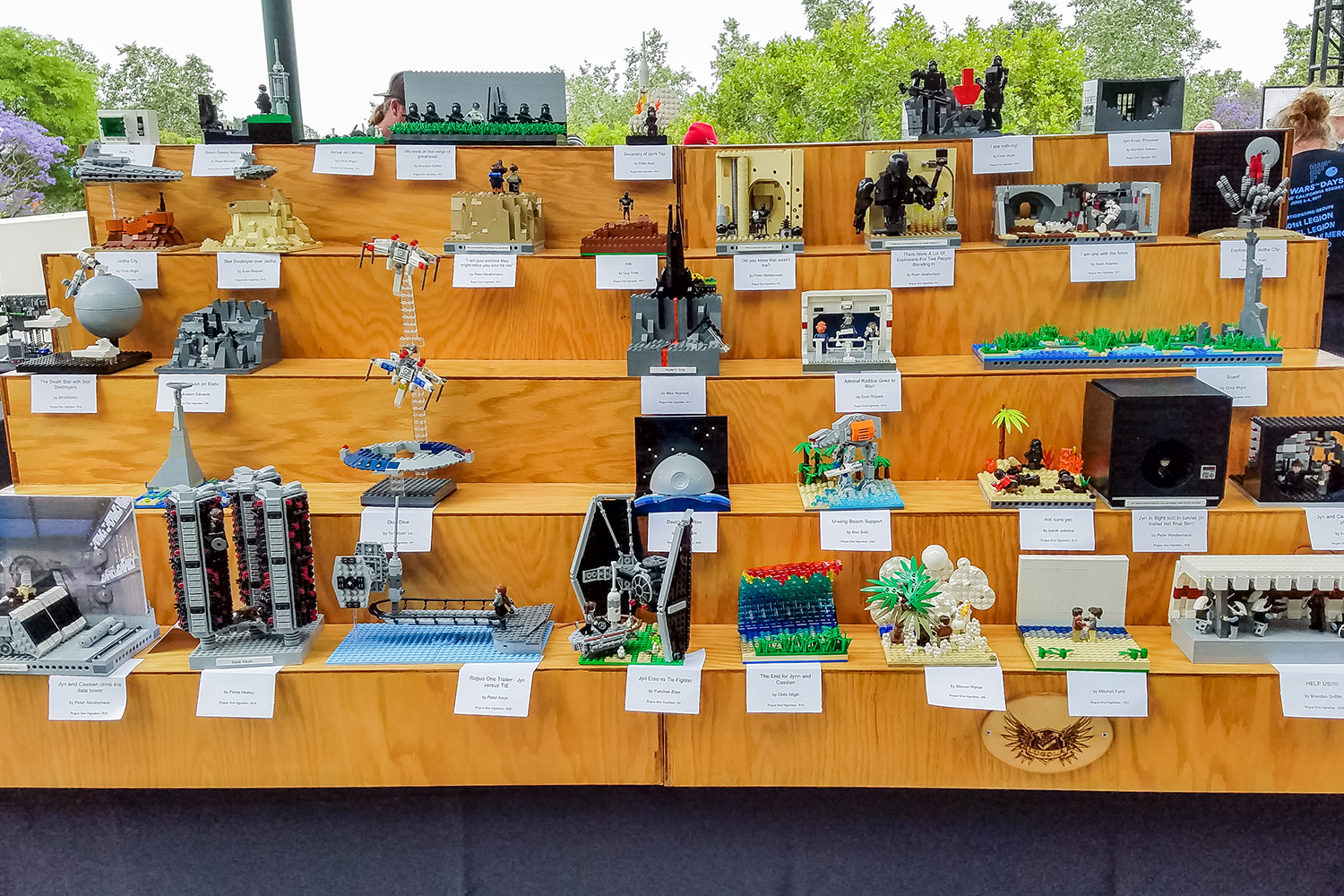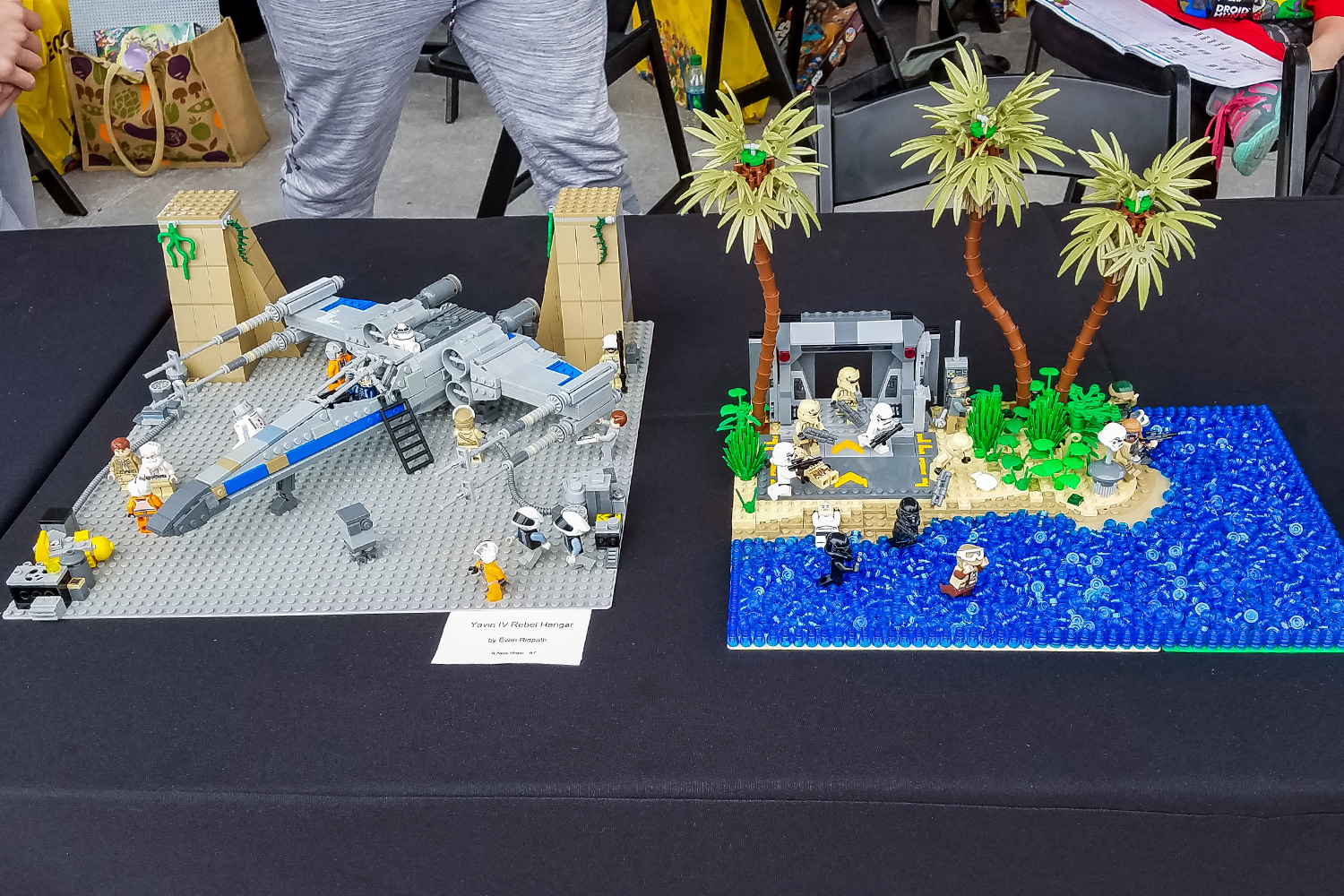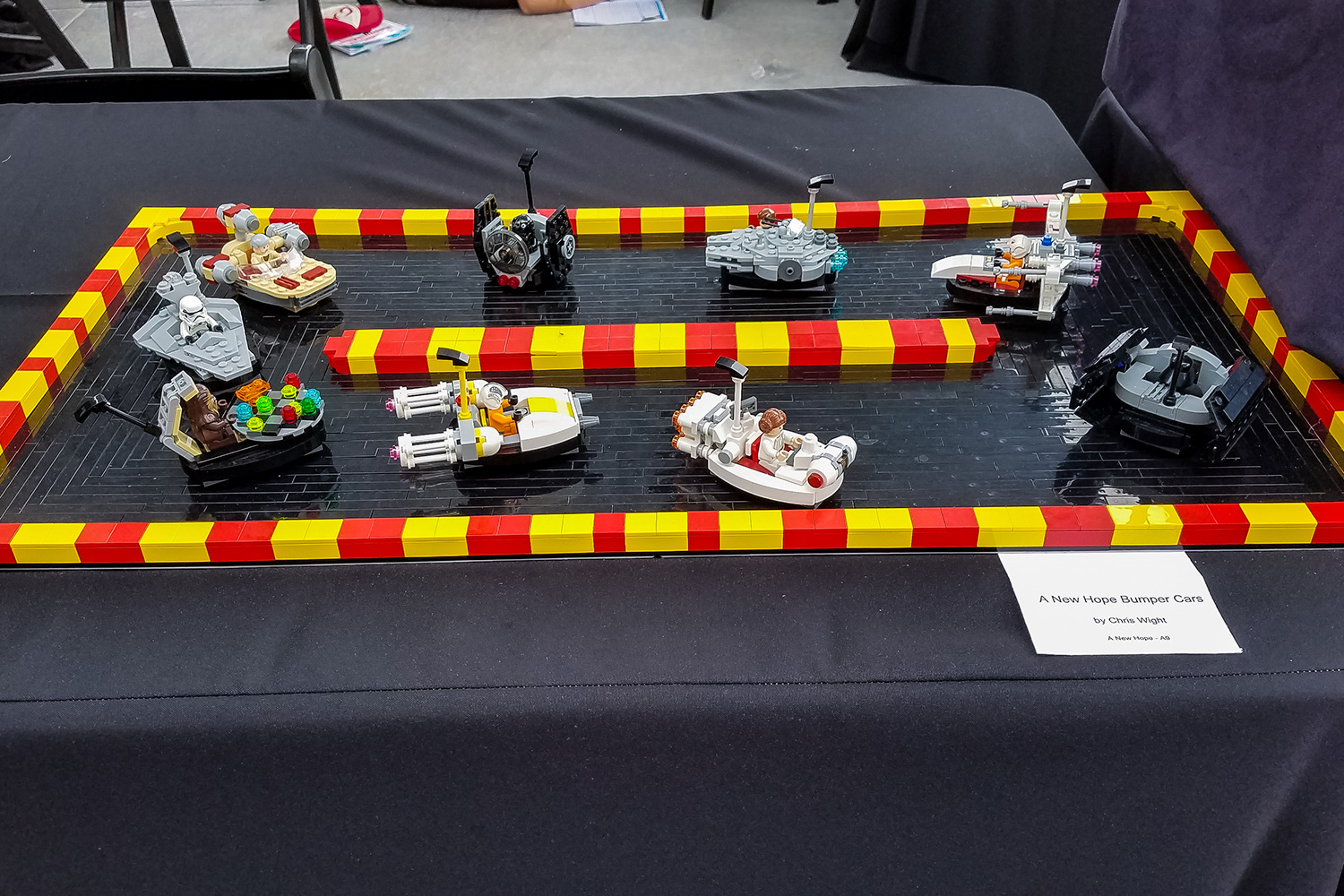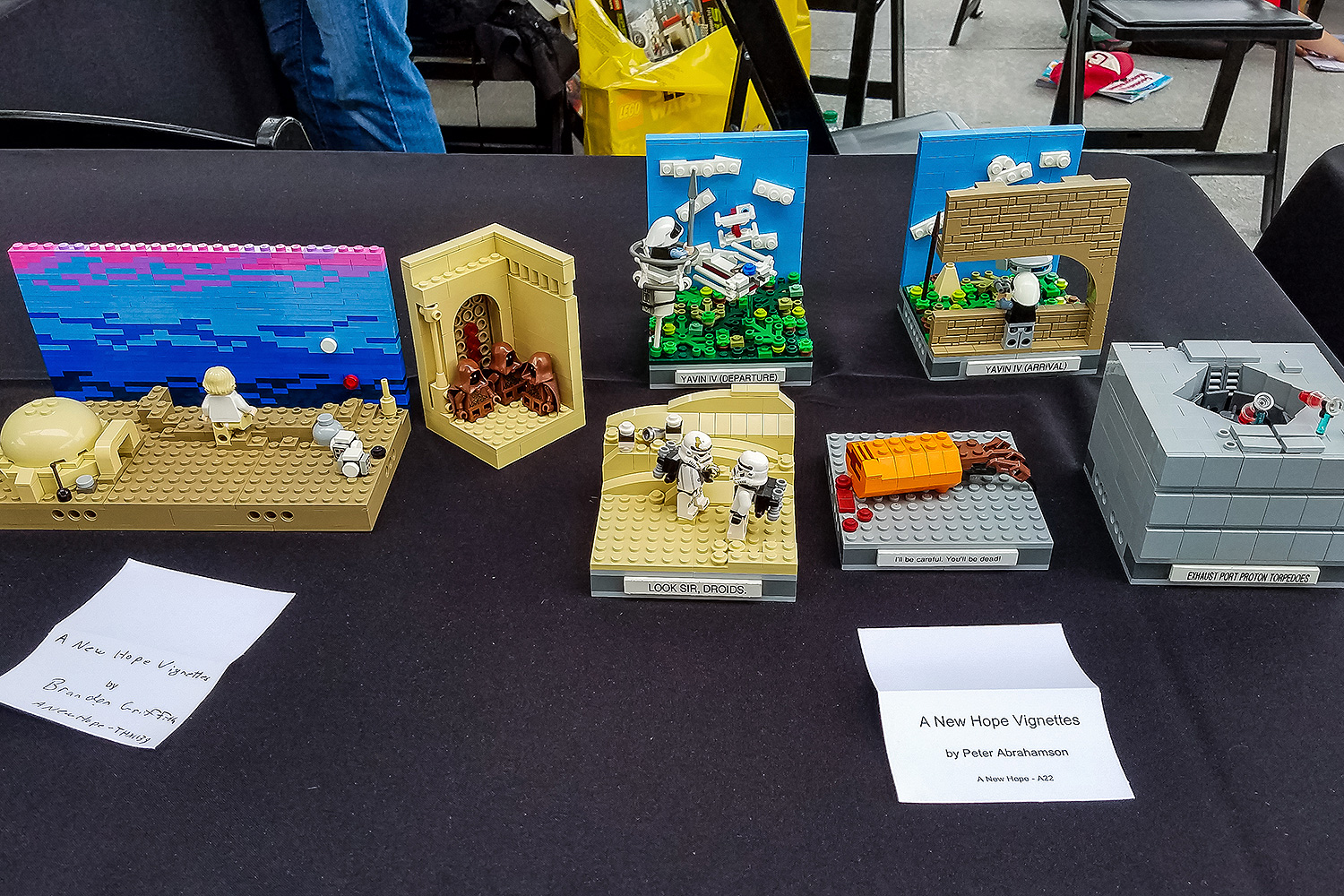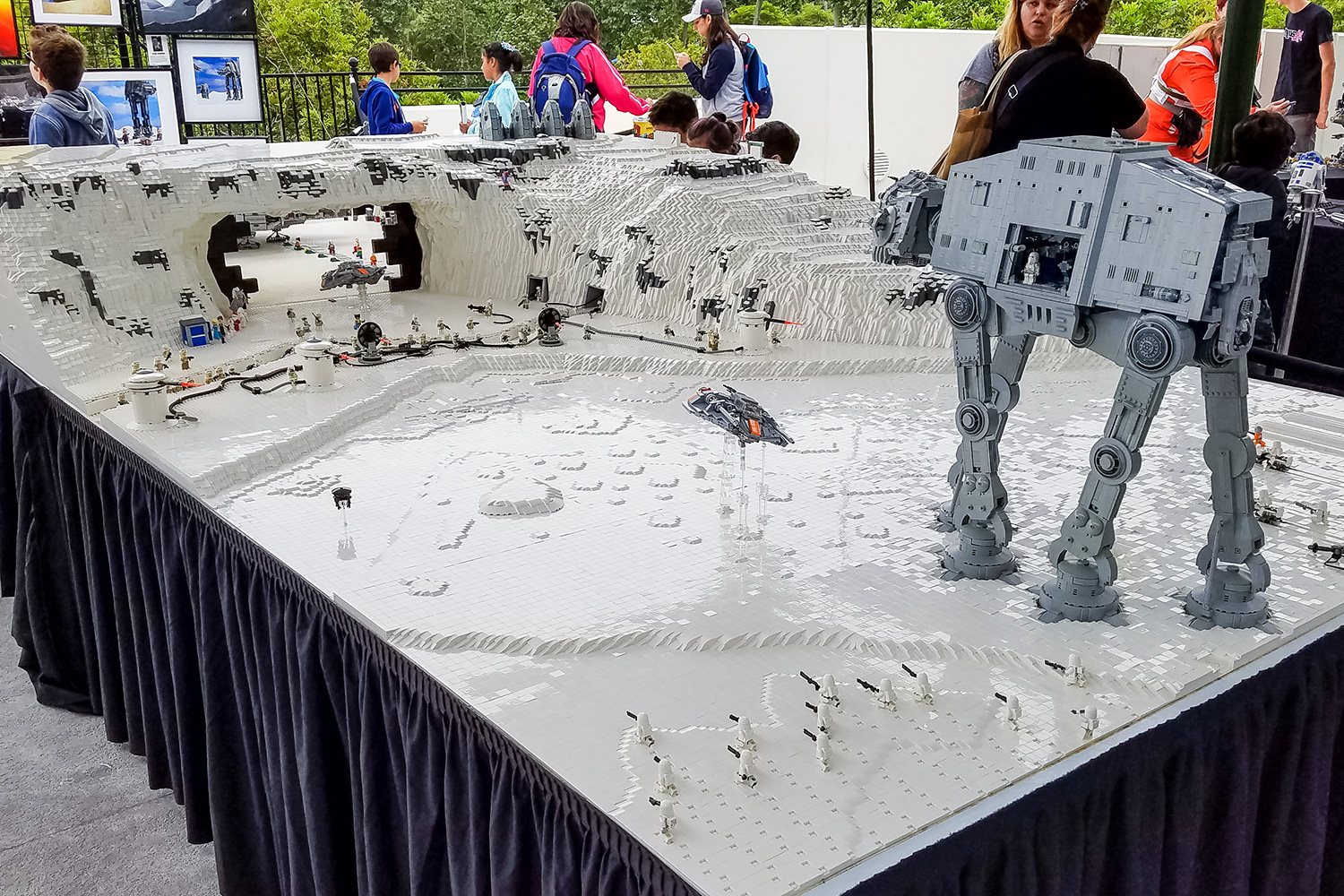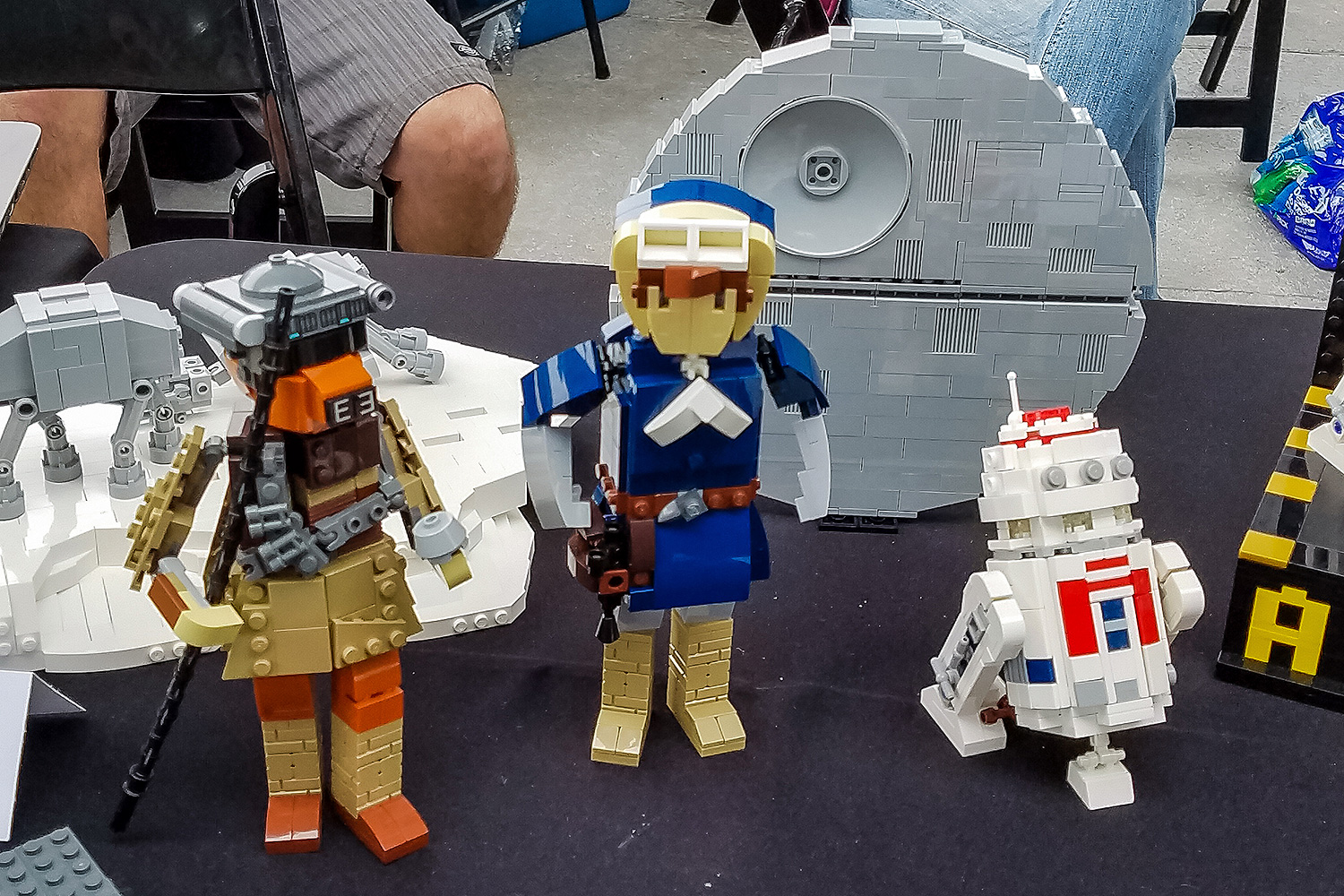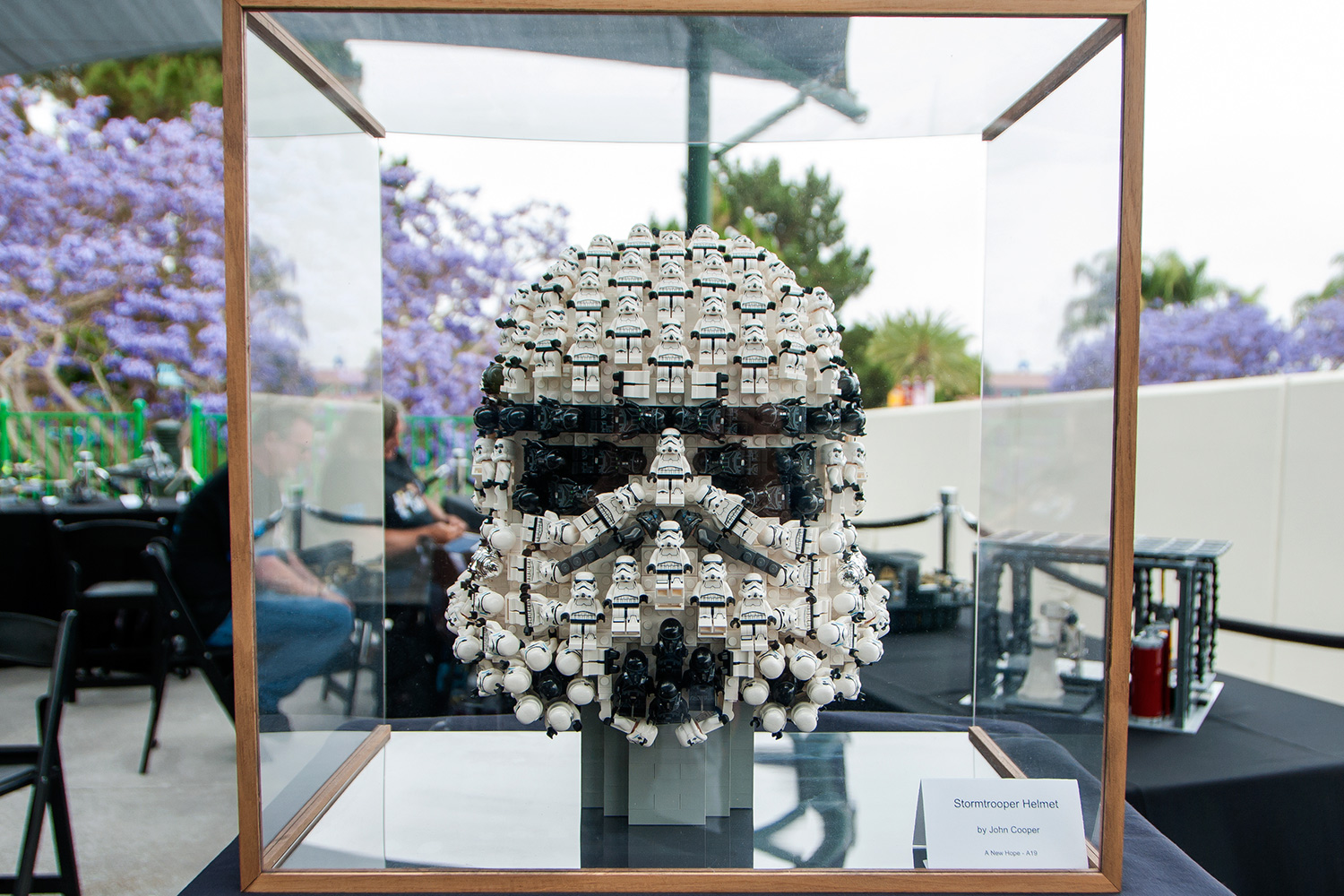 LEGO Star Wars Droid Hunt and Scavenger Hunt in Miniland
LEGOLAND's Star Wars Miniland was the primary location for the LEGO Star Wars Droid Hunt and Scavenger Hunt games. For the Droid Hunt, guests were instructed to wear a Droid Hunt ribbon as they walked throughout the park. If a costumed Star Wars character saw you, you were given a red "CAUGHT" strip to wear over the Droid Hunt ribbon and a raffle ticket for a chance to win some prizes at the end of the day. It was a nice way to encourage guests to interact with the Star Wars Costumed Fan Groups (and maybe even take a few photos with them).
The LEGO Star Wars Scavenger Hunt was a little more challenging. Guests were given 8 Star Wars related questions and were instructed to walk around LEGOLAND's Star Wars Miniland to find their answers.
The questions were:
Q: What massive creature is being battled in the Geonosis Area?
A: REEK

Q: What ship took LEGOLAND Model Builders 143 hours to design and build, and used 19,200 LEGO pieces?
A: MILLENNIUM FALCON

Q: What name is adopted by the rogue Stormtrooper who rescues Poe Dameron?
A: FINN

Q: Who is in the Royal Palace on Naboo home to during Episode One?
A: QUEEN AMIDALA

Q: What is the name of the scavenger who rescues BB-8 and escapes Jakku with Finn?
A: REY

Q: What creature lives inside the garbage masher on the Death Star?
A: DIANOGA

Q: How many Y-Wings are in the battle around the Death Star?
A: ZERO

Q: What creature, native to Hoth, has Luke trapped in its cave?
A: WAMPA
Once guests had their answers, guests needed to use letters highlighted in the blue boxes to unscramble the final answer to the LEGO Star Wars Scavenger Hunt. The letters were "E-I-N-F-L-R-I-Z-A" which unscrambled to be "FINALIZER."
The LEGO Star Wars Scavenger Hunt was a good way to encourage guests to explore the Star Wars Miniland area and also to check out the brand new The Force Awakens Miniland Model Display. The area was constantly buzzing with activity and a lot of the guests seemed like they enjoyed the challenge!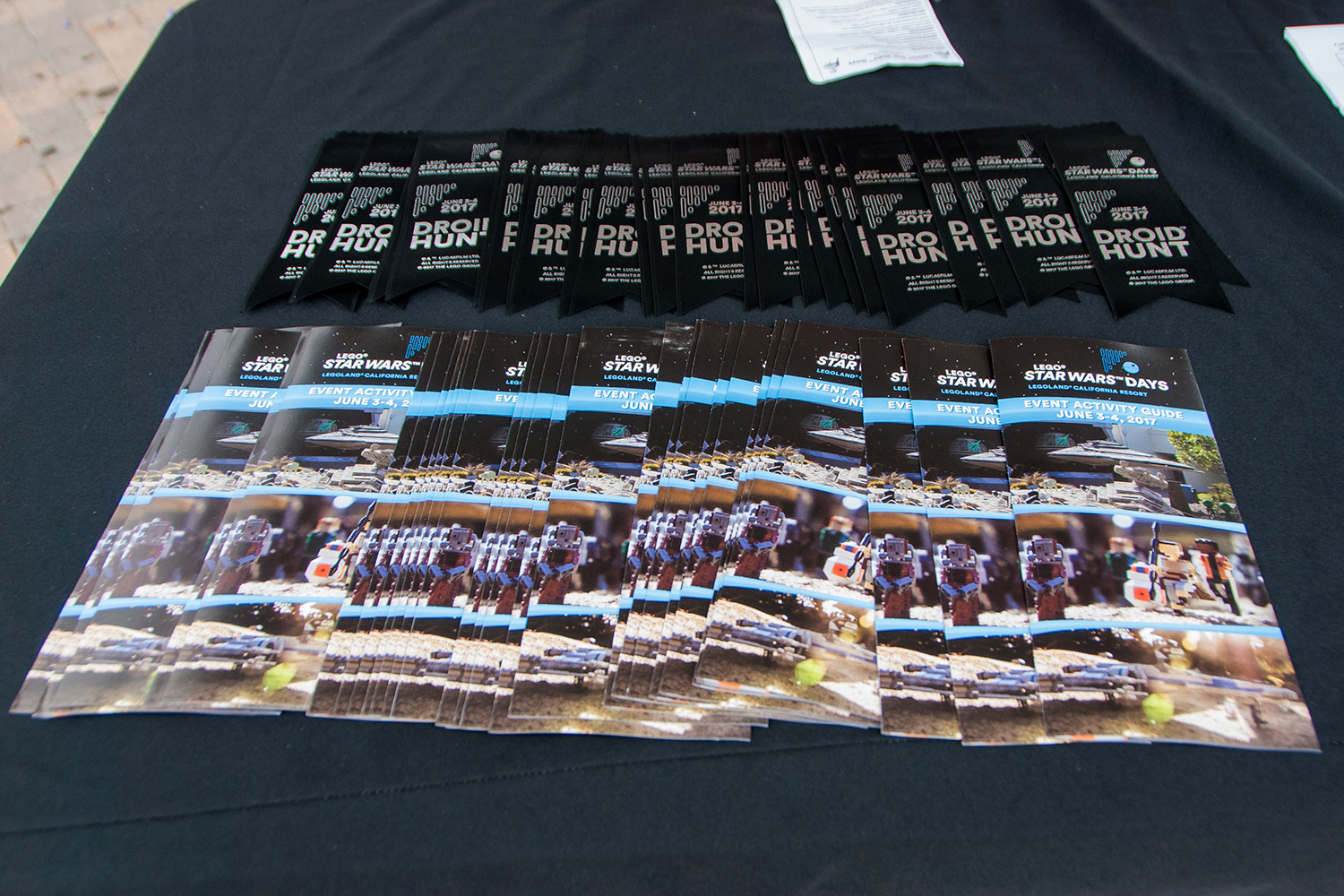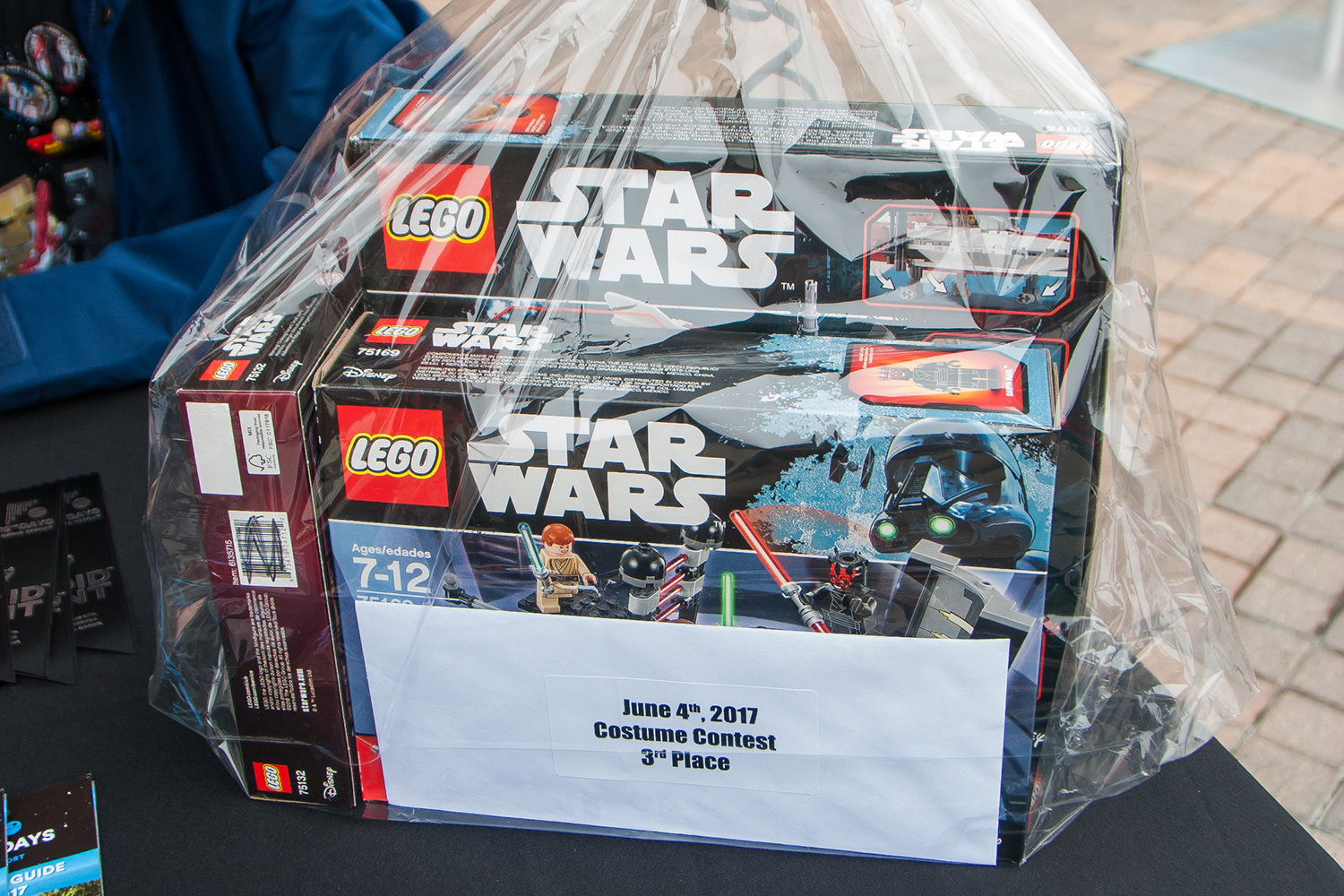 LEGO Star Wars Family Build Challenge, Jedi Trivia, and Costume Contest
Throughout all of LEGOLAND's Star Wars Days, several contests were held on the Miniland Lawn. Guests were able to participate in the LEGO Star Wars Family Build Challenge, Jedi Trivia, and Costume Contest.
The Family Build Challenge had families compete against other families to build the best LEGO model in an allotted time. Each round of the Family Build Challenge had a different Star Wars theme that families were challenged to build using a tub of LEGOs.
It was great listening to families trying to explain some of their wacky creations.
The winner of each round were then pooled together to choose an overall winner for the day.
The Jedi Trivia had kids in specific age groups compete against each other to prove who was the biggest Star Wars fan. It was a buzzer style competition where the first person to correctly buzz in their answer would be awarded a point. Whoever had the most points at the end won the trivia and a prize. Admittedly, some of the questions were quite hard but it was kind of funny watching the kids stare at the MC in stunned silence or being tricked by the MC to push their buzzer to "check if it was still working" when no one wanted to attempt to answer a question.
The Costume Contest featured kids 12 and under dressed in their Star Wars finest. It was quite an adorable spectacle! The kids were asked to explain their costume and tried their best to appeal to the judges.
One girl wore a fully custom built bounty hunter costume and told her backstory with some attitude! She brought the house down with her sass!
The winners of Sunday's Costume Contest were a tag-team duo. They manned an X-Wing ship while dressed as a Rebel Pilot and a beeping R2-D2. It was quite impressive!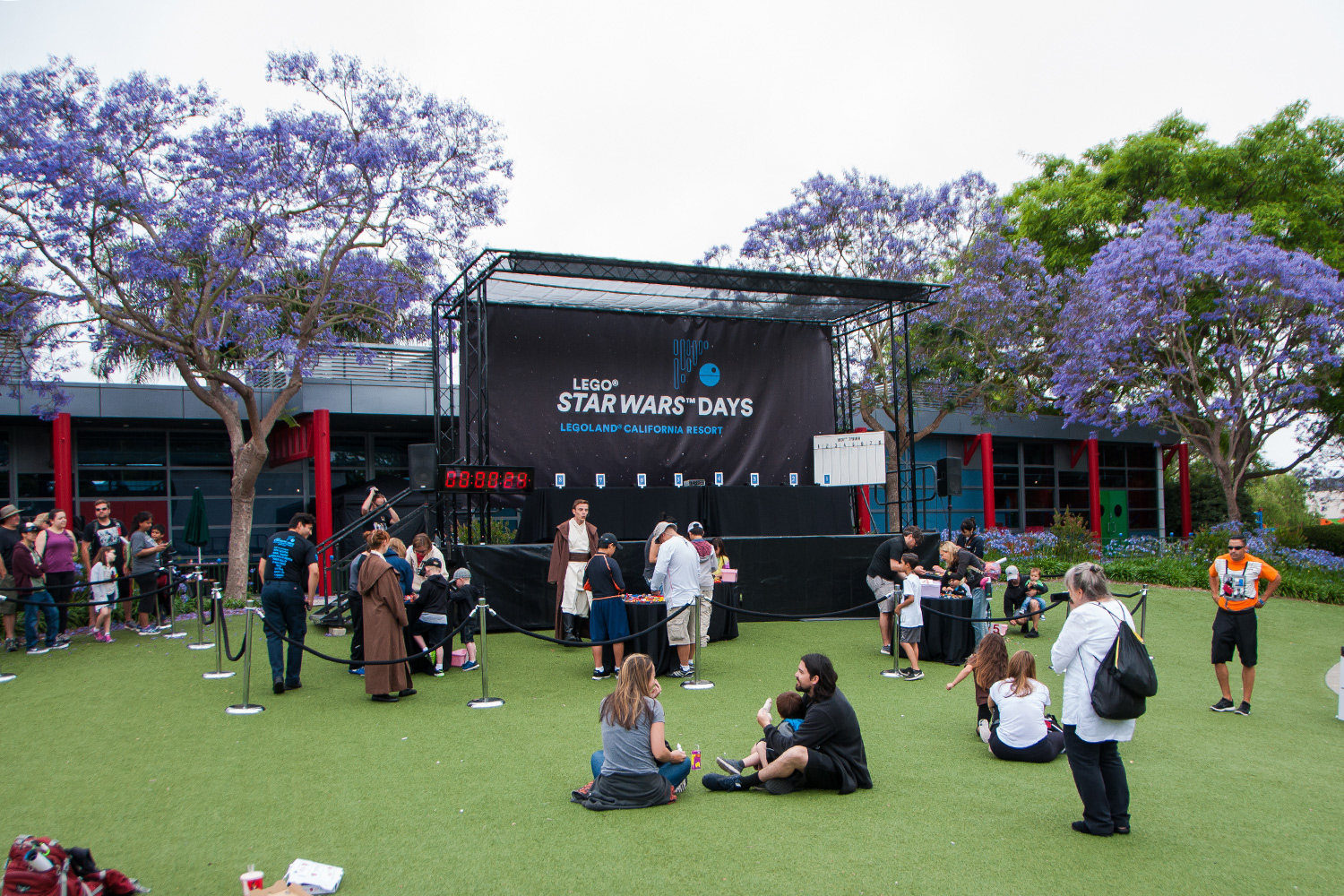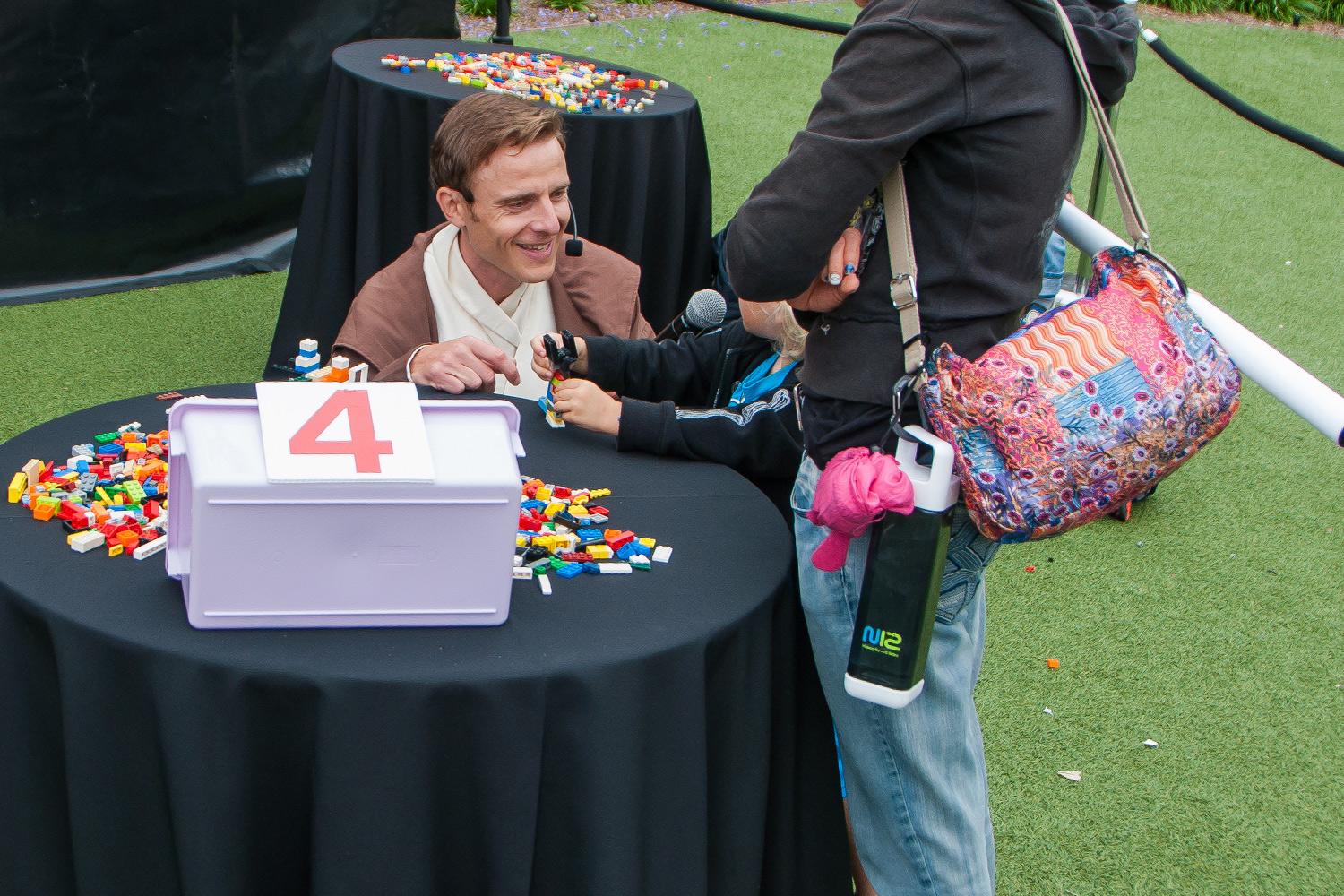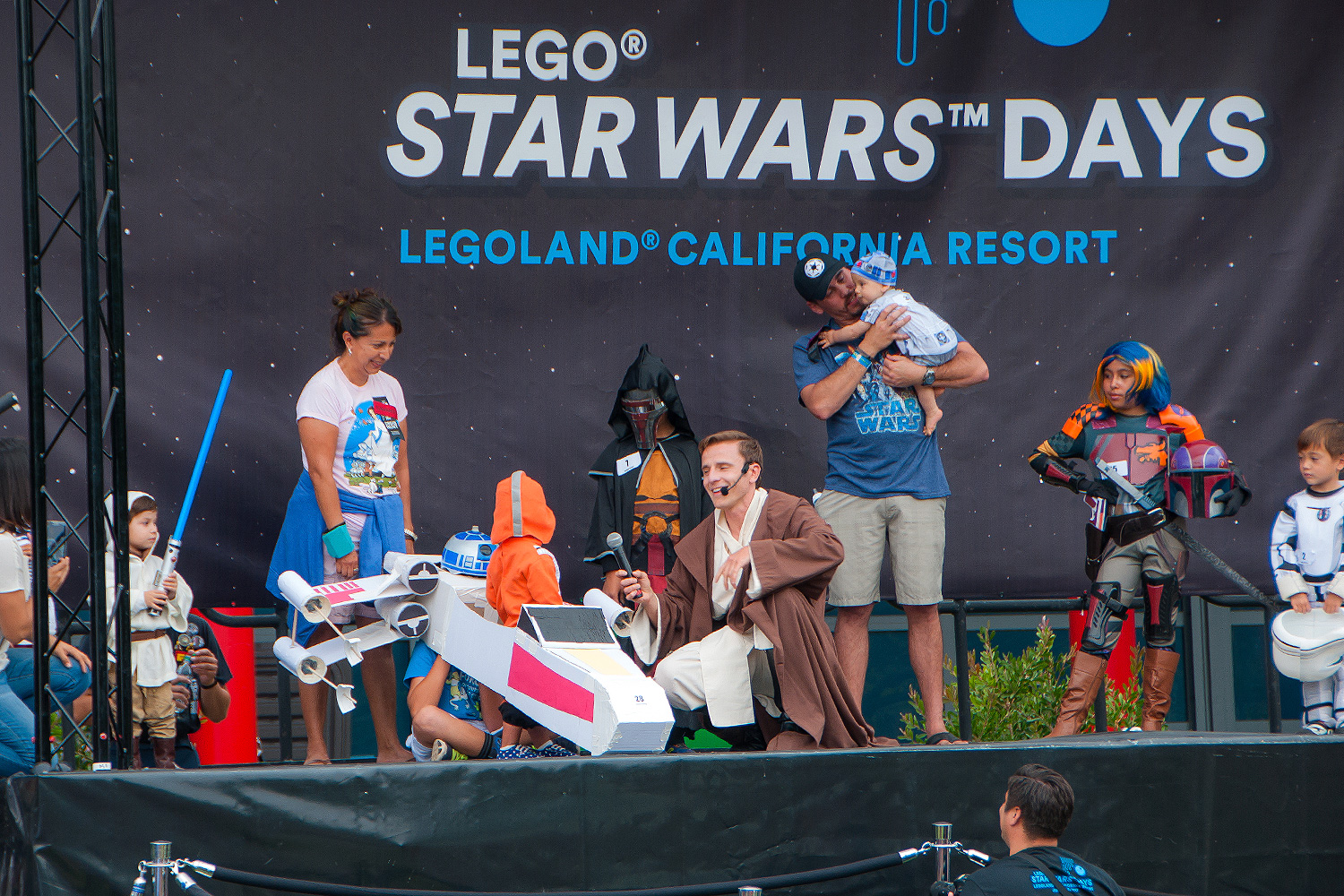 LEGO Star Wars: Droid Tales Mini Movie Screenings
At the LEGO Show Place Theater, families were able to enjoy a full screening of LEGO Star Wars Droid Tales. It was a nice break from all the other Star Wars Days activities to sit and relax in a theater while watching an episode of Star Wars Droid Tales.
I've never actually seen Star Wars Droid Tales so it was quite entertaining for me! It was awesome to watch basically the retelling of Star Wars in LEGO form. It was so hilarious!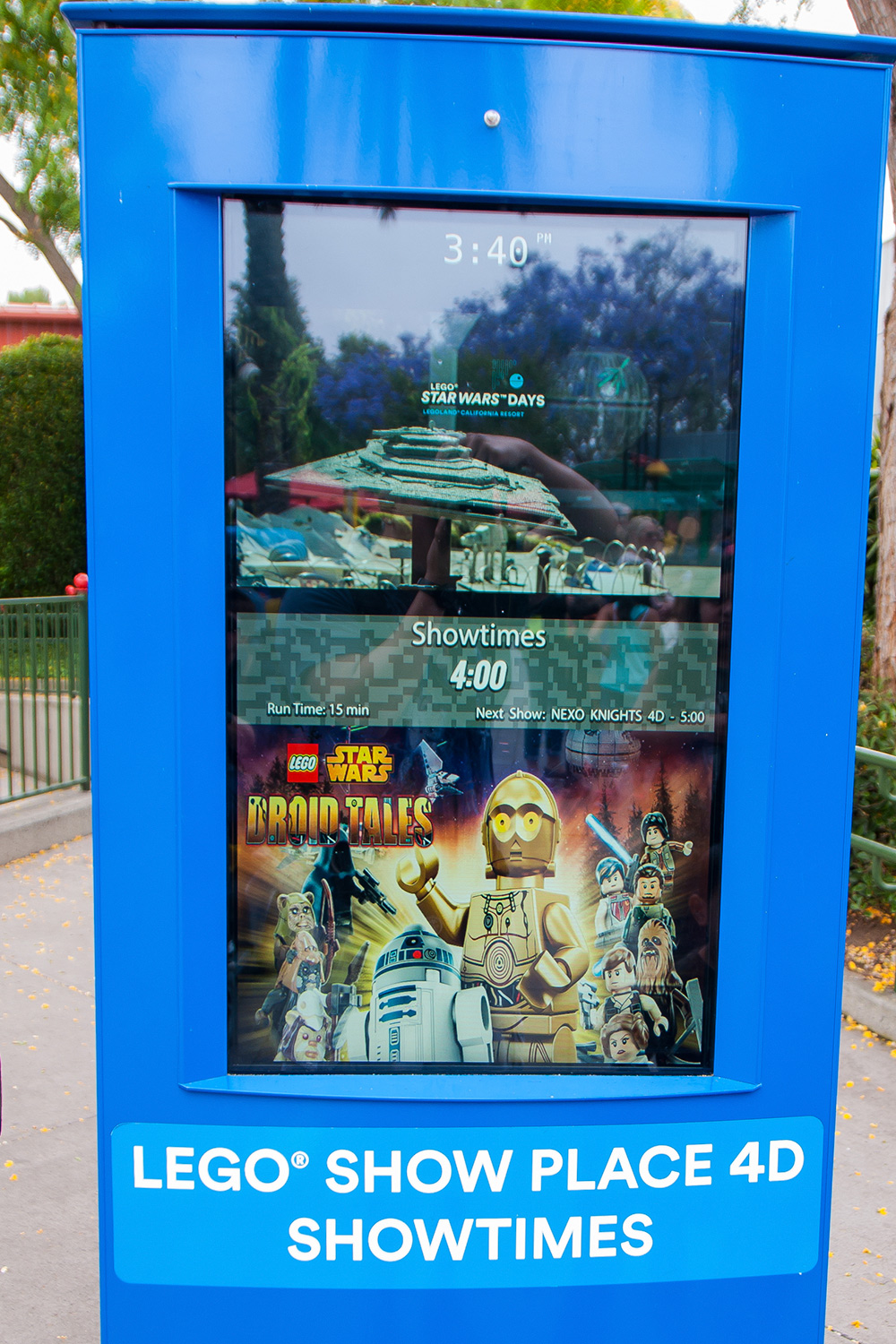 Conclusion
LEGOLAND's Star Wars Days was a huge hit with the guests. It was my first time attending and personally, I had a good time! It was awesome to see the two things I loved as a child come together to form one out-of-this-world weekend that this side of the galaxy has ever seen. If I had to applaud LEGOLAND for one thing, it would be for creating a weekend full of Star Wars activities the whole family can enjoy.
And It wouldn't be a real visit to LEGOLand without a few purchases right? The exclusive with purchase was an R3-M2 Droid with every $75 purchase at The Big Shop for that weekend only.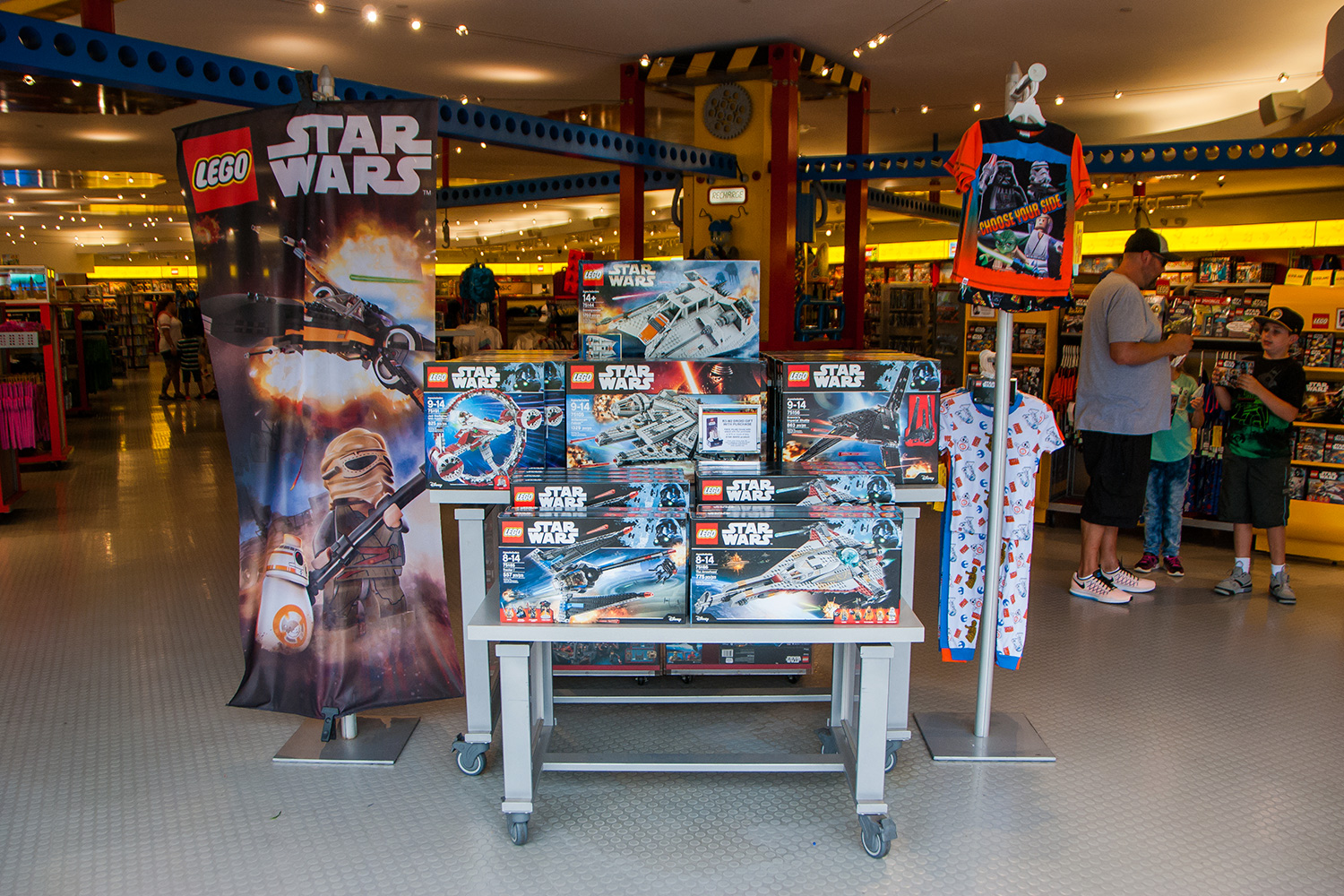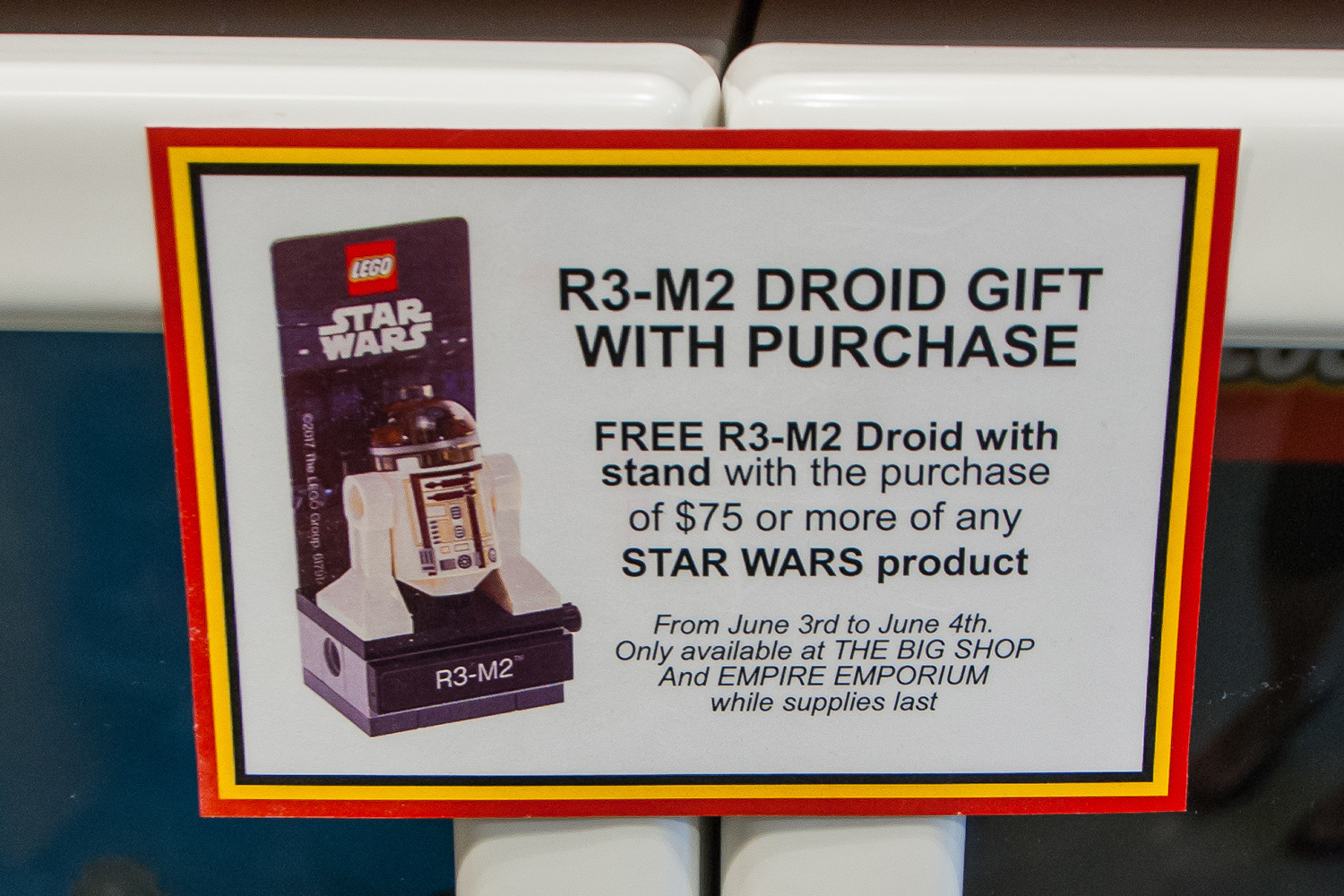 For more information on LEGOLAND California and any upcoming events, visit their website: http://california.legoland.com
Text & Photography by Andrew Kim