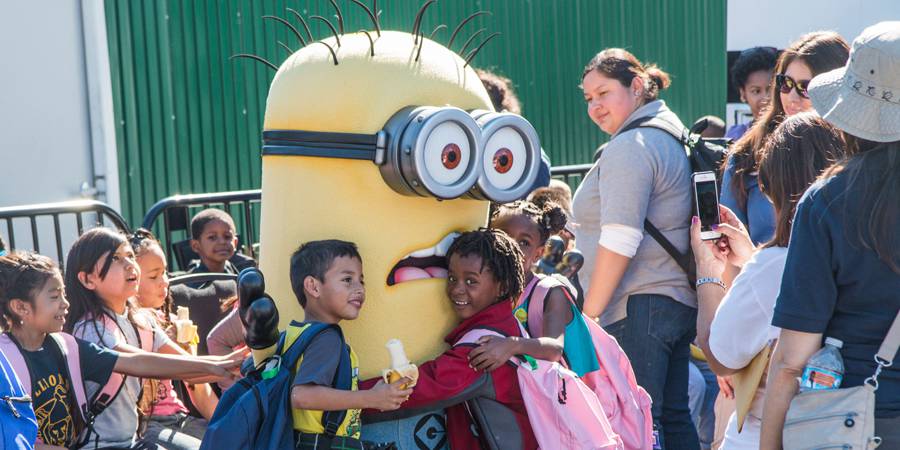 Brian Curran
Universal Studios Hollywood Hosts "Day of Giving"
November 13, 2015
Minions, Minions and More Minions from the Popular "Despicable Me Minion Mayhem" Ride Join Hundreds of Universal Studios Hollywood Employees to Volunteer at Six Charitable Projects across Los Angeles In Support of Theme Park's 11th Annual "Day of Giving" Community Outreach Program on Thursday, November 12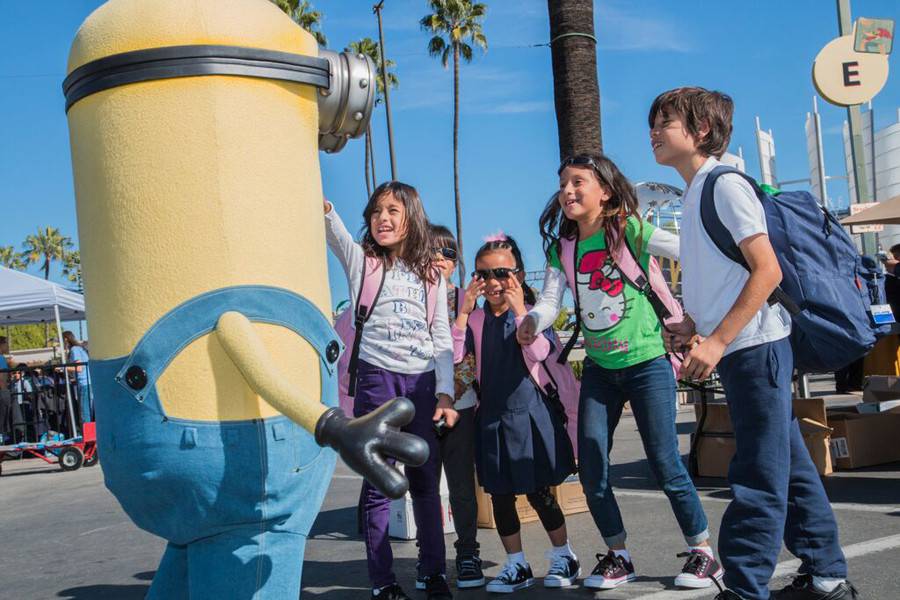 Universal City, California, November 6, 2015 – Hundreds of Universal Studios Hollywood's employee volunteers and a medley of Minions from the theme park's popular "Despicable Me Minion Mayhem" ride will band together to pay it forward and give back to six LA-based non-profit community organizations as The Entertainment Capital of L.A. marks its 11th annual "Day of Giving" on Thursday, November 12, 2015.
The inspirational "Day of Giving" event is Universal Studios Hollywood's yearly tradition designed to connect employees with diverse community organizations, many of which are beneficiaries of the company's philanthropic foundation, Discover A Star, whose mission is to empower individuals and families to lead more productive and fulfilling lives.
As part of this year's special event, Universal Studios Hollywood will again serve as home base for Operation School Bell, hosting 250 homeless children from over 20 LAUSD elementary and middle schools. After the children are treated to new clothing, sneakers and school supplies, they will accompany volunteers for an afternoon of fun at the theme park that includes experiencing the popular "Despicable Me Minion Mayhem" ride, the "Super Silly Fun Land" play zone, and the world-famous Studio Tour which now features the blockbuster thrill ride, "Fast & Furious – Supercharged" as the epic grand final of the signature ride.
The day-long event will also send hundreds of employee volunteers around Los Angeles to help support community-building efforts at the following Discover A Star grant recipients: A Place Called Home; which provides educational, art, and wellness programs to underserved youth in South Central Los Angeles.) AIDS Project L.A. (APLA); part of APLA's Necessities of Life Program, the nation's largest food pantry for people living with HIV/AIDS Pacific Lodge Boys' Home; which provides a therapeutic residential treatment program for boys ages 13 to 18 Covenant House L.A.; an organization that provides a safe, nurturing environment for homeless youth Shane's Inspiration's whose mission is creating social inclusion for children with disabilities through the vehicle of inclusive playgrounds and programs, and Operation School Bell.
Discover A Star Foundation is Universal Studios Hollywood's philanthropic division committed to making a significant impact in local underserved communities by providing grants to deserving non-profit organizations. Originally founded in 1993, Discover A Star's mission is to provide financial assistance to neighboring nonprofit groups. To date, Discover A Star has provided financial assistance to over 65 nonprofit organizations.
Universal Studios Hollywood, The Entertainment Capital of L.A.SM, includes a full-day, movie-based theme park and Studio Tour; the CityWalk entertainment, shopping and dining complex, the Universal CityWalk Cinemas and the "5 Towers" state-of-the-art outdoor concert venue. World-class rides and attractions include the renowned, behind-the-scenes Studio Tour featuring the intense "King Kong 360 3-D" attraction and the all-new "Fast & Furious—Supercharged" thrill ride as the Studio Tour's grand finale. Other popular rides include the 3D-HD adventure, "Despicable Me Minion Mayhem" and immersive "Super Silly Fun Land," the critically-acclaimed mega-attraction, "Transformers™: The Ride-3D," "Revenge of the MummySM—The Ride," "Jurassic Park® —The Ride," "Springfield," hometown of America's favorite TV family, adjacent to the award-winning "The Simpsons RideTM" and the "Nighttime Studio Tour" which runs on select evenings.