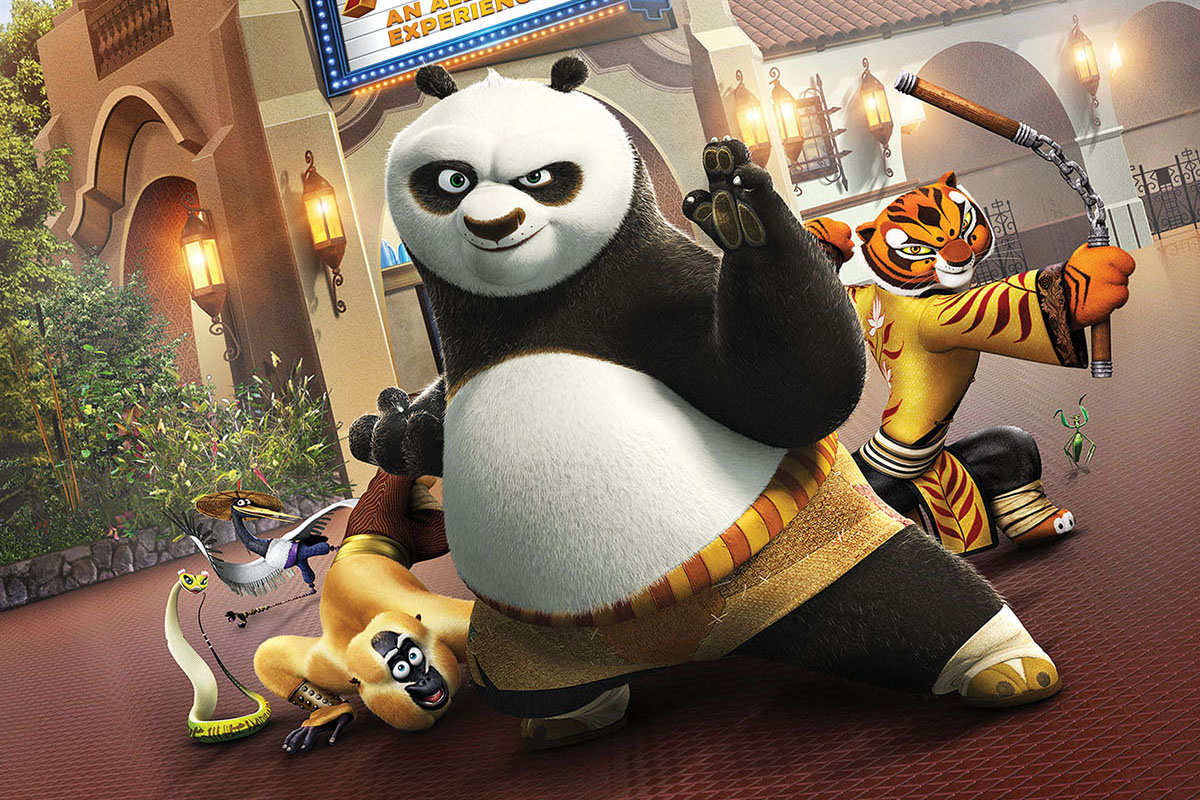 Kris Van de Sande
What's New at Universal Studios Hollywood & CityWalk
June 8, 2017
If 2016 was a busy year for Universal Studios Hollywood, launching both Wizarding World of Harry Potter and The Walking Dead Experience, then 2017 most certainly belongs to Universal CityWalk – but don't leave the theme park out just yet! In this Universal update, we'll take a look at what's been happening this year and what's still to come!
CityWalk Recap
At CityWalk earlier this year we saw the opening of Jimmy Buffett's Margaritaville and also the revamped Universal Cinemas, all part of a larger City Walk transformation that includes last year's opening of LudoBird and Dongpo Kitchen. While Jimmy Buffett performed in concert at his grand opening celebration, Steven Spielberg, Jordan Peele and other notable filmmakers helped open the new state-of-the-art cinemas with a reception at the Director's Lounge, located upstairs of the theaters.
Jimmy Buffett performs at the Grand Opening of Margaritaville at CityWalk in March 2017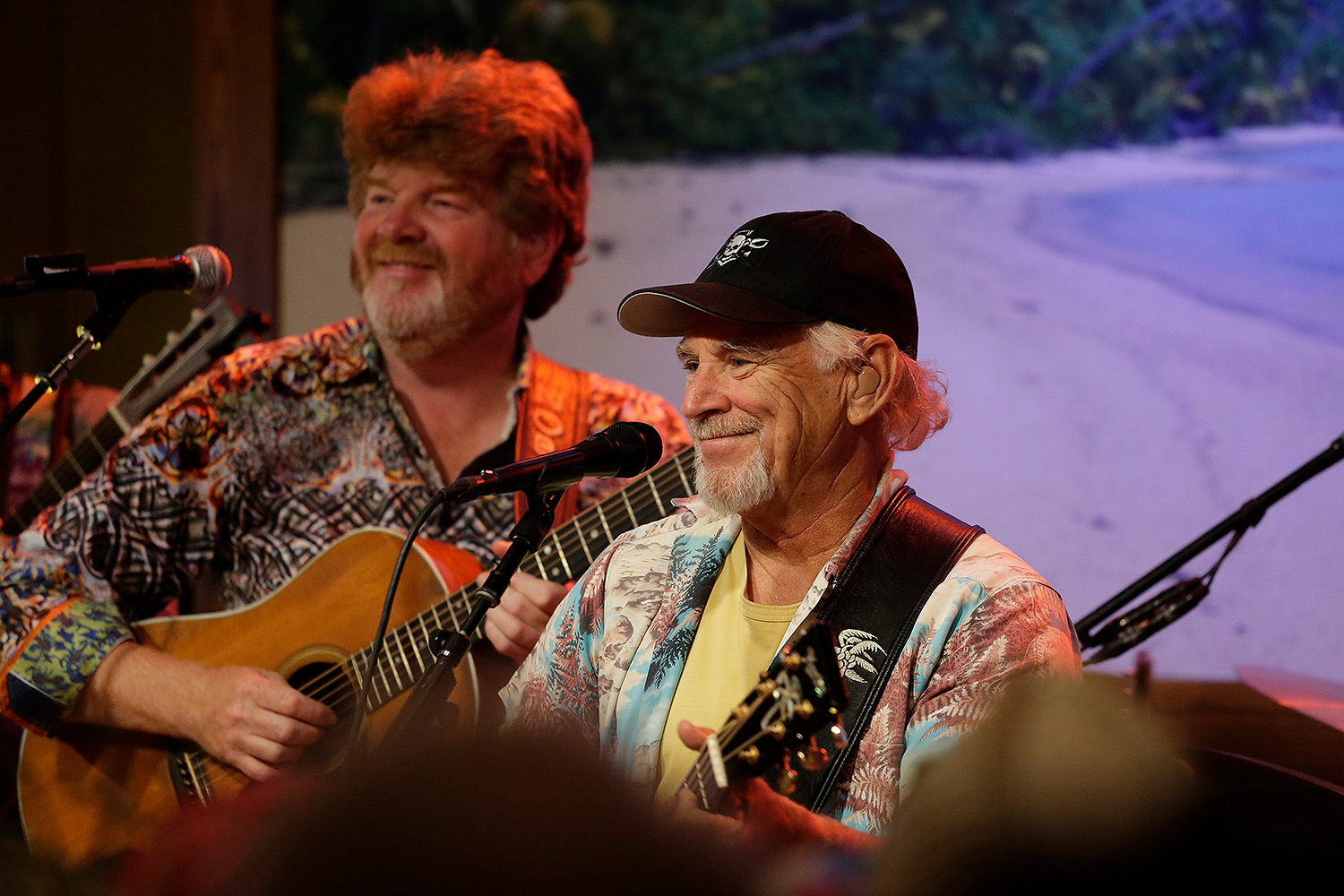 Steven Spielberg grand opens the Universal Cinemas in April 2017

Angel Wings – New!
If Universal is the Entertainment Capital of Los Angeles, what better way to celebrate that than with its own set of wings? Acclaimed pen and ink artist Kelsey Montague @KelseyMontagueArt was brought on to create specially designed angel wings features tributes to the city of Los Angeles, and the film industry, from the iconic L.A. Skyline and its palm trees, to the Hollywood Stars and Film Reels.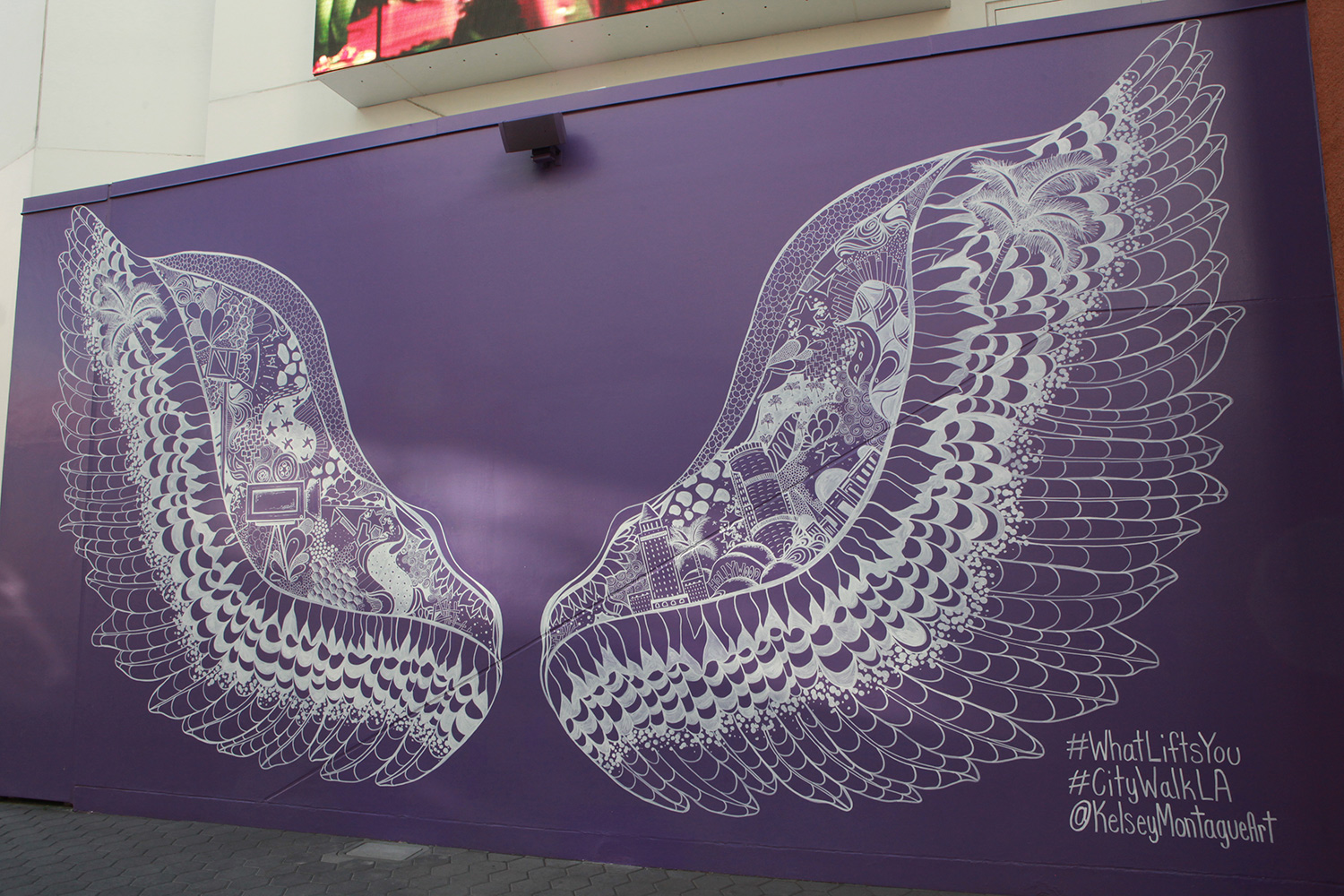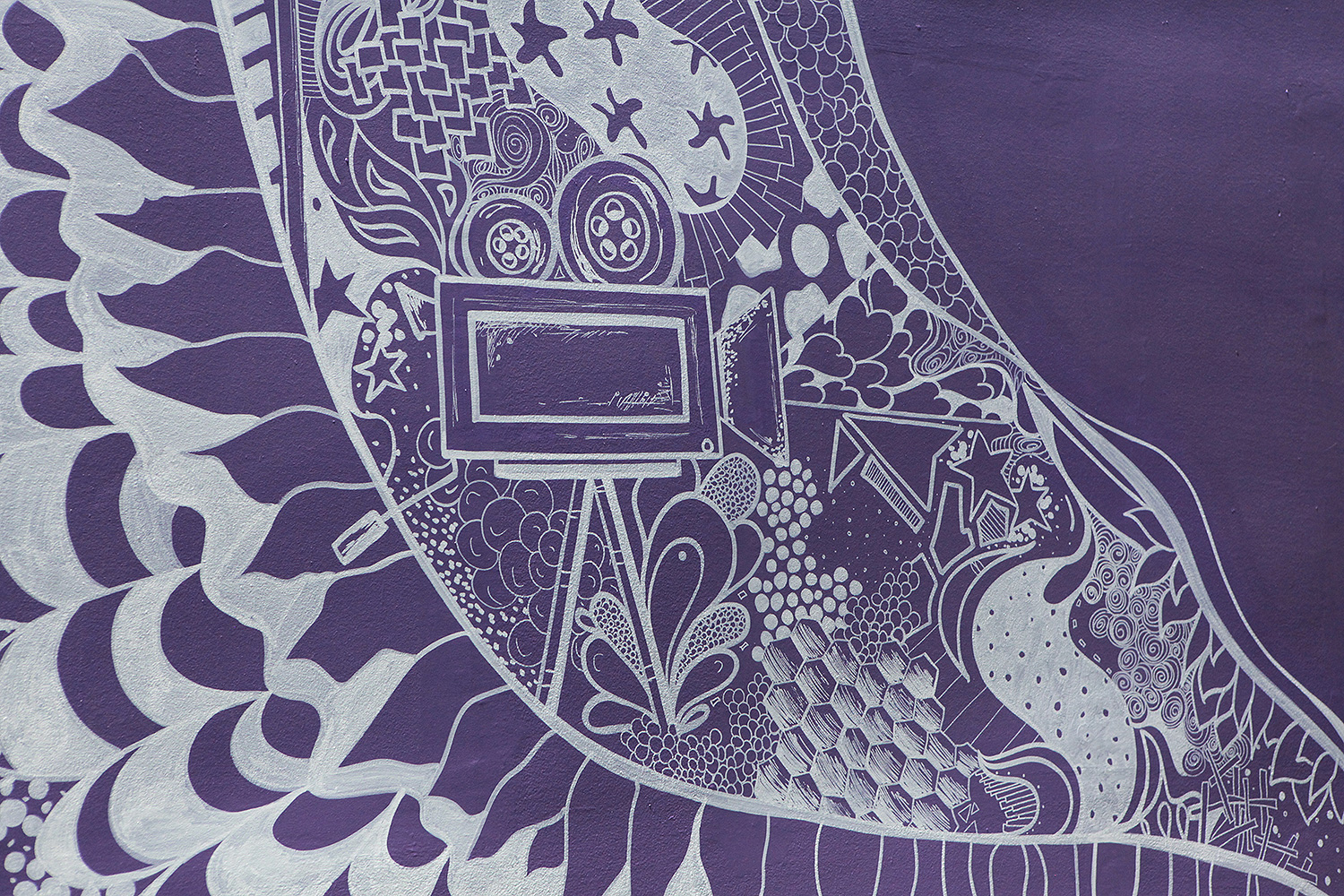 Artist Kelsey Montague poses with her art titled "What Lifts You", located near Hard Rock Café.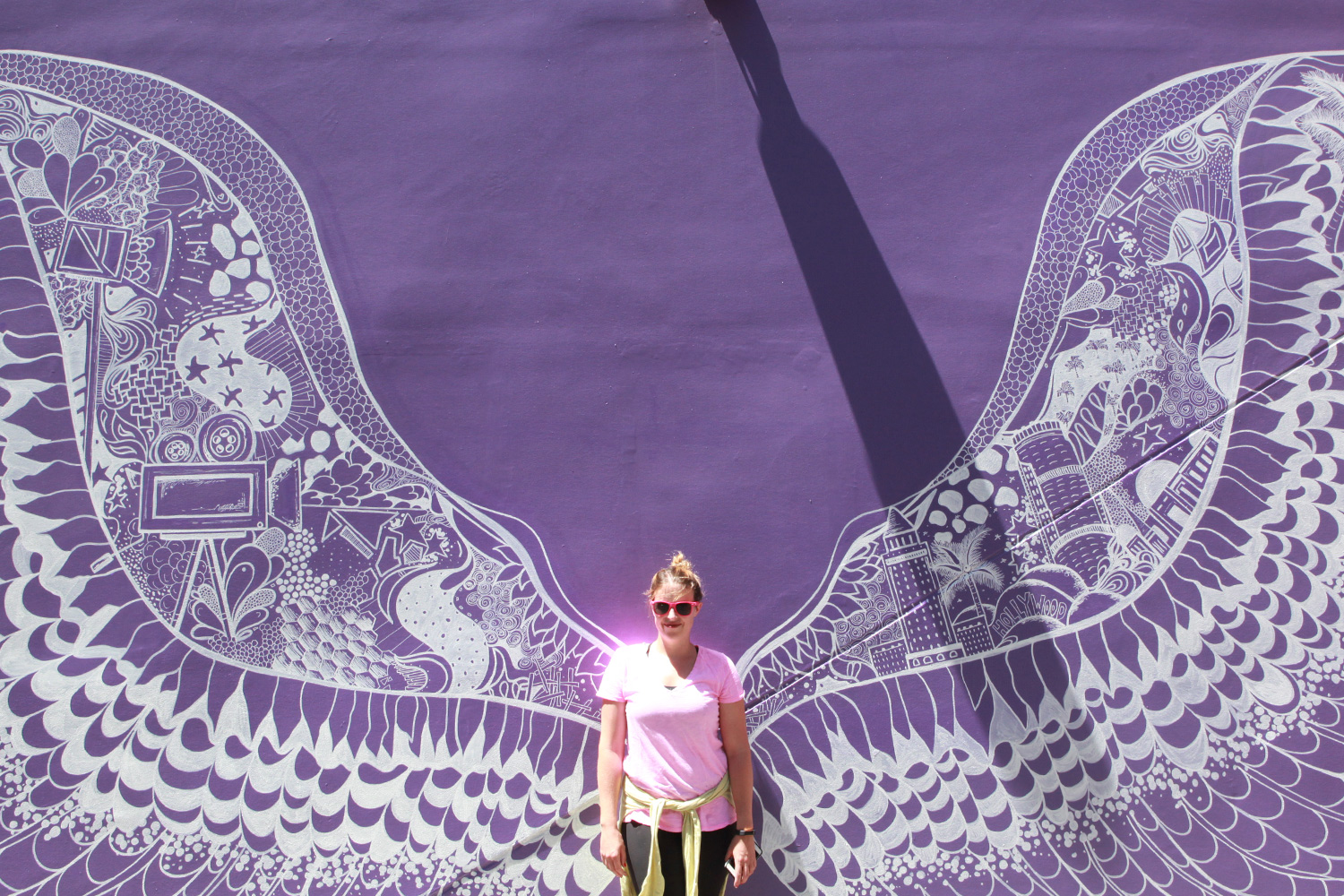 The second mural by Kelsey Montague is a set of head phones located near Sketchers. Guests young and old can sit against the mural wall and pose with the oversized headphones.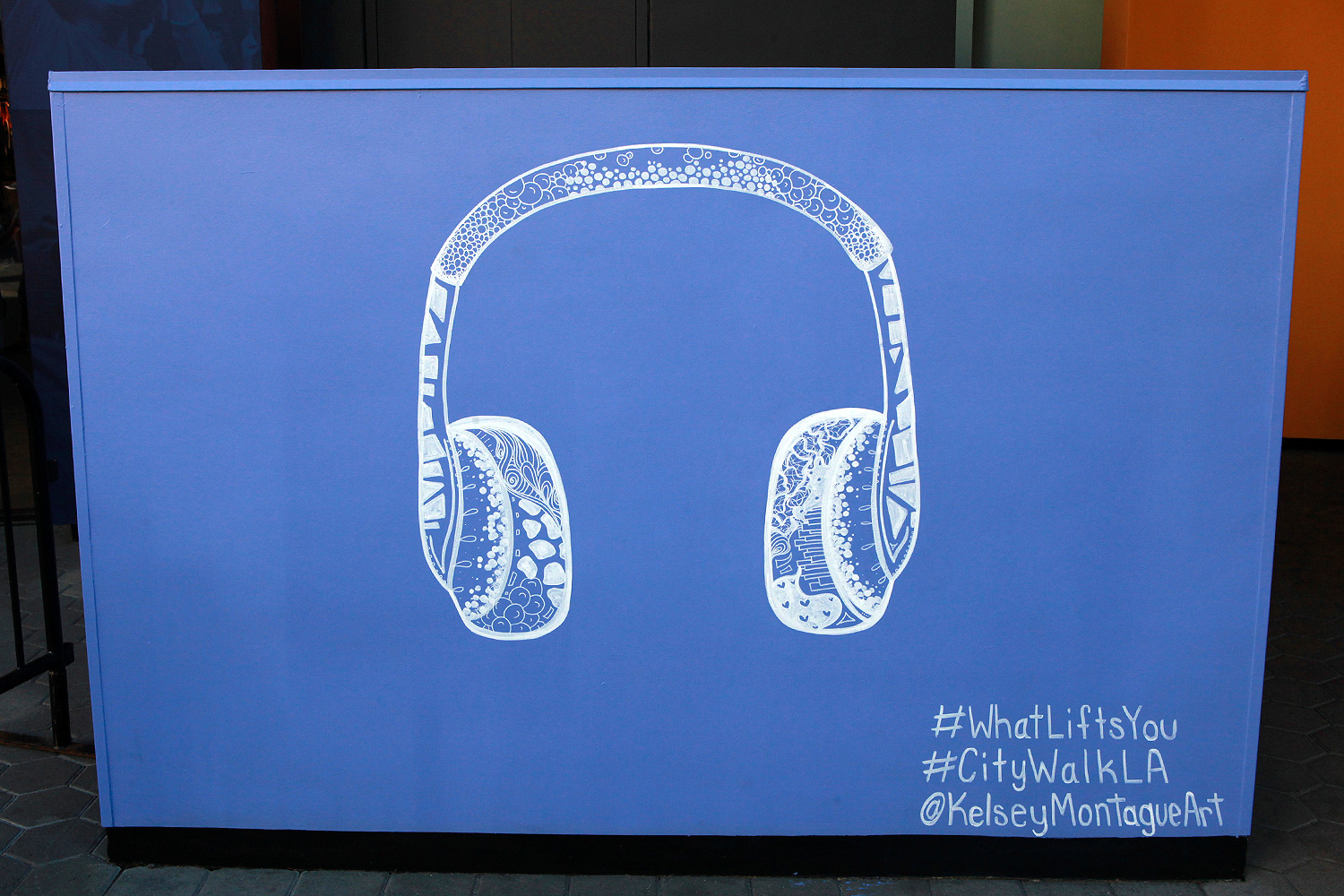 Do you Voodoo? – New!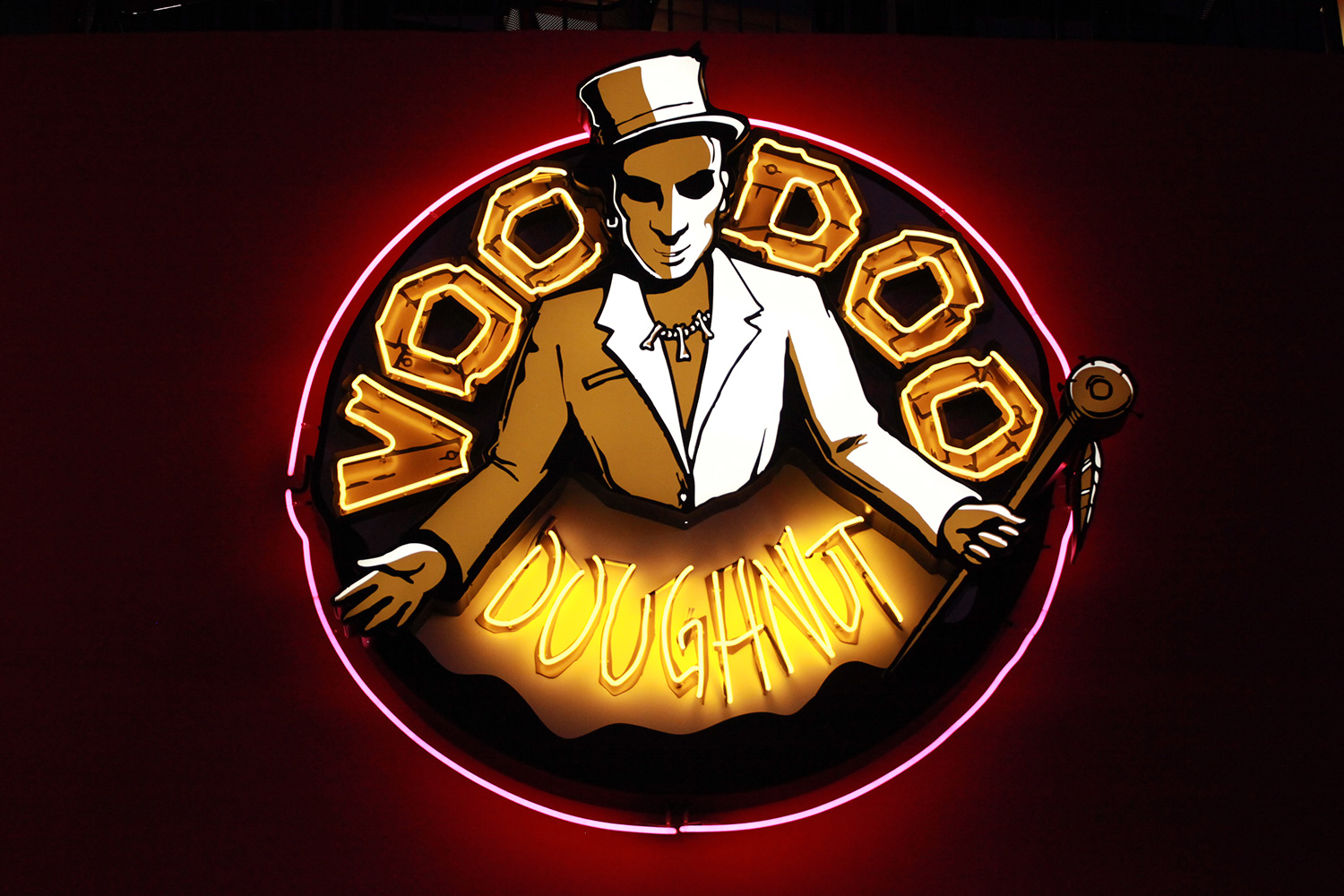 Opened just in time for this year's National Doughnut Day was Voodoo Doughnut, the first-ever location in California. Paired with Stumptown Coffee, this location actually opened its doors much earlier than National Doughnut Day. "Good Things Come in Pink Boxes" is the mantra here, and I'm guessing good things means more than two, since buying just one donut will get you a white paper bag.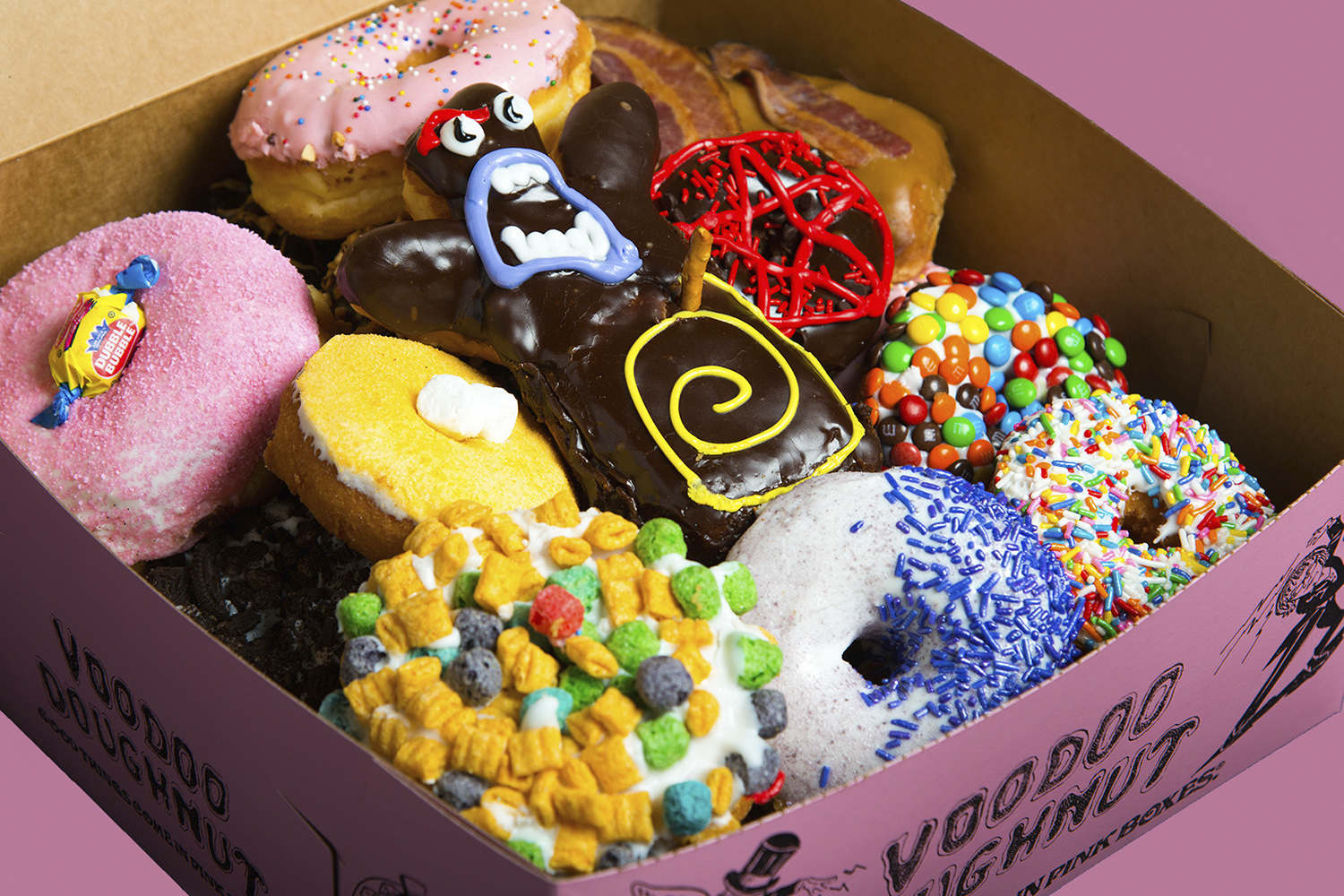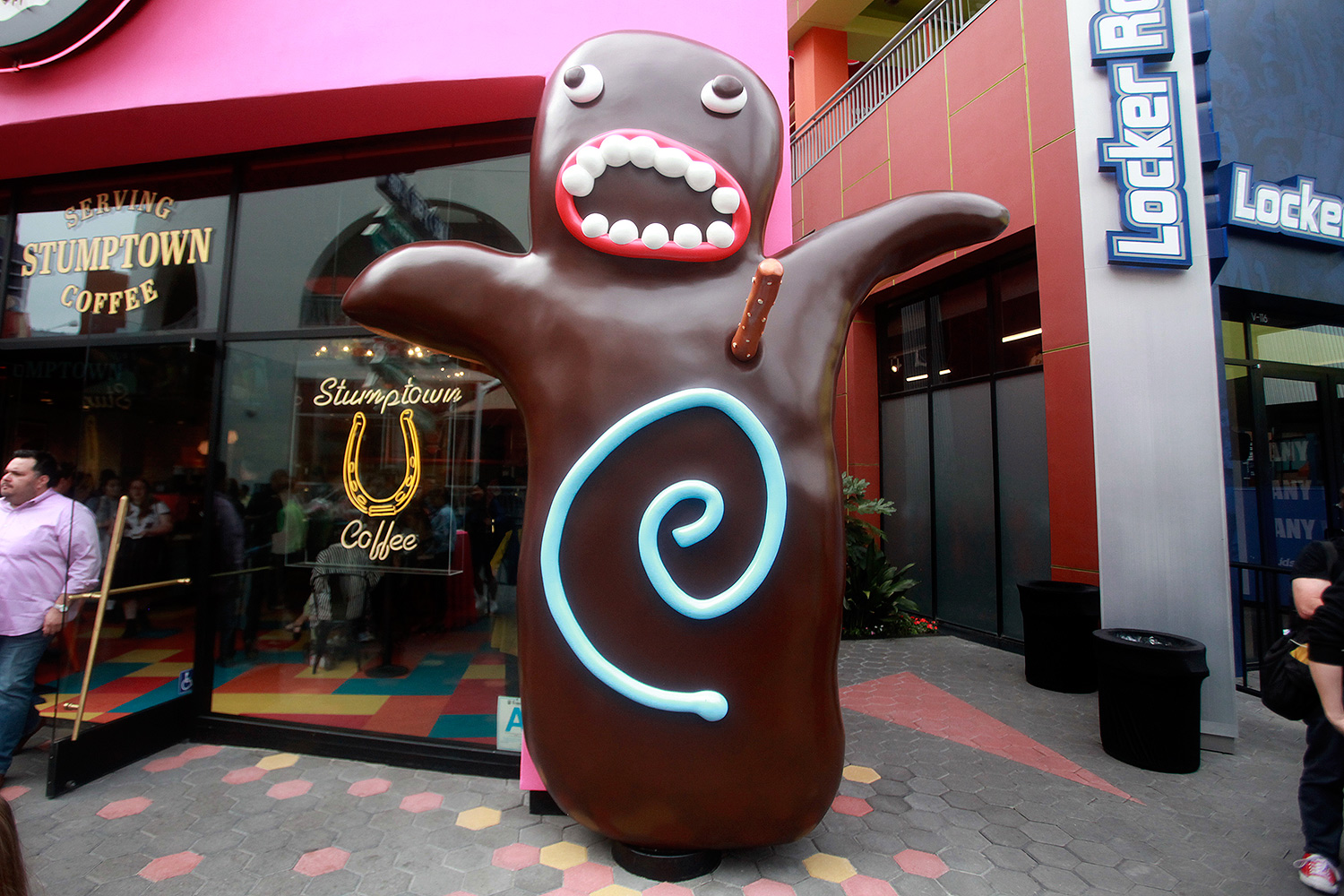 A variety of scrumptious flavored doughnuts are available, such as Grape Ape, Mango Tango, the Voodoo Bubble and Bacon Maple Bar as well as their iconic Voodoo Doll. A popular take-out option, Voodoo Doughnuts are served in signature pink boxes or in a custom-made wooden coffin.The new location also features another Portland specialty: Stumptown coffee, which brews regularly from the first-ever pink Stumptown espresso machine located exclusively at Universal CityWalk's Voodoo Doughnut. Keeping with their longstanding tradition, Voodoo Doughnut helps celebrate marital bliss by hosting weddings ceremonies, complete with a doughnut and coffee catered reception.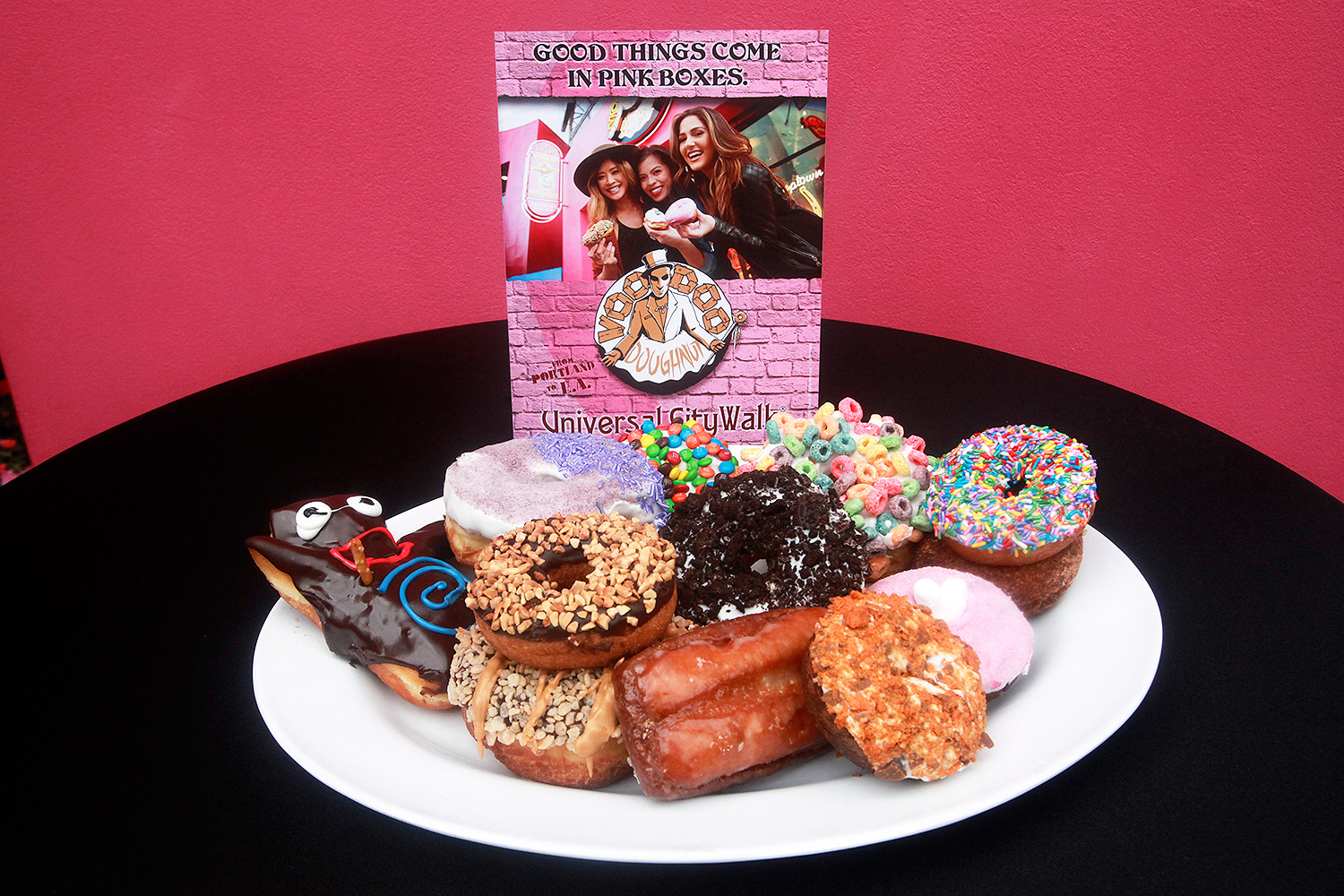 Founders Kenneth "Cat Daddy" Pogson and Tres Shannon helped christened the opening of Voodoo Doughnut. "We are beyond thrilled to open Voodoo Doughnut at Universal CityWalk and share our menu of fabulous doughnuts with the world at the top entertainment destination in Los Angeles," said Voodoo Doughnut founder, Kenneth "Cat Daddy" Pogson.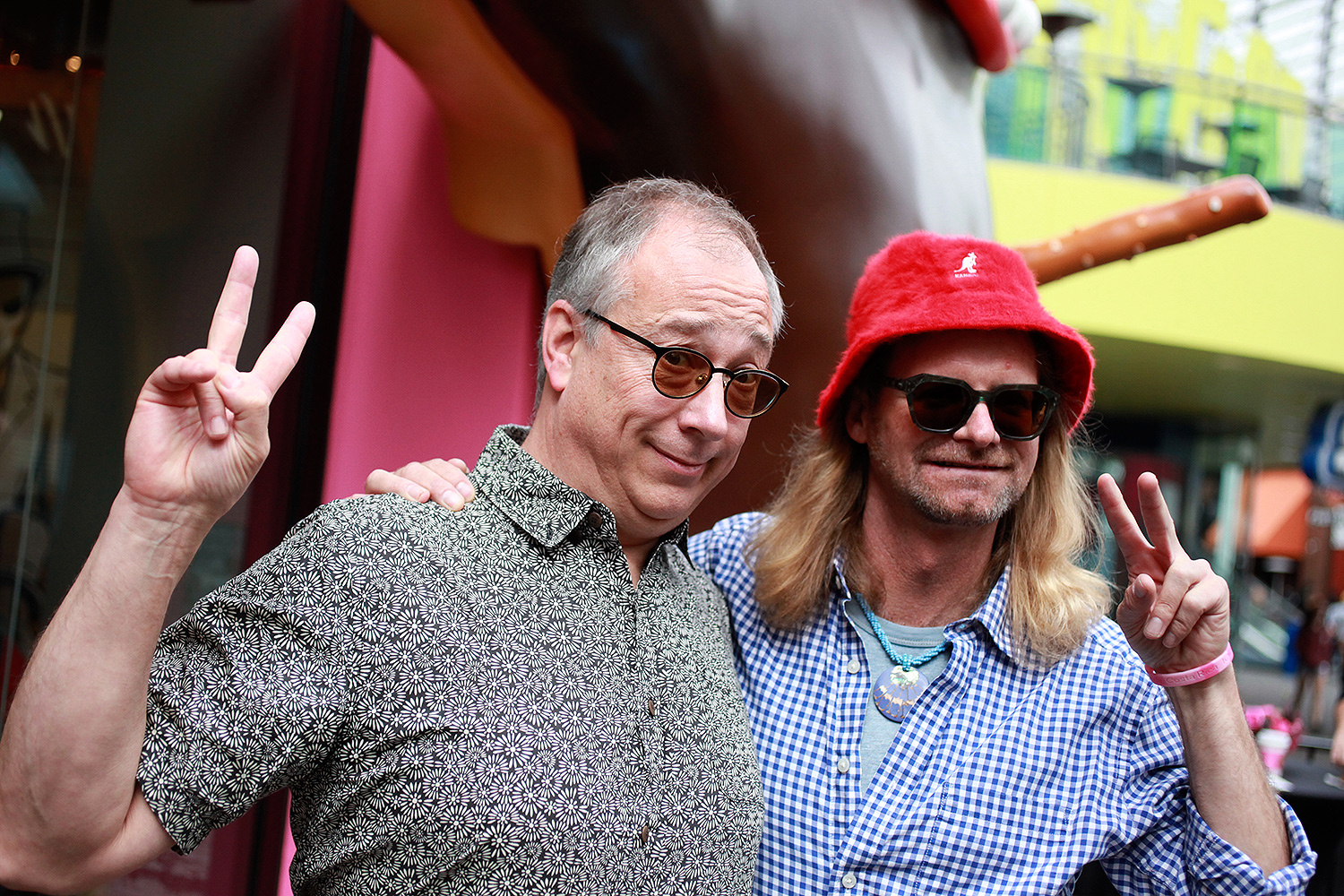 Menchie's Swirls it Up – New!
We were all sad when Yogurtland announced its closure, but after a few short months, it has reemerged as Menchie's Frozen Yogurt. Menchie's is, like Yogurtland, a Southern California original and began setting up shop not far from Universal CityWalk in Valley Village. Now, Menchie's serves over 540 locations around the world with a variety of rotating self-serve flavors and toppings. It's quite common to find more than just frozen yogurt at Menchie's, sometimes you can walk away with a few stickers or even in my instance, bubble gum chapstick!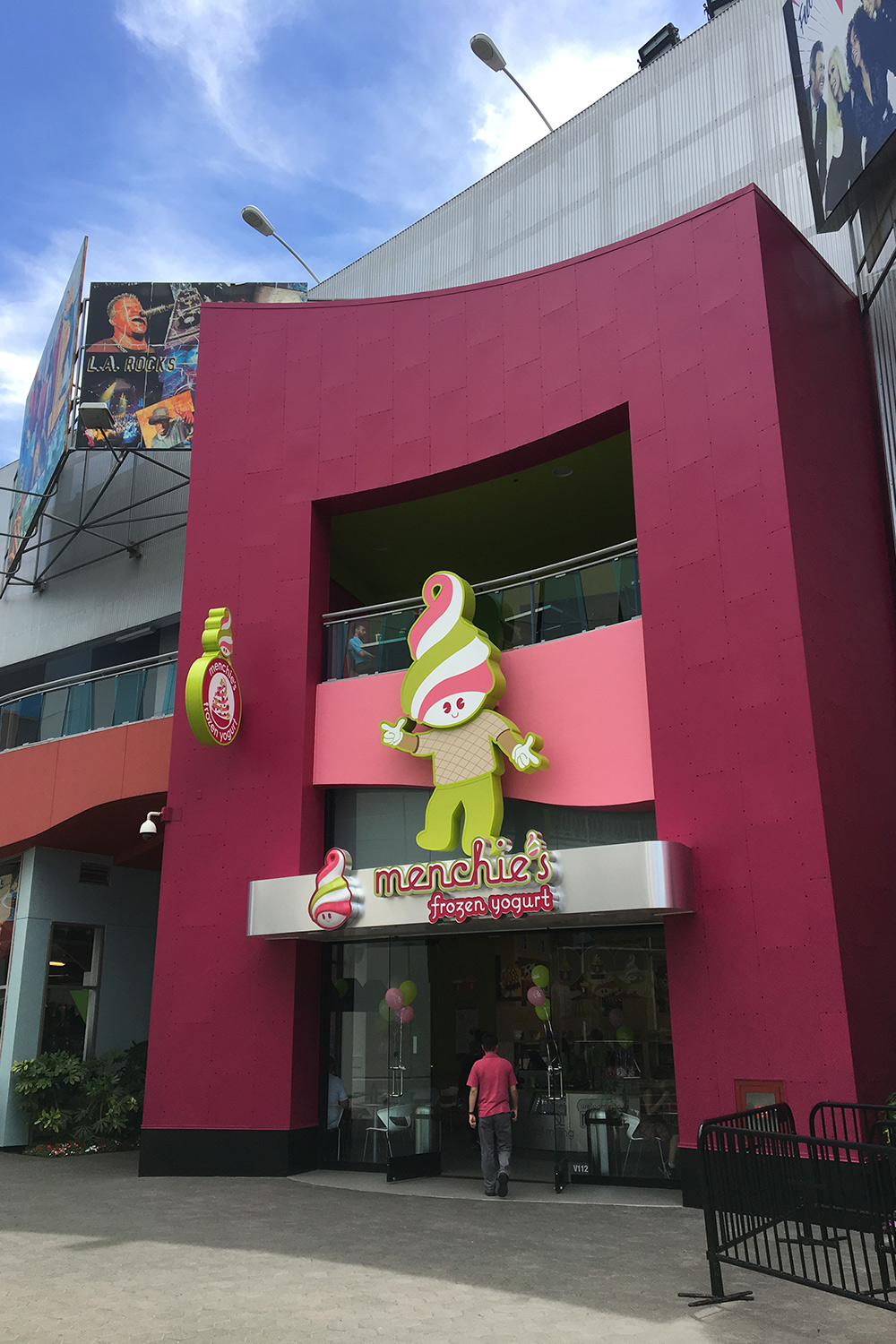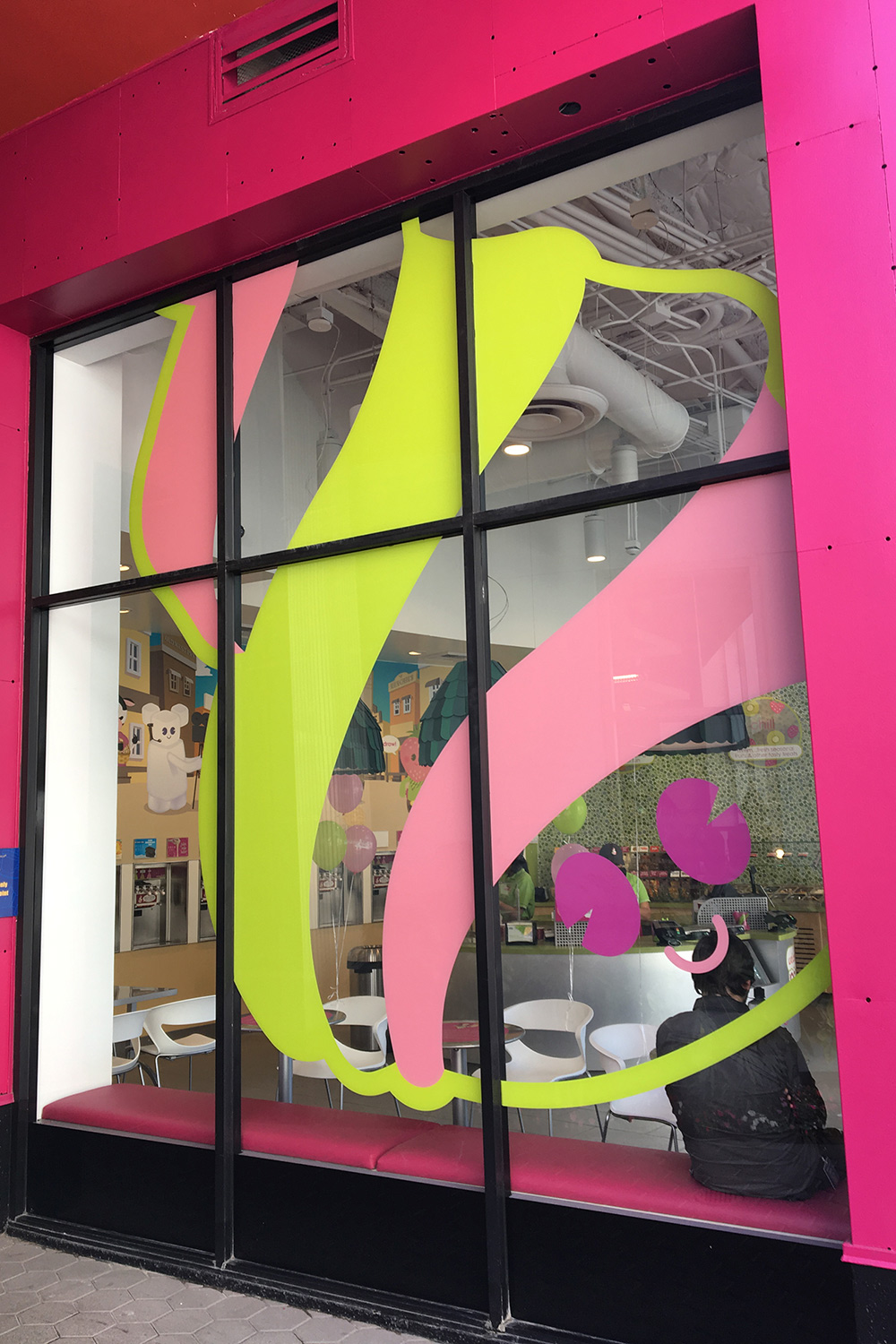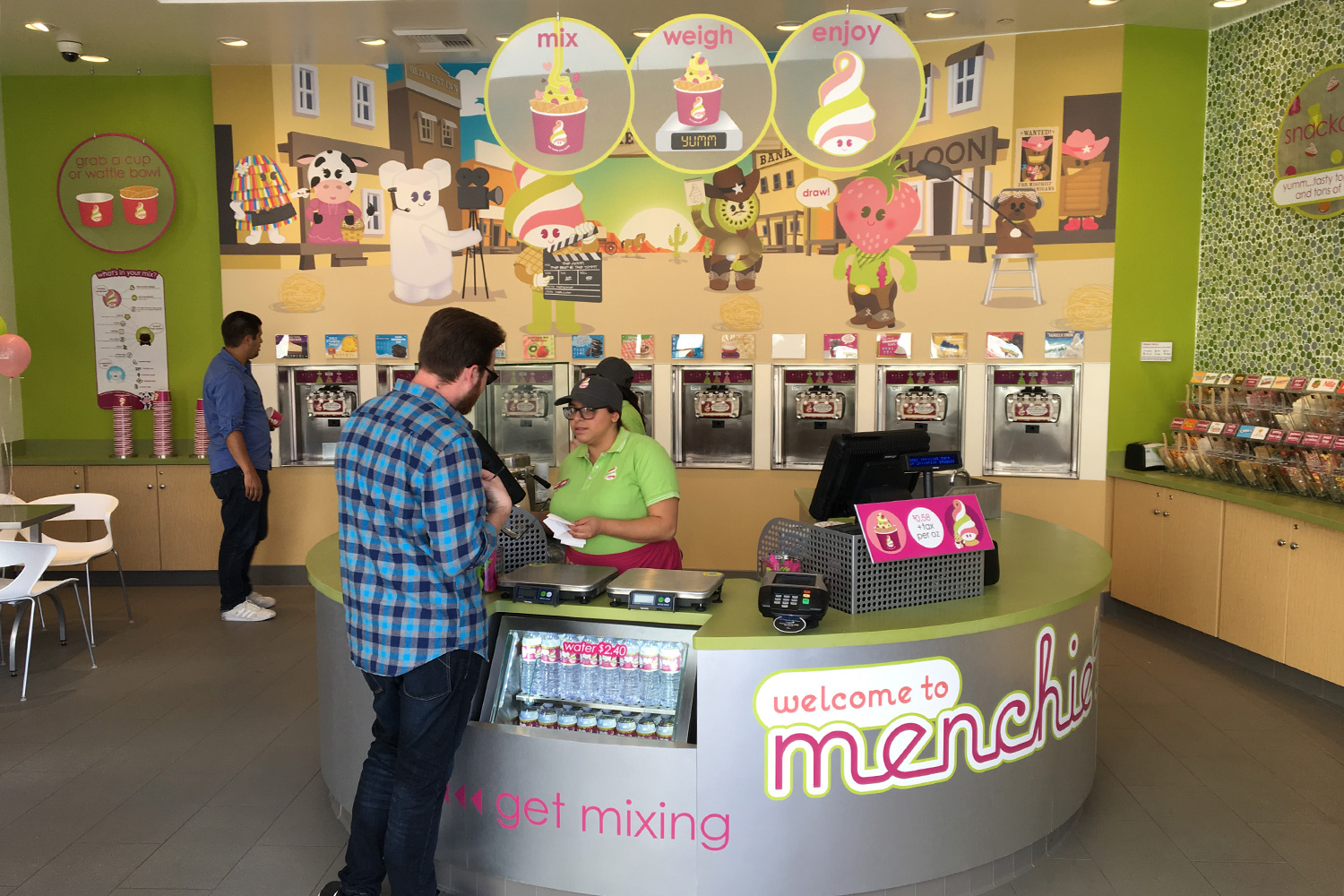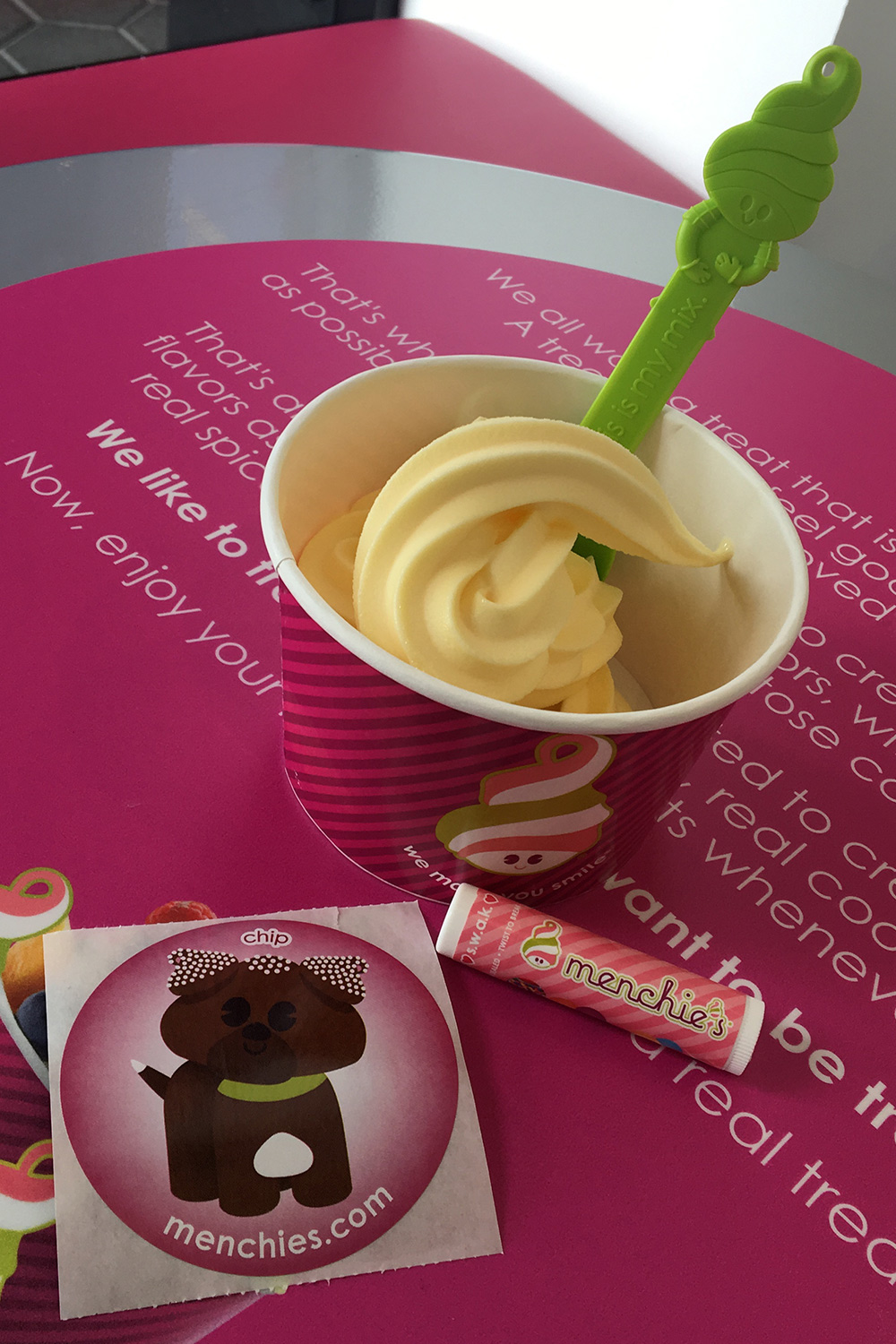 CityWalk 2017 and Beyond!
All these new locations at CityWalk and they're still not done! The next launch will most likely be Minimonster (SnowMonster), a new chain of desserts and boba drinks replacing Lush. Also coming, rumored but unconfirmed, is a Poke Bowl location in CityFood, replacing the spot that Flame Broiler left behind. Boba and Poke? Macaron Ice Cream Sandwiches? Sounds like there's definitely more reasons to come to Universal on an empty stomach!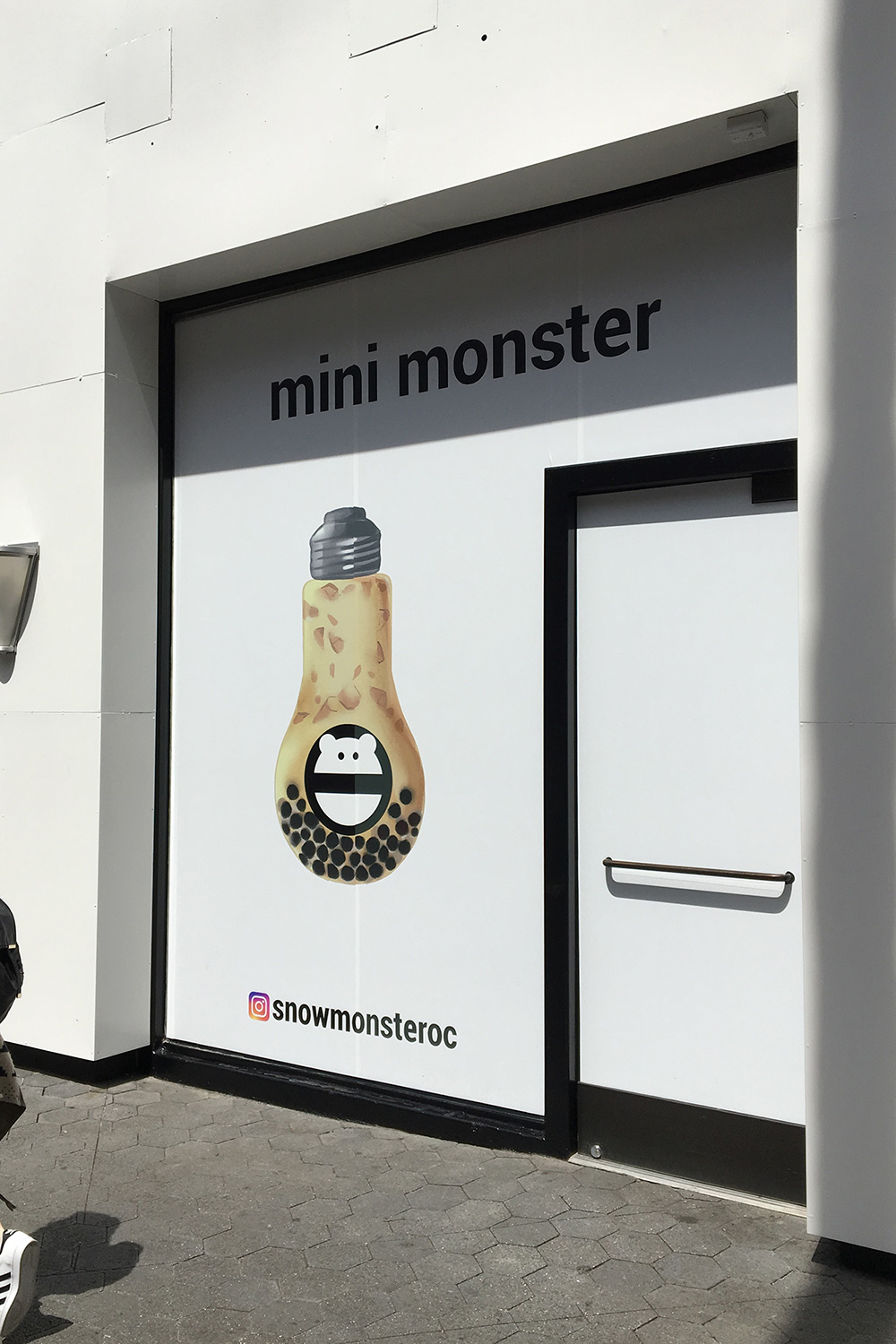 Dreamworks Finds Home at Universal Studios Hollywood – 2017 and 2018!
With Dreamworks Animation now a part of the Comcast-NBCUniversal family, the characters of Dreamworks Animation will take center stage this summer at the Universal Plaza inside Universal Studios Hollywood with a daily character dance jam. Guests of all ages can meet and interact with, as well as get their selfies taken with the characters of Kung Fu Panda, How to Train Your Dragon, Shrek, Madagascar, and Trolls. But that's not all! Coming in 2018 is a newly renovated Dreamworks Animation Theater (replacing Shrek 3D). This multi-sensory attraction will take guests on a brand new technologically advanced attraction on a legendary journey that fuses captivating storytelling with state-of-the art projection mapping and LED lighting effects for a highly engaging and immersive, unstoppable-awesome experience.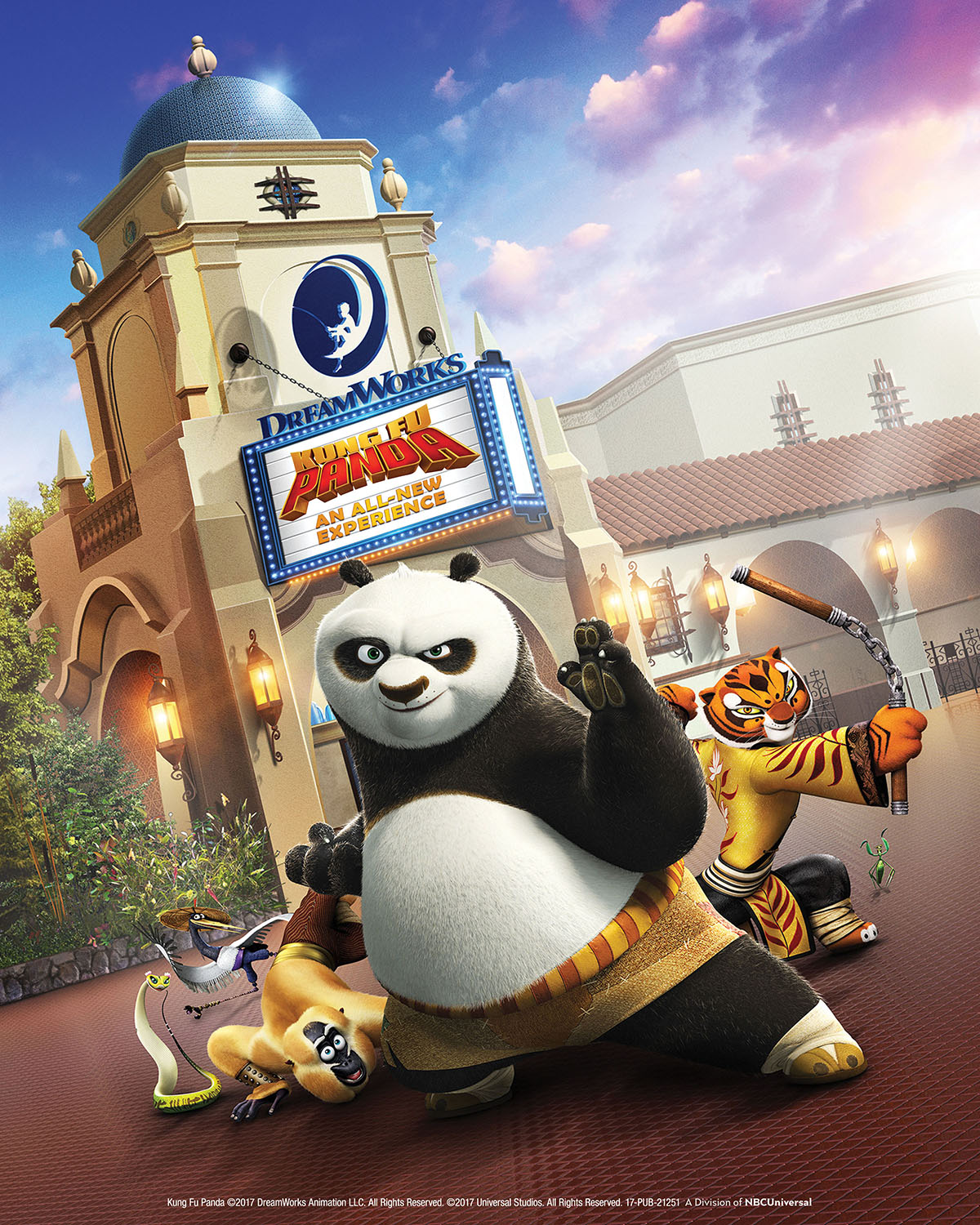 Nighttime Lights at Hogwarts Castle – Summer 2017!
The Wizarding World of Harry Potter opened in 2016 and already we're seeing many updates. The insanely popular grand opening celebration program included stunning projection mapping technology accompanied by the music of John Williams. That show will finally take a new form this summer in "Nighttime Lights at Hogwarts Castle". Since this is coming very soon, we'll have more details when it happens!
Christmas in The Wizarding World – Late 2017!
As if a new summer show wasn't enough, Universal Studios Hollywood will introduce "Christmas in The Wizarding World of Harry Potter," transforming Hogwarts castle into a breathtaking light projection show that captures the spirt of the yuletide season. Hogsmeade village will also shine brightly as the quaint town celebrates with festive décor uniquely themed to each of the individual storefronts, along with holiday-themed food and beverages including hot Butterbeer. A special time in the Harry Potter series, the all-new "Christmas in The Wizarding World of Harry Potter" tradition invites guests to celebrate this part of J.K. Rowling's compelling story for themselves. As night falls on Hogsmeade village, the familiar sounds of Harry Potter music will resonate throughout The Wizarding World of Harry Potter. Multiple times an evening, colorful projection mapping will illuminate Hogwarts School of Witchcraft and Wizardry with impressive dimensional animations that melodically dance across Hogwarts castle in tandem to a musical arrangement from of the Harry Potter movies. "Christmas in The Wizarding World of Harry Potter" represents the immersive land's first holiday themed program since opening at Universal Studios Hollywood in 2016.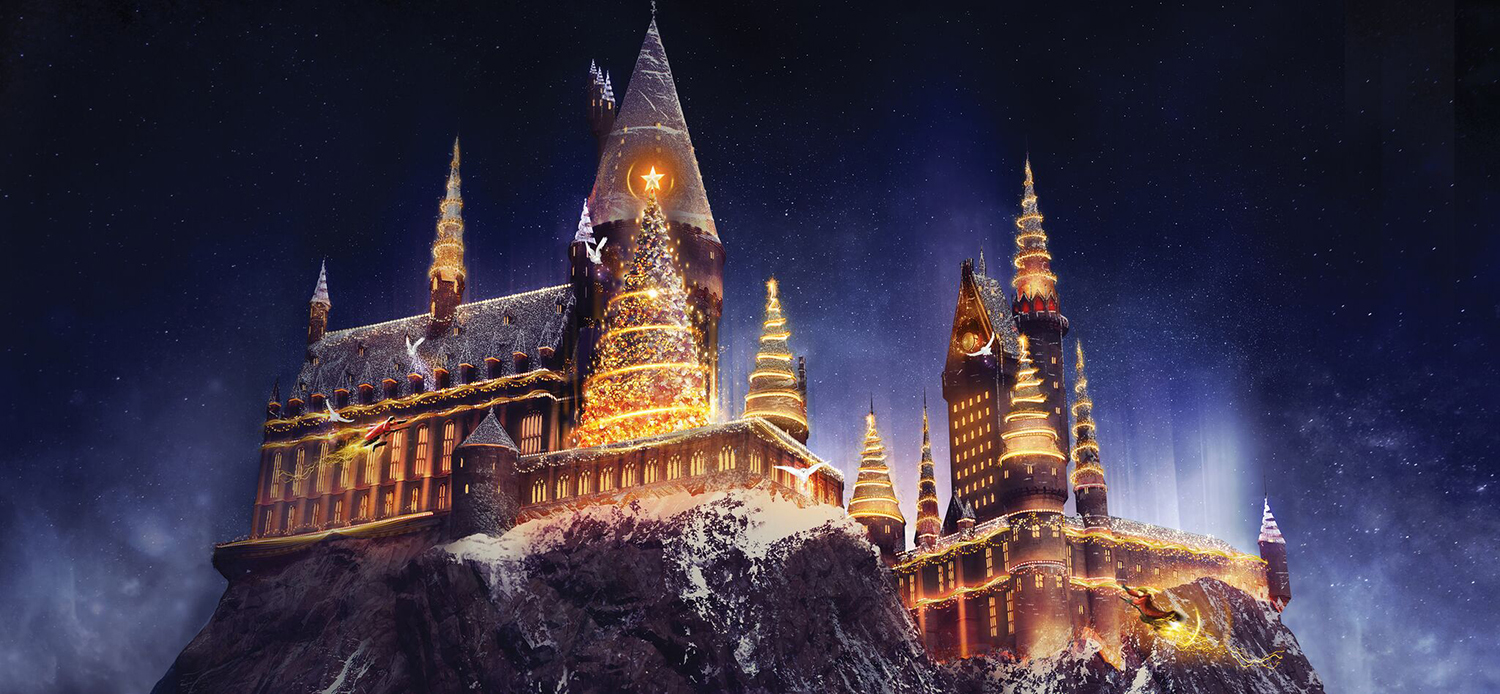 Hello Kitty – 2018!
The world's most popular not-a-cat-human from Sanrio will make her Universal Studios Hollywood debut in 2018. Hello Kitty and her signature red bow, along with more Sanrio friends including My Melody, Keroppi, and Chococat, will be featured on park-exclusive merchandise including accessories, apparel, collectibles, and confectionery. Highlights of the exclusive product offerings include designs incorporating classic Universal titles such as Jaws, ET, Back to the Future and more. Hello Kitty herself will also appear to meet and greet guests.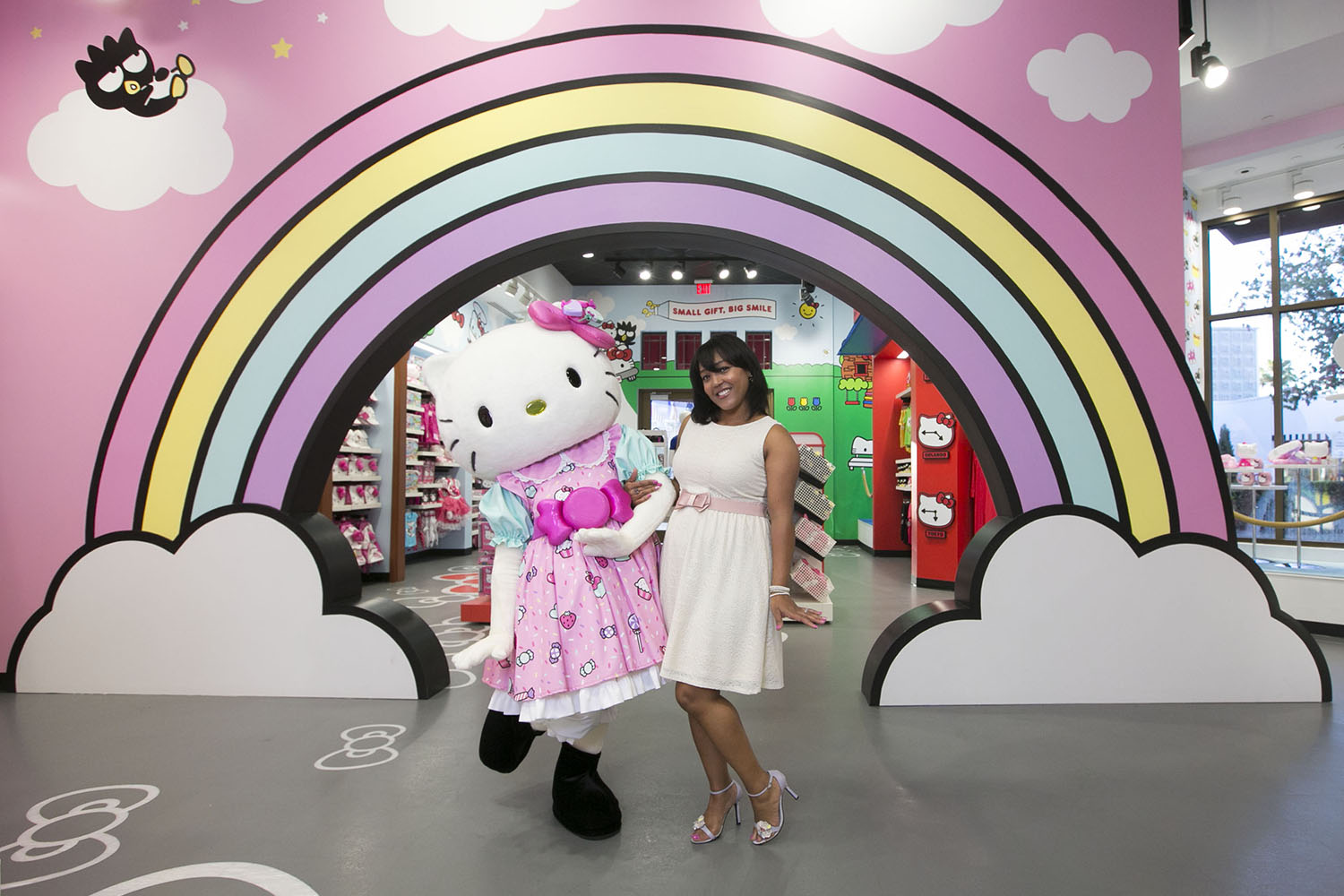 That's all from Universal Studios Hollywood and CityWalk for now! See you at the parks!
Photography by David Yeh
Key Art and other photography courtesy of Universal Studios Hollywood