David Yeh
Super Nintendo World Soft-Opens in Hollywood
The highly anticipated Super Mario themed land doesn't open until February 17, but thanks to technical rehearsals, we got a peek!
January 19, 2023
While the exciting new Super Nintendo World doesn't officially open until February 17th, Universal Studios Hollywood has a fun habit of opening things up early to work out the bugs. Technical Rehearsals, as they'd prefer to call it, allows guests in the parks to experience attractions, and in this case an entire land, ahead of its launch. While there's no guarantee day to day that the land will be available, that hasn't stopped many annual pass holders to visit several times now. We were lucky enough to experience the first technical rehearsal on January 12, 2023 and wanted to share with you what you should expect to see, do, and eat, in the new land… because this is a fun one! Let's-a-go!

Heading down the Star Way (Universal Studios Hollywood has an Upper Lot and a Lower Lot) you'll encounter a glimpse of the exciting fun that awaits you. The Lower Lot is where you'll find Jurassic World: The Ride, Mummy Returns, Transformers: The Ride 3D, and Super Nintendo World.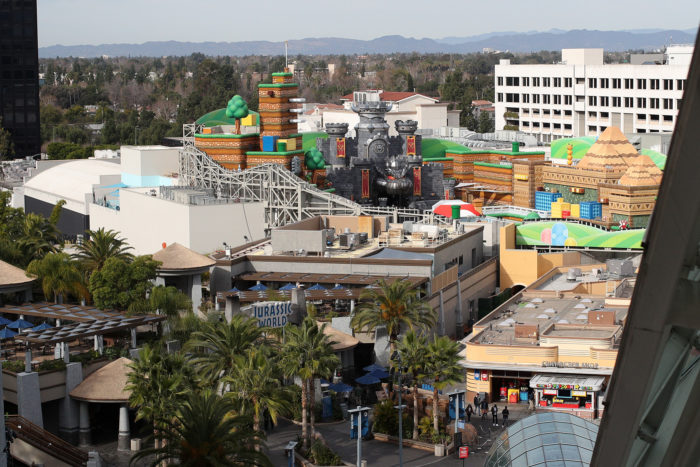 You'll first encounter a drink and snack stand with Super Nintendo World lettering. Keep in mind that there is only one quick service eatery inside Super Nintendo World but no outdoor vending of any kind. This is your stop for the Super Star Collectible Popcorn Bucket ($39.99), Fruity Cream Soda ($12), and Collectible Drink Sippers (Super Mushroom or 1-Up are $20 each).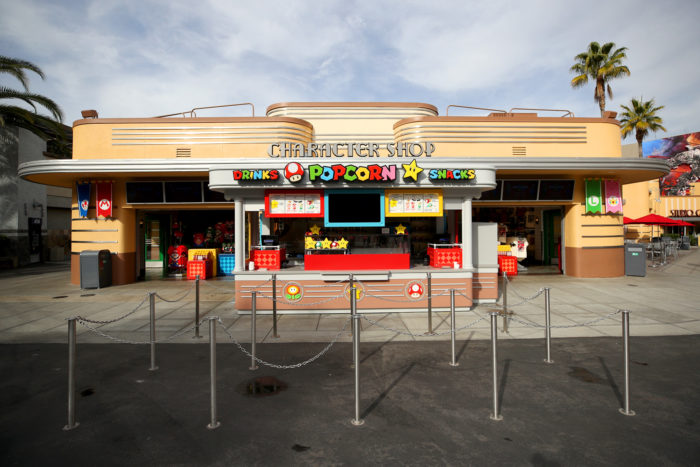 Taking a left at Transformers: The Ride will bring you to the entrance to Super Nintendo World through a warp pipe. I do love how Universal has been really making lands that feel secluded from everything else. It's not new, but they seem to do it better than anyone else as of late.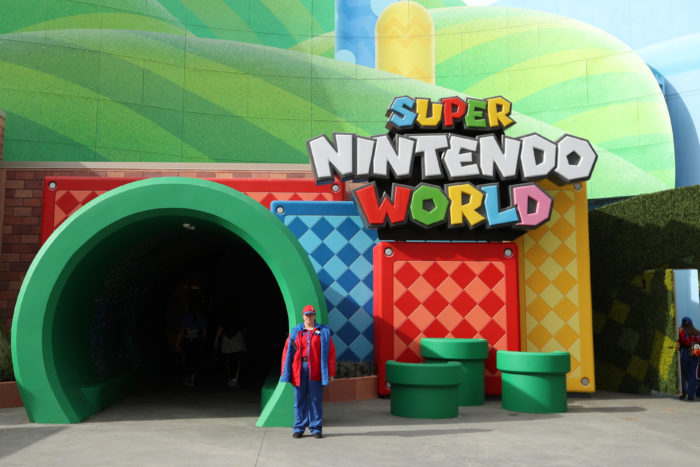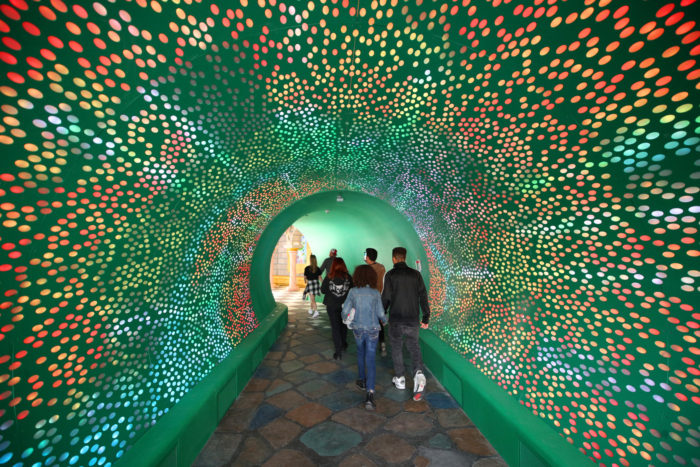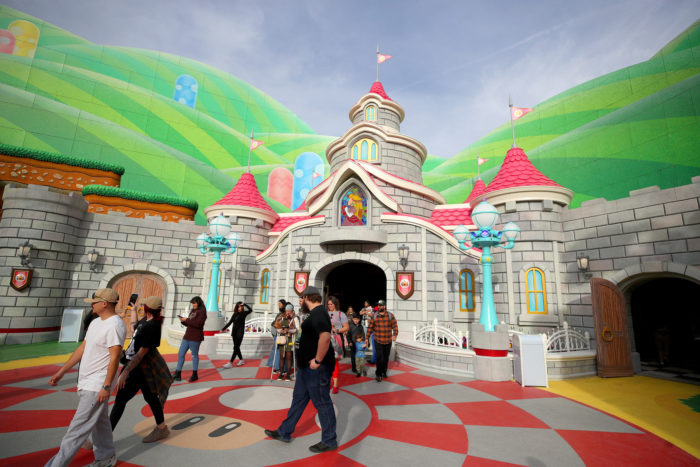 Taking a look behind, we went from Universal Studios Hollywood's Lower Lot into the Mushroom Kingdom where Peach's Castle is. A reminder that while you entered the land this way, this is not the exit! But WOW, look at this land! It's not that big by any stretch of the imagination but it's immersive and interactive, and oh, look, the Comcast building!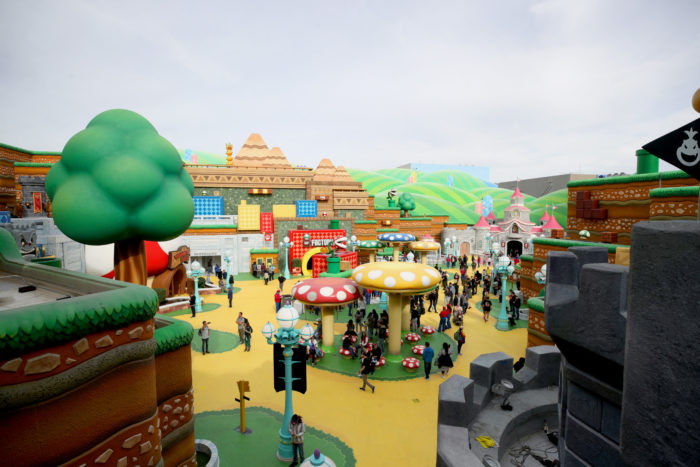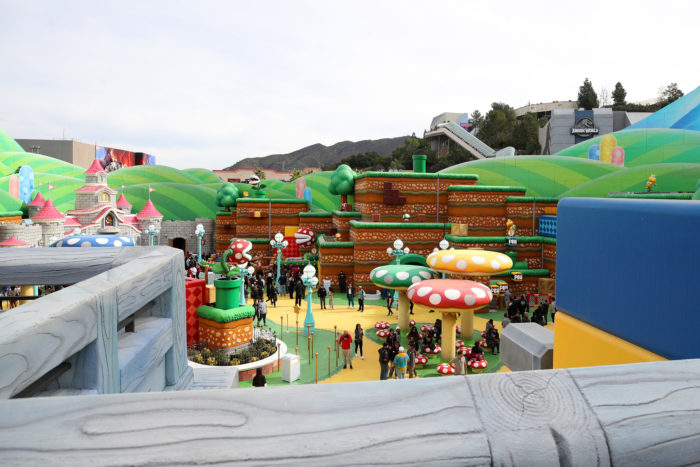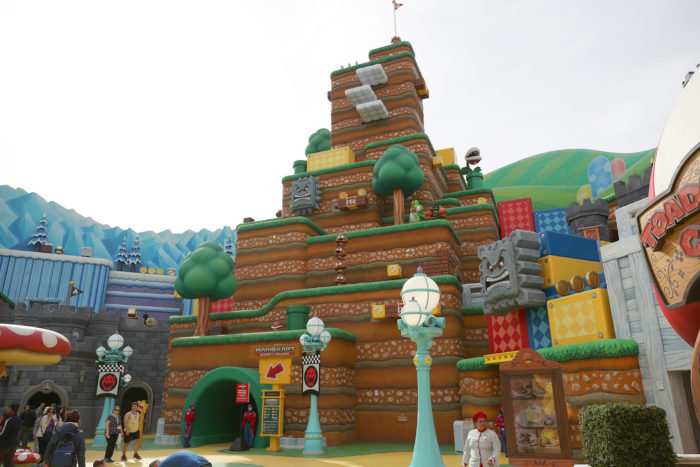 Before you do anything in this land, you might want to grab a Power-Up Band ($40) at the 1-Up Factory shop or at the outdoor kiosk. When you sync the wearable wristband with the Universal Studios Hollywood app, you can interact with the ? Blocks throughout the land to collect digital coins and unlock other special features found in the land. You can choose a design between Mario, Luigi, Princess Peach, Princess Daisy, Yoshi, or Toad. Unfortunately, Bowser is the bad guy and not an option.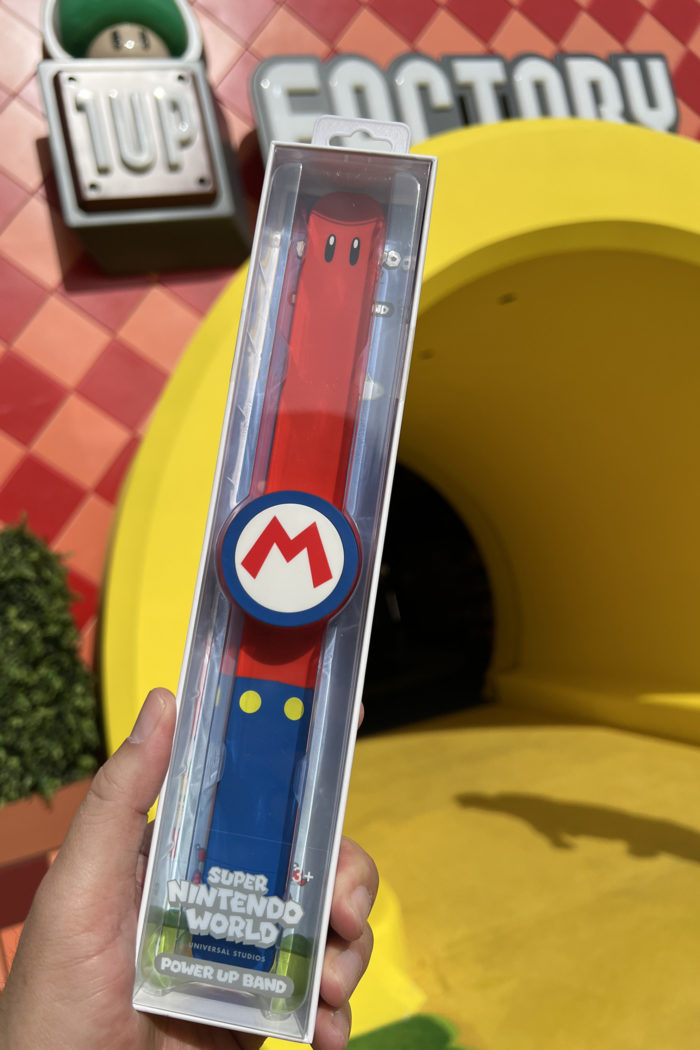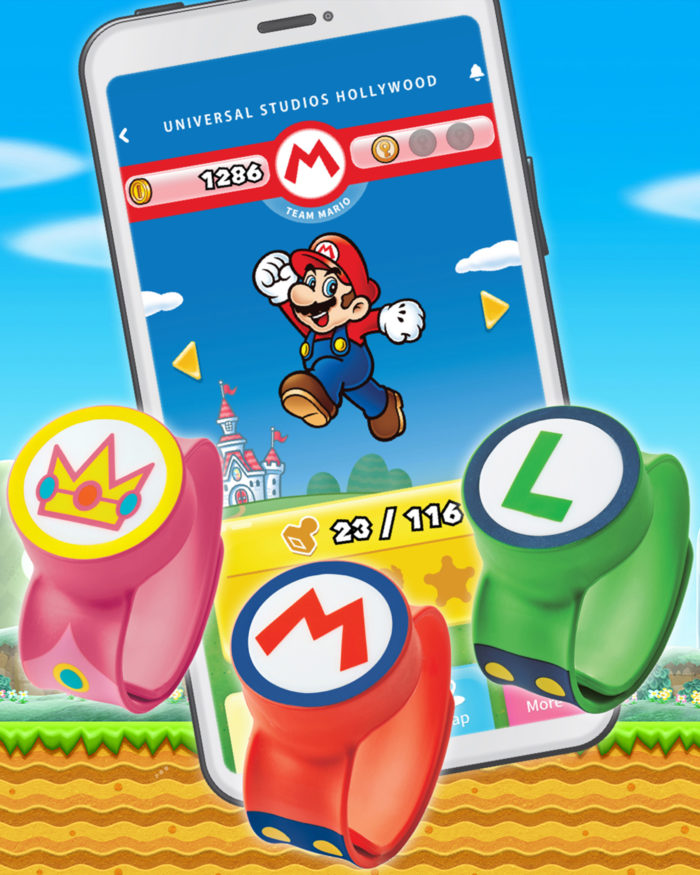 The Power-Up Band elevates your overall experience as you collect coins and stamps, as well as keys while playing a number of interactive Key Challenges such as Goomba Crazy Crank, Piranha Plant Nap Mishap, Koopa Troopa POWer Punch, and Thwomp Panel Panic. Completing three of these Key Challenges will unlock Bowser Jr. Shadow Showdown, and believe me, it's a lot of fun!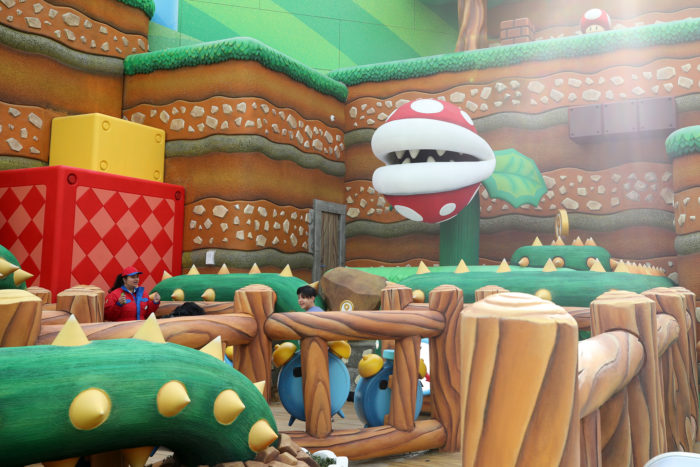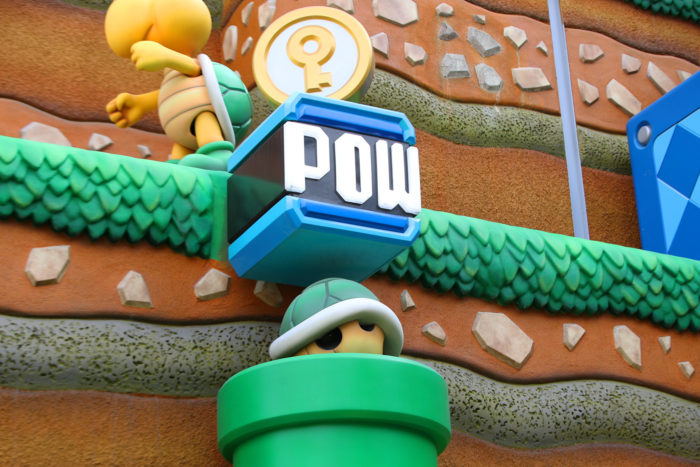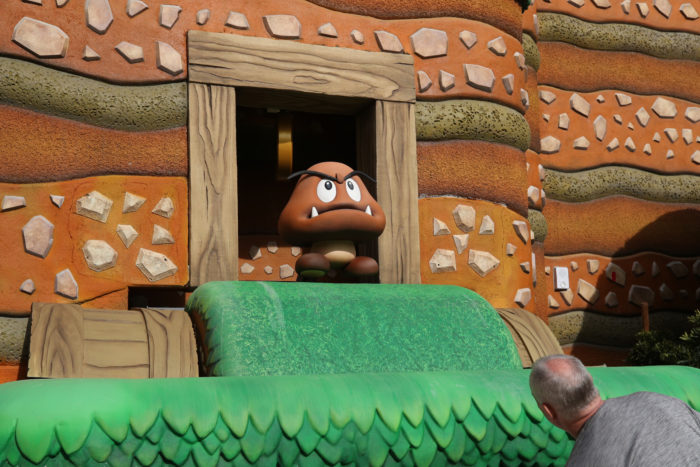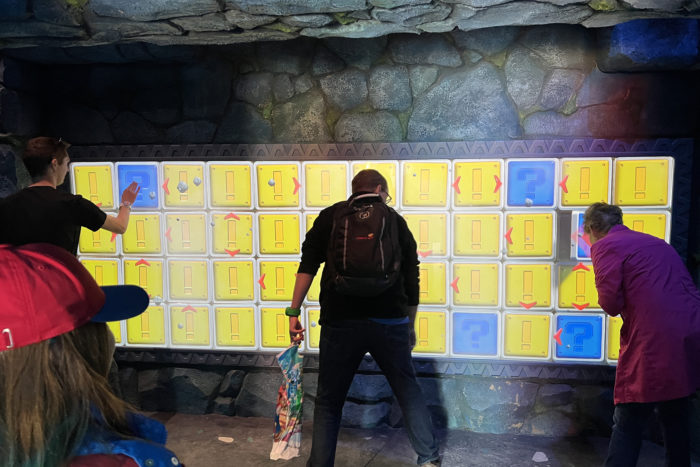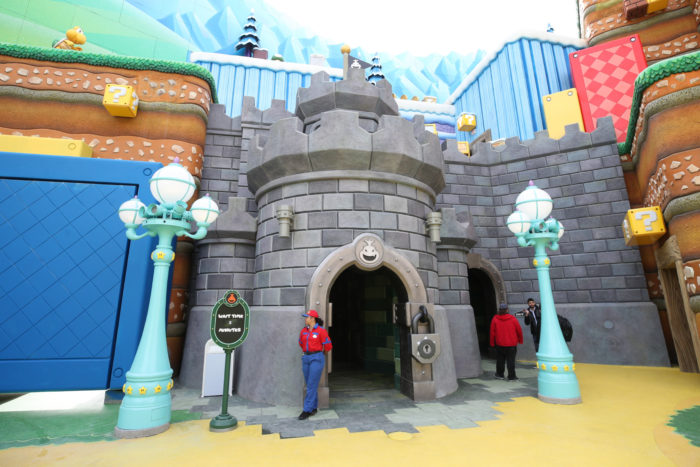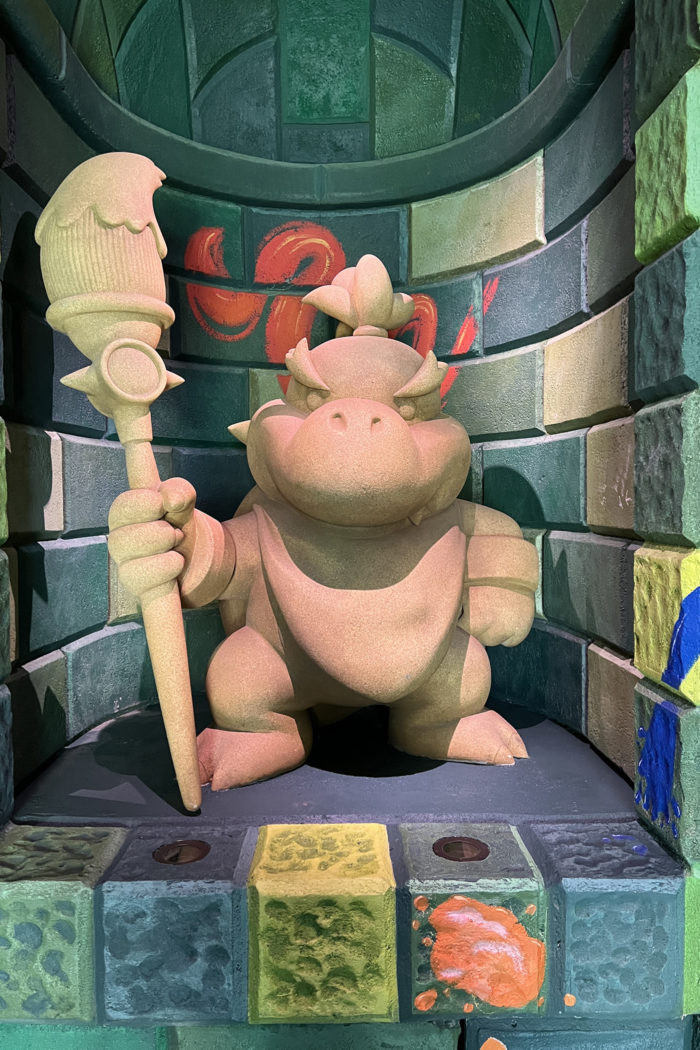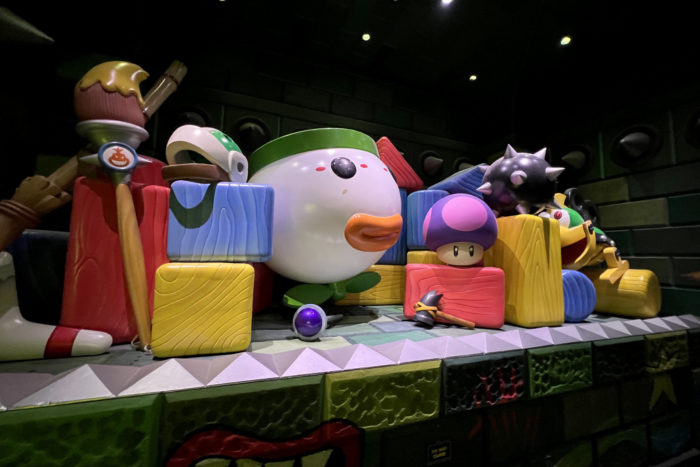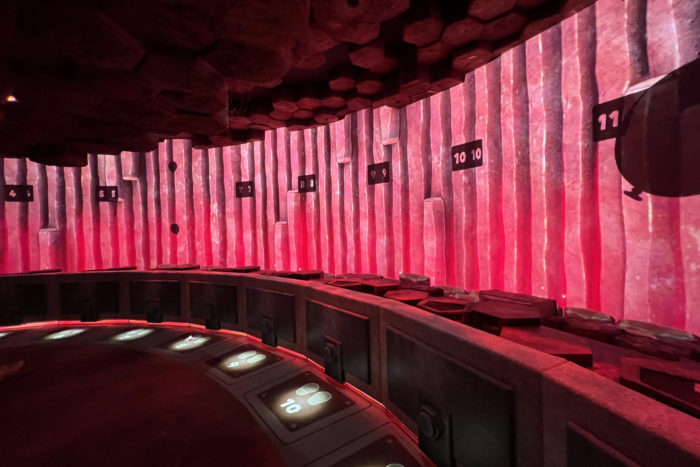 The Power-Up Band also enhances your interactions with Mario, Luigi, and Princess Peach! But they're also fun even if you don't have one. One of the surprising things are… they talk!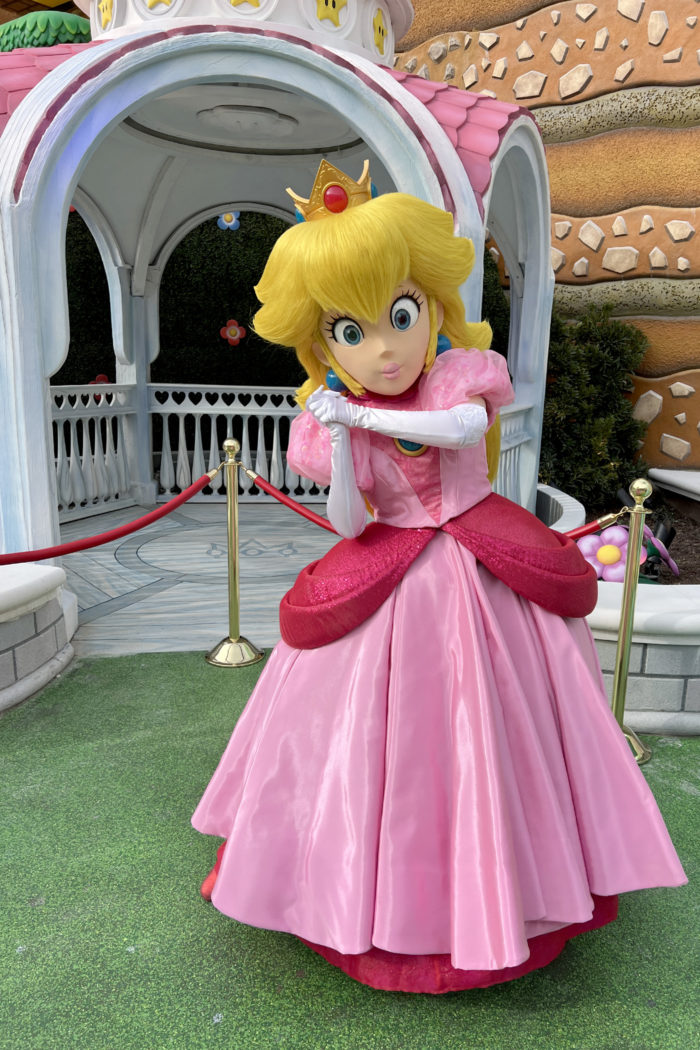 Collecting coins, stamps, points, and hidden secrets is all part of the fun with the Power-Up Band. It kind of forces you into areas that you might not have bothered looking into.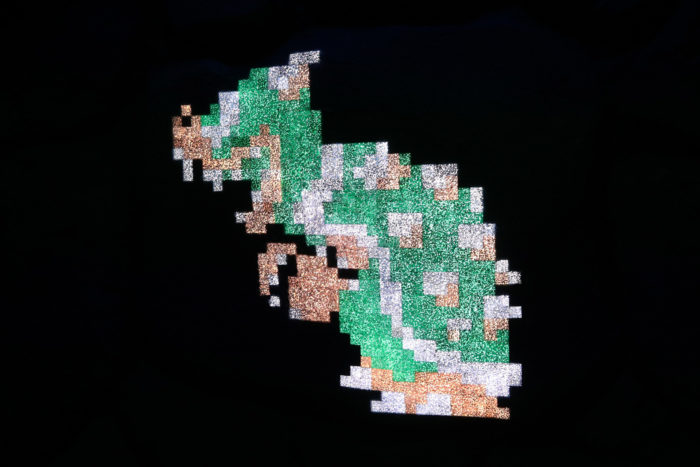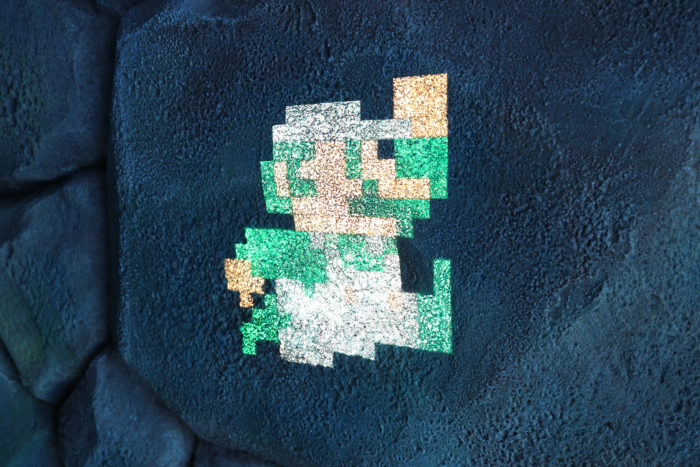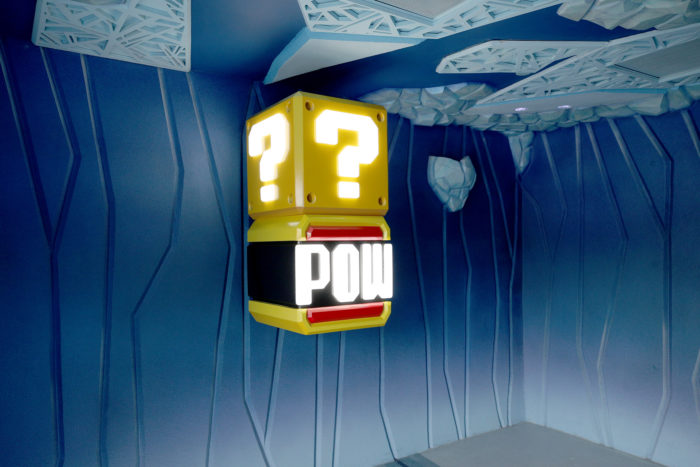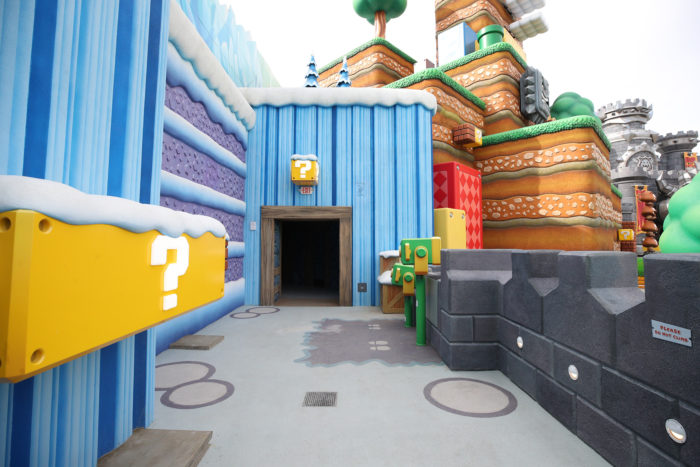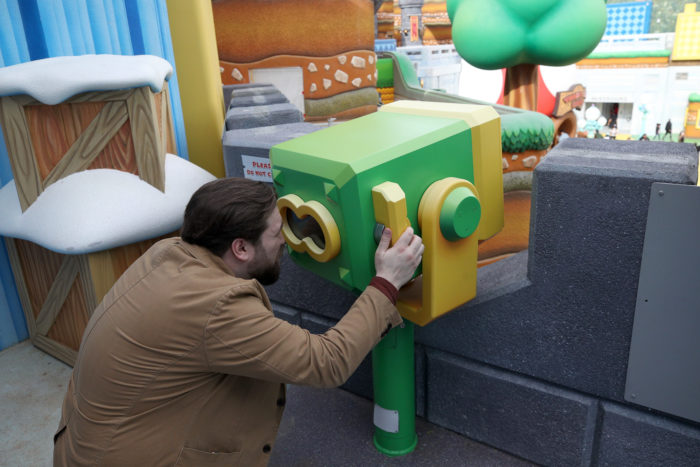 Mario Kart: Bowser's Challenge is the sole ride in Super Nintendo World, and yes, the Power-Up Band keeps score on that as well! But the queue through Bowser's Castle is top notch as well with a lot of things to look at.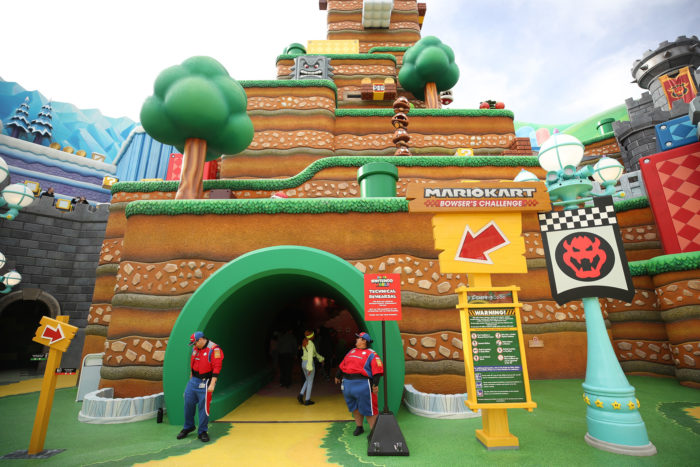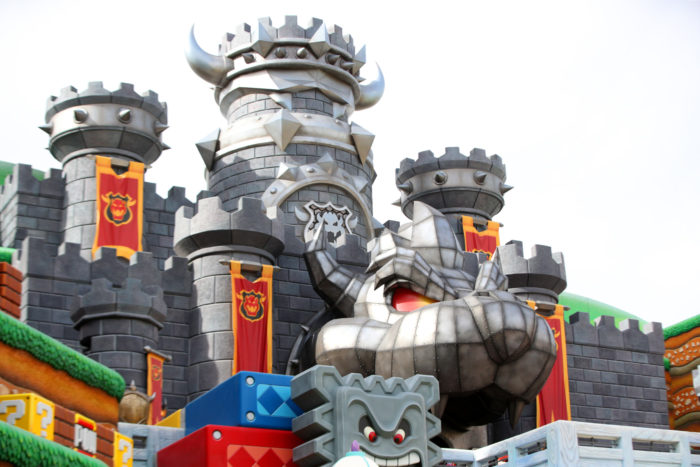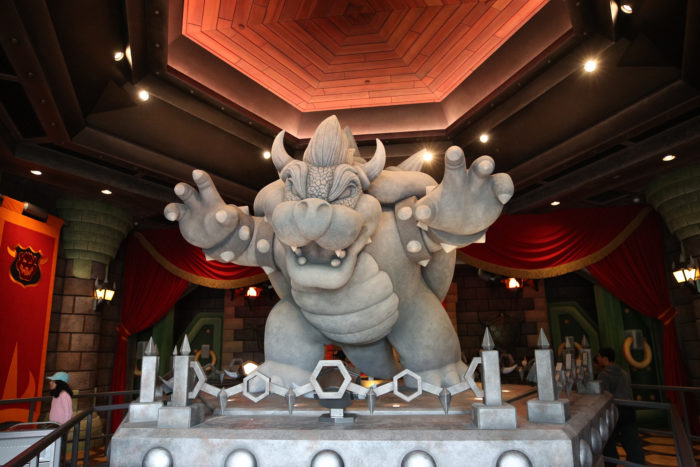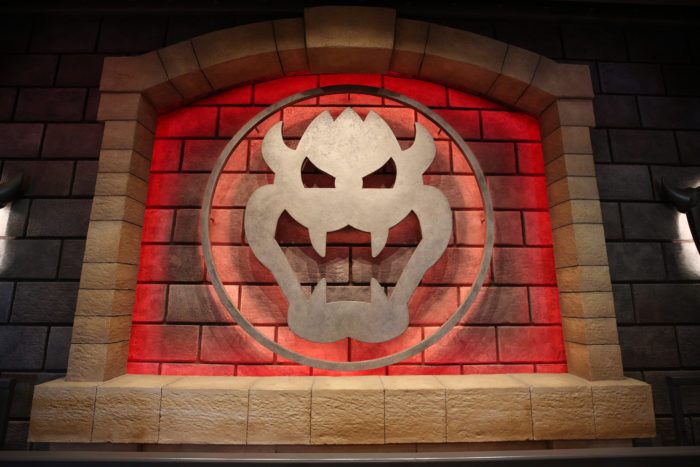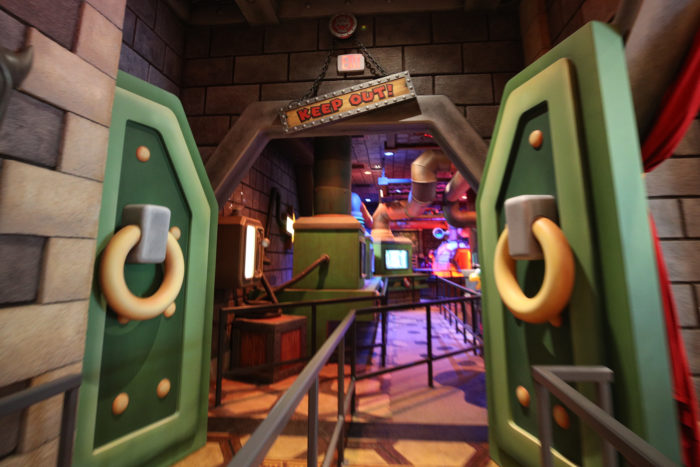 The ride features augmented reality via virtual reality goggles affixed to your Mario hat. Yes it does get sweaty! But they clean that part for you before you ride. Mario Kart: Bowser's Challenge isn't a fast ride, so families of all ages above the height requirement should be able to enjoy it. It is an attraction that gets better upon repeat experiences, so don't let the first time be the one you take in.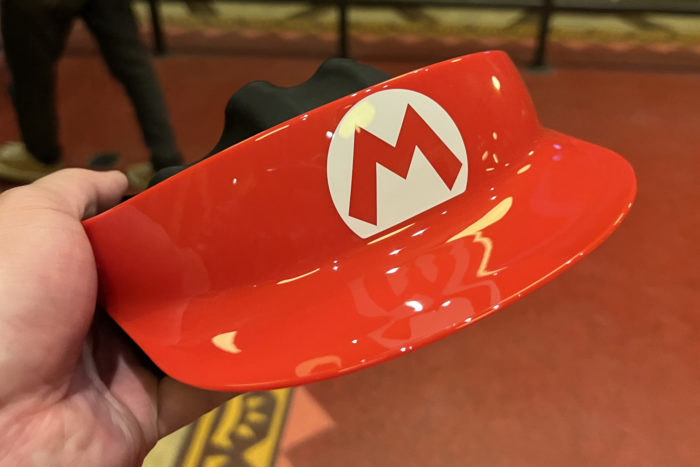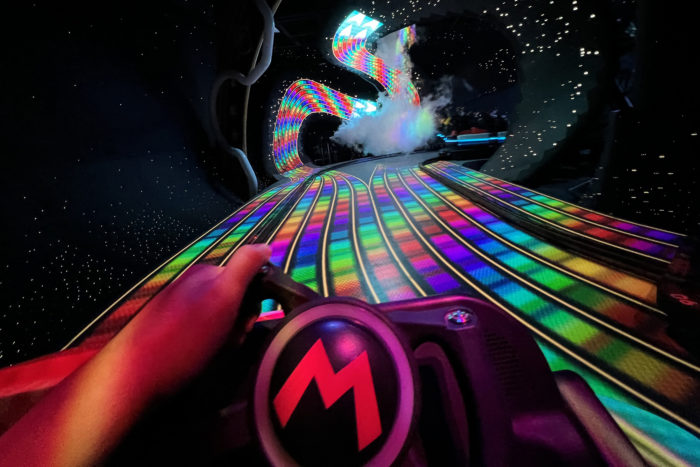 Now that you've worked up an appetite, TOADSTOOL CAFE is where you wanna be. This quick serve (with table delivery) contains A LOT OF MUSHROOM, finicky diners be warned! But if you're ok with the Salads, Burgers, and Spaghetti options, it's a cute place for a bite!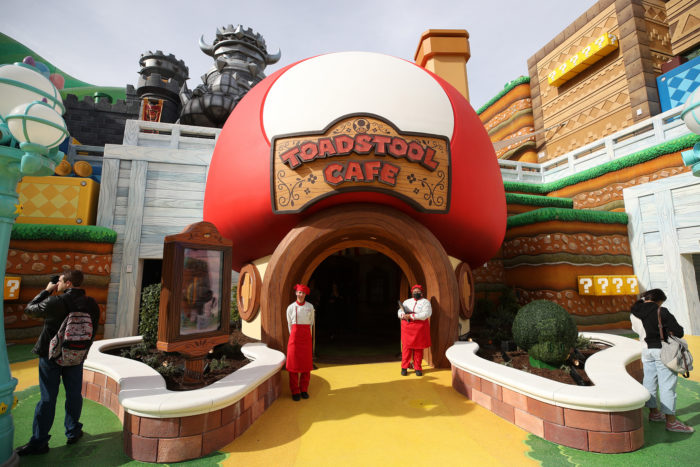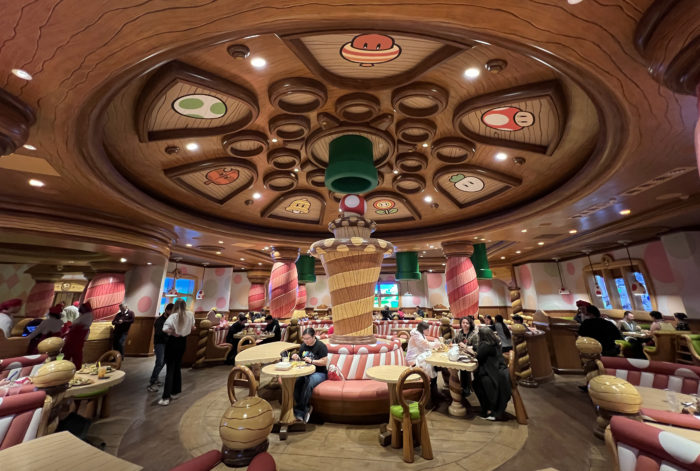 Chef Toad here and his cafe is impressive and incredibly well themed. There's video screens that give you a peek outside to the Mushroom Kingdom and to the kitchen. It's a lot of fun and the food isn't too bad neither!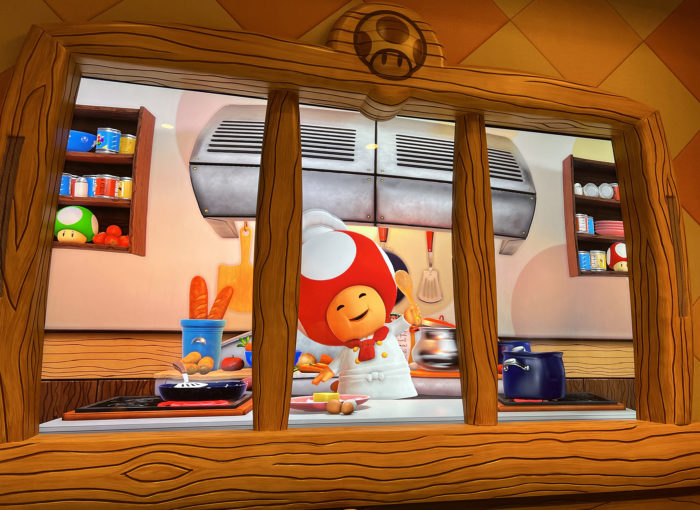 This land is just filled with detail and I honestly can't wait to go back. It's genuinely fun and interactive, something Star Wars: Galaxy's Edge has only recently started to deliver on. If you're looking to visit Super Nintendo World, it grand opens February 17, 2023. Until then, you may get lucky with a technical rehearsal!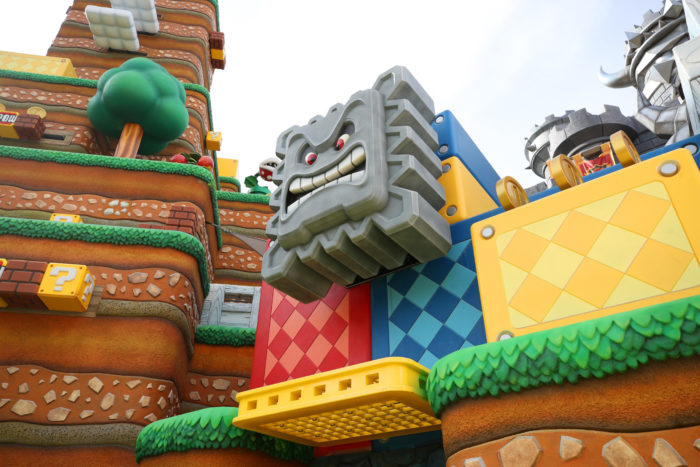 When you're ready to exit, find this Warp Pipe!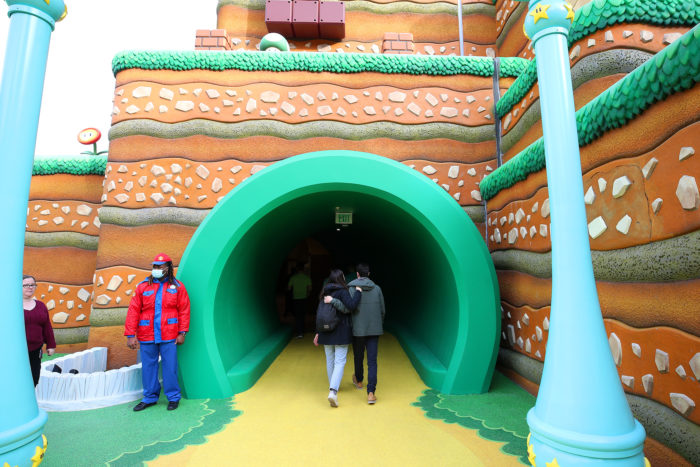 So what do you think? Are you excited for Super Nintendo World?