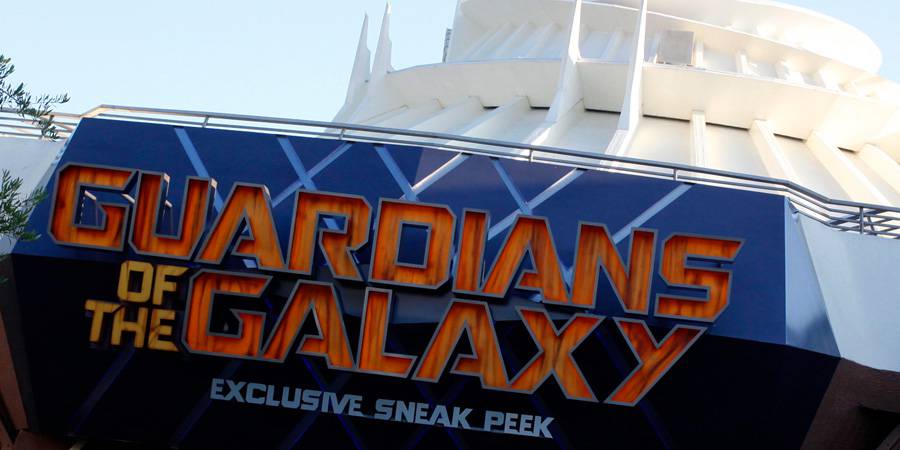 Brian Curran
Guardians of the Galaxy Hits Tomorrowland
July 7, 2014
Disneyland and Disney's Hollywood Studios have said farewell to Captain EO and said hello to Marvel's latest sci fi epic, Guardians of the Galaxy. The Exclusive Sneak Preview makes Tomorrowland home, and gives guests a 10-minute look at what's in store.
The addition in itself looks as if big money was spent on it. This is no hastily done overlay, as the Guardians of the Galaxy signage is larger than anything else in its vicinity. Captain EO posters have all been replaced and the TV screens playing the "Making Of Captain EO" have all been removed.
Guests attending the sneak preview this weekend were also given some Guardians of the Galaxy branded phone cleaners. Little things like this that go beyond guest expectations are great and welcome.
The sneak preview is in 3D and makes great use of all the in-house theater effects. It's also a great way to beat the heat this summer as it makes extensive use of the wind machines.
This is a nice temporary addition to Tomorrowland where Marvel currently calls home. Let's hope the movie is as good as the preview looks. Will Captain EO return later this year? We're not certain but we certainly hope so.
Guardians of the Galaxy arrives in theaters August 1, 2014.
For more information on Guardians of the Galaxy at Walt Disney World, visit the Disney Parks Blog.