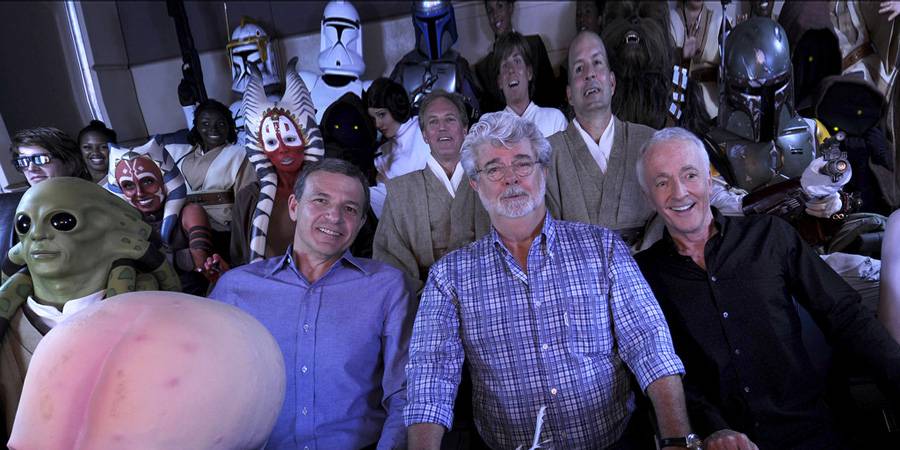 Kris Van de Sande
Star Tours: The Adventures Continue Press Release
May 20, 2011
The official press release for Star Tours: The Adventures Continue for the Grand Opening at Disney's Hollywood Studios (Walt Disney World Resort) Orlando, Florida. Also included with the press release are several photos of the opening ceremony provided by Disney and Lucasfilm.
LAKE BUENA VISTA, Fla. (May 20, 2011) – Star WarsTM creator George Lucas and Disney President and CEO Bob Iger wielded lightsabers amid a legion of stormtroopers Friday, May 20 to open "Star Tours – The Adventures Continue," a new 3-D adventure at Walt Disney World Resort.
A cast of hundreds of Star Wars characters and performers – including Anthony Daniels, who has played the golden droid C-3PO since the first film debuted in 1977 – converged on Disney's Hollywood Studios for the launch of the attraction destined to send millions of guests on virtual journeys throughout the Star Wars galaxy.
Fittingly, the launch of Star Tours anchored the opening day of Star Wars Weekends, a popular event in the park celebrating the Star Wars legacy with special shows, presentations, motorcades and memorabilia. Star Wars Weekends continue each Friday-Sunday now through June 12, 2011.
And on June 3, 2011, "Star Tours – The Adventures Continue" will open at Disneyland Resort in California.
"Star Tours immerses guests into the Star Wars universe like never before," Iger said. "The innovative technology and storytelling take guests on thrilling new adventures, bringing George Lucas' iconic characters and locations to life in a completely new way."
With eye-popping digital video leveraging Dolby 3-D to deliver a vivid and realistic visual experience, a dramatic musical score and motion simulator-based technology, guests are immersed in a Star Wars adventure like never before on a theme park attraction. Walt Disney Imagineering worked with Lucasfilm, Ltd. and Industrial Light & Magic – the groundbreaking visual effects division of Lucasfilm – to bring the out-of-this-world attraction to life.
Star Tours, which had thrilled Disney guests since the 1980s, was "powered down" in 2010 so Disney's Imagineers could begin work on the new attraction.
In "Star Tours – The Adventures Continue," there are more than 50 story combinations, so guests can find new adventures each time they experience the attraction.
Utilizing the random story combinations, the Starspeeder spacecraft embarks on a wild adventure, visiting several planets made famous in the Star Wars films. Among the locations that might provide haven from the Empire's pursuit are the icy planet of Hoth, the lush jungles of Kashyyyk and the underwater Gungan world on Naboo.
And along the way guests may encounter Star Wars characters that offer to help (or hinder) their journey, including Yoda, Admiral Ackbar, Darth Vader and Boba Fett. "Skytroopers," a legion of stormtroopers created just for the Star Tours attraction story, might even join in the chase.
In fact, guests will never know where the Force will take them. Flights are now departing during regular operating hours at Disney's Hollywood Studios.
Images © Disney/Lucasfilm