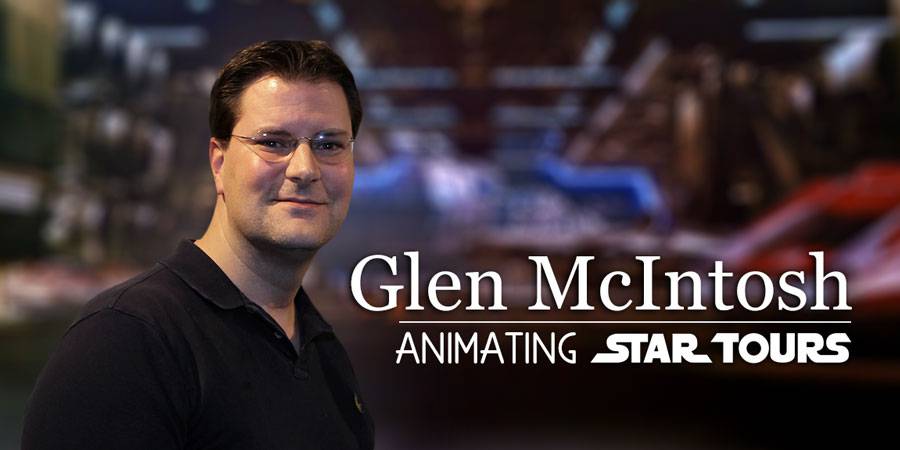 Kris Van de Sande
Glen McIntosh: Animation Director
Article
Interview
November 28, 2012
Star Tours: The Adventures Continue is a over a year and half old in the United States but it'll only be a matter of time before the Force will reach Tokyo (2013) and Paris (rumored shortly thereafter). We thought it was as good a time than any to speak with the Animation Director of our favorite Star Wars attraction, Glen McIntosh, who has been working at Industrial Light & Magic for the last fifteen years. His first film appropriately enough was Star Wars: Episode 1: The Phantom Menace, so he is no stranger to the Star Wars Universe. Glen also recently finished work on the upcoming Star Trek film as well as new film Pacific Rim by Guillermo del Toro. EndorExpress took a trip to San Francisco recently to the offices of ILM and reminisced about the recent changes to Star Tours among other things.
EndorExpress: The first film you worked on here was The Phantom Menace. What was it like to be involved with such an anticipated project?
GLEN MCINTOSH: It was incredible. I have always wanted to work with George [Lucas] and the idea of coming in on The Phantom Menace was an incredible experience. You can see the ground swell of excitement building with the Special Editions in 1997. I was at the Planet Hollywood in Orlando when they showed the trailer and the whole restaurant came to a complete stand still.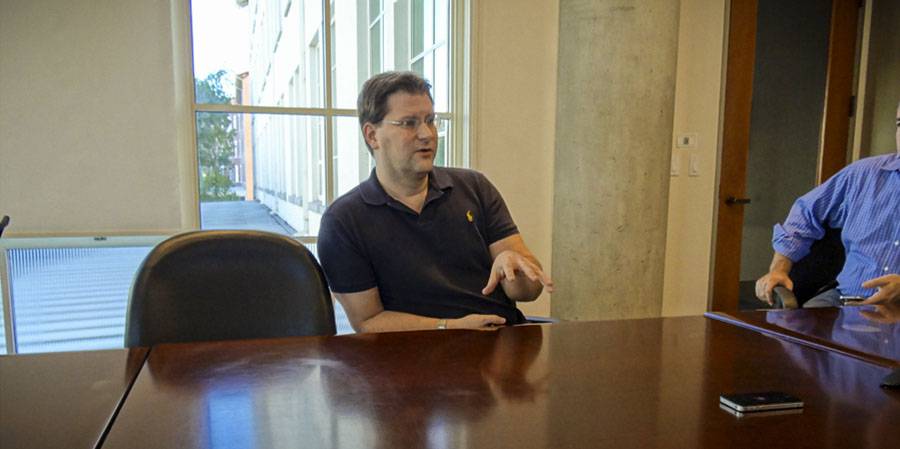 EE: I definitely recall seeing those trailers for the first time and being completely blown away and excited for something so familiar yet new at the same time. In your fifteen-year experience, do you have a favorite project you've worked on?
GM: They've all been equally rewarding. Each client presents a new series of challenges. I loved working on Star Tours with George and even on Episode 3, I was sequence supervisor on General Grievous when he fights Obi-Wan. Because of my background on storyboarding in 2D animation, before we dove into the meat of the computer graphics work, I did a bunch of character sketches of General Grievous in different poses of how he could potentially fight with four lightsabers. I was lucky enough to be able to pull George aside after dailies and spread them all out on a table and get his impressions on what he liked and what he didn't like. That's just something you don't forget. But yeah, also working with Peter Berg on Battleship, working with Ang Lee on Hulk, they're just such creative people, it's a lot of fun. The level of talent here is great.
EE: When exactly did you know you wanted to get into animation?
GM: I had always loved film and I had always loved animation. I've been drawing since an early age, 3-4 years old. I loved the Marvel Comic books and of course I saw Star Wars and that's all I drew. I wanted to go to film school but animation was an opportunity for me to combine my two loves of film and art. But when I saw Jurassic Park, that was a combination of photo realistic animation in a live action film. Being familiar with the process and already in the industry doing hand drawn animation, so many of us were looking at the images going 'how did they do that? There's motion blur, it's in the rain, it's in the lighting." You know we were looking for matte lines or anything that would give it away… so I just wanted to be a part of that.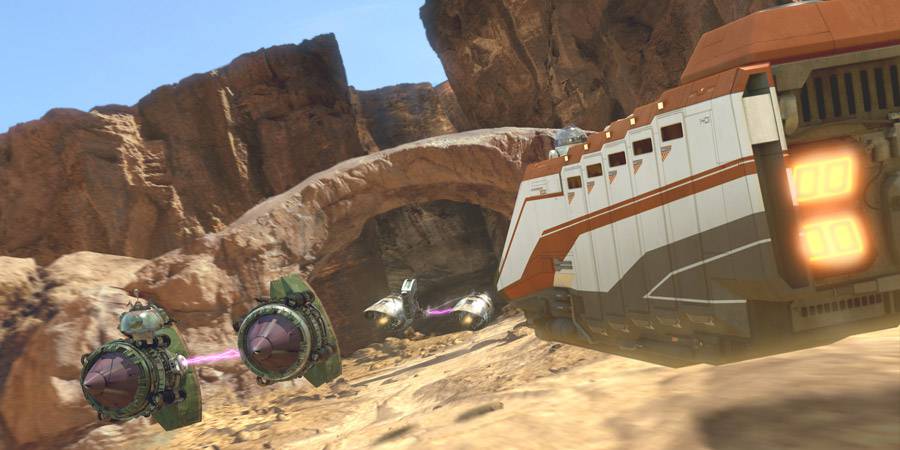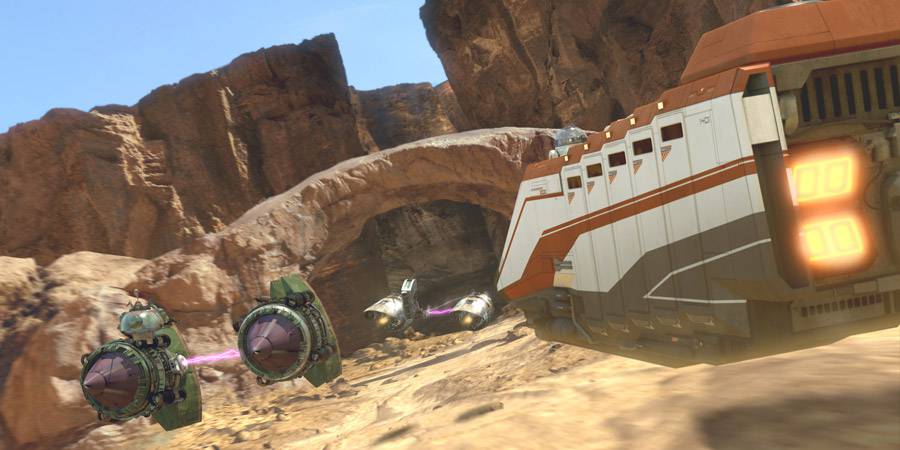 EE: You mentioned Star Tours as one of your favorite projects. Can you tell us about your role in this attraction?
GM: I was the animation director on the project and it was a fantastic opportunity. Typically with the ILM shows you have a large group of animators working for a shorter period of time. Star Tours was a smaller show but I also had a smaller group of committed animators including myself, working on a longer period of time. We got to work with the Disney Imagineers and with George, with whom we'd meet with once every two weeks. I had worked with George previously as a sequence supervisor on Revenge of the Sith but it was so much fun to get his input and his ideas. The ride being so interactive, so much of that came from George.
EE: What's your favorite sequence on Star Tours? Do you have one?
GM: I do. Hoth was so much fun because it was the one I selfishly held onto myself. Other animators were doing other sections but Hoth I animated myself because I had animated those AT-AT Walkers so much as a kid, whether it was trying to do stop motion with the Kenner toys or in my mind, and then getting a chance to animate Snow Speeders, AT-ATs, and Taun Tauns… It was incredibly rewarding because the gentlemen who have done the Hoth sequence in the original Empire Strikes Back, Jon Berg, Phil Tippett, Dennis Muren, who built the miniatures. Jon Berg was going to be a consultant but couldn't do it. Eventually we brought him in when the sequence was done and played it for him. He was blown away and wanted to see it 8 more times. Stuff like that was really fun because they're people you admire.
EE: Are there any Easter Eggs in the Hoth sequence you can share? A Matterhorn cameo perhaps?
GM: Not that I know of but there are a lot of Easter Eggs I can't mention, but are peppered out. The mandate is that every time you go on this ride there will be something you never noticed before. I had the opportunity to animate the Tauntaun herds which only appear for a few seconds but they had to be there.
EE: I know the Hoth sequence is my personal favorite and it's also one of the more nostalgic scenes in the ride.
GM: Right. And I know some people have questioned the timeline. How does that fit into the grand scheme of Star Wars and we're always trying to explain it. Originally when you went to Hoth, there was just a sea of AT-AT Walkers that you weaved in between. Ultimately, between George, Tom Fitzgerald, Bill George, and myself, we agreed that we had to see the Battle of Hoth. The most important thing was to give the audience a chance to relive that moment through another camera view.
We actually got into a fun conversation where when you see Echo Base, we were going to have the Millenium Falcon exiting. On the ride, C-3PO is piloting the Star Speeder 1000 so he was in two places at the same time… so we decided not to do that.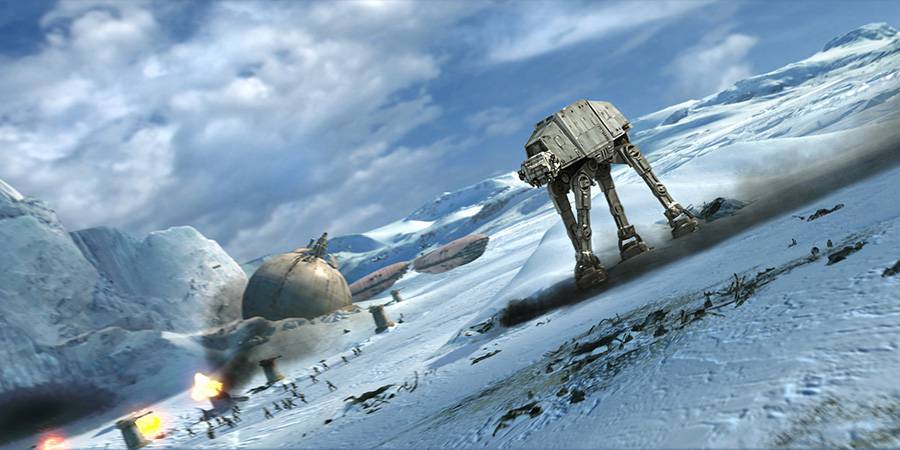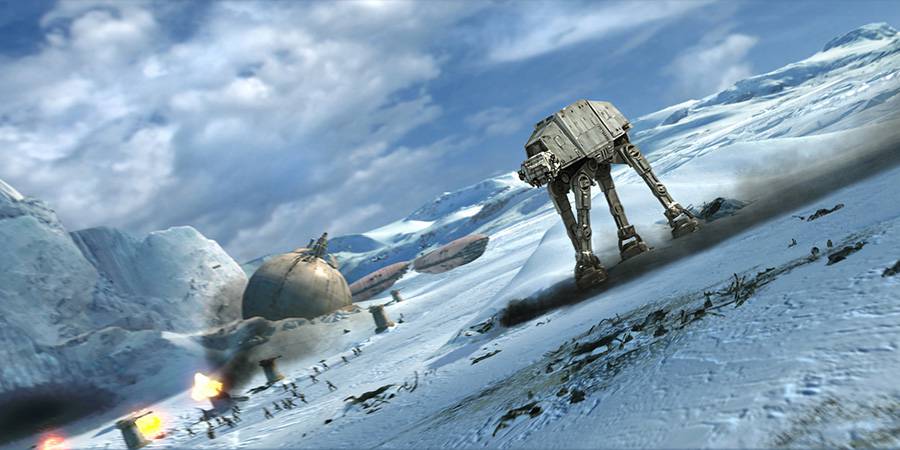 EE: Were you also involved with the preloading videos as well?
GM: We did that as well. Anthony Daniels got to suit up again for the pre-ride and there's a moment where C-3PO meets the new pilot, Ace. That is a computer generated C-3PO and I got to go to C-3PO movement school with Anthony Daniels during the voice recording sessions. On the motion capture stage, it's actually me doing the motion capture, but having him give me all the tips and tricks was invaluable. And as a fan it was so much fun.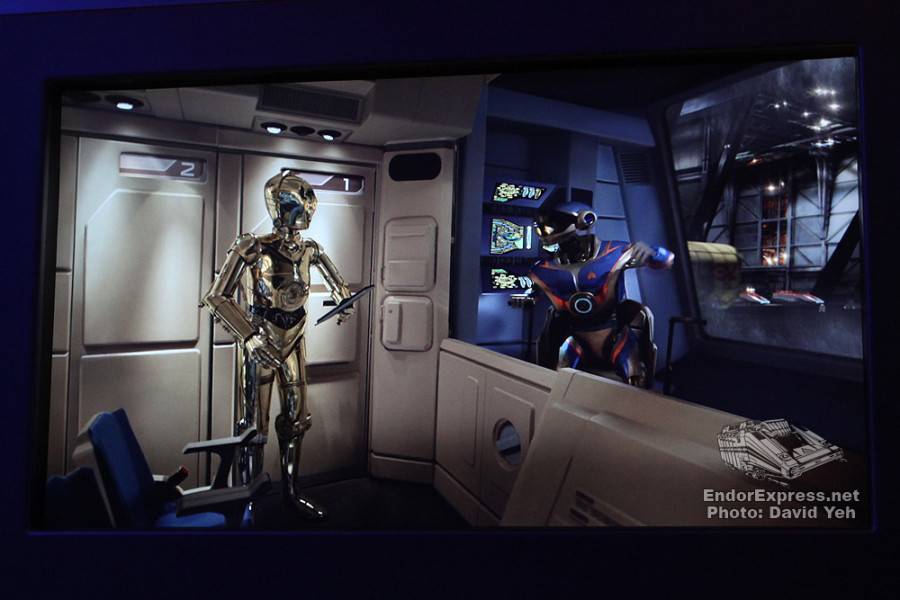 EE: We also hear that you had a cameo in the new Star Tours. Who did you play?
GM: I play a B-Wing pilot. It was a lot of fun to dress up for a day and play.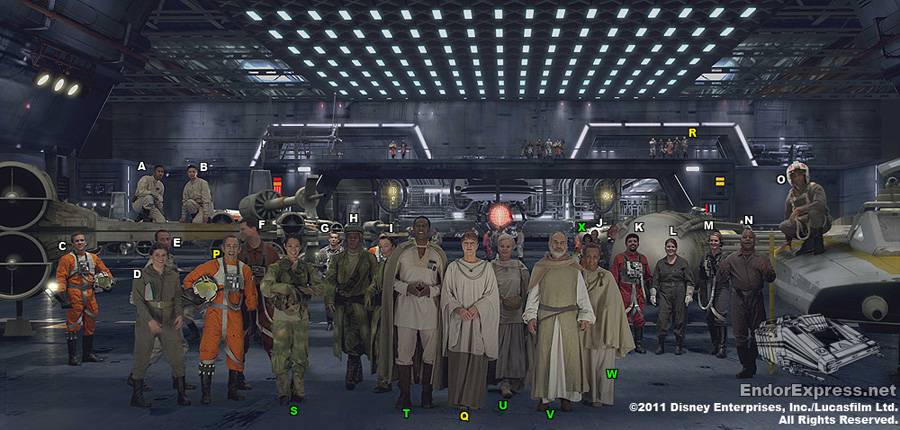 FINAL SCENE IDENTIFICATION KEY
INDUSTRIAL LIGHT AND MAGIC

A. John LeGrande
B. Kim Bianco
C. Hayden Landis
D. Marissa Gomes
E. Dale Taylor
F. Glen McIntosh
G. Ale Melendez
H. Nick Kolidakis
I. Amelia Chenoweth
J. Shawn Hillier
K. Sterling Hedgpeth
L. Jeanie King
M. Joanee Honour
N. Dave Taylor
O. Doug Thomas

WALT DISNEY IMAGINEERING

P. Steve Spiegel
Q. Marianne McLean
R. Frank Reifsnyder

EXTRAS

S. Cherisma Feril
T. D. Anthony Harper
U. Sheri Rice
V. Michael Zebulon
W. Ann Fields
X. Karleen Griffin
EE: Do you find that there's a difference in working for film versus working for a theme park attraction?
GM; It's all equally exciting. When you've worked on it for so long you have a computer screen in front of you, you're sort of insulated from it and you don't get to see it with the finished music or with the finished sound, and finally you do get to see it with an audience. Seeing their reaction, it was so rewarding. What was fun about Star Tours is that it's basically a movie premiere every five minutes. The fact that I know that it's there playing all day for thousands of guests is incredibly rewarding. It was so much fun to contribute to the legacy of Star Wars. We are lucky enough at ILM to work with so many great directors and the opportunity to work with George is so much fun. But you always think about it cinematically in terms of film, but there are different rules when working on a ride. One of the interstitial moments in space, we had a galaxy at a dutch angle. But the cab of the ship was level. One of the Imagineers said "you can't do that because you'll get people motion sick." Your eyes are constantly trying to find the horizon so you can understand where you are spatially. If you're showing them one thing and they're feeling another, they start to get queasy, even though cinematically it looked great. It was something we had to adjust to accommodate the ride.
EE: Were you a fan of the original Star Tours too?
GM: Yes! Just a big Disneyland fan all around and that's why getting a chance to collaborate with them on a Star Wars project was so rewarding.
EE: Any favorite Disney attractions aside from Star Tours?
GM: The Indiana Jones ride is so well done and the Pirates of the Caribbean from when I was a little kid, and how they've embellished things from the new ride into that, it's just neat to see something new each time you go on it.
EE: Do you still collect any Star Wars toys?
GM: I collect some of the Sideshow Collectibles Legendary scale toys and it's fun to go down during Comic-Con to see what they're up to. It's a testament to Star Wars, year after year there's still hundreds of people dressed up as stormtroopers, jedi, bounty hunters and also putting a spin on it. It's fun to see that even after all these years it's just getting bigger and bigger.
EE: Now with Disney buying out Lucasfilm, would you be game for working on more Star Wars attractions?
GM: Oh absolutely! It's one of the reasons that there's so many artists are working at this company it's because of George and Star Wars. These halls are populated with no shortage of artists who can't wait to get started on the new films or any other Star Wars related projects.
EE: Or perhaps Star Wars Episode VII?
GM: It's certainly a possibility.
EndorExpress would like to thank Glen McIntosh and Greg Grusby of ILM for their time and generosity!
Interview by David Yeh and Brian Curran. Additional photographs by David Yeh and Brian Curran.