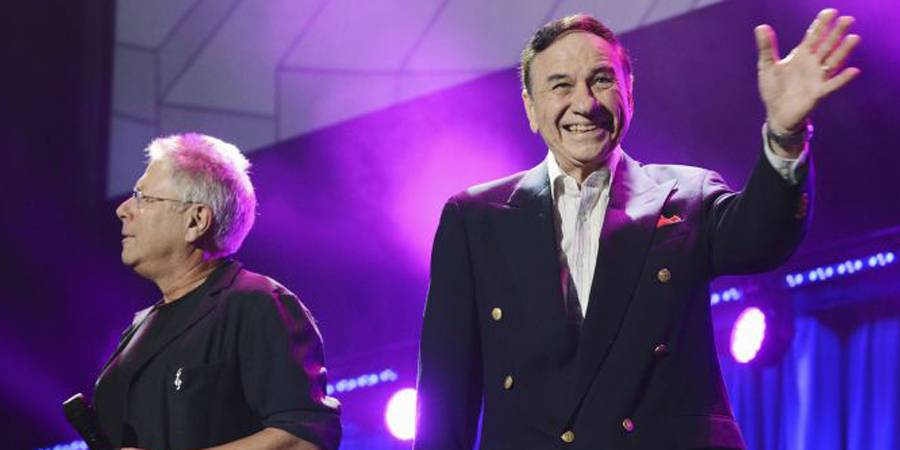 Brian Curran
"The Disney Songbook" at D23 Expo 2013
August 10, 2013
Tonight at the D23 Expo 2013, two Disney Legends will present a special concert entitled "The Disney Songbook". Between them, composers Richard M. Sherman and Alan Menken have won ten Academy Awards for their scores/songs in Disney films such as Mary Poppins, The Little Mermaid, Beauty and the Beast, Aladdin, and Pocahontas.
Saturday night the two friends will sit down at pianos and present some of their most recognizable tunes, and hinted they may even share tidbits from some of their favorite deleted songs as well.
Richard M. Sherman, with his late brother Robert B. Sherman, composed over 200 songs for 27 films, dozens of television programs, and even Disney Parks attractions like Walt Disney's Enchanted Tiki Room, the Carousel of Progress, and the unforgettable anthem for it's a small world. The brothers Sherman won two Oscars® for their work on Mary Poppins, and wrote songs for The Parent Trap, The Jungle Book, Bedknobs and Broomsticks, the entire Winnie the Pooh series, as well as such non-Disney fare as Beverly Hills Cop 3 and the family classic Chitty Chitty Bang Bang, a movie which Dick Van Dyke said "out-Disneys Disney".
Alan Menken has eight Oscars®, more than any living person, and has written songs and scores for films like The Little Mermaid, Beauty and the Beast , Aladdin, Pocahontas, Hercules, The Hunchback of Notre Dame, Home on the Range, Tangled, and Enchanted. Menken began his career with the late Howard Ashman, writing for the stage with Little Shop of Horrors, which they later expanded for the film version. Ironically many of Menken's film works have since been adapted into their own highly successful stage versions. He won the 2012 Tony Award® for Newsies, and is currently working on his latest stage production Aladdin: The New Musical, scheduled to open in 2014.
Both men have also worked on recent Marvel blockbusters. Sherman wrote "Make Way for Tomorrow Today" for Iron Man 2, while Menken penned "Star Spangled Man" for Captain America: The First Avenger.
In a recent phone interview, Alan Menken said that Sherman was one of the first people he met when he came to work for Disney, and was taken under wing, even though some might have seen the 'new guy' as competition. Said Menken, "Rick is such a nice man, extraordinarily supportive. Not insecure or competitive, very welcoming and warm."
We'll be sharing more of their conversation in future updates, so stay tuned. And if you're attending D23, don't miss this fantastic concert by two legitimate living Legends.
Image © Disney