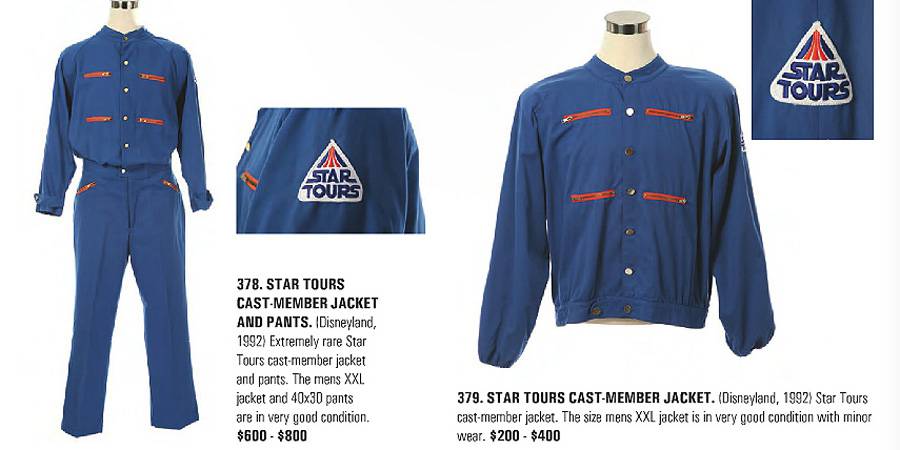 Brian Curran
Star Tours, Indiana Jones and More at Van Eaton Galleries
October 29, 2015
Sherman Oaks, Calif. – Earlier this year Van Eaton Galleries held a massive auction containing rare pieces of Disneyland history, dating back all the way to the 1950's. The pieces varied from artwork, to props, to old merchandise, and included even autographs of Walt Disney himself. Starting October 29th, the Van Eaton Galleries are back with another round of "Collecting Disneyland" Exhibition and Auction. The auction will be held on November 21, a day after the exhibition will close.
You can browse the catalog and even make a bid without being present: http://issuu.com/vaneatongalleries/docs/collectingdisney
We've highlighted a few more notable pieces below.
Many items come from the now no-longer used Star Tours costumes. A Cast Member patch, as well as jacket and pants can be purchased.
There's also a 1992 Imagineering Star Tours Project Hard Hat, which is interesting since the attraction opened in 1987. The Disneyland Paris Star Tours opened in 1992 though so this most likely belongs there.
Two Star Tours jackets are also up for auction.
From the Indiana Jones Adventure, you can bid on his animatronic prop hand from the final scene.
Lastly, a very rare and detailed model of the Indiana Jones adventure attraction.
There's so much more incredible finds that will be on display so check it out. You can even order a catalog for yourself through Van Eaton's Website: http://vegalleries.com/collectingdisneyland.html