Kris Van de Sande
Interview: Tom Fitzgerald
Article
Interview
March 26, 2008
We are very pleased to present this special interview with Tom Fitzgerald, Executive Vice President and Senior Creative Executive for Walt Disney Imagineering.
Tom is of course a legend in his own right, being behind of attractions like Star Tours, Tower Of Terror, Horizons, the revamping of Pirates Of The Caribbean and many, many more.
Before we begin we'd like to thank Tom for taking the time to answer our questions. Also many thanks to Marilyn Waters for all her help.
EndorExpress.net- Hi, Thanks for taking the time to do this interview!
Tell us, how did you become involved with the Project?
Tom Fitzgerald: No problem! Shortly after Michael Eisner and Frank Wells joined Disney, George Lucas visited Imagineering to see what types of projects we might do together. In one of the hallways, George saw a storyboard for a simulator ride we were exploring and we discussed whether that technology might be a good fit for a Star Wars adventure. A small team of Imagineers got together to work up ideas for George's review. I was on that team and ultimately became the show's Writer/Producer.
What was it like working with: George Lucas, Anthony Daniels, Paul Reubens and Dennis Muren?
George Lucas — It was a dream come true. When I was in college, I was blown away by Star Wars, and felt that George Lucas was the Walt Disney of this generation. I thought it would be amazing to one day work with George. Little did I know back then that Star Tours would come along years later. Like Walt Disney, George was the consummate storyteller – he literally acted out the show for us one day – that performance became the basis of the story and script you see today. George was also responsible for the tone of the story – he wanted a mix of comedy and thrill, which he felt hadn't been done in a ride to date and thought would be unique for our guests.

Anthony Daniels – Tony was a delight to work with…and he's become a good friend. He's s huge fan of Star Tours – and indeed, of the three- dimensional art form of storytelling that Imagineers create. For Star Tours, he worked with us extensively on the Audio-Animatronics figure for the show, even acting out on camera the dialogue to aid the programmers. He wrote dialogue with me for the pre-show announcements (and even performed some of them in a different voice)!

Paul Reubens – Finding the right voice for "Rex" was a real challenge. As a first-time pilot, much of the adventure was going to be an out of control wild ride. That meant he was going to be doing a lot of screaming! At the time, Paul's Pee Wee Herman special was on air. Hearing his hysterical scream over and over in that show led me to believe he could handle the role of Rex and provide the light touch of comedy we were looking for. To make him sound robotic, we tweaked the track electronically, but it's definitely Paul.

Dennis Muren – What an honor and thrill it was for us to work with Dennis on Star Tours. And it was a unique experience for ILM to create "the longest fx shot in history" – or so it seemed at the start. The artists at ILM were used to creating short shots that would be edited into the film. For Star Tours, the FX shot WAS the film! The entire show would have to appear as one continuous view (since it's essentially a front-window view). Dennis came up with clever ways to break up the show into segments that could be seamlessly tied together. His incredible eye for design, detail, movement and magic brought the show to life in a most amazing way.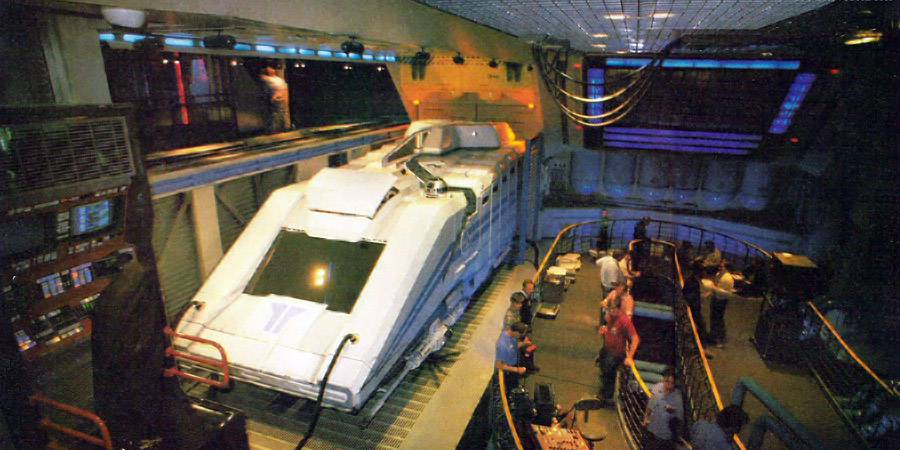 Was there any conscious effort to make the stripped-down geese animatronics (from America Sings) resemble the robots from Short Circuit (1986)? After all, we'd never seen Star Wars robots with their names painted on the sides of their heads (like Johnny 5) until the G2's debuted.
The Goose Droids – We were moving pretty fast on Star Tours, and a lot of the things were created as we went along. Wanting droids for our Droid Room, and wanting them quickly, Imagineer Chris Tietz came up with the idea of raiding America Sings one night and grabbing two droids for our show! They got an extreme make-over and became some of the new characters invented for this show. The G2 name came about because of the fact that they were geese from America Sings…hence the "G".
What became of the Stormtrooper on the PeopleMover track ?
It was removed as a result of the PeopleMover attraction changing.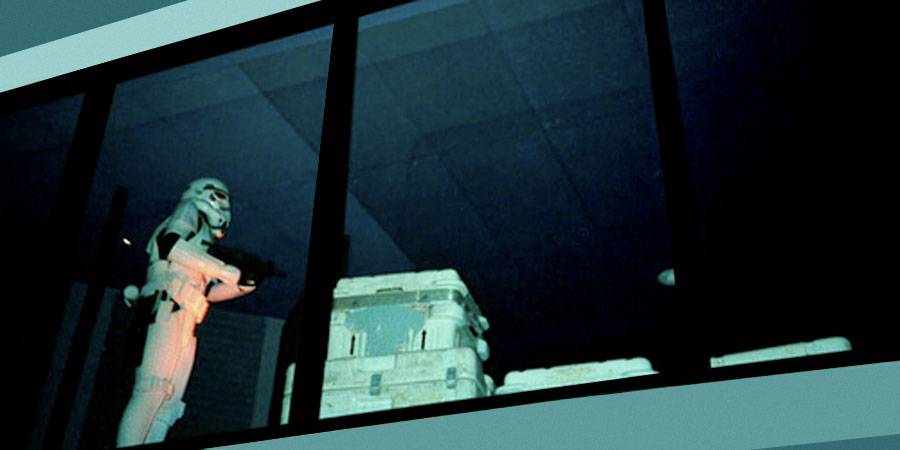 Which Star Tours facade, of the four parks, is your favorite?
The Ewok Village was a fun twist on Star Tours at Disney-MGM Studios. Because we were on a Studio Backlot, we needed to communicate that to guests right away. The sets and mural that the team came up with gave us a way to fit into that park, while allowing the show inside to remain true to the original Disneyland show. And of course in Tokyo, where things are generally done on a grand scale, the Star Tours facility is quite impressive! The key thing is to make sure we blend in with the architecture and story we are trying to tell in each location. It's fun that we can have different/unique elements in the different parks.
Did the Challenger disaster in January of 1986 affect the approach to doing a space-travel ride?
We were actually well into production on Star Tours at the time, so it didn't impact the direction we took with the show, but it certainly impacted us all emotionally.
In a documentary found on the Pirates of the Caribbean 2: Dead Man's Chest DVD, you commented on how your mentor X Atencio expressed concerns over his 'baby' being altered, with the inclusion of Jack Sparrow, Barbossa, and Davy Jones to the classic theme park attractions. We loved your quote by Walt himself about tinkering on the rides, but if there are changes/updates to Star Tours, how will you feel? Would you want to be part of the refurb team, or perhaps entrust it to a completely new team?
Walt Disney was fond of saying that the parks were living things…that they would change and grow over time. He was constantly tinkering with things in the Parks…that was one of the things he loved most about the Parks and the art form. Today, we continue that tradition, adding new attractions but also enhancing classic ones in the Parks. I will definitely be part of the team that continues the story and adventure for our guests.

If there is an update. Will The Endor Express remain in one cabin?
That all depends on where the story takes us in the future.
Which ride that you have worked on are you most proud of?
Rides and shows are kind of like your kids – you love them all. It's hard to say one if your favorite. But I do love Star Tours – it was a labor of love, and a great time for everyone working on the Project. Getting to work with George Lucas, ILM and Skywalker Sound was an incredible experience for all of us.
Thank you for your time!