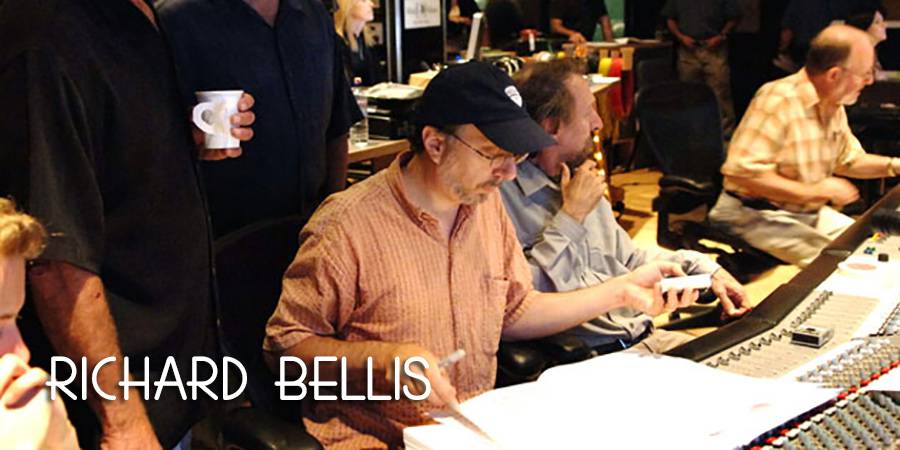 Kris Van de Sande
Richard Bellis
The musical legend behind Star Tours and Indiana Jones
Article
Interview
September 23, 2008
Disneyland, for many of us, is a place where all aspects of art and design are set in place to appreciate. And when going to the Happiest Place on Earth, every one of your senses are also tested. The colors in the landscaping and architecture are a feast for the eyes. The smells of fresh baked goods and the aroma of candy fill up Main Street, USA. The sounds of every land provide a rich tapestry for the ears, whether it's from the shows and attractions themselves or from one of the many live musical acts.
So many musicians have scored Disneyland and when you think of composers or song writers behind the classic attractions, Richard & Robert Sherman, Buddy Baker and a few others immediately come to mind. But there are a few composers that I haven't heard too much about but has certainly enriched my life when it comes to Disneyland and Star Wars. Enter Richard Bellis. It's not a name often associated with Disneyland and other Disney Parks, but we hope to change that.
Richard Bellis, for those who didn't know, is an Emmy-winning composer for Stephen King's "It", a long time faculty member at the University of Southern California, and current member on the Board of Directors of ASCAP (The American Society of Composers, Authors and Publishers).
Bellis has offered his musical insight and talent to a great number of Disney attractions from the early days of EPCOT to the more recent "Stitch Presents Aloha E Komo Mai!" Enchanted Tiki Room in Japan.
In between of course are a few highlights in his Disney career that have struck a stronger chord with some of us, and that is his work on Star Tours and the Indiana Jones Adventure (for more on Indiana Jones Adventure, read Bellis' book excerpt found here). Richard was gracious enough to talk with us about his Disney projects from the past and hopeful future, as well as a few other things in between.
You've had a long career with music but let's go back a few years. You've grown up in Southern California and no doubt have been aware of the grand opening of Walt Disney's Disneyland park in 1955. Did you make it out to see it? What favorite memories do you have that have influenced you in a creative way?
My godfather took me to the park shortly after it opened in 1955. I was 9 years old and I think it was one of the most memorable events of my life. At the time, there was nothing like it. It was a visceral experience and one in which I first connected music with visual and environmental experiences. For example, walking through Snow White's Castle and hearing Some Day My Prince Will Come, watching the sax quintet dressed as policemen on Main Street, hearing the Honky Tonk piano player in the ice cream parlor, the barber shop quartet, etc. Music was everywhere and you couldn't even think of that experience without the music. Several musicians I have talked with since have echoed these feelings that while walking through the various "lands" was a wonderful visual experience, it was the music in those places that fostered their interest in becoming professional musicians and composers.
I completely agree with you on that and it's still one of the major factors of what makes Disneyland what it is. You can enjoy yourself without going on a single ride; there's so much atmosphere and live entertainment around you. You've actually have done quite a bit of work for the Disney Theme Parks in your career; could you tell us how that started off and what was that like?
Somewhere around 1979, Buddy Baker, the musical genius who was one of the people hand picked by Walt Disney himself, decided to retire. During the transition period a close friend of mine, George Wilkins was taking over much of Buddy's workload. George called me at home one day and asked "What's your schedule like?" "Pretty open," I replied. "Good," George said, "'cause we have about 90 hours of original music that has to be written and recorded over the next two years for something called E.P.C.O.T. [EXPERIMENTAL PROTOTYPE COMMUNITY OF TOMORROW]" I was primarily an arranger/orchestrator in those days and all of a sudden became very busy along with several other arrangers doing the music for E.P.C.O.T. There was a recording studio on the Disney lot at that time and we were constantly there, often with large orchestras. I remember that for the Imagination pavilion, the Sherman Brothers had written three tunes. Buddy, who was still very active in the project, gave the three tunes to several of the arrangers and when we asked in what style he wanted the arrangements, he merely said "It's the Imagination Pavilion. Use your imagination".
That seemed like quite the opportunity! How did working on E.P.C.O.T. (now just Epcot) lead to something like Star Tours?
During those years I met Ken Lisi who worked at what was then called, WED Enterprises (Walt Disney's initials) which was subsequently named Walt Disney Imagineering or WDI. Ken introduced me to Tom Fitzgerald just prior to the Star Tours project. This was my first "solo" major-attraction assignment.
Before we get to your first 'solo' assignment, Is there a project that you consider a favorite?
As far as having a single favorite, no. Star Tours is dear to me but working for the Disney parks is simply my favorite job call. The projects are interesting, often technologically challenging and the people treat you as a respected member of the creative team. In addition, you are given all the tools you need to do an excellent job, which might very well be something that is playing twenty years later as is the case with Star Tours.
Speaking of technologically challenging, tell us about your work on Star Tours and Indiana Jones Adventure. Did you collaborate much with John Williams for either of these or did the Walt Disney Imagineers know exactly what cues they wanted and where?
Unfortunately I didn't get to work with John Williams personally. I, like so many of my colleagues, am a huge fan of his work, so it was a special treat to be able to go through his scores and sketches to see exactly what he had done. He is a brilliant musician. None of the music was "temped" in when I came on board either of these projects. I am usually brought in early enough that things are still on paper or prototypes are being mocked-up in the workshop. It's the perfect time to bring in the music person in my opinion. We did quite a bit of editing John's music together to get it just right for Star Tours. The picture would keep changing and getting better and we would re-work the music. An evolutionary process. Then, only when we thought everything was "set in stone" did we commit to a recording session with an 86 piece orchestra in order to create a seamless score for the attraction.

The Indiana Jones attraction was the second time I had worked with John's music from these movies. The first was the Indiana Jones Stunt Show for Florida. This was a particularly interesting project because the timing of the cues would continually change since the "action" was being performed live in each show. Unforeseen problems like the air in the tires of the revolving plane would heat up in the hot Florida afternoon and make the plane revolve faster than it did in the early morning or late evening hours. We used a truck in which we would edit the music on site as the stunt performers rehearsed and got up-to-speed
There's quite a bit of music for both Star Tours and Indiana Jones Adventure in the queue as well that doesn't involve the music of John Williams. In Star Tours, there's the classic chime, video segments, and the K-Droid radio station — Did you write all the music for these or did you collaborate with anyone else?
The "Announce Chime" is mine as is the "Status Board" music with descriptions of trips to the various other planets. The music in the boom box is a piece I wrote for an concept that never came to fruition. It was called the Droids Room (which is still the official title of the music). The music, I'm delighted to say, has shown up on a great number of Disney Parks CDs. While it sounds electronic, all of the instruments were played by live players on instruments that had electronic manipulations available. For example, an EWI (electronic woodwind instrument), drum pads, electric bass with phasing, etc. Remember, this was over 20 years ago. The one exception was the percussion, which consisted of (percussionist Steve Forman's) a collection of oxygen bottles and a Mazda hubcap strung with springs (the Mazdaphone).
The Mazdaphone! I'd very much like to see that. Now, I have heard that the Announcement Chime was inspired by another John Williams score, Close Encounters of the Third Kind. Is that true?
The IDEA of the announce chime being musically related to Star Tours music probably came from Close Encounters. I used those notes in the Status Board compositions as well. The idea for me was that while this was the future, somewhere along the way, an Ad agency guy (probably in New York) was involved in putting together an Ad campaign for the Star Tours Company, complete with their own "jingle" or theme song. I actually did the same thing for Alien Encounter with the song "We're Seizing the Future" ("Grasping the Moment – Fleecing the Buyer")
Changing direction towards Adventureland, the Indiana Jones Adventure also features a screen for the guests to enjoy. We have Sallah's safety spiel and plenty "Eye on the Globe" news segments. Did you write these as well?
I did write the "Eye on the Globe" pieces.
And what about the ambient noise in the temple — did you have a hand in designing them or was that left to someone else at Imagineering?
The ambient sounds were designed by a fabulous sound designer who has been with WDI for years, Joe Herrington. Although I do remember having a hand in one section where I think it's bamboo spears or something that surprise guests. I'm a little foggy on exactly what that surprise was but there is a musical component to it and I think we did some drum and chant ambience as well.
When it comes to scoring for theme park attractions or for actual movies, is there a difference in how you approach them? Describe your emotions when you see the finished project for the first time.
Theme park attractions very often have a technological element to deal with. This provides an interesting challenge and often some creative problem solving. One such case is the Motors Stunt show for both France and Florida. Timing music to live action with cars, motorcycles and jet skis is an interesting process. Theme park music might be heard by audiences everyday for decades unlike a movie score. So, while the care and consideration are always the same for both, there are things about writing theme park music that keep it fresh and interesting.
And unfortunately for theme park attractions, once they close or get redone, some of the original music and cues that have once been heard by thousands in a day will be silenced forever. Theme park attractions don't have an after-life on officially licensed DVDs, which is something I think Disney should look into. Do you have any thoughts or memories about attractions you've worked on that have gone away? Florida's Alien Encounter was closed only a few years ago.
I was sorry to see Alien Encounter attraction go. It was said to be too scary. It was designed to be scary. That's like saying it was too successful. I would have thought that there would be enough of a slightly older demographic to justify keeping it. There are warning signs and height requirements elsewhere in the parks. I did a preshow for Captain E.O. once that was kind of fun. The truth is I hate to see anything go away but the feeling is always offset by being brought in to do something new. I just had a great time working on the new Tiki Room show for Tokyo.
I was sad to see Alien Encounter go as well. It probably would have worked better in the Studios Park in my opinion. I've also heard good things about the updated Tiki Room in Tokyo. On writing your music; how does it all begin? Do you prefer to compose at the piano or are you able to picture it in your head? Or Both?
The piano? Oh yes, I have one of those! Actually, I often brain storm at the piano particularly when a melody is called for. I use a combination of paper and pencil (often to sketch out ideas or timings) and the computer. There is almost no situation these days that doesn't call for an emulation mock-up before that music is recorded or produced. One has to have libraries and software and more and more sophisticated computers in order to do this job.
You started your own Dixieland band when you were growing up. What instrument did you play or still play?
Trumpet. Noooooo.
Haha, I know how that is. I started on the trumpet which eventually lead to the trombone and euphonium but it's been awhile since I played either. Here's a more random question: The Beatles or Elvis?
The Beatles, but not until Sgt. Pepper. Until then it was Miles and Brubeck.
I just have one more question to ask until next time. Now that Star Tours has been gaining momentum in being updated and redone, have you been called upon for your services once again? I'd hate to lose the 5-note chime that is now forever linked with the ride for me and millions of others.
I haven't received the call. However, I would love to be involved for many reasons! Maybe I'll have to call. Or maybe you and your readers will call!!!! Did you say "millions of others?"
Haha, well, I hope that we will be able to hear your work again very soon. It has been an absolute joy and pleasure for me to speak with you and we all thank you for your time.