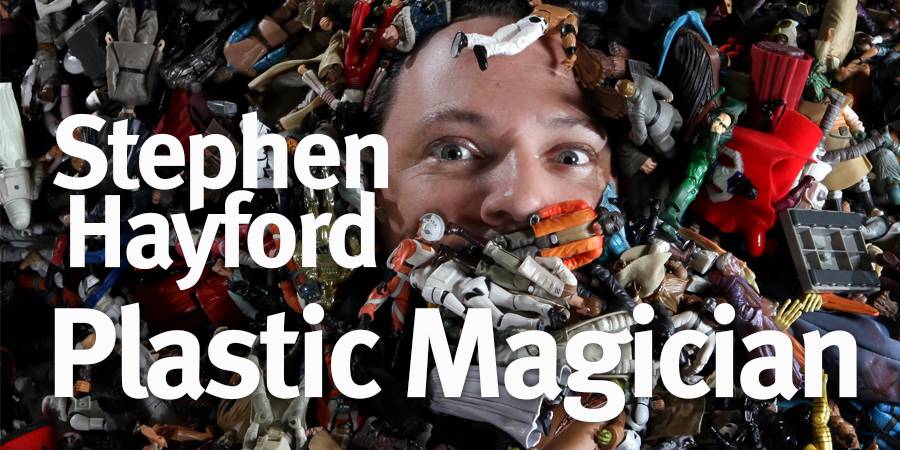 Kris Van de Sande
Stephen Hayford: Plastic Magician
Article
April 15, 2014
If you don't recognize his name, perhaps you'll recognize his work. I first noticed Stephen Hayford's dioramas several years ago while browsing the Rebelscum.com collectors forum. Sometime later I realized Stephen was building dioramas for Lucasfilm that were featured on StarWars.com including a Star Wars Weekends/Star Tours themed diorama, built for the opening of the updated ride.
Stephen was kind enough to take the time to chat with us about that project and more.
EE: Lets start with a little background information. How/when did you get
started in making diorama's?
Stephen Hayford: I began building dioramas in 1996 as a form of stress relief. I had a career in photojournalism and covered a lot of death and destruction. I needed something to do with my hands to work out tension and bring me levity. I discovered diorama building through internet fan sites and was immediately hooked.
EE: Living in Florida, do you get to the Disney Parks often?
Stephen Hayford: Actually, I generally only make it to the Disney Parks when it's work related. It's a strange phenomenon when you live close to something unique, you don't visit it too often. I live close to the beach and we don't go there often either. Strange.
EE: Were you a Star Tours fan before working on this project?
Stephen Hayford: Yes! I first went on Star Tours when I was in college. My family took a Thanksgiving trip to Orlando in 1992. I ran to Star Tours when the park opened and spotted the AT-AT and was overcome by excited fluttering. I loved the line walk-up, the Easter eggs in the displays, it was fantastic. I'll never forget that experience.
EE: Any other Disney/Lucasfilm Theme Park projects you are fan of? Indiana Jones? Captain EO? Alien Encounter?
Stephen Hayford: I LOVE the Indiana Jones show. I never did catch the Alien Encounter (I have to be satisfied with the Fox ALIEN appearance in The Great Movie Ride). And I'm not a big fan of Captain EO, which surprises me because I was once such a huge fan of Michael Jackson that I owned a Thriller jacket.

EE: Tell us how the Star Tours/ Star Wars Weekends project came about? Was it a fun project?
Stephen Hayford: It was one of the most fun projects I've ever done. I was mainly doing holiday-themed images for Lucasfilm when I was asked if I would be interested in doing something to celebrate the re-opening of Star Tours during Star Wars Weekends. It was perfect for me.
EE: How did you select the (Star Wars Weekends/Jedi Training Academy/Star Tours building) theme?
Stephen Hayford: I originally planned a very grand collection of all things related to Star Wars Weekends. However, to stay within budget I had to scale back my original vision, but I knew I had to recreate the iconic village entry. I also knew that the Jedi Training Academy would resonate with fans of SWW and could be done affordably because of the existing Kenner bunker playset. Still, the idea was to celebrate the reopening of Star Tours, so that took center stage.
EE: This diorama focused on the Florida version of the ride. Have you visited any of the Disney Parks outside of Orlando?
Stephen Hayford: I lived in California briefly in my childhood and remember visiting Disneyland but it was before any other parks were created. I would love to compare the Star Tours rides sometime. Considering many of my clients are in LA, I hope to have the opportunity to do so someday.

EE: Did you get a sneak peek at Star Tours 2?
Stephen Hayford: I did not. I asked for one, but the ride wasn't actually completed when I had to have the project done. In fact, I had to create the diorama before knowing what the new signage would look like. Hence the classic theme. I'm often creating my work months in advance of the use because of the series of approvals needed, etc. Right now I'm working on pieces which won't be seen until May. I have another piece that I finished in December of 2012 which won't be used until March 2014. It's the nature of the business.
EE: Do you have a favorite figure from the Star Tours line?
Stephen Hayford: Believe it or not, I love Teek. I don't know why because I was never a big fan of ewoks or the ewok movies. However, the Teek figure is such a great sculpt that I love using it whenever I can.
EE: Several of us on the EndorExpress.net staff are big fans of that figure!
EE: Any plans on future Disney/Star Wars dioramas? Any other Disney/Lucasfilm Theme Park projects you are fan of? Indiana Jones? Captain EO? Alien Encounter?
Stephen Hayford: I would LOVE to do an Indiana Jones diorama or other theme park scenes but there are no plans at this time. I do have a number of Lucasfilm images in the works as we speak but they won't be revealed until April. However, I can say there will be scenes from the Death Star, Tatooine and Endor. (Note: Since our Q&A began, Stephen has posted images of his Indiana Jones diorama on his facebook page)
EE: What's next for Stephen Hayford? and where can our readers find you online?
Stephen Hayford: I have SIX new Star Wars images coming for Lucasfilm, five new exhibit pieces coming which will relate to various pop culture themes (including The Hobbit and super heroes). And I will be working on a large collection of Florida-themed pieces for a new traveling exhibit thanks to an arts grant.
The best place for folks to catch glimpses of new work and behind-the-scenes images is my Facebook page.

A broader view of my work can be seen at Lifeinplastics.com

And various mounted images can be purchased through Howl Gallery.

Thanks to Stephen Hayford for his time and we'll be sure to follow his work!
Thanks to Kris Van de Sande for helping with the images on this page.