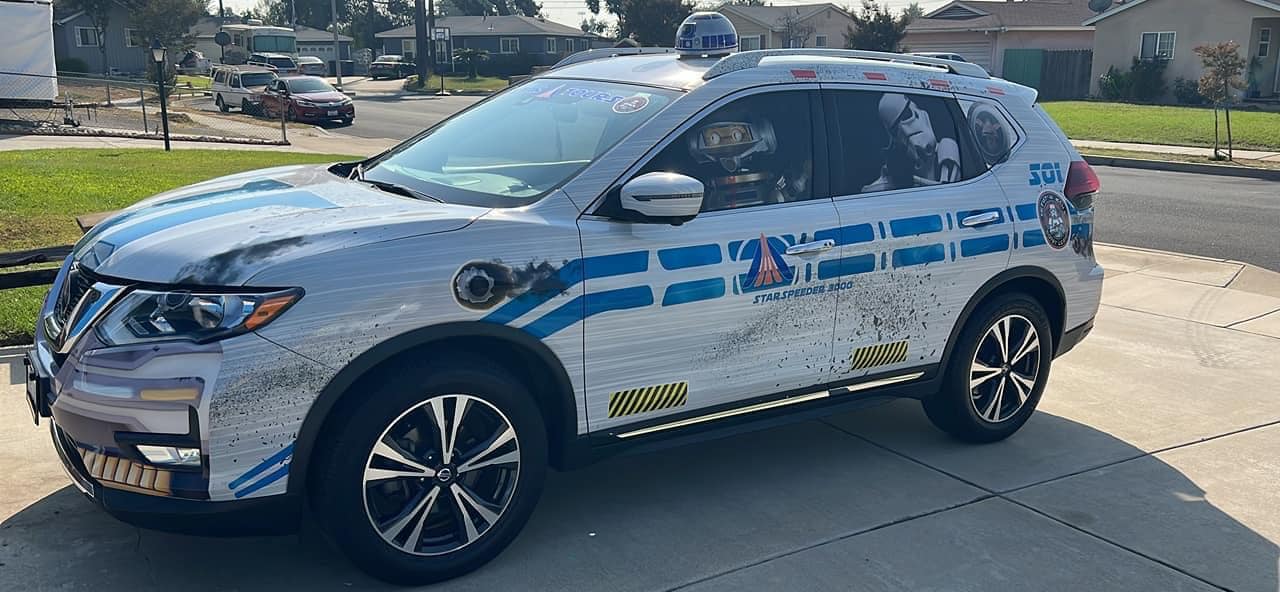 Courtesy of Sean Christophiades
Star Tours Fan Converts Car Into Starspeeder 3000
Article
January 9, 2022
Thirty-five years ago on January 9, 1987, Star Tours, changed the world. To put it into context, Space Mountain (and Star Wars) was only ten years old. The most recent ride added to Walt's original Disneyland park was Pinocchio's Daring Journey. George Lucas and Francis Ford Coppola teamed up with Michael Jackson to wow audiences just a few months prior with the 3D space musical, Captain EO.

Thirty-five years later, the ride that started it all still leaves an impact with those who experienced it in those early years. Today, we talk to Sean Christophiades, super-fan and Cast Member who worked on the ride, and then converted his own ride into a Star Speeder 3000! While we've all wanted to do it, Sean actually did. Let's hear more from Sean…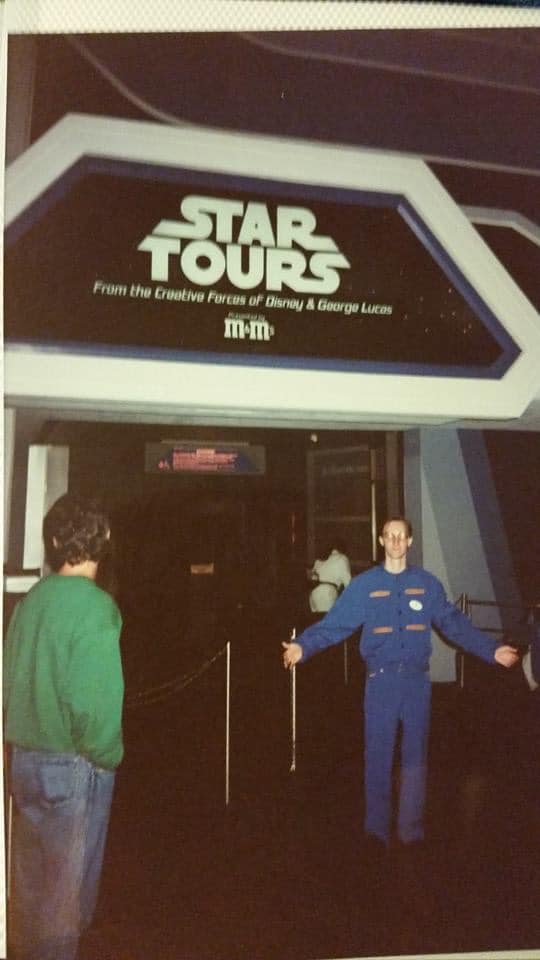 EndorExpress: Sean, can you tell us about your very first experience with Star Tours?

Sean: I had an Annual Pass to Disneyland back in 1987 and for several years before I worked there. Being a Star Wars fan since 1977, I was super excited for Star Tours. I do remember lining up on Main Street, U.S.A. on opening day and waited a few hours to board but the wait was so worth it! I grew up with Disneyland, I loved Star Wars, and when the two collided it was total bliss. Just entering the queue inside the building, that's when the adrenaline really started to flow. I think that was my first time on a simulator based attraction as well – the experience seemed so realistic.

EndorExpress: You worked as a Cast Member from 1991-1994 on Star Tours. Anything memorable you can share with us?

Sean: Working at Star Tours was a total blast. I probably would have done it without getting paid. Closing it down at the end of the night and walking the empty queue was such an amazing experience as well. I met many celebrities, especially when I worked in the boarding area for the StarSpeeders. Barbara Streisand, Michael Jackson, Macaulay Culkin, Arnold Schwarzenegger, the cast from "Cheers", and many others especially the night of Elizabeth Taylor's private party.

EndorExpress: Those are some incredible sightings! But fast forward to now, you converted your own car to a Star Speeder 3000! What was the occasion?

Sean: For my 50th Birthday last year (2021), I wanted to give myself a special gift. Life is too short so I gave myself the gift of happiness. Every time I see this vehicle, it brings a smile to my face… and I hope to countless others. I believe it does, since I have seen the expressions from so many people as I am driving, not to mention all of the selfies and photos that I have seen when I walk back to where it's parked.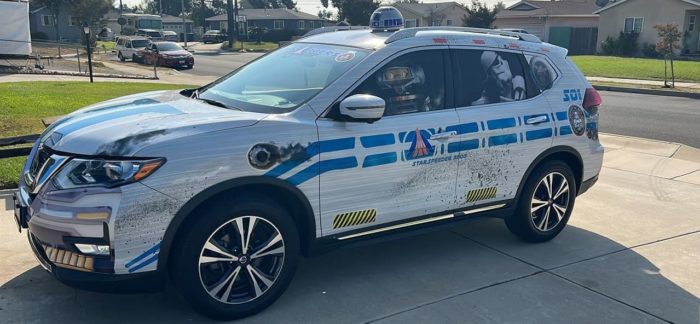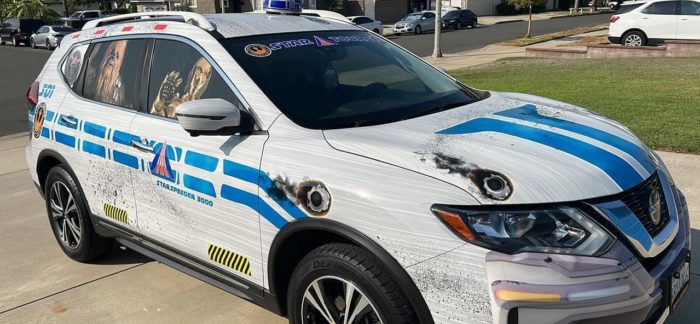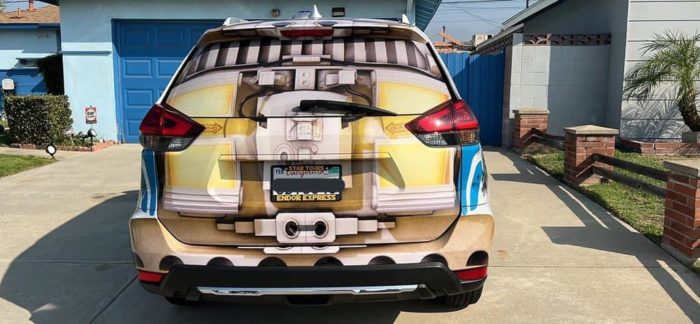 EndorExpress: That's quite a gift! And you got to drive it in the Hollywood Christmas Parade!

Sean: How fun was it? It was a bucket list! I am also part of the 501st Legion and the Rebel Legion Star Wars volunteering costuming groups, and have been a Stormtrooper for numerous events at hospitals, libraries, charitable organizations for fundraisers, parades (including Disneyland for Star Wars Nite), and sporting events. So basically, my life has been filled with happiness from Disney and Lucasfilm. Hence, my version of the StarSpeeder 3000. Nissan has liked it, hope Disney does as well. Waiting on confirmation from ReedPop that it will be displayed for four days at Star Wars Celebration in Anaheim this May, fingers crossed.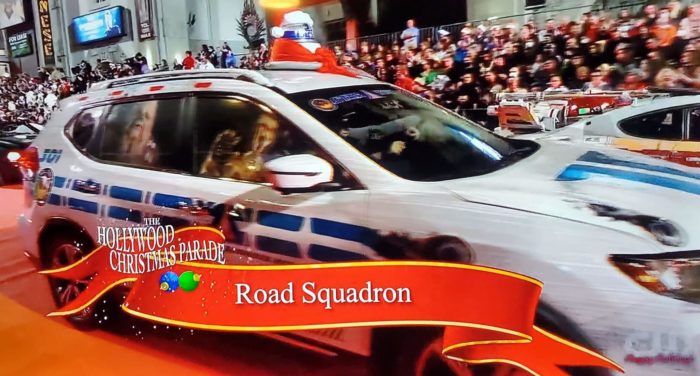 EndorExpress: You really are among a special breed of Star Wars fan, and we're all the better for it. Where did you get your wrap made?

Sean: We basically created the design at a local graphics shop, even spent some additional time and money to acquire a 4k digital model of the StarSpeeder that someone created. I thought the burn marks would be awesome to add, and each side of the vehicle has a droid and of course Captain Rex is the pilot! The R2 dome mounted to the top of the vehicle is a mixing bowl from Galaxy's Edge!


We want to thank Sean for taking the time to chat and sharing his love of Star Tours with us! Happy 35th to the original Star Tours!