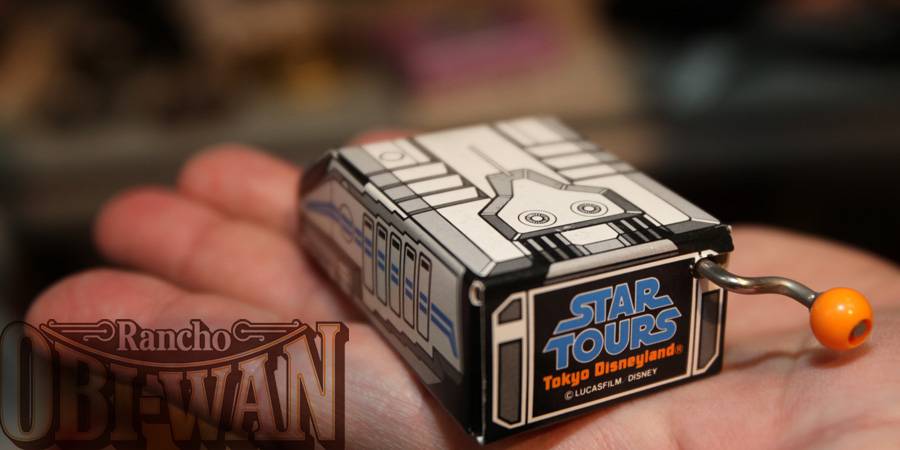 David Yeh
Star Tours at Rancho Obi-Wan
Article
May 14, 2012
Imagine a place where every bit of Star Wars memorabilia can be found. Now imagine going there. What would you seek out? What would interest you the most? Well, fortuntately such a place does exist. It's called Rancho Obi-Wan and it houses the world's largest collection of Star Wars toys, props, models, costumes, and more. EndorExpress took a special trip to Steve Sansweet's haven of Star Wars collectibles and sought out what we could find that was Star Tours related, and even offered something that Steve himself didn't have.
Read on as we share with you many of the rare treats and treasures of the Disney Theme Parks.
We begin in the main room and immediately spy a very rare piece of wall art, the Star Tours attraction poster. Not only is it rare but darn right impossible to find in any condition. Star Tours posters were sold, yes, but not these. This particular piece is from Tokyo Disneyland and one of the Artists Proofs.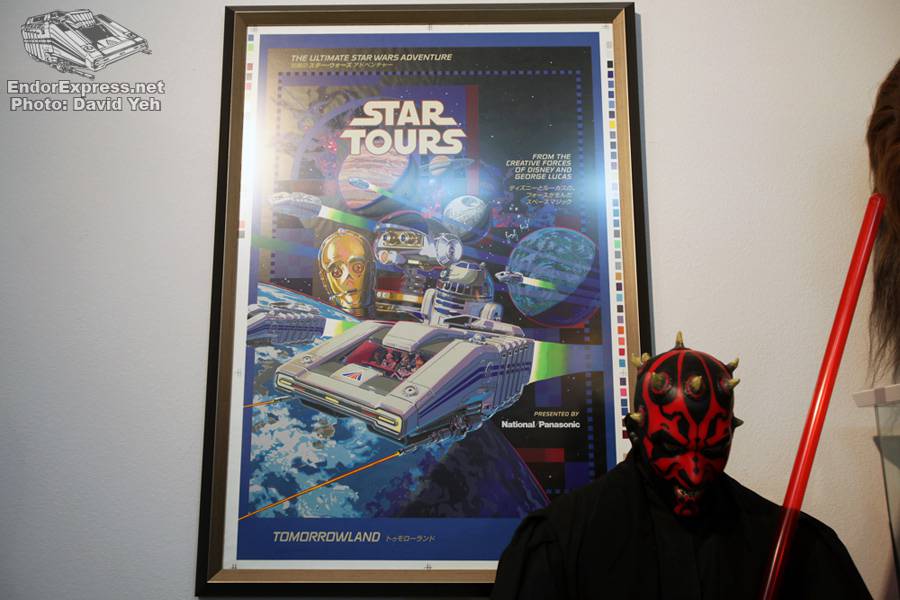 To the right of the Star Tours poster, you might find what appears to be one of Boba Fett's Wookiee bounties, but it's actually a Chewbacca mask used long ago at Disney's Hollywood Studios.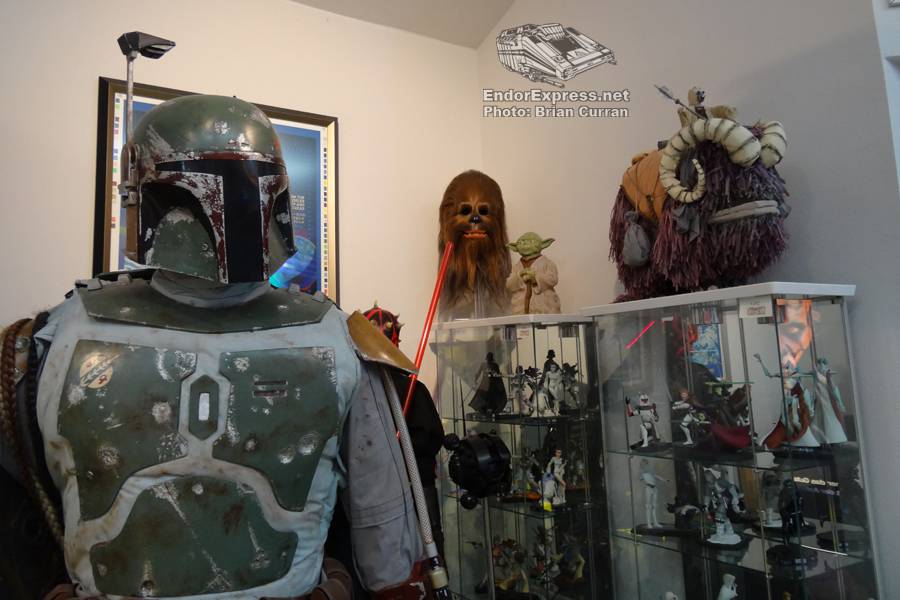 At the Disney Theme Parks, Big Figs (or Big Figures) are a featured collector's item. The first one pictured is a Big Fig of Tomorrowland with Star Tours alongside past favorites such as The House of the Future.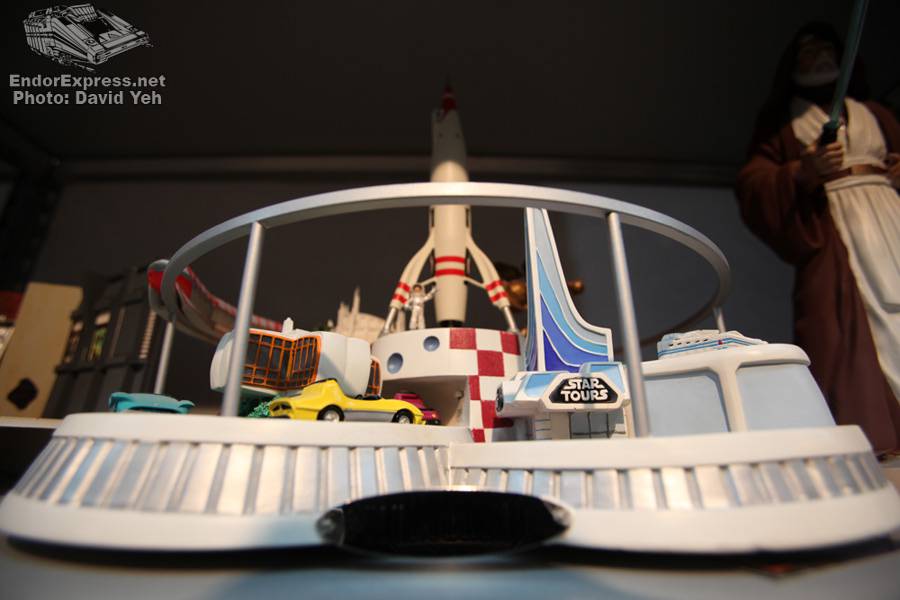 Big Figs usually showcase popular Disney characters from film and cartoon alike. The collection at Rancho Obi-Wan showcase the many popular Disney characters in Star Wars attire.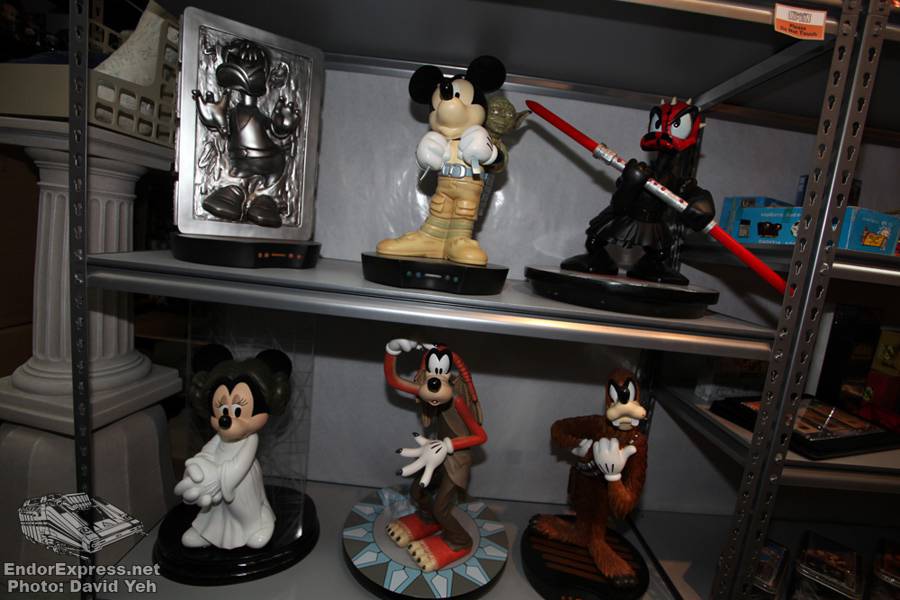 Onwards to something on the opposite end of the pricing system is this pencil topper featuring the Star Speeder 3000. Can you imagine light speed going in circles? With this item, you wouldn't have to.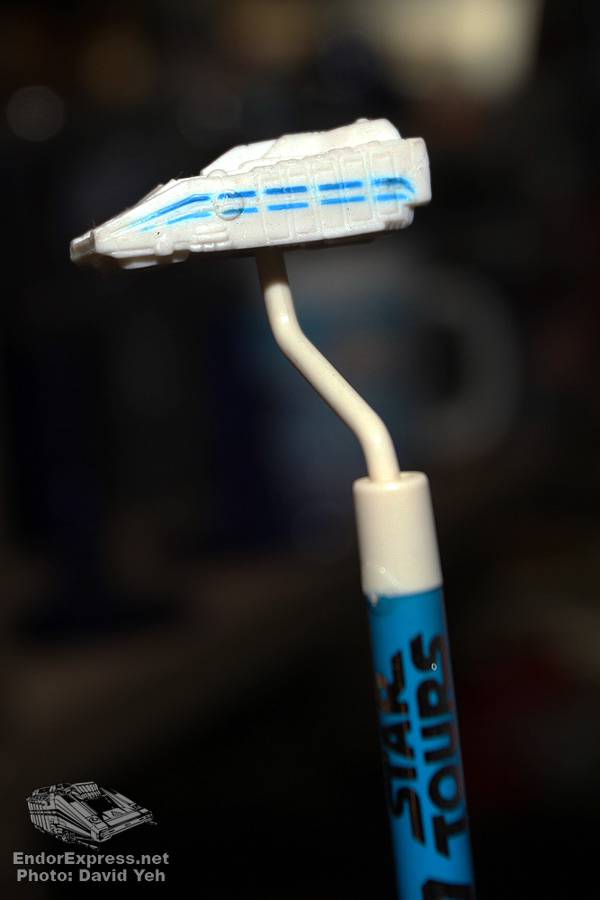 This next item is an Ewok plush from Tokyo Disneyland. Isn't it cute???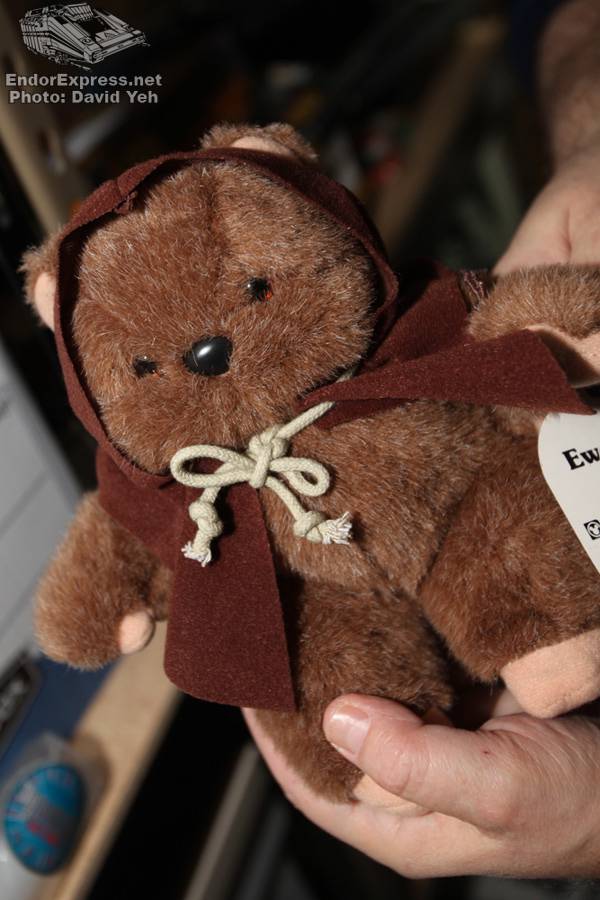 Keeping your cash or Republic Credits can be a pain in this galaxy but not with the Star Tours velcro wallet. It's a must have if you own a Members Only jacket.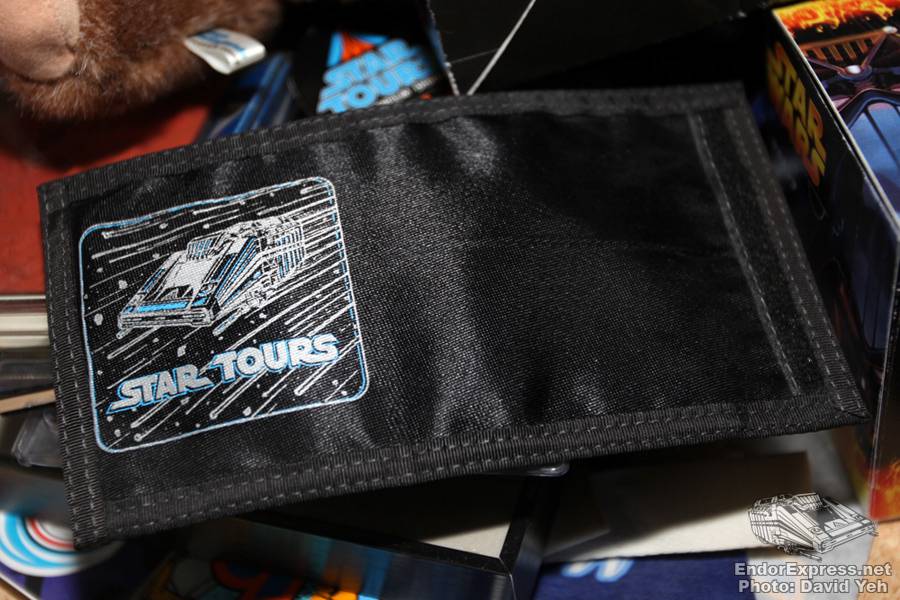 And what's cooler than a velcro wallet? A Star Tours Fanny Pack! Most likely a product of a foreign Disney Park.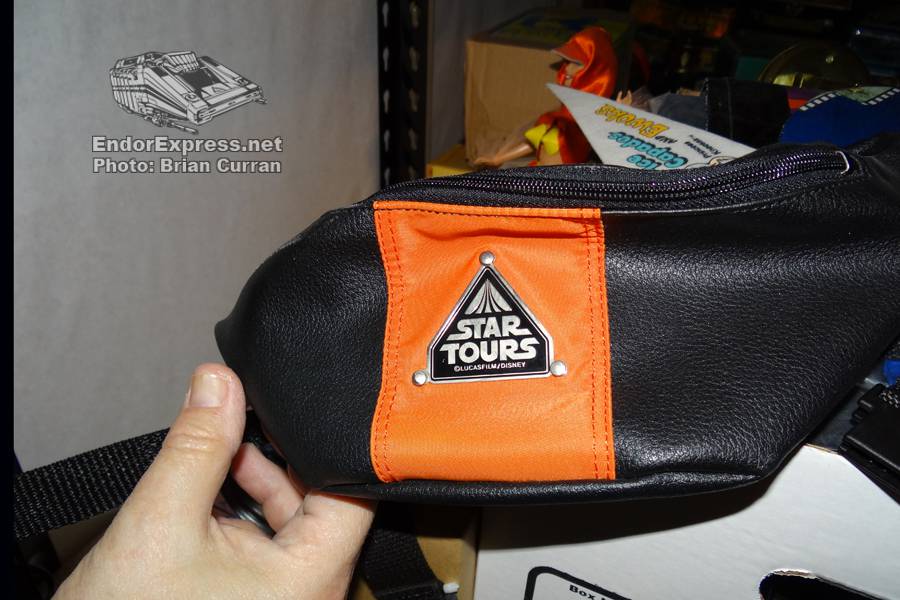 Disney not only tackled Star Tours branded mugs and drinkware, they also gave us some very Star Wars specific items such as these Mos Eisley Cantina martini glasses. A matching beer glass was also available. In the back you can spy a mug representing the Rebel Alliance. Were they that proud and rich to have glasswhere? I often wonder.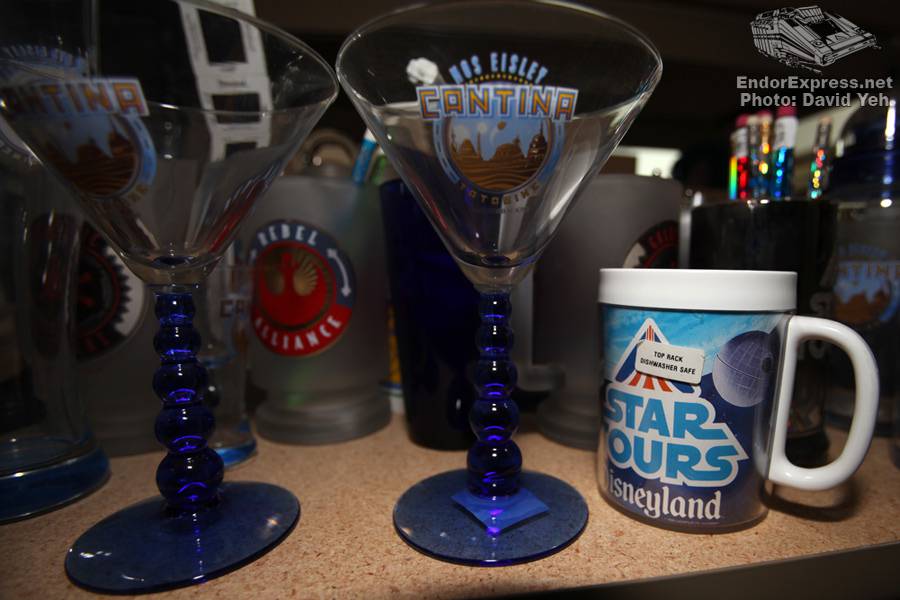 I've always thought Japan was cooler than us Americans because of the merchandise they sold. This Star Tours Tumbler from Tokyo Disneyland solidifies this opinion of mine.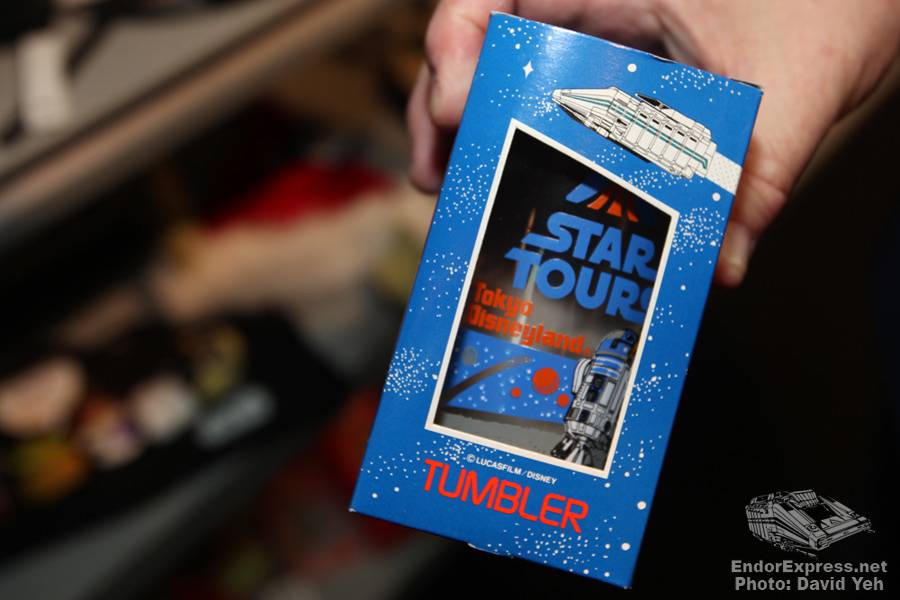 The Carnation Company has long had a relationship with Disneyland and here, we can see that relationship at work with this Carnation Milk Carton. I wonder if the milk has turned blue by now? Also visible for drinking is the Star Wars Weekends shot glass. Or is it a tooth pick holder?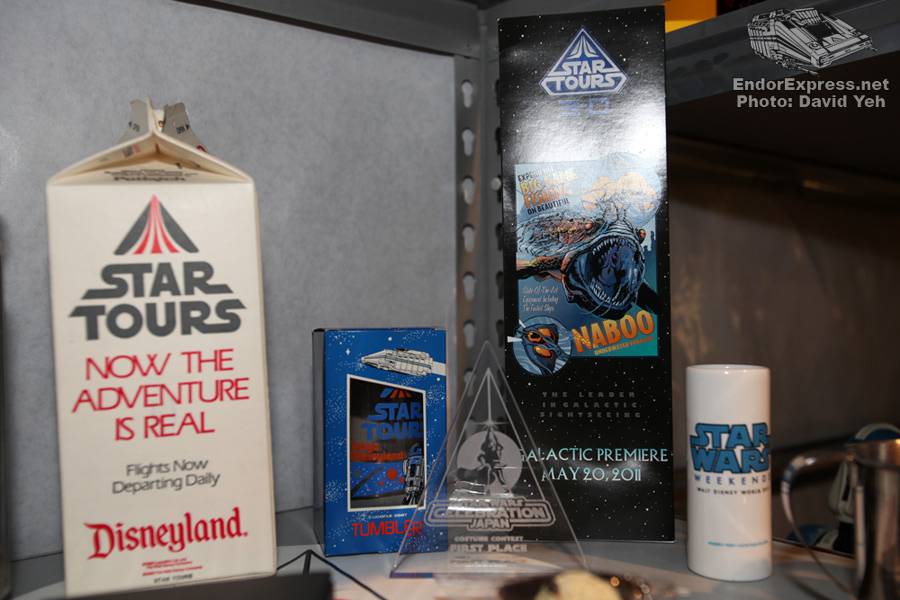 Before Twitter, before Facebook, and before the Internet, people shared their vacation pictures with slide projectors. Families would often convert their roll of film into slides for this purpose. And for those who forgot their camera, well, they could buy the Disneyland Official 35MM Slides! This Tomorrowland set from 1986 features two shots from Star Tours.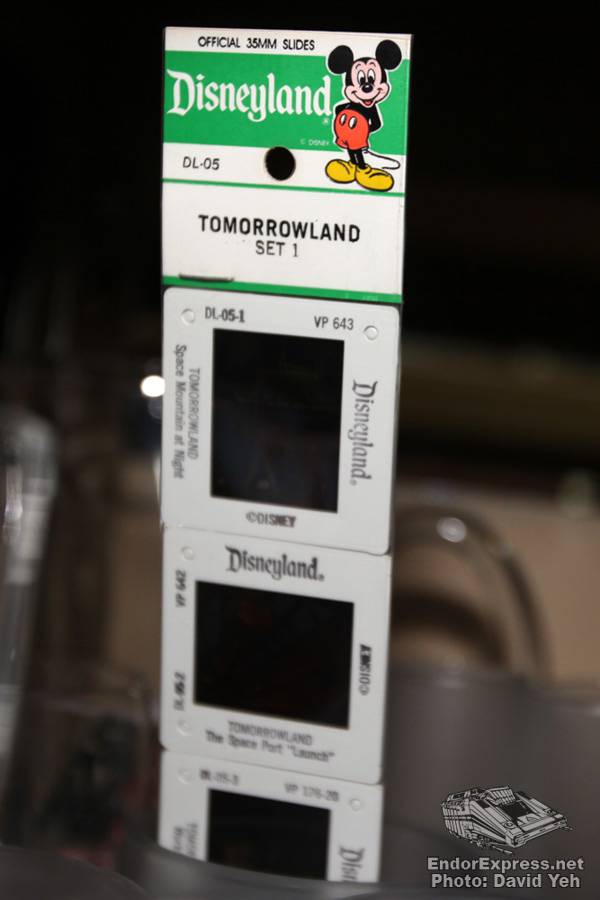 But wait… didn't Star Tours open in 1987? These vacation slides for those in 1986 were from the FUTURE! It certainly was a "tomorrow" land set all right!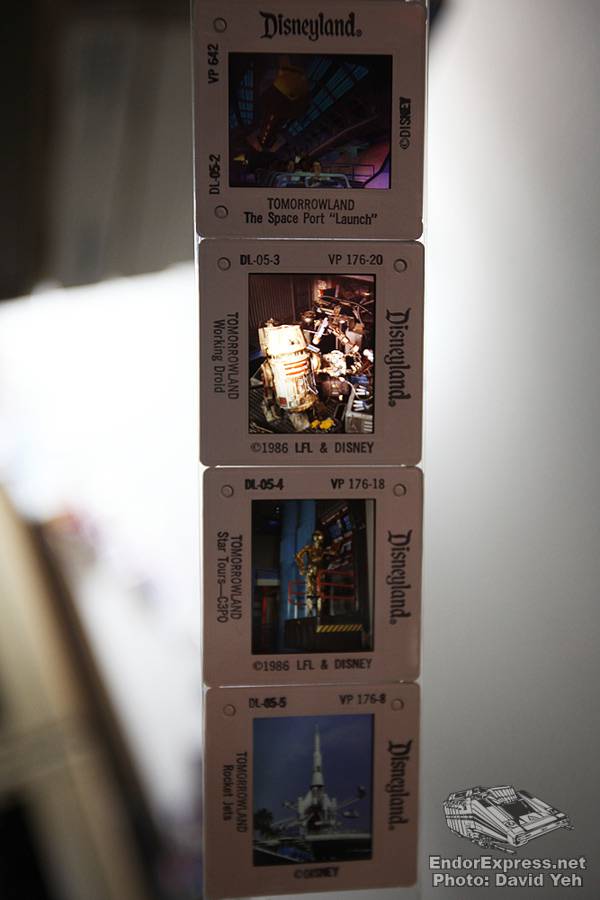 Rubber stamps were fun back in the day. They sure aren't anymore! HAHAHAHAHAHAHAHAHAHAHAHA!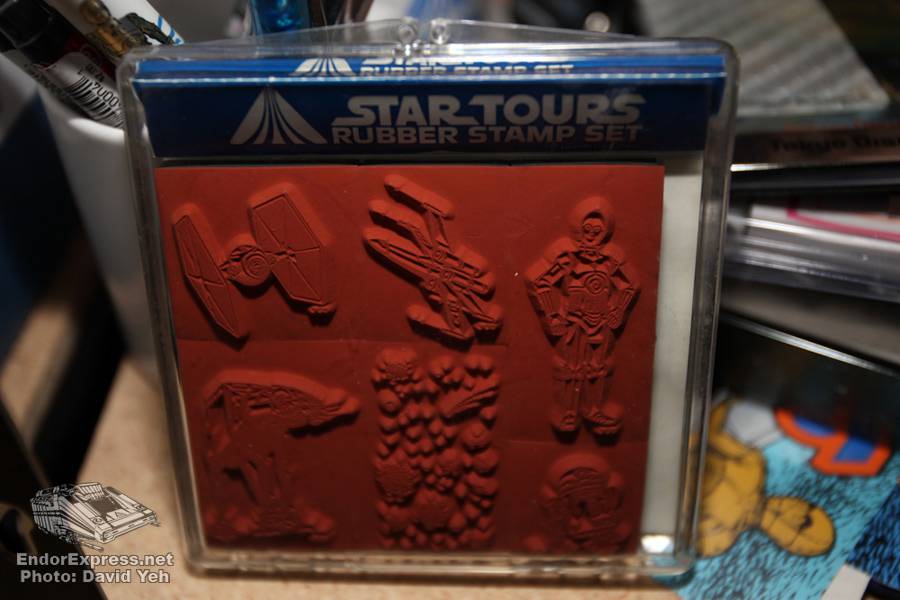 Rubber Stamps may not have been the best seller at the time but I do recall my set of Star Tours stationary. I loved it so much that I used it up entirely. Also check out the mug and pens that were sold in the parks.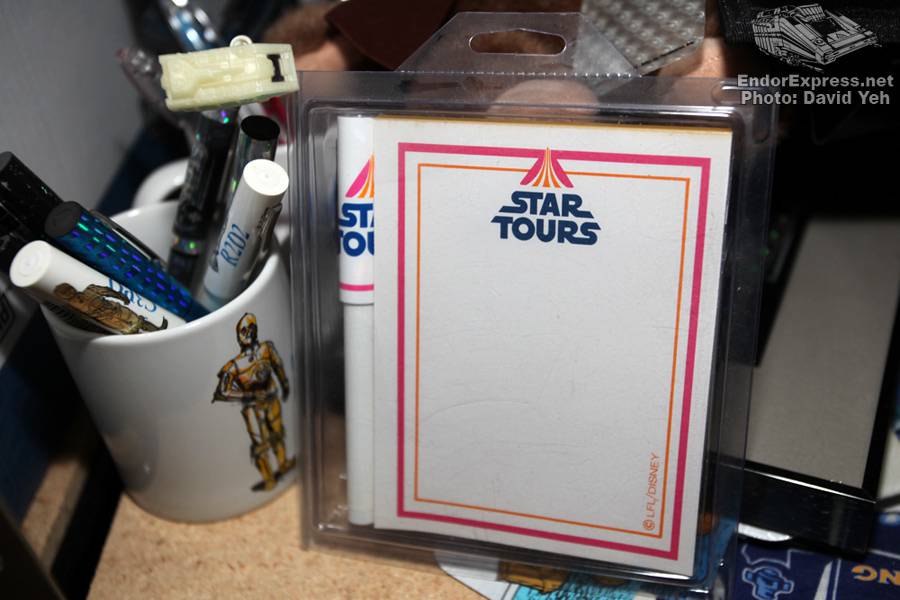 At Tokyo Disneyland there was an art print available. It wasn't very big but seems pretty nifty.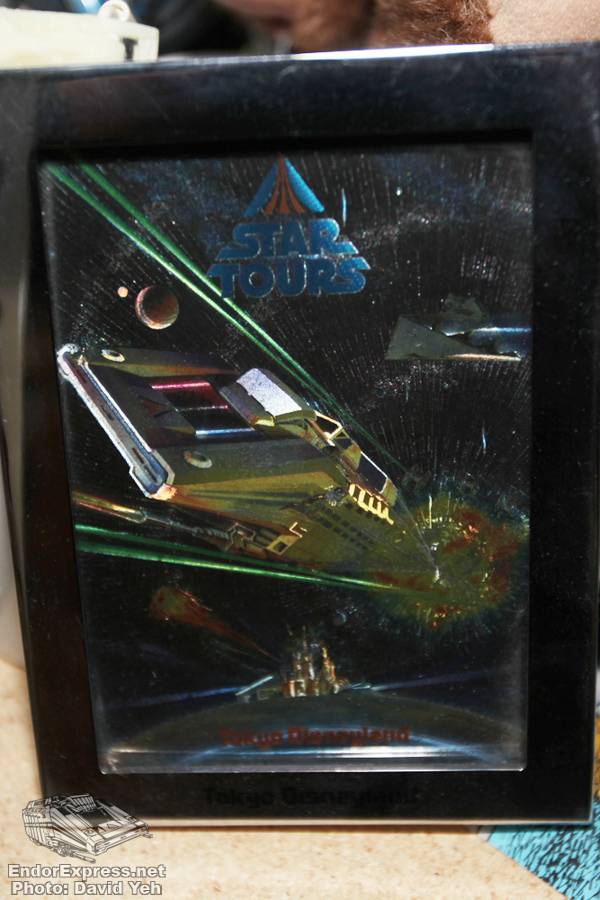 Below is an especially rare item, or something I haven't come across in my galactic travels. It's a post card announcing an upcoming "George Lucas Adventure" and features conceptual artwork for the ride's exterior building. Whether this was sent out framed is undetermined.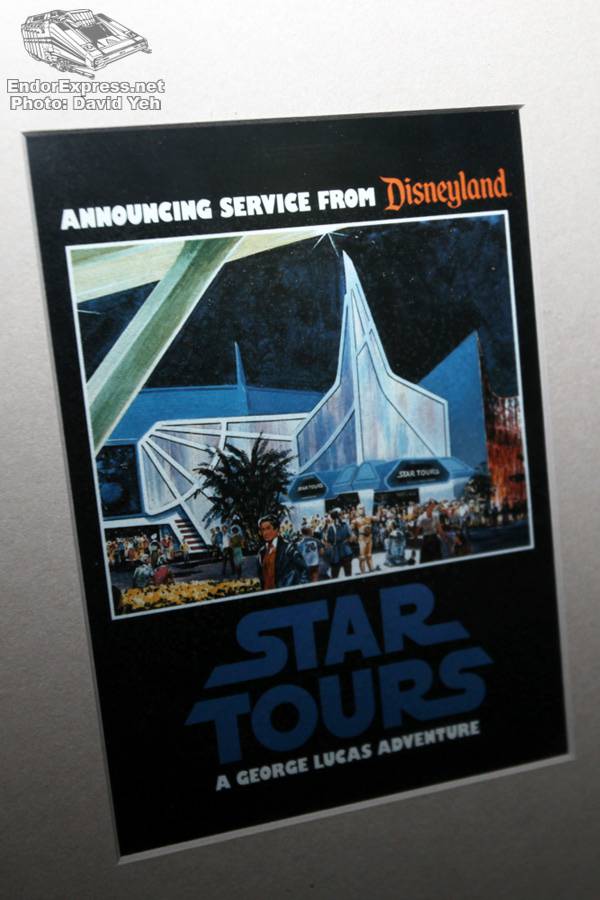 Another cool item from Tokyo Disneyland is this music box in the shape of the Star Speeder 3000. Turn the handle and John Williams' Star Wars theme can be heard from the palm of your hand.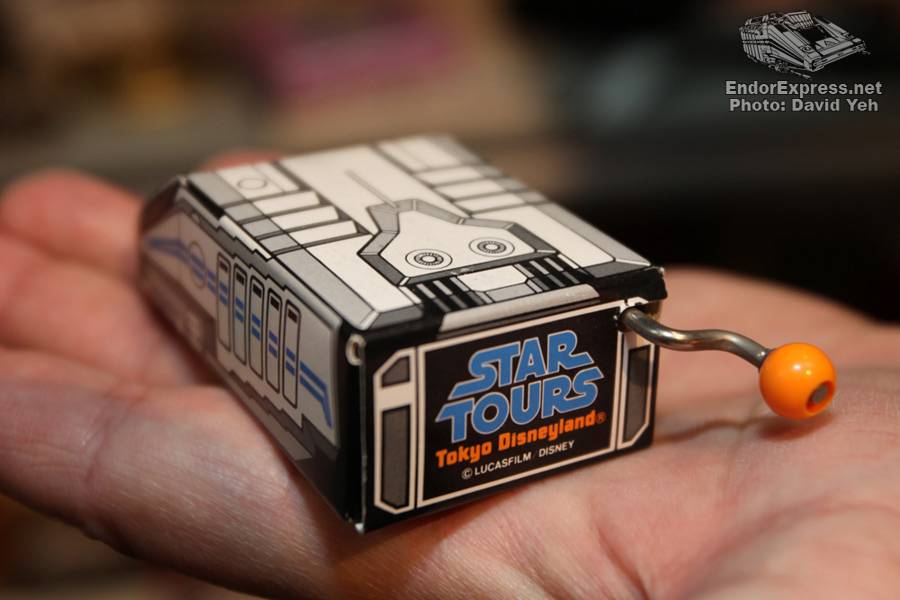 No, this isn't an official Star Tours Mickey Mouse ears hat. Well… it is, but as you can see, hastily made as a promotion of some kind.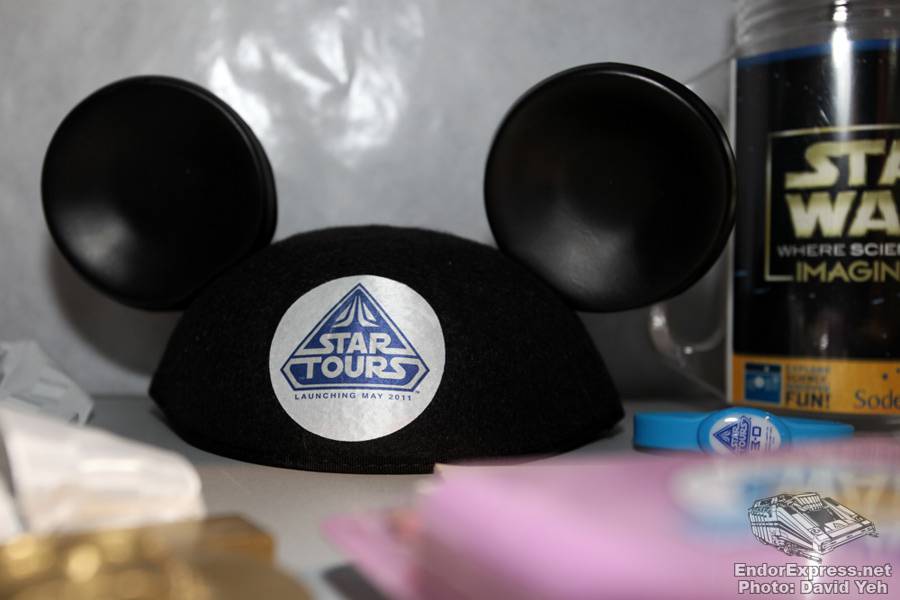 Another promotional item for the new Star Tours: The Adventures Continue is this light up wrist band. Not all different from the kind you get when ordering a block of Carbonite with your face on it at Disney's Hollywood Studios.
Below is a few random items such as the very current Star Wars Vinylmation figures but check out this ancient Tokyo Disneyland Star Tours ash tray! There's no smoking on the ride but you can smoke to your heart's content anywhere else if you have this ash tray.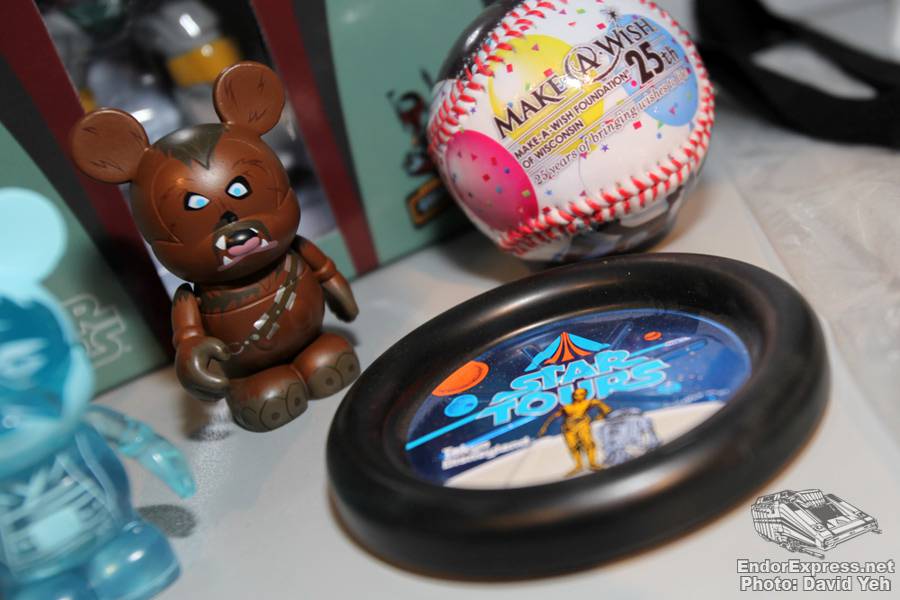 Yoda is a very popular character for Star Wars fans. Tokyo Disneyland sold this Yoda at their Star Tours shops but the same doll was sold at George Lucas Super Live Adventure show (not Disney related).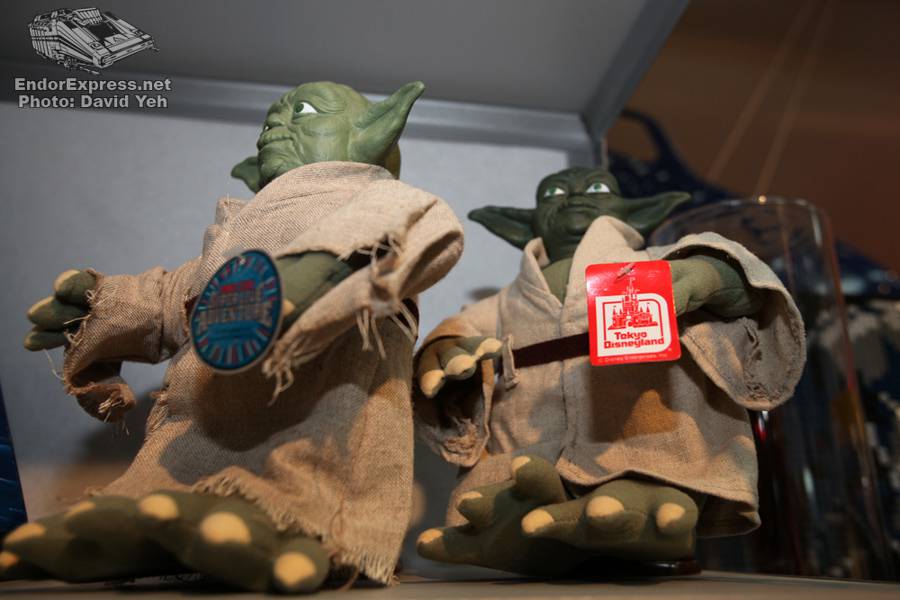 If you're against rummaging at flea markets or donation centers, you might miss out on key pieces of Star Tours costuming.
Rancho Obi-Wan not only collects the merchandise sold at retail stores, it also collects many works of fine art created by talented artists. Here's a fun piece of work titled The Land O' Calrissian, imagining how a Star Wars Theme Park might look.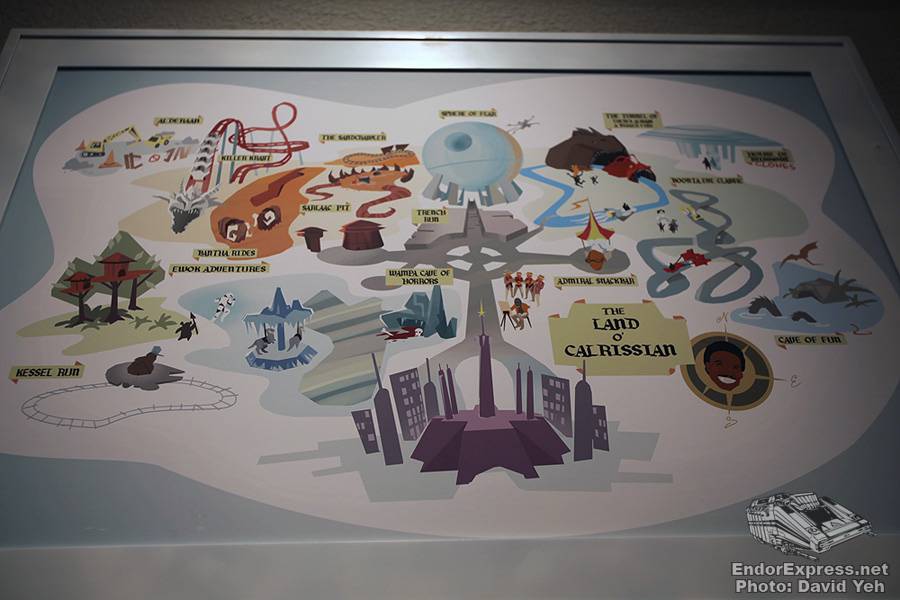 Lastly, Brian Curran at EndorExpress had a parting gift for Steve Sansweet and his house of galactic horrors. This grocery store gift card display features Star Tours: The Adventures Continue and Disney California Adventure's The Little Mermaid attraction with the third side advertising World of Color, Mickey's Soundsational parade and Goofy's Sky School. Acquired from a Northern Californian super market, it now has a new home at Rancho Obi-Wan.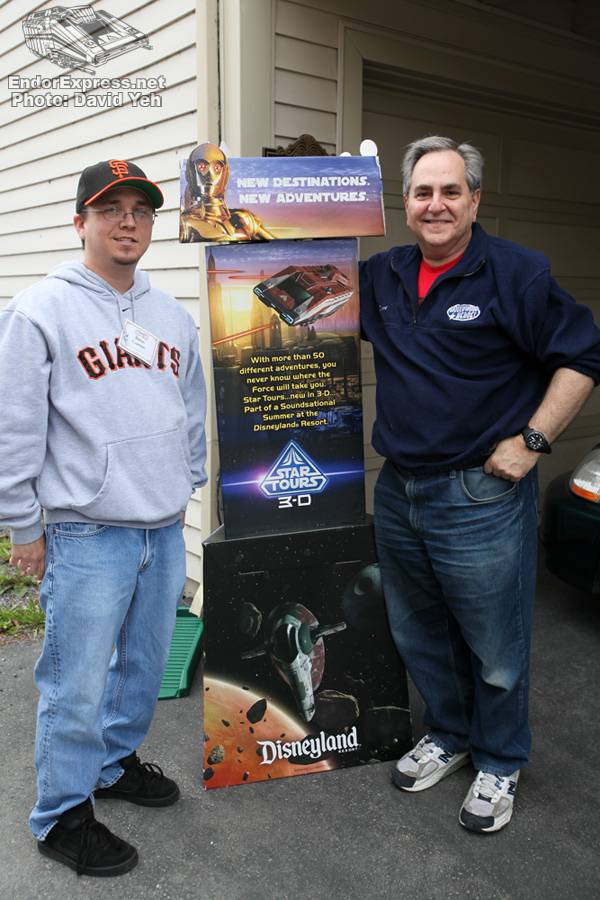 Rancho Obi-Wan is a non-profit organization and open for tours. Please visit http://www.ranchoobiwan.org for more information and about how to donate.
Special thanks to Steve, Consetta, and Anne for making this trip possible!