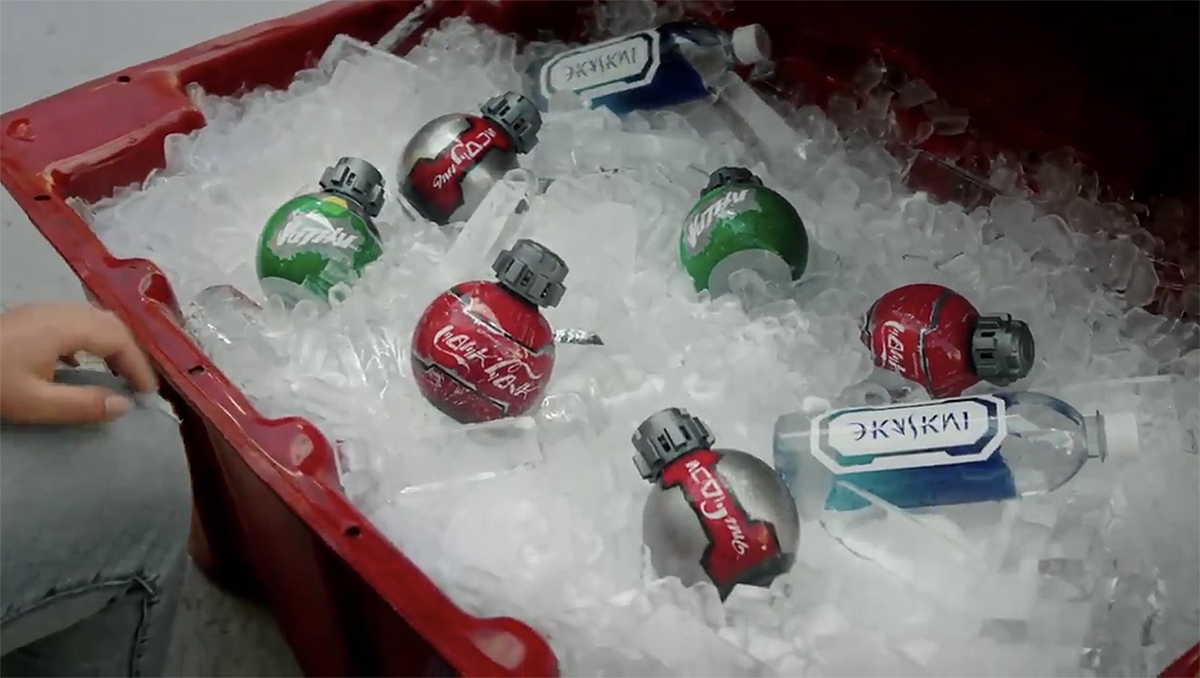 Kris Van de Sande
Coca-Cola: Passport to Refreshment… in Galaxy's Edge
April 15, 2019
Coca-Cola and the Disney Parks have shared a long partnership over the many decades (excluding Shanghai Disneyland) and when presented with a chance to take the relationship into uncharted space, Coke decided to come with.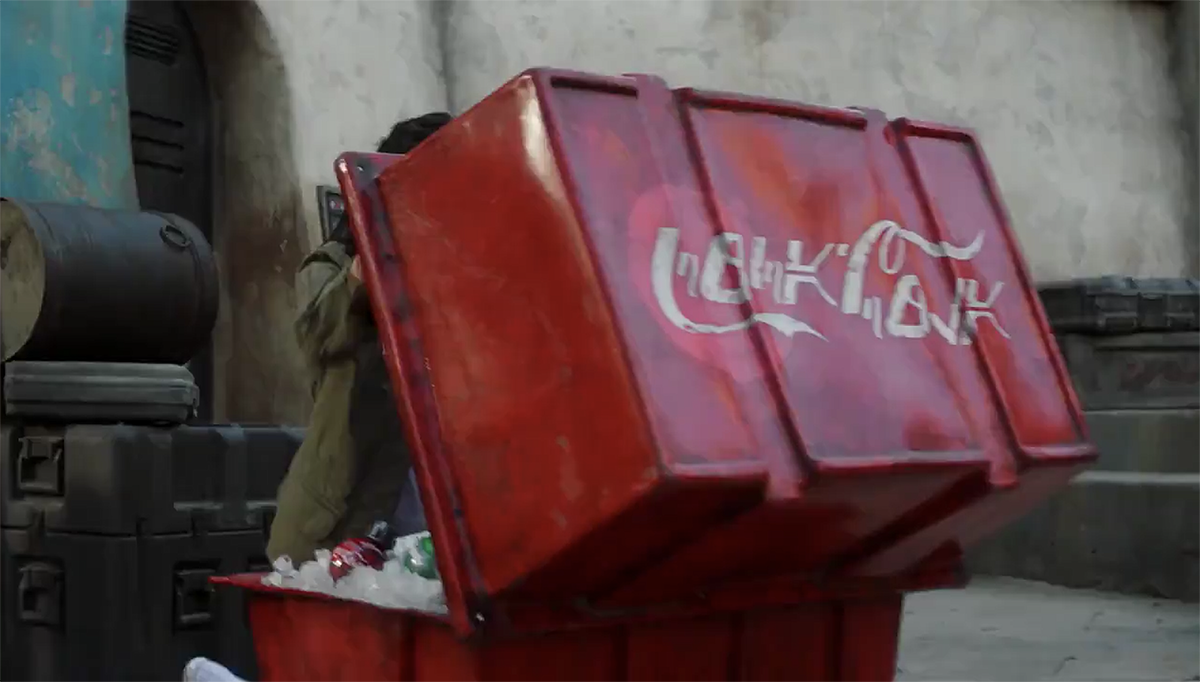 At the Galaxy's Edge Panel held at Star Wars Celebration Chicago, the newly designed Coca-Cola products were revealed. But instead of the classic Coke contours, a much rounder bottle for Coca-Cola, Diet Coke, Sprite, and Dasani Water (which still looks like a water bottle) were presented.
The soda still resembles their classic forms, but with a cursive Aurebesh logo in its place. Guests attending the panel were also treated to an Aurebesh Coca-Cola Tee in XL as they exited.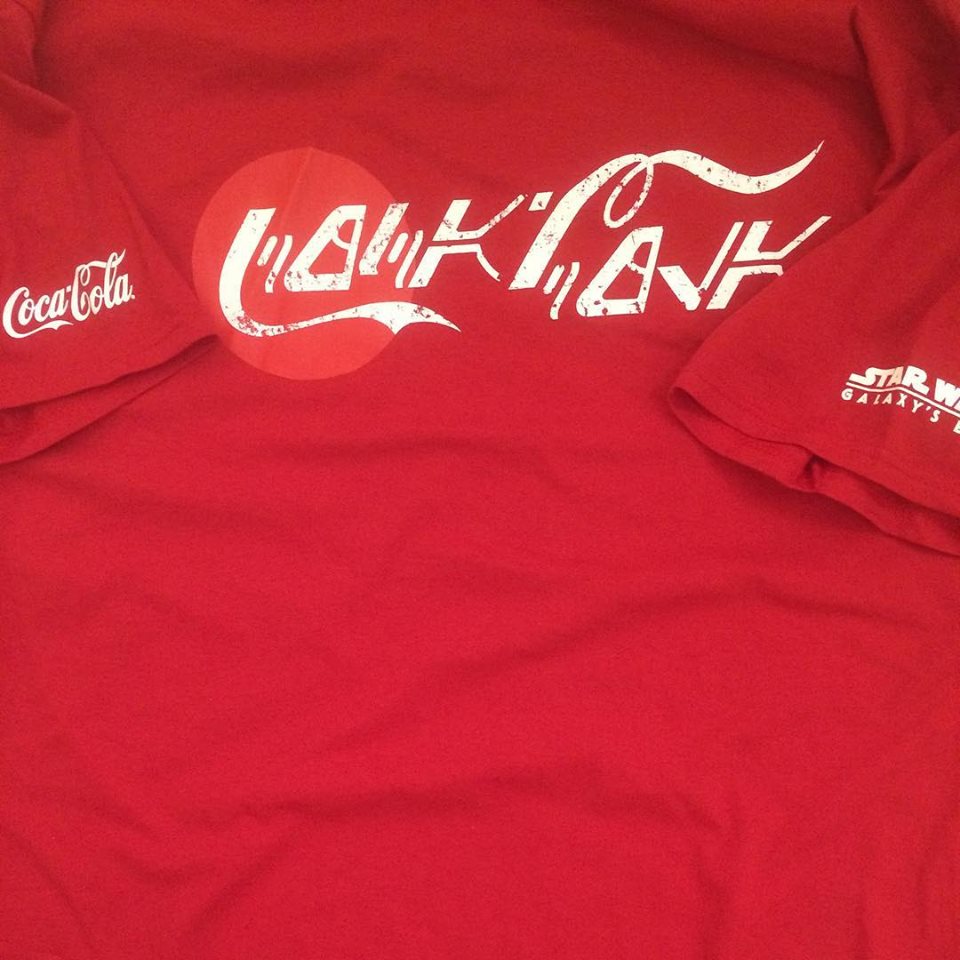 Here's more from Scott Trowbridge, Portfolio Creative Executive, Walt Disney Imagineering:
From the engaging sights and sounds to the tantalizing tastes of Black Spire Outpost, everything within Star Wars: Galaxy's Edge has been carefully crafted to ensure an immersive experience that has never been seen before. We've previously shared that visitors will be able to discover otherworldly flavors at our many food and beverage locations, and today we're excited to share a bit more about one of these unique elements that galactic travelers will only be able to find on their visit to Batuu.As we were developing the incredible experiences that guests will explore when Star Wars: Galaxy's Edge opens at Disneyland Resort and Walt Disney World Resort, we knew that we wanted to create something truly special – something that will bring your own Star Wars adventure to life in a whole new way.

We reached out to our friends at Coca-Cola, and along with Lucasfilm Ltd. came up with specially designed Coca-Cola bottles that are designed to fit authentically within the Star Wars universe.We have a long history with Coca-Cola, dating back to the opening of Disneyland Park and the "Refreshment Corner" on Main Street, U.S.A. in 1955 and it's a pleasure to continue to work with this amazing team on such a groundbreaking experience. These unique Coca-Cola products were created with storytelling in mind and are unlike anything we've done before – take a look


Scott Trowbridge, Portfolio Creative Executive, Walt Disney Imagineering
I can't wait for you to see this cool packaging for yourself – it's sure to be in high demand throughout the galaxy!Stay tuned to the Disney Parks Blog for more details and updates as we look forward to the opening of Star Wars: Galaxy's Edge on May 31 at Disneyland Park and August 29 at Disney's Hollywood Studios!

Scott Trowbridge, Portfolio Creative Executive, Walt Disney Imagineering