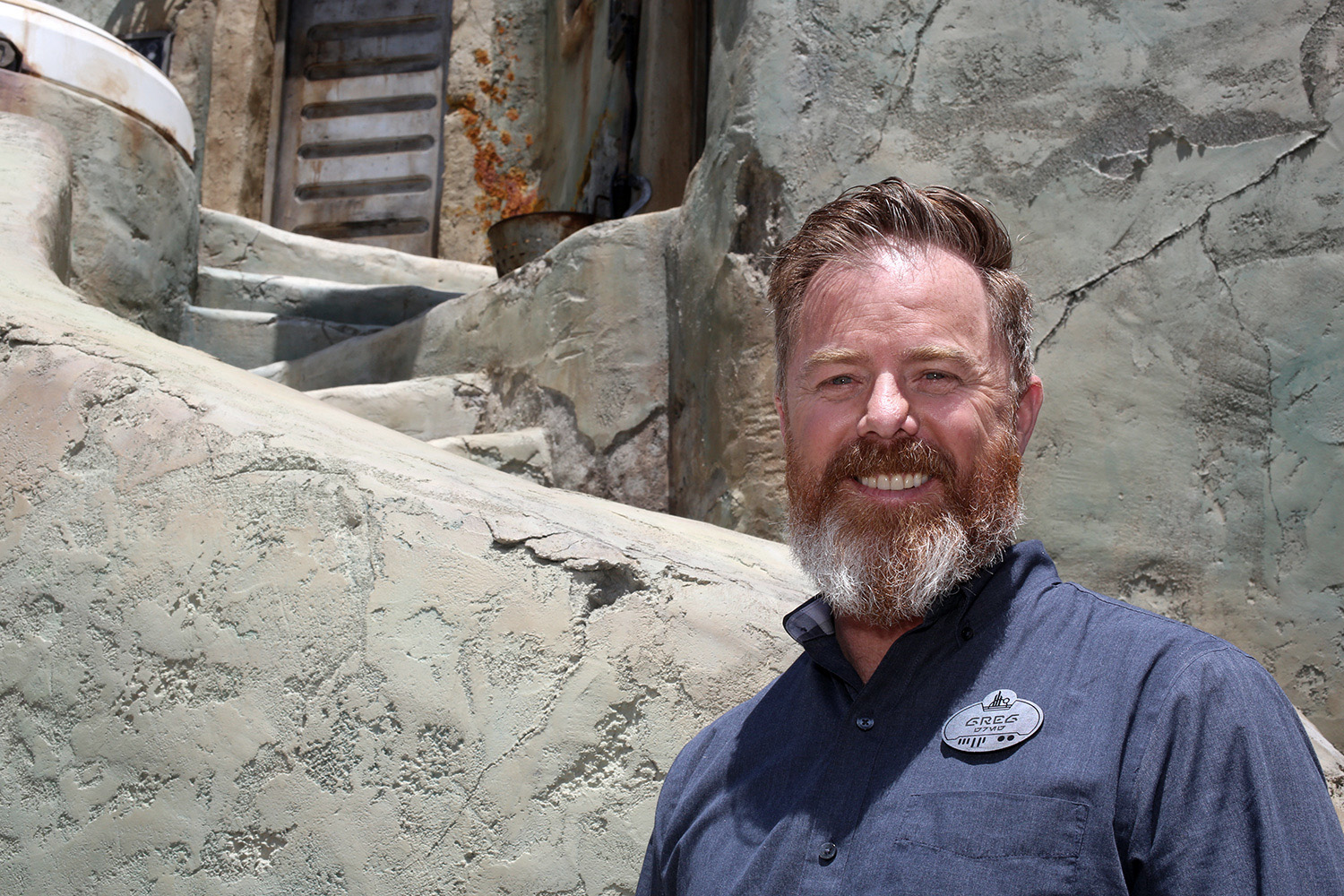 David Yeh
A Chat with Galaxy's Edge's Executive Architect, Greg Ashton
June 11, 2019
It takes quite the army to create something as ambitious as Star Wars: Galaxy's Edge and one key ingredient, is architecture. The shops, restaurants, attractions… well, they just aren't possible without it. In exploring the land of Black Spire Outpost, it is one of the things non-Star Wars fans can appreciate the most. We had the opportunity to chat briefly with one of the Imagineers involved with the creation of Galaxy's Edge, Greg Ashton, who provides a little bit of insight behind the scenes, what it was like working with Lucasfilm, and a hint of of what we might expect in Florida's version of the land.

We spoke near the landing platform of the TIE Echelon, before the land opened to the public and found some shade, in what would become a Coca-Cola Outdoor Vending location during the day. The conversation below has been edited for clarity.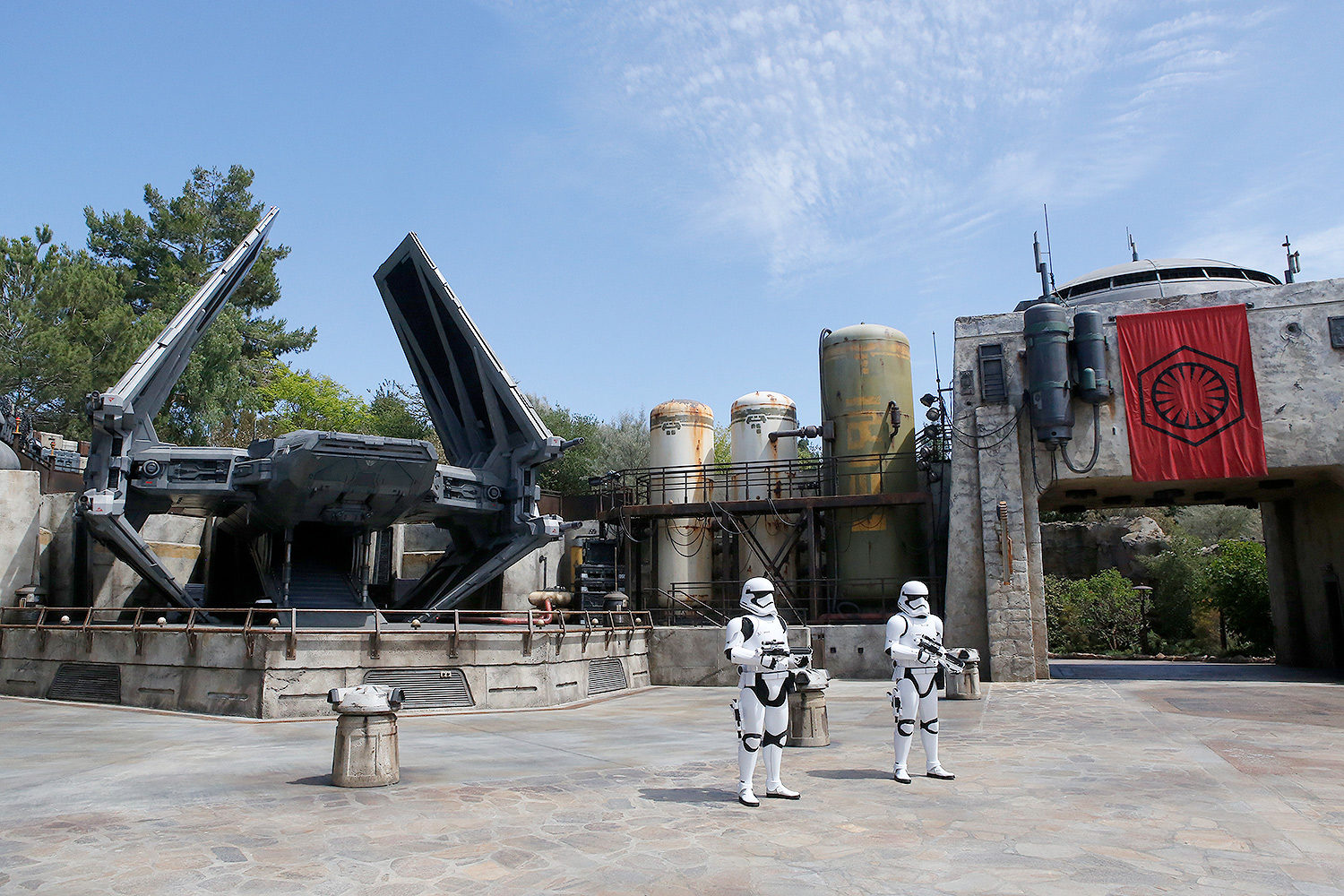 EndorExpress: Greg, how long have you been working on Galaxy's Edge?

Greg Ashton: I've been on this for five years. Yeah, five years ago we started building this amazing place on the Outer Rim of the Star Wars Galaxy.

EE: And does it fall onto your lap or do you have to request to be on it?

Greg: I was coming off a different project and my manager comes to me and she asks, "how would you like to work on Star Wars?". I was all, "Are you kidding me? Absolutely!". I had no idea what it would turn into. I mean, it was before The Force Awakens came out.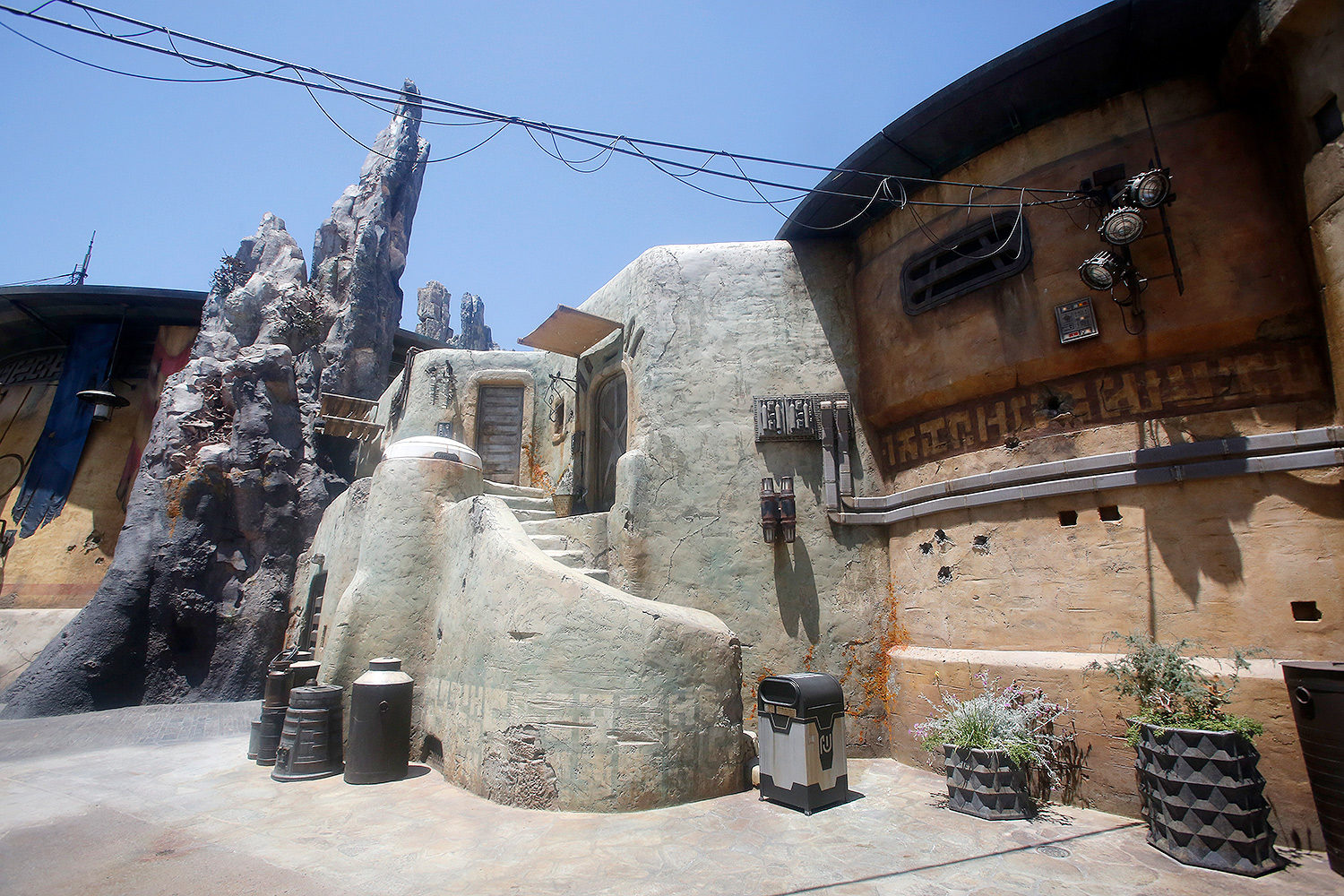 EE: So you had no idea how big this project was going to be, or even how well a new film would be received. What was it like working with Lucasfilm?

Greg: Yeah, we had a really close partnership with Doug [Chiang] and the art department at Lucasfilm. Doug's so great. He was our guide through this as we started to lay out the land and give it this sense of exploration and discovery; to do those things that they do so much. It's deep storytelling. If you look around, all the architecture is telling you stories. There's evidence of blaster battles on the walls, speeders that have crashed to the side of the buildings… we've had a chance to see that cinematically but here we've got it in three dimensions so you can walk through, live it, and breathe it.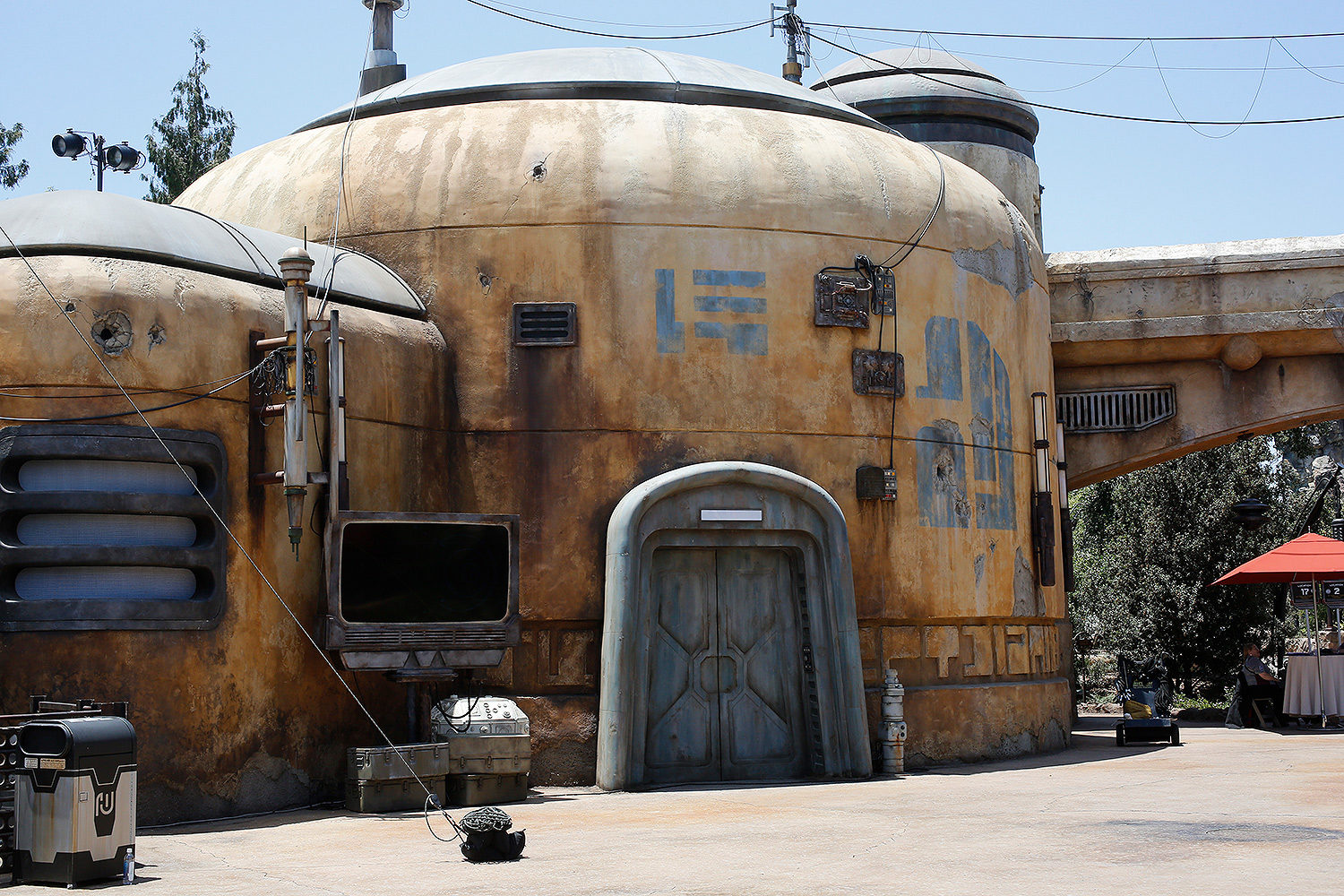 EE: How different or how challenging was this project compared to ones you've done in the past?

Greg: Well, the goal here is that this is absolutely immersive. You're stepping into he Star Wars Galaxy. We're on Batuu. We're in Black Spire Outpost and everything from the food we eat to the character interactions, it's in-story and something we've never done before on this scale. As an architect, we're establishing that backdrop for this particular storytelling.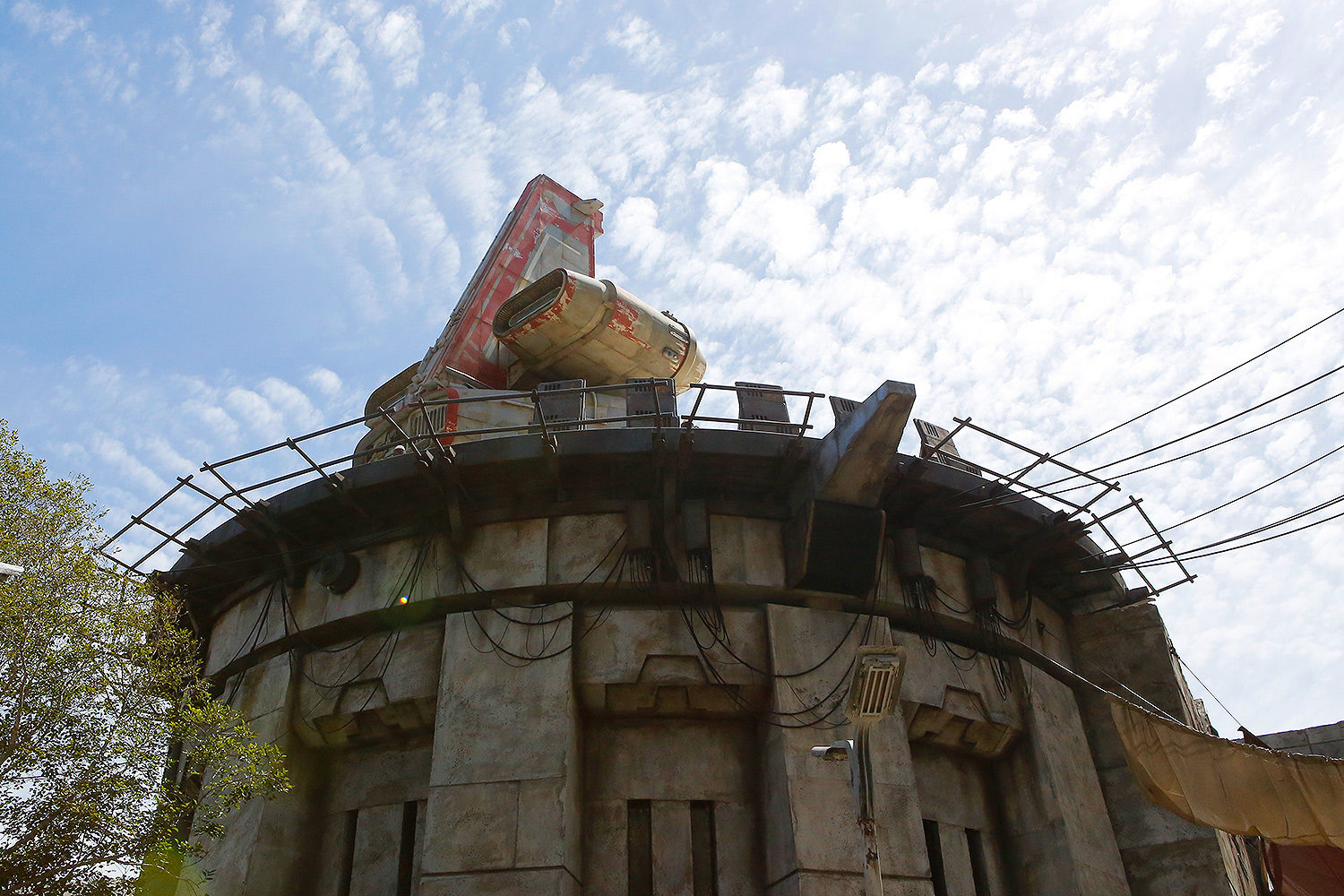 EE: Is there any aspect or section of the land that you particularly enjoy the most?

Greg: There's so many. You keep seeing these little details, whether it's the droid footprints or it's the Marketplace… it feels like one of those real world crossroad trading posts like Marrakesh or Istanbul. These are places that we tried to incorporate that kind of authenticity.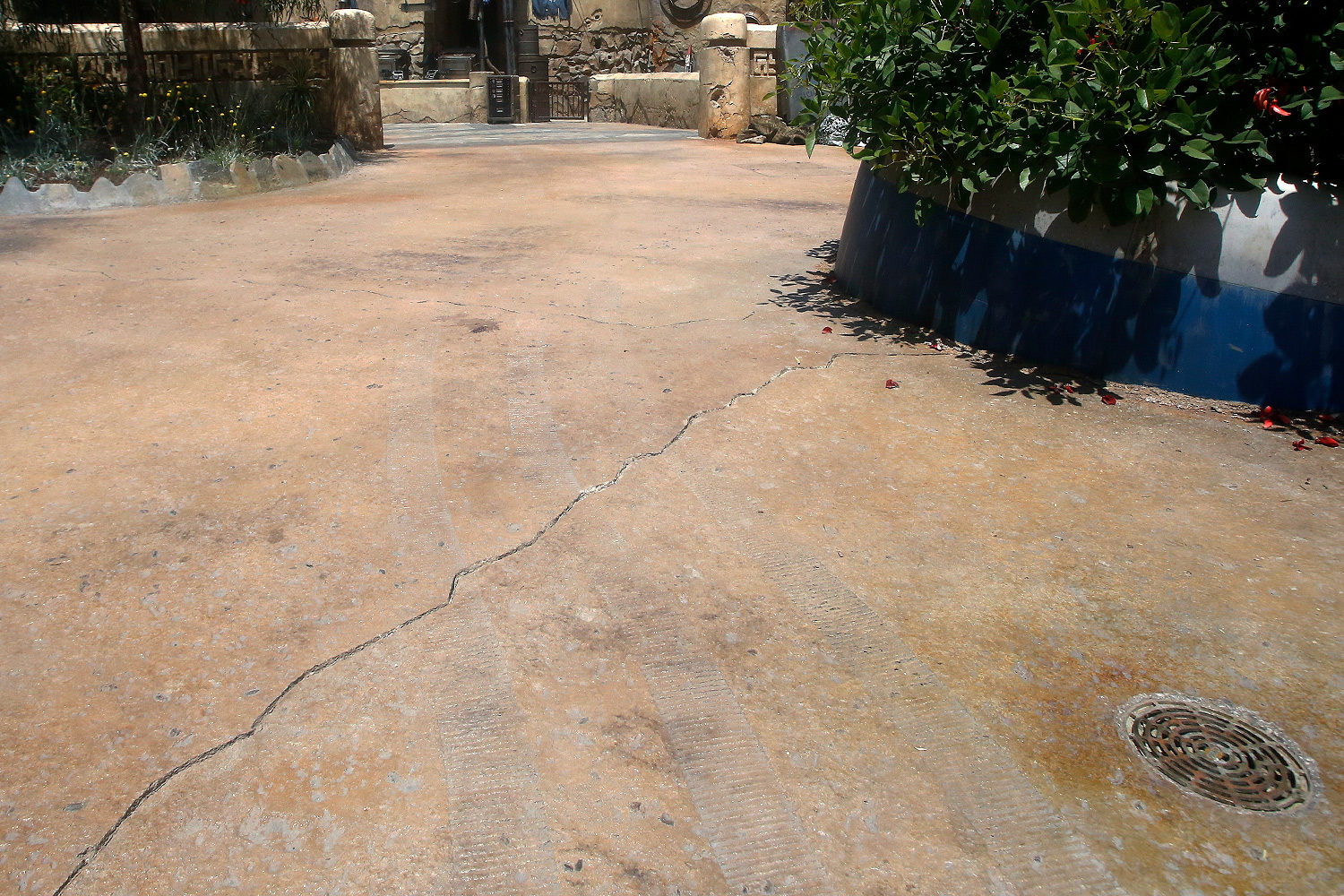 EE: Did you get to go on these location scouting trips?

Greg: Yeah, I did! It was a small group of us and we were looking for these cities where cultures collide. Our guides were wanting to show us these monuments but we kept telling our guides, "No, we want to go to the outskirts. We want to see the markets. We want to see the cisterns…"

EE: Not the "touristy spots".

Greg: Not the touristy spots! Yeah, something that gets lived in! We tried to bring that in here. So you see these different districts. We're over here at the First Order Docking Bay, but each litter area, as you explore around, you'll find out they have their own unique character and some detail that gives you a clue about the people who live in here and what has taken place.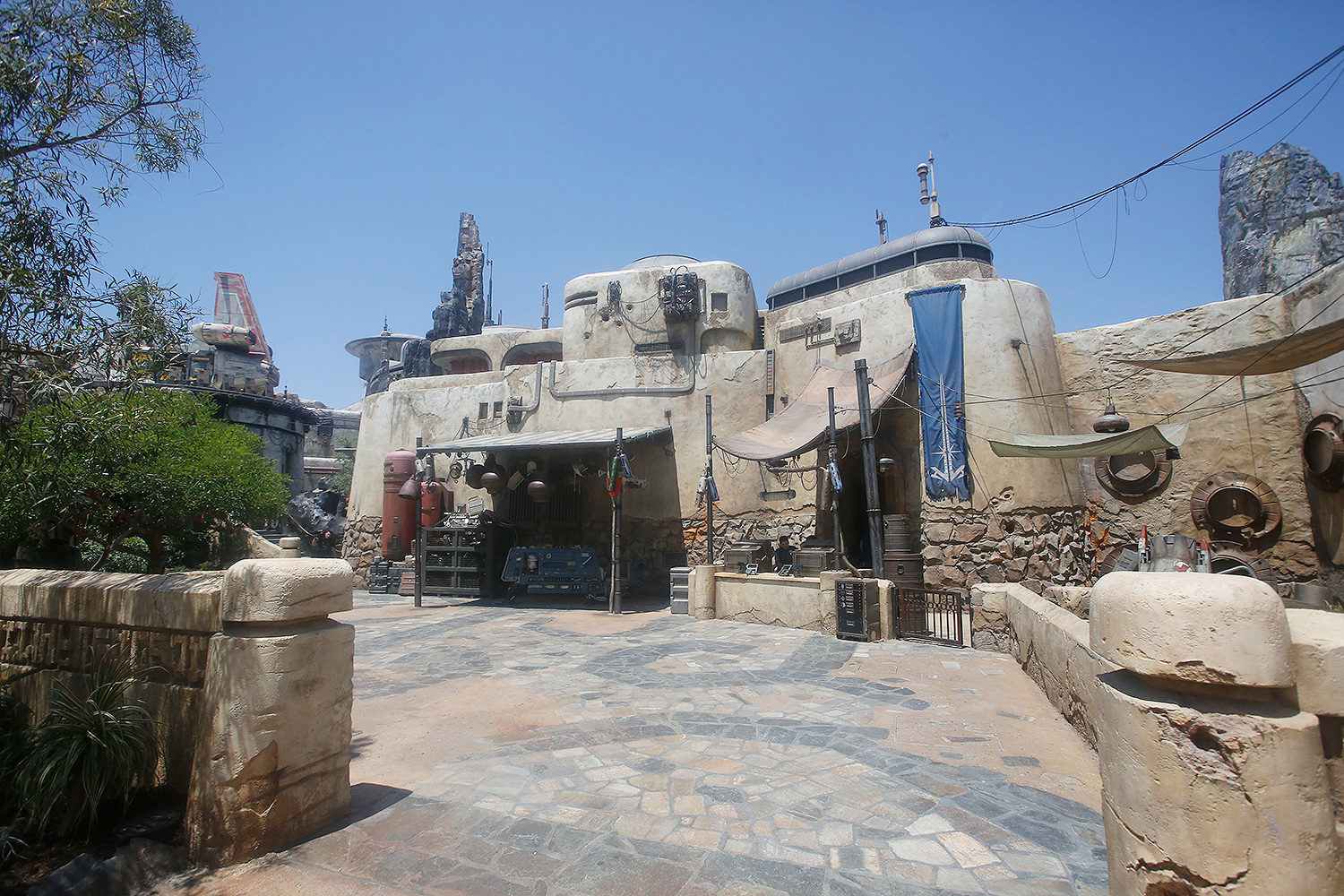 EE: Was there ever a moment where Walt Disney World's version of Galaxy's Edge would be different? Or were they always going to be identical?

Greg: It's Batuu, so we were really setting out to create this new planet and Black Spire Outpost. It allowed us concentrate our efforts and really go deep into storytelling. Both lands will have Millennium Falcon: Smuggler's Run, Star Wars: Rise of the Resistance, and Black Spire Outpost, but there are going to be some subtle differences. If you are fortunate to visit both lands and look closely, you'll see that there are different hands, different artisans working their magic with paint and plaster.

EE: More like cosmetic changes?

Greg: Right. The light is different than it is here in California, the humidity is different. That was one of the considerations that let us do Batuu is that we know the climate, so we needed to find one of these regions that was similar of these canopy swags that stretch across the walkway and give us some shade; a little bit of that filtered light, you know.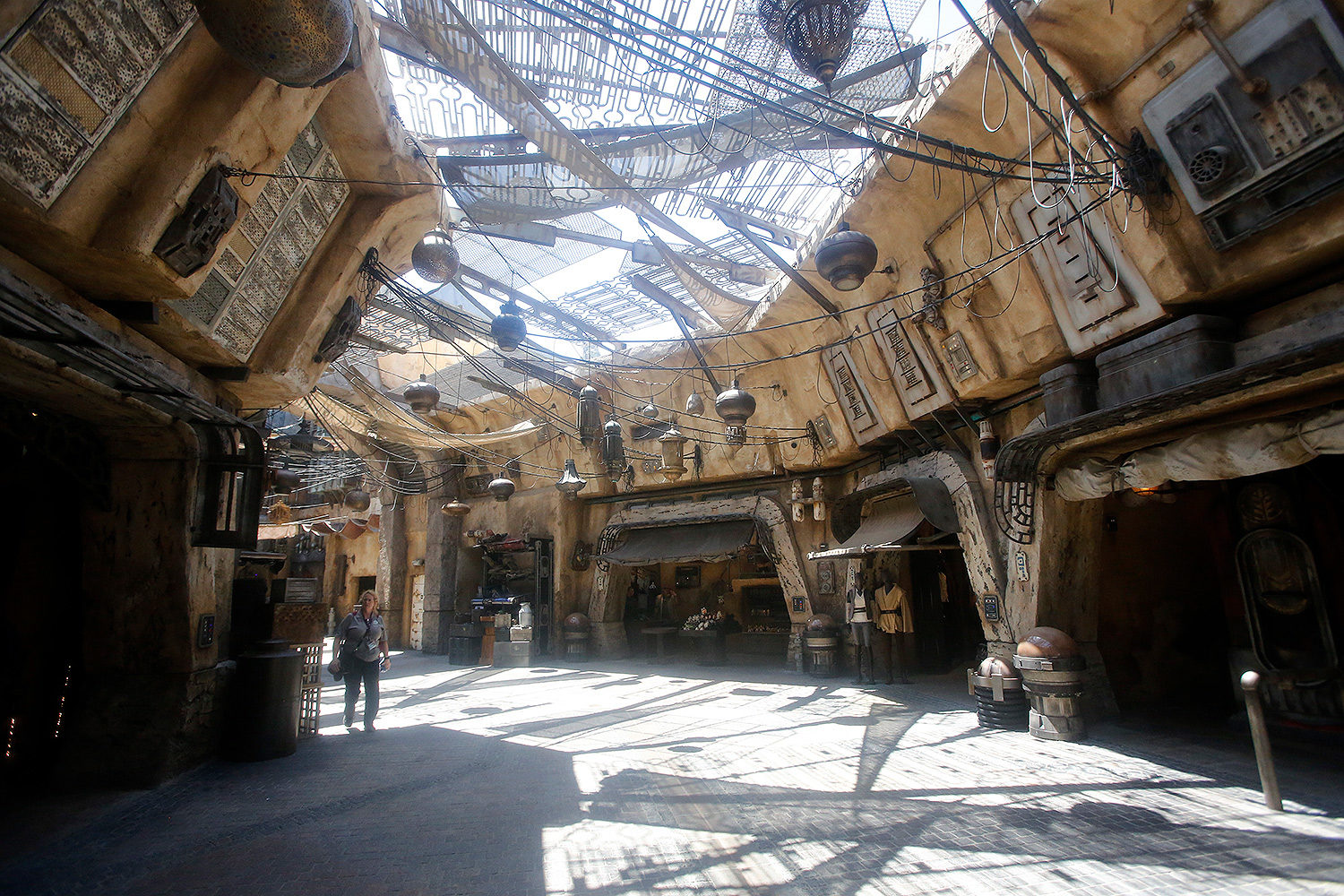 EE: Tell us what it was like having to build out the Millennium Falcon.

Greg: It's a lot of research. We were fortunate enough to visit the sets while they were shooting The Force Awakens, Rogue One, The Last Jedi… so we saw what it looks like. We took notes and photographed it, did drawings upon drawings, and made models to make sure we did it right.

Models are such a big part of the process. It let's us see the land in three dimensions, let's us gather around and know exactly that we're talking about the same details.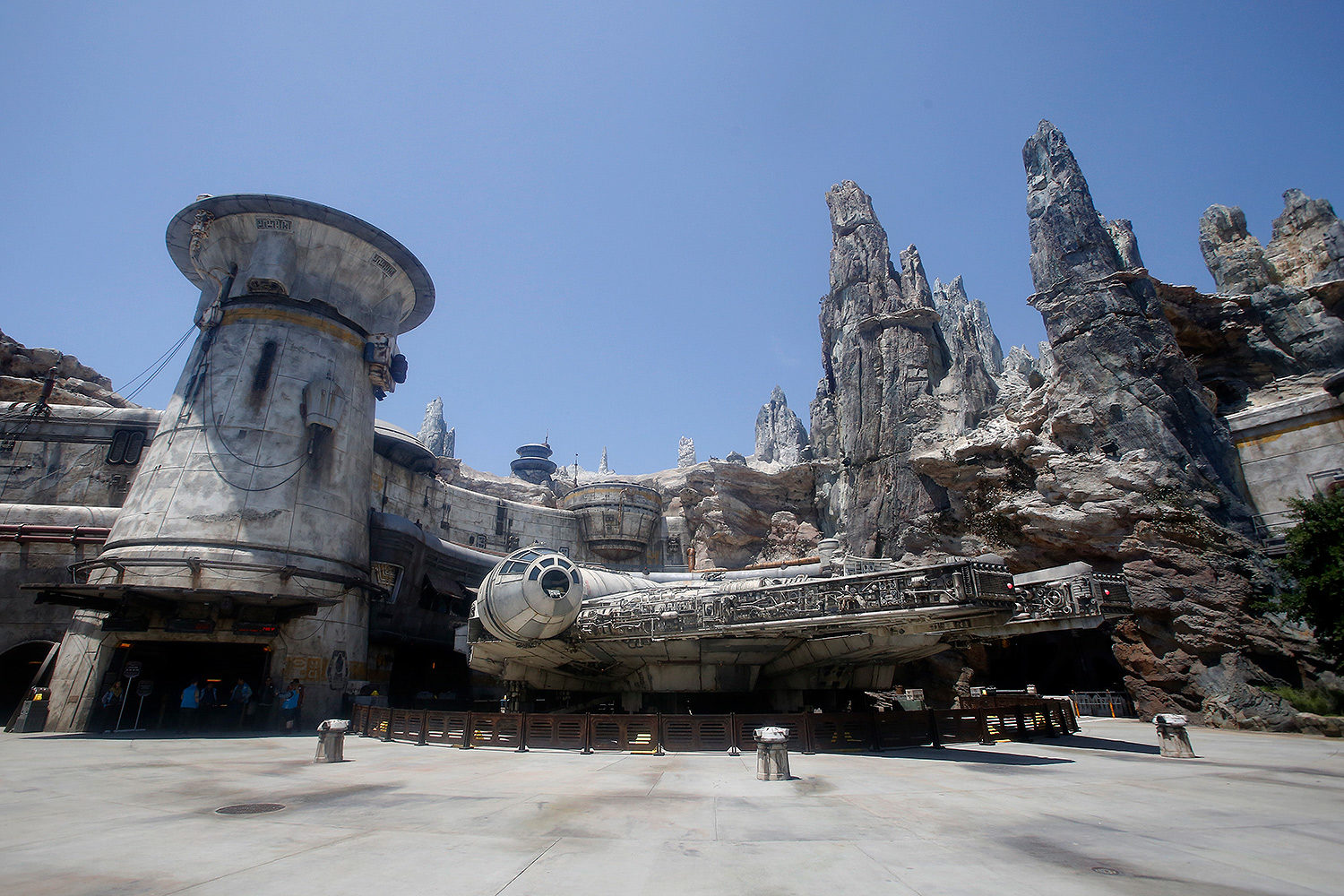 EE: We're on the verge of opening the new land.. do you have more to do for Galaxy's Edge?

Greg: We have a group of talented artists, designers, architects, engineers, and artisans that are bringing it to life in Florida. This chapter is closing for me. It's been amazing though, that for five years I got to wake up every morning and think about what it means to bring Star Wars to life. The design process, the collaboration with our entire team… there's so many talented people that have different super powers, it's stronger because of that collaboration. Even when it's challenging and there's times where you don't know what the solution will be, ultimately I think we delivered something that will be amazing for years to come.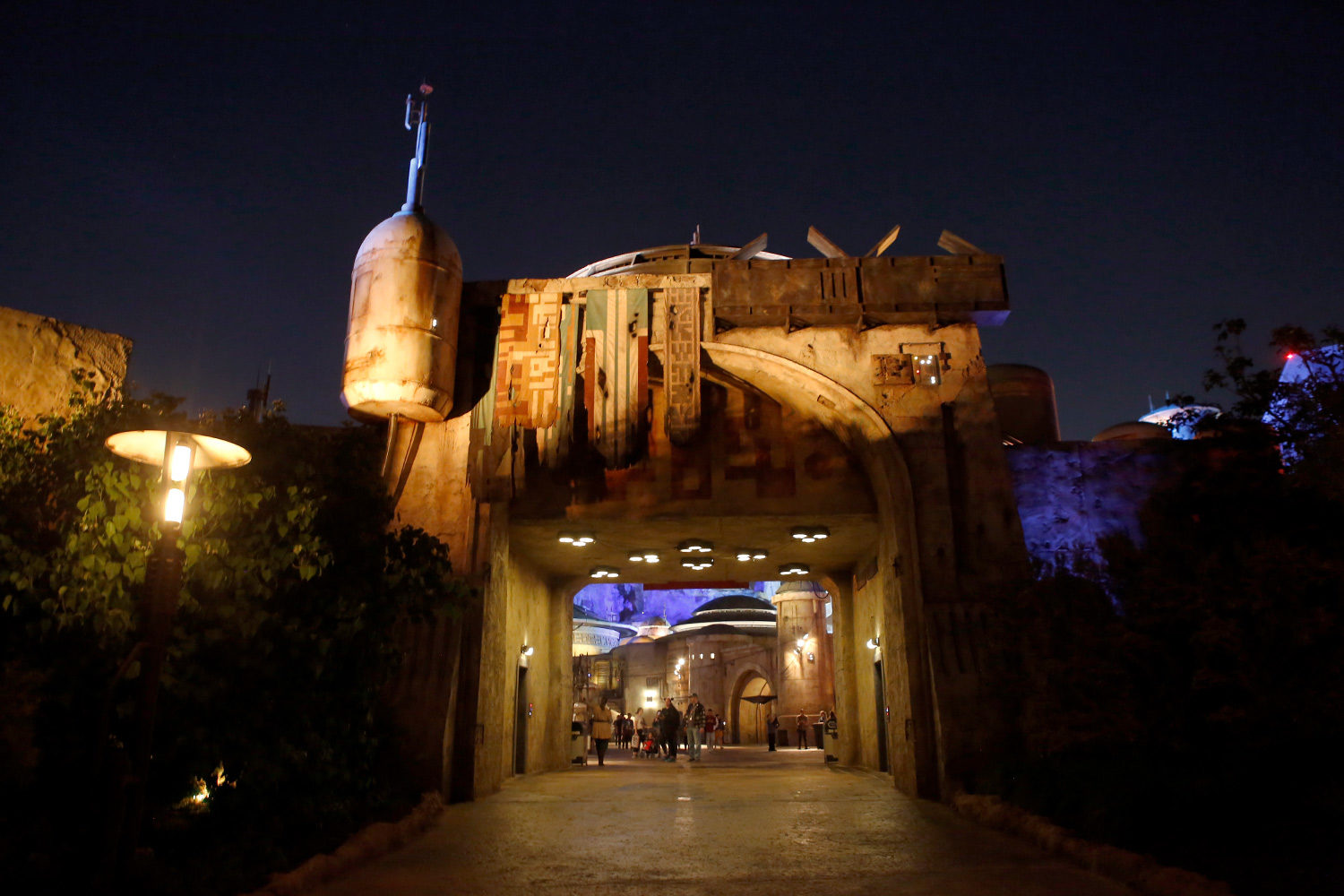 EE: Any insight on Rise of the Resistance?

Greg: It's going to be epic. It's going to be amazing when it opens.
---
Photography by David Yeh
Special thanks to Greg Ashton and the Disneyland Publicity Team