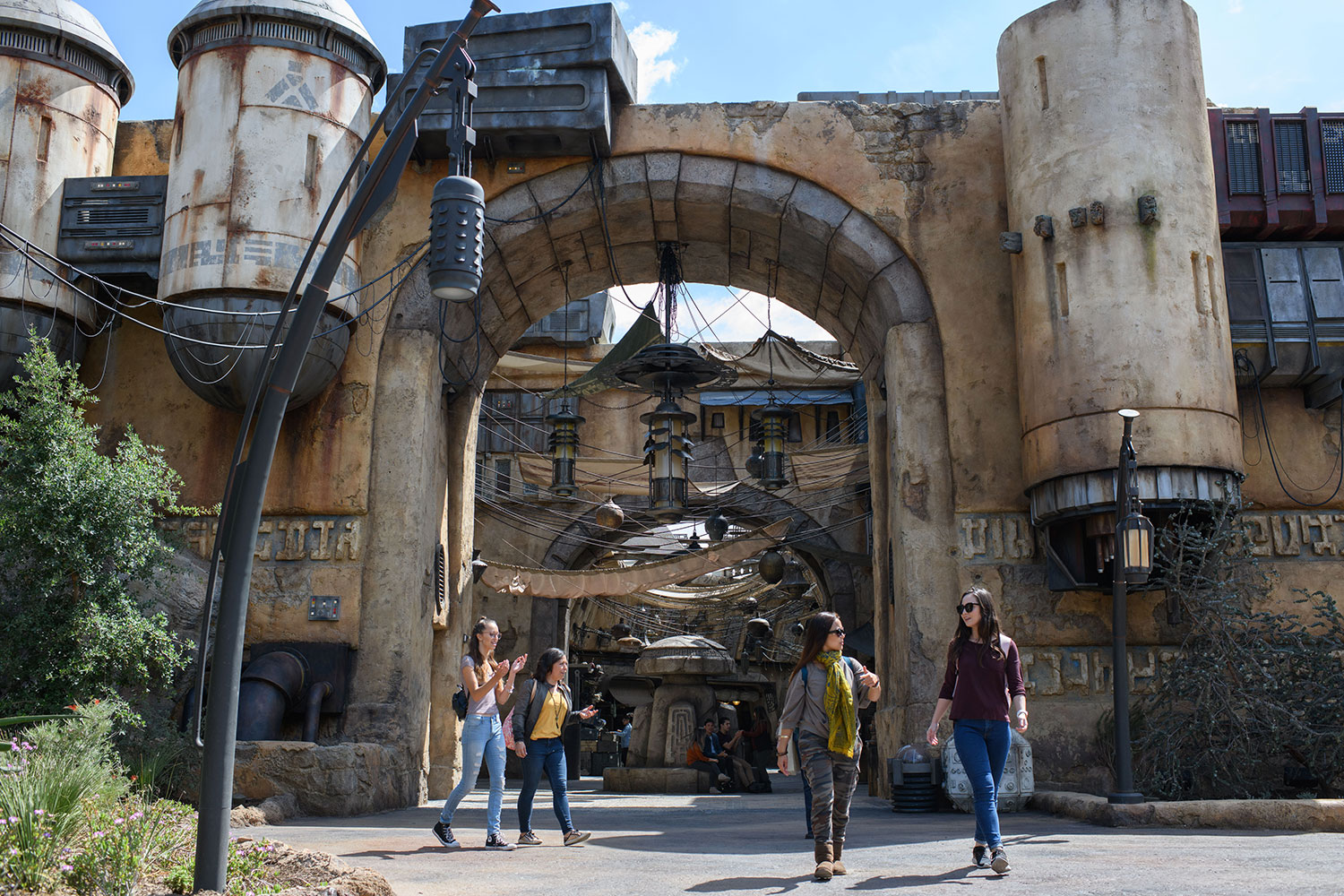 David Yeh
Galaxy's Edge: A Walk Around the Marketplace with Disney Parks Merchandise's Amanda Rubinos-Luna
June 12, 2019
The Black Spire Marketplace of Star Wars: Galaxy's Edge is one of the more unique settings for shopping located at any Disney Park as the Imagineers have truly outdone themselves. We hate saying that shopping is one of the attractions here, but it quickly became a must-see regardless of how many credits you have to spend. It's certainly no surprise that Walt Disney Imagineers traveled to Morocco and Turkey to experience ancient open-air markets for themselves, which provided the authentic and earthy inspiration for this rich environment. Here, it actually looks the part when it's crowded and filled with bustling tourists, and the merchandise found here couldn't be more unique or different than what you'd find outside, for Disney Parks OR Star Wars.

"Star Wars merchandise is a cornerstone in the childhoods of many generations of fans. We knew it was important to offer these fans something different in this land than they have ever seen before. Through the lens of Star Wars: Galaxy's Edge, we have created a retail experience that blends authentic product and spaces with rich storytelling. Whether you're looking for a small tangible memento of your visit or the ultimate Star Wars collectible, you definitely will find something special in Star Wars: Galaxy's Edge. Every piece of product has been newly created for this land, and the authentic retail experiences found here are sure to delight fans from every generation." – Brad Schoeneberg, Director, Merchandise Strategy and New Park Experience Development 

We were invited to tour the Marketplace with Amanda Rubinos-Luna, Merchandiser – Disney Parks Merchandise, to highlight just a sample of things one can find while exploring the area.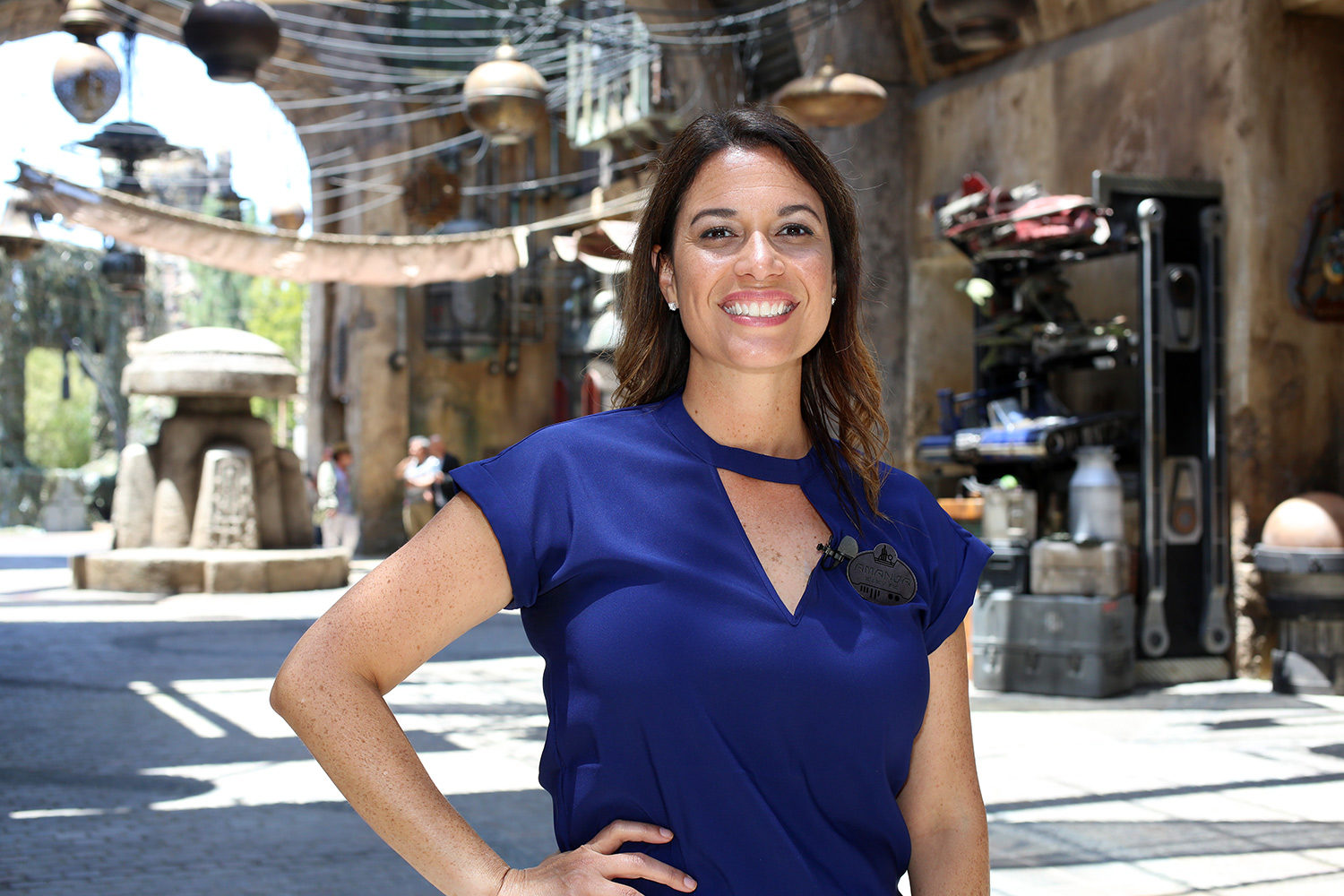 EndorExpress: Amanda, thank you for taking us around on this tour! We've heard you guys have been cooking up some great new items for this land…

Amanda: We have some GREAT merchandise! Starting with our Black Spire Outfitters, we have some great tunics, Jedi and Sith inspired. The belts for the tunics are completely authentic – we worked with Lucasfilm to really get those details and to be able to bring them to life in the product that we're selling here. These belts also work with our belt clips (sold separately) to hold your lightsaber that you build in Savi's Workshop. So we have something for everybody, from kid to adult.

EE: The Jedi robes and tunics really do look incredible. Were you able to study the original costumes?

Amanda: Yes, luckily enough our team was able to go to the Lucasfilm Archives, to be able to see those fine details, costumes, and patterns and to replicate that into a wearable item for your adventures on Batuu.

(Editor's Note: Some outfits sold here are not permitted to be worn in the land. Inquire with a cast member for more information)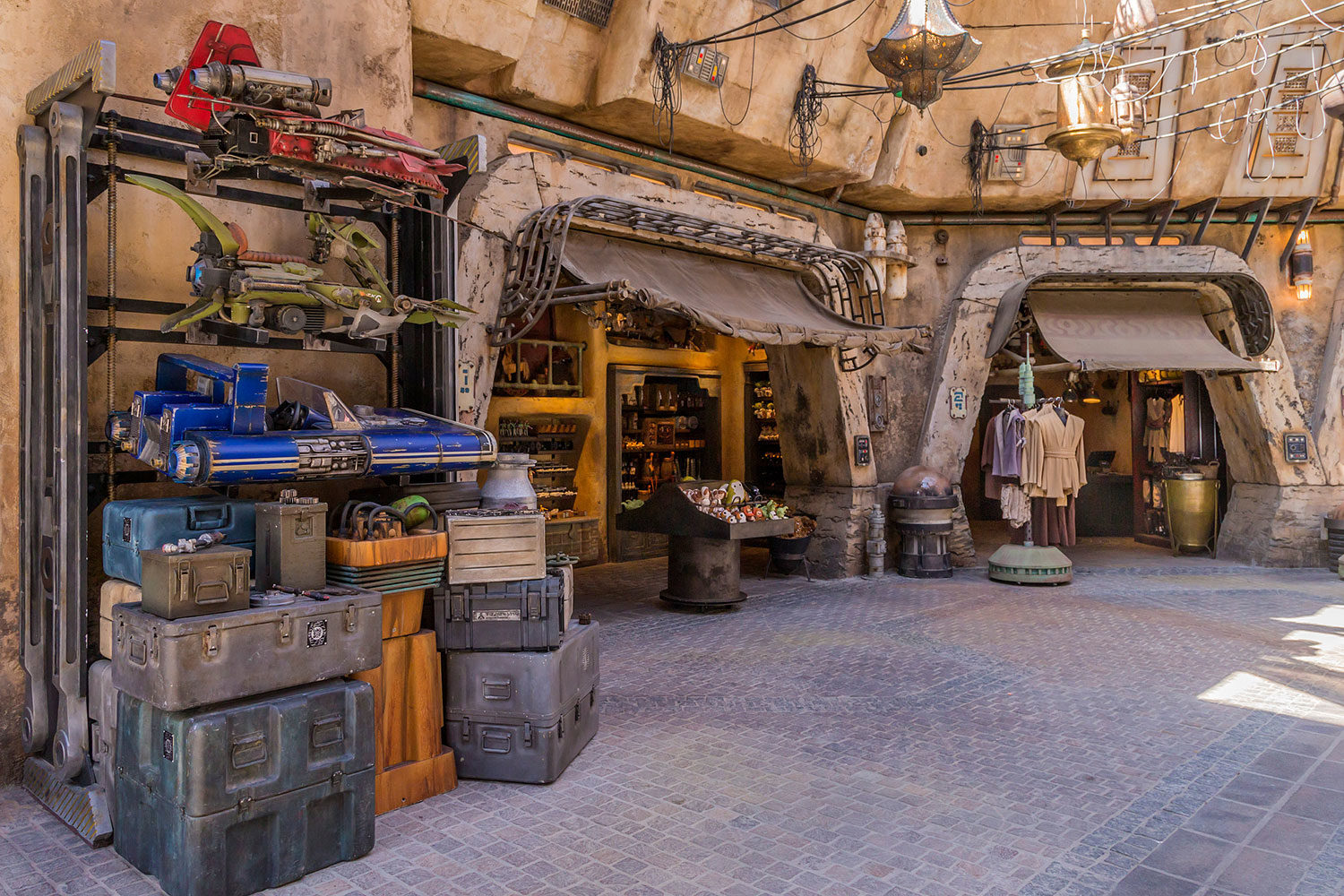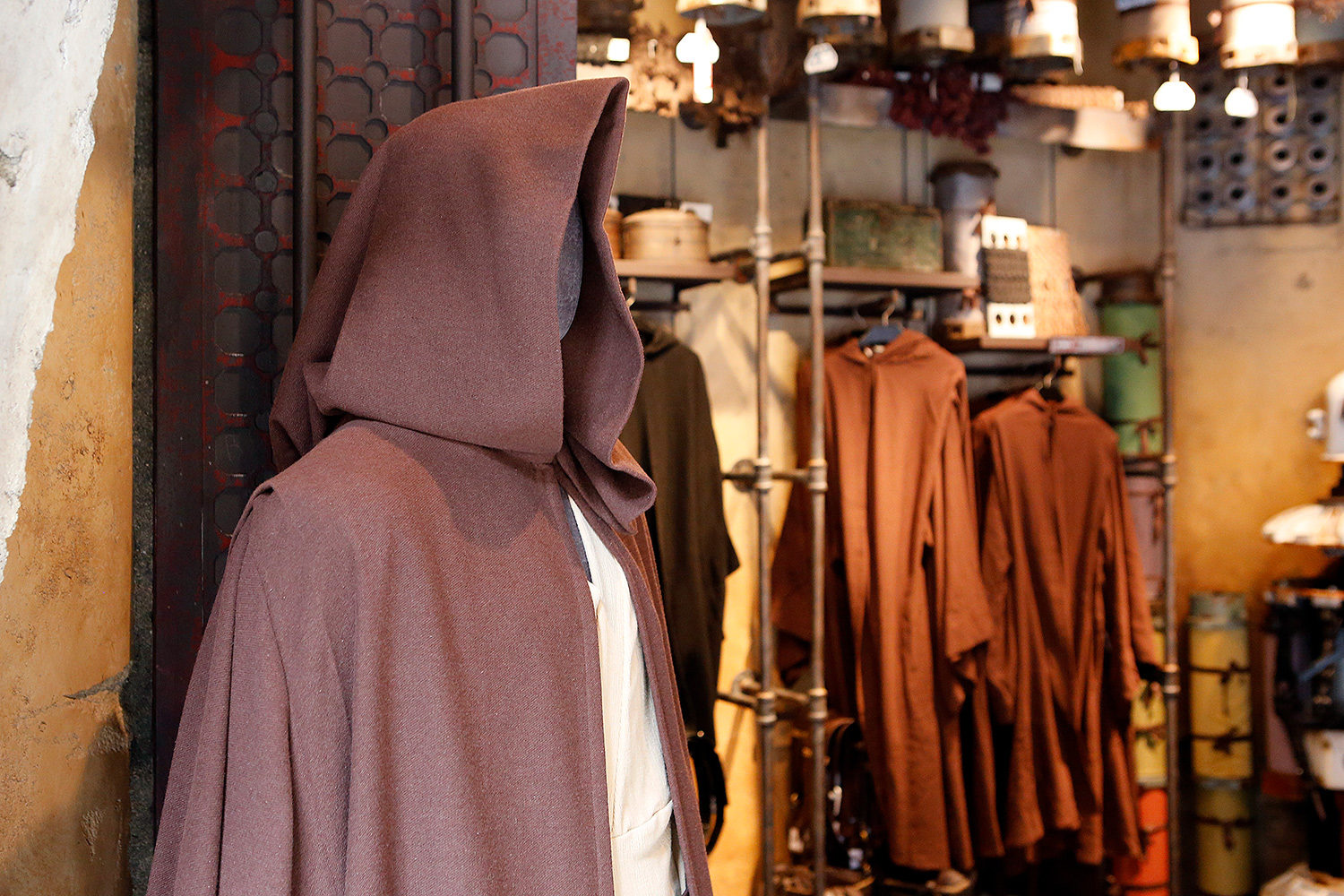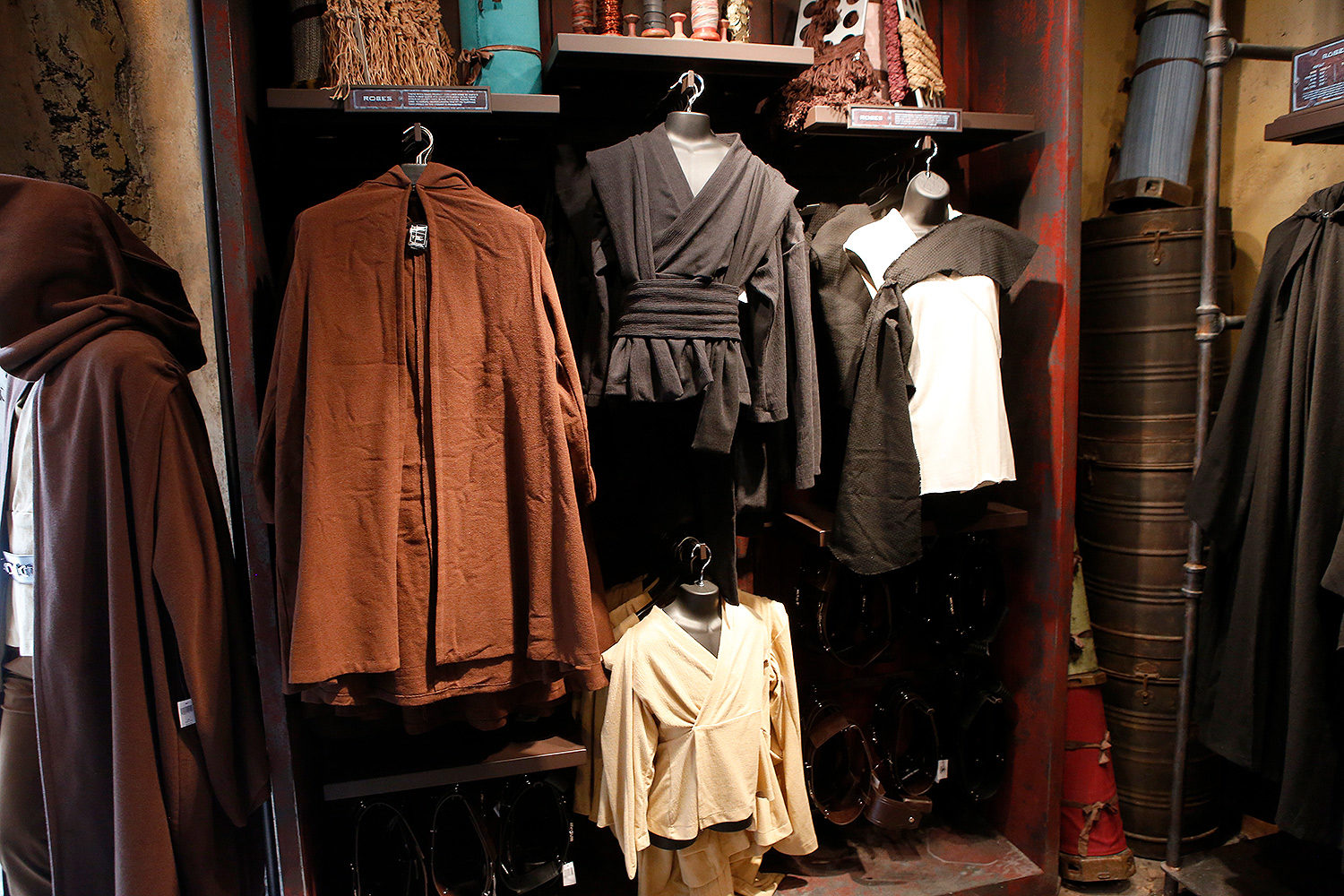 EE: Tell us more about the Toydarian Toymaker. What sets this apart from other toy shops?

Amanda: This is one of the shops that I love so much because it's so artisan. The natives of Batuu have been crafting and have heard of these legends across the galaxy – they were able to replicate their likeness in these plush, which are one of my favorites…. especially the Tooka doll, that really inspired a lot of these stylizations.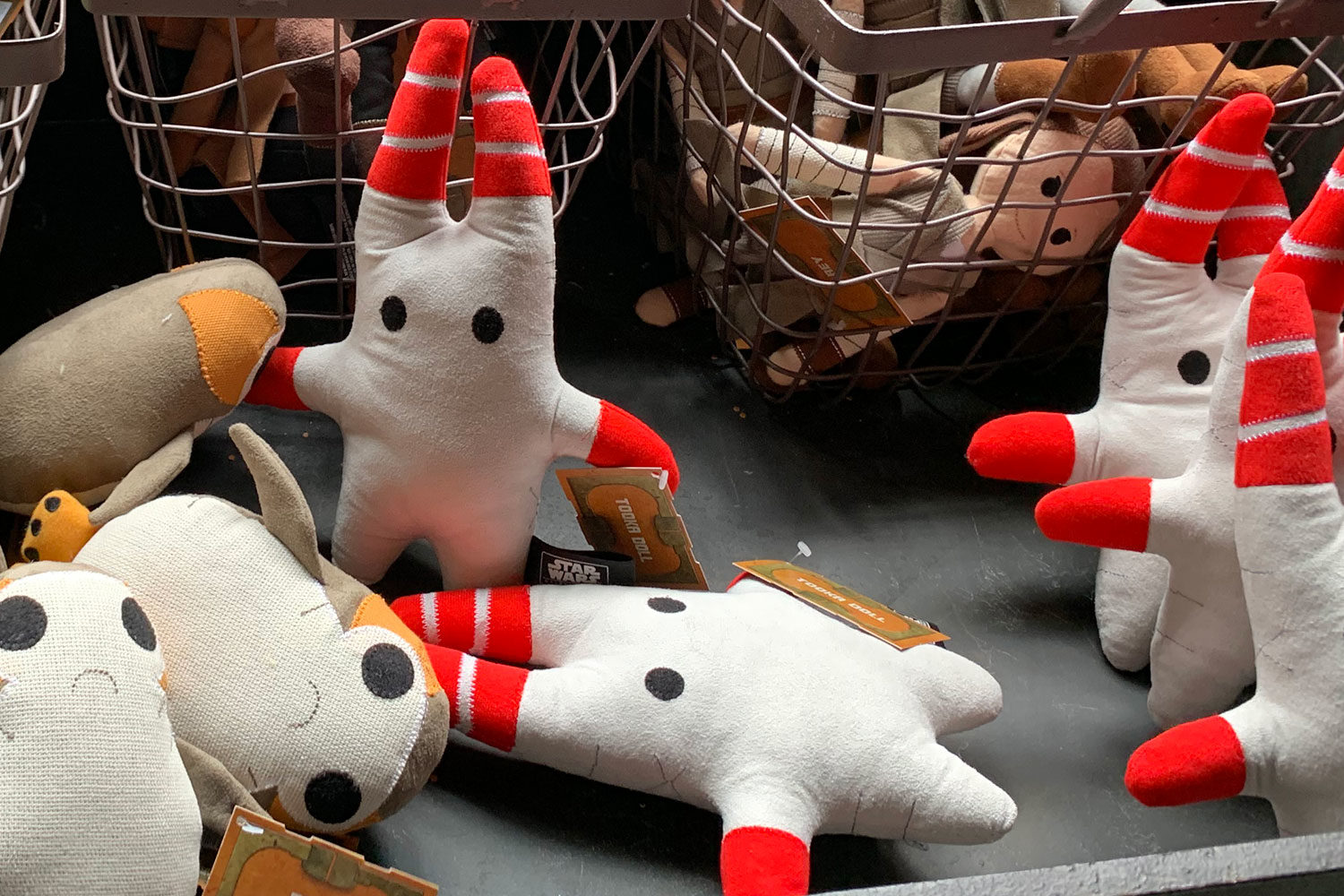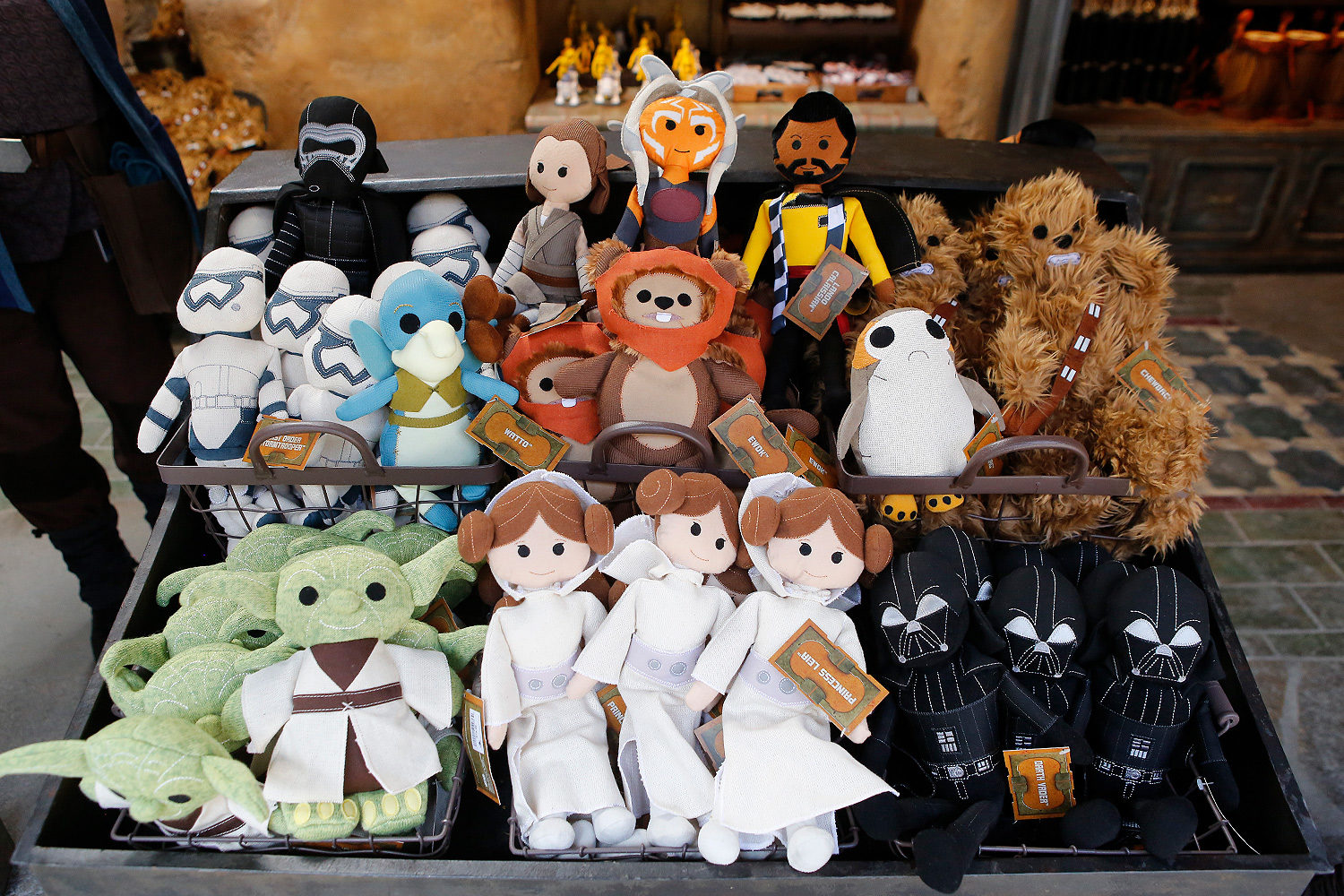 EE: Now a lot of these toys look like they're inspired by the toys we see in Rogue One with Jyn Erso…

Amanda: Yes, inspired by Rogue One. Star Wars: Clone Wars also has some great hidden ones in there. Also in this location we have cards of Sabaac, a Dejarik game made of wood – going back to Rogue One we have "Stormie" the Stormtrooper, and one of my favorites too, a wooden Sandcrawler with two Jawas inside. These are really awesome handcrafted artisan items that you can only find here on Batuu.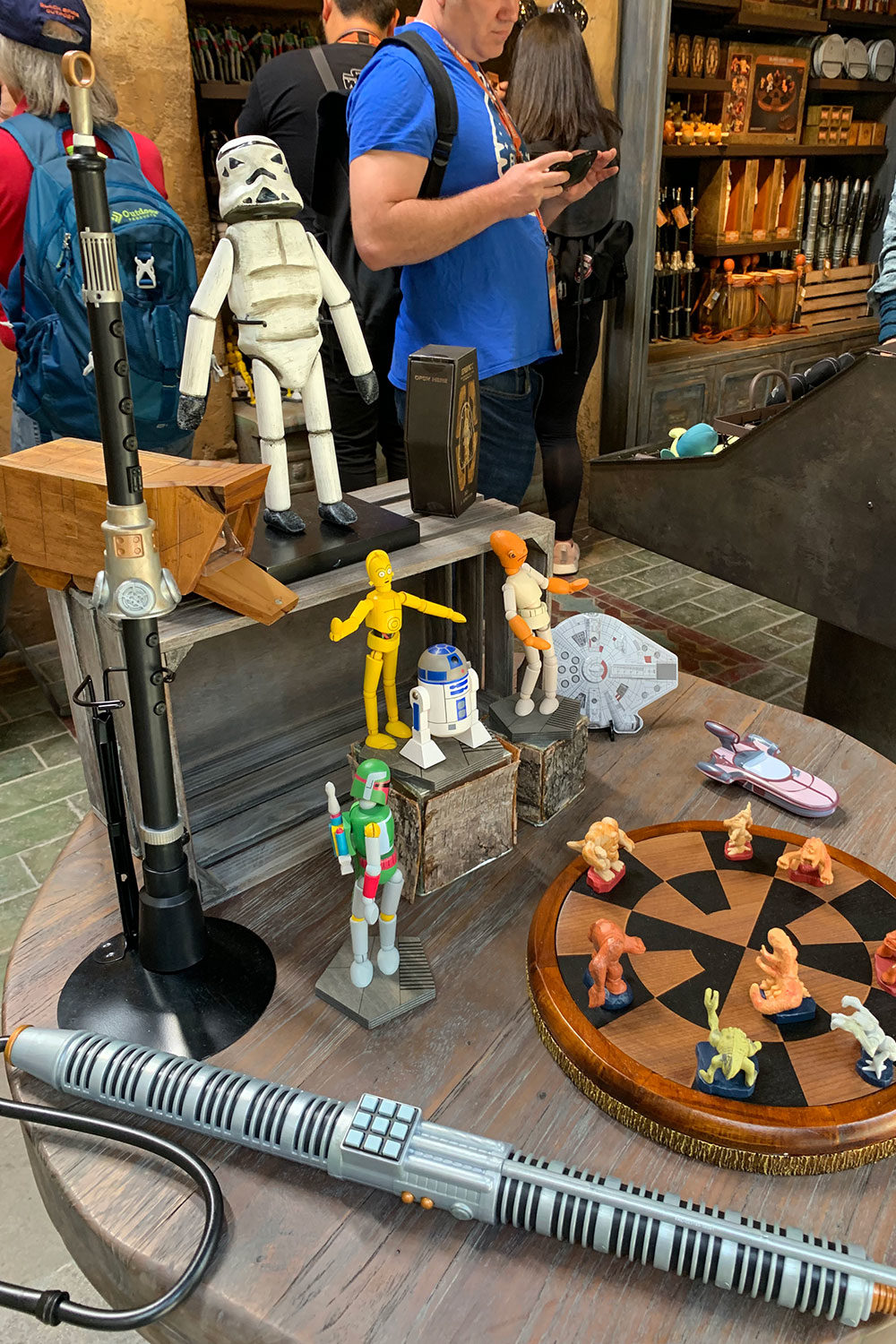 EE: I see there's also some musical instruments here. Can you tell us more about them?

Amanda: We have Droopy McCool and Figrin Dan's instruments! You can do a full scale on here but if you got really good, you can also play the Cantina song. [editor's note: the instruments are electronic toys with buttons that make musical notes]

EE: That's really cool! And there's an Ewok Drum too! What about the Creature Stall…

Amanda: This is where we get to have our exotic creatures from all over the galaxy. Our proprietor here has been collecting some creatures so that you will be able to take them home. One of my favorite things here is the sleeping Loth-Cat who had a long day playing with his Porg.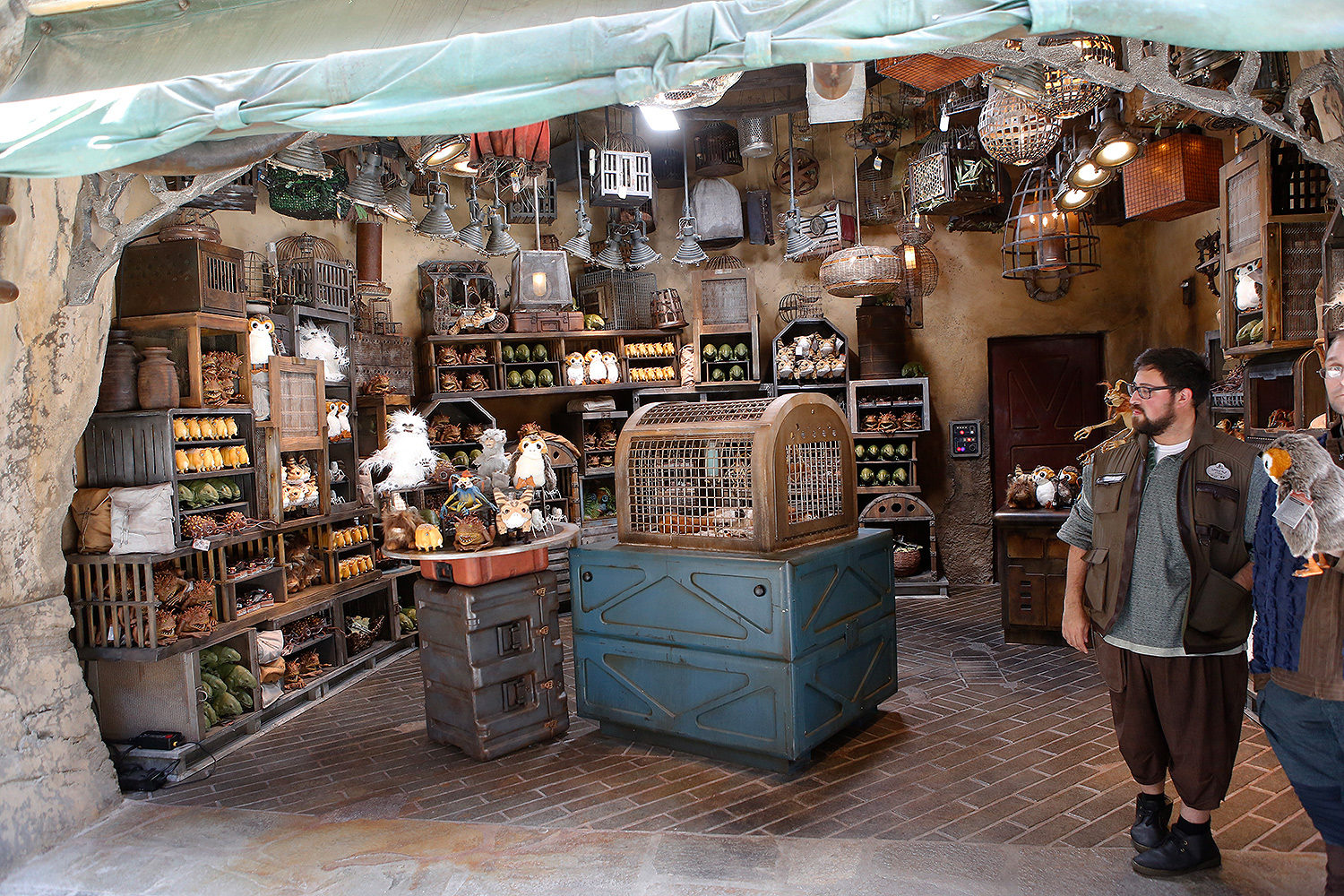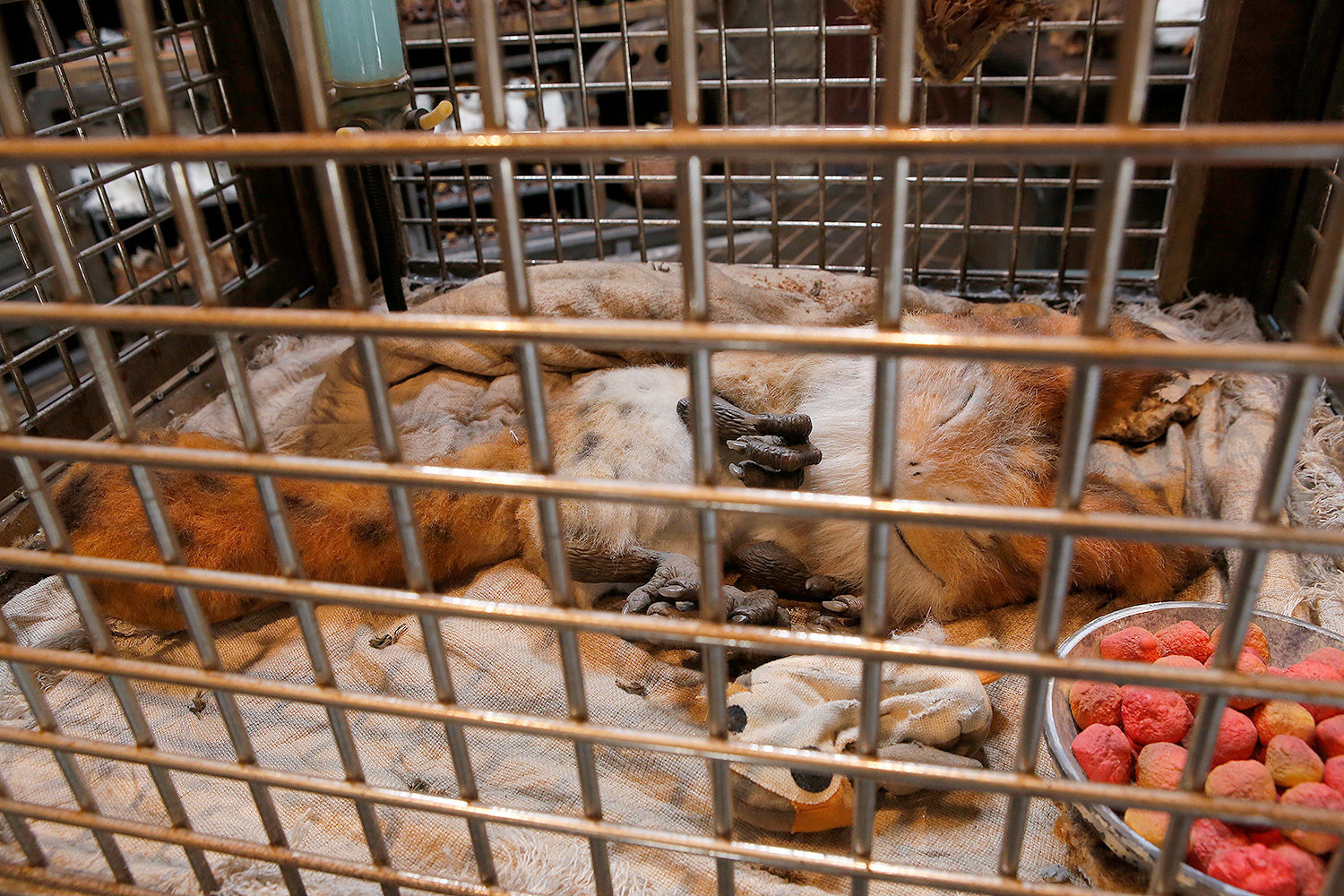 Amanda: If you want to take a Loth-Cat home, we have one here. Like any cats, he/she likes to be pet and you can hear them purr. They don't like getting their tail pulled and can get pretty temperamental, so they might pounce at any moment.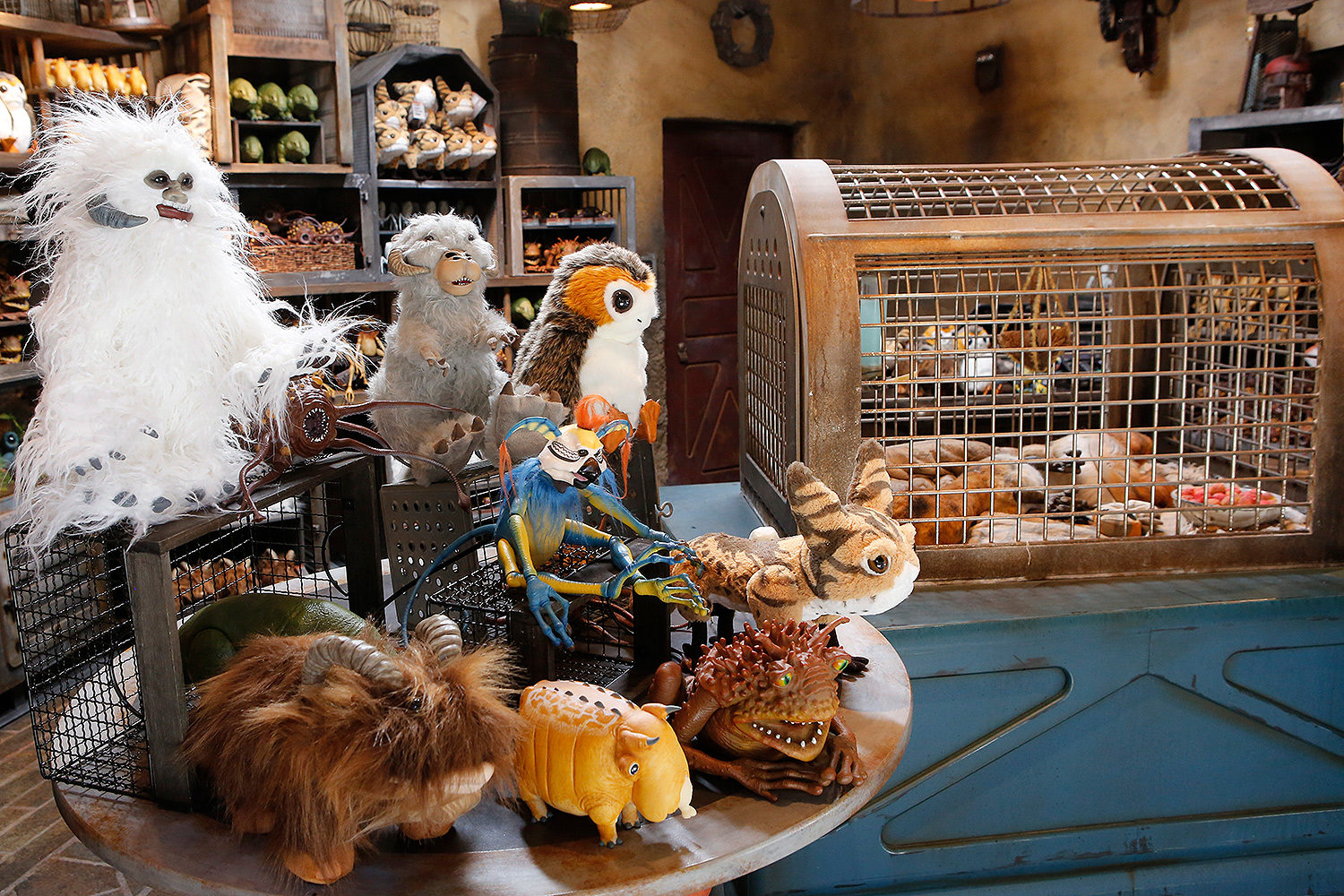 EE: There's so many creatures here, how long have you been preparing for this?

Amanda: Our team's been working on this for a couple of years, really trying to find what that perfect assortment was. We have a ton of creatures in the galaxy as you know, so we wanted to make sure we had a little bit of something for everyone, for every entry point of your Star Wars fandom. We have something from the live action movies as well as the animated series.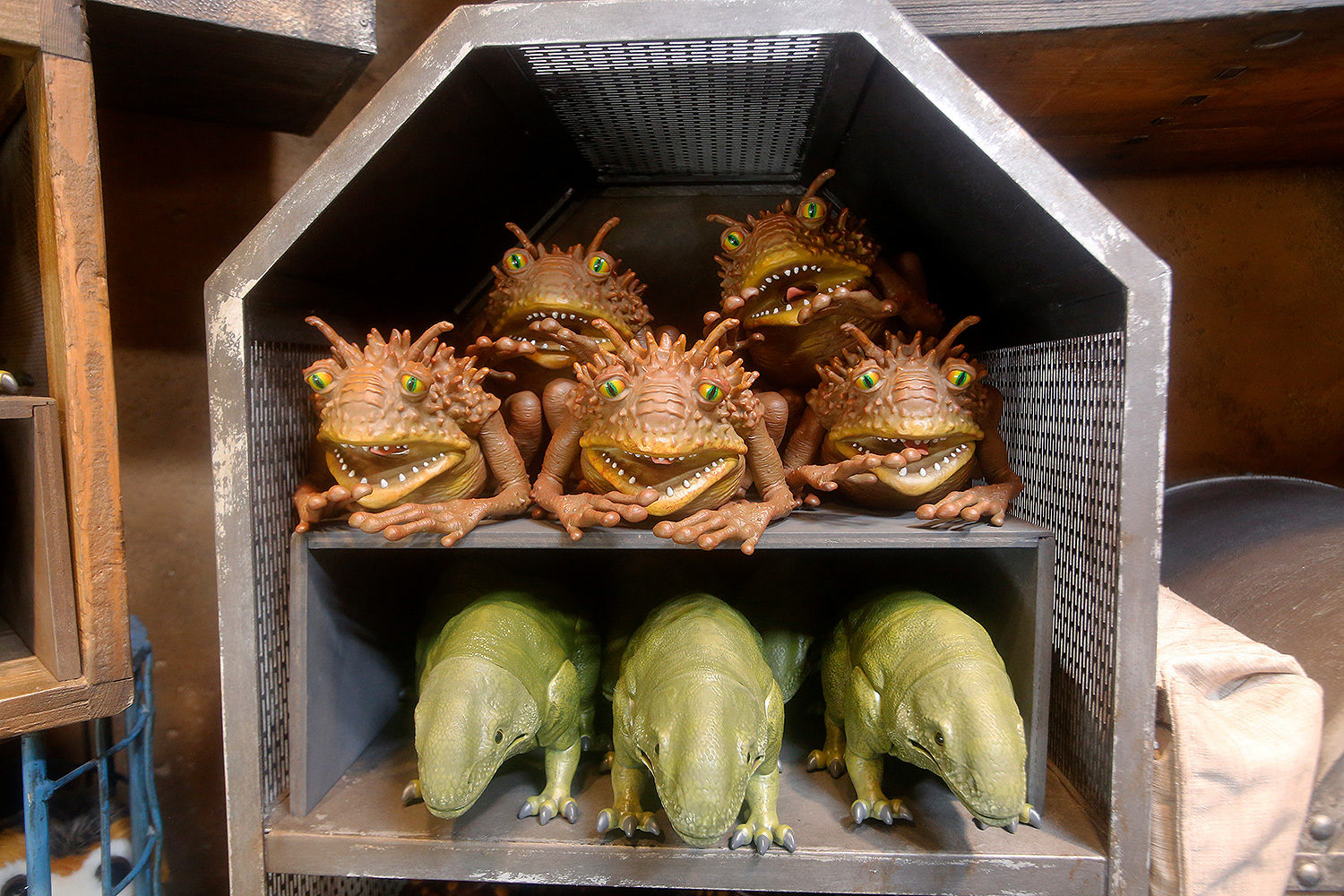 EE: Do you have a favorite creature here in the stall?

Amanda: I can't say that I have a favorite because I love them all a little bit too much. The Puffer Pig though is one that touched my heart a little but I also love the Porg.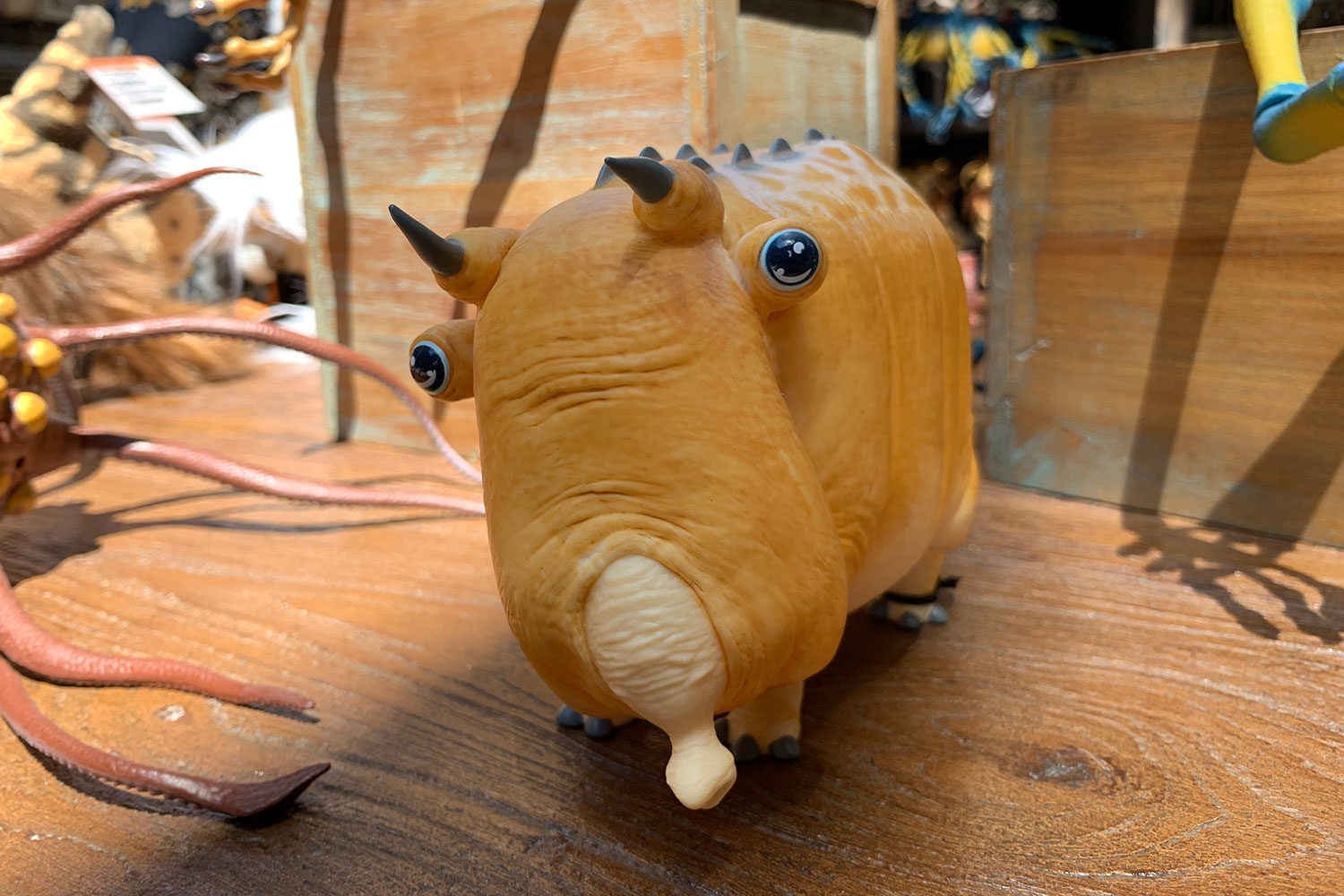 EE: So all of these creatures have a fun little "personality" so to speak.

Amanda: Absolutely. We looked at characteristics of those creatures and defined what that feature would be to bring them to life here.

EE: They're really adorable, but can you share with us if any new creatures are in the works?

Amanda: We're looking at the land for inspiration and for new content as well… so you never know what will be coming! Stay tuned.

_______________
About the shops featured in this story:

Black Spire Outfitters 
• At this colorful apparel shop, guests can find outfits for a galactic adventure, selecting from stylish, functional clothing suitable for many occasions and worlds:
• Robes – Inspired by those worn by Anakin Skywalker and Obi-Wan Kenobi, these are available in both brown and black, and are sized for all. 
• Tunics – Often worn under robes, these are available in both neutral and black, and are sized for all. 
• Belts – Available in a variety of styles and colors and sized from youth through adult, these are the perfect accessories for wearing a lightsaber hilt. 



Toydarian Toymaker 
• No traveler to Black Spire Outpost will want to return home empty-handed. In this whimsical shop, guests may browse for handcrafted toys and collectibles from the busy toymaker, Zabaka the Toydarian:
• Artisan Plush Characters – Famous icons of the galaxy are brought to life through stylized plush, including Yoda, Chewbacca, Ewoks and many more. 
• Games – With fun for all ages, shoppers can choose from Cards of Sabacc, Dejarik, Chance Cubes and more. 
• Vehicles – Famous vessels of the galaxy are crafted in materials such as wood and metal. 


Creature Stall 
• At this exotic market stall, guests will discover creatures and critters from across the galaxy. While Bina, the stall's proprietor, is out traversing for more exotic creatures to bring into her stall, her assistants keep this storefront stocked with unique companions for her customers, who may want to take one home, including:
• Kowakian Monkey-Lizard – This cackling, rambunctious creature comes in multiple colors and can sit on the shoulder. 
• Porg – This small, flat-muzzled, naturally inquisitive avian creature hails from the cliffs of secluded Ahch-To. Watch as it chirps and flaps its wings. 
• Loth-cat – A member of the tooka family and native to Lothal, this feline is a small, temperamental creature. While at times friendly, it is still a capable hunter with sharp teeth. 


Photography by David Yeh
Cover Photo by Richard Harbaugh/Disney