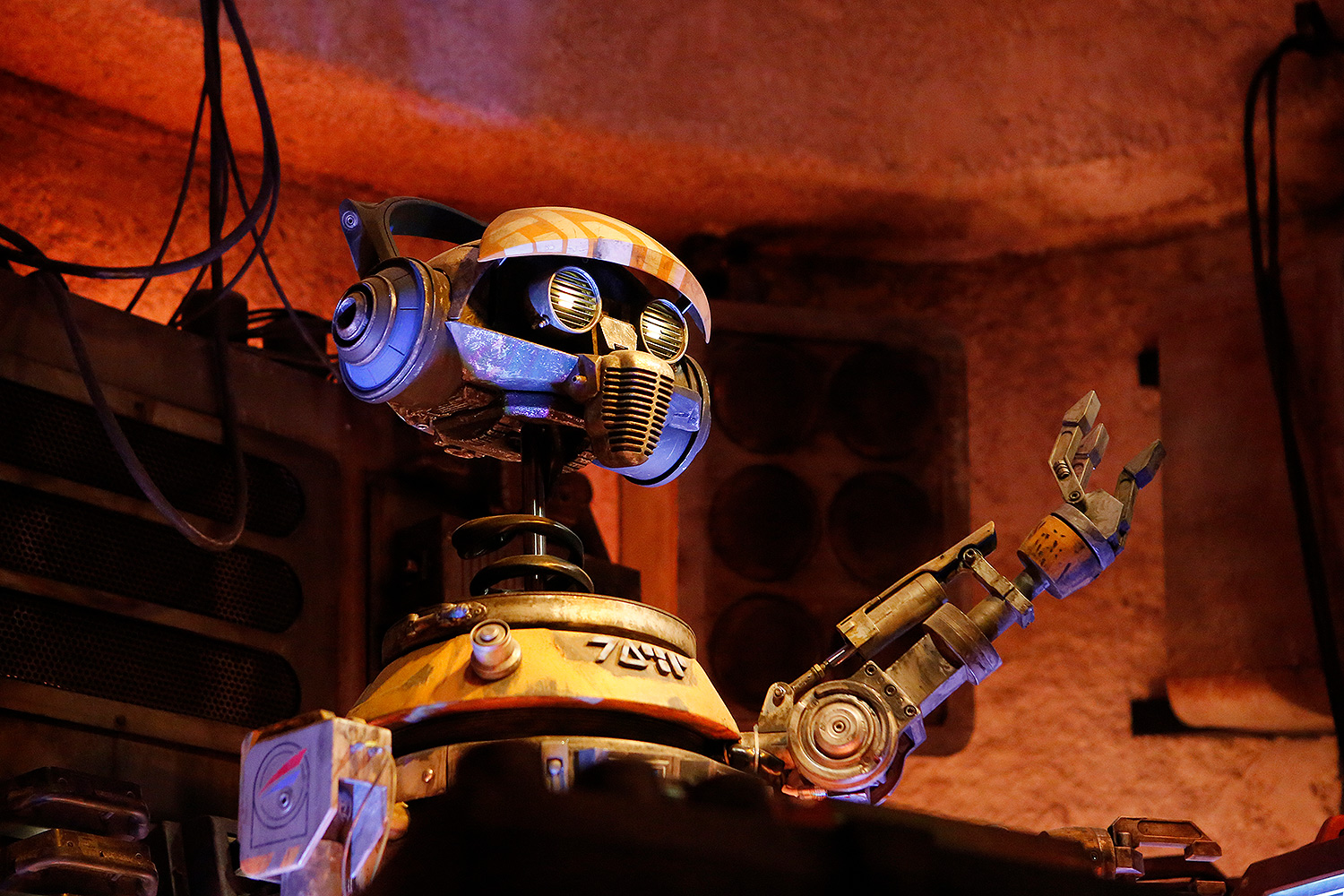 David Yeh
Oga's Cantina Takes 'Tiki' to Another Galaxy
May 30, 2019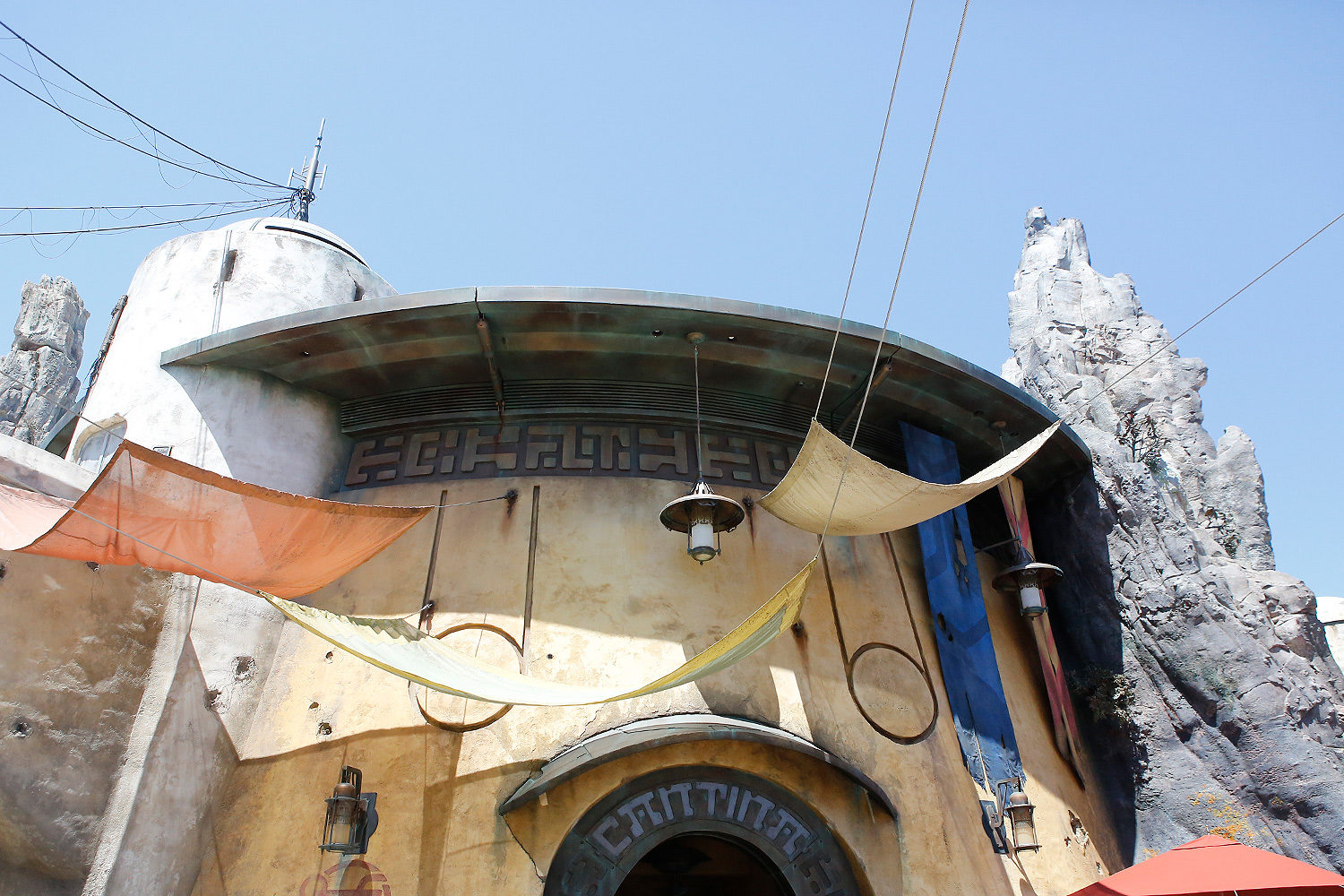 In the new Galaxy's Edge, opening Friday at the Disneyland Resort, Oga's Cantina is one of the hottest tickets to see and do in the 14-acre new land. For some, it's a return of Rex, the popular Star Tours pilot turned DJ who provides the soundtrack to his new location. For others, it's a bar that perfectly captures the essence of Mos Eisley's Cantina first seen in 1977. And perhaps for the locals, it's the first time the general public can order a beer or alcoholic beverage in the park. It's something that only members of the exclusive Club 33 have been able to do.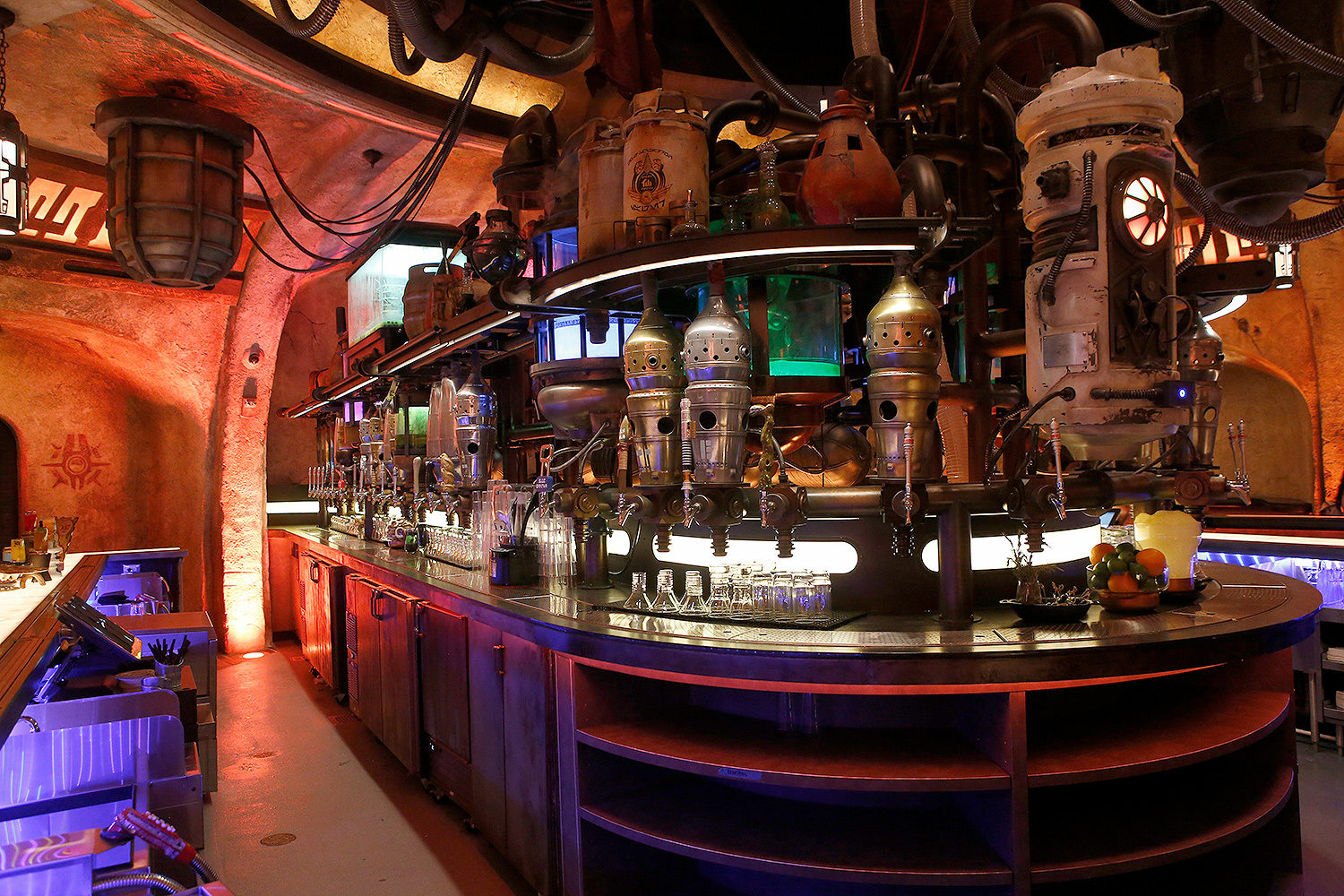 While most can probably spend their entire 4 hour reserved time slot at Oga's Cantina, Disneyland cast members are going to do their best to enforce a 45-minute (or 2-drink limit) to keep the bar patrons moving. Rest assured, it's probably enough time to really soak up the environment, take some selfies, and have a few quick drinks.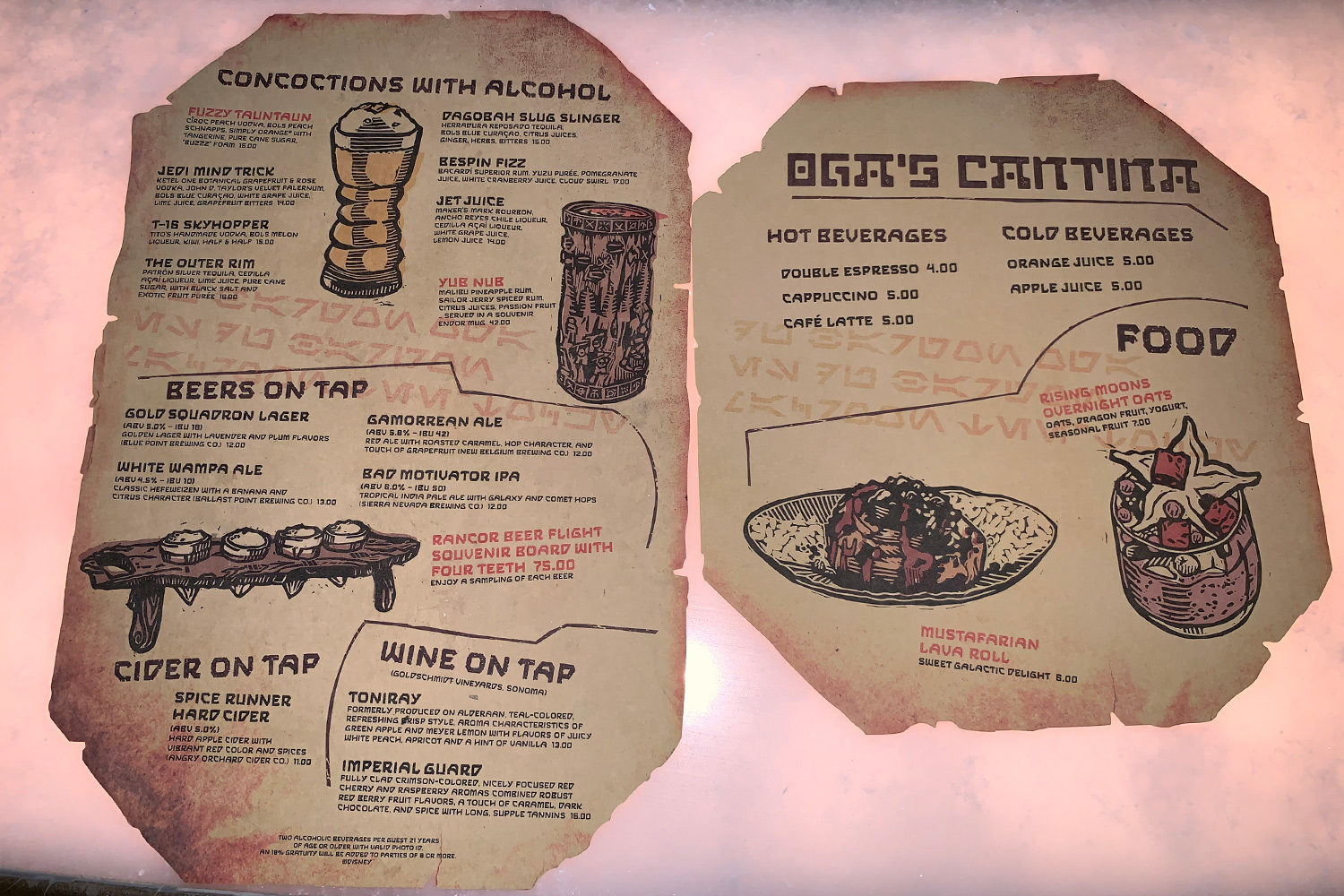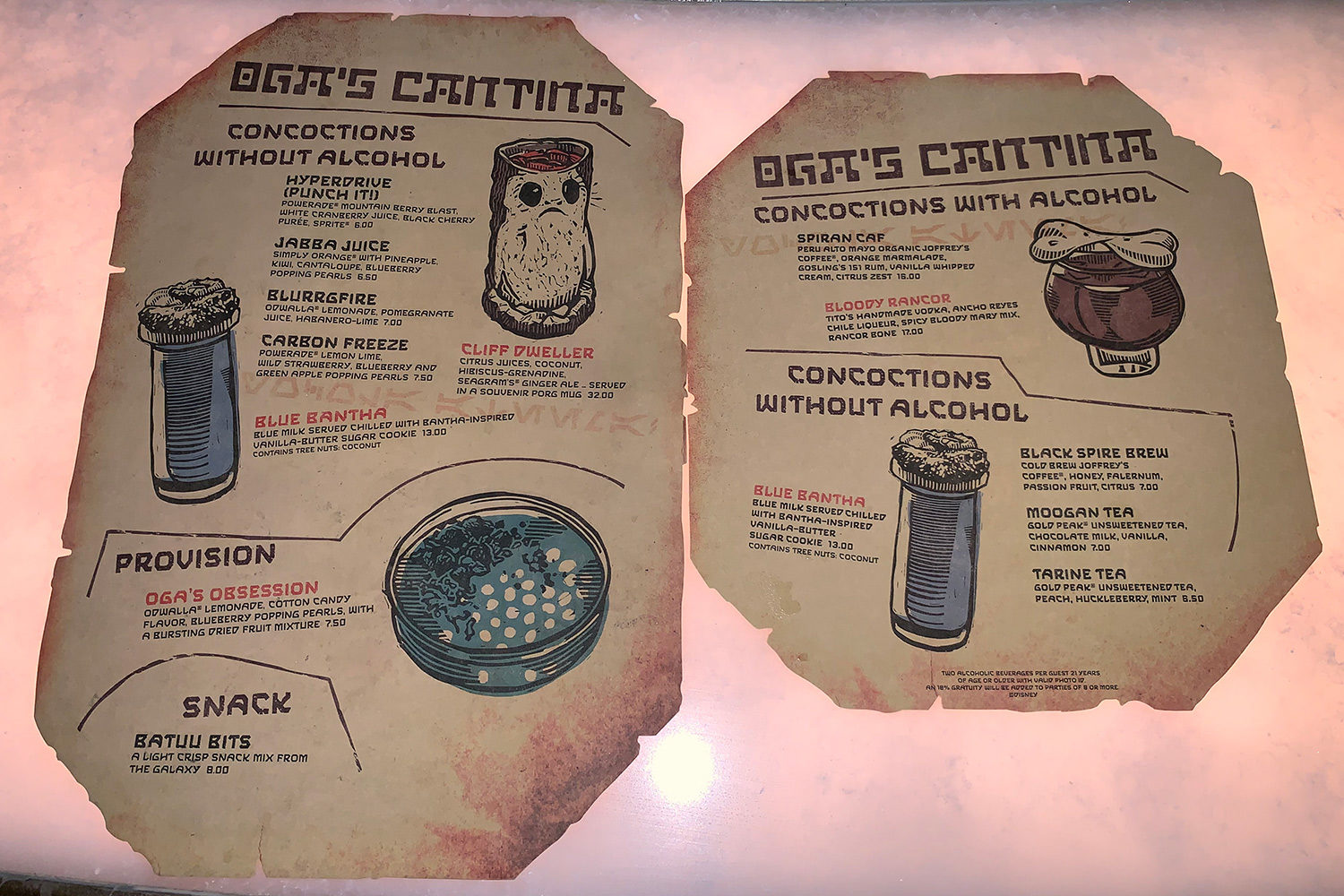 Another key draw to this bar, is a bit of a stretch, but might be enough for tiki fanatics, which has seen a resurgence of fans over the past decade. Disneyland, using their in-house artists have teamed up with Southern California's Tiki Farm to create a few ceramic collectibles that will more than likely be a hot ticket.

First up, is the Cliff Dweller, a non-alcoholic concoction featuring Citrus Juices, Coconut, Hibiscus-Grenadine, Seagram's Ginger Ale for $32.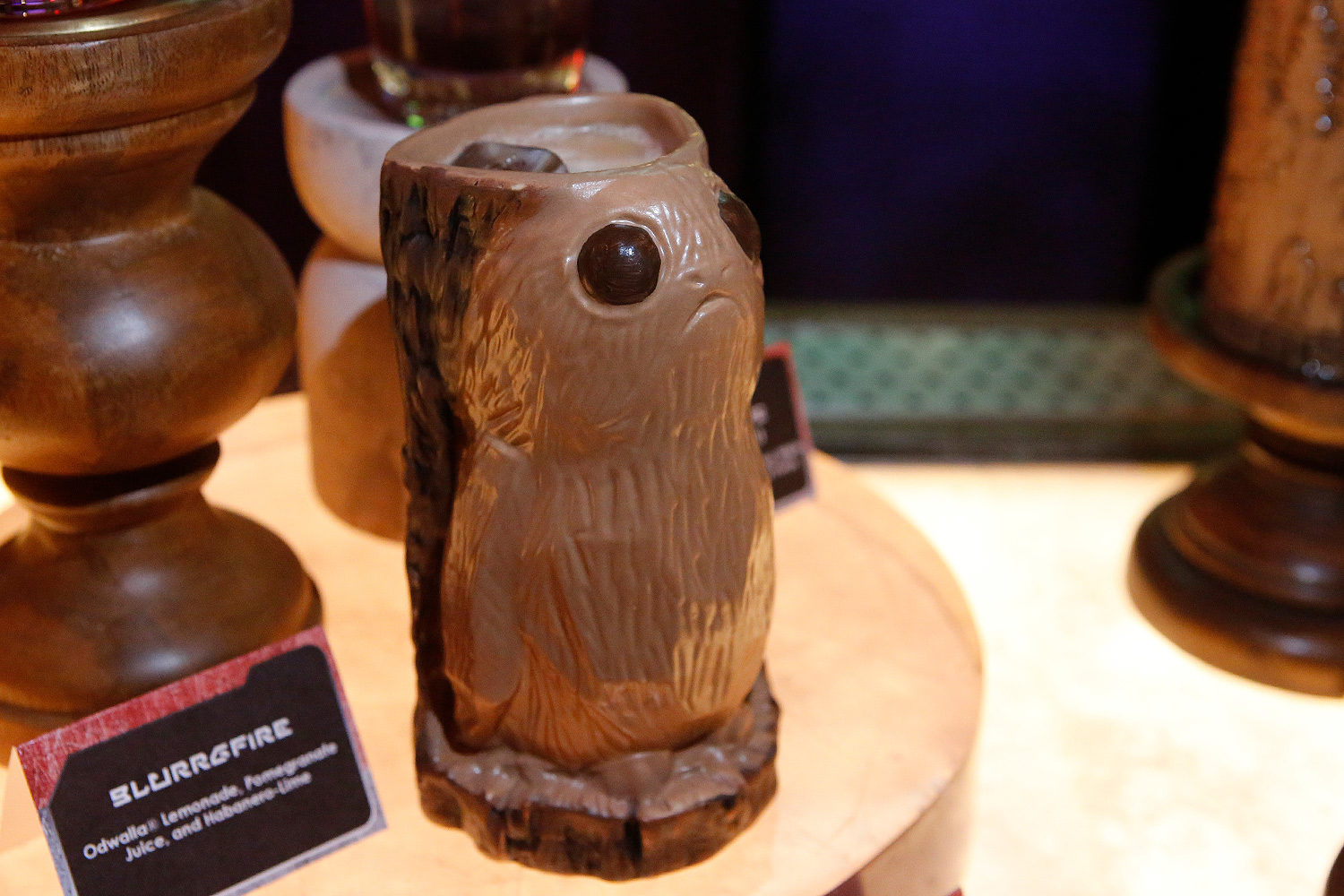 The next one is up our alley: The Yub Nub. Malibu Pineapple Rum, Sailor Jerry Spiced Rum, Citrus Juices, and Passion Fruit served in an Endor mug for $42.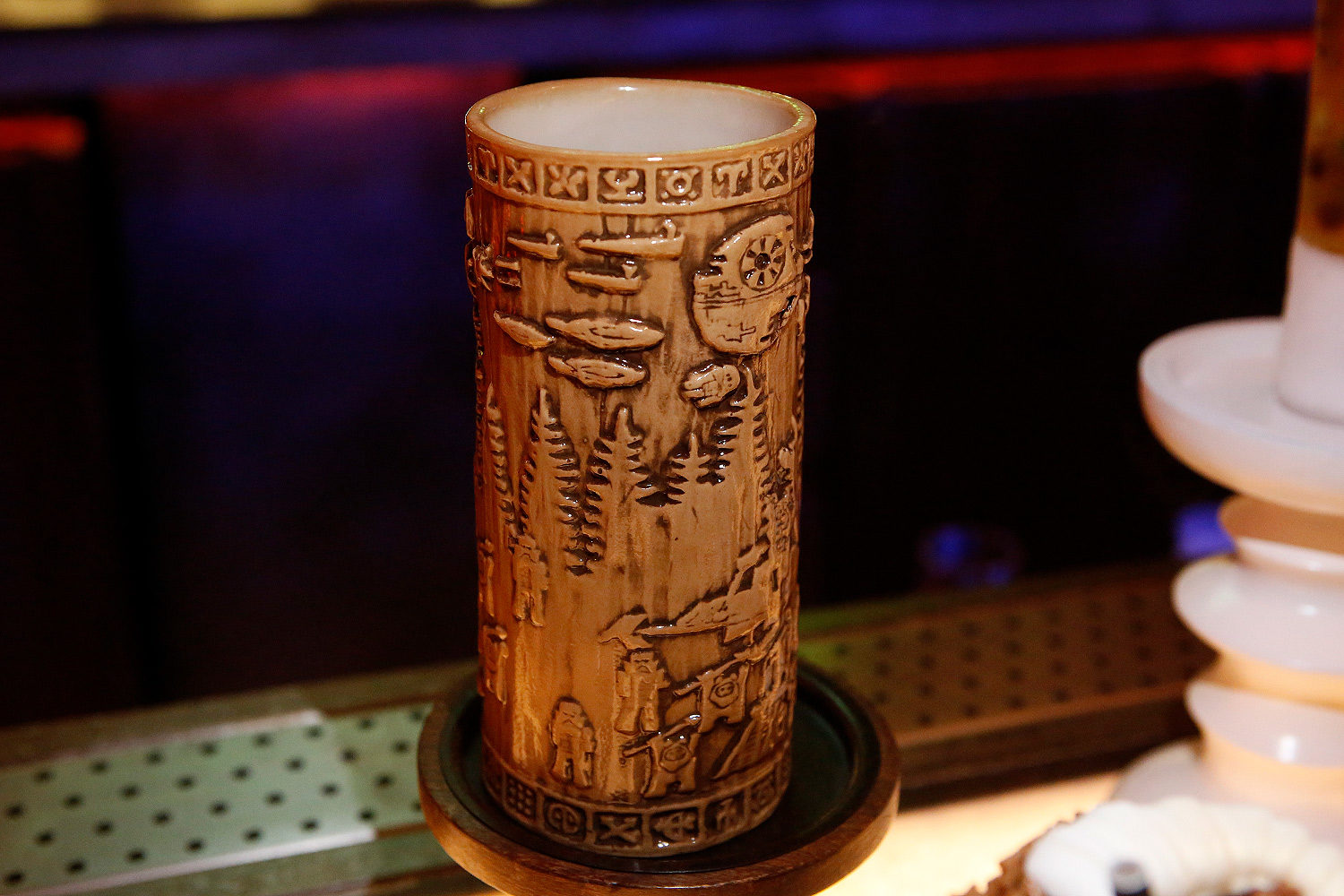 Finally, beer enthusiasts might want to pick up the Rancor Beer Flight souvenir board with four teeth for $75. Choose from a variety of exclusive beers made just for Oga's Cantina:
Gold Squadron Lager
(ABV 5.0% – IBU 18)
Golden Lager with Lavender and Plum Flavors
(Blue Point Brewing Co.) – $12

White Wampa Ale
(ABV 4.5% – IBU 10)
Classic Hefeweizen with a Banana and Citrus Character
(Ballast Point Brewing Co.) – $13

Gamorrean Ale
(ABV 5.8% – IBU 42)
Red Ale with Roasted Caramel, Hop Character, and Touch of Grapefruit
(New Belgium Brewing Co.) – $12

Bad Motivator IPA
(ABV 6.0% – IBU 50)
Tropical India Pale Ale with Galaxy and Comet Hops
(Sierra Nevada Brewing Co.) – $12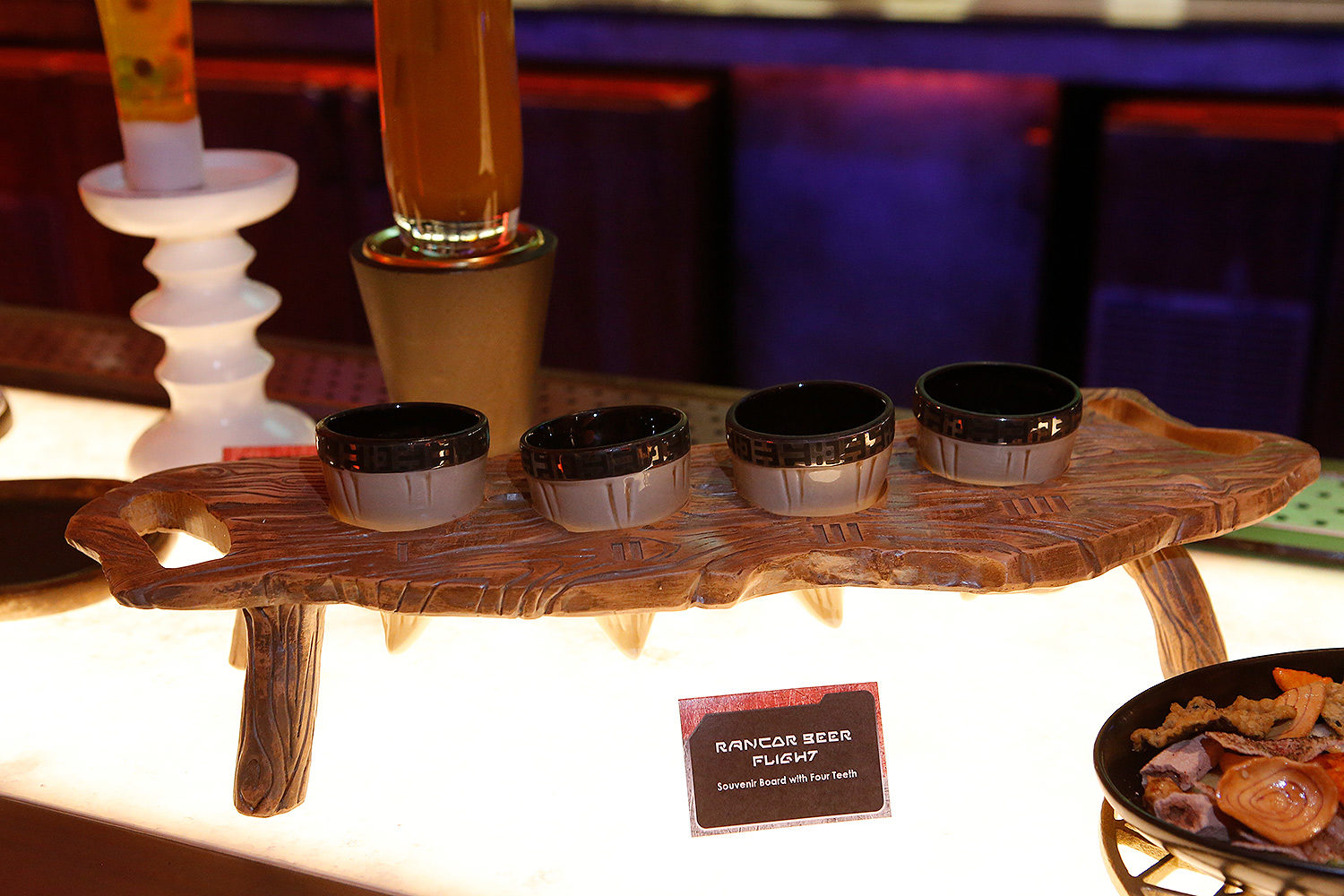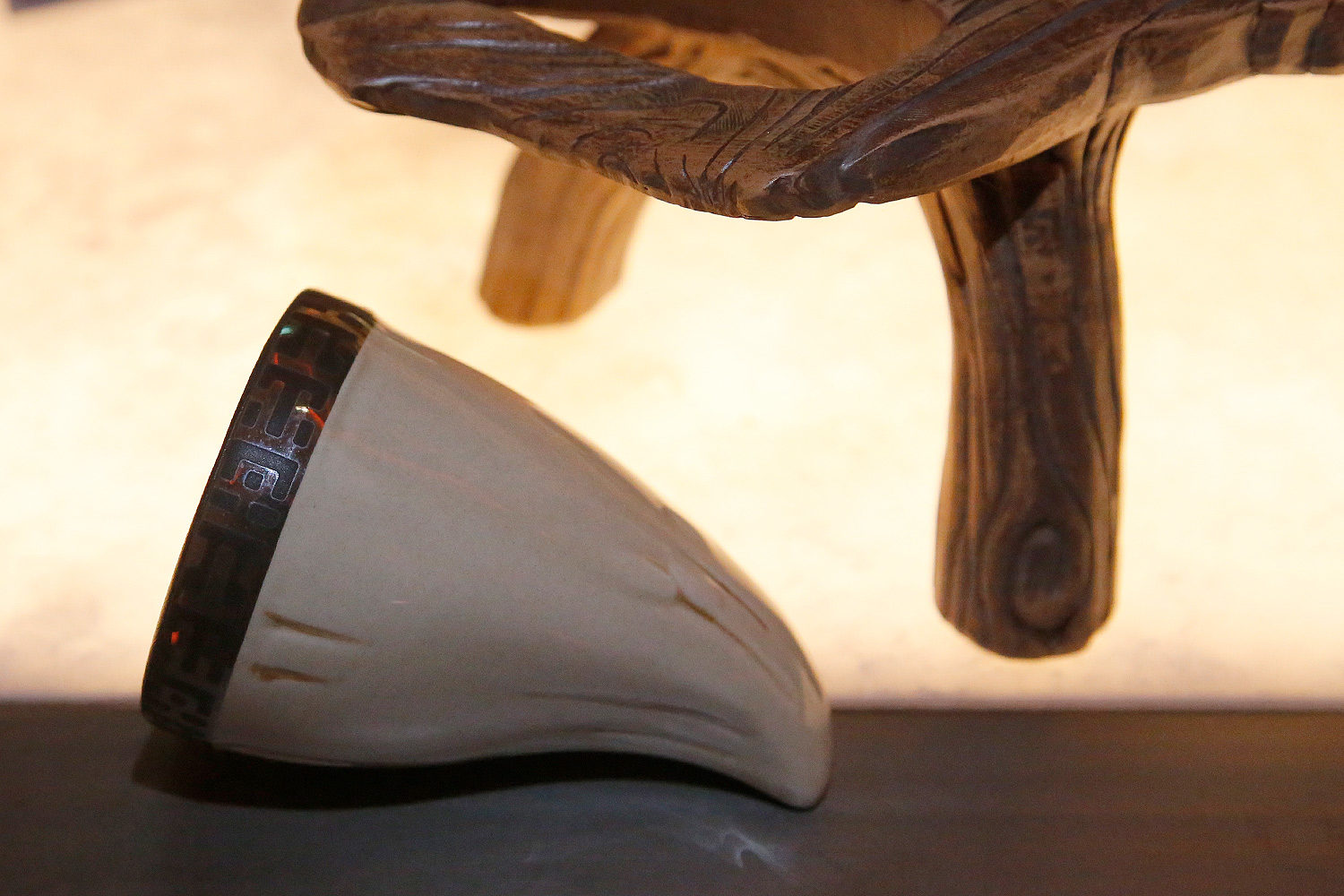 The beer taps are quite fun…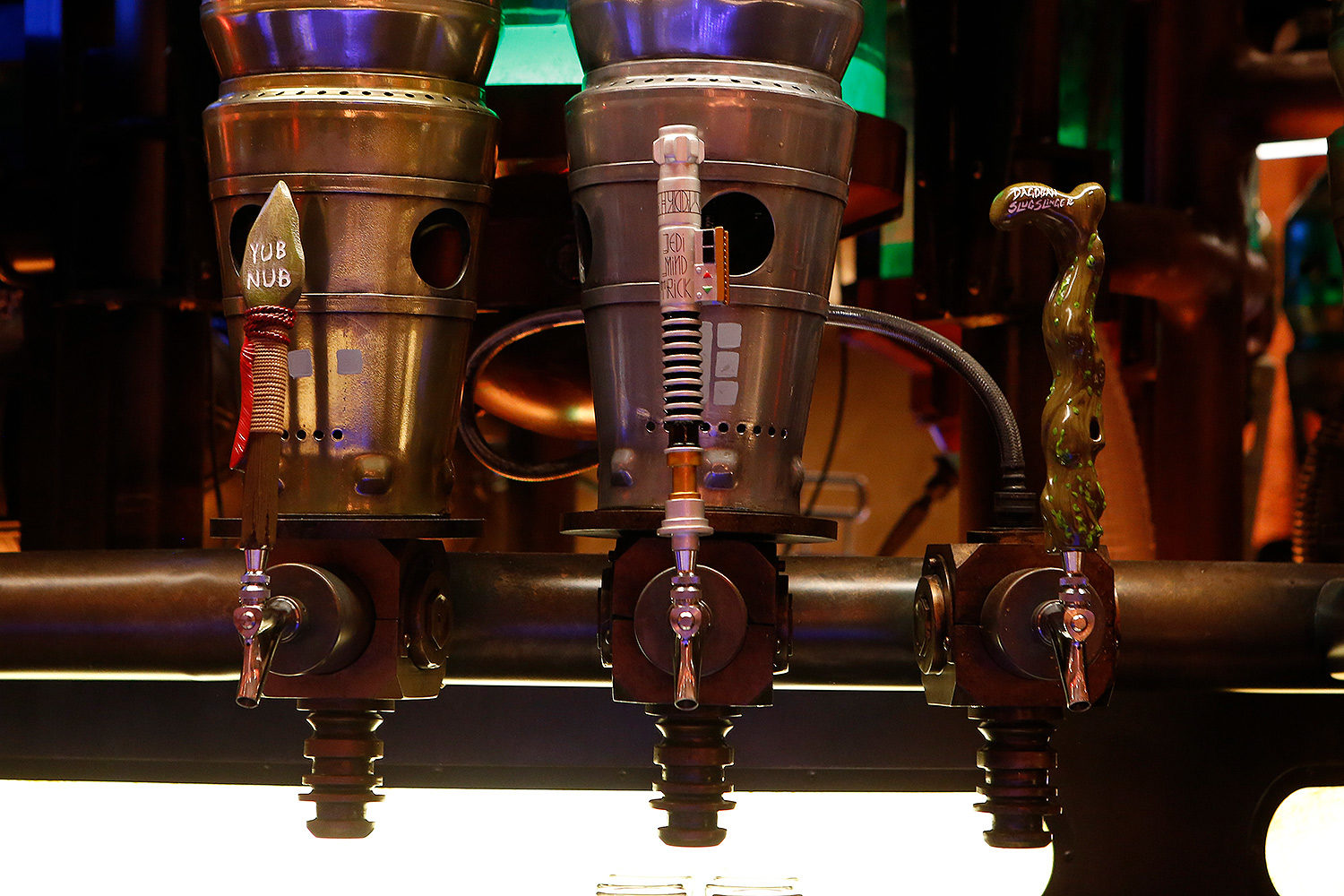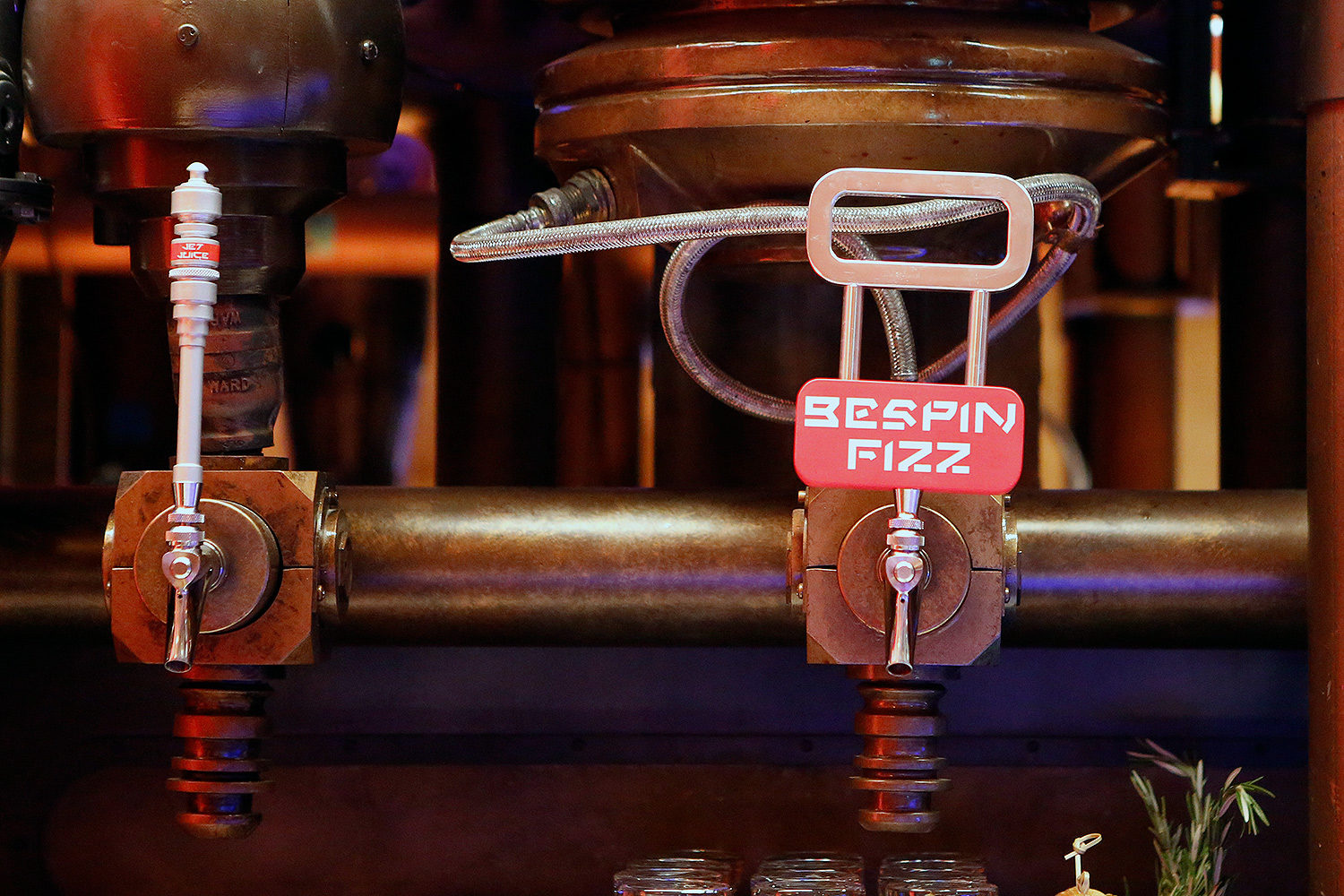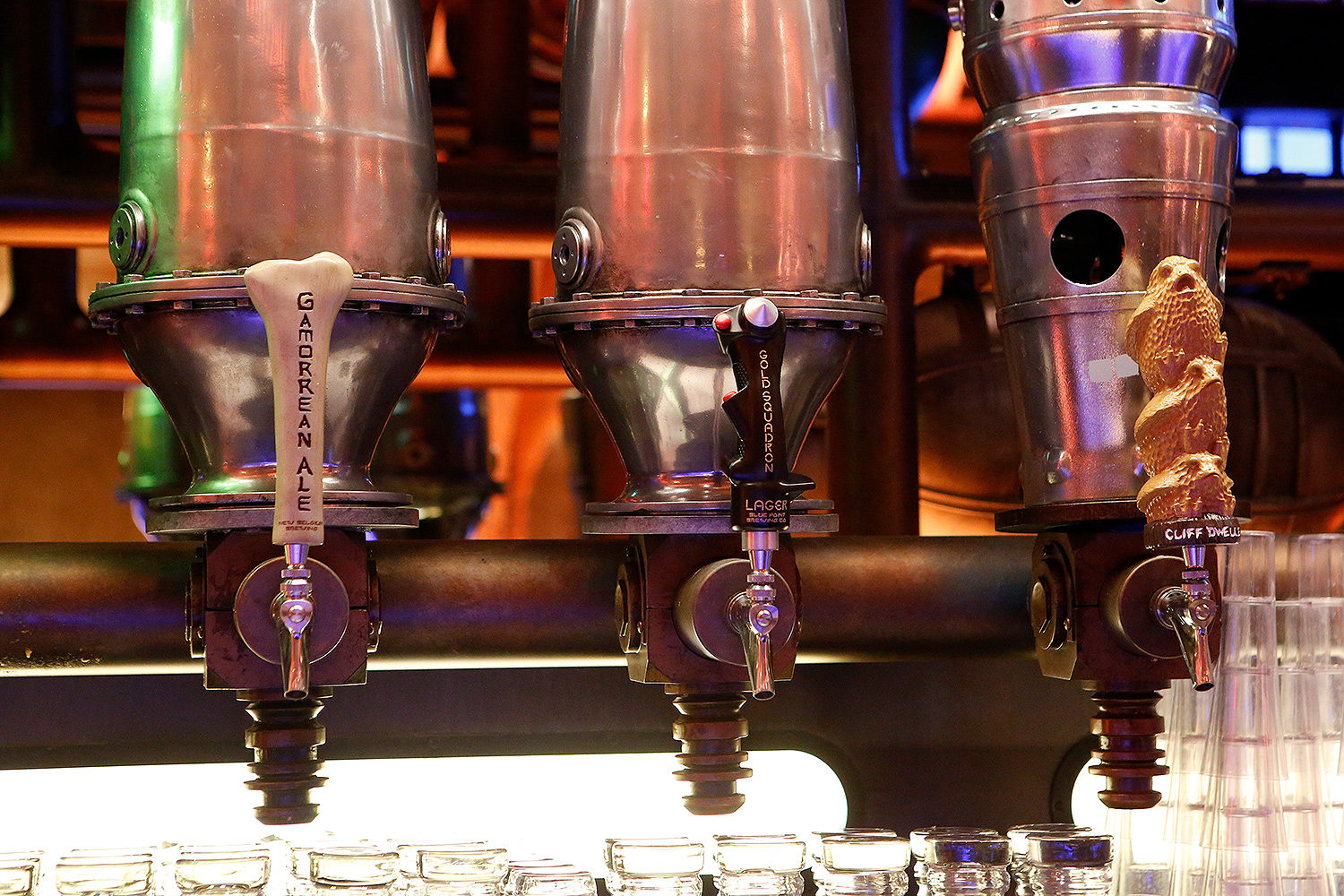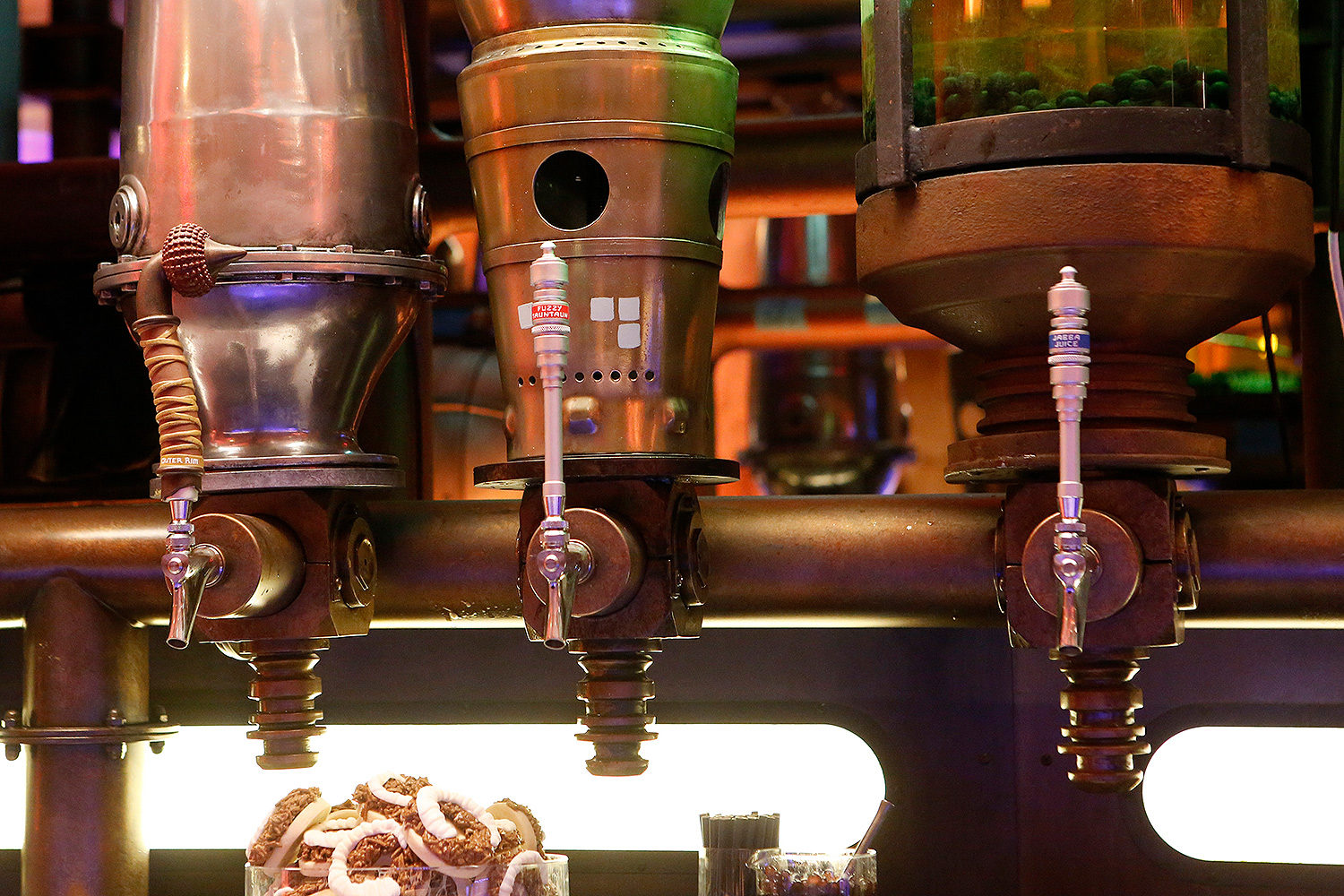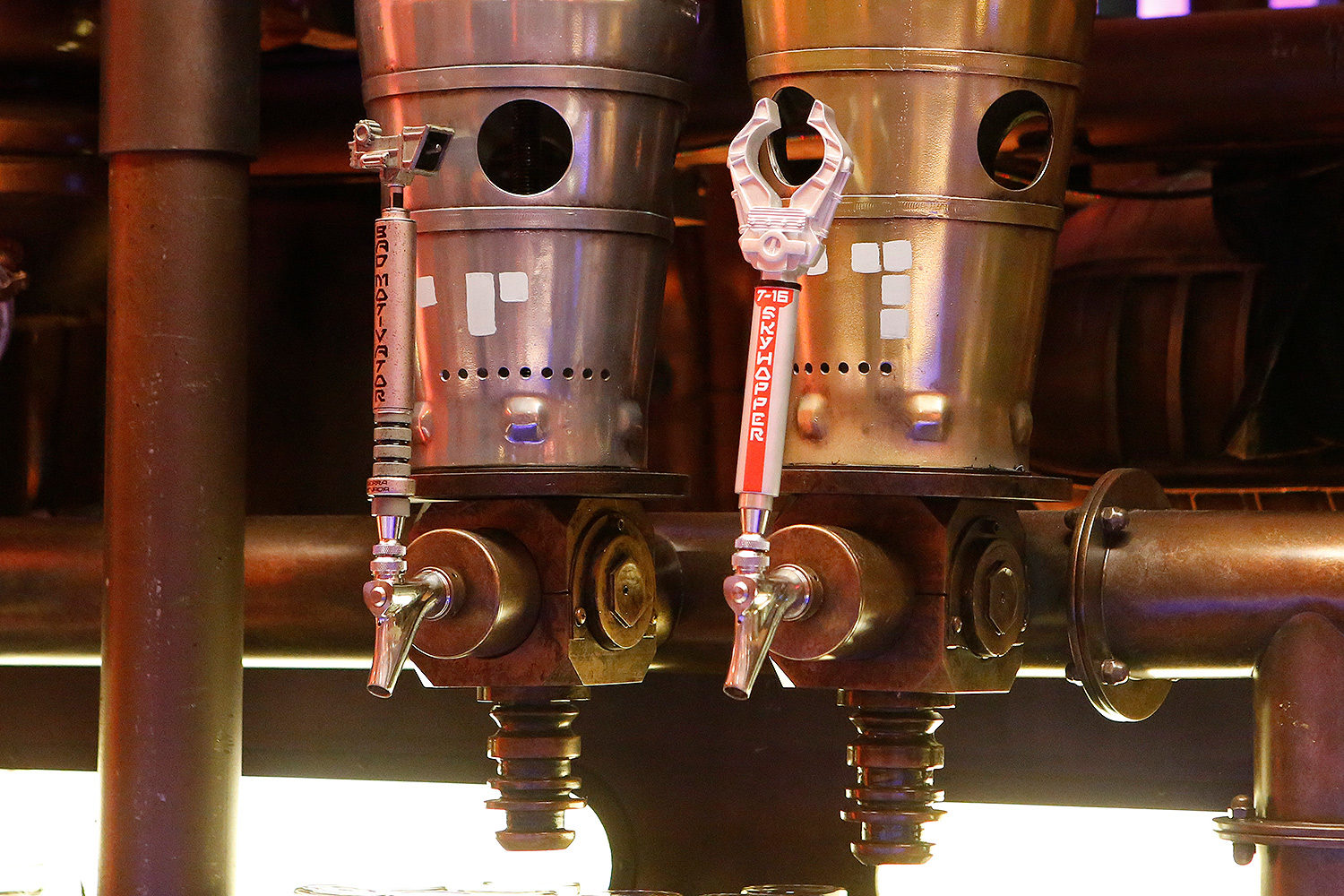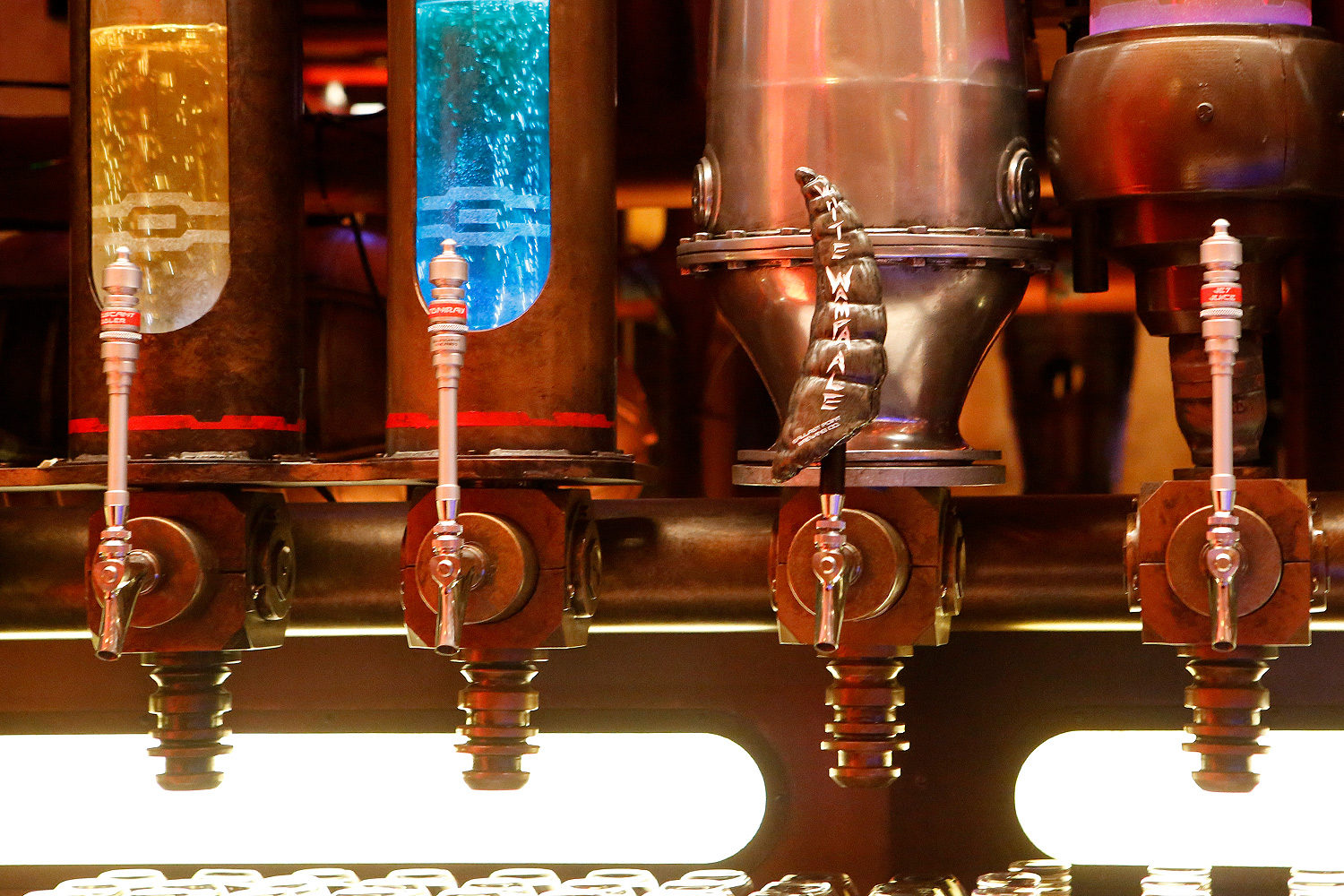 Oga's Cantina is sure to become an instant classic with Disney Park enthusiasts and Star Wars fans alike. Be sure to keep your eyes peeled for some nice little nods as well as some references to the original Star Tours!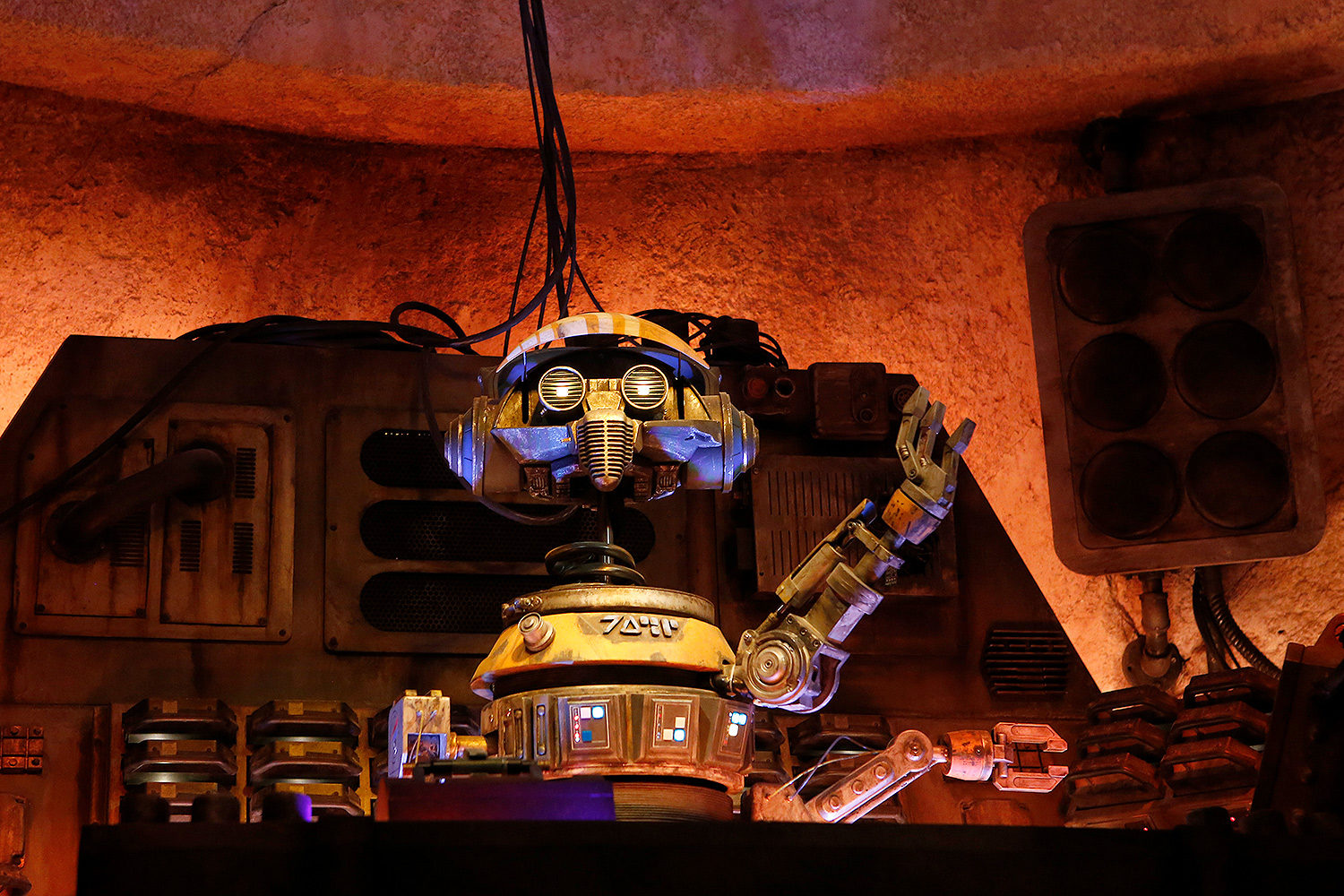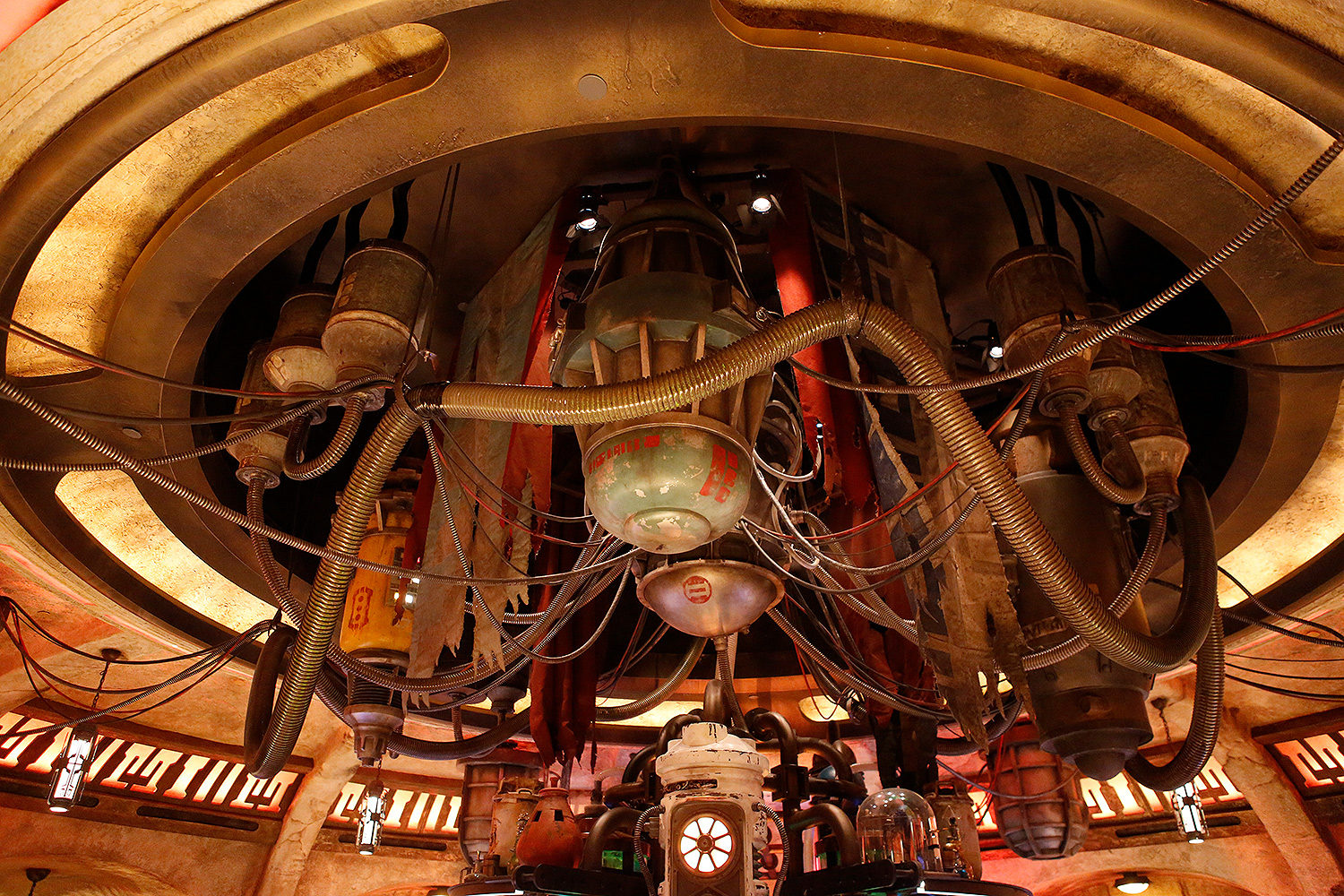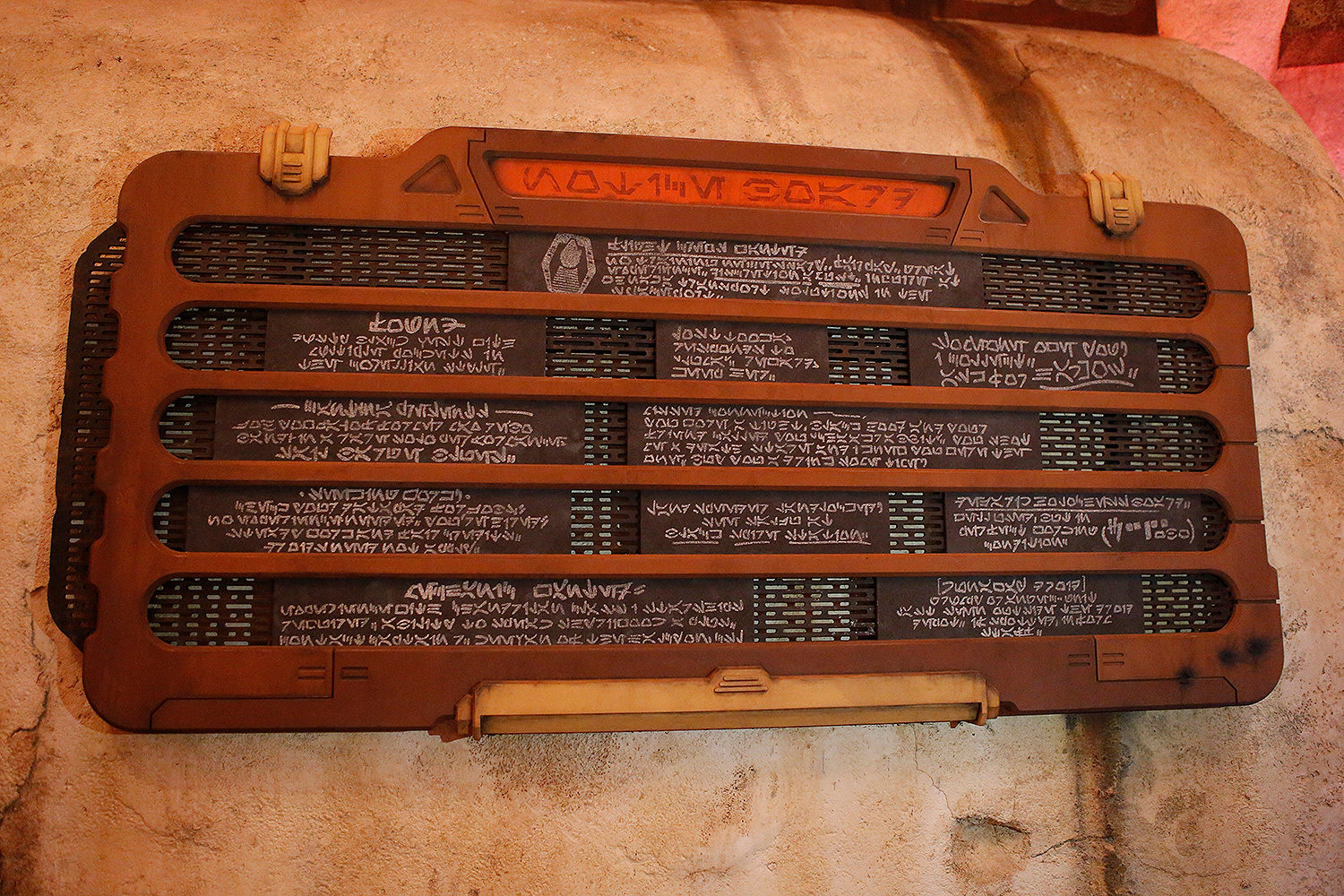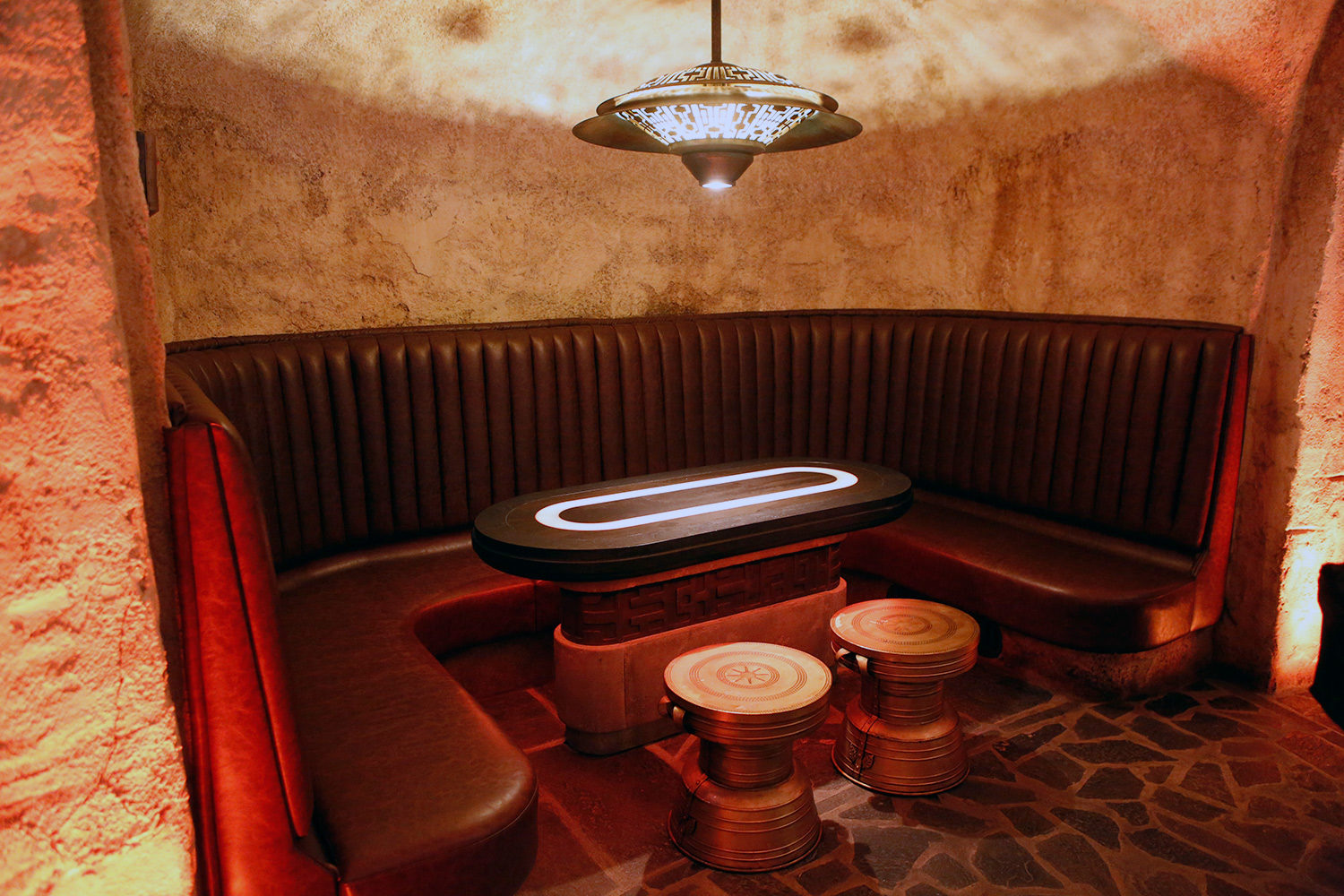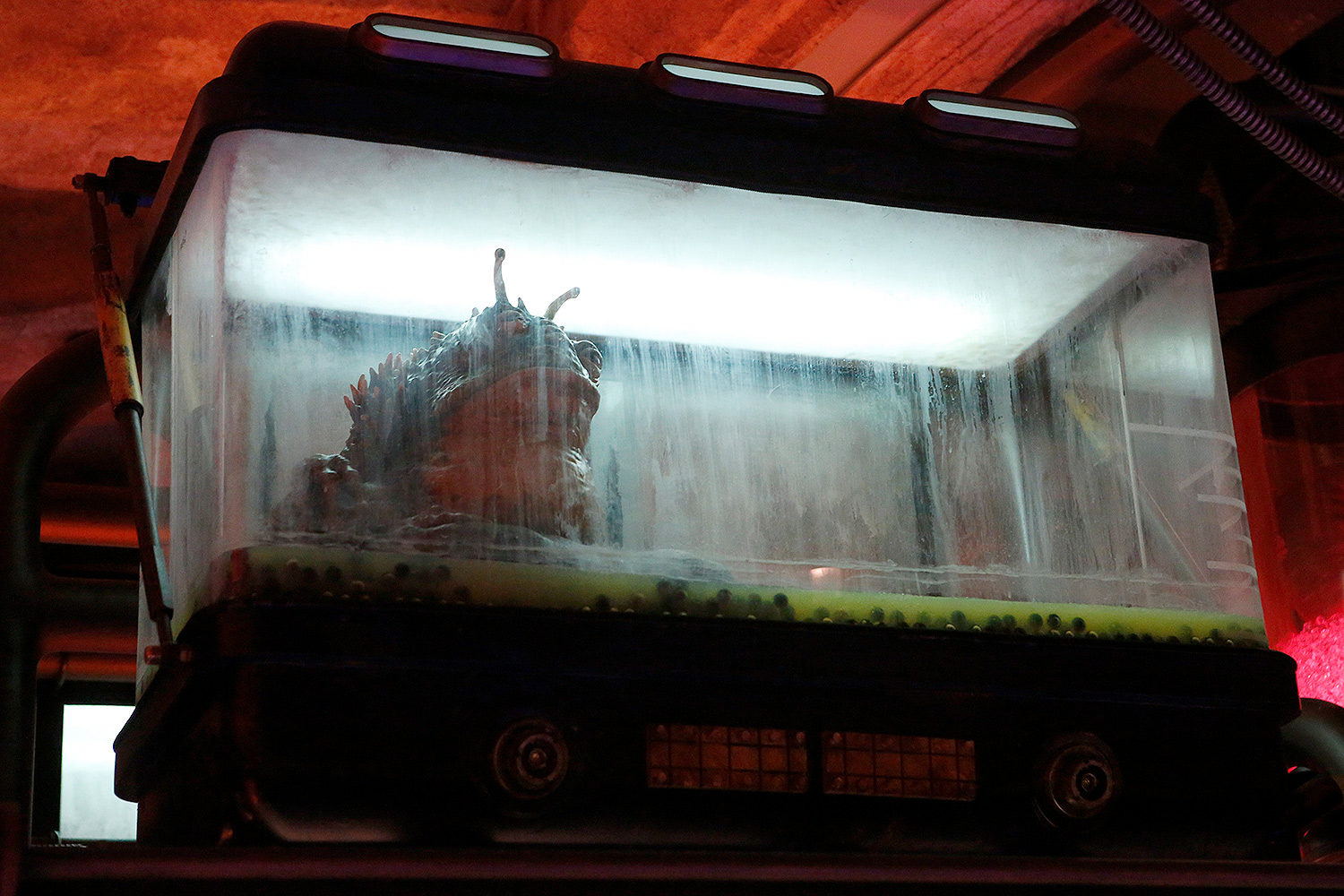 Don't forget to pick up a few coasters before you leave! (although… aren't Rancor from Dathomir?). That's it for this update! We'll see you at Oga's!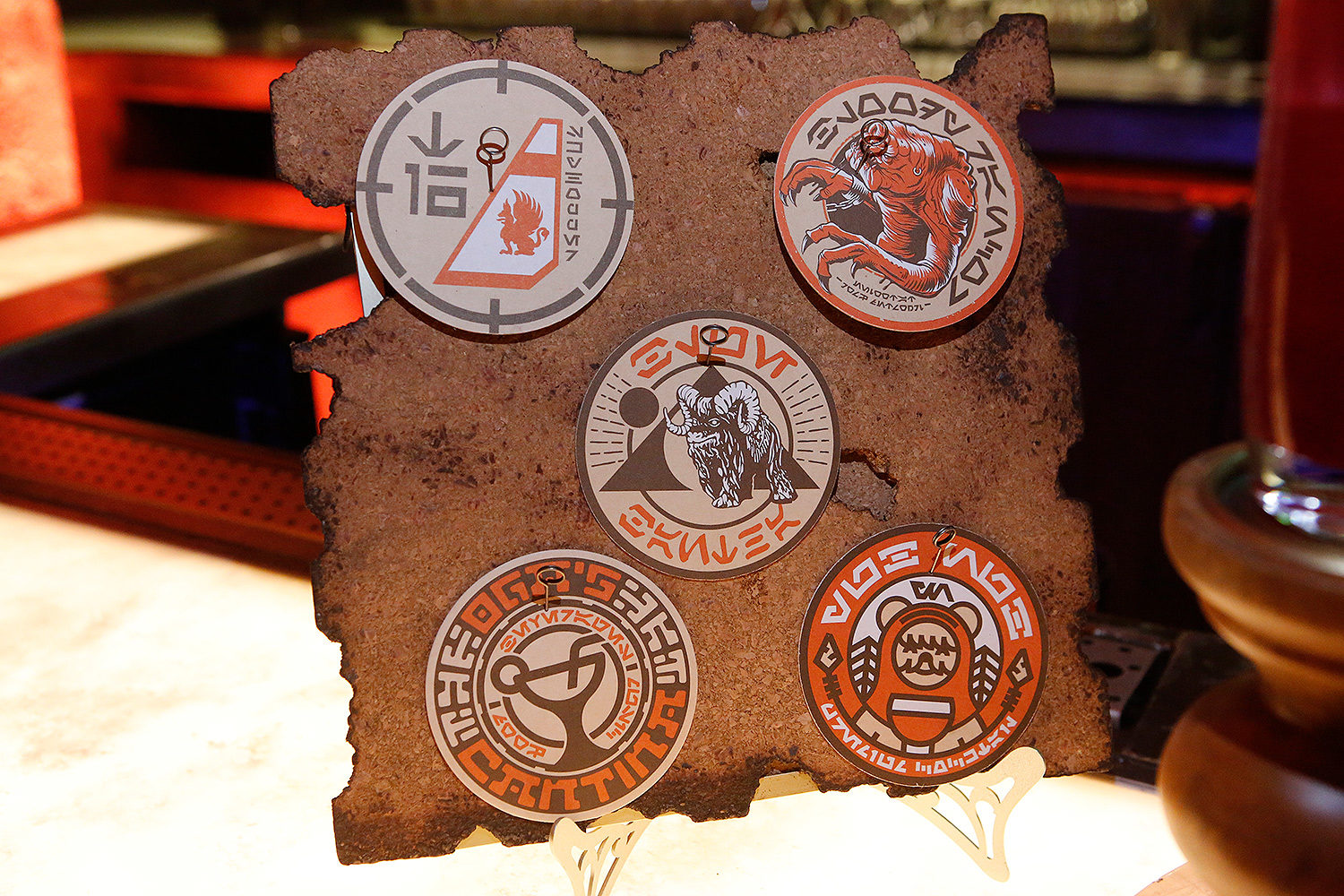 Photography by David Yeh