Tatooine
Tatooine is a desert world in a binary star system in the Arkanis Sector of the Outer Rim. It is inhabited by poor locals who mostly farm moisture for a living. Other activities include used equipment retailing and scrap dealing. The planet is on the 5709-DC Shipping Lane, a spur of the Triellus Trade Route, which itself connects to the Sisar Run. The planet is not far from the Corellian Run and has its own navigation system.
Tatooine is thought to be one of the oldest planets in planets in known space, formerly a world covered in large oceans, which have now turned into vast deserts. The capital city of Tatooine is Bestine.
Tatooine is a busy planet with many cities. When staying on Tatooine, make a city-trip which takes you to all major cities, such as Bestine, Mos Eisley, Mos Espa and Anchorhead. All these cities provide enough facilities to enjoy your stay. If you like the speed of the Pod Races, be sure to visit the Mos Espa Grand Arena for the Boonta Eve Challenge. If you like a drink and some good music, you need to be in Chalmun's Cantina in Mos Eisley. Markets can be found everywhere. Be sure to visit the Galactic Zoo!
Visit the B'Omarr Monastery, the former palace of the late crimelord Jabba the Hutt. You are free to walk around in the massive building, but be sure not to join the B'Omarr if you want to leave the planet in one piece!
We can also recommend a trip to the natural formations of the planet, such as Beggar's Canyon, the Valley of the Spirits, and the Jundland Wastes. Or visits interesting locations such as the Krayt Graveyard, the Pit of Carkoon or Fort Tusken.
As you can see, there is enough to do on Tatooine, and you can end a perfect day by watching the Binary Sunset. If action is your middle name, this is the tour for you! Book your tour today.
Don't forget to pack your Galactic Phrase Book & Travel Guide and local currency.
General Warning: Republic law does not apply on Tatooine. Star Tours can not be held responsible for any loss of personal belongings or physical injuries.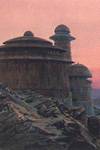 Type
Timeframe
Appearances