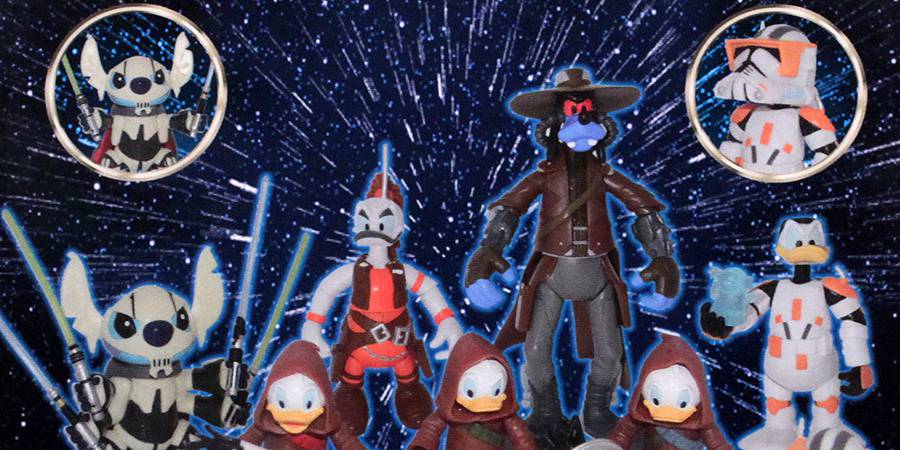 Kris Van de Sande
Disney Star Wars Wave 5 in Stock
April 26, 2012
Now in stock at your local Disney Theme Park is the latest wave in the Disney/Star Wars mash-ups, Series 5!
In this exciting assortment, our favorite Fab 5 characters don the costumes of the more iconic of Star Wars characters. This wave is more prequel-centric with a dash of The Clone Wars for good measure.
Series 5 includes:
Donald Duck as Commander Cody — Uh oh, there's a break in contininuity here if Pete is Boba Fett!
Daisy Duck as Aura Sing — This bounty hunter first appeared in The Phantom Menace but is a featured character in The Clone Wars.
Stitch as General Grievous — He's got four arms so… this makes sense!
Goofy as Cad Bane — This bounty hunter from The Clone Wars is anything but Goofy!
Huey, Dewey, and Louie as Jawas — The highlight of the wave for me is the introduction of Donald's nephews to the Star Wars universe. Short, playful, I like the idea of the nephews stealing droids for profit.
All figures and even a few older assortments can be bought for just $9.95 at Disneyland, World of Disney at Downtown Disney, and Disney's Hollywood Studios and Downtown Disney. Happy Hunting!