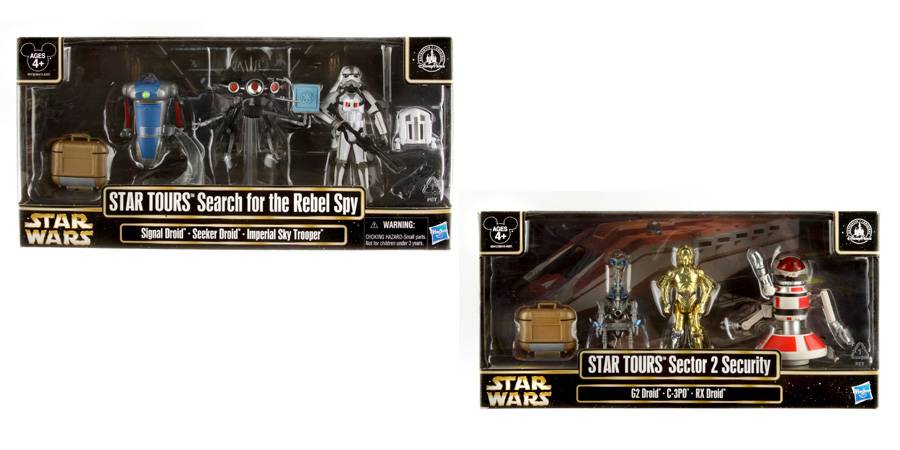 Brian Curran
New Exclusive Hasbro Star Tours Sets
February 19, 2013
Our friends at Yakface.com have just posted images and details for two new Hasbro Star Tours action figure sets.
INTRODUCING THE NEW 2013 STAR WARS® Star Tours™ Action Figure Packs from Hasbro
The celebration of the amazing new Star Tours Disney theme park ride continues in 2013 with new STAR WARS Star Tours Action Figure Packs from Hasbro. Building off of the packs released in 2011, these two sets of figures introduce new Droids from the ride experience as well as a few reprised fan favorites. New figures include a blue Signal Droid, red RX Droid, a G2 Droid rebuilt from scratch for more accurate detail, and the very first appearance of a new Seeker Droid!
These packs launch in May 2013 at Walt Disney World- Hollywood Studios during STAR WARS Weekends and will be available at Walt Disney World stores in Florida and Disneyland Resort stores in California shortly thereafter.
Experience the magic of the ride and then relive the action with the STAR WARS Star Tours Action Figure Packs!
(Item# A0416) STAR WARS® Star Tours™: Search for the Rebel Spy
– Included Figures: Signal Droid, Seeker Droid, Imperial Sky Trooper
(Item# A0417) STAR WARS® Star Tours™: Sector 2 Security
– Included Figures: G2 Droid, C-3PO, RX Droid