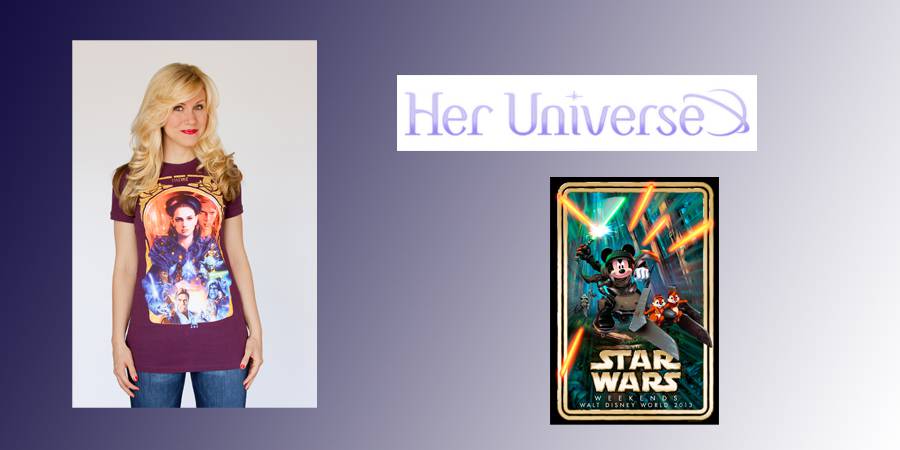 Brian Curran
New Her Universe Line debuts at Disney's Star Wars Weekends 2013
May 13, 2013
Ashley Eckstein returns to co-host Star Wars Weekends at Disney's Hollywood Studios May 17th through June 9th. Ashley will be bringing all-new, Star Wars by Her Universe designs to the month-long event. Please continue reading to see what you will find located in Darth's Mall.
Press Release:
Ashley Eckstein Debuts New Star Wars™ by Her Universe
Apparel at Disney's Star Wars Weekends 2013
NEW YORK, NY – MAY 13th, 2013 – The Force is back at Disney's Hollywood Studios theme park asStar Wars Weekends returns May 17th through June 9th. Fans from all over the world come to share their love of all things Star Wars and Disney during this special event. Returning for the fifth year in a row is actress Ashley Eckstein, the voice of Ahsoka Tano from Star Wars: The Clone Wars and founder of the popular sci-fi merchandise line for fangirls, Her Universe™. As with previous years, Eckstein will be bringing an all-new, unique range of Star Wars by Her Universe designs to the month-long event at Disney's Hollywood Studios including fashion tops, tunics, tanks and dresses located in Darth's Mall. Eckstein will be meeting fans and signing autographs every day during the event and she will also be returning as host for Behind the Force: Star Wars Voices each weekend.
"As a lifelong Disney fan, it's a dream come true for me to return to Disney's Star Wars Weekends and debut my new Her Universe merchandise," said Eckstein. "It's been an honor to work with Disney to create designs for this event. We have an assortment of new items for female fans of all ages, including our new exclusive Return of the Jedi necklace in honor of the 30th Anniversary!"
Her Universe has only made 1,250 necklaces to celebrate the 30th Anniversary of this beloved movie. This extremely limited edition piece will come with an autographed certificate by Eckstein and will only be sold at select Her Universe events debuting at Star Wars Weekends. Only 500 necklaces will be available for sale at Disney starting on May 17th. They are available on a first-come-first-serve basis. Also debuting at the event will be will the highly anticipated Rogue Squadron dress and X-Wing Pilot tank top. Other items premiering will be matching youth and adult R2-D2 tunic tops, an adorable youth Princess Leia tunic top, retro women's fashion tops and a limited edition Asajj Ventress costume top.
Photo credit: – Kelsey Edwards Photography- http://www.kelseyedwardsphoto.com/
About Her Universe
Her Universe was launched in 2009 by actress and entrepreneur Ashley Eckstein, and her partner, The Araca Group, known as one of the most innovative theatrical production and merchandise companies in the world. Her Universe was created to directly address the expanding market of female fans by entering into its first agreement with Lucas Licensing to develop and produce a line of female-centered Star Wars apparel and accessories. The success of that line was followed up with a collection for the Syfy network including such shows as Battlestar Galactica and with BBC America for Doctor Who and with CBS Consumer Products for Star Trek. You can learn more about Her Universe and purchase the current line of fangirl apparel and accessories by going to www.heruniverse.com and by following Eckstein on Facebook (facebook.com/HerUniverse) and Twitter (twitter.com/HerUniverse).

About Disney's Star Wars Weekends
Running every Friday, Saturday and Sunday from May 17th through June 9th, Disney's Star Wars Weekends is an annual event at Disney's Hollywood Studios theme park celebrating all things Star Wars. In addition to offering fans a unique opportunity to join Jedi Masters, Sith Lords and Star Wars celebrities for special shows, presentations, memorabilia and the all-new Star Tours attraction: Star Tours –The Adventures Continue. For more information on Star Wars Weekends, visit: disneyworld.com/starwarsweekends or disneyparks.com/blog.
STAR WARS™ and related properties are trademarks and/or copyrights, in the United States and other countries, of Lucasfilm Ltd. and/or its affiliates. TM & © Lucasfilm Ltd. All rights reserved. All other trademarks and trade names are properties of their respective owners.