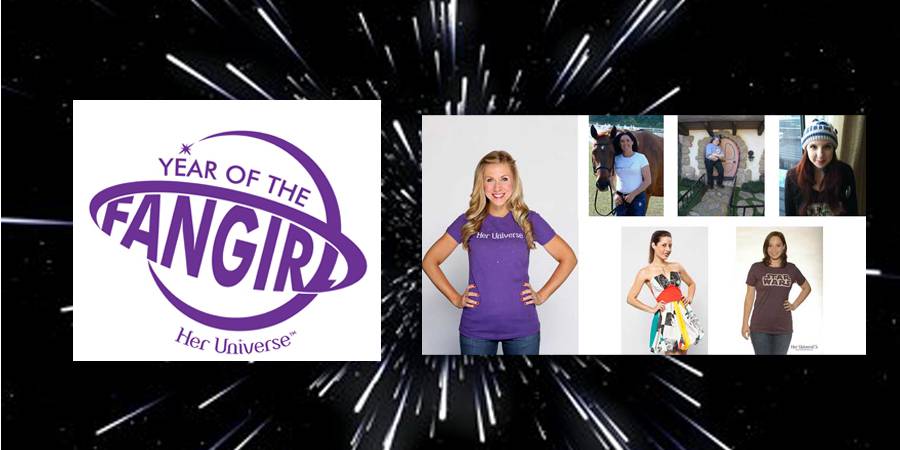 Brian Curran
Her Universe for the Holidays
November 27, 2013
Her Universe is Offering Online Shoppers Black Friday
Exclusives Including FREE Star Wars Holiday Pin with Every
Order and FREE U.S. Economy Shipping via FedEx SmartPost
Press Release:

Her Universe is the One-Stop Shop for Fangirl Fashion Apparel This Holiday Season
NEW YORK, NY – November 21st, 2013 -Shopping for a fangirl this holiday season? Her Universe™ has you covered! Ashley Eckstein, voice of Ahsoka Tano in Star Wars: The Clone Wars and founder of Her Universe, the leading fangirl fashion apparel company, has made your gift-giving a little easier this year. Eckstein and The Araca Group debuted new Her Universe designs today that will launch for the first time online on Black Friday. Revealed today is the fourth annual collectible Star Wars pin with signed certificate by Eckstein featuring the Dark Lord of the Sith, Darth Vader. This highly coveted pin is FREE with any order while supplies last. Plus, from November 29th (Black Friday) through December 2nd (Cyber Monday), Her Universe will be offering FREE economy shipping via FedEx SmartPost on all orders (U.S. only). Beginning December 3rd and running till December 15th, Her Universe is offering FREE economy shipping via FedEx SmartPost for U.S. customers only on any order of $50.00 or more.
"I'm always so excited to debut our new holiday items," said Eckstein. "This year we have some new pieces that are perfect for the winter and spring. We have our brand new TARDIS cardigan or a 'TARDI-GAN,' we also have some new hoodies, sweatshirts and for the first time ever, Her Universe gift cards. We are making gift giving so easy for the fangirl in your life or for yourself!"
Michael Rego, Chief Executive Officer of the Araca Group, added, "We are thrilled to debut our new holiday products on Black Friday this year. Our customers and fans have been passionately engaged by Her Universe all year and we are looking forward to giving them some exciting and dynamic new products for the holiday season."
Darth Vader dons the famous Santa hat for this year's highly collectible Star Wars by Her Universe holiday pin. Only 1,000 pins have been made and each one comes certified with Eckstein's autograph. Following the highly sought after R2-D2, Yoda and Chewbacca holiday pins from previous years, which sold out in record speed, Darth Vader will now join this exclusive collection. This free gift has a $30.00 retail value.
Her Universe customers will find the largest holiday selection of new fangirl fashion items ever offered of which only a few are highlighted here – new apparel from Star Wars, Star Trek, Doctor Who and The Walking Dead. In addition, since 2013 has been recognized as the "Year of the Fangirl," Her Universe has released it's first-ever FANGIRL hoodie for Geek Girls to proudly wear.
All the special deals and exclusive holiday products kick-off November 29th, Black Friday, on HerUniverse.com!
Give HER the Universe this holiday season. Coming Soon! The first-ever Her Universe E-Gift Card!
About Her Universe
Her Universe was launched in 2009 by actress and entrepreneur Ashley Eckstein and The Araca Group, a leading theatrical production and brand management company. Ashley and Araca created Her Universe to address the expanding market of female sci-fi and fantasy fans. They entered their first agreement with Lucas Licensing to develop and produce a line of female-centered Star Wars apparel and accessories. The success of that line was followed up with a collection for the Syfy network including Battlestar Galactica, BBC Worldwide for Doctor Who, CBS Consumer Products for Star Trek and AMC for The Walking Dead. You can learn more about Her Universe and purchase the current line of fangirl apparel and accessories by going to www.heruniverse.com and by following Eckstein on Facebook (facebook.com/HerUniverse) and Twitter (twitter.com/HerUniverse).
Photo credit: – Kelsey Edwards Photography–