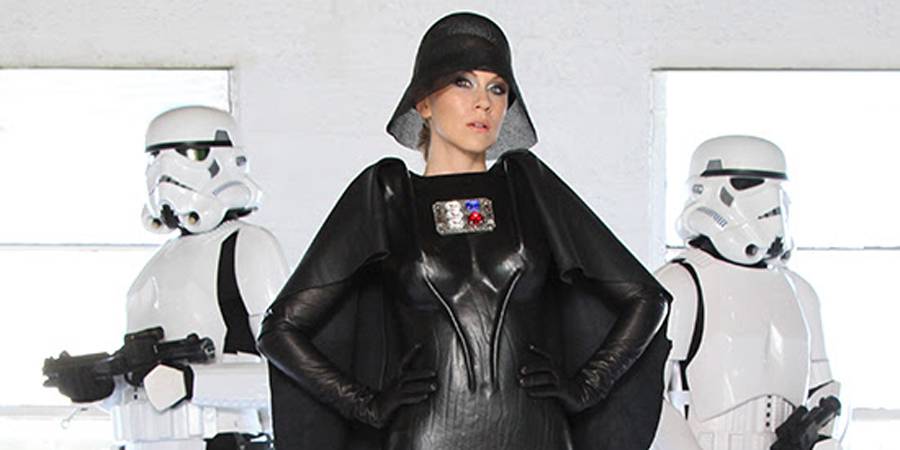 Brian Curran
Her Universe to bring first-ever "Geek Couture" Fashion Show to SDCC
March 17, 2014
Her Universe to present First-Ever Full-Scale "GEEK COUTURE" Fashion Show and Design Competition-The Her Universe Fashion Show – During Comic-Con International: San Diego 2014
Two winners will be chosen to design a Her Universe Collection to be sold at Hot Topic- Nerdist Industries to Produce and Distribute Fashion Show
Press Release:

NEW YORK, NY- March 17th, 2014- Fashion Week is coming to Comic-Con International: San Diego (Comic-Con) this year! Her Universe™, the groundbreaking sci-fi fashion apparel line announced today that they have joined forces to bring the first-ever full-scale "Geek Couture" fashion show and design competition,The Her Universe Fashion Show, to Comic-Con 2014 – the premier comic book and popular arts convention in the world. This premiere event is scheduled to take place during the convention, July 24th, at the Manchester Grand Hyatt Hotel in San Diego just a few minutes' walk from the San Diego Convention Center. Fashion retailer Hot Topic, a Her Universe partner, will be providing two grand prizes for the winning fashion designers – an opportunity to co-design, with Ashley Eckstein, an exclusive Her Universe fashion collection for Hot Topic. In addition, event partner, Nerdist Industries, will produce all video and media distribution of the event.
What makes this inaugural Her Universe Fashion Show during San Diego Comic-Con even more special is that Her Universe is offering fans and amateur designers, male or female, the opportunity to submit their own women's fashion designs based on anything that is celebrated at Comic-Con, original or inspired by popular media. Designs must be fashions, not costumes, and can be "geek couture" or ready-to-wear outfits. Designers, 18 years and older, can submit designs to be considered for the fashion show starting today at HerUniverse.com. Thirty contestants will be chosen to participate in the show. The chosen designers can wear their own fashions on stage or opt to use their own model for the runway. The deadline for submissions isApril 4th, 2014 and contestants will be selected by April 18th, 2014. Two prizes will be awarded: one prize to be chosen by a panel of judges which will feature experts from the world of fashion and the second prize to be chosen by the show audience. The Her Universe Fashion Show will be hosted by Her Universe founder Ashley Eckstein. There are no tickets for this event. Entry will be first come-first served and admission is free with a San Diego Comic-Con 2014 badge.
"Fangirls are already using the halls of San Diego Comic-Con International as their runway to showcase custom fashions. We wanted to give these designers a bigger stage to share their talent and also provide an educational experience in the fashion industry," said actress and Her Universe founder Ashley Eckstein. "It's an honor to partner with San Diego Comic-Con International on this ground breaking event. Together, we are excited to shine the spotlight on female fans and fashion," said Michael Rego, Chief Executive Officer of the Araca Group and Her Universe partner.
WATCH ASHLEY ECKSTEIN'S DARTH VADER GEEK COUTURE VIDEO BY NERDIST INDUSTRIES HERE: http://youtu.be/7QHkELVRkJk
Go to www.HerUniverse.com now for more information on Her Universe and the Fashion Show designer submission process.
Photo credit: – Kelsey Edwards Photography- http://www.kelseyedwardsphoto.com/
About Her Universe
Her Universe was launched in 2010 by actress and entrepreneur Ashley Eckstein and The Araca Group, a leading theatrical production and brand management company. Ashley and Araca created Her Universe to address the expanding market of female sci-fi and fantasy fans. They entered their first agreement with Lucas Licensing to develop and produce a line of female-centeredStar Wars apparel and accessories. The success of that line was followed up with a collection for BBC Worldwide for Doctor Who, CBS Consumer Products for Star Trek and AMC for The Walking Dead. You can learn more about Her Universe and purchase the current line of fangirl apparel and accessories by going to www.heruniverse.com and by following Eckstein & Her Universe on Facebook (facebook.com/HerUniverse) and Twitter (twitter.com/HerUniverse)
About San Diego Comic-Con International
Comic-Con International: San Diego is a nonprofit educational corporation dedicated to creating awareness of, and appreciation for, comics and related popular art forms, primarily through the presentation of conventions and events that celebrate the historic and ongoing contribution of comics to art and culture. For more information on this year's San Diego Comic Con go tohttp://www.comic-con.org/cci
About Nerdist Industries
Nerdist Industries is a multi-platform creator of genre and popular culture content. Its online presence includes a website at Nerdist.com; a premium YouTube channel (youtube.com/nerdist) featuring Nerdist News hosted by Jessica Chobot; 2.1 million Twitter followers; a Podcast Network including the flagship Nerdist Podcast; The Nerdist School comedy training program; and the Nerdist Alliance, a community of curated partnerships with some of YouTube's most talented and passionate creators. Nerdist also produces content for television including All Star Celebrity Bowling for AMC and In the Name of Science for National Geographic Channel. Further, Nerdist hosts live events around the country such as The Nerdist Podcast Live! and Course of the Force, an annual lightsaber relay in partnership with Lucasfilm LTD and Octagon which leads up to San Diego Comic-Con International.
About Hot Topic
Hot Topic is a mall-and web-based specialty retailer beloved by rebellious and expressive teens for 25 years. Hot Topic offers music and pop culture junkies band-related apparel and accessories, licensed merchandise, and fashion apparel and accessories. Hot Topic operates 635 stores in the U.S., Canada and Puerto Rico and an online store at hottopic.com. Find Hot Topic on Twitter (twitter.com/hottopic), Facebook (facebook.com/hottopic), YouTube (youtube.com/hottopic) and Instagram (instagram.com/hottopic).
Ashley Eckstein in a Her Universe designed, handcrafted leather, Darth Vader Couture piece made by designer Doug Dunnam.