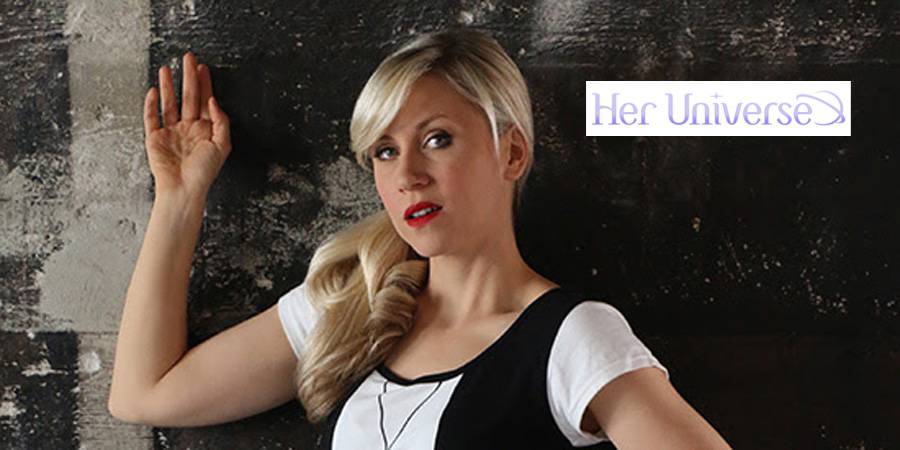 Brian Curran
Her Universe Returns to Star Wars Weekends
May 8, 2014
Ashley Eckstein returns to Star Wars Weekends as host of Behind The Force: Star Wars Rebels! and Her Universe returns with new product and collectible, High-End R2-D2 jewelry line.
Press Release:
Her Universe Returns to Star Wars Weekends with New
Products and Collectible, High-End R2-D2 Jewelry Line
Ashley Eckstein Returns as Host of Behind The Force: Star Wars Rebels
NEW YORK, NY – May 7th, 2014 -The Force is back at Disney's Hollywood Studios theme park with the return of Star WarsWeekends offering fans out-of-this-world entertainment. This year's intergalactic event runs May 16th thru June 15th. Returning for the sixth year in a row is actress Ashley Eckstein, the voice of Ahsoka Tano from Star Wars: The Clone Wars and founder of the popular sci-fi fangirl merchandise company, Her Universe™. This year, Her Universe will debut an all-new Star Wars product line featuring dresses, skirts, fashion tops, tunic tanks and t-shirts in a special boutique located within Darth's Mall. Eckstein, and her business partner, The Araca Group, are particularly excited to offer fans at Star Wars Weekends, for the first time, a new collectible, high-end jewelry line designed at The Sparkle Factory and made in the USA. The first offering, titled the "My Hero Collection," features everyone's favorite droid from the Star Wars franchise, R2-D2. All of these stunning designer pieces are available for under $100 and will debut at Star Wars Weekends and go on sale at www.HerUniverse.com on May 19th.
"R2-D2 is my favorite character in the Star Wars Universe," said Eckstein. "He's my hero because he's always there to save the day throughout the saga. I love jewelry and I wanted higher end Star Wars jewelry that will pass the test of time. I'm proud to debut these beautiful collectibles that were designed at The Sparkle Factory and made in the USA at SWW."
A Star Wars Weekends exclusive is the R2-D2 "My Hero Collection" designer key chain. This uni-sex piece is the perfect gift and collectible. There are only 300 key chains and they are exclusively available at Star Wars Weekends.
"As a company we take pride in creating high quality merchandise," added Michael Rego, Chief Executive Officer of The Araca Group. "We are making a statement with this jewelry line because it's different than anything else in the licensed market right now for women, and we are proud to continue to offer fangirls new products that they can't get anywhere else."
Eckstein will be returning as host of Behind The Force: Star Wars Rebels where she will take fans behind the scenes and experience the newest installment in the Star Wars saga as well as hosting the Padawan Mind Challenge –an interactive Star Wars trivia challenge designed for younglings ages 4 to 11. Eckstein will also be signing autographs and Her Universe Merchandise in Darth's Mall every Friday thru Sunday during the event from 5:00-6:00PM.
Photo credit: – Kelsey Edwards Photography- http://www.kelseyedwardsphoto.com/
About Her Universe
Her Universe was launched in 2010 by actress and entrepreneur Ashley Eckstein and The Araca Group, a leading theatrical production and brand management company. Ashley and Araca created Her Universe to address the expanding market of female sci-fi and fantasy fans. We entered our first agreement with Lucas Licensing to develop and produce a line of female-centered Star Wars apparel and accessories. The success of that line was followed up with a collection for BBC America for Doctor Who, and CBS Consumer Products for Star Trek and AMC for The Walking Dead. You can learn more about Her Universe and purchase the current line of fangirl apparel and accessories by going to www.heruniverse.com and by following Eckstein & Her Universe on Facebook (facebook.com/HerUniverse) and Twitter (twitter.com/HerUniverse).
STAR WARS™ and related properties are trademarks and/or copyrights, in the United States and other countries, of Lucasfilm Ltd. and/or its affiliates. TM & © Lucasfilm Ltd. All rights reserved. All other trademarks and trade names are properties of their respective owners.