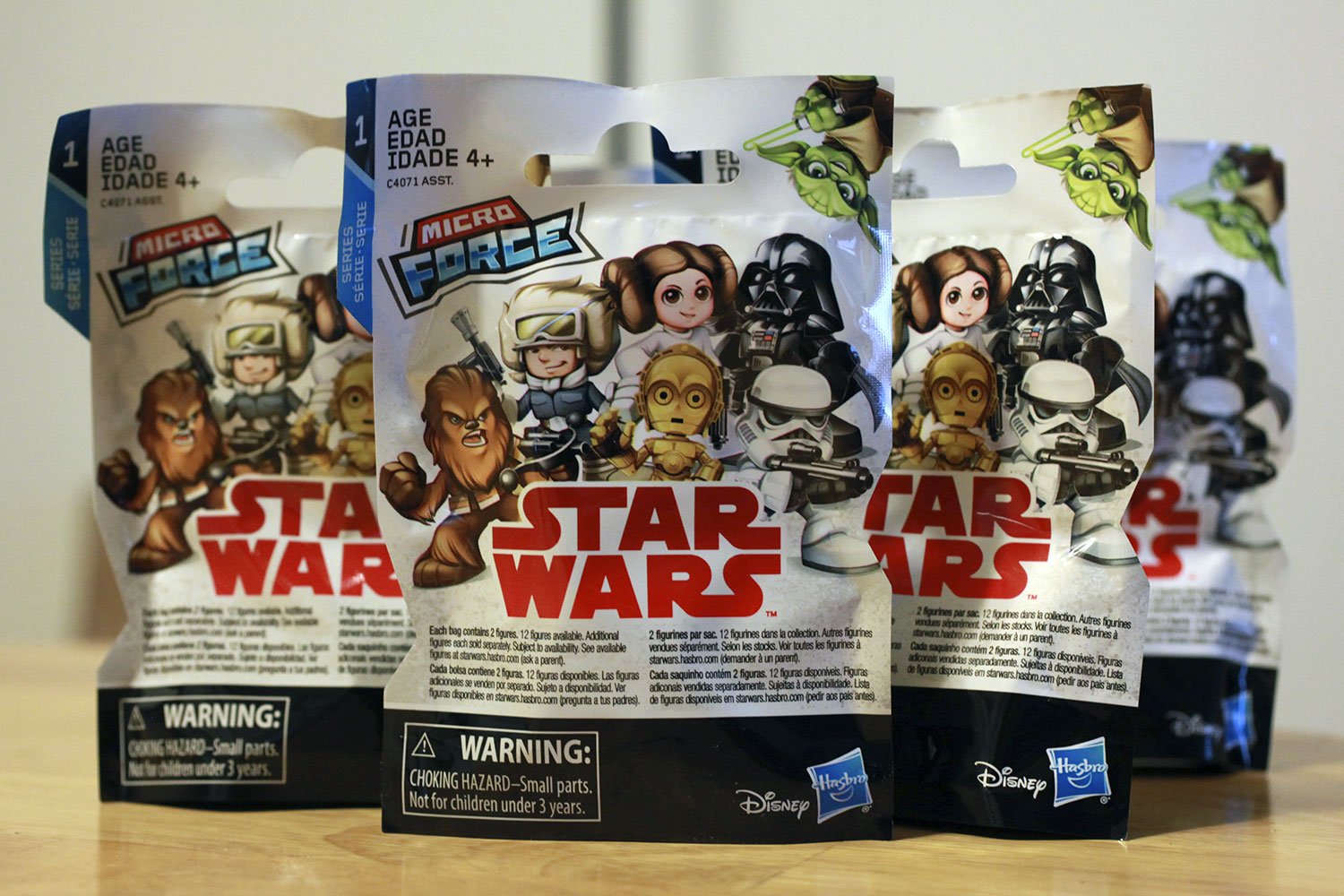 David Yeh
A Micro Look at Star Wars Micro Force
January 5, 2018
Size Matters Not, we are assured, with Star Wars Micro Force – a new line of blind-bag figures taking a cuter look at that galaxy far, far away. Wave One was just recently released in December and we got our hands on a few of them, so let's take a quick look!
In each pouch of Micro Force, you'll find two tiny Star Wars characters standing about 1-inch tall. THAT'S TINY. But for $2.99, that's $1.50 per figure, so not the end of the world and it won't break the bank. The figures are squishy so definitely don't recommend for any children younger than 4 years old.
Wave 1, just released consists of twelve characters:
-Han Solo (Hoth)
-Stormtrooper
-Ahsoka Tano
-Darth Vader
-R2-D2
-Anakin Skywalker (Hologram)
-Boba Fett
-Wicket Warrick
-Princess Leia
-C-3PO
-Chewbacca
-Yoda

We opened up five pouches and only came up with one duplicate: Ahsoka Tano. It's a shame we didn't land a Wicket, as it'll take the patience of a Jedi Master to find one. Still, these are cute, fun, and quite literally a handful.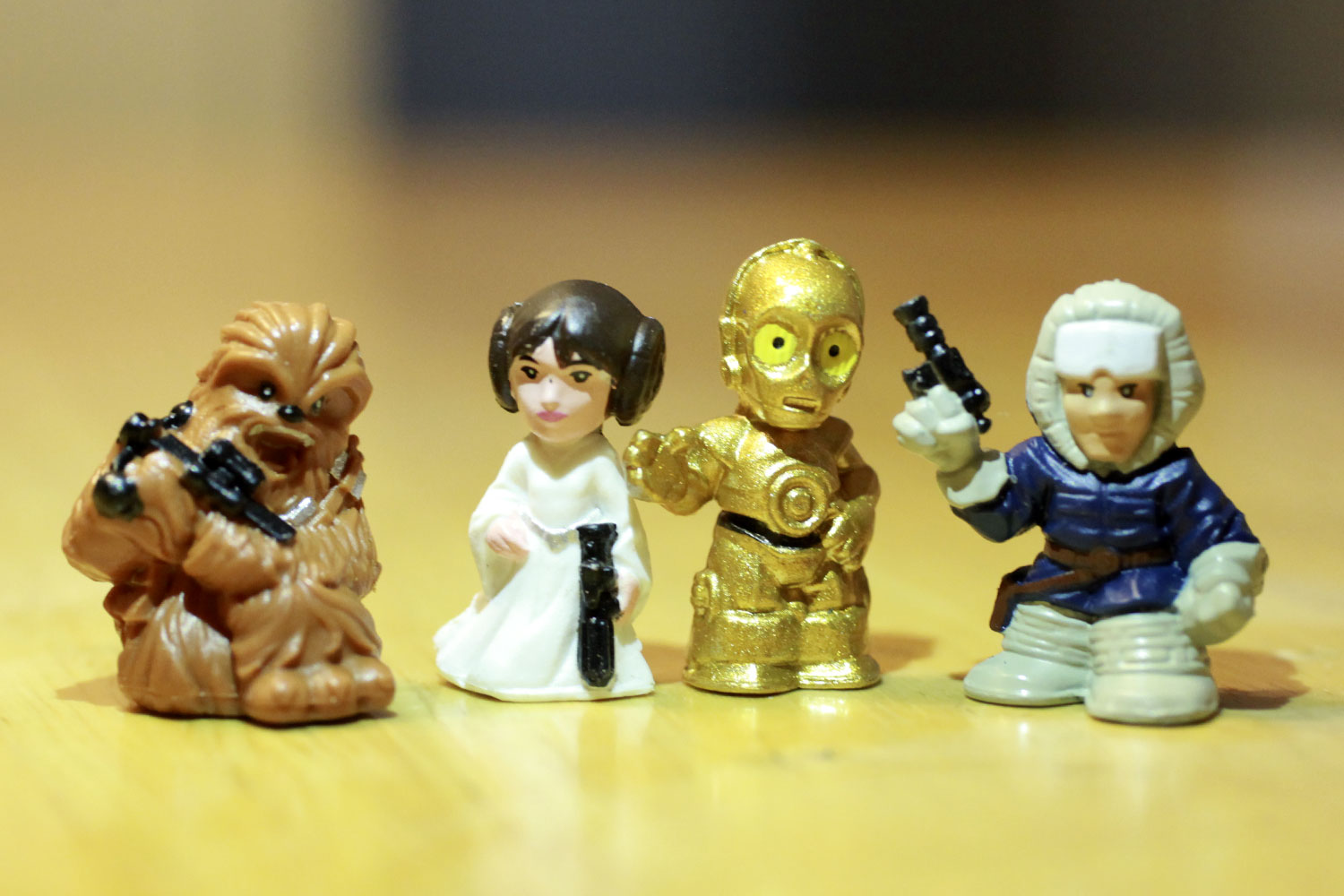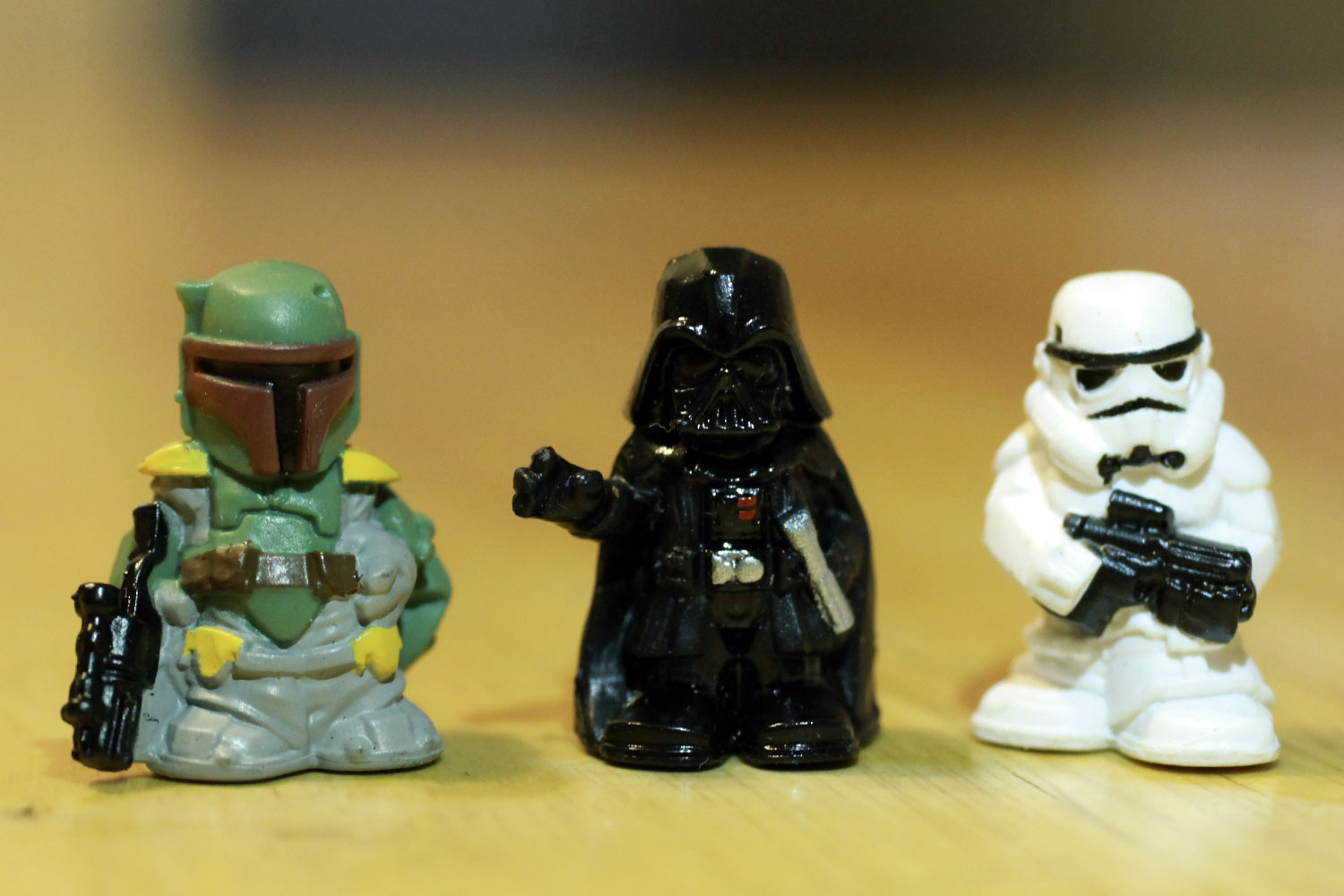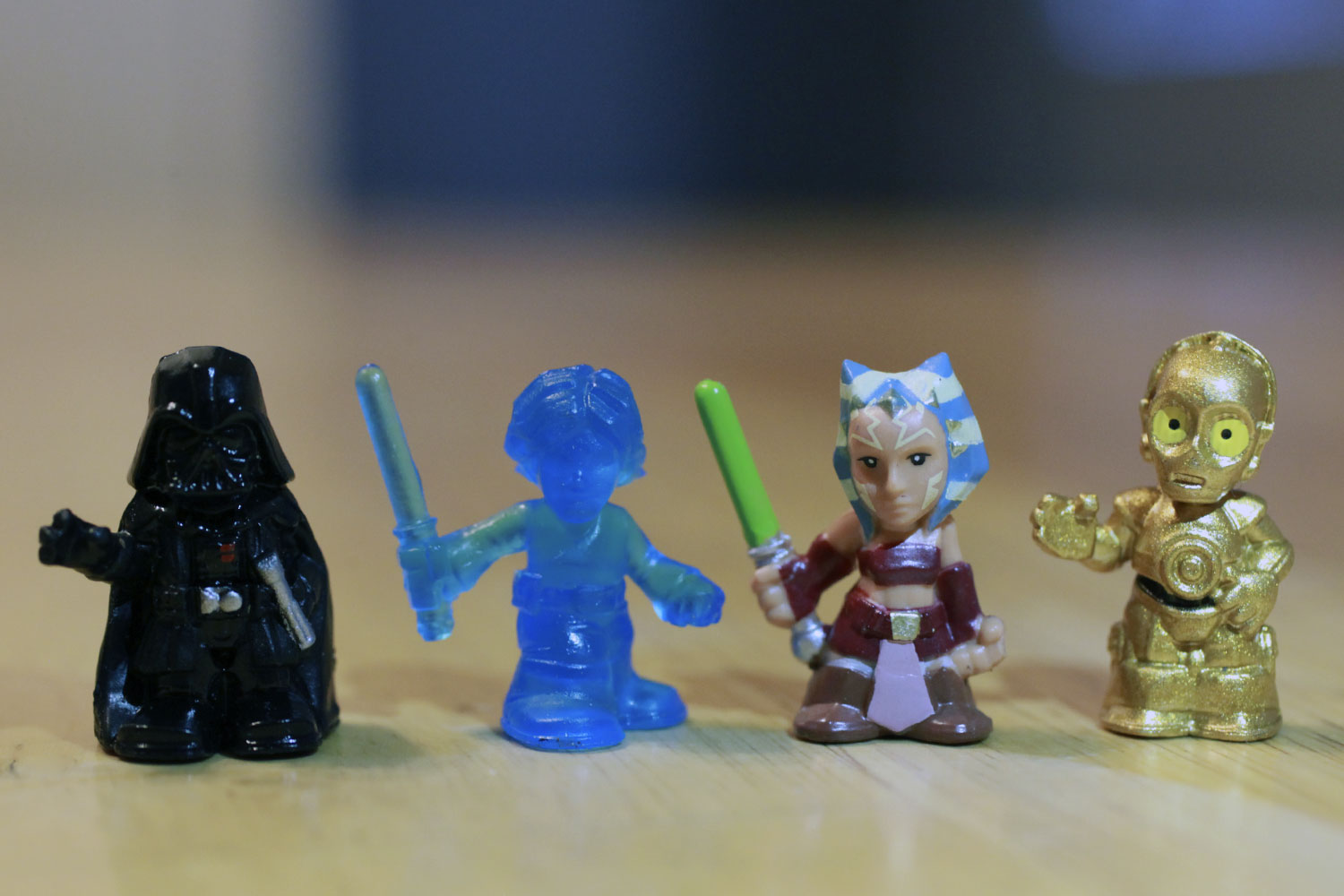 Wave 2, due in stores soon features a darker side to Micro Force:
-Obi-Wan Kenobi (Episode 3)
-Jyn Erso
-Rey
-Finn (Stormtrooper)
-BB-8
-Yoda (Hologram)
-Captain Phasma
-Darth Maul
-Deathtrooper
-TIE Fighter Pilot
-Emperor Palpatine
-Kylo Ren

Read an interview with Hasbro's senior manager of Global Brand Marketing, Andy Ochiltree about the line here.
STAR WARS MICRO FORCE Blind Bags Assortment
(Ages 4 years & up/Approx. Retail Price: $2.99/Available: December 2017)
Collect the Galaxy of fan-favorite characters with the STAR WARS MICRO FORCE Blind Bags Assortment. Each figure has a squishable feel and unique pose, creating an exciting new way to bring iconic STAR WARS scenes to life! These stylized and movie-inspired micro collectibles include iconic characters such as REY, FINN, DARTH VADER, LUKE SKYWALKER, PRINCESS LEIA ORGANA, HAN SOLO, CHEWBACCA, YODA, R2-D2, and more. Each blind bag includes two figures and a collector card. Each sold separately. Available at most major retailers and on HasbroToyShop.com.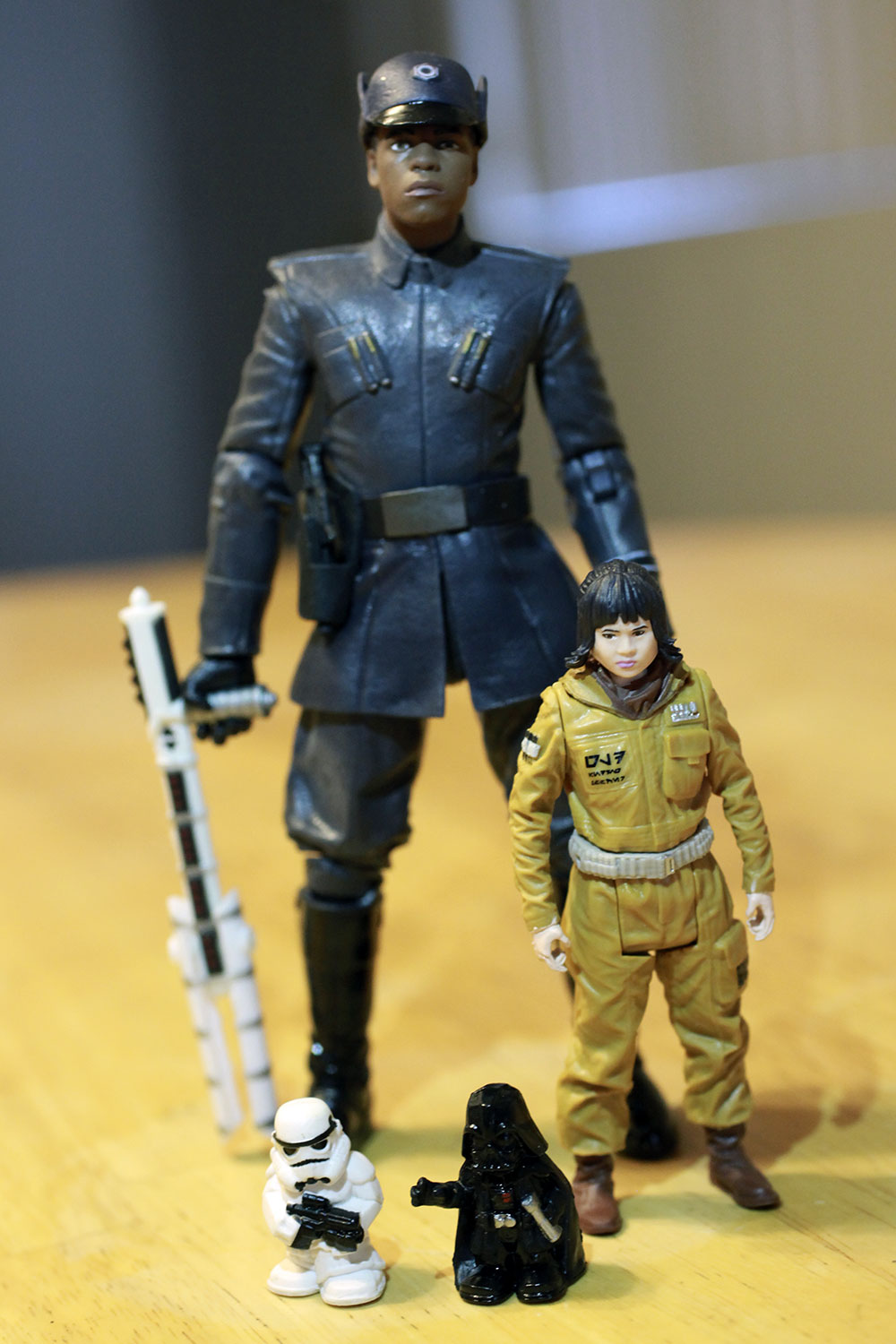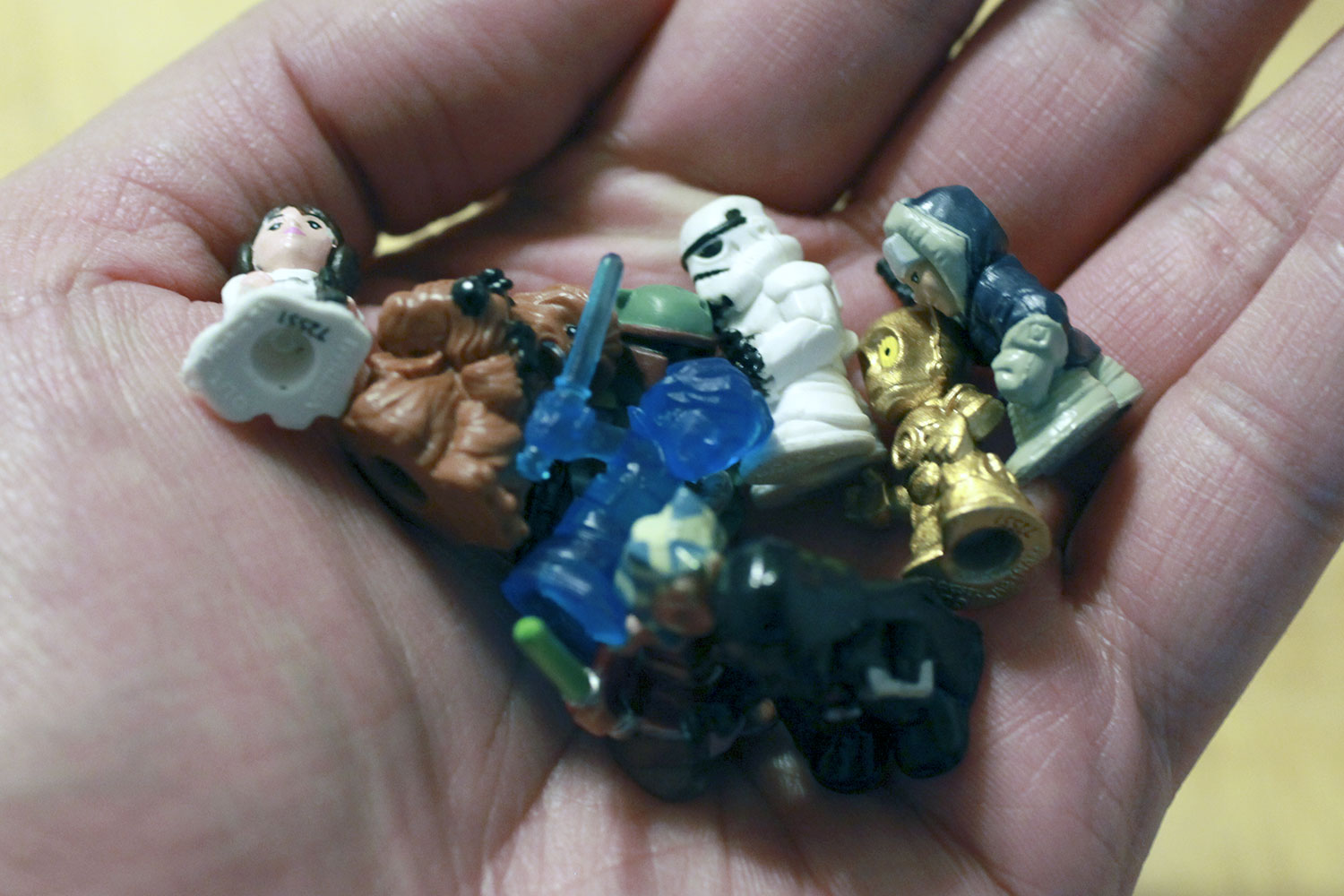 Which of these Micro Force figures are you hoping to get? Let us know!
Photography by David Yeh