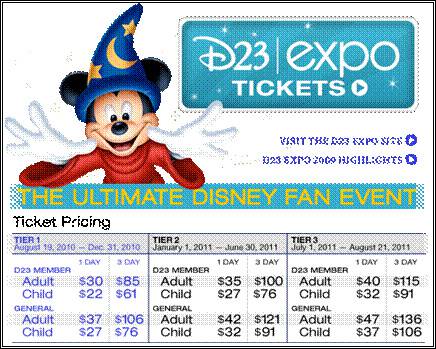 Kris Van de Sande
Early Bird Discount Prices for D23 Expo 2011
December 26, 2010
Friendly Reminder:
Early Bird Discount Prices for D23 Expo 2011
End December 31, 2010
D23 members can save up to $204 off General Admission!*
Not a member?
A membership to D23—Disney's official fan club—is the perfect gift for the Disney fan in your life!
The highly anticipated D23 Expo 2011: The Ultimate Fan Event returns to the Anaheim Convention Center from August 19 – 21, 2011, once again bringing the entire world of Disney under one roof, and offering attendees unprecedented access to Disney films, television and theme parks as only D23: The Official Disney Fan Club can!
An event that only occurs every other year, this is the first D23 Expo since the premiere event in 2009.
Highlights of D23 Expo 2011's weekend activities will include:
2011 Disney Legends. Paying tribute to the talented men and women who have made indelible contributions to Disney entertainment
Treasures of the Walt Disney Archives. Featuring dozen of props, artifacts and costumes, accessible to the public for the first time in Disney's history
Collector's Forum. Where attendees can buy, sell and trade precious memorabilia and merchandise
Fan Art Contest. Themed to 101 Dalmatians in honor of the 50th anniversary of the animated classic
The Ultimate Disney Trivia Tournament will allow participants to demonstrate their Disney knowledge as they compete for outstanding prizes
Many more one-of-a-kind D23 Expo panels, presentations and experiences which will be announced in the coming months.
Read more details on specific prices on the D23 Web site:
Highlights of D23 Membership include:
Disney twenty-three. A one-year subscription (4-issues) to D23's exquisite magazine created exclusively for Disney fans. Each issue comes with a surprise collectible gift. (Gold Membership level only)
Special Offers, Discounts and Contests just for D23 Members.
Annual Membership Gift from the Walt Disney Archives Collection. The 2010 gift is Disney Undiscovered: A 23-Month Calendar of Disney's Unrealized Masterpieces.
Special Events. The opportunity to attend exclusive member events
D23 FanFare. Bi-weekly e-newsletter sent just to D23 Members
Personalized Membership Certificate and D23 Membership Card
For complete details on D23 Membership visit:
www.D23.com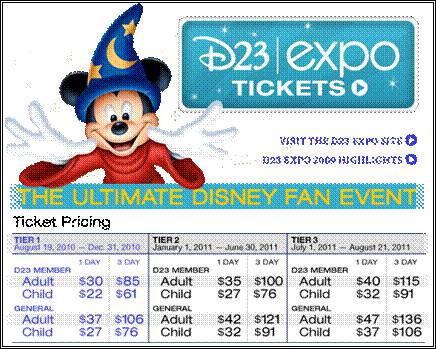 *Based on the purchase of four general admission, three-day adult passes.