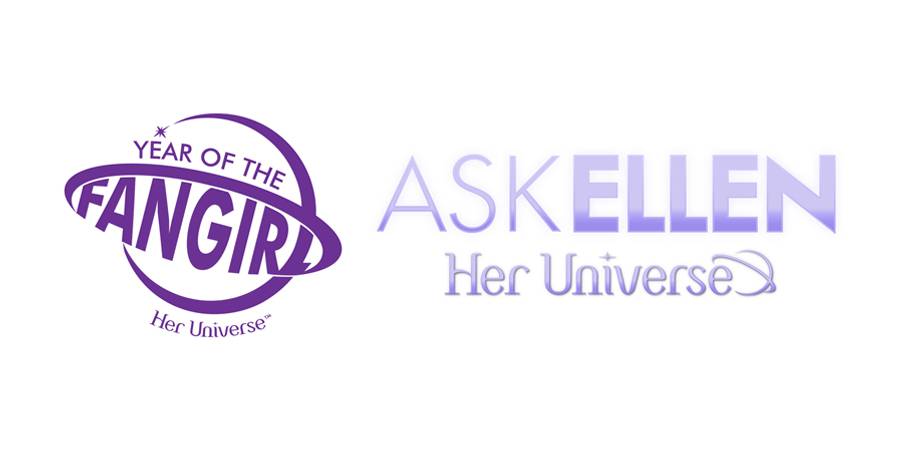 Brian Curran
Ashley Eckstein's Her Universe Launches Ask Ellen
March 5, 2013
"Bullying has been a major problem in the fangirl community and actress Ashley Eckstein has been an advocate in the anti-bullying movement. Wanting to help fight this issue and many other concerns which directly affect fangirls, Eckstein, the voice of Ahsoka Tano on Star Wars: The Clone Wars, and founder of Her Universe™, a leading sci-fi apparel line for women, announced today a new monthly online column offering support and advice to female fans on matters that affect them. The new "Ask Ellen" column is written by Ellen Connell and will run throughout the month on the Her Universe blog at www.HerUniverse.com. "Ask Ellen" will be an ongoing sounding board addressing everyday issues that affect the lives of fangirls and offering possible solutions to these problems."
Press Release:
HER UNIVERSE CREATOR ASHLEY ECKSTEIN REVEALS NEW MONTHLY ONLINE
COLUMN, "ASK ELLEN," OFFERING SUPPORT AND ADVICE FOR FANGIRLS
NEW YORK, NY – March 5th, 2013 – Bullying has been a major problem in the fangirl community and actress Ashley Eckstein has been an advocate in the anti-bullying movement. Wanting to help fight this issue and many other concerns which directly affect fangirls, Eckstein, the voice of Ahsoka Tano on Star Wars: The Clone Wars, and founder of Her Universe™, a leading sci-fi apparel line for women, announced today a new monthly online column offering support and advice to female fans on matters that affect them. The new "Ask Ellen" column is written by Ellen Connell and will run throughout the month on the Her Universe blog at www.HerUniverse.com. "Ask Ellen" will be an ongoing sounding board addressing everyday issues that affect the lives of fangirls and offering possible solutions to these problems.
"Ellen and I have been friends for many years now," said Ashley Eckstein. "This past summer after attending San Diego Comic Con together we both felt a need to do more for the fangirl community. I wanted to find a way to offer advice to fangirls dealing with everyday issues like bullying and Ellen felt compelled to put her knowledge from her studies in clinical psychology to good use. Together we came up with the idea for our column, 'Ask Ellen.' I grew up reading the 'Dear Abby' column in the newspaper, so I am very excited to be able to offer something similar to our fangirls."
Ellen Connell has a Psy.D in Clinical Psychology and is working towards becoming licensed as a Psychologist in California. Before returning to graduate school for her degree, she worked in the animated television and film industry for several years. Two of those years, she worked at Lucasfilm Animation as a Script and Casting Assistant Production Manager for the first season of Star Wars: The Clone Wars, and met Eckstein. Although Connell loved working on The Clone Wars, she also felt called toward another passion—helping people directly as a therapist. Having grown up as a theatre geek who loved fantasy, Connell didn't always fit in with the other kids in her class, and she remembers feeling the loneliness that came from thinking that she didn't belong. After learning to improve her self-esteem as an adult, she felt a desire to help people, especially girls, who struggle to feel better about themselves. Connell left Lucasfilm to attend graduate school, training in psychology, and is currently working as a psychotherapist in San Diego.
"I'm really excited to work with Ashley and the Her Universe community through the 'Ask Ellen' column," Connell said. "I hope to offer support to girls who are struggling to feel good about themselves. I'm glad Her Universe provides a community for fangirls, and I look forward to contributing to it in any way I can."
The "Ask Ellen" column is part of a special year-long campaign, "Year of the Fangirl," which will highlight and recognize one of the fastest growing segments of the sci-fi/fantasy/pop culture audience…women. Every day a different fangirl will be spotlighted on HerUniverse.com, to showcase the community's diversity, dreams and interests.
The "Year of the Fangirl" campaign officially launched February 25th; however, additional elements and opportunities for female fans will be added throughout the year including a very special event in coordination with San Diego Comic Con. More information will follow soon.
About Her Universe
Her Universe was launched in 2009 by actress and entrepreneur Ashley Eckstein, and her partner, The Araca Group, known as one of the most innovative theatrical production and merchandise companies in the world. Her Universe was created to directly address the expanding market of female fans by entering into its first agreement with Lucas Licensing to develop and produce a line of female-centered Star Wars apparel and accessories. The success of that line was followed up with a collection for the Syfy network including such shows as Battlestar Galactica and with BBC Worldwide for Doctor Who and with CBS Consumer Products for Star Trek. You can learn more about Her Universe and purchase the current line of fangirl apparel and accessories by going to www.heruniverse.com and by following Eckstein on Facebook (facebook.com/HerUniverse) and Twitter (twitter.com/HerUniverse).
About Ellen Connell
Ellen Connell has a doctorate in Clinical Psychology and is working towards becoming licensed as a Psychologist in California. She enjoys helping fellow geeks feel confident and more at ease, and she is happy to offer support and information to the Her Universe community. Follow her on Twitter @DrEllenConnell.