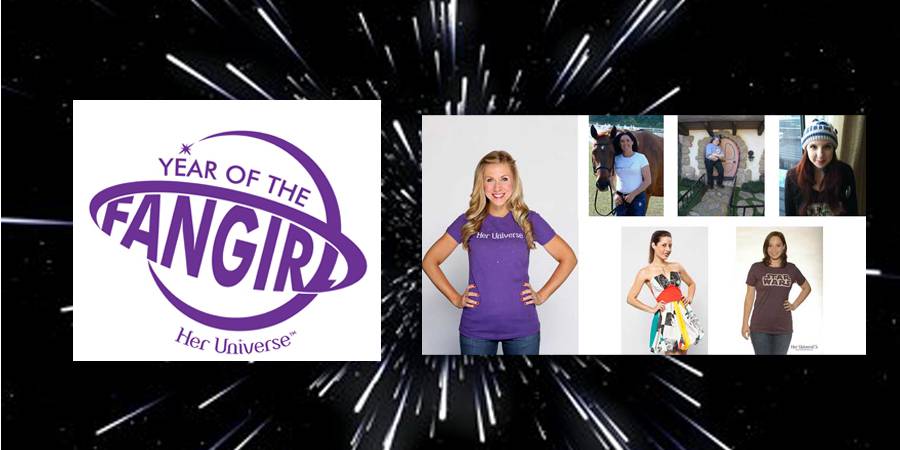 Brian Curran
Her Universe and Transformer's Prime
November 13, 2013
Her Universe's Ashley Eckstein Interviews the Women Behind Transformers Prime in Celebration of "Year of the Fangirl"
Click on over and watch the four videos on HerUniverse.com
Press Release:
NEW YORK, NY – November 13th, 2013 -2013 is the "Year of the Fangirl" and to celebrate, Her Universe™ has been spotlighting a different fangirl every day on HerUniverse.com showing their diversity, dreams and interests. Geek Girls are one of the fastest growing and important segments of the sci-fi/fantasy audience and can be found in every walk of life, including the entertainment business. Now, in four exclusive video segments produced in cooperation with Hasbro Studios and available to watch on HerUniverse.com, Ashley Eckstein, Founder of Her Universe, is highlighting and interviewing the amazing "professional fangirls" behind the award winning animated series, Transformers Prime, produced by Hasbro Studios which airs on the HUB network in the U.S. and is seen in over 180 countries. From voice talent to producing, writing, editing and design these women are "prime" examples of how female fans can achieve their dreams and create worlds of imagination for others to enjoy. You can watch the videos here: http://www.heruniverse.com/blog/news/her-universe-transformers-prime
"We kicked off 2013 with the mission to shine the spotlight on amazing fangirls and bring their stories to the masses," said Eckstein. "We were approached by writer Mairghread Scott and she gave us the opportunity to go behind the scenes and meet many of the incredible women behind Transformers Prime at Hasbro Studios! There are so many fangirls that work tirelessly to bring our beloved franchises to life and it's been a goal of mine to highlight the integral roles that women play and to expose these roles to younger fangirls with big dreams!"
The Transformers Prime series, which concluded in 2013 with a thrilling Transformers Prime Beast Hunters: Predacons Rising animated movie which was broadcast on The Hub network and released on DVD in October, was well-received and won multiple Daytime Emmy Awards during its three season run. In the exclusive videos, Eckstein interviews key female players such as writers Mairghread Scott and Nicole Dubuc, voice actors Sumalee Montano and Tania Gunadi, Animatics Editor Meghan Burleson and Post Production Head Austin Block, Production Coordinator Meredith Rodgers and Animation Producer Therese Trujillo.
"It was a wonderful experience working with Ashley and Her Universe to highlight the fantastic women on Transformers Prime," said writer Mairghread Scott who was also instrumental in creating these videos. "Her Universe is more than a fabulous fashion company; they are a positive force for women in genre entertainment and geek girls everywhere."
About Her Universe
Her Universe was launched in 2009 by actress and entrepreneur Ashley Eckstein and The Araca Group, one of the most innovative theatrical production and brand management companies in the world. Ashley and Araca created Her Universe to address the expanding market of female sci-fi and fantasy fans. We entered our first agreement with Lucas Licensing to develop and produce a line of female-centered Star Wars apparel and accessories. The success of that line was followed up with a collection for the Syfy network including Battlestar Galactica BBC America for Doctor Who, and CBS Consumer Products forStar Trek. You can learn more about Her Universe and purchase the current line of fan-girl apparel and accessories by going to www.heruniverse.com and by following Eckstein on Facebook (facebook.com/HerUniverse) and Twitter (twitter.com/HerUniverse).

About Hasbro Studios
Hasbro Studios is the Los Angeles-based entertainment division of Hasbro, Inc. (NASDAQ: HAS). The studio is responsible for entertainment brand-driven storytelling for the company across television, film, commercial productions and short-form. It develops, produces and distributes TV shows based on Hasbro's world class brands, including TRANSFORMERS, MY LITTLE PONY, LITTLEST PET SHOP and FAMILY GAME NIGHT. Many of these shows air on the Hub Network, a U.S. television network for kids and their families, that is a joint venture between Hasbro and Discovery Communications (NASDAQ: DISCA, DISCB, DISCK). Hasbro Studios shows can also be seen on networks in more than 180 territories globally. Since its formation in 2009, the studio has received seven Daytime Emmy wins and 16 nominations. On the film side, the studio is developing and producing a number of features based on Hasbro's brands, including TRANSFORMERS: AGE OF EXTINCTION (Paramount), G.I. JOE 3 (Paramount) and CANDY LAND (Sony). The studio team also oversees the production of commercials that feature Hasbro's brands as well production of short-form content that can be seen on all of the major digital and social media platforms globally.
The female Autobot Arcee has gained more notability upon appearing in Transformers Prime. She is voiced by Sumalee Montano who is featured in one of Ashley's Transformers Prime video interviews.
Ashley Eckstein interviews Transformers Prime Animation Producer Therese Trujillo and Production Coordinator Meredith Rodgers.
Transformers Prime voice actors Tania Gunadi and Sumalee Montano share a lighthearted moment during their interview with Ashley Eckstein.
Transformers Prime writers Mairghread Scott and Nicole Dubuc during their interview with Ashley Eckstein.
Ashley Eckstein interviews Transformers Prime Post Production Head Austin Block and Animatics Editor Meghan Burleson.