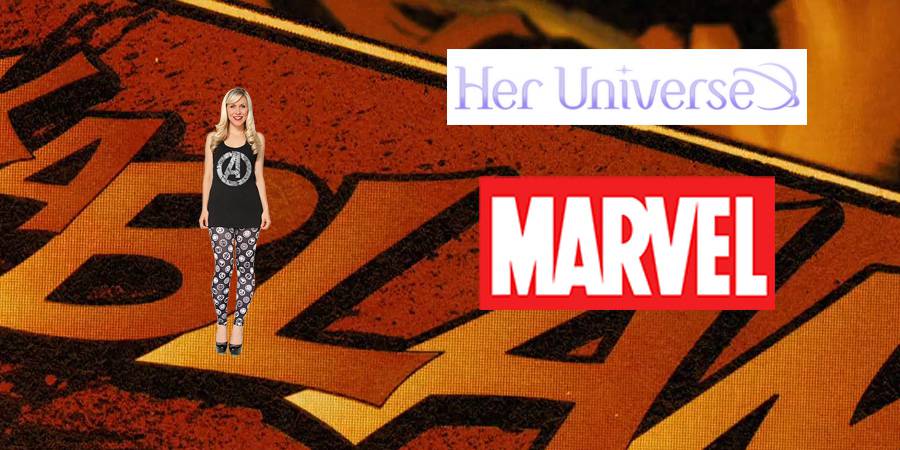 Brian Curran
Her Universe Announces New Marvel Apparel
June 19, 2014
Ashley Eckstein's Her Universe and Marvel Team Up to Launch the Ultimate Fangirl Fashion Apparel Line…
Press Release:
NEW YORK, NY – June 19th, 2014 -Her Universe™, the leader in female genre merchandise, announced today a breakthrough collaboration with Marvel Entertainment and Disney Consumer Products to create a fashionable collection of empowering Super Hero apparel for the ever-growing female fan base of Marvel comics, films and television series. The Marvel by Her Universe line of "geek couture" is premiering with an action-packed assortment of Captain America fashion items along with fan favorite Marvel characters on fashion tops, tanks, dresses, cardigans, hoodies, skirts, leggings and more that will inspire fangirls of all ages to channel their inner Super Hero.
Along with Spider-Man and Avenger characters like Loki, Thor and Iron Man, there are also strong female characters such as Black Widow, Elektra, She-Hulk and Ms. Marvel being spotlighted in their own comics and Marvel's new "Characters and Creators" initiative which aims to speak directly to an audience of women and girls, the Marvel by Her Universe line will celebrate this effort by creating fashion forward products exclusively for the female Marvel fan.
"At Marvel we actively seek innovative opportunities to leverage our iconic characters in the marketplace and expand our storytelling to a larger audience," said Paul Gitter, senior vice president, licensing, Marvel at Disney Consumer Products. "This collaboration with Her Universe presents our brand in exciting new ways at retail while reinforcing Marvel's values of empowerment and strength amongst our female demographic."
Actress and entrepreneur, Ashley Eckstein, who launched Her Universe with her business partner, The Araca Group, in 2010, is well-known to sci-fi fans as the voice of Dagger on the animated series, Marvel's Ultimate Spider-Man.
"I am so excited to announce that we have joined forces with Marvel for a Her Universe line of apparel," said Eckstein. "The fans have been asking us to make Marvel merchandise and it's been on my wish list for a long time! There are so many compelling characters in the Marvel Universe and it is a dream come true to be able to collaborate with Marvel and design with these celebrated Super Heroes and villains!"
"As long time devoted fans of the Marvel Universe," added Michael Rego, Chief Executive Officer of The Araca Group, "we feel incredibly humbled to work alongside this most iconic brand – 'Nuff said!'"
Marvel apparel and accessories from the Her Universe collection will be available in the U.S. at both HerUniverse.com and through national retail outlets such as Hot Topic and online with ThinkGeek.com. Throughout the year, Marvel merchandise will also be available at select conventions including San Diego Comic-Con.
Listen to Her Universe Founder, Ashley Eckstein, talk about Fangirls and Marvel on "The Nerdist Comics Panel" podcast Saturday June 21st at http://www.nerdist.com/podcast_channel/nerdist-comics-panel-channel/.
Photo credit: – Kelsey Edwards Photography- http://www.kelseyedwardsphoto.com/
About Her Universe
Her Universe was launched in 2010 by actress and entrepreneur Ashley Eckstein and The Araca Group, a leading theatrical production and brand management company. Ashley and Araca created Her Universe to address the expanding market of female sci-fi and fantasy fans. We entered our first agreement with Lucas Licensing to develop and produce a line of female-centered Star Wars apparel and accessories. The success of that line was followed up with a collection for BBC America for Doctor Who, and CBS Consumer Products for Star Trek and AMC for The Walking Dead. You can learn more about Her Universe and purchase the current line of fangirl apparel and accessories by going to www.heruniverse.com and by following Eckstein & Her Universe on Facebook (facebook.com/HerUniverse) and Twitter (twitter.com/HerUniverse).
About Marvel Entertainment
Marvel Entertainment, LLC, a wholly-owned subsidiary of The Walt Disney Company, is one of the world's most prominent character-based entertainment companies, built on a proven library of more than 8,000 characters featured in a variety of media over seventy years. Marvel utilizes its character franchises in entertainment, licensing and publishing. For more information visit marvel.com. © MARVEL.
About Disney Consumer Products
Disney Consumer Products (DCP) is the business segment of The Walt Disney Company (NYSE:DIS) that delivers innovative and engaging product experiences across thousands of categories from toys and apparel to books and fine art. As the world's largest licensor, DCP inspires the imaginations of people around the world by bringing the magic of Disney into consumers' homes with products they can enjoy year-round. DCP is comprised of three business units: Licensing, Publishing and Disney Store. The Licensing business is aligned around five strategic brand priorities:Disney Media, Classics & Entertainment, Disney & Pixar Animation Studios, Disney Princess & Disney Fairies, Lucasfilm and Marvel. Disney Publishing Worldwide (DPW) is the world's largest publisher of children's books, magazines, and digital products and also includes an English language learning business, consisting of over 40 Disney English learning centers across China and a supplemental learning book program. DPW's growing library of digital products includes best-selling eBook titles and original apps that leverage Disney content in innovative ways. The Disney Store retail chain operates across North America, Europe and Japan with more than 350 stores worldwide and is known for providing consumers with high-quality, unique products. Disney's official shopping portals online arewww.DisneyStore.com and www.DisneyStore.co.uk. For more information, please visit Disney Consumer Products www.DisneyConsumerProducts.com or follow us at www.YouTube.com/DisneyLiving
www.Pinterest.com/DisneyLiving
www.Instagram.com/DisneyLiving