David Yeh
Roar For Change
May 3, 2018
Do you love Chewbacca? Do you also love helping kids in need? GOOD! It's time to 'Roar for Change'! You've already heard of Star Wars: Force For Change and all the great work they've done in support of UNICEF, and starting today they're asking for your help once again. Share your best Chewbacca roar on social media with the hashtag #roarforchange between May 3 – 25, 2018 and Star Wars: Force for Change U.S. will donate $1 to UNICEF USA for every public post, like, or share on Facebook, Instagram or Twitter, up to $1 million! That's a lot of money to help the world's most vulnerable children. More details below, but start working on that little roar of yours!
Also, fans that roar and post on social media in Disney Store locations nationwide will receive 10% off their Star Wars purchase from May 4-6. Lucky fans at the Disney Store in San Francisco can meet Chewbacca in person as well! In New York, LEGO is taking to the streets with the first-ever Brick Millennium Falcon pedicab. For more information about the campaign, visit ForceForChange.com.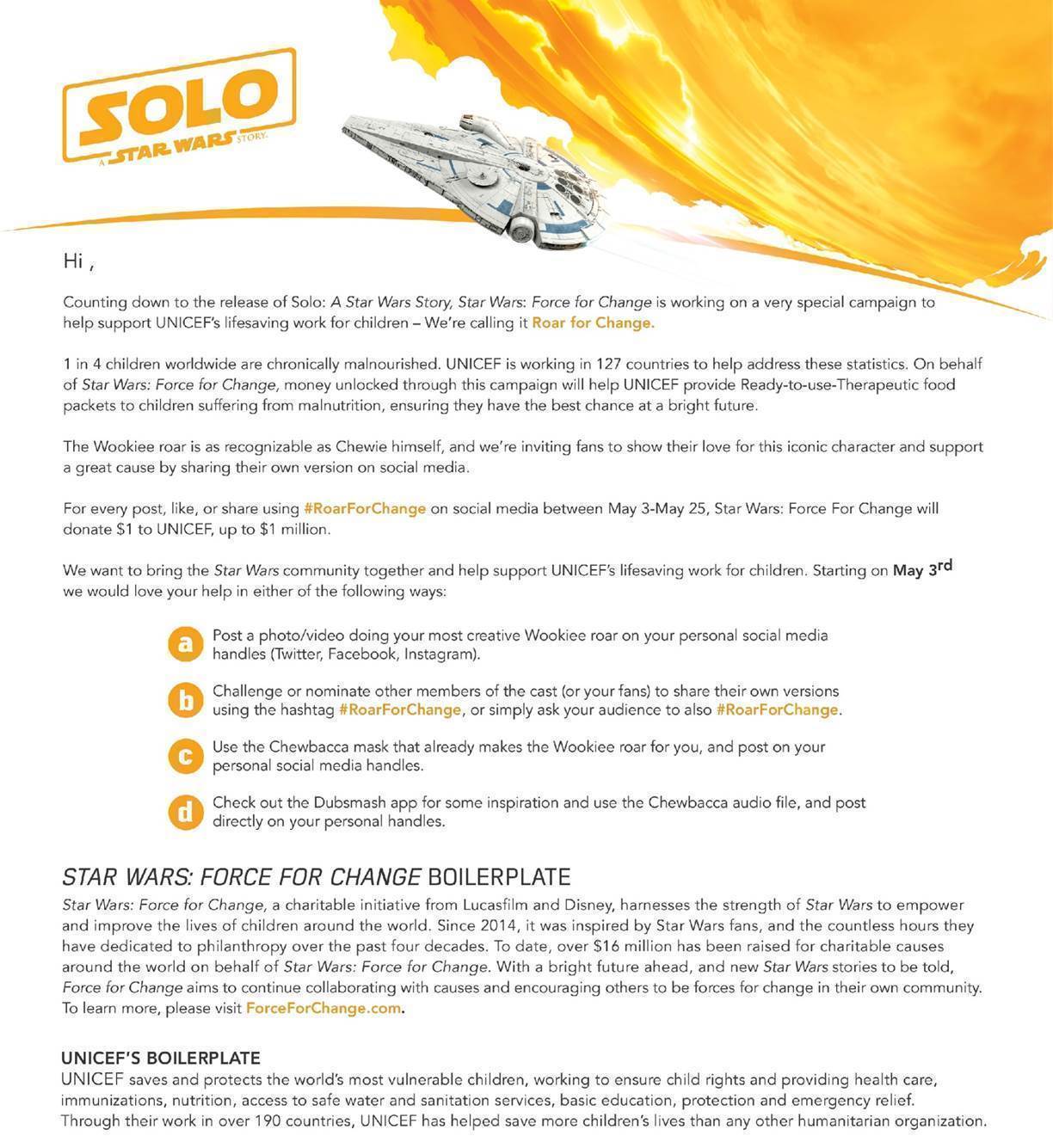 *Campaign hashtags include:
#RoarForChange
#RugirParaMudar
#RugePorElCambio
ABOUT UNICEF
UNICEF saves and protects the world's most vulnerable children, working to ensure child rights and providing health care, immunizations, nutrition, access to safe water and sanitation services, basic education, protection and emergency relief. Through their work in over 190 countries, UNICEF has helped save more children's lives than any other humanitarian organization.