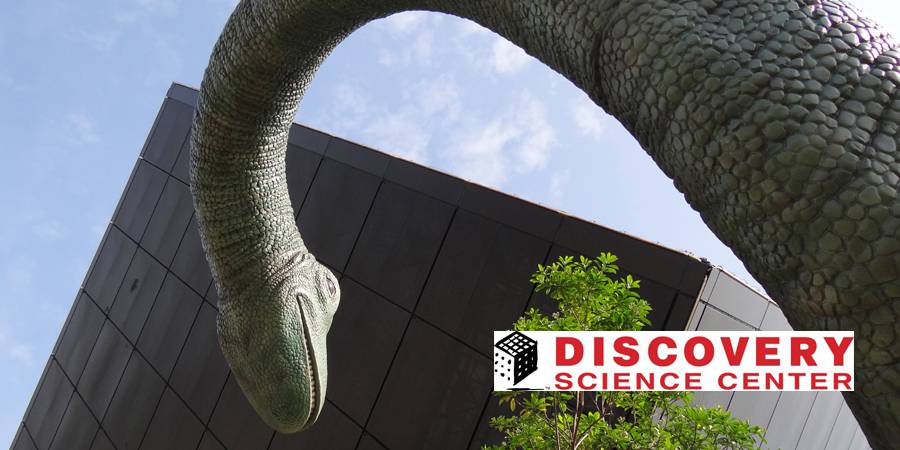 Brian Curran
Discovery Science Center Hosts MythBusters: The Explosive Exhibition
May 21, 2014
Tickets are now on sale for MythBusters: The Explosive Exhibition at The Discovery Science Center in Santa Ana, California. The exhibit is based on the popular TV show and will run June 17 – September 7, 2014. Read the press release posted below for more information on the new exhibit and The Discovery Cube.
Press Release:
Discovery Science Center Hosts MythBusters: The Explosive Exhibition
The Cube offers visitors the chance to become a MythBuster during the blockbuster exhibit of the summer – June 14 – September 7, 2014; tickets now on sale
SANTA ANA, Calif. (May 20, 2014) – Discovery Channel's Emmy®-nominated series comes to life to uncover truths behind popular myths by mixing scientific method with gleeful curiosity and old-fashioned ingenuity in MythBusters: The Explosive Exhibition, which makes its way to Discovery Science Center beginning June 14, 2014 – September 7, 2014.
The exhibition creates hands-on, interactive experiences for guests of all ages by combining popular scientific facts with innovative, family-friendly displays. In MythBusters, co-hosts Adam Savage, Jamie Hyneman, Tory Belleci, Kari Byron and Grant Imahara take scientific investigation to exciting new levels by proving or exploding myths using their highly experimental approach and extensive backgrounds in special effects. Savage and Hyneman were heavily involved throughout the development of the exhibition to ensure guests experience a true MythBusting encounter.
"It's exciting to see fans take on some of our favorite experiments from the show while drawing their own conclusions and data," said Savage. "Although they are tackling the same myths and questions, each guest can have a unique experience within the exhibit."
"We hope people have fun at the exhibit and get a sense of what it is like doing the show."added Hyneman.
Guests of Discovery Science Center will learn about myths, the MythBusters and what experimenting is all about by participating in a series of fun, hands-on experiences and live demonstrations. Experiments cover topics such as flight, friction, gravity, speed and combustion. The exhibition showcases:
* Blueprint Room – Based on the real-life operations room of the MythBusters' iconic set, this room acts as an introduction to MythBusting and is filled with gadgets, props, video and, of course, blueprints used by the hosts to explore myths on the show.
* Workshop – This is the place where guests turn into investigators and use real science to test myths. Guest discover whether they get more wet running versus walking in the rain and find out if toast really does always land buttered-side down.
* Live MythBusters Demonstration Stage – Here guests have the opportunity to view and participate in live science demonstrations that dissect myths with the help of a team of energetic MythBusting facilitators.
"This exhibit is pure science at its core," said Joe Adams, president of Discovery Science Center. "One of our cornerstone initiatives here at the Science Center is S.T.E.M. proficiency and this exhibit allows guests to experiment, hypothesize, and measure results by engaging and using their hands!"
Doors open to the public on June 14, 2014. MythBusters: The Explosive Exhibition is currently $10 per person plus general admission fees. Discounted tickets are available for a limited time. Tickets can be purchased at the Science Center or online atwww.discoverycube.org. General admission prices are as follows: adult ($16.95), senior ($12.95), and children ages 3-14 ($12.95). For more information on MythBusters: The Explosive Exhibition, visit MythBustersTheExhibition.com.
MythBusters: The Explosive Exhibition was created by Discovery Communications and Exhibits Development Group (EDG), in partnership with the Museum of Science and Industry, Chicago (MSI) and Geoffrey M. Curley + Associates (GMC+A). MythBusters, the series, is developed and produced by Beyond Entertainment Limited. Financing for this exhibition has been made possible by Olympus Capital Investments, LLC, a unit of Olympus Holdings, LLC.
About the MythBusters:
Jamie Hyneman, Adam Savage, Tory Belleci, Kari Byron and Grant Imahara are the hosts of MythBusters, Discovery Channel's Emmy nominated series , that takes a searching and irreverent look at scientific investigation. With extensive backgrounds in special effects and a humorously skeptical outlook that prompts them to test everything before they believe it's true, the MythBusters have proven or exploded ideas about science for eight seasons on the show, building a devoted and diverse fan base along the way. The MythBusters TV series is produced by Beyond Entertainment Limited.
About Discovery Communications
About Discovery Communications: Discovery Communications (Nasdaq: DISCA, DISCB, DISCK) is the world's #1 pay-TV programmer reaching 2.5 billion cumulative subscribers in more than 220 countries and territories. Discovery is dedicated to satisfying curiosity, engaging and entertaining viewers with high-quality content on more than 200 worldwide television networks, led by Discovery Channel, TLC, Animal Planet, Investigation Discovery and Science, as well as U.S. joint venture networks OWN: Oprah Winfrey Network and the Hub Network. Discovery also is a leading provider of educational products and services to schools, including an award-winning series of K-12 digital textbooks, and a digital leader with a diversified online portfolio, including Discovery Digital Networks. For more information, please visit www.discoverycommunications.com.
About Exhibits Development Group (EDG):
EDG is dedicated to the development, production, marketing and distribution of traveling museum exhibitions and cultural projects. EDG also serves as a partner to other exhibition organizers, museums, foundations and collection owners in the U.S. and abroad in the care and stewardship of their exhibitions and collections. EDG's mission is to initiate and promote international cultural and intellectual exchange by bringing high-quality traveling exhibitions of art, science, and history to broad and diverse audiences. For more information, please visit exhibitsdevelopment.com.
About Geoffrey M. Curley + Associates (GMCA):
GMCA is an innovative consulting company to support the development and execution of new and vibrant educational, hands-on, minds-on experiences. GMC+A's goal is to integrate new, cutting-edge technologies, environmental design and emotional storytelling with tantalizing visual audio and tactile experiences making exhibitions more personal artistic, fun, educational and memorable. For more information, please visitgmcurley.com.
About Discovery Science Center:
For over 25 years, Discovery Science Center (DSC) has been a non-profit organization that inspires and educates young minds through engaging science based programs and exhibits to create a meaningful impact on the communities they serve. With one of the largest education outreach programs in the county and an unparalleled approach at creating immersive, game-based exhibits, Discovery Science Center is revolutionizing how educational content is delivered. In 2012, DSC was named one of the ten "Most Trusted Brands" in Orange County and in 2013 was awarded the National Medal of Service from the Institute of Museum and Library Services. DSC owns and operates the Taco Bell Discovery Science Center based in Santa Ana, California and will be opening a second facility in Los Angeles in 2014. For more information, call (714) 542-CUBE or visit www.discoverycube.org/.
Contact:
Dan Nasitka
news@discoverycube.org