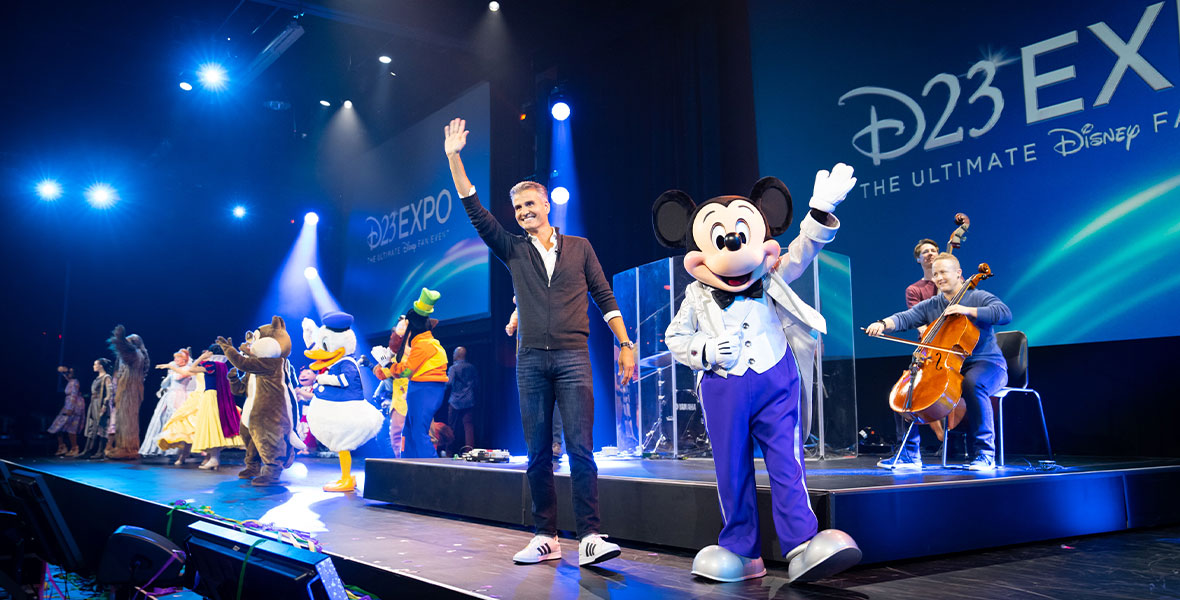 © 2015 Disney Enterprises, Inc. All rights reserved.
D23 Expo: A Boundless Future: WDW & More
Article
September 20, 2022
Chairman of Disney Parks, Experiences, and Products, Josh D'Amaro took guests of the D23 Expo on a grand circle tour of what's coming next to the Disney Parks around the world in: A Boundless Future panel. There was so much Disneyland that you can find that update in a separate post here. Here we'll update you on what was revealed and announced at Walt Disney World, Tokyo Disney Resort, Disneyland Paris, Hong Kong Disneyland, and Shanghai Disney Resort, and more.
Walt Disney World
Kicking things off was a performance of the song "Happily Ever After", an indication that the fan-favorite fireworks spectacular will return in 2023 at the Magic Kingdom.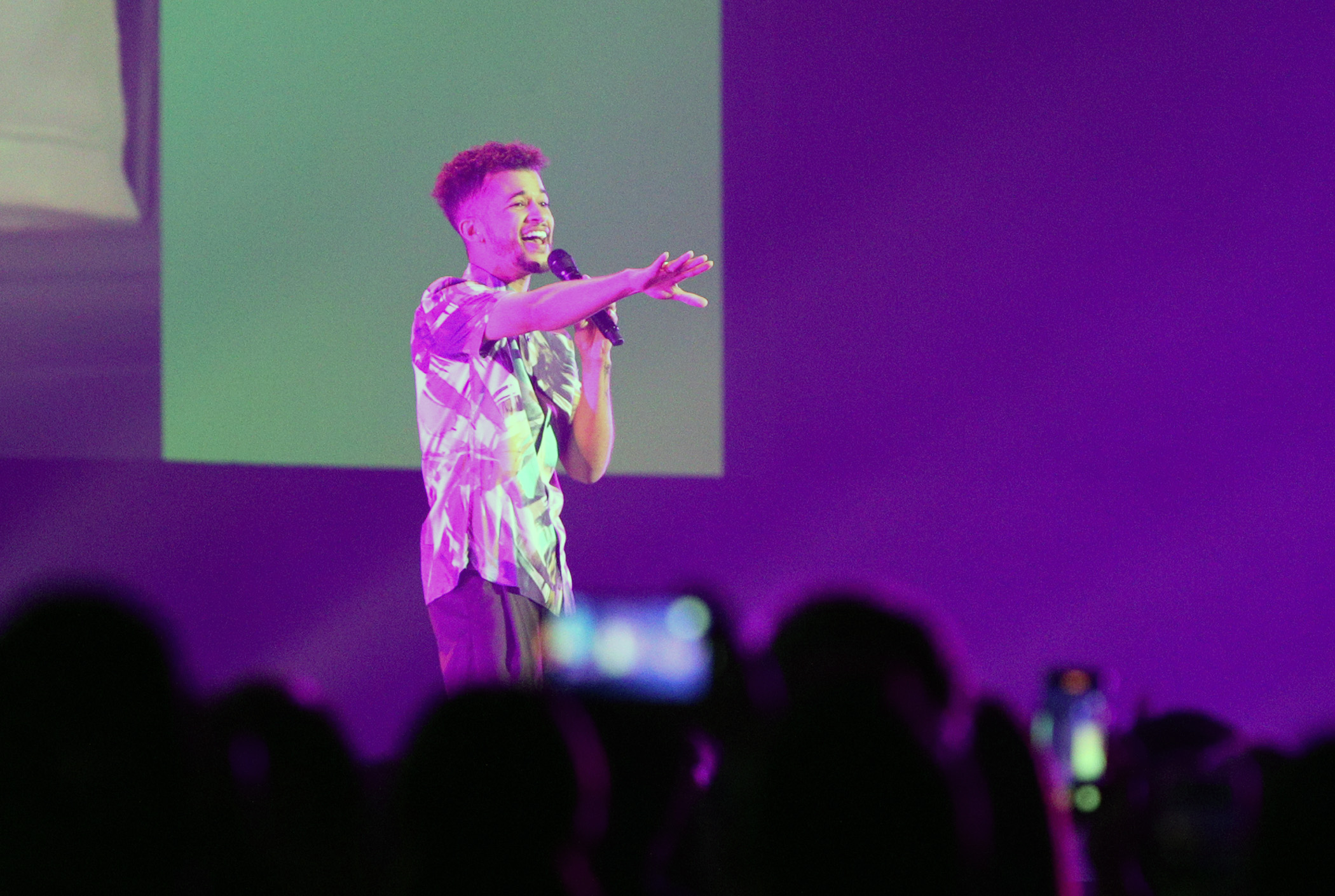 Coming up next in Spring 2023 is the long awaited TRON: Lightcycle Run opening in Tomorrowland of the Magic Kingdom. Also coming next year to the Magic Kingdom is the addition of fan-favorite character Hatbox Ghost to the Haunted Mansion. EPCOT'S Mascot, Figment is also announced as returning for meet & greets in 2023.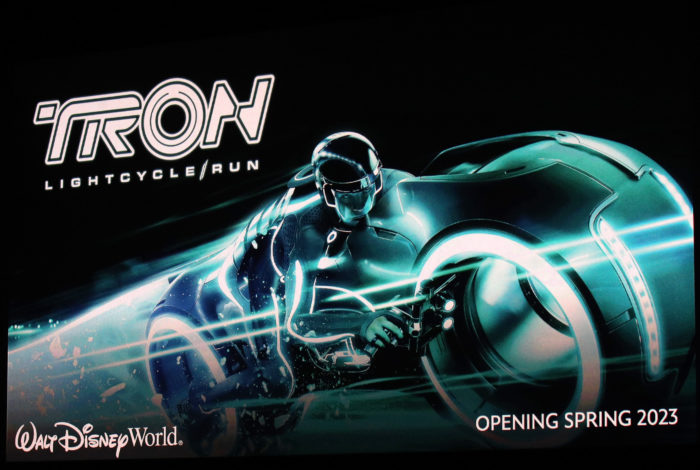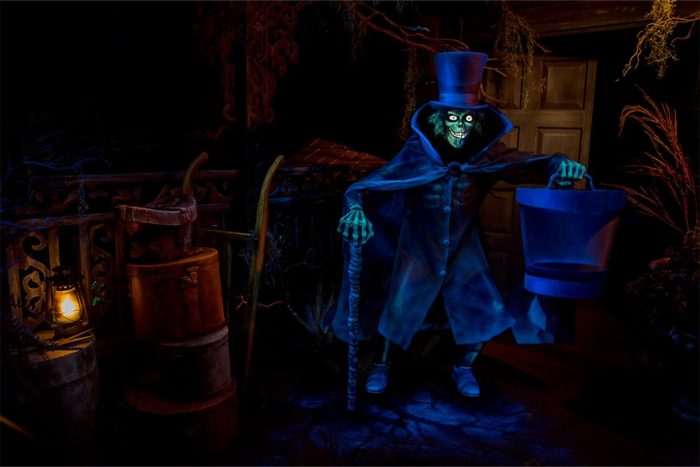 Tiana's Bayou Adventure, replacing Splash Mountain is set to open in late 2024. The adventure is set to take place immediately following the events of the popular film "The Princess and the Frog", with Princess Tiana putting guests on a quest to find a missing ingredient she needs for her celebration. Cast members set to return to provide voices are Anika Noni Rose (Tiana), Bruno Campos (Prince Naveen), Michael Leon Wooley (Louis), and Jennifer Lewis (Mama Odie).

Imagineers Carmen Smith, Charita Carter, and Ted Robledo talked about the update and promise that it is a love letter to the city of New Orleans and will look beautiful after dark. Digital renderings provide a look at the Orlando version of the ride that will still reside in Frontierland. Models found in the Imagineering pavilion provide a look at the Disneyland version but both should be pretty similar.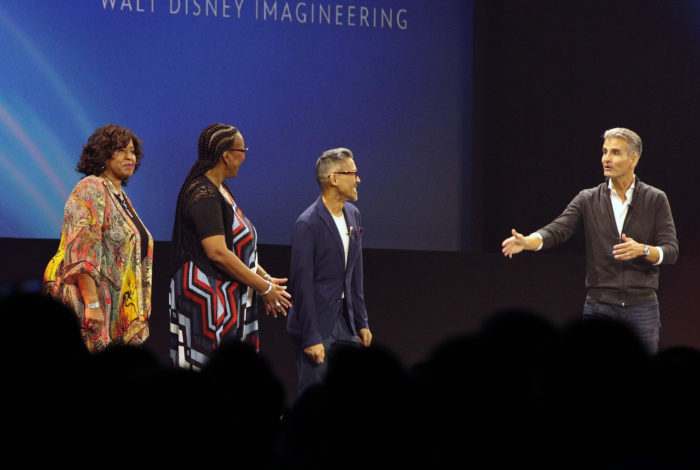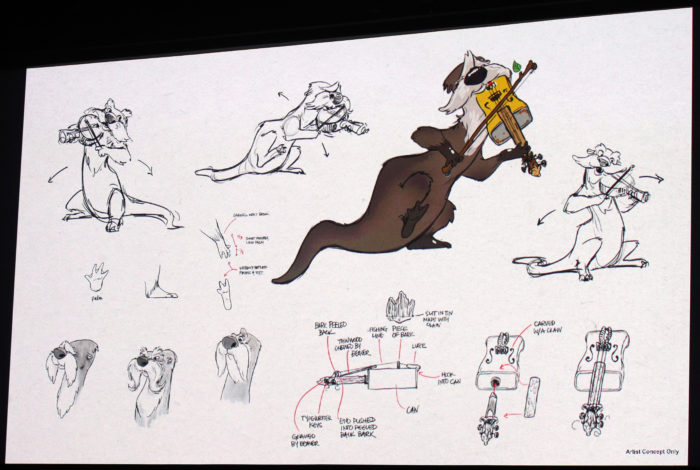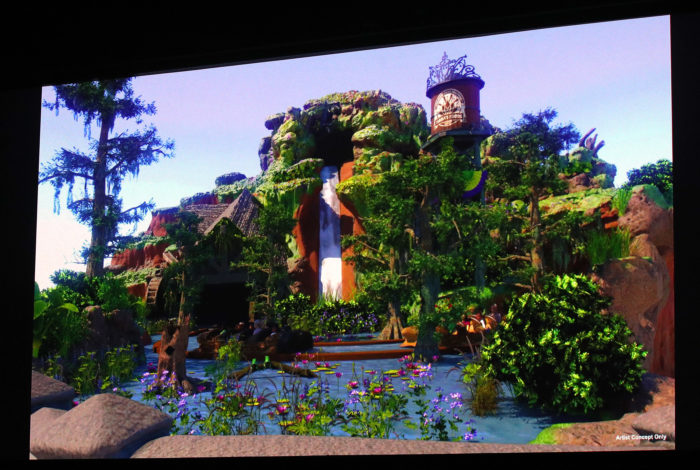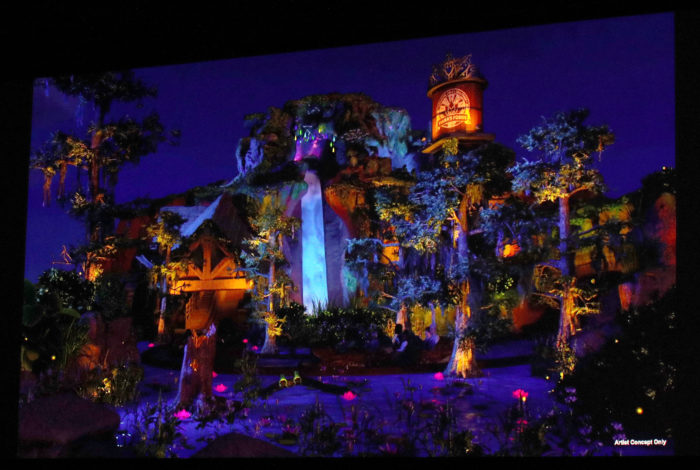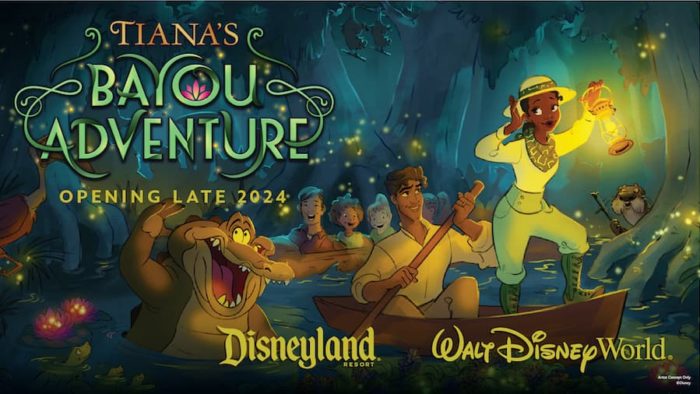 Over at EPCOT, the transformation continues with a beautification project. The neighborhood called World Nature will feature a new Te Fiti in Journey of Water – Inspired by Moana, opening in late 2023. The exploration trail will allow guests to learn about the story of water on our planet.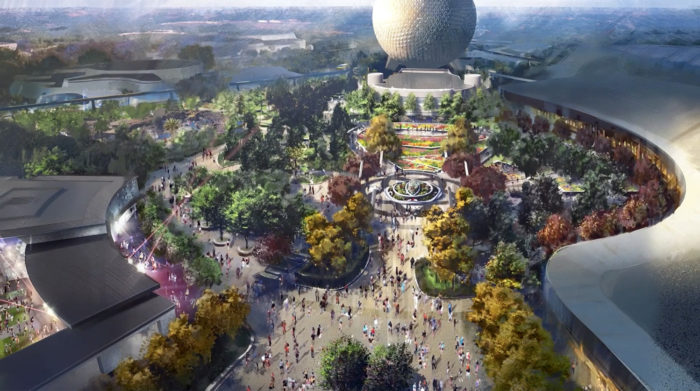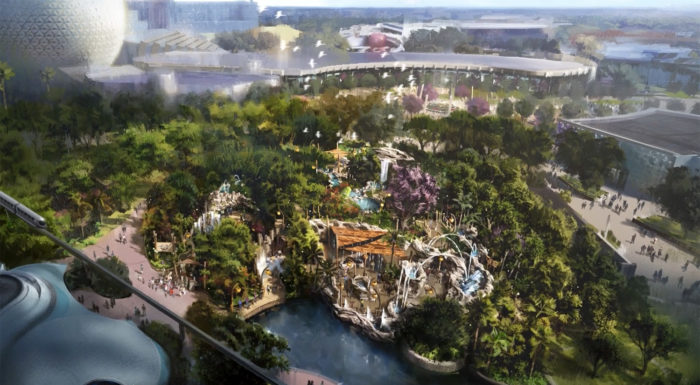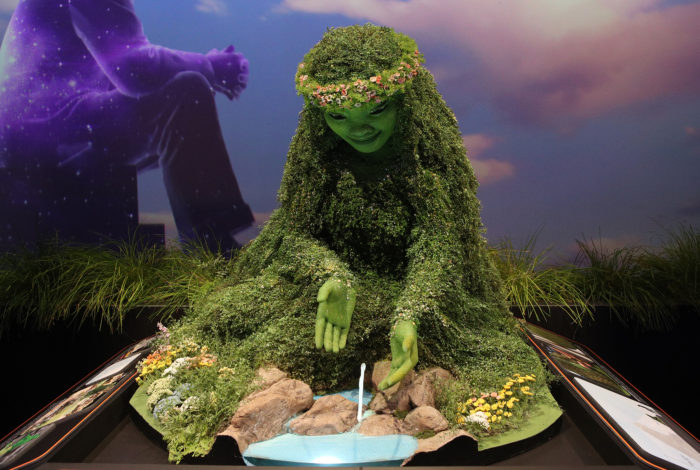 Also coming to EPCOT is a new statue titled "Walt the Dreamer". Last but not least, it was revealed that
a brand-new nighttime spectacular will come to the World Showcase Lagoon at EPCOT in late 2023 as part of the Disney100 Celebration.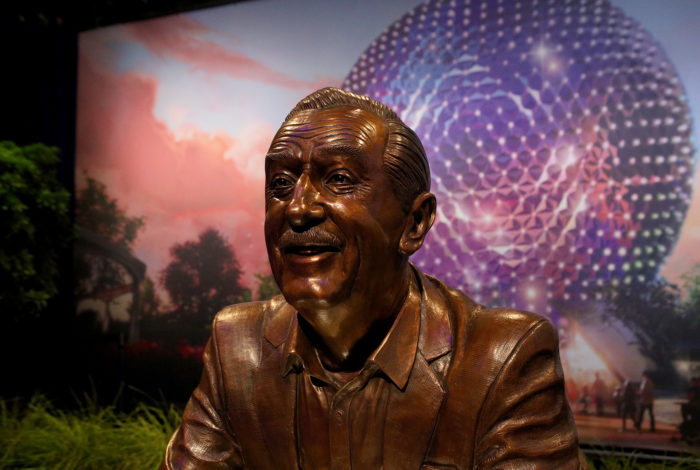 Disney Cruise Line
Following the launch of the Disney Wish, D'Amaro announced the sixth vessel that will join the fleet: the Disney Treasure. Inspired by Walt Disneys love of exploration, the Disney Treasure will embrace the theme of adventure, paving the way for some of the company's most epic experiences.

The Grand Hall will radiate the irresistible allure of adventure, inviting guests to seek all the treasures on board from the moment they embark. Inspired by the grandeur and mystery of a gilded palace, it draws on real-world influences from Asia and Africa and pays homage to the far-off land of Agrabah from Walt Disney Animation Studios' classic tale, "Aladdin." 

The signature atrium character statue — a Disney Cruise Line tradition — will be a shining, shimmering, splendid representation of Aladdin, Jasmine and Magic Carpet soaring together toward a whole new world of adventure.

The Disney Treasure is scheduled for delivery in 2024. Following the Disney Wish, which set sail in July, it's the second of three new ships planned through 2025. The Wish class ships are powered by liquefied natural gas and feature 1,254 guest staterooms.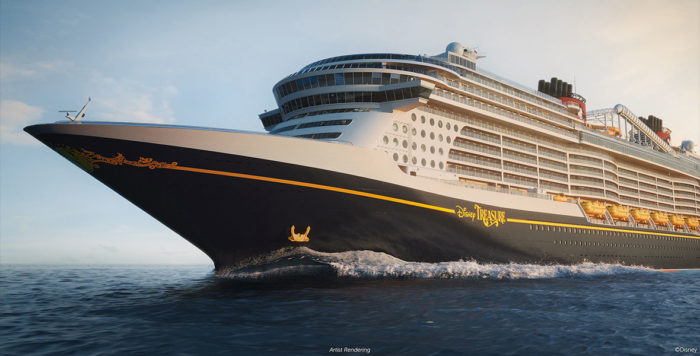 Disney's second island destination in the Bahamas intended for the Disney Treasure is located on the island of Eleuthera at a place called Lighthouse Point.

Disney is working closely with Bahamian artists and advisors to create a destination that represents the natural beauty and rich culture of the Bahamas, brought to life through Disney storytelling and the unparalleled service of local cast and crew. It will be a vibrant beach retreat infused with the color and energy of Bahamian artistry.

In addition to the pristine beaches, families will enjoy a recreation center, dining, shopping, a water playground and more. There will even be a dedicated cultural pavilion where guests will be immersed in stories and traditions passed down among generations of local residents.

Disney has committed to develop less than 20 percent of the property, supply 90 percent of the site's power from solar energy, employ sustainable building practices, and donate more than 190 acres of privately owned land to the government. Environmental management programs have already been established and will continue throughout construction and into operation.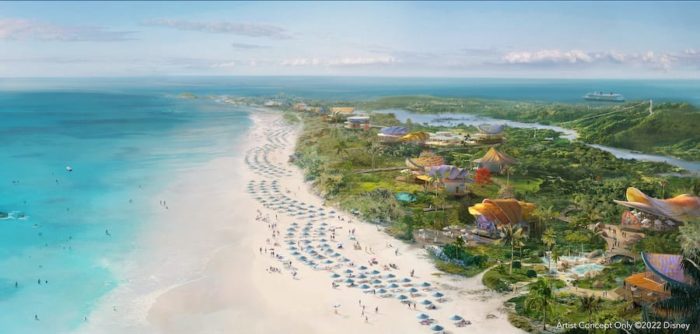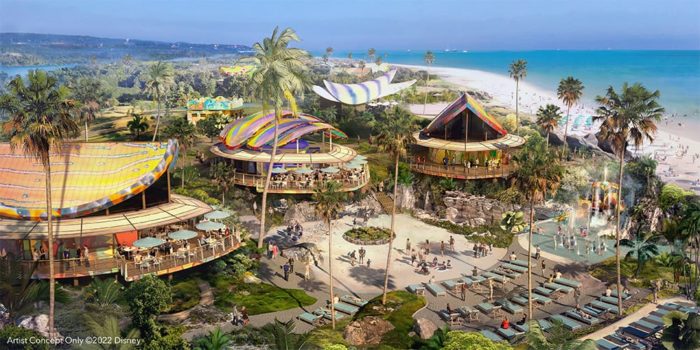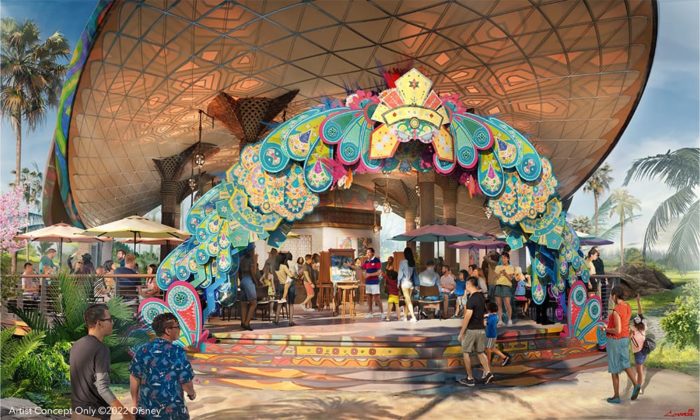 Also announced are new ports of call for the Disney Cruise Line, which will bring the magic of a Disney vacation to guests in Australia and New Zealand during brand-new "Disney Magic at Sea" cruises beginning late Oct. 2023. The ship is the destination on these limited-time voyages, which have been specially created to immerse local guests in their favorite Disney, Pixar, Marvel and Star Wars stories through enchanting entertainment and enhanced experiences throughout each cruise.

And during the repositioning voyages between Honolulu and Sydney in Oct. 2023 and Feb. 2024, the Disney Wonder will offer the fleet's first-ever South Pacific itineraries. These brand-new cruises will give you the chance to experience exotic destinations like Fiji and Samoa. Bookings open to the public on Oct. 6, 2022.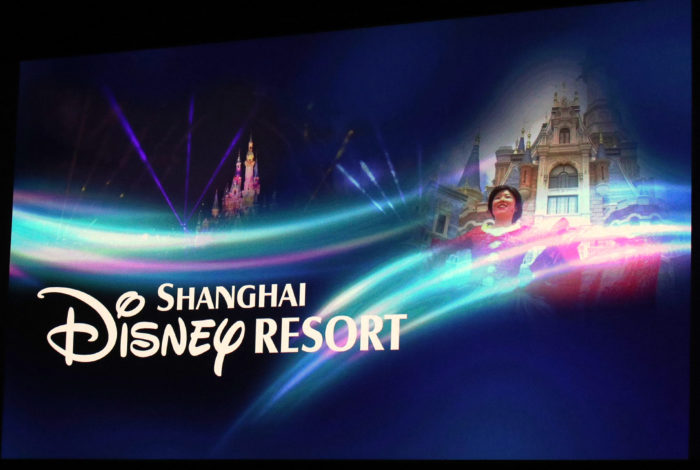 Next up is Shanghai Disney Resort, which will be the first Disney resort to bring the world of the Walt Disney Animation Studios film "Zootopia" to life.

At Zootopia Central Station, guests will find animals going about their daily lives. At the Zootopia Police Department, which doubles as the entrance for the land's new family attraction, guests will be greeted by an Audio-Animatronics figure of Officer Clawhauser.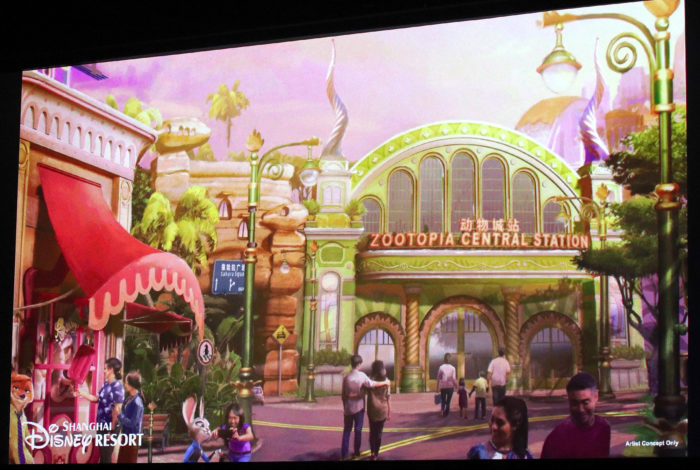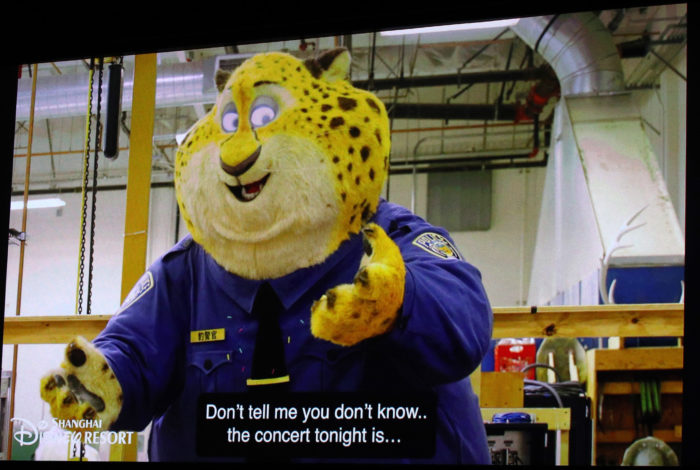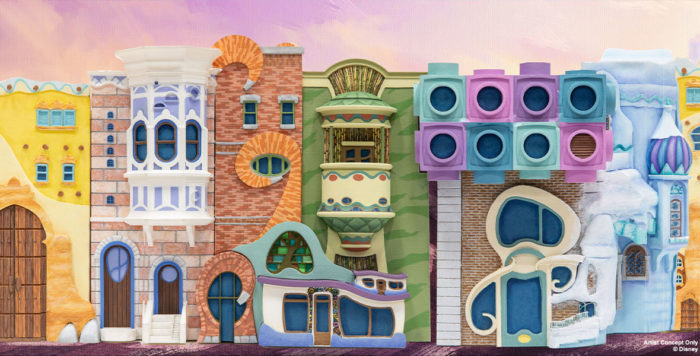 LinaBell is the newest member of the Duffy & Friends family. While you can only meet these characters in the three Asia Resorts and Aulani, you'll find a new series of shorts on Disney+ in 2023.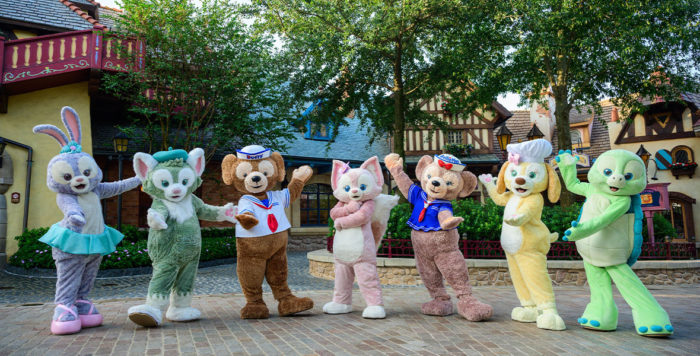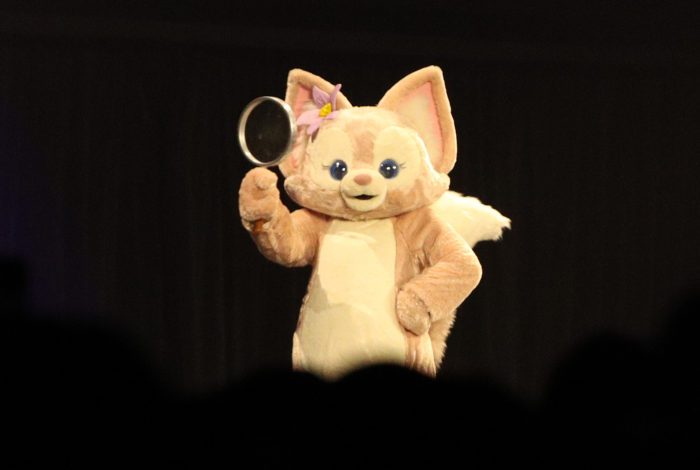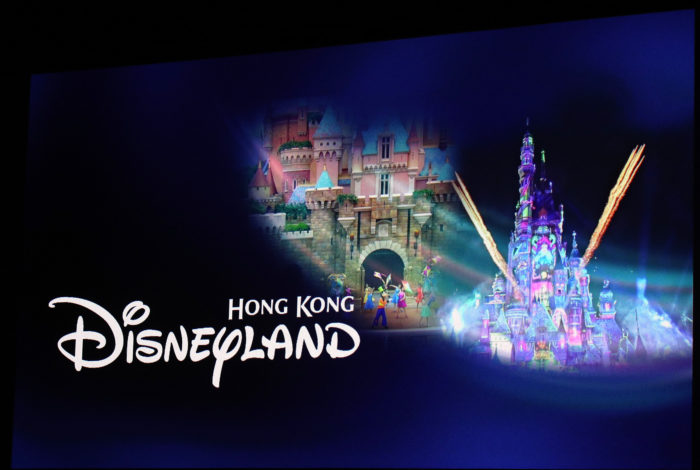 In Hong Kong Disneyland a new statue dedicated to Walt and Mickey will be added near Cinderella's Carousel as part of the Disney100 Celebration.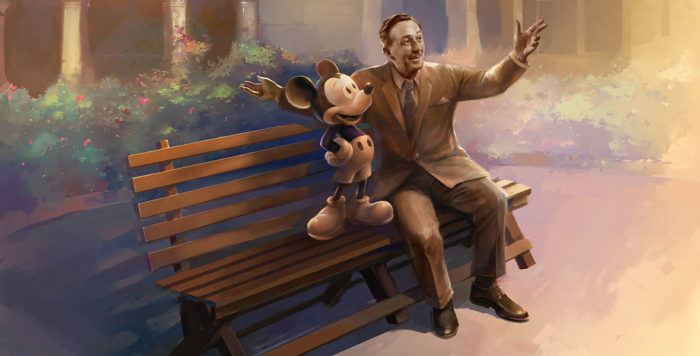 The World of Frozen, a new land built behind Hong Kong Disneyland's Fantasyland is still under construction and promises two attractions for guests to enjoy. Wandering Oaken's Sliding Sleighs and Frozen Ever After, a boat ride attraction similar to the one at Epcot.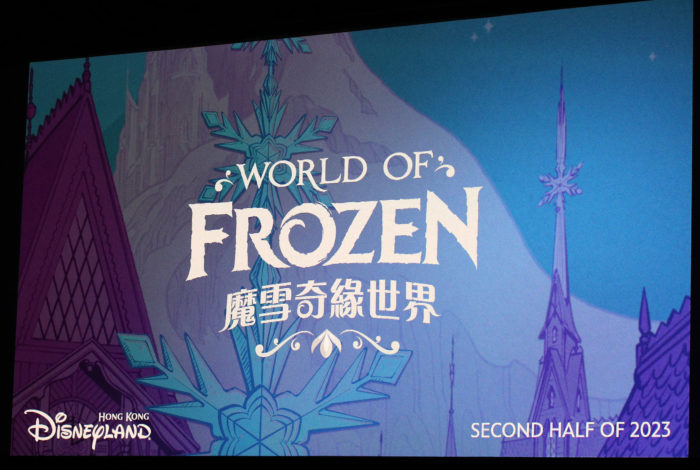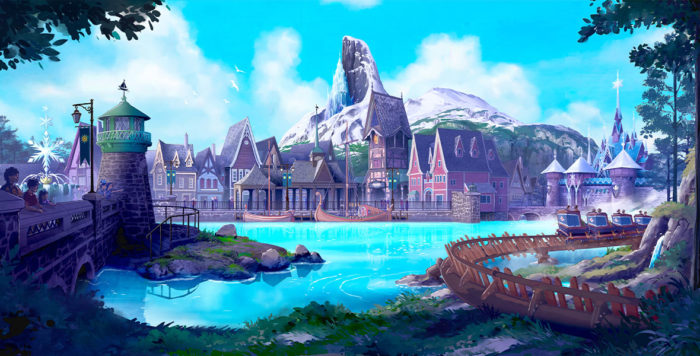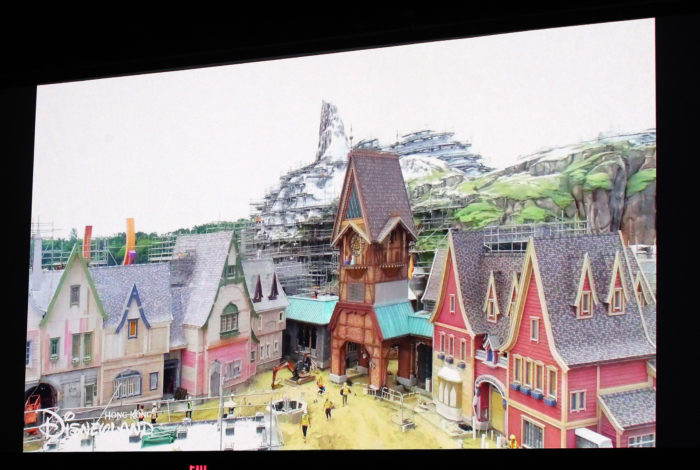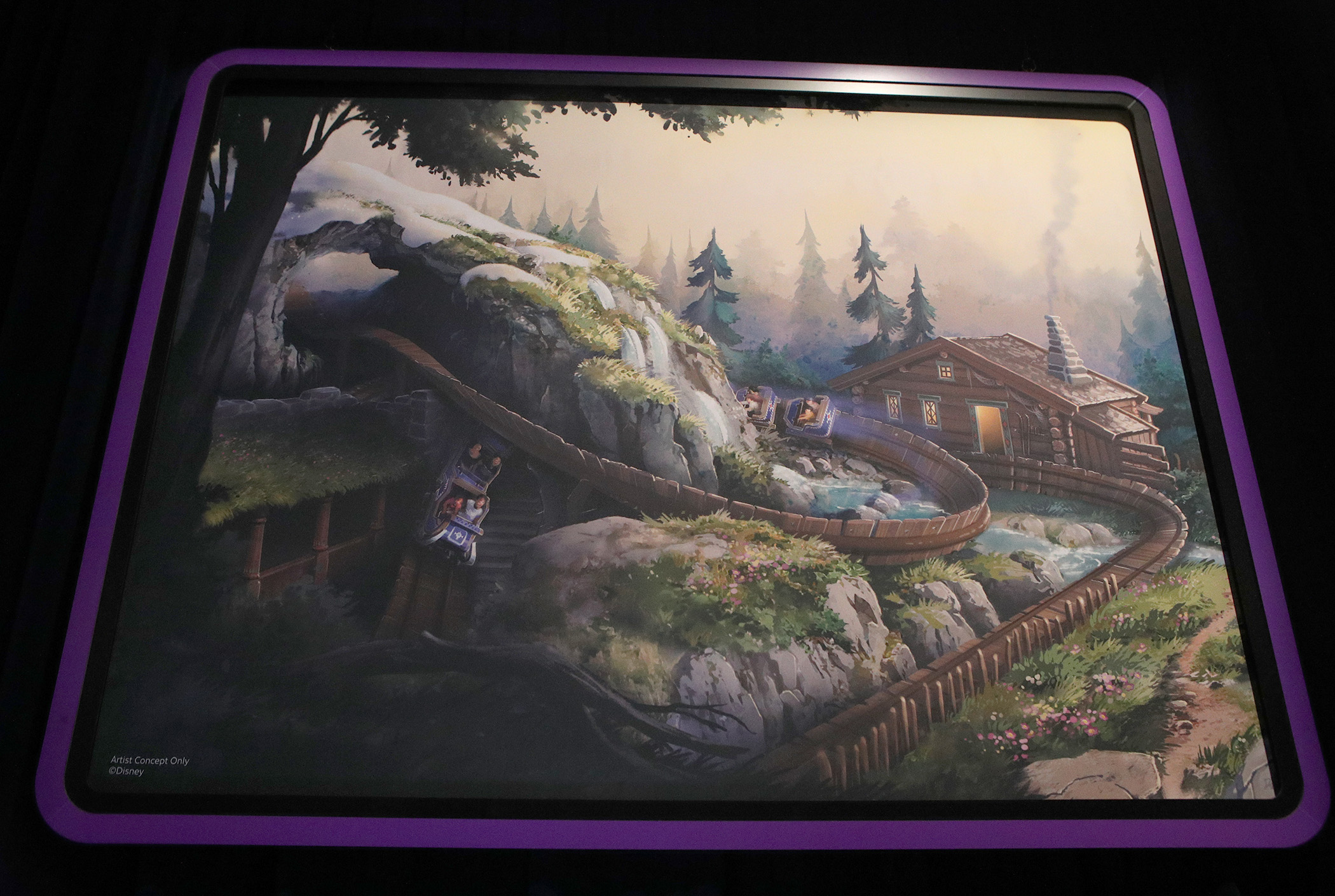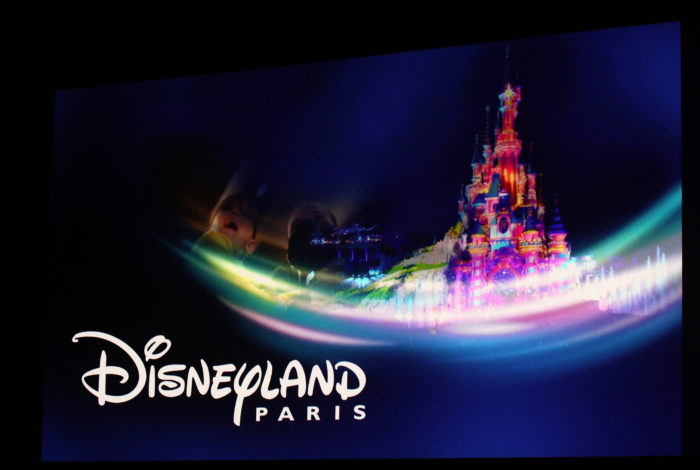 At Disneyland Paris they're gearing up their own World of Frozen, with a boat ride attraction as well. A new corridor will be built leading guests to the new land. Meanwhile, the Disneyland Hotel will have a transformation of its own. "Frozen" is one of the stories playing a role in the royal transformation, with every guest room and all the communal areas are being rethemed, taking inspiration from classics like "Cinderella," "Sleeping Beauty," "Tangled," and more. 

Also at Disneyland Paris, a new "Tangled"-themed family attraction will join the new gardens leading into the new "Frozen"-themed land.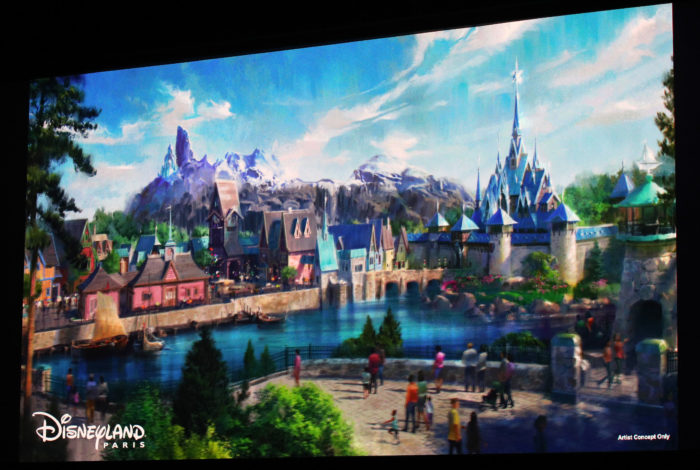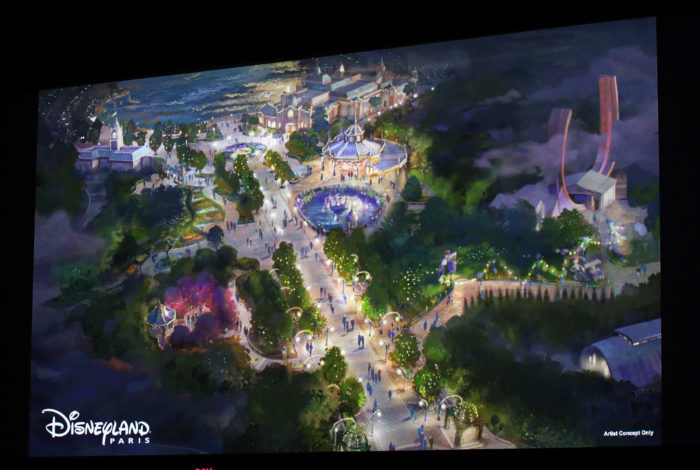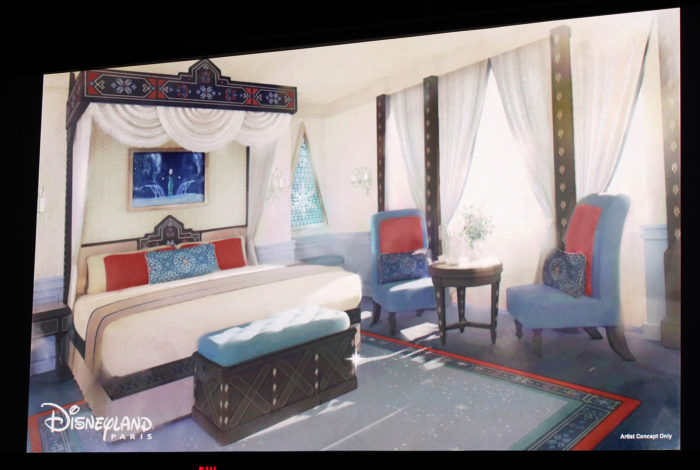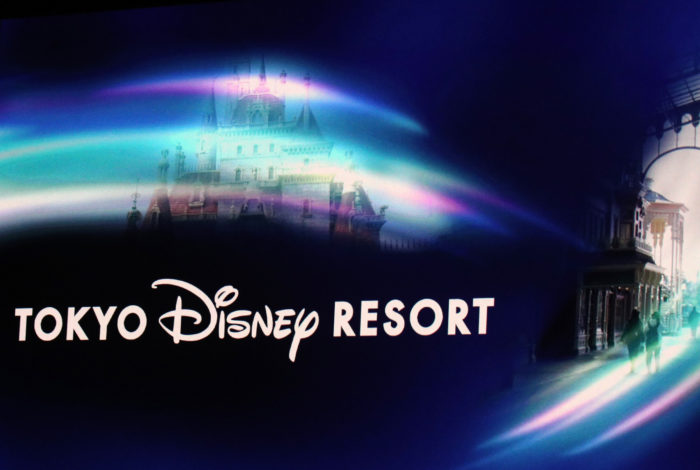 Over at Tokyo Disney Resort, construction is well under way for the new land at Tokyo Disney Sea. "Fantasy Springs" will welcome attractions for Tangled, Frozen, and two for Peter Pan opening in 2024.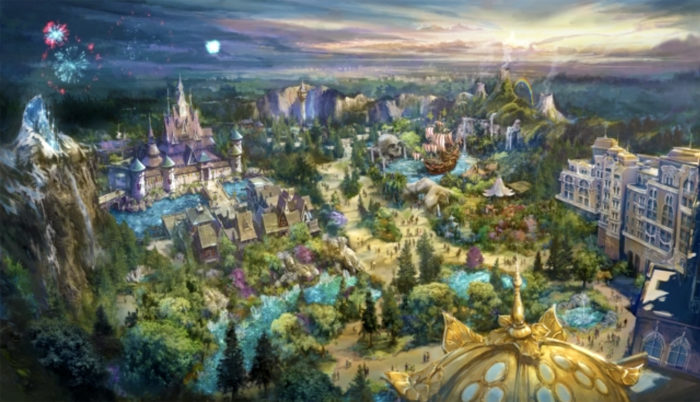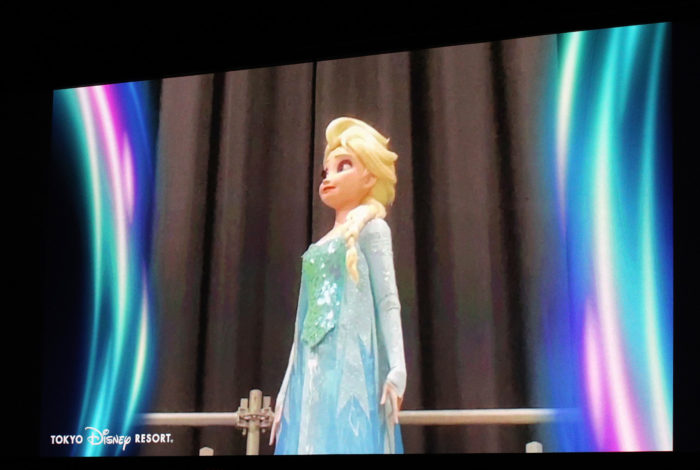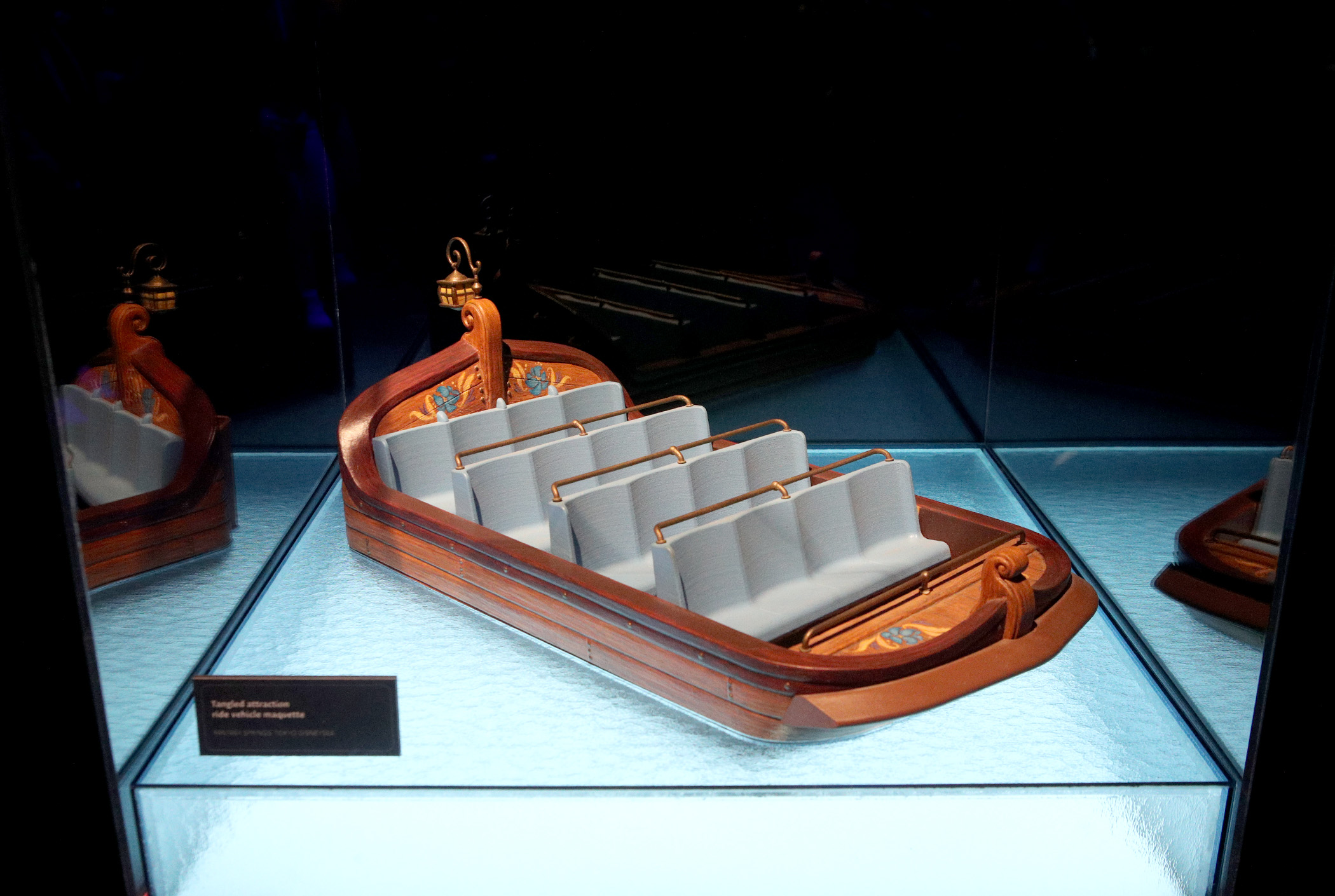 2027 is the year slated for the new Space Mountain for Tokyo Disneyland as well. From the concept art, this is going to look amazing!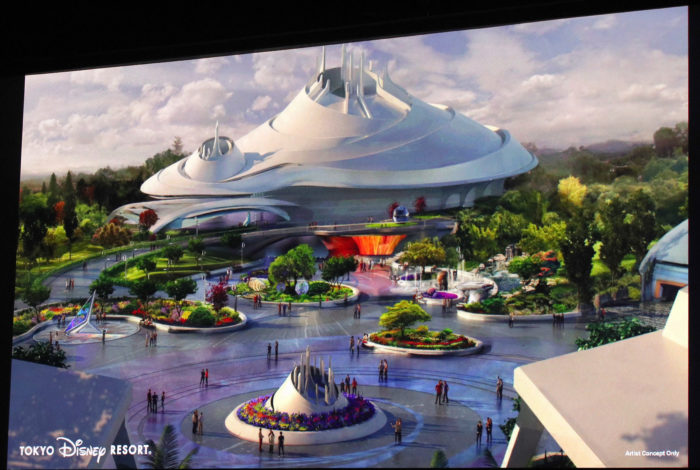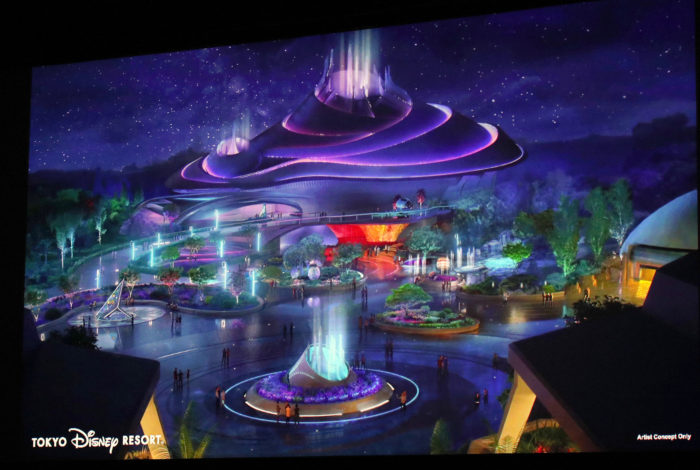 With the arrival of THREE Frozen-themed areas around the globe, guests attending the Parks Panel were treated to a live performance of "Into the Unknown" from Frozen 2, sung in Japanese, French, and Cantonese.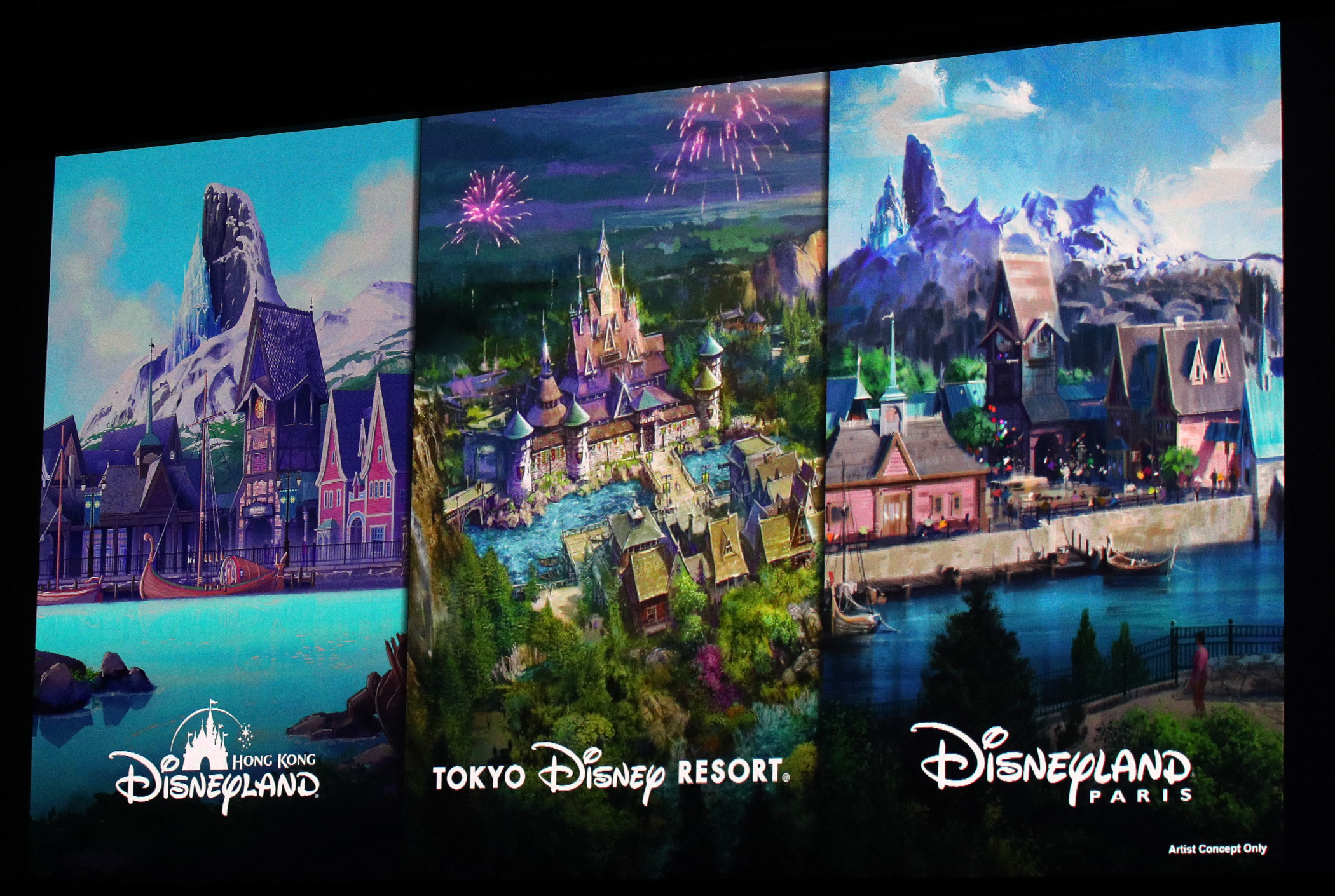 While that's all there are for official announcements, there is a bit we wanted to add since it was in the panel, and that was some conceptual ideas that may or may not come to fruition. Imagineering's Chris Beatty and Disney Animation's Jennifer Lee took the stage to talk about things that COULD be coming down the line.

Dinoland Extinct? That's what they are saying. Concept art depicting Moana and Zootopia occupying the space in Disney's Animal Kingdom. To me, this seems like a disservice to the theme of the park of celebrating ACTUAL animals and conservation. Zootopia represents humanoid animals and Moana features imaginary coconuts. This is something I hope does not come to fruition.

You can see in this in the conceptual art that Triceratops Spin may not change too much, but you'll ride barrels instead. Nearby is a flume ride based on Moana, and deeper into Dinoland will be Zootopia. Again, this is not concrete.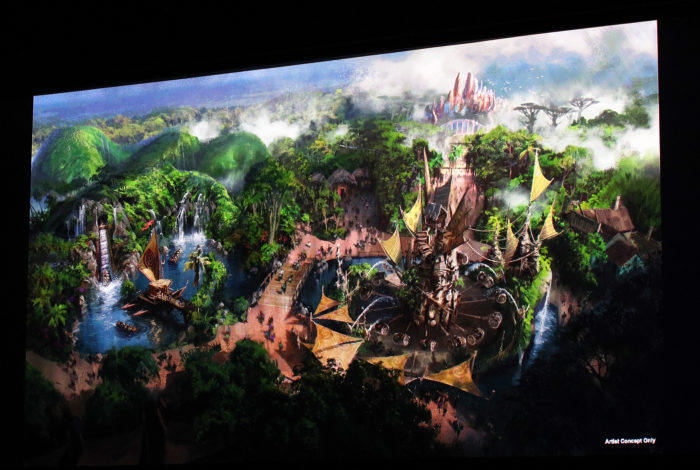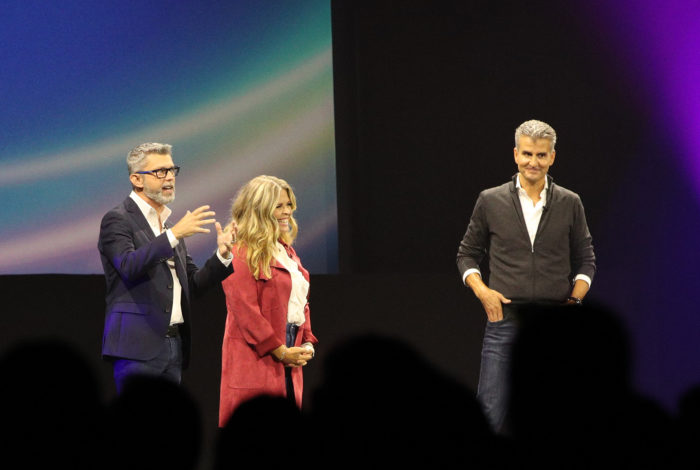 At Magic Kingdom, they proposed a few concepts for beyond Big Thunder Mountain Railroad, which is a dead end in Walt Disney World. The concepts proposed are St. Cecelia from Coco, Encanto, and a Disney Villains themed land. While there is a lot of space in the back of Magic Kingdom, this is again, all conceptual and may not come to pass.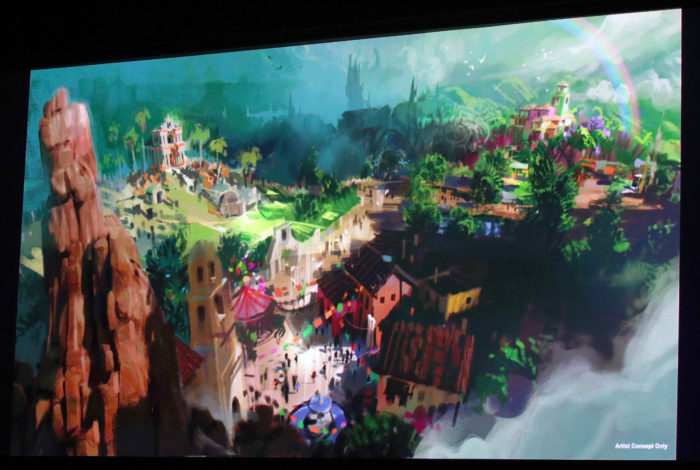 That just about does it for the Parks Panel… here's a look at all that's to come in the next few years…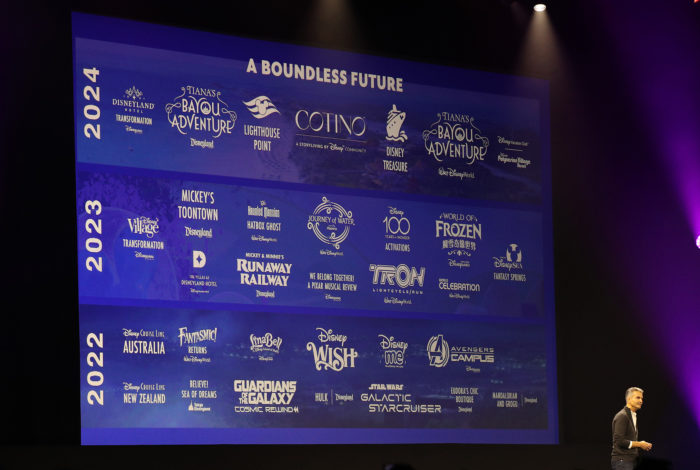 So what do you think? Are you excited about what's to come or are you skeptical? No mention was made about the Star Wars additions to Disneyland Paris, which makes us speculate that that project is canned. But anything can happen by the next D23 Expo in 2024!