Kris Van de Sande
Disneyland Paris teases updates at event
September 10, 2019
This morning press was invited to the French capital to learn all about what Disneyland Paris has in store for its guests for the coming years. Focussed mostly on the Walt Disney Studios Park, many rumours are flying around on the future of the Disneyland Park. Actual details on the future expansions were scarce, we got a whole lot of new visuals.
Let's dive in!
The Twilight Zone Tower of Terror – A New Dimension of chills
Disney seemingly is squashing any rumours of Tower of Terror becoming Mission Breakout!.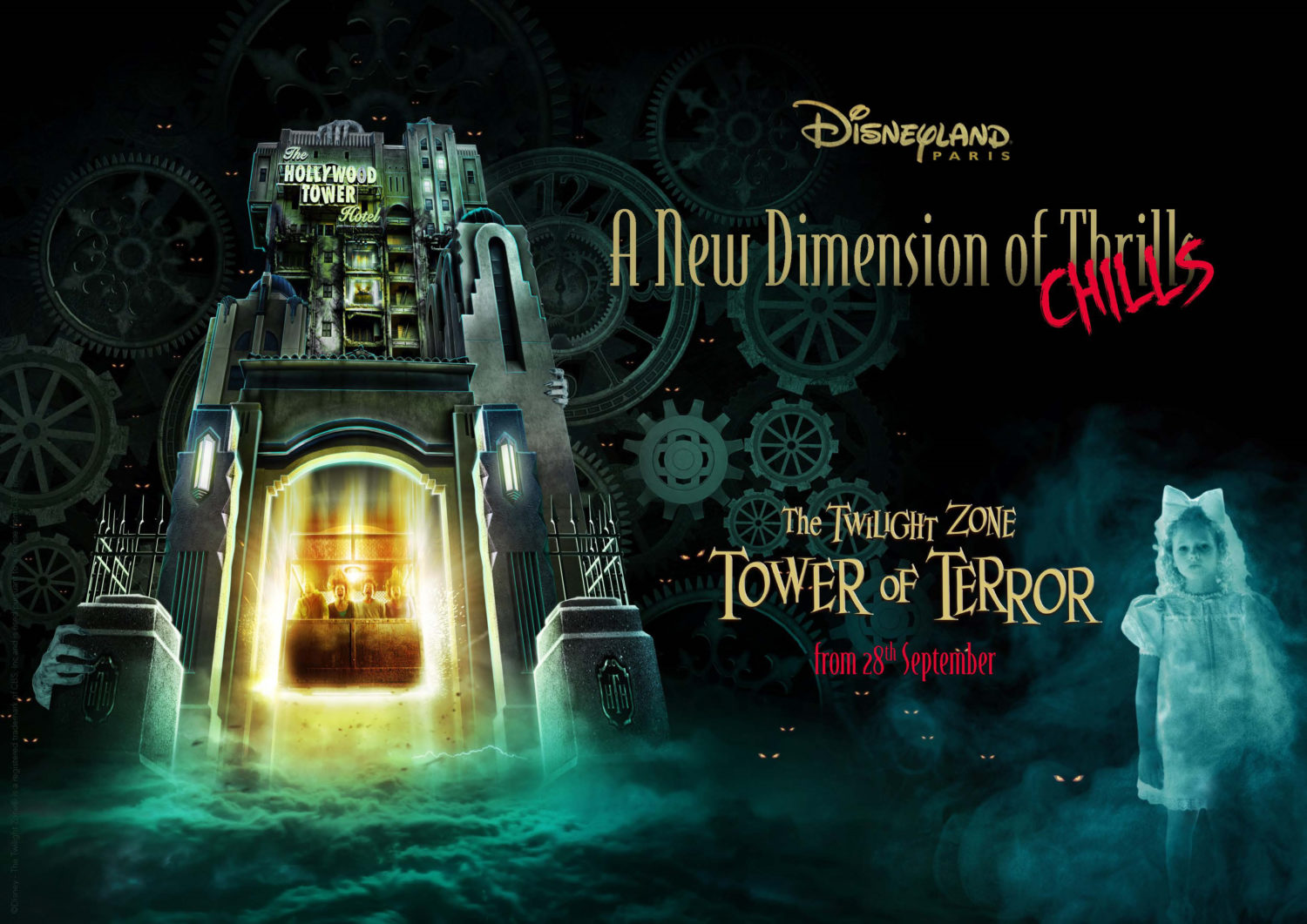 Starting September 28th, guests will discover three new fearful experiences at The Twilight Zone Tower of Terror – A New Dimension of Chills. (What's in a name)
The Walt Disney Imagineering and Maintenance teams are currently hard at work creating these new experiences. To "tell" their new story, each elevator as well as the scenes of the attraction must be updated: new lights, projectors, media, remixed soundtrack, vehicle movements. Everything has been reprogrammed, modernized, or replaced if necessary!

The three new scenarios feature the famous little girl, one of the passengers who mysteriously vanished when the hotel was struck by lightning in 1939. From September 28, the little girl, as a ghost, ghost becomes the key character of three new experiences more terrifying than ever. The Malevolent Machine, The Shaft Creatures and The 5th Dimension plunge you into sinister and confusing universes:
Horror 1: The Malevolent Machine
The little ghost girl haunts this elevator. But she is the least of your worries. Because as soon as you take your seat, this malevolent machine only has one thing in mind – to trap you, and clank and screech with glee as it catapults you up and plummets you down at its wicked will without warning. The only thing you can do is hold tight and scream! Will you be able to free yourself from its grip?
Horror 2: The Shaft Creatures
"They know you're here. Whatever you do, don't scream!" Scary creatures roam around the elevator shaft and are looking for distressed souls to terrorize – as the louder your pleas for mercy, the more powerful they become. Can you stay silent while plummeting – several times – 13 unlucky floors at the speed of fright?
Horror 3: The 5th Dimension
Don't get lost in this dimension! A sinister Poltergeist specter has opened the 5th dimension and wants to take your soul with it. Prepare to question everything you think is real as you're dropped into a terrifying psychedelic journey between worlds. Will the little ghost girl be able to take you back to our dimension?
Avengers Campus
With the closure of Aerosmith's Rock 'N' Roller Coaster last week, the entirety of Backlot has been closed off with fences to create an all new Avengers campus. The park updates will opening in phases starting in 2021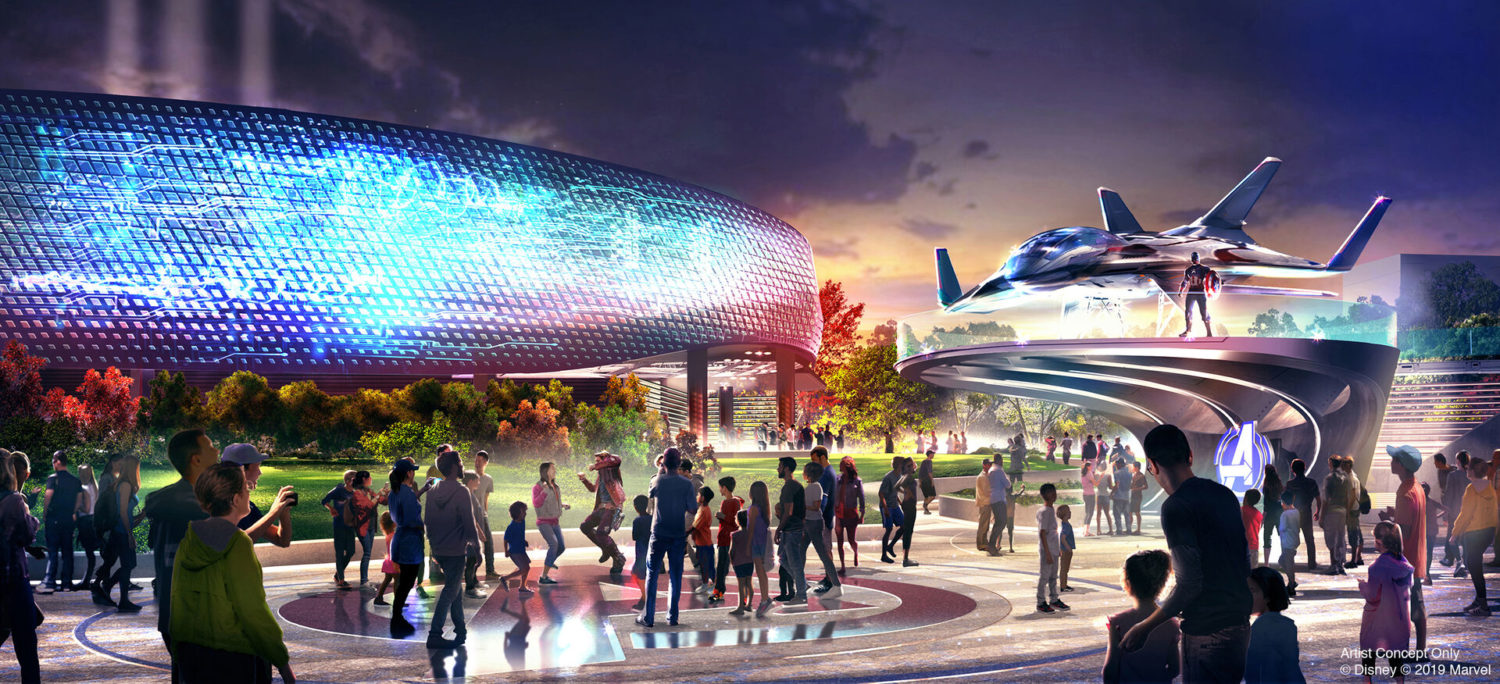 Frozen
Arendelle


As part of the fully immersive land, guests will see in the distance the snow-capped mountain of Arendelle opposite a magnificent lake, with an attraction that will take them to the center of the Kingdom. The area will also include character encounters, a new restaurant and a shop, which will secure a permanent presence of this beloved franchise at Disneyland Paris.
Disney Jr. becomes Disney D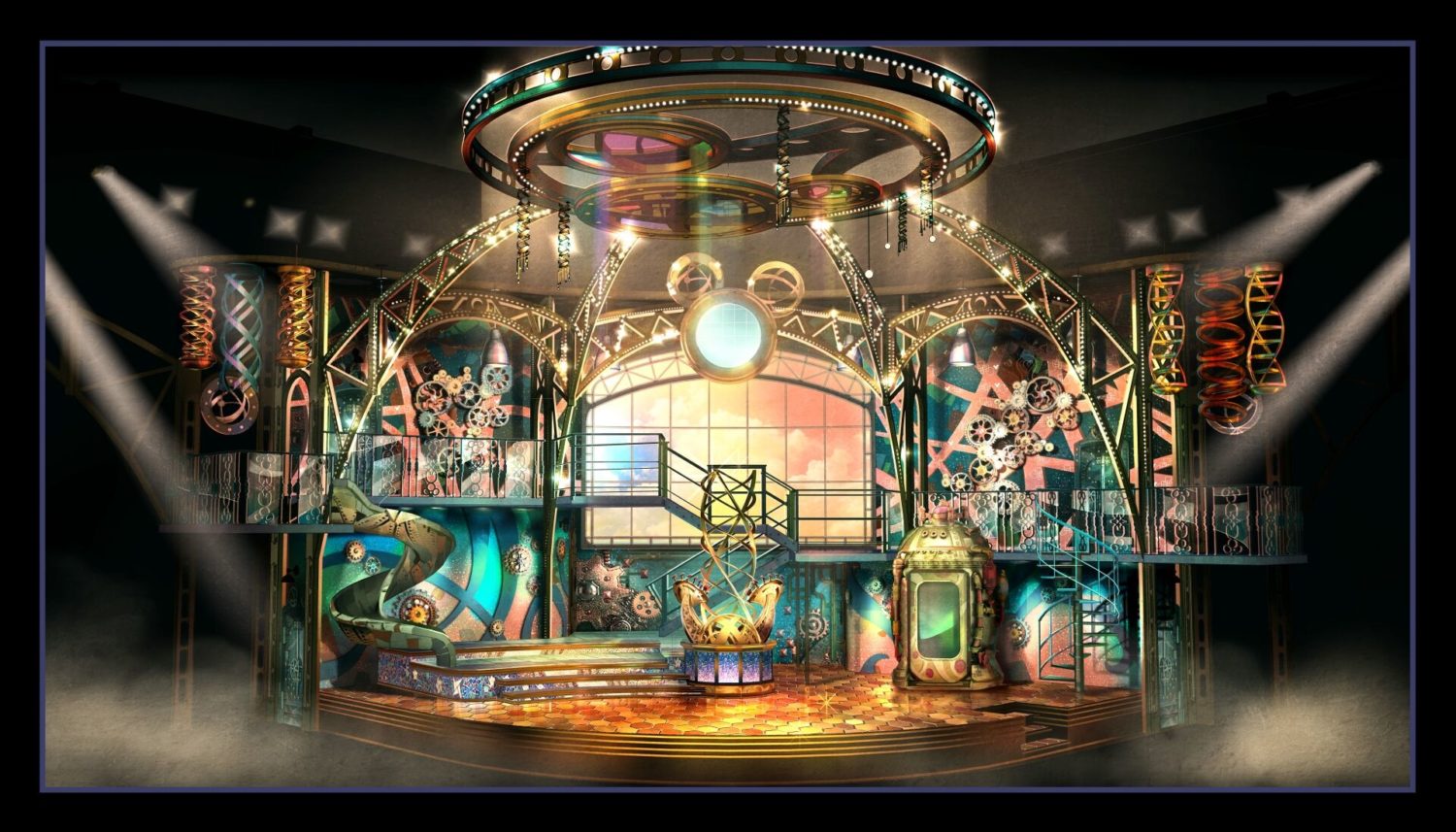 Next Spring in Walt Disney Studios Park, children and their families will be welcomed at a brand-new interactive show , taking place in Studio D, in the company of Mickey, Minnie and their friends from Disney Junior. This new experience gives little ones the chance to sing and dance alongside their favorite characters.
The Art of Disney Animation becomes Animation Celebration
Currently under renovation, the former art-based attraction will become an interactive meet & greet area with mini shows. Opening November 17.

Act one – Move like magic

Seek shelter from the snow, take your seat in the cosy barns next to the Wandering Oaken's Trading Post and Sauna, and prepare to sing Reindeers Are Better Than People with Kristoff and Sven for the first time ever at Disneyland® Paris.
But that's not all.

After warming up your vocal cords, get swept up in the fun Frozen atmosphere as Anna and Kristoff bring out the magical moves that lie dormant within you. Will you learn them in time to join the people of Arendelle in surprising Elsa?
Don't be afraid to let yourself go!

Act two – A sing-song surprise

After mastering your magical moves, you leave the comfort of the barns, battling the whooshing wind until you enter the spectacularly sparkly Ice Palace on the peak of North Mountain.

Now's the time to surprise Elsa, celebrating her power and the magic that can be found in all of us, before joining in with joyful renditions of Let It Go and Love Is an Open Door.

Warm up with a warm hug from Olaf*

Get ready to give the friendliest snowman in all of Arendelle a big warm hug. That's right, Olaf is here and he can't wait to meet you for the first time ever at Disneyland® Paris.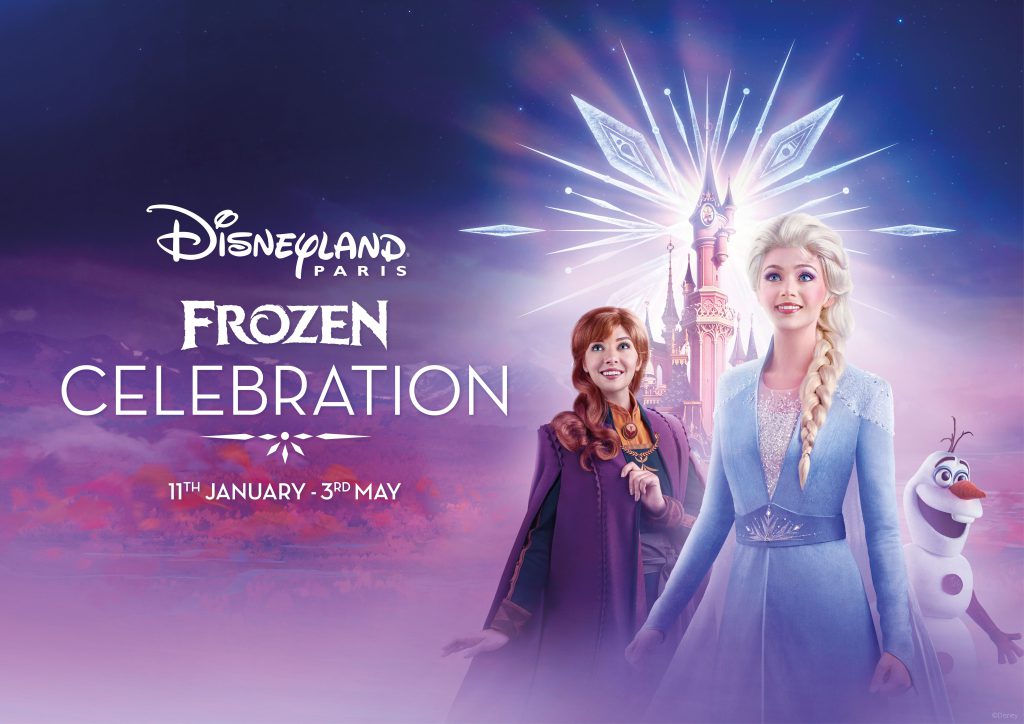 Frozen Celebration Season
Doubling down on seasons, Januari 11 to May 3 will see the Frozen Celebration Season.
The festivities will include a dazzling new show four times a day on the parade route starring Anna, Elsa, Kristoff, Olaf and Sven with incredible dancers and acrobats. An enchanting new float will also bring the magic to life before guests' eyes.

Guests can extend the experience with exclusive treats and drinks, plus a range of souvenirs which celebrate the adventures of Anna, Elsa and their friends. And of course, characters from Arendelle will take part in the Disney Stars on Parade with a Frozen-inspired float and during the evenings, the magical adventures of Anna and Elsa will come to life with Disney Illuminations.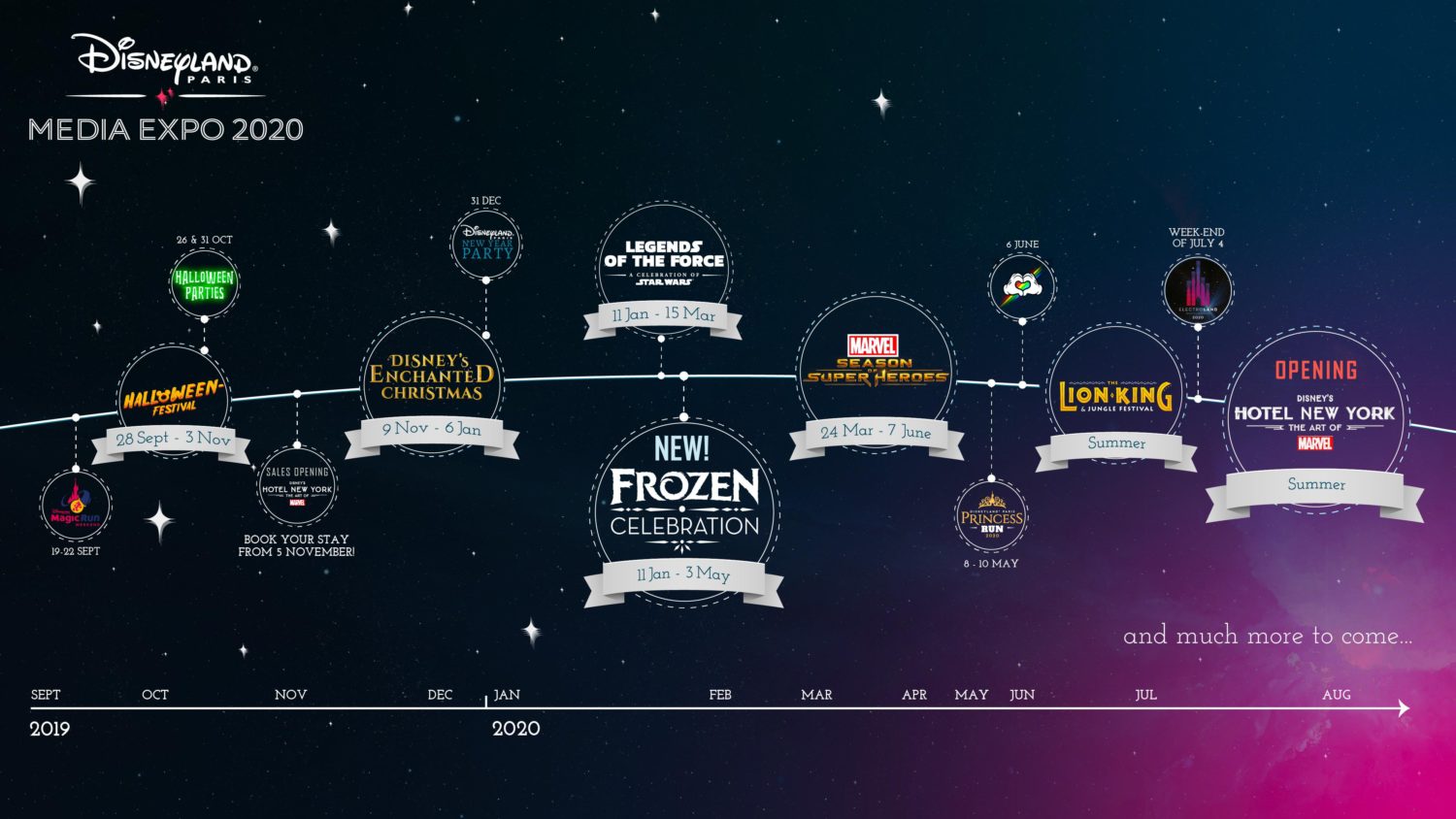 Legends of the Force: A Celebration of Star Wars
from 11 January to 15 March 2020 Disneyland Paris is the perfect place to live the Star Wars experience. This season will be the chance to explore a galaxy far, far away, in the footsteps of iconic Star Wars characters such as Chewbacca, R2-D2 and C-3PO, but also to confront the Dark Side of the Force with Darth Vader and Kylo Ren. Walt Disney Studios Park will offer an extraordinary sound and light show with projections, special effects and characters from the Star Wars saga. The days will also include several marches of the Stormtroopers, led by powerful figures from the Empire and First Order, such as Darth Vader and Captain Phasma.

Disneyland Park will immerse guests in the heart of Star Wars galactic battles with the attractions Star Tours: The Adventures Continue and Star Wars Hyperspace Mountain
Marvel Super Heroes Season
Following the success of the first two seasons, Marvel Super Heroes will return to Walt Disney Studios Park to give guests a thrilling experience next spring from 24 March to 7 June 2020. The Marvel Universe will come to life at Disneyland Paris with epic shows and experiences featuring Spider-Man, Iron Man, Captain America, Captain Marvel and more guest favorites.
The Lion King and Jungle Festival is back for summer 2020
After a sensational first season, guests can move again to the rhythm of the shows together with Timon, Rafiki, Baloo and all their favourite characters from The Lion King and The Jungle Book.
That's it for park news from Paris! We expect more news to come from the IAAPA Expo Europe in which another Disneyland Paris panel is planned.
All images © Disney