Kris Van de Sande
Avengers Campus Comes To Paris
A review of the latest addition to Disneyland Paris
Review
July 13, 2022
With a brand new land and two new attractions, there's something to look forward to at Disneyland Paris' Walt Disney Studios Park in Avengers Campus. While Disneyland Paris has received some updates over the years, it's been awhile since they've received anything completely new. Ratatouille: L'Aventure Totalement Toquée de Rémy, added in 2014, was the last truly new addition that wasn't a retheme, and since then, a 2 billion dollar investment was announced, along with a big change in management, and well, COVID happened. Avengers Campus does not open to guests until July 20th but let's take a look at the new land in Paris and how it compares to the version in Disney California Adventure.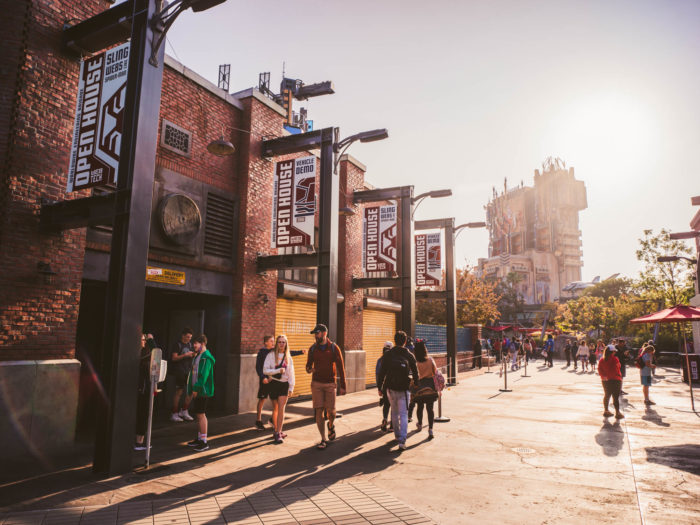 Before we continue, here's a a quick low-down of California's Avengers Campus. The campus replaced the small but well-liked A Bug's Land, shoehorned in between Hollywood Land and Cars Land. The land opened last year in June 2021 with only one new attraction, WEB SLINGERS: A Spider-Man Adventure, while stealing Hollywood Land's Guardians of the Galaxy – Mission: BREAKOUT! (leaving Hollywood Land with one lone Monsters, Inc. themed dark ride). Dining was provided by Pym Test Kitchen, Pym Tasting Lab for adult beverages, two Shawarma Palace locations and a Terran Treats… all quick service. Shopping is provided by WEB Suppliers and Super Store Featuring Avengers Campus located in the neighboring Hollywood Land.
In Walt Disney Studios Paris, the Backlot has been completely reimagined. It previously made a Walmart Parking Lot look high-end, but gone now is the bland pavement and most of the corrugated metal – instead you walk down a corridor of futuristic buildings leading to Avengers Assemble: Flight Force (originally Rock 'n' Rollercoaster), with a full size Quinjet visible on a platform.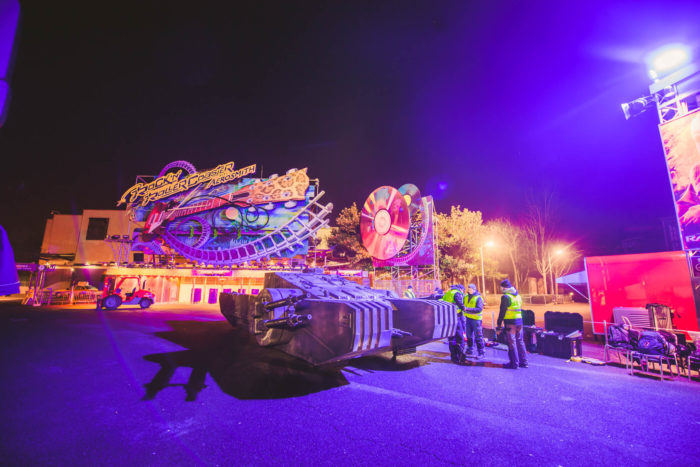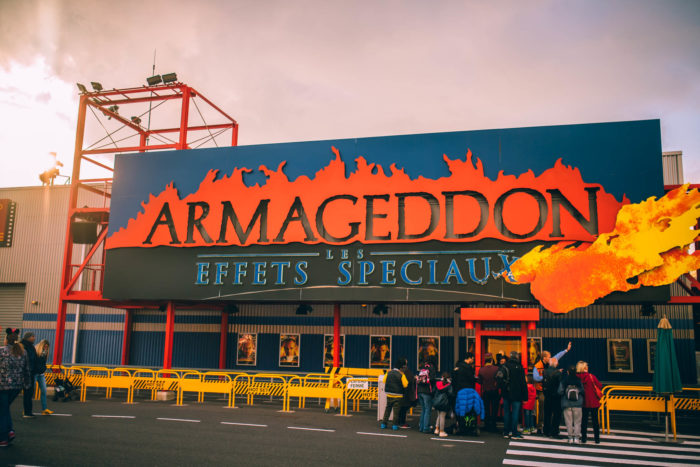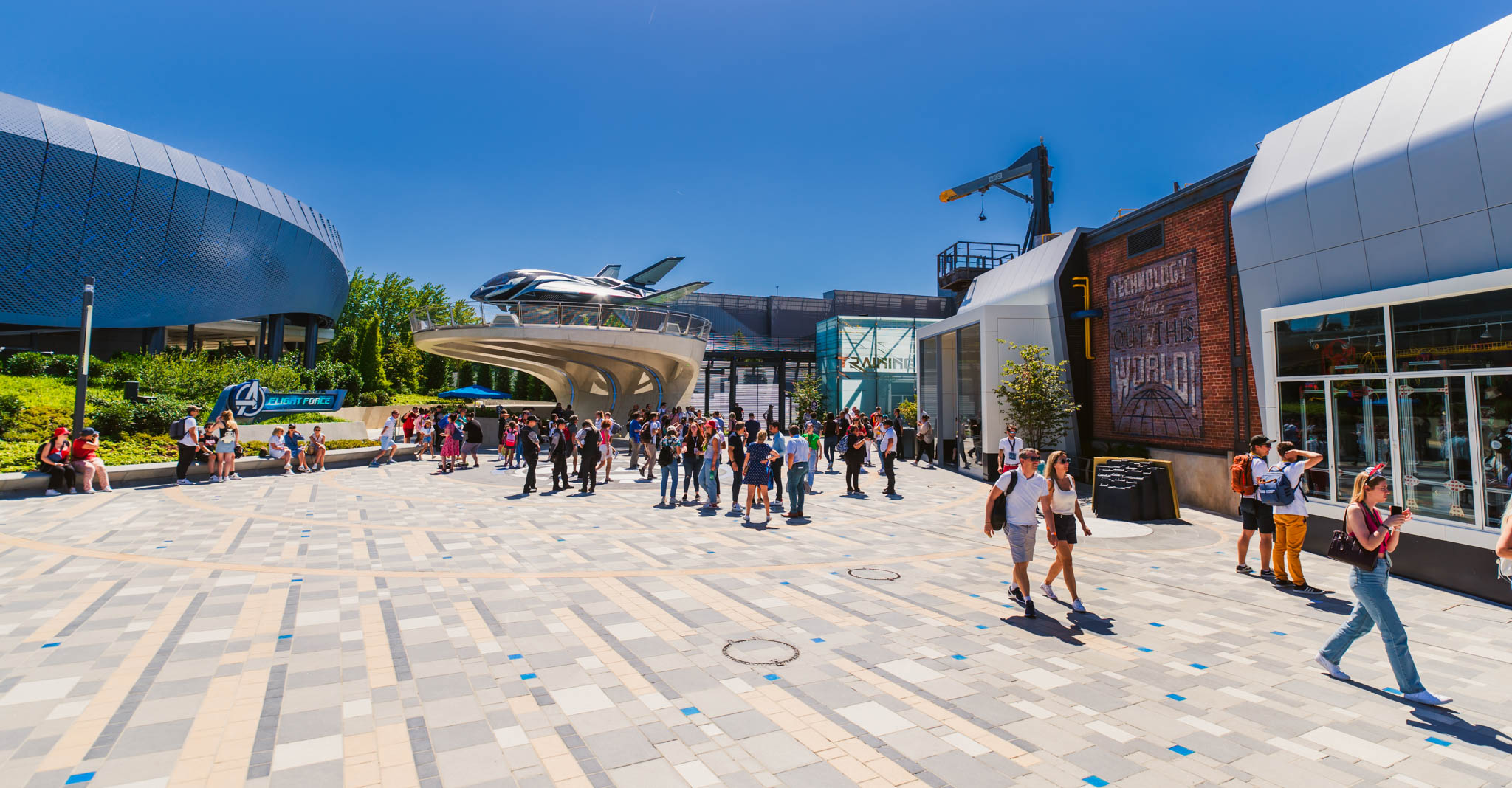 There were a few casualties from getting a new land, of course. The fan-favorite Rock 'n' Roller Coaster starring Aerosmith being the most noteworthy. But the biggest win, in my opinion, is the removal of the absolutely horrible Armageddon – Les Effets Speciaux, which has finally been leveled to the ground to become Spider-Man W.E.B Adventure.
But is Avenger's Campus good? Well, yes and no.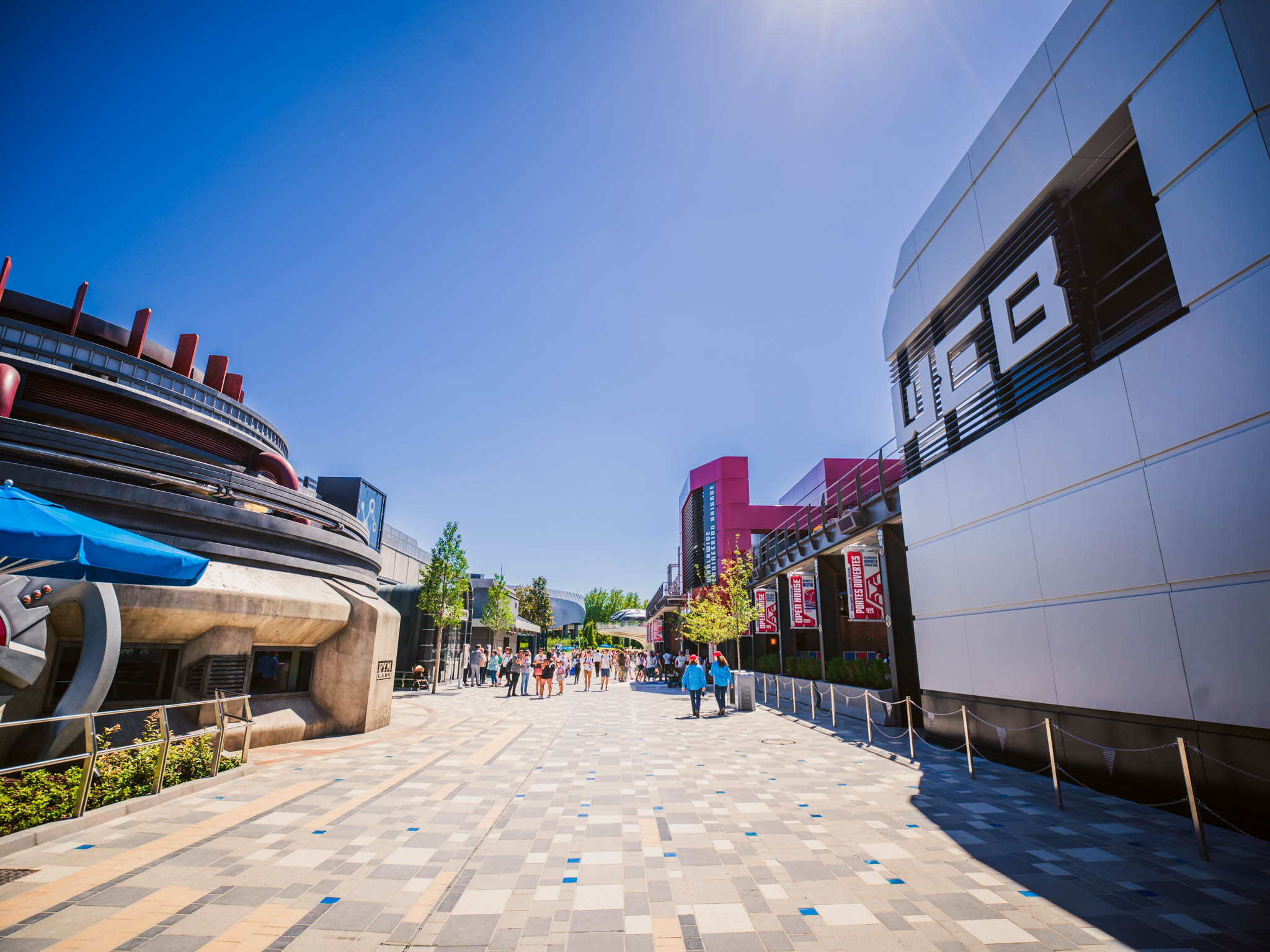 The biggest gripe is the completely random mix between building styles (similar to Anaheim's campus). There are some dusty warehouses (where things go wrong with nanobots) and some beautiful high-end modern architecture that look amazing and yet generic at the same time. It's as if they blended the towers of Manhattan with the Meatpacking district into one, becoming a conflict of styles. The story, as it is told to us, is that Howard Stark just happened to have a secret factory in Marne La Vallee, just as he happened to have a secret base in Anaheim (will this also be the case for Hong Kong as well?). It really is suspicious that The Walt Disney Company built theme parks near all of these locations but I digress. In other lands of the Disney Parks you are transported to a different world but Avengers Campus doesn't quite do the same.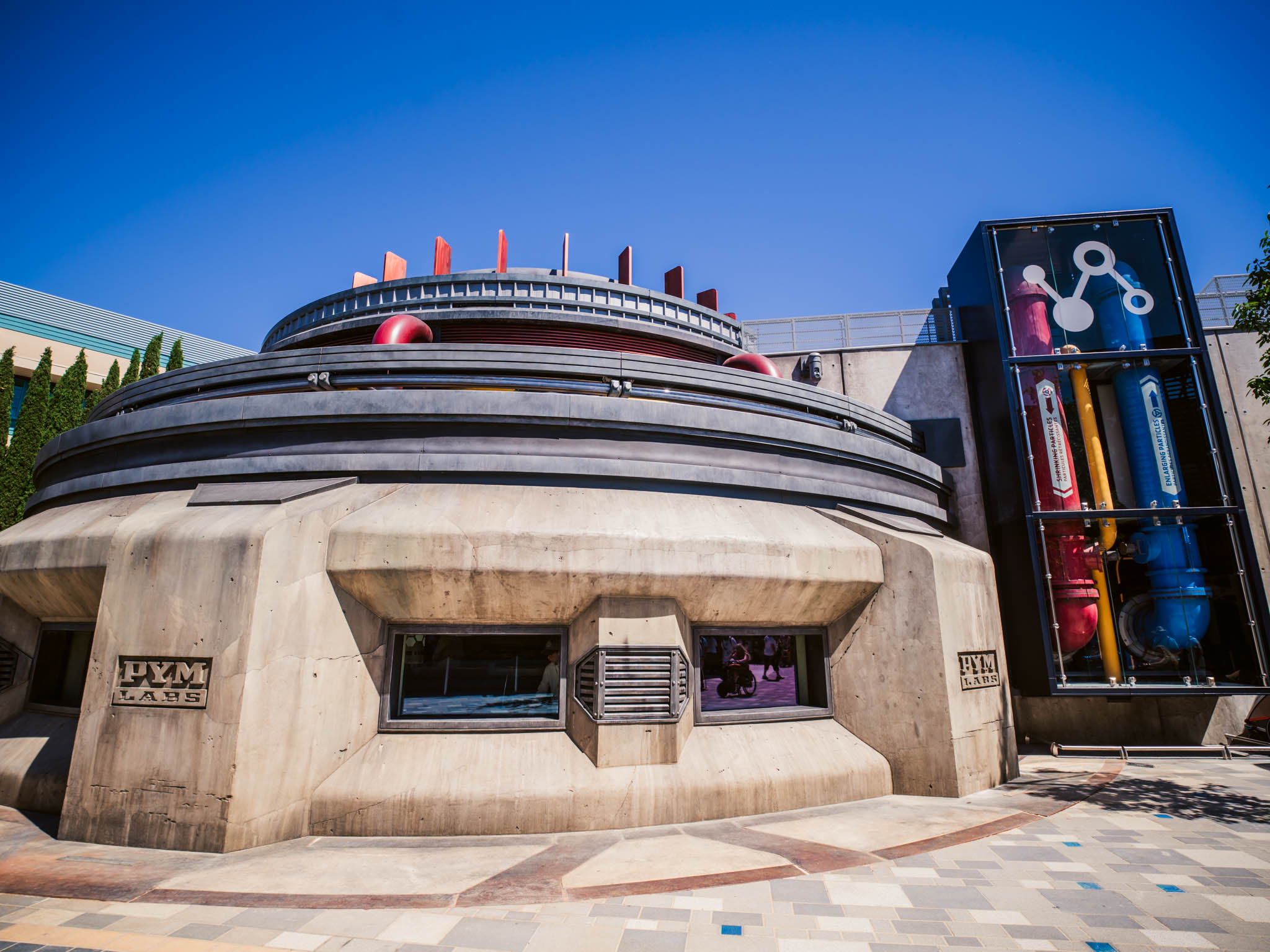 On the subject of buildings, what is a New York style warehouse doing in Paris if it was meant to blend in as a secret factory? It's already a bit of a stretch in California, but it really does take you out of the moment. It's a similar problem that we've seen with Disney's Hotel New York – The Art of Marvel. Instead of a hotel celebrating New York City, it instead just feels like a generic hotel with some Marvel items thrown in. You could retheme the entire hotel to a different concept in less than a week with new paint and decor.
The Avengers Campus in Anaheim does change it up, however, with Guardians of the Galaxy – Mission: BREAKOUT! replacing the beloved Twilight Zone Tower of Terror in 2017. Some still say it is an eyesore but without a doubt it is still an exciting location we haven't seen yet anywhere else. That's just a small sample of what the Paris campus is missing. Other details absent in Paris are the small little plaques, jokes and details found throughout the land. Visual gags such as the Gamma Radiation tree, a dedication plaque for Stan Lee, or even areas to explore such as Ancient Sanctum, which then becomes an entertainment space for Doctor Strange.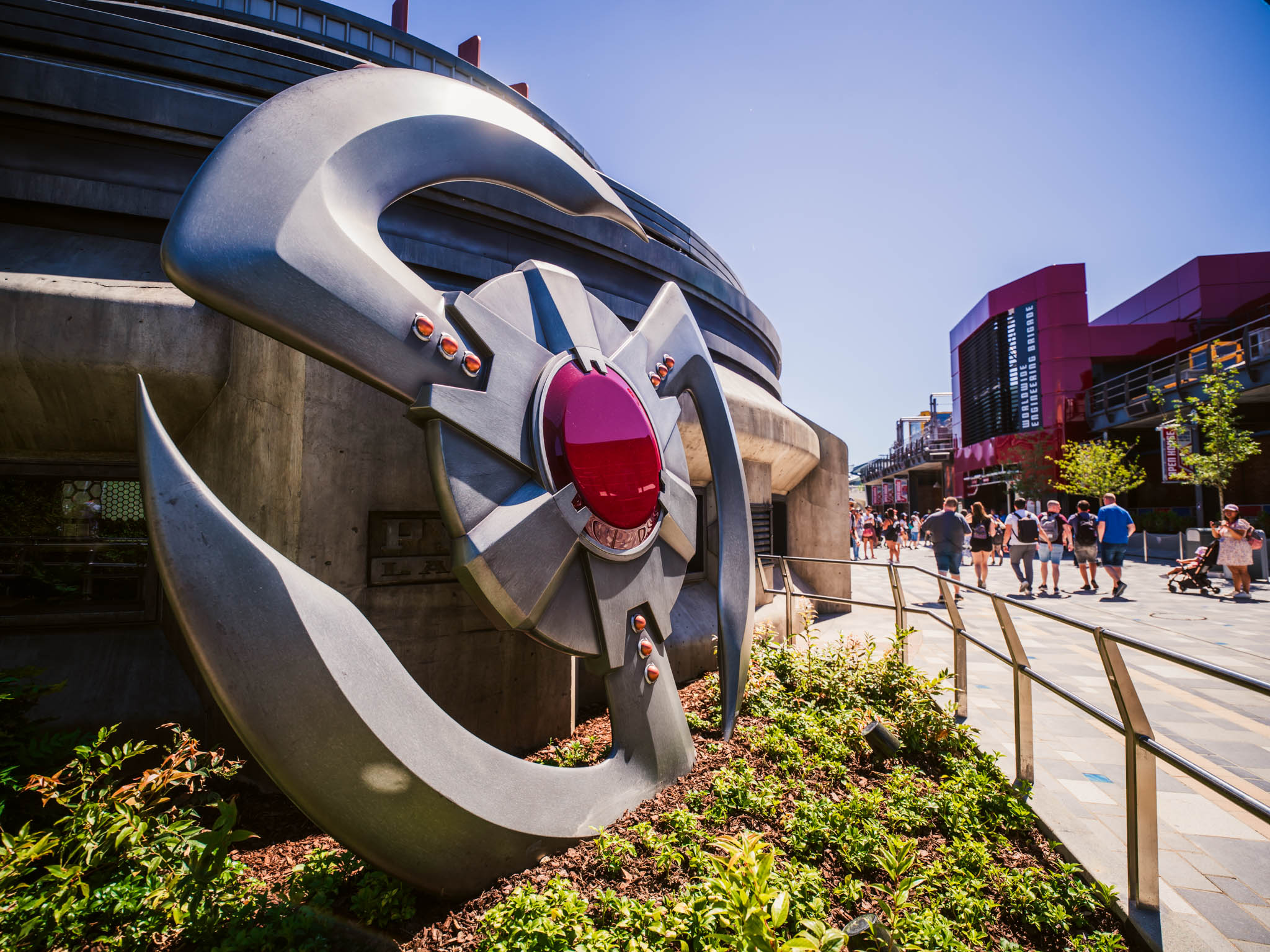 But, if you can ignore the story and just look at what's built, it does have some charm that has the potential to expand into something better. Until then, the big wide open spaces won't offer much sanctuary from the hotter months.
The ambient music of the land gives us the familiar Avengers theme, which does get quite repetitive after awhile. Most of the MCU's music has been quite generic with a few fantastic exceptions (Doctor Strange, Ant-Man, Spider-Man), and it would be great to get a better mix overall. It's a far relief from the silence of Galaxy's Edge, though, so it's not exactly a dealbreaker.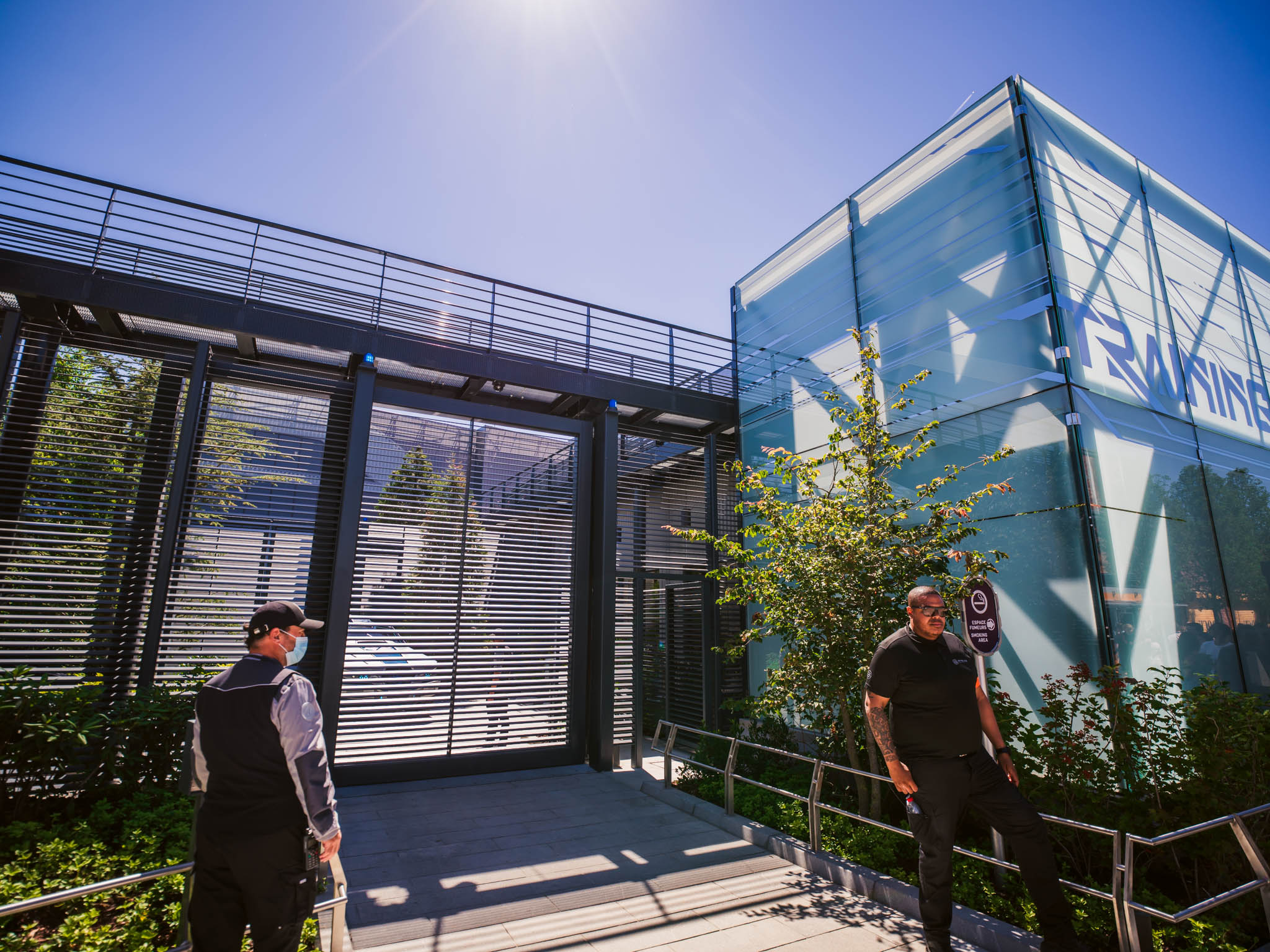 But, let's talk about rides:
Spider-Man W.E.B. Adventure
This attraction is a great addition to the Walt Disney Studios Park! Using the new sensor technology, each passenger is able to use their hands to sling their own webs, making you feel, naturally, like Spider-Man. It's a pretty decent arm work-out for sure!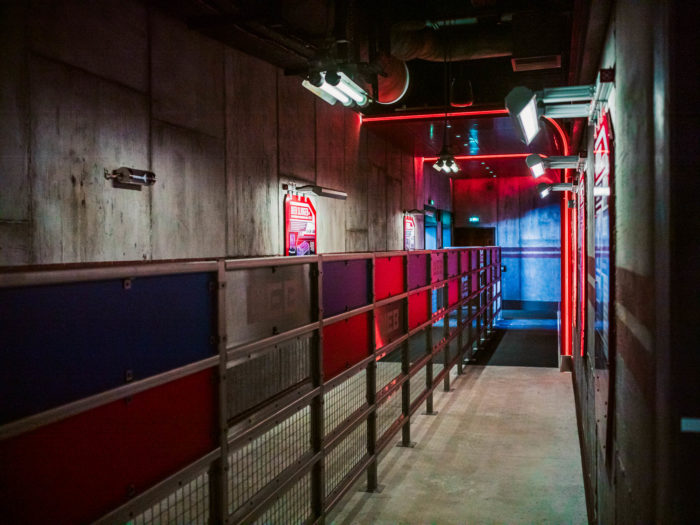 While it feels weird to have two interactive-screen attractions so close to each-other in Disney California Adventure, it's the first of its kind in Paris. Being a near-identical clone to the Disney's California Adventure (Except some differences in the queue and one edited scene missing the Fortress), it's exactly what you would expect. It's a solid D-ticket ride that was well-needed.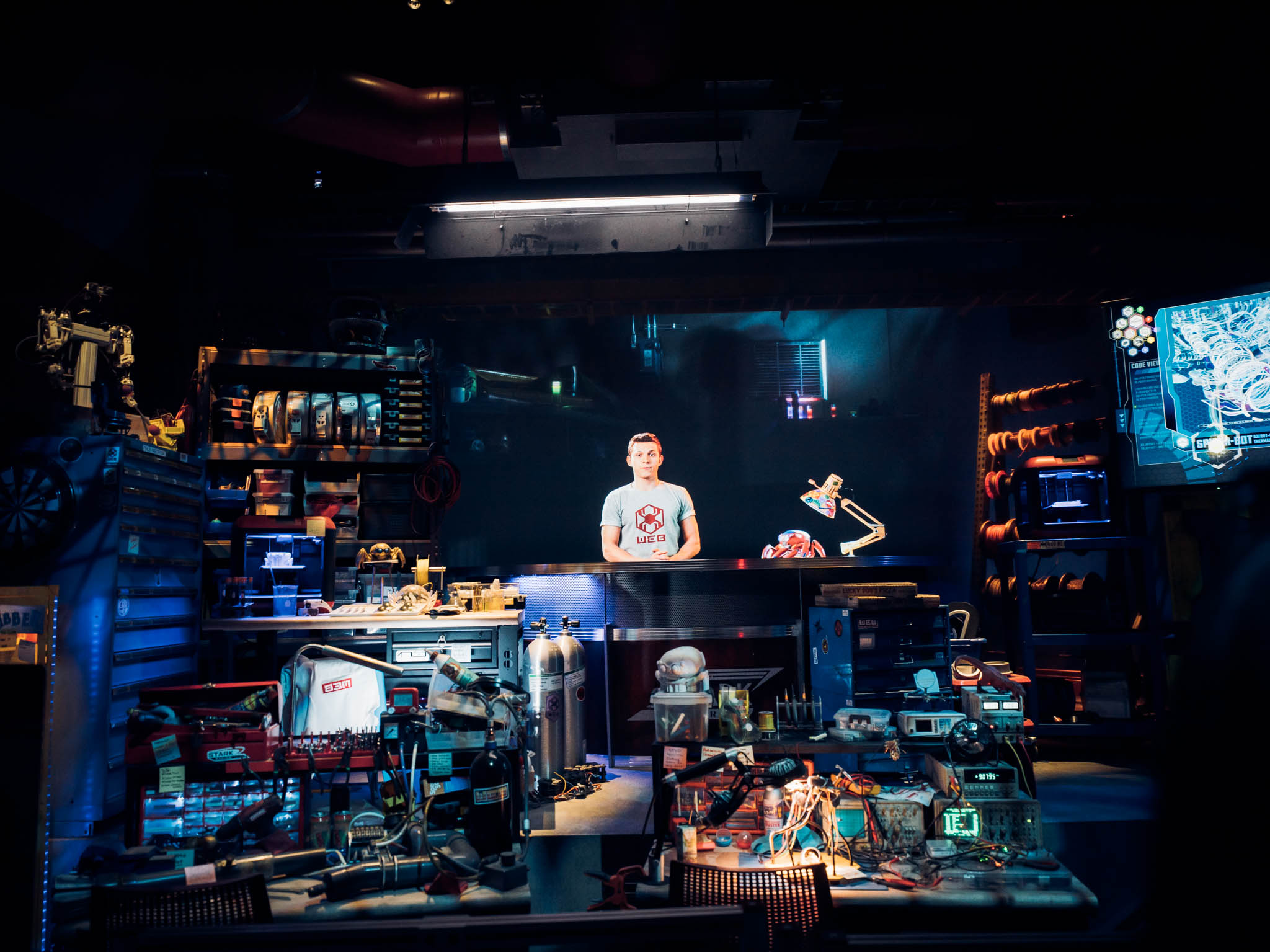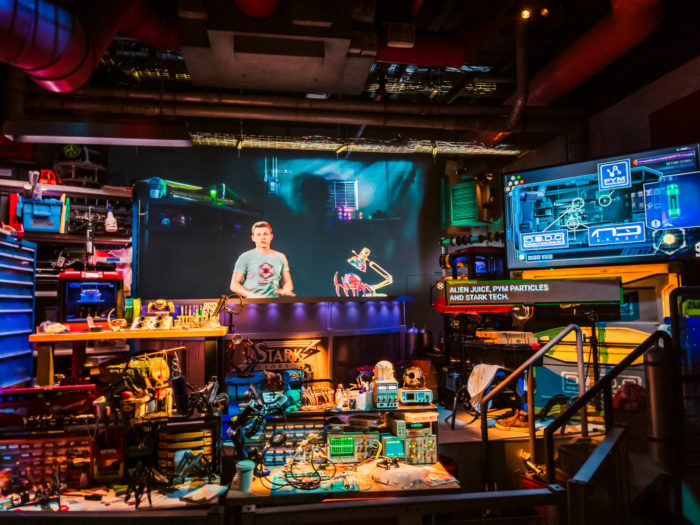 Of course since we're in France, language becomes somewhat of an issue. Tom Holland is, unfortunately, poorly dubbed in French, with projected subtitles. It would make a whole lot more sense for the scene to be in English with French subtitles. We're all for French being used often in Disneyland Paris, as long as it makes sense for the story and is executed properly. There has been a rich history of great rides successfully combining languages here at the French resort, like the classic Star Tours or Ratatouille. Even, Flight Force has a French speaking Iron Man with Captain Marvel speaking English. I believe Tony Stark knows French. He is a billionaire playboy, of course he speaks French. So does Captain Jack Sparrow, he knows quite a lot about the French. But dubbing video of Tom Holland as Peter Parker is bad show. We had a whole movie about Peter Parker being lost in Europe and not speaking the languages, and yet here his mouth moves but his voice doesn't match.
Fun to point out, this is a first time in Disneyland Paris history that they use Dutch dialogue in the queue line. It's just a single line mixed with other languages, but it's interesting.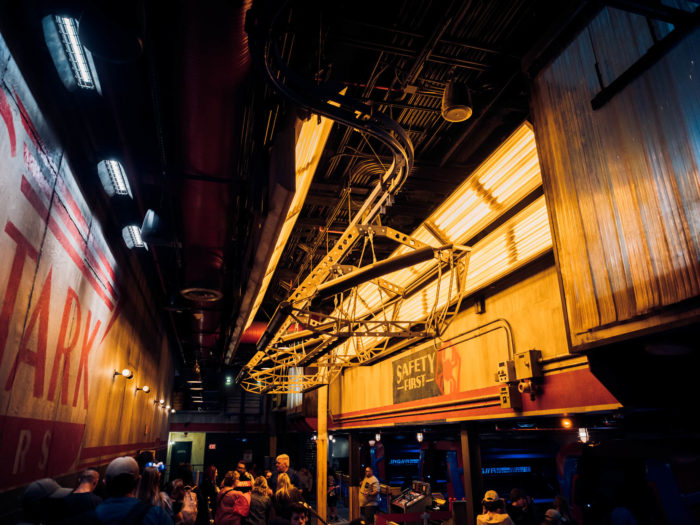 One thing that comes up frequently is that we're seeing characters that have long been removed from the story in the Marvel Cinematic Universe. Yet, here we have Iron Man starring in an attraction with Captain Marvel, and so on. If the Avengers Campus is some other multiverse, along with all the other attractions at Hong Kong Disneyland, aboard the Disney Wish or at Epcot's Guardians of the Galaxy: Cosmic Rewind, then what actual shared history do we have with these characters anymore? Is everything the same except that everyone is still alive? It's a slippery slope that we don't exactly mind, but can change the dynamic of the land in the future.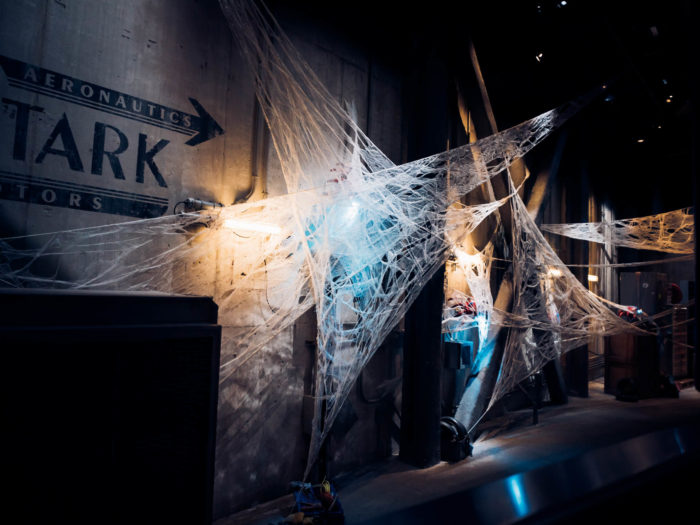 Spider-Man W.E.B. Adventure also begins the Pay to Play feature in Paris, where you can purchase toys and accessories to score higher points. Whether this succeeds will be interesting to follow.
---
Avengers Assemble: Flight Force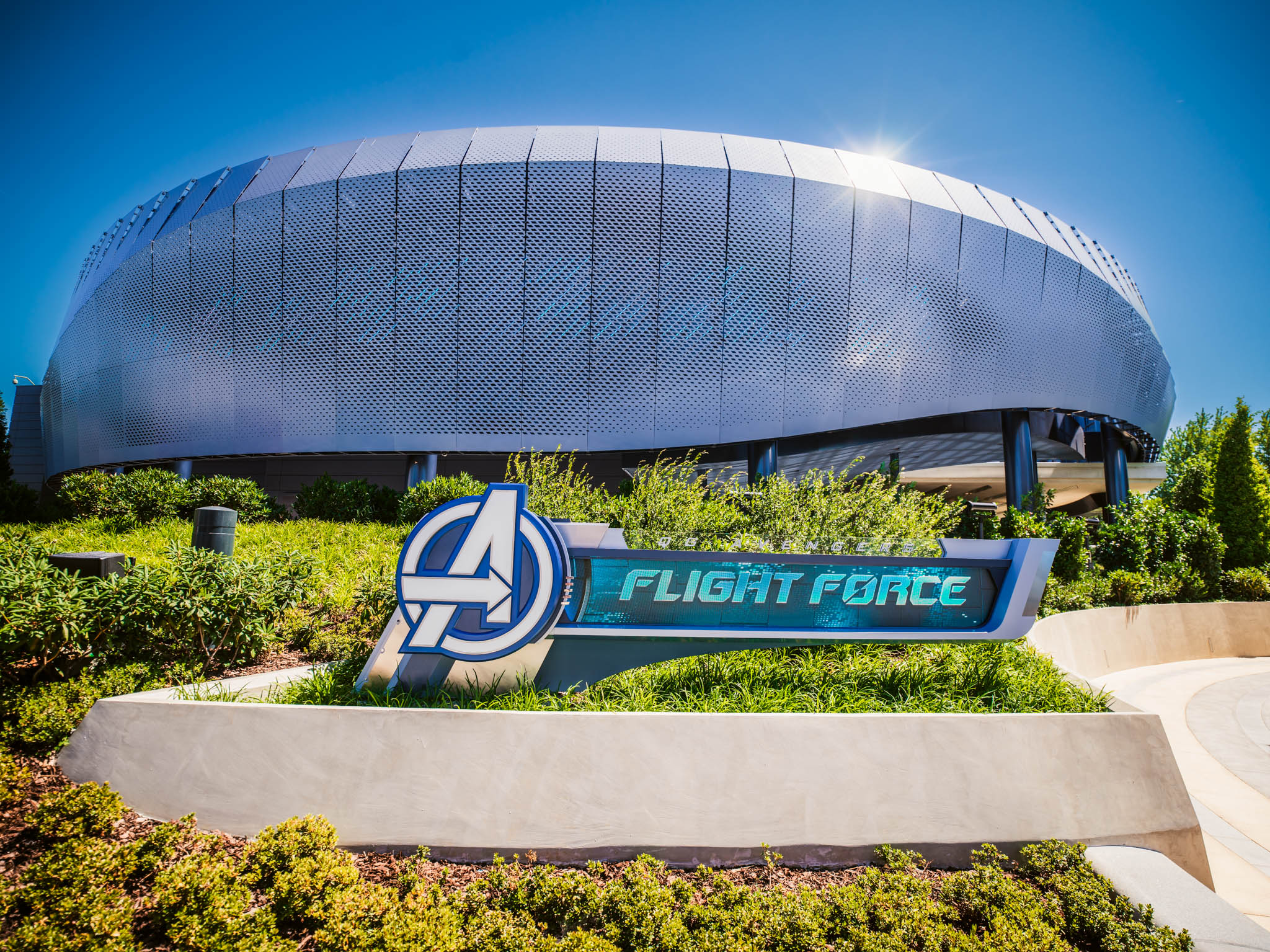 Avengers Assemble: Flight Force is for now, the main hub of Avengers Campus where you'll find the Quinjet on display. It is an E-Ticket roller coaster in the dark using the tracks that used to be Rock 'n' Rollercoaster. Here, Iron Man and Captain Marvel (Brie Larsen reprises the role) need your help to save the universe from the Kree. The ride relies heavily on projections, but unfortunately not as successful as Guardians of the Galaxy: Cosmic Rewind in Florida's EPCOT.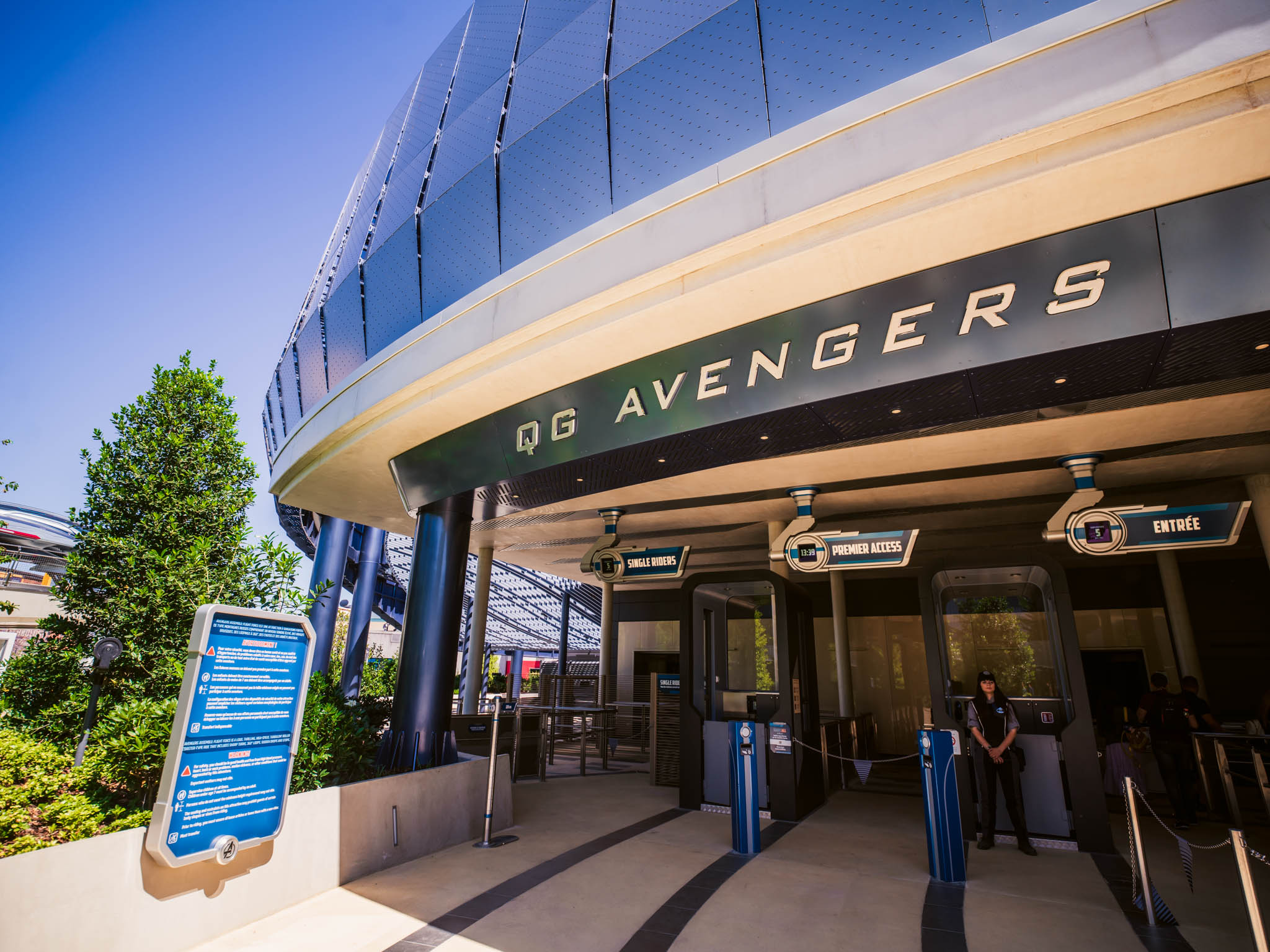 First: the good! The ugly box of a building with the tacky sign has received a complete redesign with a gorgeous facade and interactive LED lighting (F.R.I.D.A.Y.). The queue works well enough for this theme and includes a fully functioning Iron Man animatronic before we board, which is a huge deal for this park (we don't have any animatronics here really).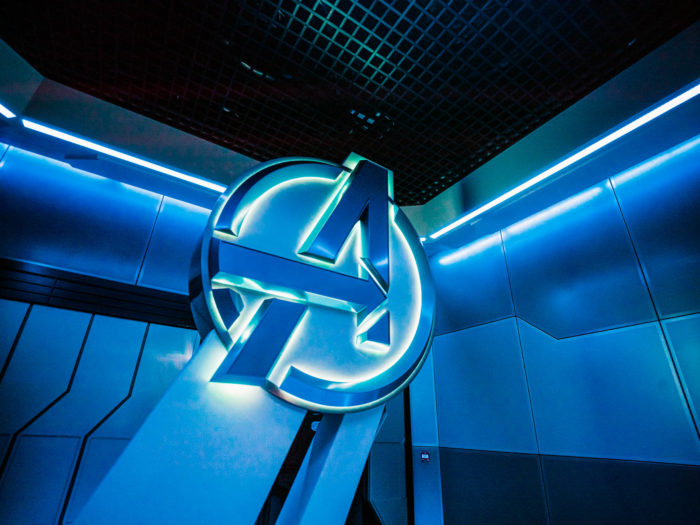 Unfortunately, once you sit down in the repainted coaster, the budget seemingly ran out. The old Rock 'n' Roller Coaster has the same track as the one you might remember from Walt Disney World, but the decorations were wildly different. It felt like a ride through a festival filled with stage lighting. Now it's a ride in total darkness with a few screens depicting Iron Man and Captain Marvel. Most of the story is sadly told to you through the speakers with nothing visually happening, apart from a 2 second projection every 15-20 seconds. At least in Hyperspace Mountain there are lasers, explosions and even a discoball light to give you some idea of what's happening around you. Here it's just "brace for impact and we'll see you on the other side". Especially for a coaster that once boasted it had a massive amount of DMX programming and light fixtures, the darkness is jarring and disappointing.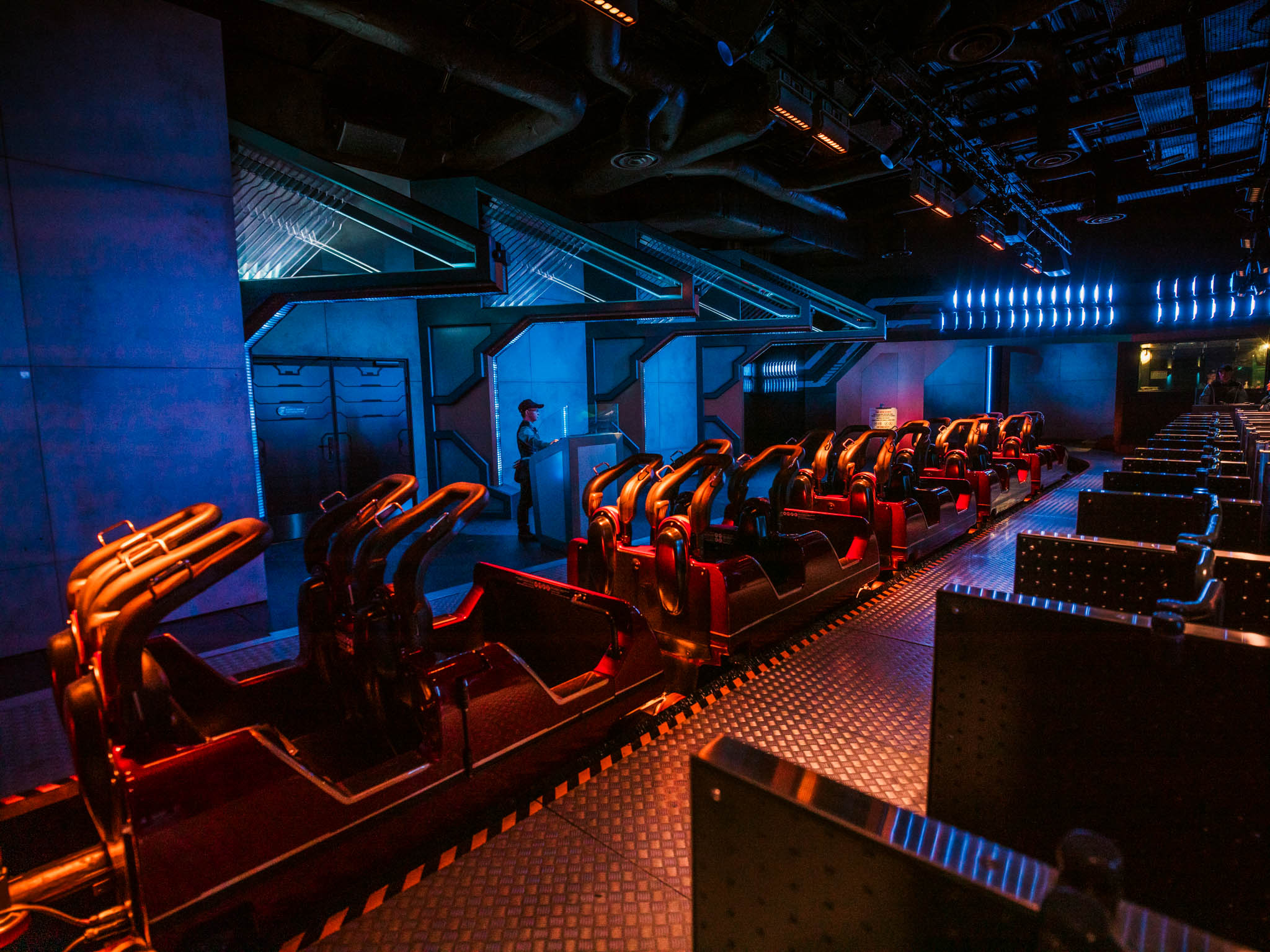 Despite it all, the coaster itself is still a fun ride no matter what theme you slap on it. But this feels once again like Star Tours: The Adventures Continue (read our original review here), where something with history and patina has been scrubbed clean to become a place that feels like a shiny airport. It's sterile. The rock music has been replaced with even more of the same instrumental music. Both Guardians of the Galaxy rides features a kick-ass soundtrack, why couldn't we get some AC/DC?
They could have kept the story of the Rock 'n' Roller Coaster being a prototype (no limousine rides in Paris), and have it be a new Iron Man-style suit that would need a test flight, evocative of the second act of the 2008 Iron Man movie. Something fun, instead of saving the galaxy in complete darkness.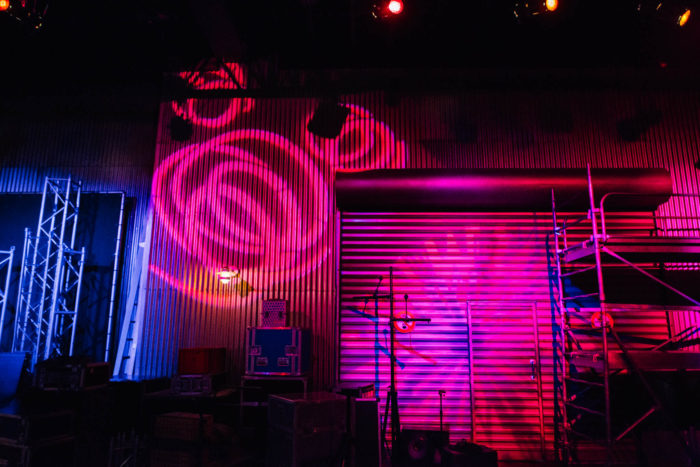 We can only hope some light effects and tweaks will be added over the coming months.
---
Food and Beverages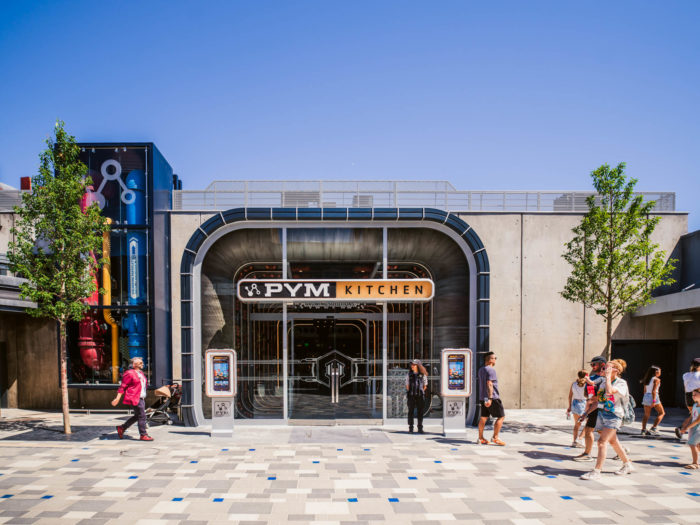 In both campuses you can find have Pym Test Kitchen, but here it's just PYM Kitchen and it's a sit-down buffet restaurant. You'll find the same food in different sizes, mini and supersized. One difference you will find is the practical shrinking effect above the counter which has been replaced by screens. I always prefer practical effects, but here it does mean that things can go wrong, like having Nanobots suddenly causing chaos.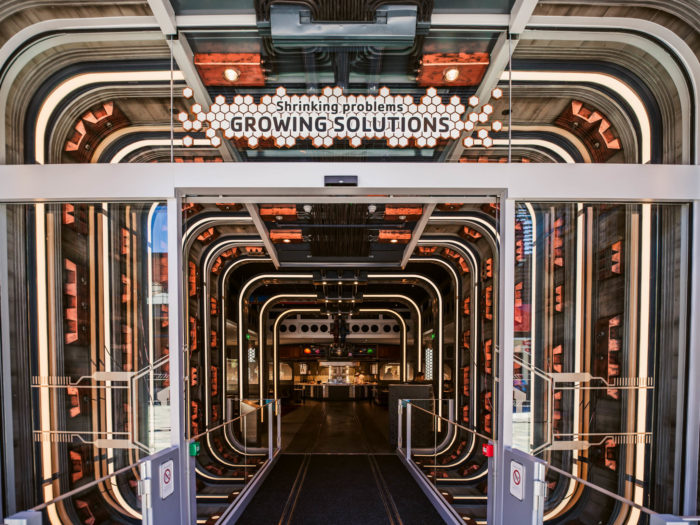 Stark Factory Pizza & Pasta is a quick service restaurant, featuring some great decor. You can find a full-size Hulk Buster here as well as Captain Carter's office filled with details and props. All guest accessible! This location used to be the Disney Blockbuster Cafe.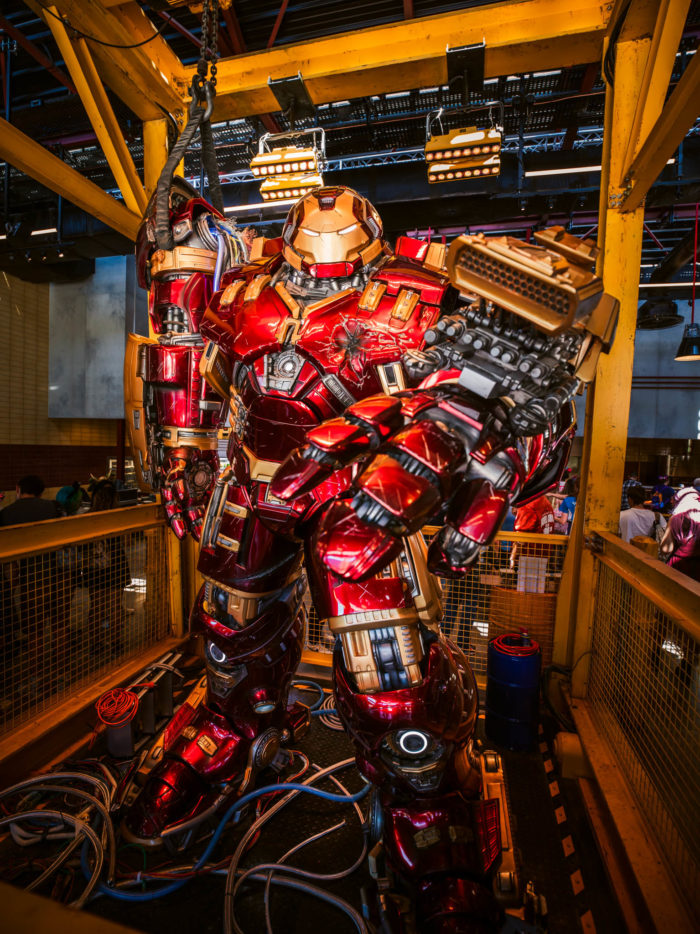 Don't expect a Shawarma Palace in Paris, but there are two other food trucks and the Super Diner (The previous Café des Cascadeurs, a true hidden gem) behind Tower of Terror. All of these offerings add some much needed capacity and menu upgrades to the park, which has been severely lacking during the land upgrades. The food we sampled was tasty with good presentation, including freshly baked pizzas, good pastas and hotdogs.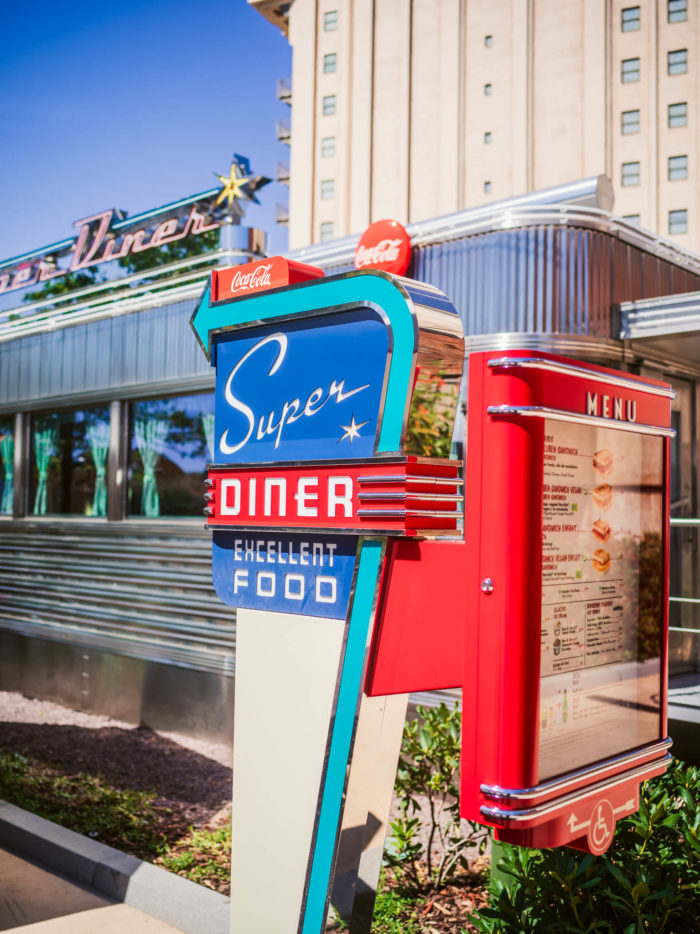 Guests with a plant-based diet will be glad to hear that there are several veggie and vegan options, some partnered with Beyond Meat products, but those who have visited Disneyland California Adventure's Campus know what they are missing with the delicious Impossible line-up.
---
Entertainment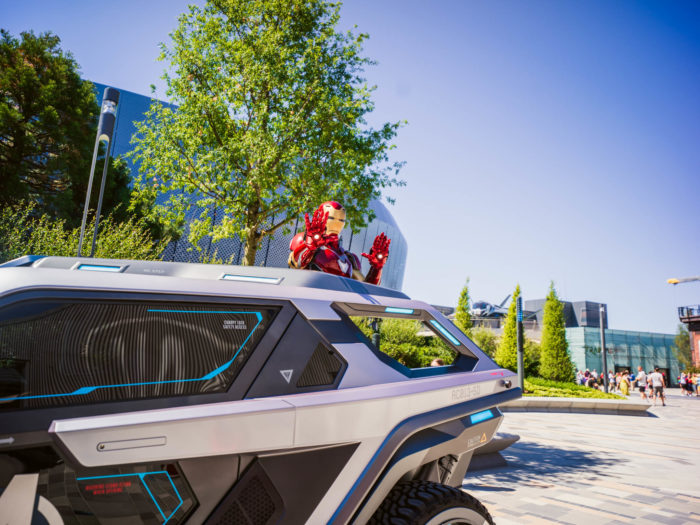 There never has been a place in Disneyland Paris that feels more alive with characters than Avengers Campus! Superheroes everywhere and filled with impromptu shows, walkaround characters or meet & greets. But, we must emphasise: the experience we were given at the press event is a sampler to showcase as much great new stuff as possible. This often is different once the land is in regular operations. Sources told us Disneyland Paris aspires to have something happening every seven minutes, so we will have to wait until the summer has passed to see if they will reach this goal, and if the periodic timing of the shows will remains this ambitious in off-season.
One incredible thing is missing however: the Spider-Man Stuntronic from Disney California Adventure.
New is the Hero Training Center. A meet & greet location that includes an interactive 90 degree parallax video effect. It's your standard themed Photopass location, but the waiting area does feel like a modern funeral home. But it has benches and AC, perfect for a hot day.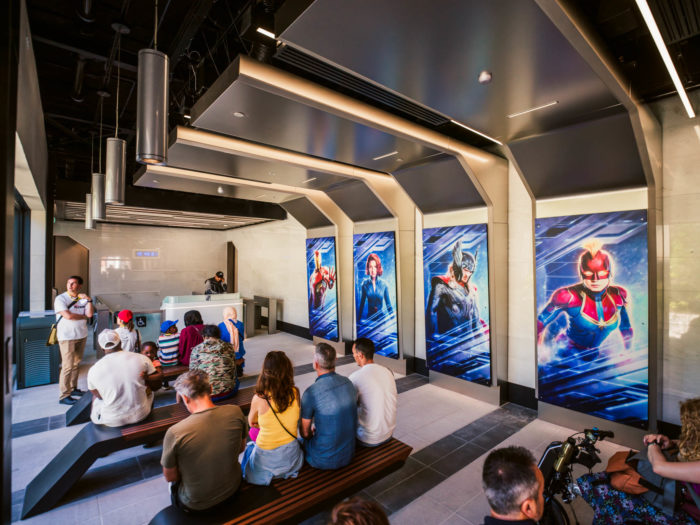 ---
Merchandise
As is tradition, Spider-Man W.E.B. Adventure exits through the gift shop. Mission Equipment is the main store for the entire campus, providing merchandise themed to the campus and both attractions. It also offers basic Marvel merchandise, but those can be found elsewhere in the resort as well. There is also a tiny boutique at the entrance called Portal Shop.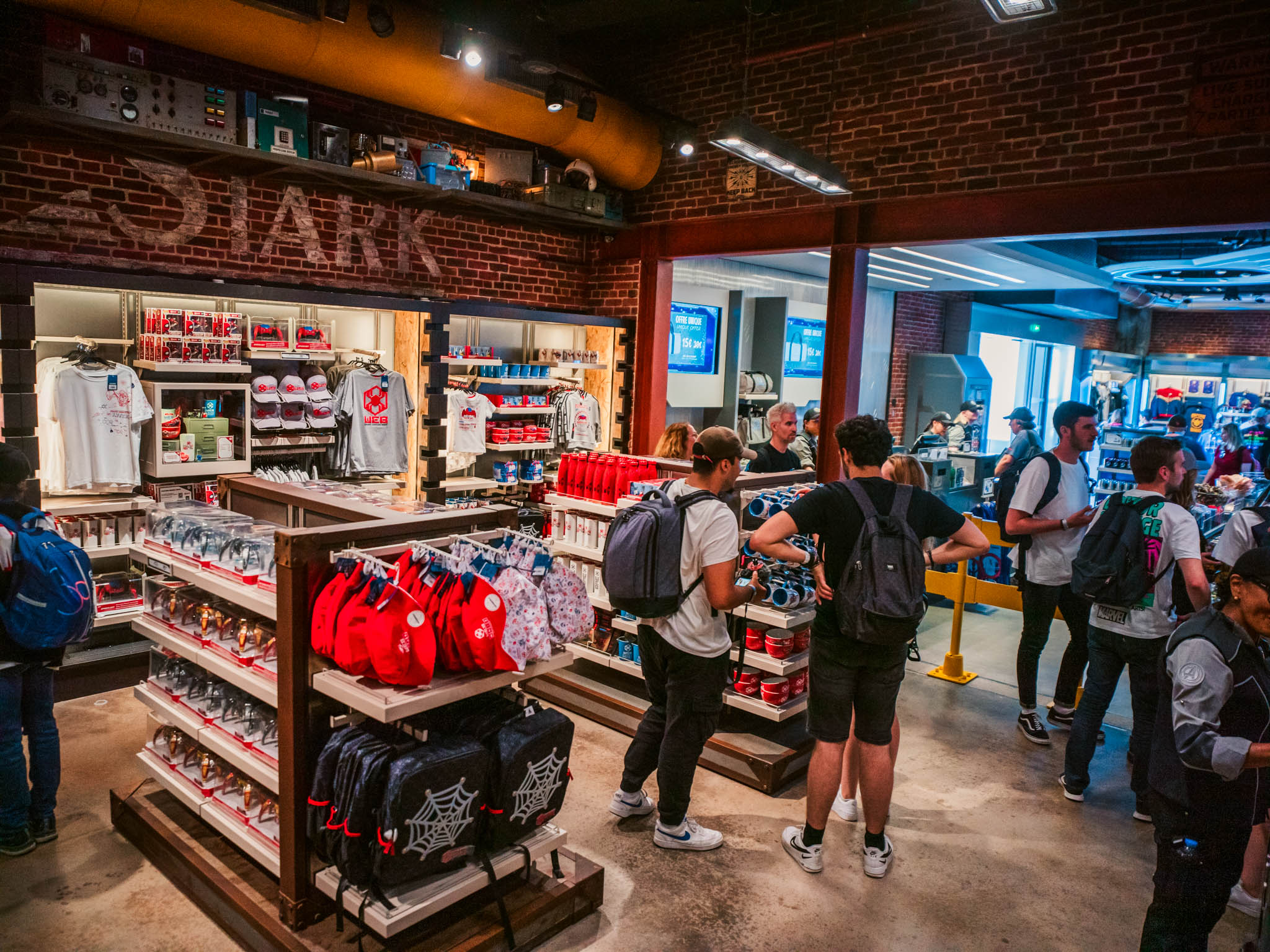 ---
Accessibility
Both Flight Force as W.E.B. are built fully accessible. In both attractions you can experience the full pre-show. Flight Force has adjusted vehicles with a side panel that can open to help transfers, with WEB having a fully wheelchair accessible vehicle and a separate station! In Stark Factory is a small staircase that can transform into a wheelchair lift. Truly futuristic! Top points here!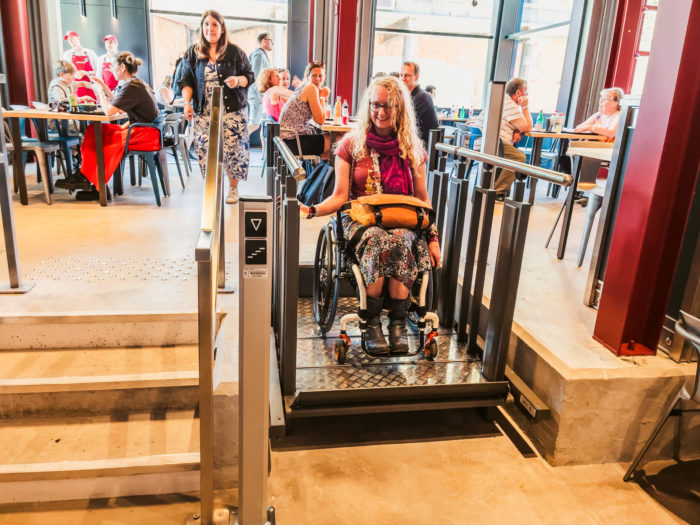 ---
Conclusion
When you look at it on paper, Avengers Campus in both resorts is just a small land that is engulfing a rethemed attraction (Guardians of the Galaxy: Mission Breakout / Avengers Assemble: Flight Force) and a rather fun D-ticket (WEB Slingers: A Spider-Man Adventure / Spider-Man W.E.B Adventure). In Disney California Adventure, while it's energetic and fun, many see it among the weakest of the lands visually. But in Paris it's the start of an exciting future for this park. The troubling Walt Disney Studios Park has finally launched its first phase of the 2 billion dollar investment. But here too there's a flipside, as every one of the announced investments are copies of experiences you can find in other parks.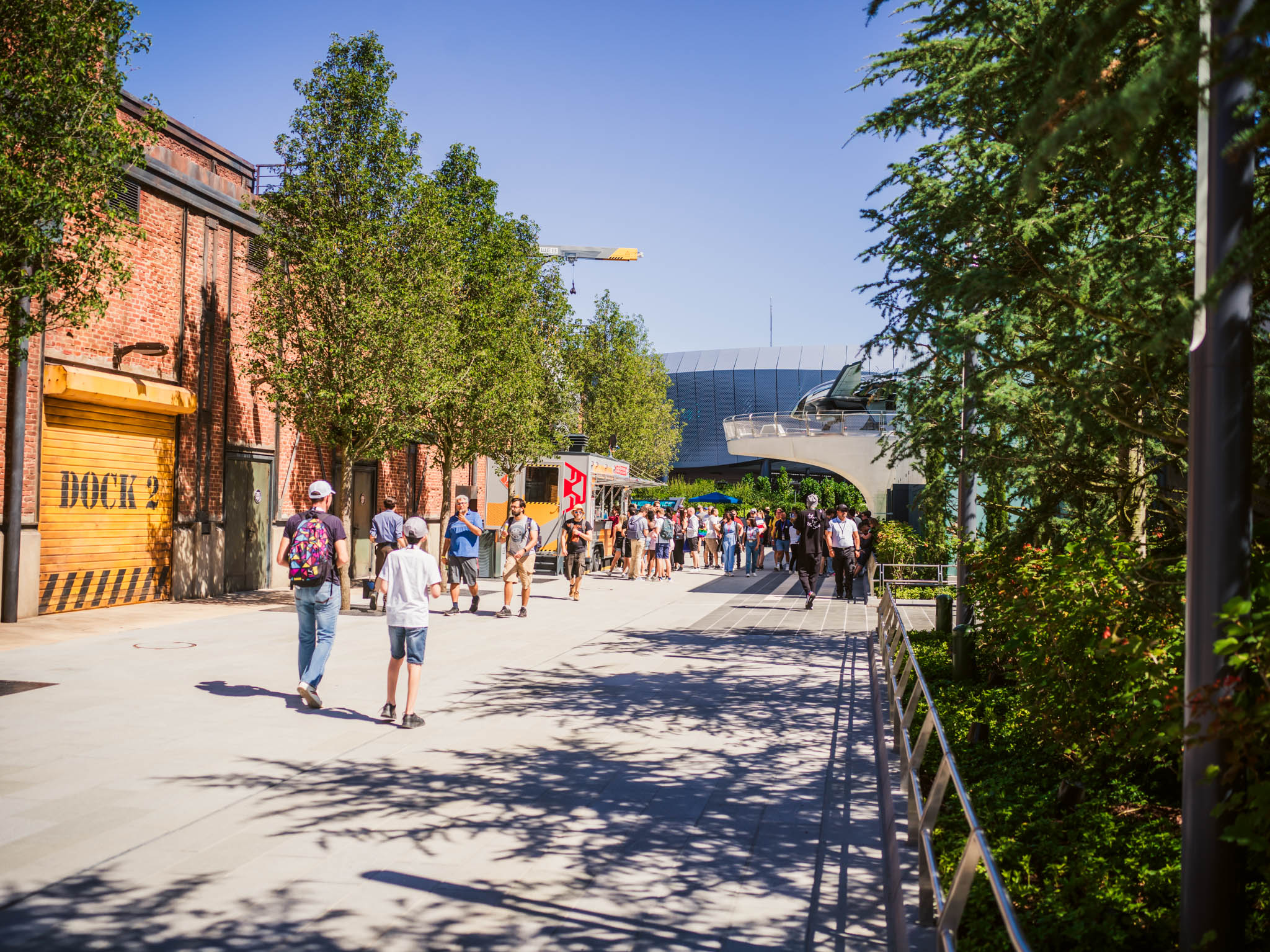 While it used to be that every park had a lot of unique rides, under Chapek's leadership first in Parks & Resorts and later as CEO it has been almost Disney policy to build everything two-three times and just place it in parks worldwide. This is the second of three Avenger Campuses, and the next expansion of Frozen is also shared with Hong Kong Disneyland, with an attraction which in itself is a retheme of the 1988 EPCOT ride Maelstrom. And the originally announced, then de-announced and now-in-the-hallways-confirmed-again Galaxy's Edge we saw in the expansion concept art is supposed to be a mini-version containing just Rise of the Resistance. With one of the two original E-Ticket rides (Ratatouille) already copied for EPCOT it looks like the capacity plagued Crush's Coaster will be the only original place in the park. It all feels like the Walt Disney Studios Park is becoming a place to place copies of already developed successful formulas in the hope a coherent theme will eventually form.
In the end, it's a very good addition for the Walt Disney Studios Park. But the MCU is something that happens in a very close version of our universe. It's more about the people and heroes than the place that makes Marvel… Marvel. We've slowly started see some new environments and planets explored in the Marvel films, but the Avengers Campus doesn't take us there. At least not yet. It does offer some great fun, thrills and much needed capacity back to the park, but it could have been so much more. Disney Imagineering has shown time and time again that they are capable of doing incredibly impressive and truly immersive lands and rides. Avengers Campus isn't one of them.

In closing, Avengers Campus is a long needed addition in Paris, but if we had to choose between the two existing Avengers Campuses… the version in Disney California Adventure wins.