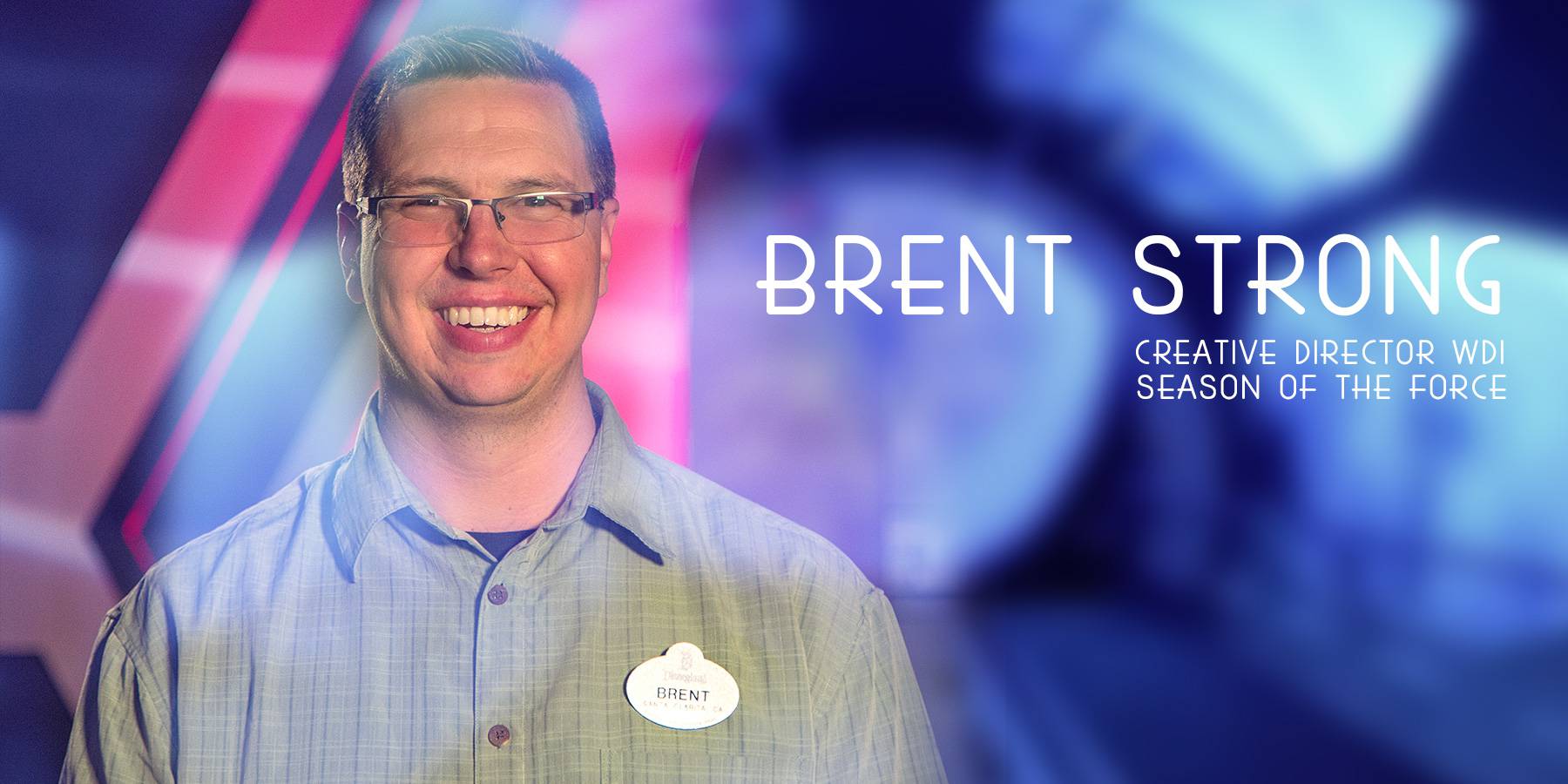 Kris Van de Sande
Talking Season of the Force with WDI's Brent Strong
Article
January 9, 2016
Season of the Force has landed at both Disneyland and Disney's Hollywood Studios and we wanted to find out a little bit more behind the Star Wars fun at the Disney Parks. We went to Brent Strong, the Creative Director at Walt Disney Imagineering and took the lead on Season of the Force as well as Star Wars Launch Bay at both resorts.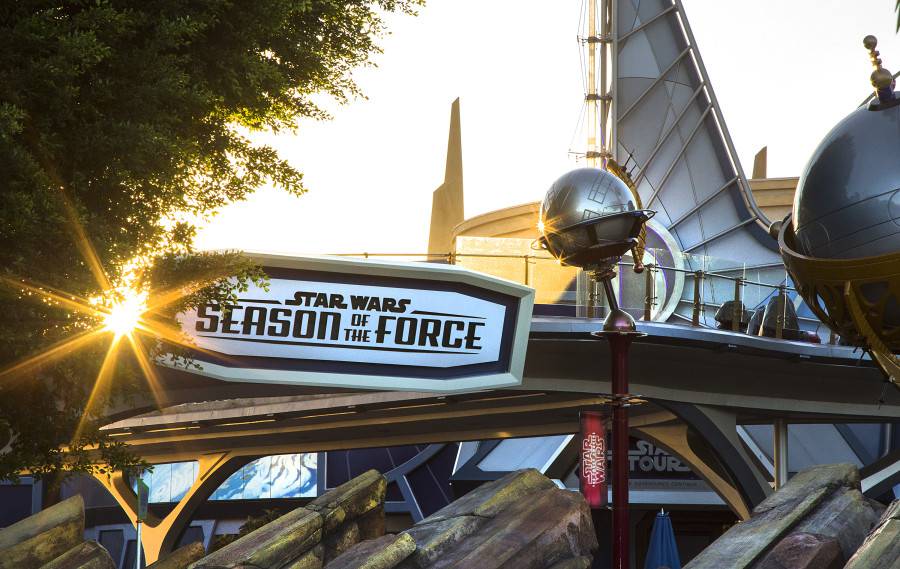 EE: Hi Brent! Season of the Force at Disneyland arrived in November. Is this the first time Tomorrowland got a little bit dressed up for the holidays?
Brent Strong: Yeah, we don't have a lot of decorations in Tomrorowland normally so it's nice to have something.
EE: The parks have always had Star Wars Weekends in Florida, but now that isn't coming back. How did the idea to reconfigure it come about and turn it into Season of the Force come about?
Brent: Gosh, as soon as Lucasfilm joined the Disney family we started thinking about ways that we could bring the Star Wars stories into our parks. Both in long term ways, such as the forthcoming Star Wars themed lands, and in small ways as quickly as possible. Where we really started to hit the accelerator and move on this was probably just over a year ago when people started to really see how The Force Awakens was shaping up. Just the excitement from everyone who was on the set, from Bob Iger to Tom Staggs, to those who were able to see the dailies coming back, we knew we were entering into this new golden age of Star Wars and we knew that we wanted a place to celebrate. That's really where Season of the Force came from. We know that right now is a great time to be a Star Wars fan and we wanted to make our parks the best place to be a Star Wars fan.
EE: [At Disneyland] We have Star Tours, Hyperspace Mountain, Star Wars: Path of the Jedi, Star Wars Launch Bay, Galactic Grill, Jedi Training:Trials of the Temple… which of these excited you the most?
Brent: They've all been amazing. I think what's neat about the selection of experiences that we have in Tomorrowland is that we allow you to interact with Star Wars in a different way. If you want to encounter the characters you can go to the Launch Bay. We have our galleries there that let you go behind the scenes and appreciate the artistry; Hyperspace Mountain gives you a high thrill and you step into that world and get to participate in that epic battle. I think that each cater to a different part of Star Wars fandom so my favorite changes day to day depending on where I am as a fan.
EE: Let's keep going with Hyperspace Mountain, because that is something, as a kid, it's always been a silent roller coaster but I couldn't help but imagine John Williams' music from Star Wars while I rode. But now it's finally happened! Can you walk us through the process of how that overlay came about what it took to get that executed?
Brent: Well, I don't think you were the only person who was playing John Williams in the back of your mind because the story and the ride are such a natural fit to one another. The reason people love Space Mountain is because it's a high energy flight through outer space. But it's never had a narrative to it. Then you look at the Star Wars films and they give you amazing action set pieces, the attack on the two Death Stars, all of these moments with X-Wings and TIE Fighters and the characters. It was wonderful to see what happens when you finally mix the peanut butter and the chocolate, it became so natural to combine these things.
EE: And going back to our Star Wars and Disneyland history, Space Mountain actually opened two days after Star Wars was released in 1977. They're practically twins!
Brent: They were meant to be together!
EE: For Hyperspace Mountain, how did you come down to Admiral Ackbar, who is an absolute favorite of mine and many others?
Brent: He was such a natural fit for our briefing moment. Now that we have this story for Hyperspace Mountain we needed someone to set that context. He's a fan favorite and he's certainly one of my favorites. There's that perfect scene in Return of the Jedi where he's laying out the attack on the second Death Star and that was a moment that we tonally wanted to capture. The other thing that is exciting is that we worked with the Lucasfilm story team to make sure that our Hyperspace Mountain experience had its place in the Star Wars timeline and canon. One of the things you'll hear from Admiral Ackbar is that we're going to investigate a Star Destroyer near the planet Jakku , so our battle that is taking place is the Battle of Jakku, which we can see the aftermath of in all the Episode VII trailers. You can see the ground battle in Star Wars Battlefront, we're just telling the space portion of that battle story. And Admiral Ackbar was present at that battle so we made sure that the characters we were using were all appropriate to that time period.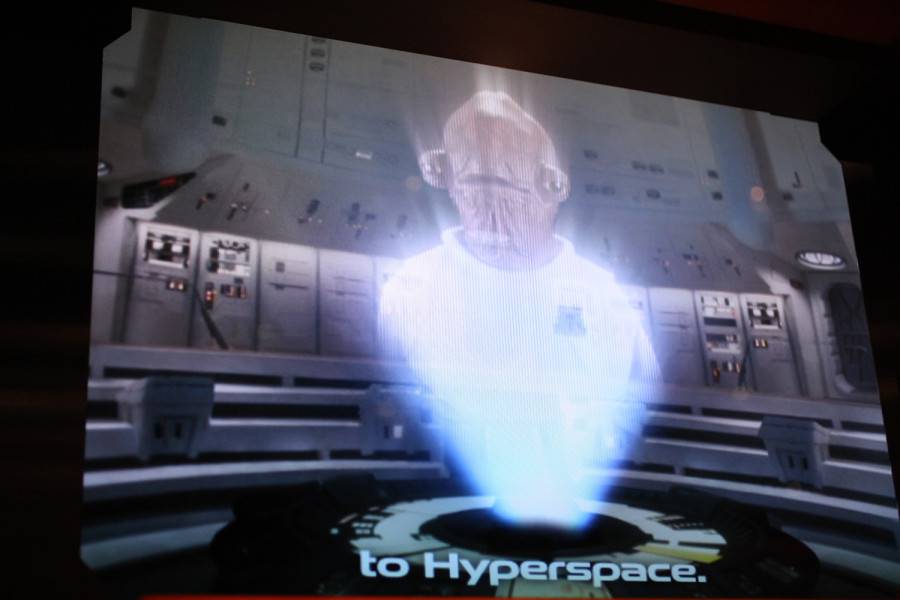 EE: That's very cool! I noticed that Admiral Ackbar has a role in Episode VII, do you use the same voice or actor for Hyperspace Mountain?
Brent: I can't comment on any Episode VII related pieces, but we are using a familiar Admiral Ackbar voice to anyone who's been watching Clone Wars.
EE: Is there no end date set yet for this yet? Because this has been the funnest Space Mountain has ever been for me. How likely will this just keep going?
Brent: You know, we haven't announced any end dates to the Season of the Force yet and there's a lot of cool Star Wars stuff on the horizon so we wanted to keep things flexible going forward.
EE: Do you think we'll have a rotation of new things constantly?
Brent: I think when we look at all of these offerings, Star Tours, you know, has been updated recently and now it's been updated again. We're looking at all of these as a way to celebrate the ever changing Star Wars galaxy. So as new movies and characters and worlds enter, it's quite likely that we'll be updating all of these experiences to match them.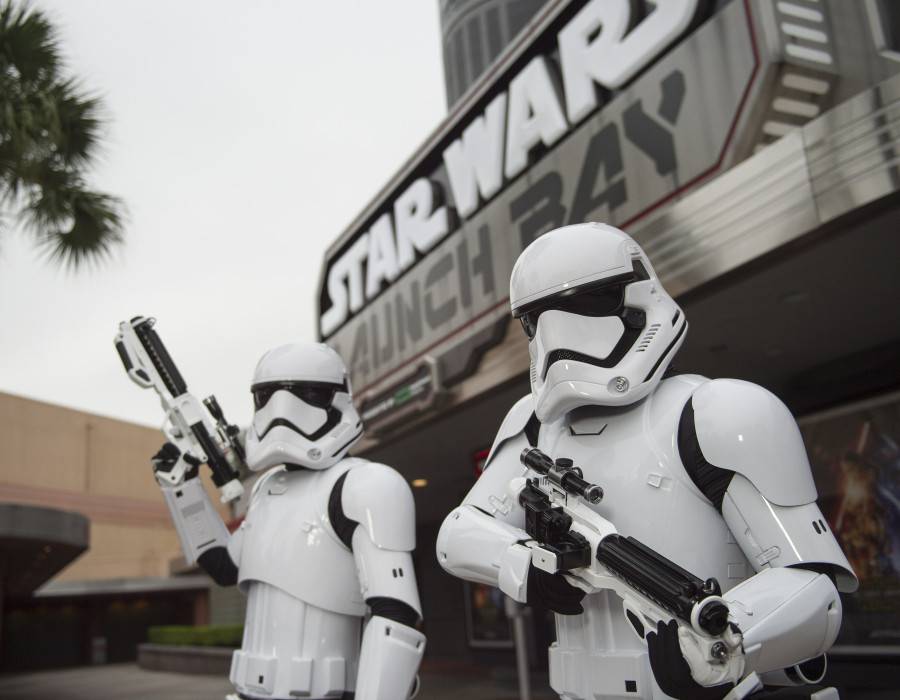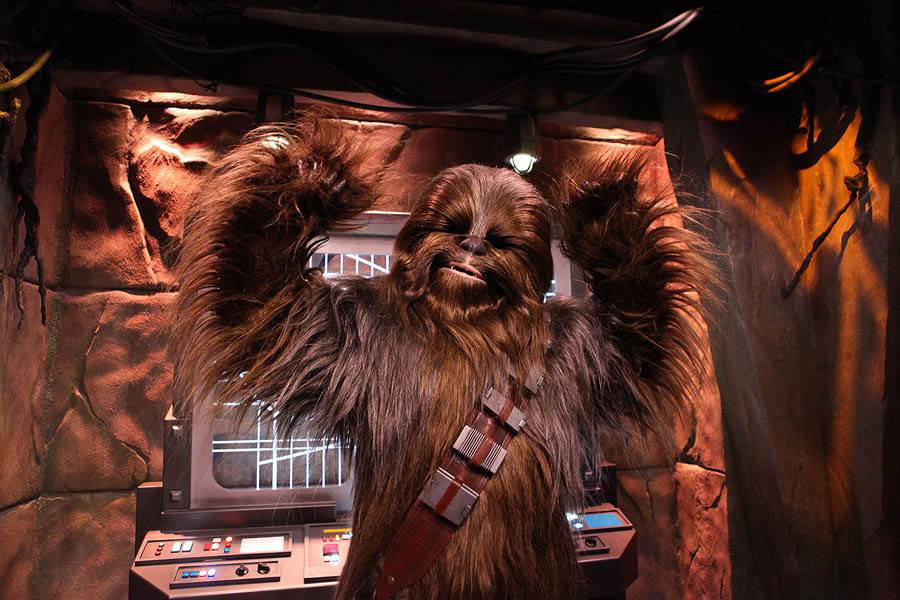 EE: Over at the Star Wars Launch Bay guests can meet Darth Vader, Chewbacca and Boba Fett. These are absolutely iconic character greeting experiences but were there other characters that almost made the cut?
Brent: There's so many characters from that universe that we would love to meet but Chewbacca, Darth Vader and Boba Fett are such fan favorites and iconic representations in Star Wars that they were the first ones that we wanted to encounter.
EE: I remember R2-D2 used to roll around Tomorrowland in the past. Will he make similar appearances again?
Brent: Maybe [laughs]. We do have the First Order Stormtroopers out and about in the land.
EE: And they speak!
Brent: Yes, they're on patrol and interacting with the guests.
EE: Let's talk food for a second. We have the Pizza Port & Galactic Grill. How much of it do you guys come up with and how much is designed by the resort chefs?
Brent: We left the cooking up to the experts but we did work with the culinary team at the resort to really figure out what are those aspects that would define the Light Side and the Dark Side at the Galactic Grill, and what are some flavors that we really wanted to infuse. I think they did such an amazing job creating these flavors that are new and yet familiar enough that they feel appropriate for earthly palettes.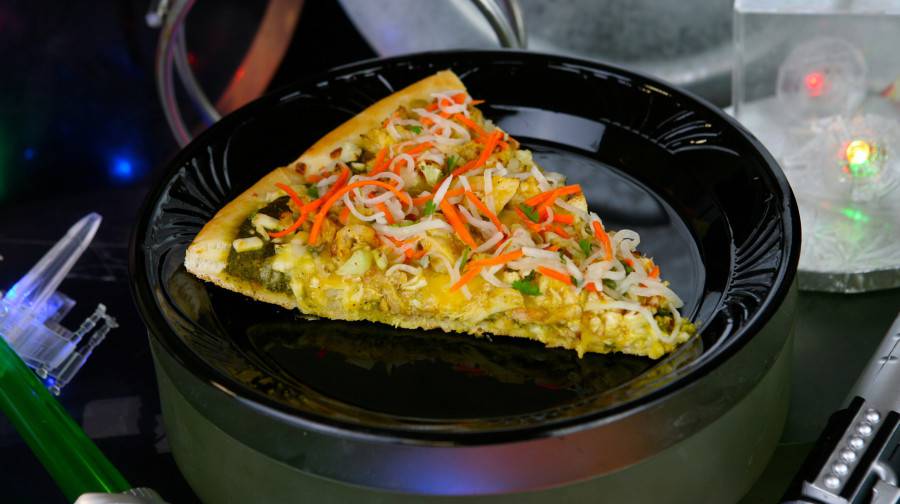 EE: The iconic Tomorrowland Terrace received a name change to Galactic Grill. Was Pizza Port going to receive similar treatment?
Brent: We're really putting the effort on Tomorrowland Terrace. What's neat about Redd Rockett's Pizza Port is that it already has a bit of that space port story so if you look at the items we have, we like to celebrate the different planets, so it's the Fields of Naboo Salad, it's the Forest of Endor Pasta. It's as if we sourced the ingredients from those planets.
EE: How did Path of the Jedi come about? This experience can be seen at both Disneyland and Disney's Hollywood Studios.
Brent: Yeah, we worked really closely with Lucasfilm to create that experience and one of the things that was really important to us was finding a way to ensure that if you've never seen Star Wars before, obviously we can't take twelve hours and condense it into 10 minutes but we wanted to give you a sense of what Star Wars was about. What were the stories, what were the themes, what were the types of adventures and to bring it all together to encapsulate that for our first time viewers, but also for our fans who are eagerly awaiting The Force Awakens. What are those scenes from the classic films that would best prepare you? So that entire show was developed in cooperation with the people at Lucasfilm who are intimately familiar with the storyline. These are the scenes that are most relevant to lead up to Episode VII. I think once people see The Force Awakens, you'll find an added level of meaning to the scenes that we chosen that really add up to one gigantic story.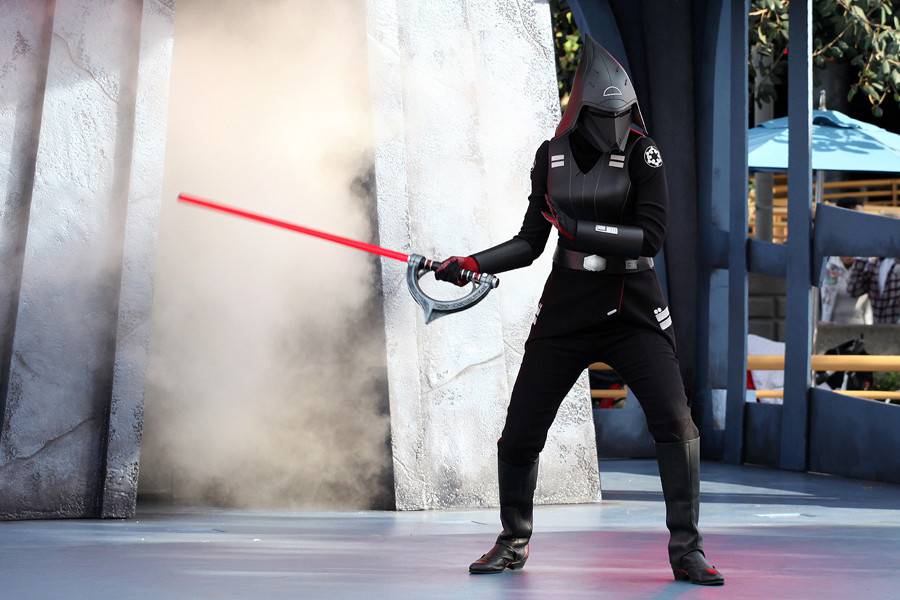 EE: Disneyland Paris most recently opened up their Jedi Training Academy. How similar is that to what the parks here going to get?
Brent: So the Jedi Training Academy that recently opened in Paris has a lot of similarities to the new show that we're putting in both Disneyland and Disney's Hollywood Studios but it's sort of a hybrid of the show we all know and love as well as the new show. The new show that opened in Florida and California is really exciting. The first time we did the Jedi Training Academy it was during the era of the prequels, during episodes 1, 2, and 3, so the show was a formal learning environment. You're learning from the master in a way that would be very familiar to Mace Windu or Yoda. What we're seeing now as we look ahead to Star Wars Episode VII and what is happening in Star Wars Rebels, we're in a time now where the Jedi are hiding. This is no longer a formal institution as it is an underground society and our new show reflects that. The new show is about that personal journey and being on the fringes of being a Jedi and really about confronting your inner Dark Side and fears. We're also bringing in a new villain, the Seventh Sister, who is one of the brand new inquisitors who made her debut on Star Wars Rebels. So in addition to Darth Vader and Darth Maul, who will still be a part of the show, this will really be about our younglings taking that journey into the Jedi temple not unlike how Ezra Bridger did in the first season of Star Wars Rebels and facing manifestations of the Dark Side. That opens up all sorts of these villains sharing the stage.
EE: Will we see other characters from Star Wars Rebels? Kanan or Ezra perhaps?
Brent: No, this is really about our Jedi specific story rather than theirs.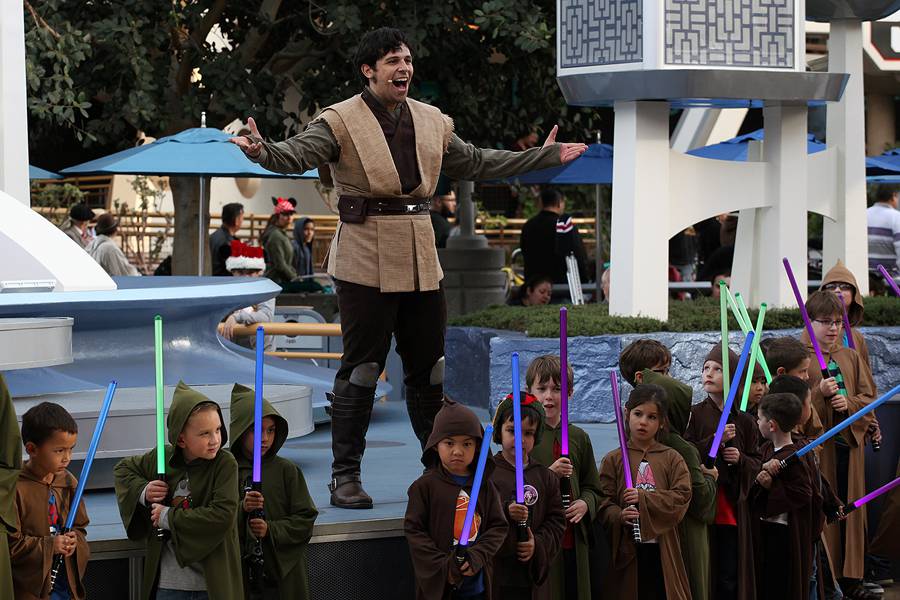 EE: Season of the Force just opened up in Disney's Hollywood Studios. What's different?
Brent: There's a lot of exciting events on the horizon for Disney's Hollywood Studios. They have the Jedi Training: Trials of the Temple, which opens before Disneyland's. They have the new destination in Star Tours; Path of the Jedi; seasonal food offerings, and also Star Wars Launch Bay. While the two experiences are similar in tone and have a lot of overlap, the parks have different audiences and different venues so there will be some differences in the display in Florida than the one in California.
EE: Star Wars Launch Bay has taken over the Art of Animation Building… which is pretty far away from Star Tours and Jedi Training …
Brent: Yeah, over in Florida it's kind of a park-wide takeover. It really is a much larger foot print that they get to play with which is pretty exciting.
EE: While Florida doesn't have Hyperspace Mountain, they do have a new Fireworks show. Can you tell us more?
Brent: Yes! The brand new element is that they are doing a fireworks show every night that is set to the music of John Williams and celebrates the entire saga, from episode 1 all the way to 7, so it's going to include pieces of the soundtrack from The Force Awakens.
EE: That sounds really exciting! Will there be a return of a parade that was always a part of Star Wars Weekends?
Brent: No daily parades are planned at this point but we're always looking for ways to engage the fan communities on both coasts. The great thing about opening the Launch Bay at Hollywood Studios is that a lot of those experiences that used to be regulated to a couple of weekends a year, we're now going to have them year round. So you'll always have that opportunity to meet the characters and step into their worlds. We are looking for ways for fans reasons to come together for special moments though. We haven't announced anything yet but look out!
EE: Thank you very much for talking with us!
Brent: No problem, it's my pleasure!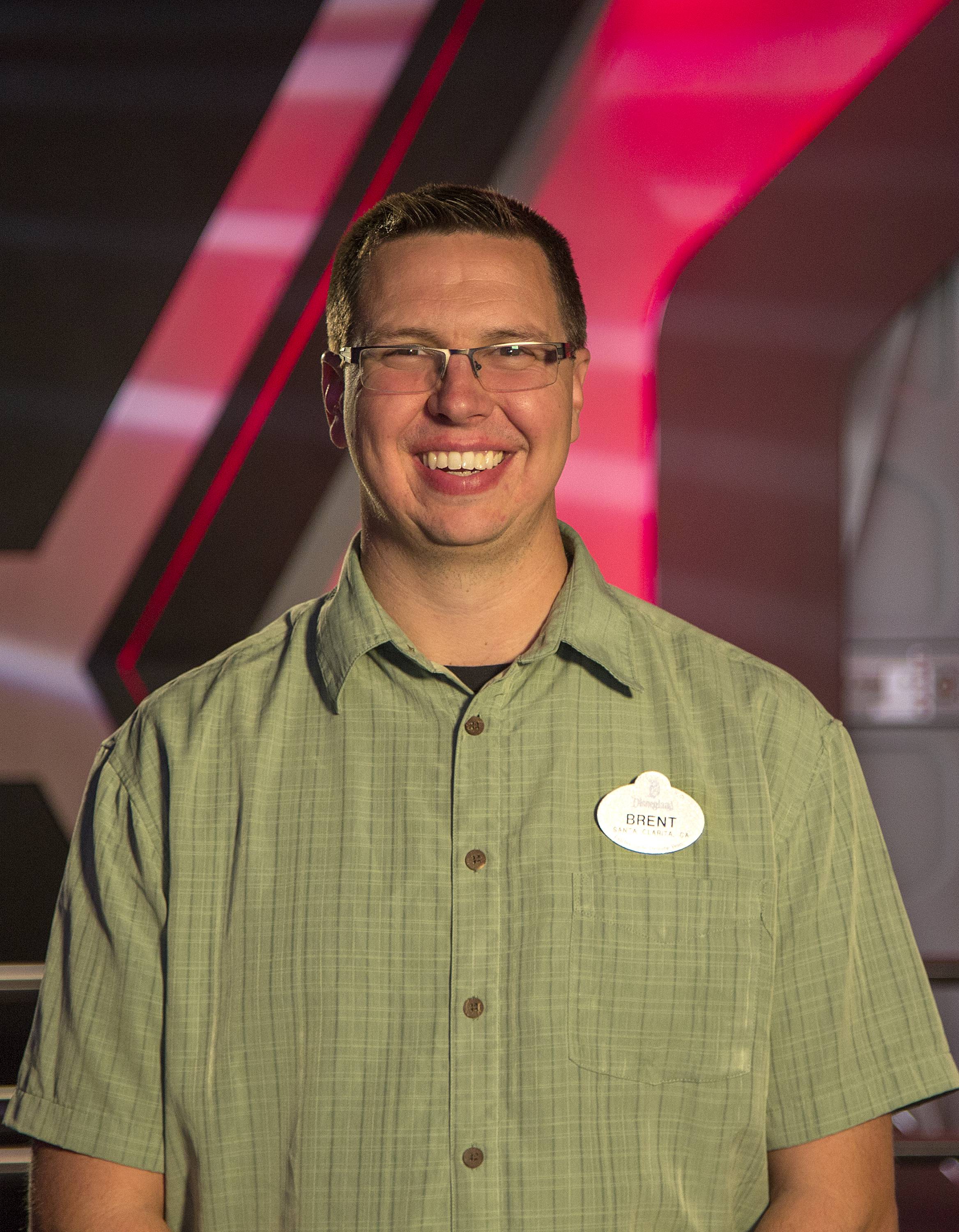 Brent Strong is a creative director for Walt Disney Imagineering, where he is responsible for the development of new attractions and experiences at Disney Parks around the world. He was responsible for leading the creative teams for Season of the Force and Star Wars Launch Bay, and he continues to focus on new Star Wars experiences at Disney Parks. Brent joined Walt Disney Imagineering in 2006, with previous work including the development of long-term visions for Epcot at Walt Disney World and interactive experiences at various Parks.
Special thanks to Brent, Frank, and Mark for their help on this interview!
Photo of Brent Strong courtesy Walt Disney Imagineering
Photography of Season of the Force at Disney's Hollywood Studios courtesy Disney
Photography of Season of the Force at Disneyland by David Yeh