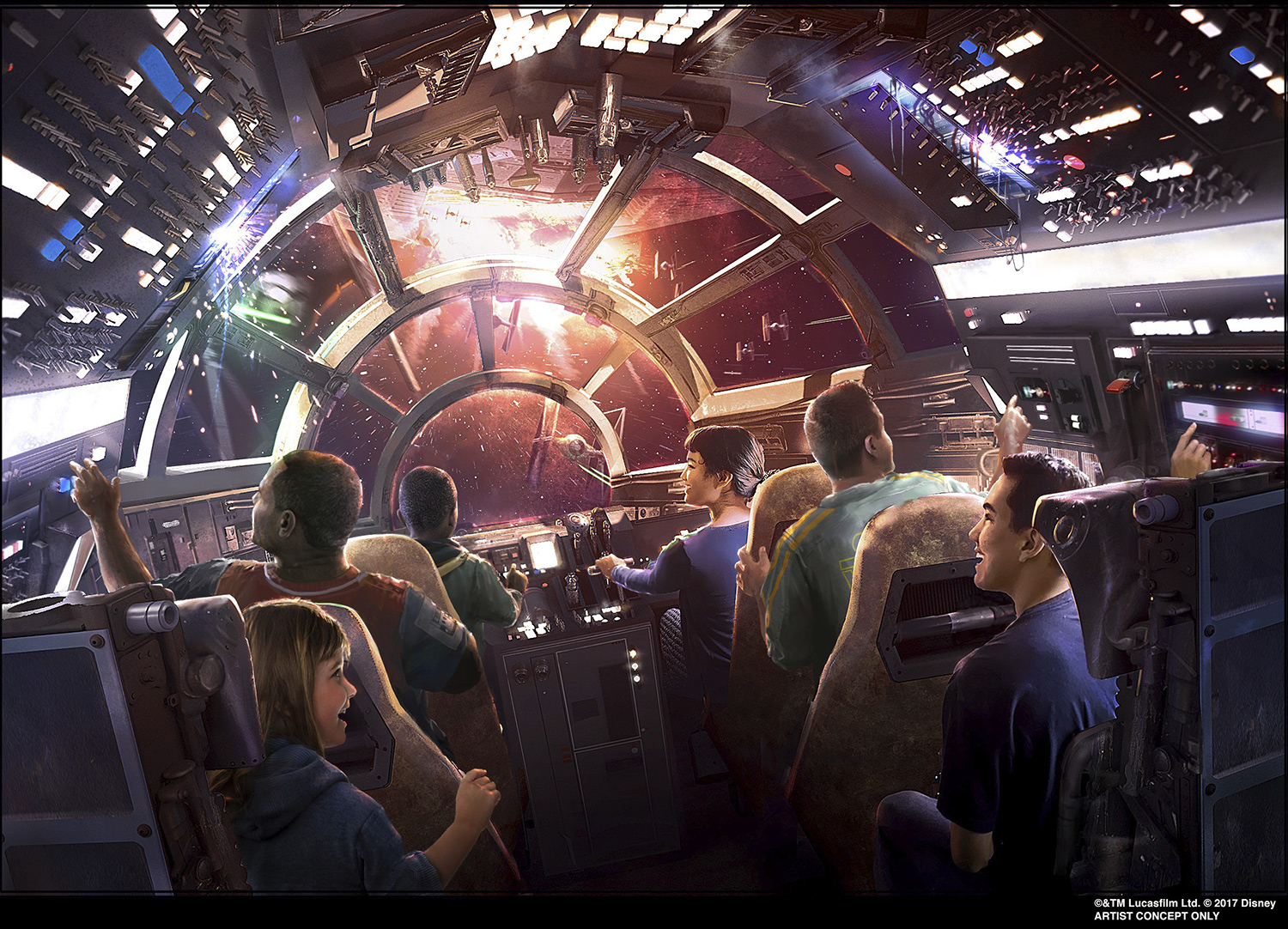 David Yeh
D23 Expo 2017: Parks and Resorts — Everything Announced So Far…
Article
July 18, 2017
We're still recovering from the entirety of D23 Expo 2017 but with so much news announced, what a time to be a themed entertainment fan right? Walt Disney Parks and Resorts presented thousands of Disney fans on Saturday afternoon a smorgasbord of news and updates regarding the future of Disney Parks and Resorts. Bob Chapek, Chairman of Walt Disney Parks & Resorts delivered the news with the help of Scott Trowbridge (Star Wars Galaxy's Edge), Kevin Rafferty (Mickey and Minnie's Runaway Railway), Tom Fitzegerald (Epcot expansion), Wendy Anderson (Beauty and the Beast on Disney Cruise Lines), and John Lasseter (Pixar Pier and Haul-O-Ween). Of course, not all was revealed, which leaves us with more questions than answers. But until we find out more, here's what was revealed this weekend and what we know so far.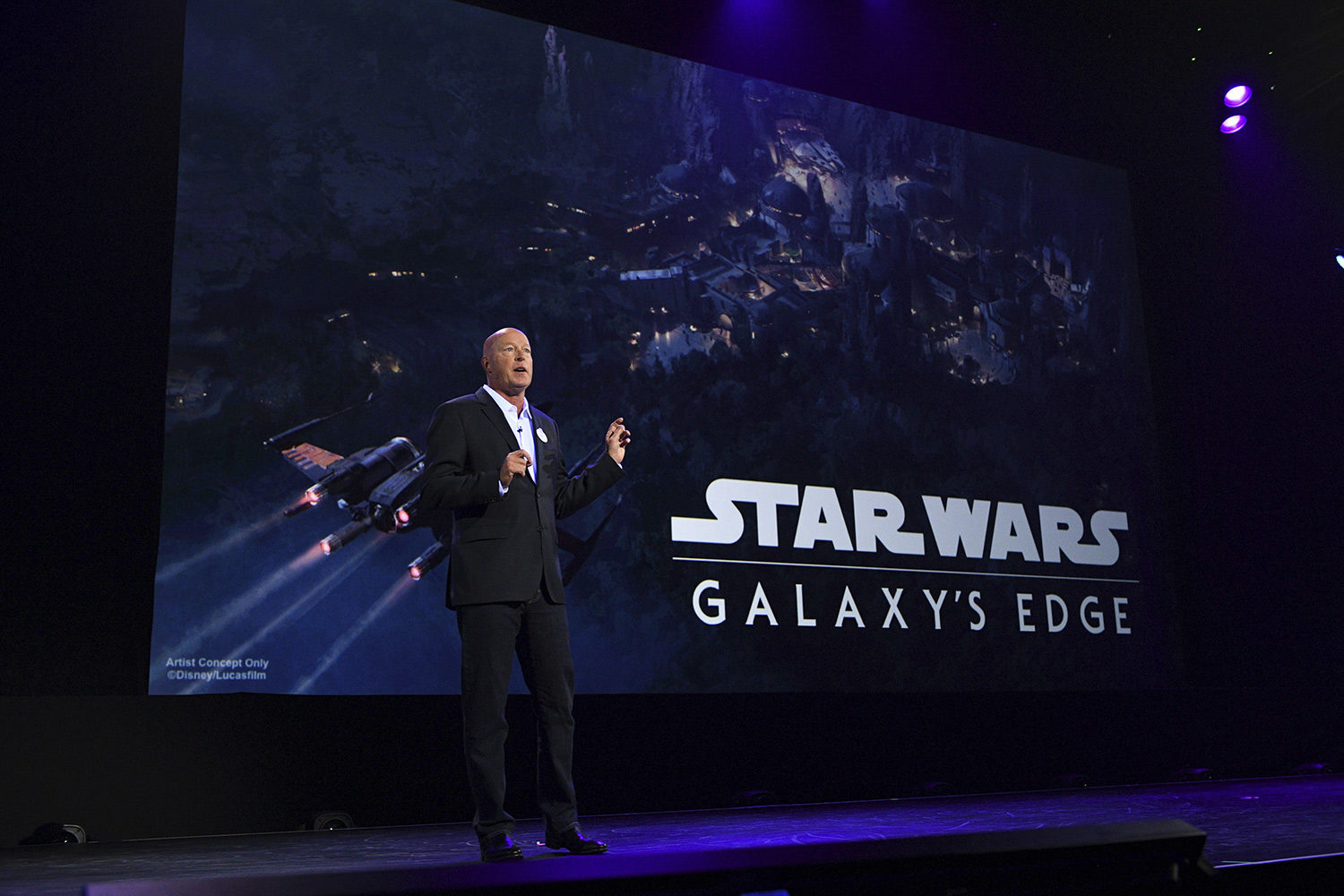 Star Wars Land = Star Wars Galaxy's Edge
We'll start with the biggest bantha in the room: Star Wars. Already underway at both Disneyland and Disney's Hollywood Studios, the official name of the themed lands was revealed to be STAR WARS GALAXY'S EDGE. The 14-acre remote trading port will open in 2019 and puts guests into the middle of the action between The Resistance and the First Order with a timeline taking place roughly between Episode 8 and Episode 9. There's two attractions in the land, one will make you feel you're in a hangar bay aboard a Star Destroyer, promising to be one of the largest Disney attractions ever; and another attraction gives guests the opporutnity to work together in piloting the Millennium Falcon on a critical mission. Your success or failure may dictate how the rest of your time spent in the land will play out. You may win galactic credits or perhaps a bounty on your head.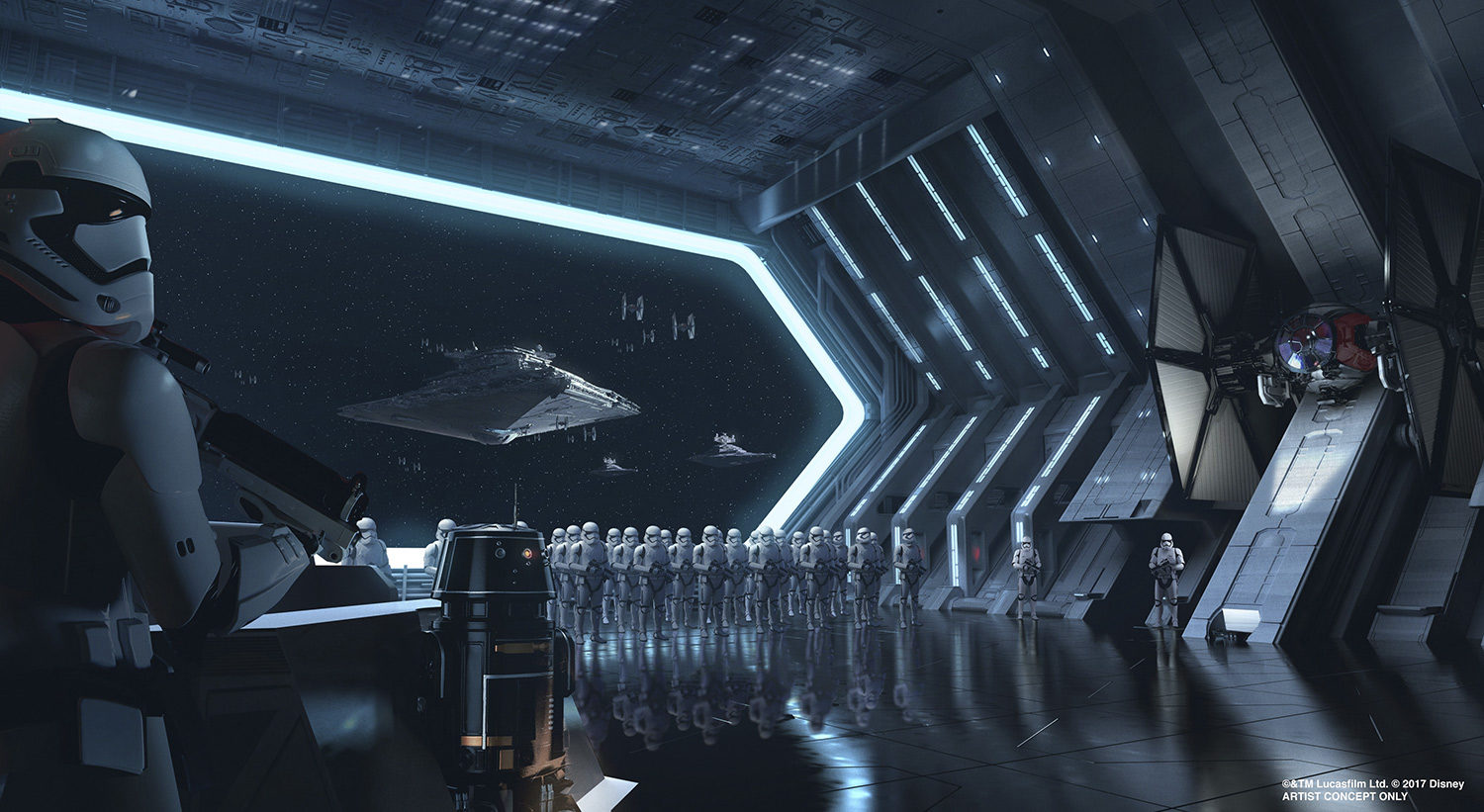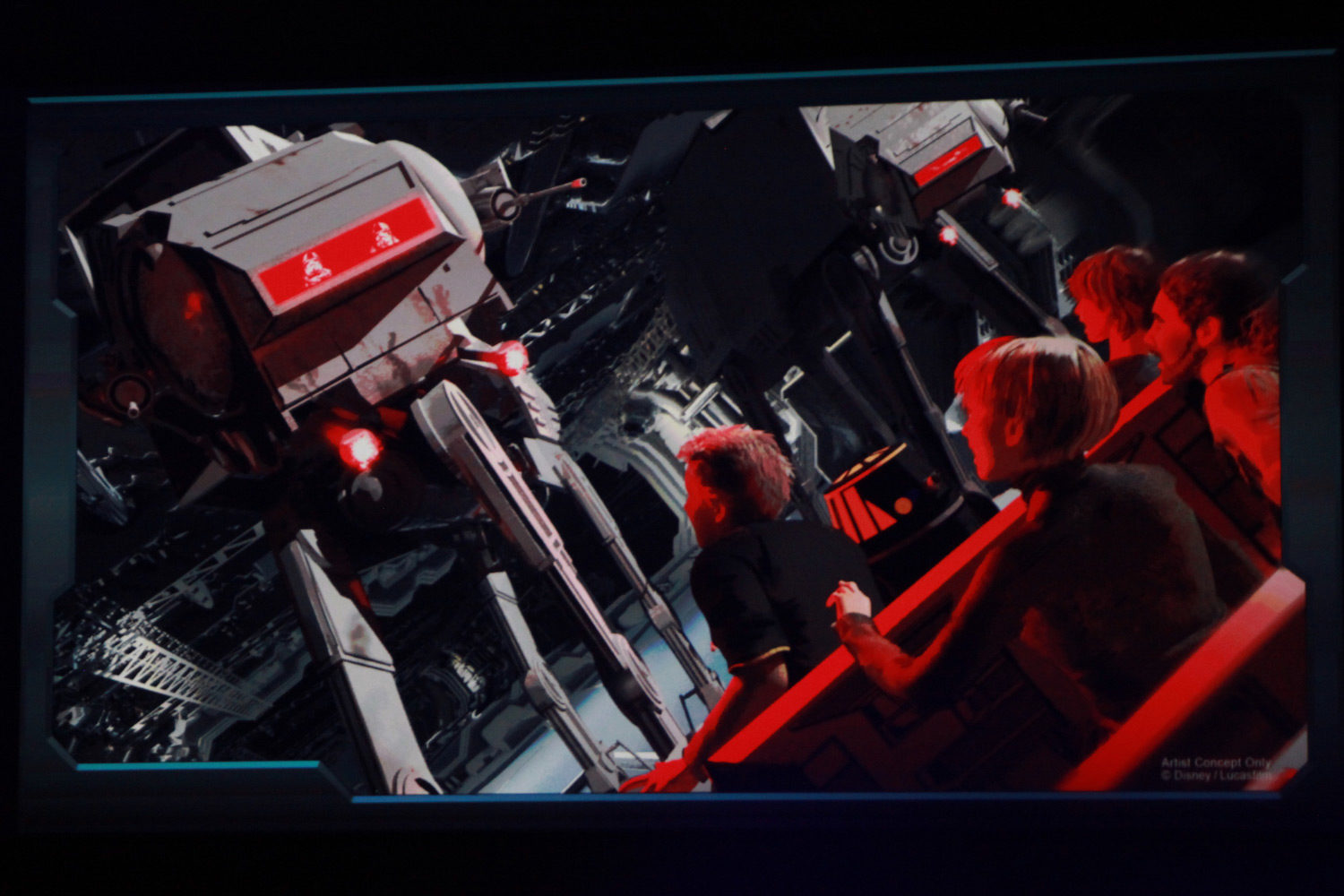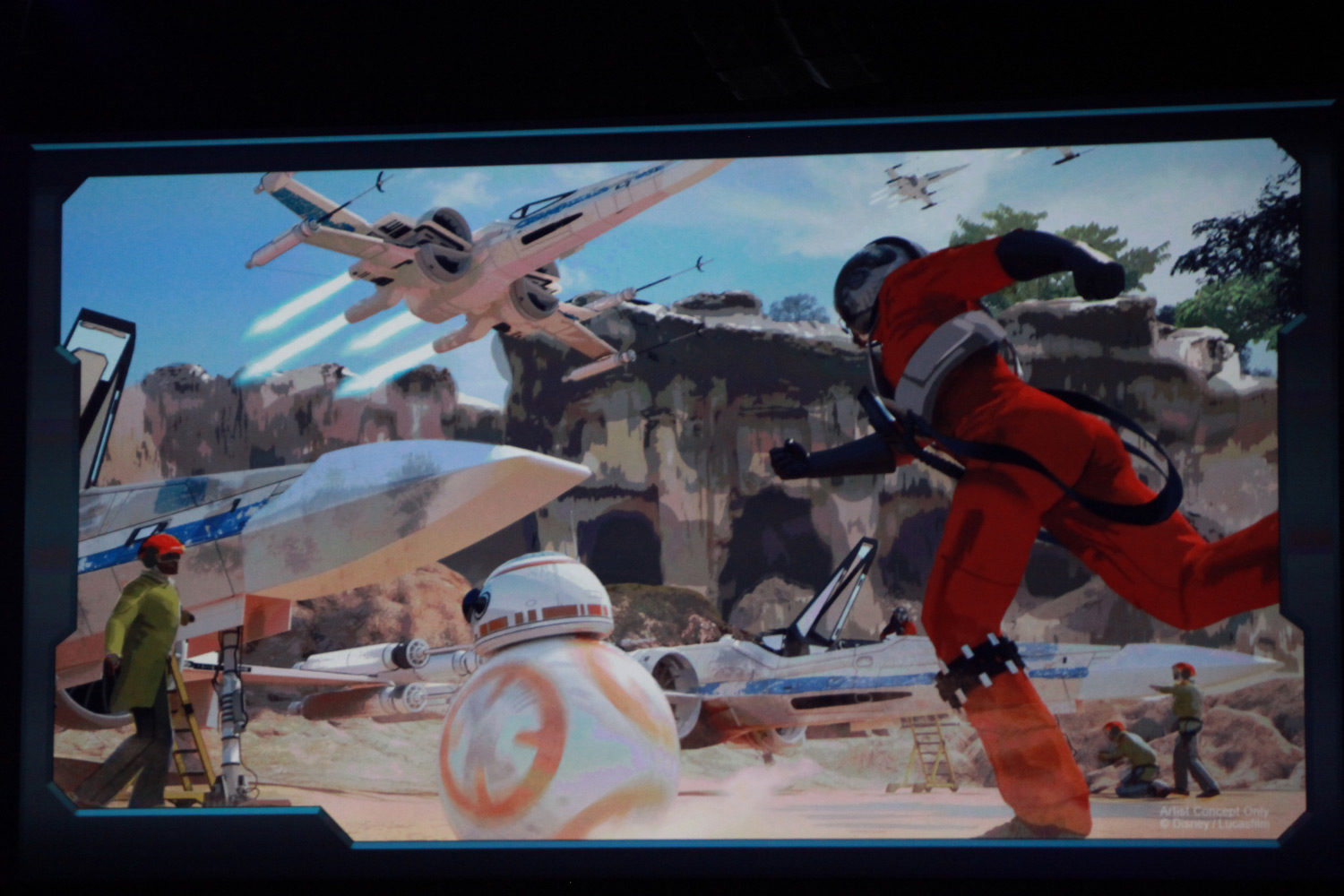 You'll find other familiar characters in the land such as Chewbacca and BB-8, members of the First Order, but you might also encounter Hondo Ohnaka, a well-known space pirate. Captain Rex from Star Tours may have a larger purpose for us yet, reprorgrammed as a DJ in the local Cantina, where you will be able to order Blue Milk.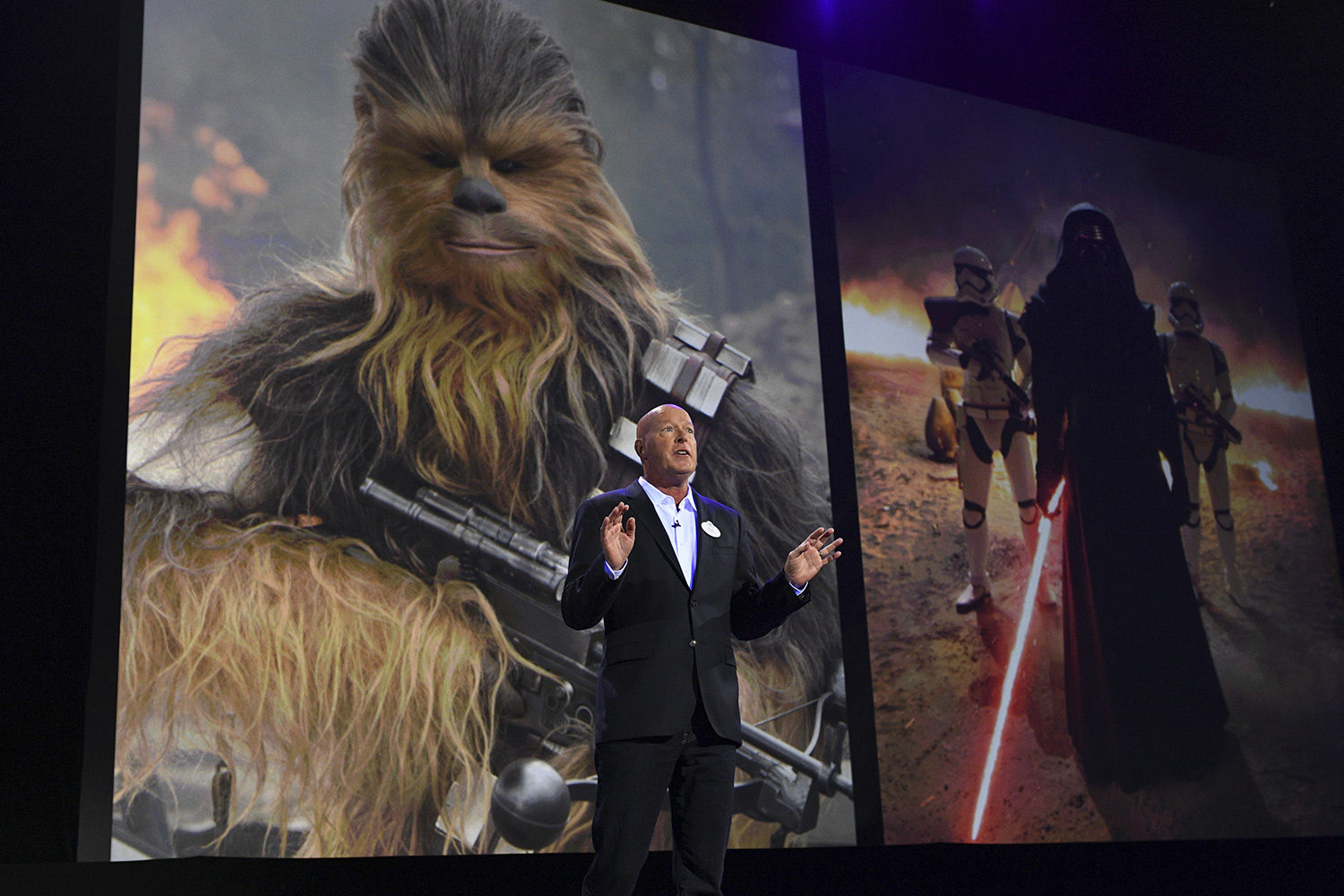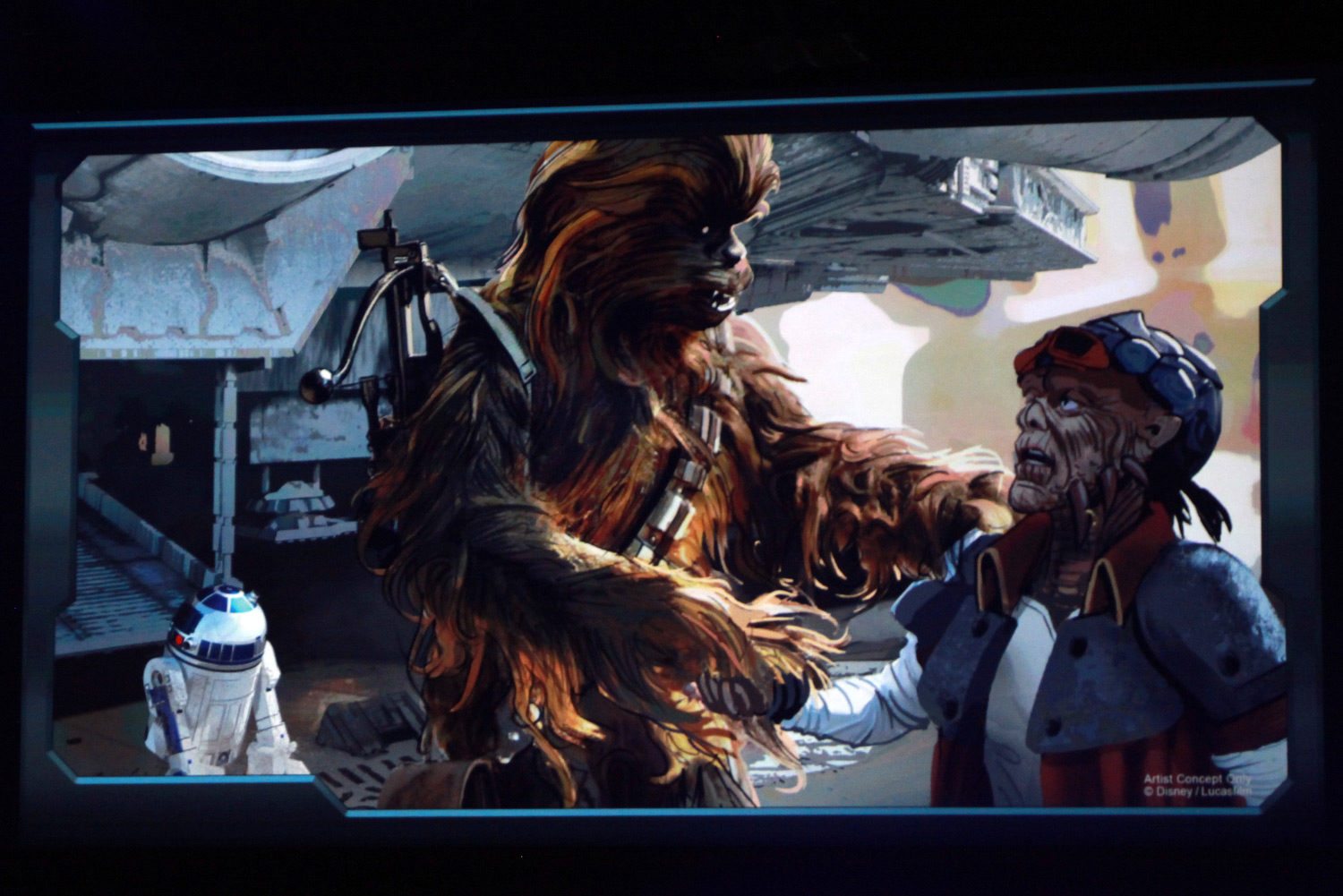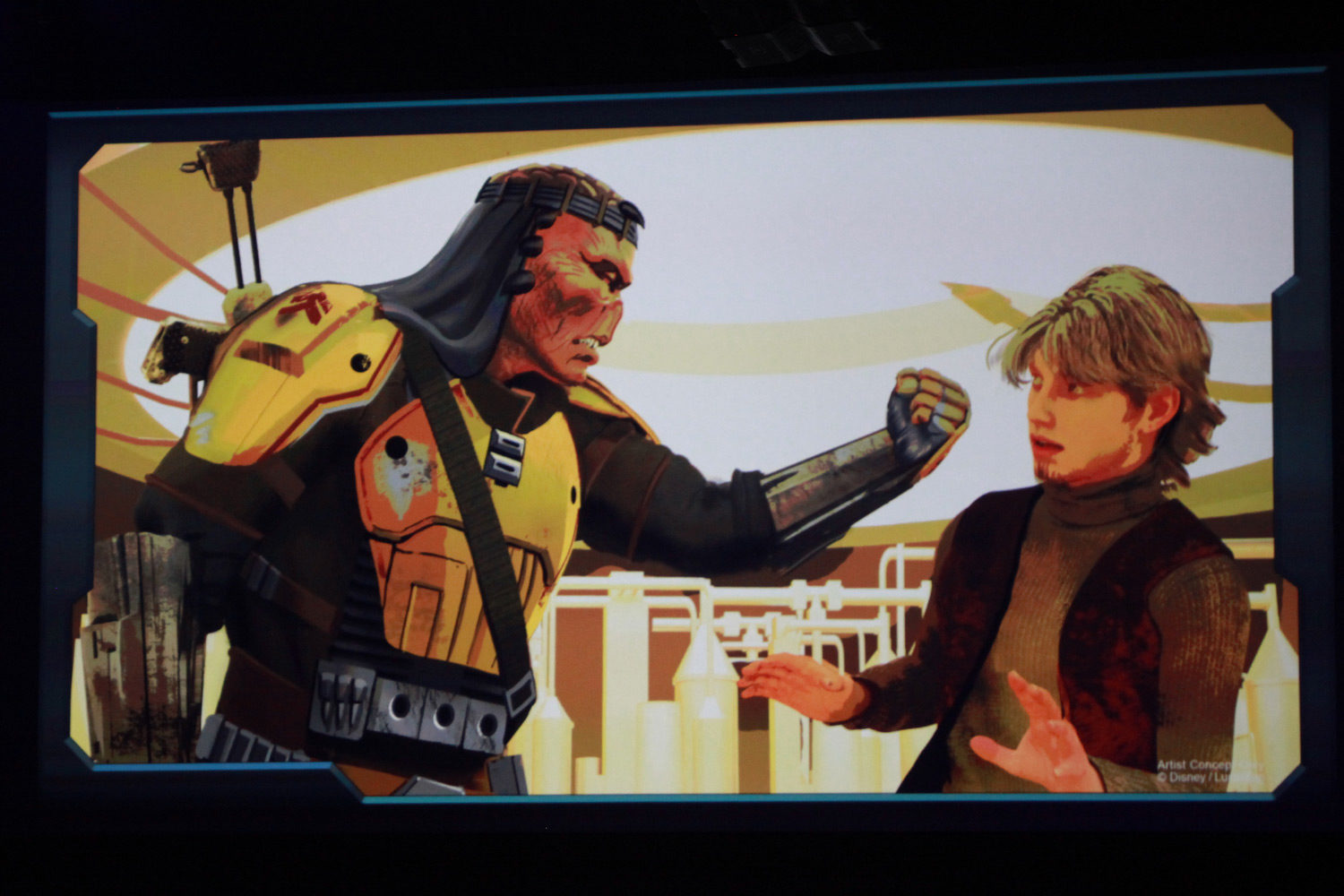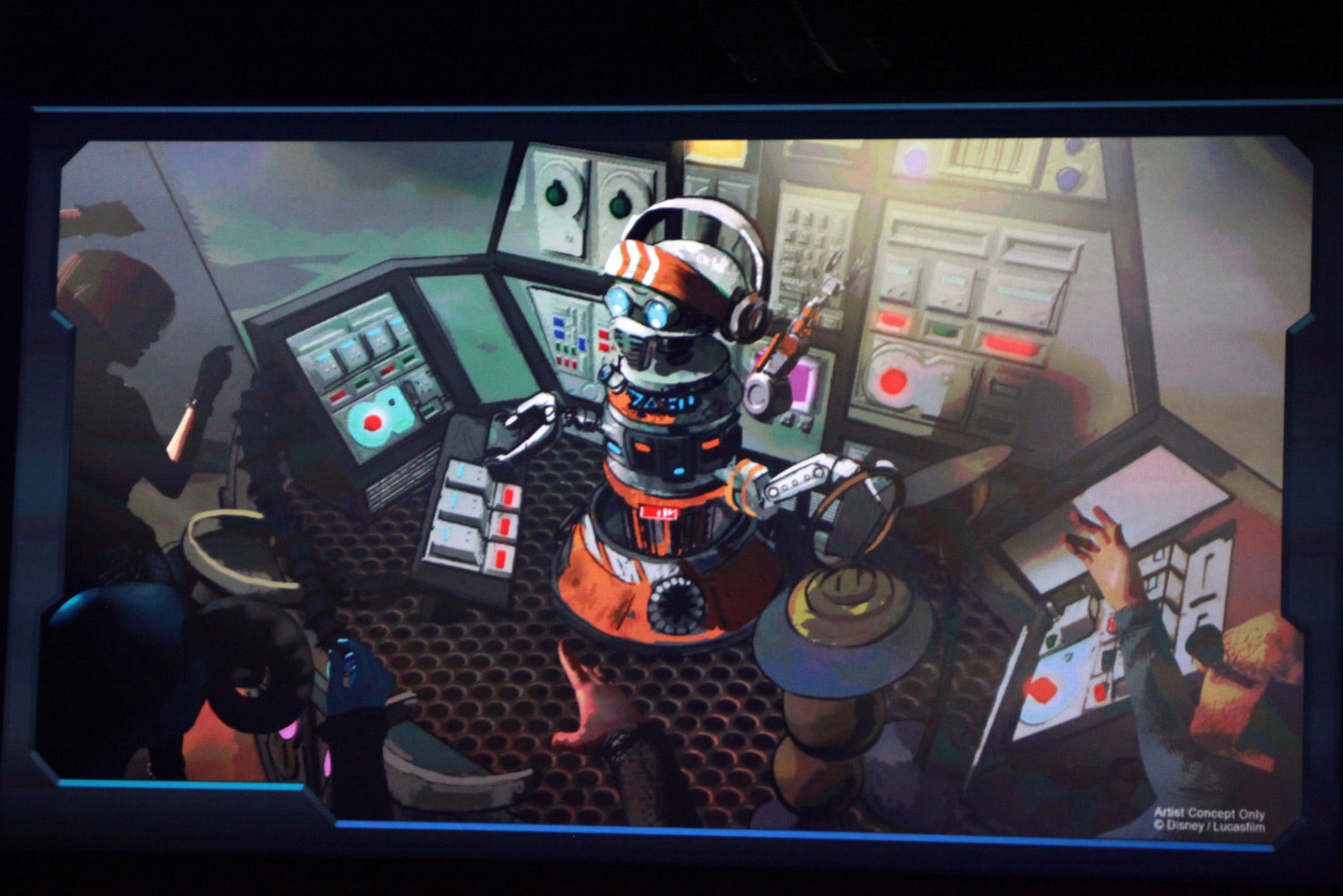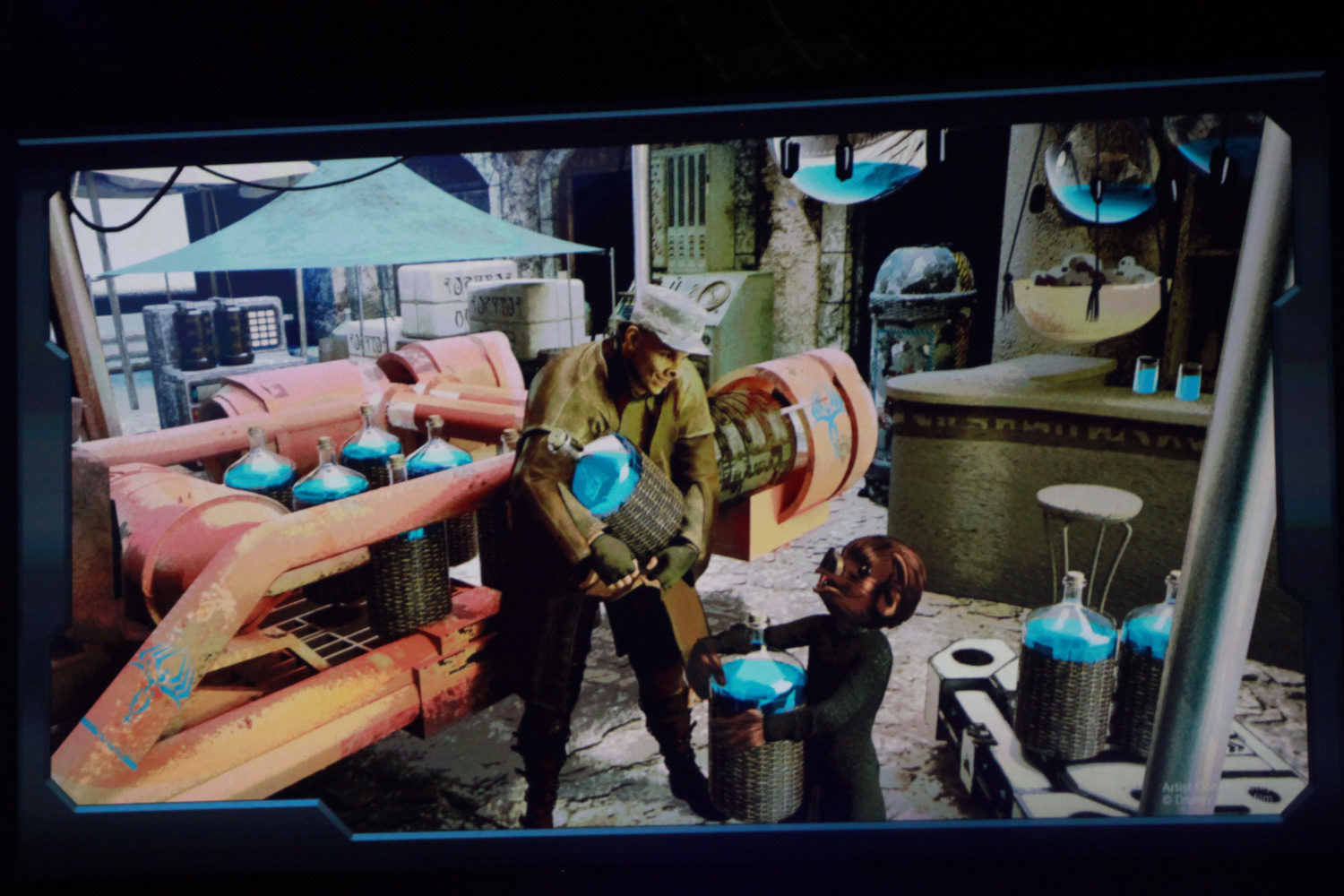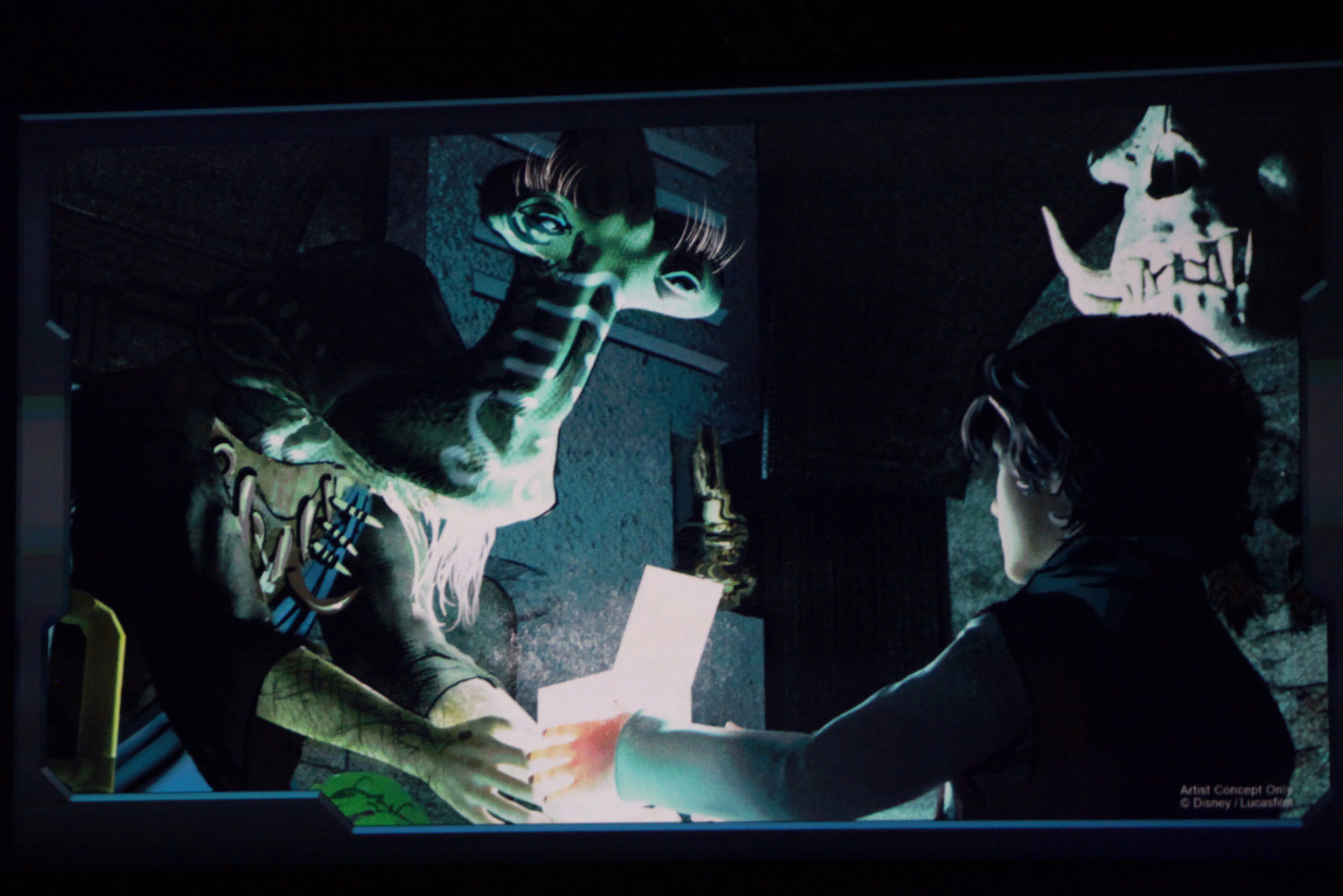 Also announced is that Star Wars Galaxy's Edge will open FIRST in California and later in the year at Walt Disney World. This makes sense since Disneyland's construction is much further along, which then makes us wonder if the west coast land will open in time for the premiere for Star Wars Episode IX, which then makes us wonder when and where the next Star Wars Celebration is? Or D23 Expo 2019? If I had to venture a guess, expect to spend a lot of time and money in Anaheim mid 2019. And if Disney is really taking the reigns of Star Wars Celebration, maybe the two events will be combined or even staggered. We'll see what happens in 2019!
You can take a look of the new land that was on display in this video provided by Disney Parks:

Star Wars-Inspired Hotel Announced
Do you live and breathe Star Wars? Of course you do. Disney certainly knows that a lot of us do and they want to make that even more of a reality with a Star Wars-Inspired Resort in Orlando. From the sounds of it, your experience, from the moment you arrive to the moment you leave, will be as if you've come aboard a Starship in the Star Wars universe. This isn't just a vacation but rather a themed role play, with you being encouraged to become a part of this universe. All windows in this resort will look out to outer space too… which is kind of awesome! "It's unlike anything that exists today." Bob Chapek said. "From the second you arrive, you will become a part of a Star Wars story! You'll immediately become a citizen of the galaxy and experience all that entails, including dressing up in the proper attire. Once you leave Earth, you will discover a starship alive with characters, stories, and adventures that unfold all around you. It is 100% immersive, and the story will touch every single minute of your day, and it will culminate in a unique journey for every person who visits." No further details have been revealed nor do we have an opening date or name, but it all sounds incredibly exciting. Think of it as a Disney Cruise Line on land…. But in space. Sign me up!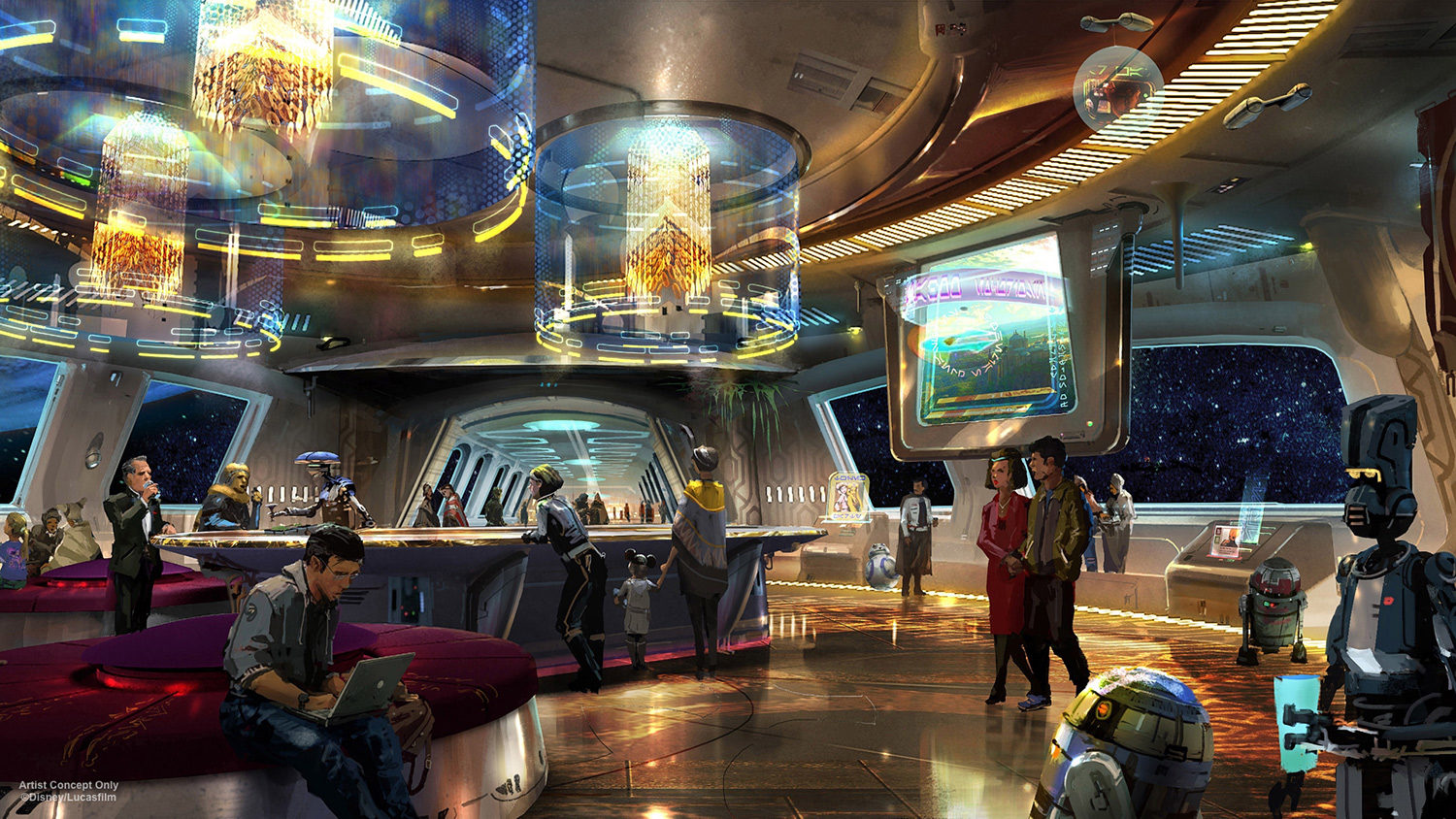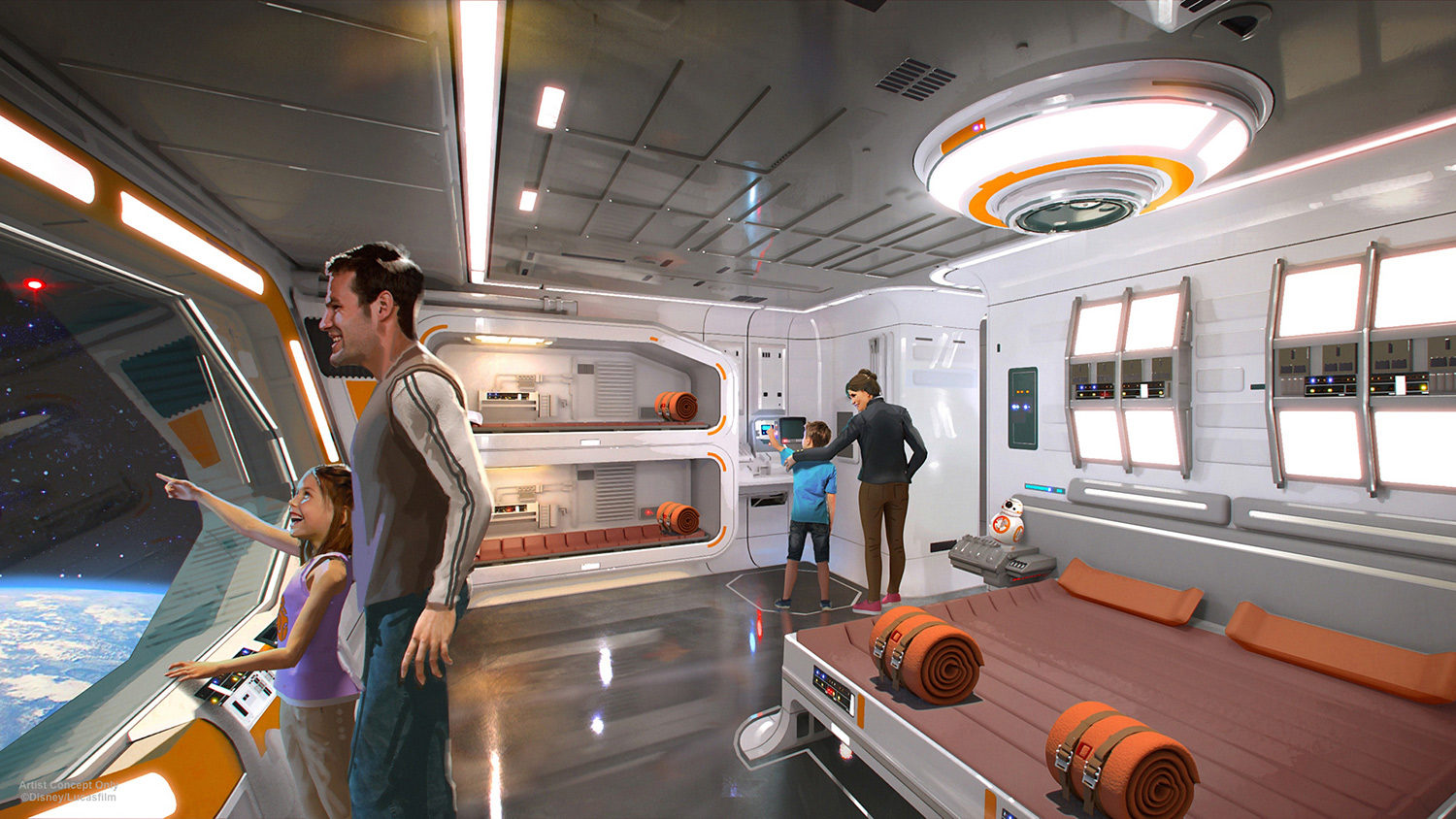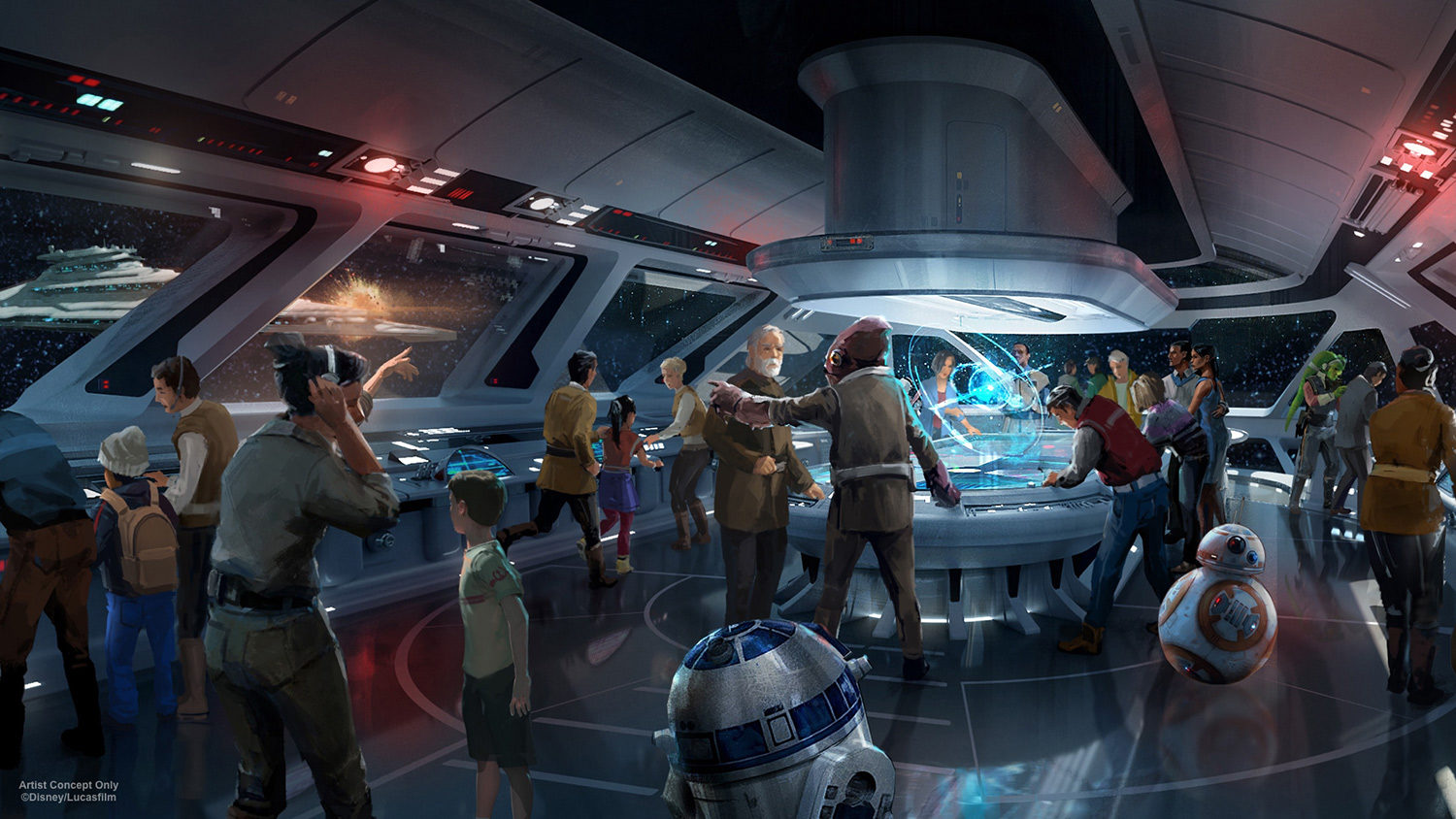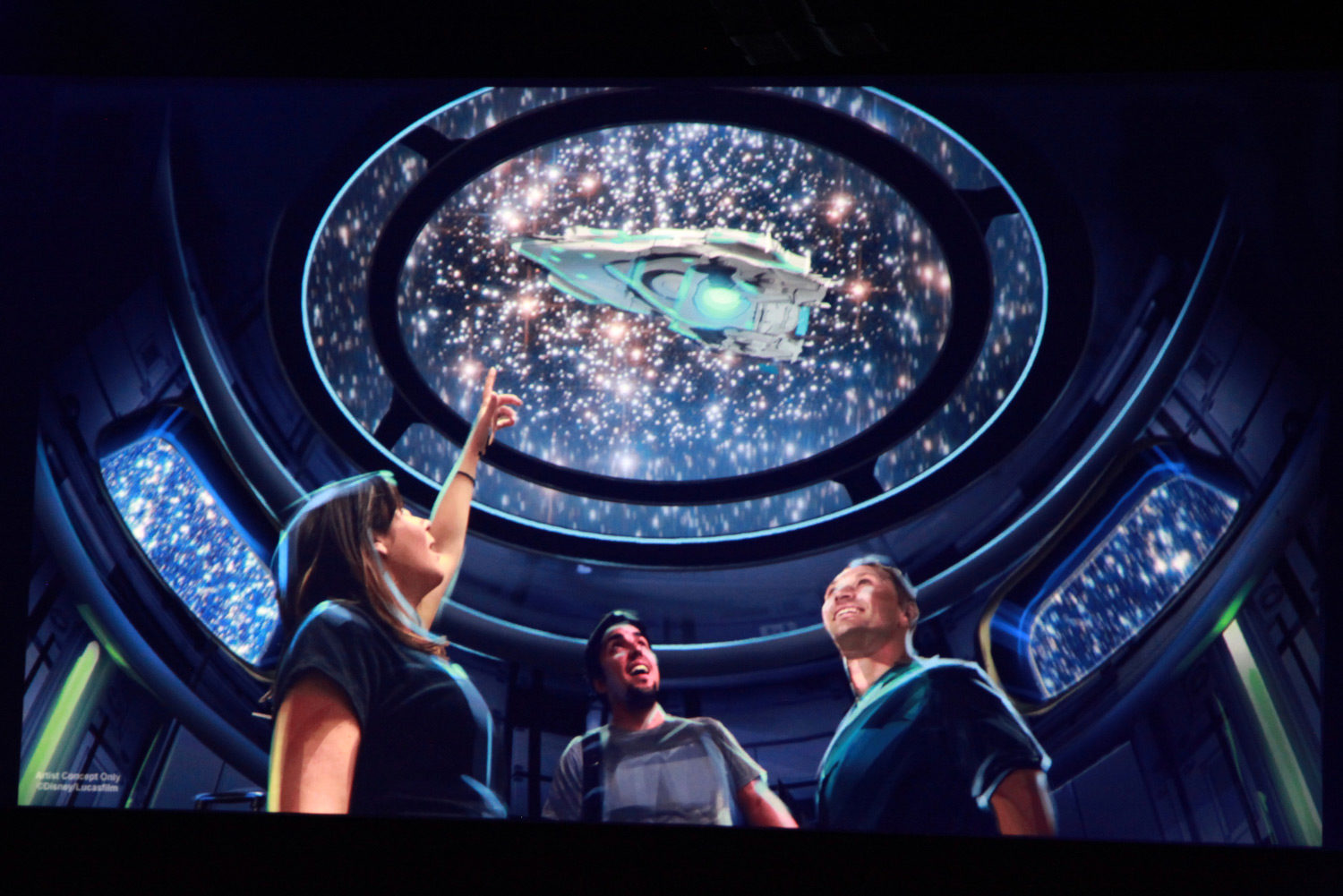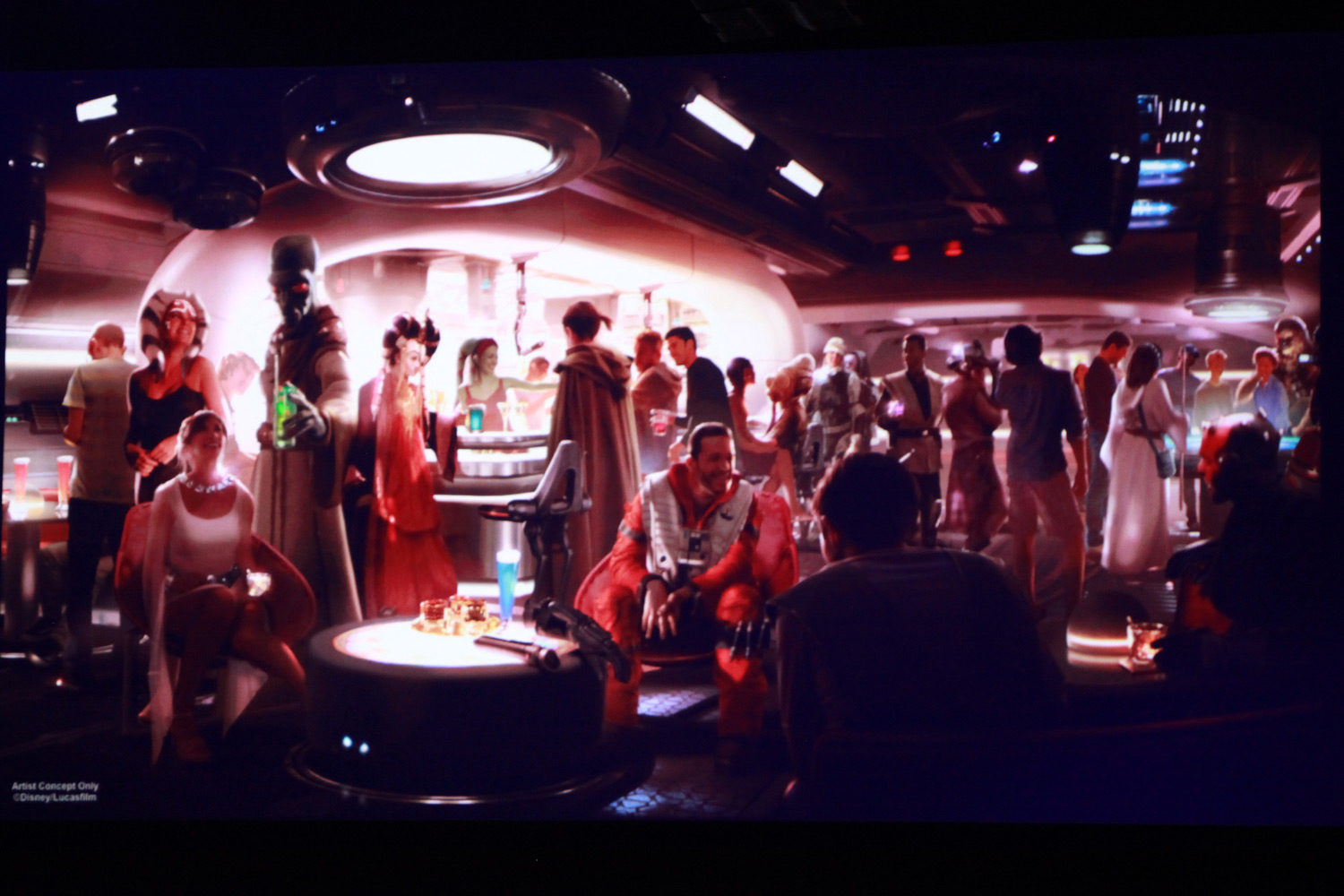 Halloween Time at Disneyland
Besides the new Star Wars Galaxy's Edge coming in 2019, there wasn't much announced that will rock your socks off at Disneyland, but there's enough coming to keep your Annual Passes renewed. Fantasmic! 2.0 has already returned to Disneyland Park on July 17, 2017, just in time for Disneyland's 62nd Birthday which should please guests wanting a more complete nighttime show than World of Color. Next up will be the Halloween Time festivities expanding over to Disney California Adventure September 15 through October 31; with Cars Land getting fully decked out for the very first time. Dubbed "HAUL-O-WEEN", the entire land will get new decorations and even the Cars characters themselves might be in costume too. Even the rides and eateries themselves will get themed changeovers from Fillmore's Jack-Oil Lanterns and Flo's Spider-Car to Witchy Miss Lizzie's shop, they're promising to turn Radiator Springs into Radiator Screams. Guests will also board rethemed versions of Cars Land attractions such as Mater's Graveyard JamBOOree or Luigi's Honkin' Haul-O-Ween.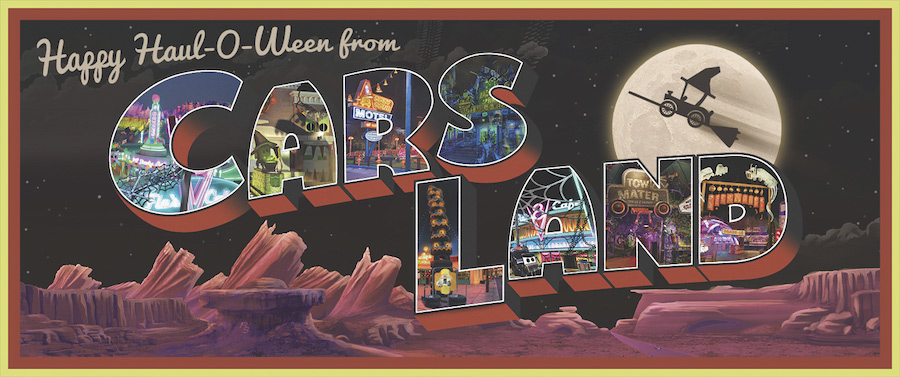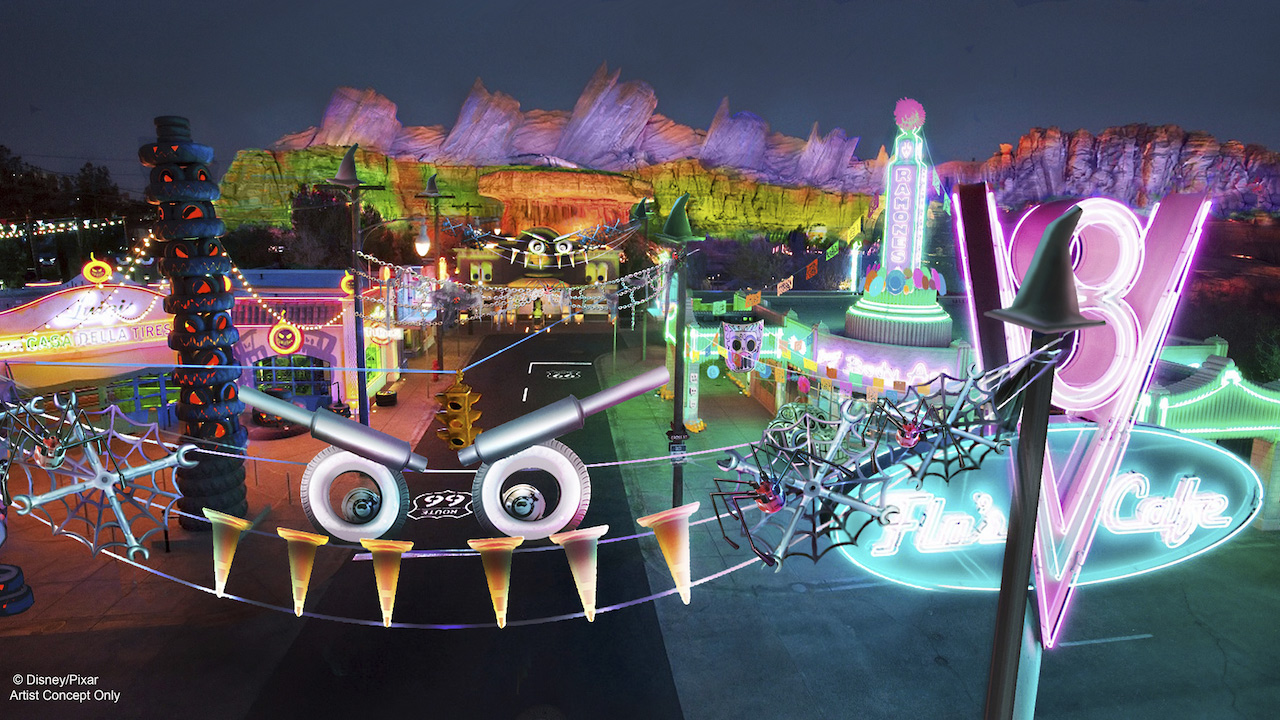 Tim Burton's the Nightmare Before Christmas will also take over Buena Vista Street with stylish decorations throughout, turning it into quite the Halloween Town. Disneyland will still receive its annual Halloween themed attractions such as the Haunted Mansion Holiday and Space Mountain Ghost Galaxy, and the private ticketed event Mickey's Halloween Party also returns this year so head over to disneyland.com for tickets!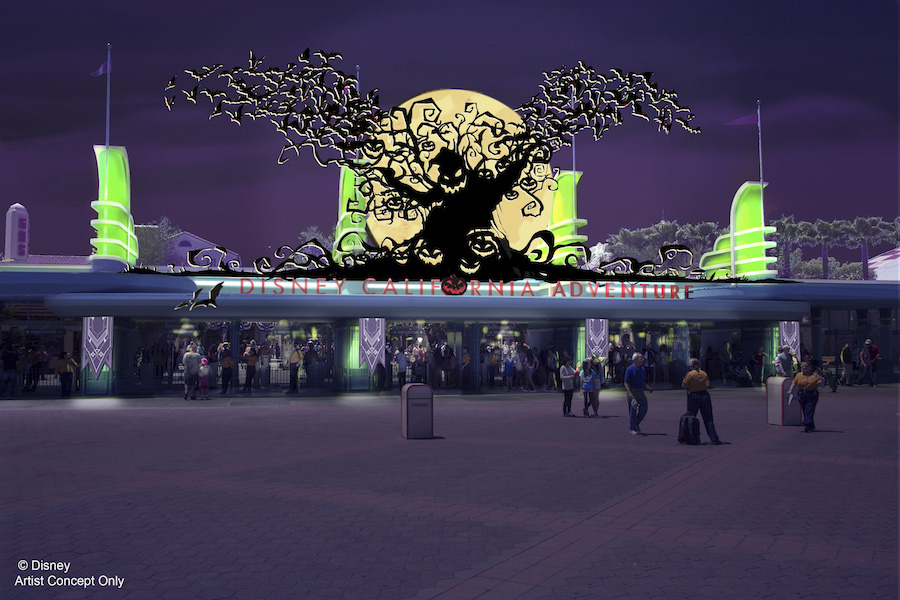 Extending past Halloween through November 2 at Disney California Adventure will be a new seasonal event to coincide with the release of Disney-Pixar's Coco.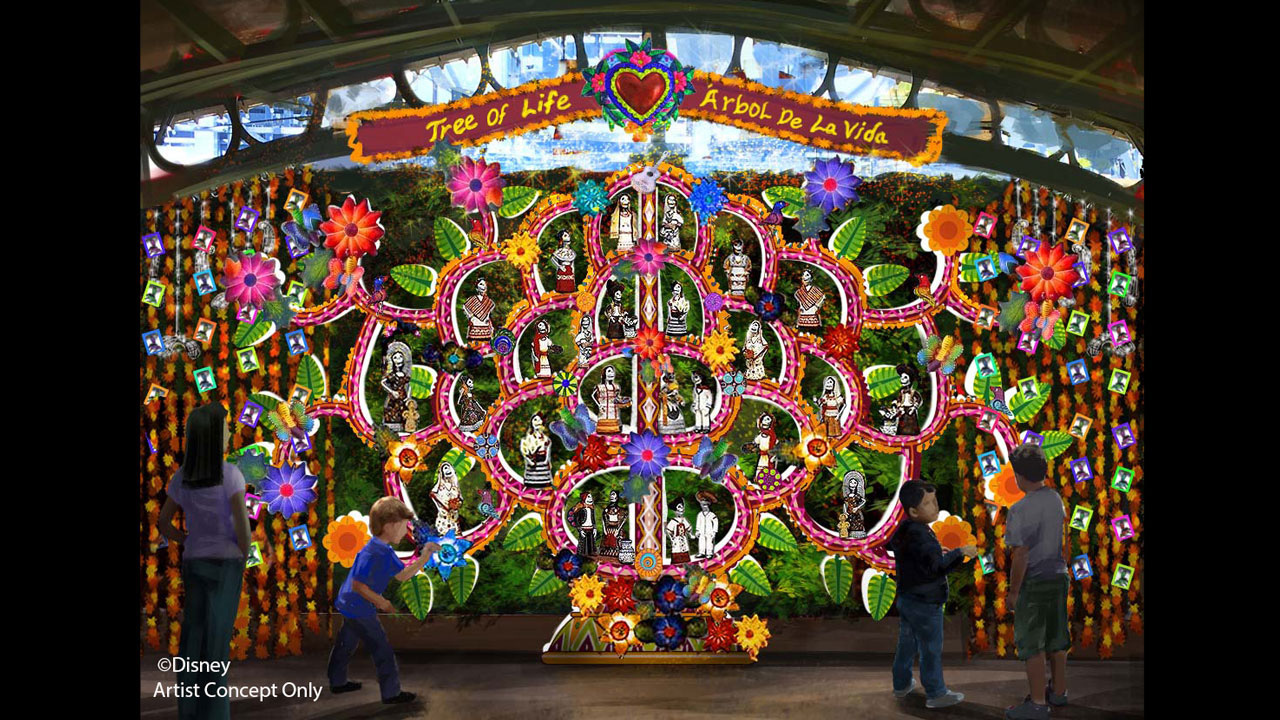 "This fall and winter, guests at Disney California Adventure park will have the opportunity to celebrate family and the spirit of the Mexican tradition of Día de los Muertos, the Day of the Dead. Starting with a new seasonal experience from Sept. 15 through Nov. 2, this immersive celebration will include special entertainment, featuring musicians and dancers, interactive activities — including a representation of Mexican folk art — and special décor and food inspired by this Mexican celebration of family.
The celebration will feature the upcoming Disney•Pixar animated motion picture, "Coco," with special themed experiences inspired by the film. Select elements of the celebration will move to "a bug's land" beginning Sunday, Nov. 5, where they will be presented alongside a special sneak peek of the film, which will continue through the holiday season until Jan. 7, 2018."
Disney Pixarfornia Adventure
Finally, the announcement met with the most confusion was Pixar Pier at Disney California Adventure. Paradise Pier has been a part of Disney California Adventure since the very beginning, but only received a partial retheme in 2010 when the Sun Wheel became Mickey's Fun Wheel and Mulholland Madness became Goofy's Sky School. This is a permanent change coming in 2018 as more Pixar Friends take over the pier. Characters from "Inside Out" and "The Incredibles" and of course "Toy Story" will flesh out the pier but what happens to Ariel's Grotto and the Cove Bar? Mickey's Fun Wheel? Goofy's Sky School? Ariel's Undersea Adventure? I certainly don't mind more Pixar pals on the pier but "Paradise" Pier means both Disney and Pixar can play together. Consider me cautiously skeptical about this one. Certainly California Screamin' and King Triton's Carousel of the Sea could be better rethemed to Pixar but there's something about a name. Paradise is where I'd rather go.
From the concept art, it does appear that there is an edge to Pixar Pier, so perhaps there are two sections: Pixar Pier and Paradise Park?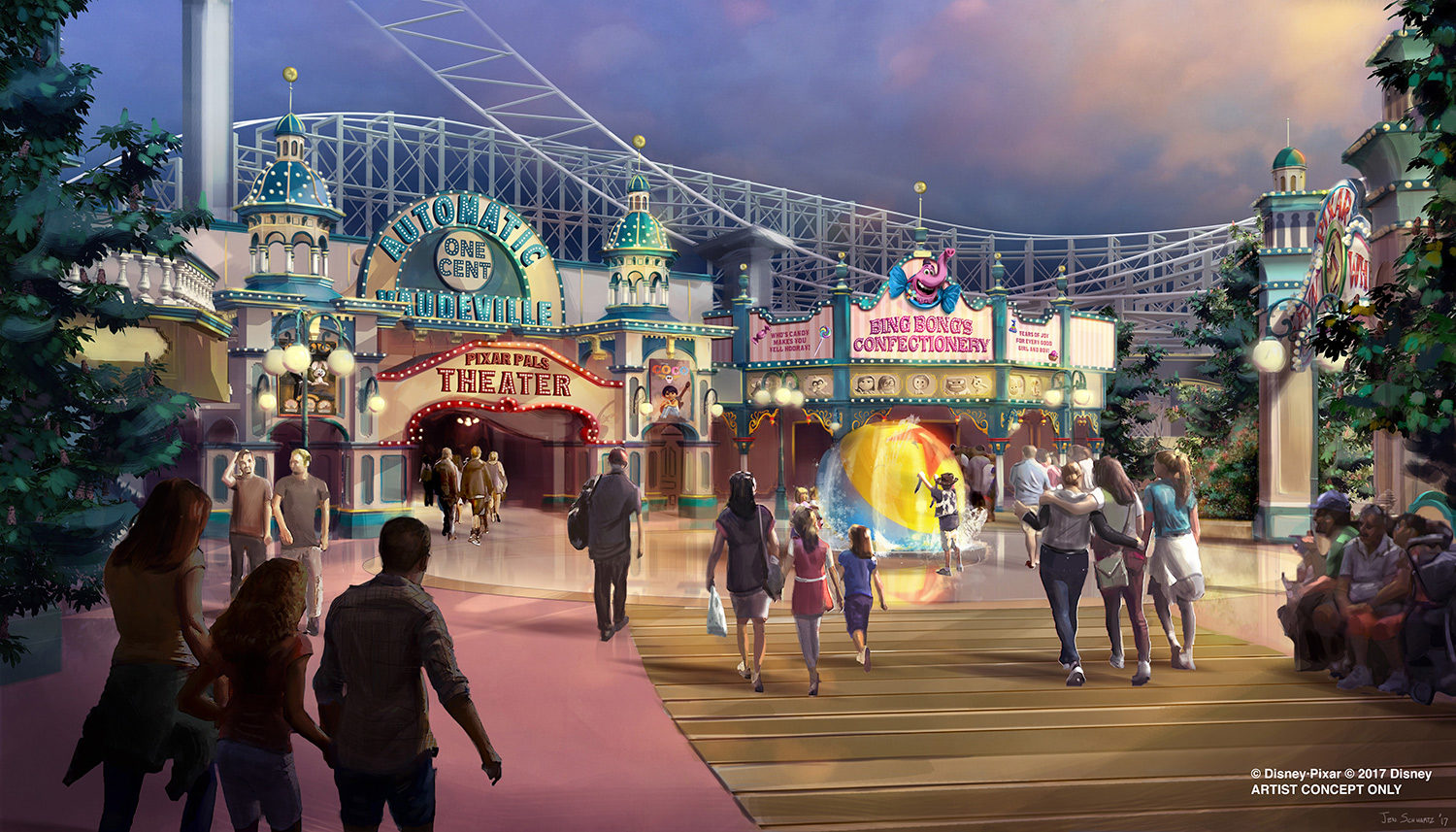 Now, along with Pixar Pier, all that Pixar can't possibly be contained in California Adventure. The Pixar Play Parade will move over to Disneyland while Disney's Paint the Night Electrical Parade moves to California Adventure… with a new float. Back at Disneyland, a new Pixar themed fireworks display will debut called PIXAR FEST. Expect themed food and drink across the entire resort too!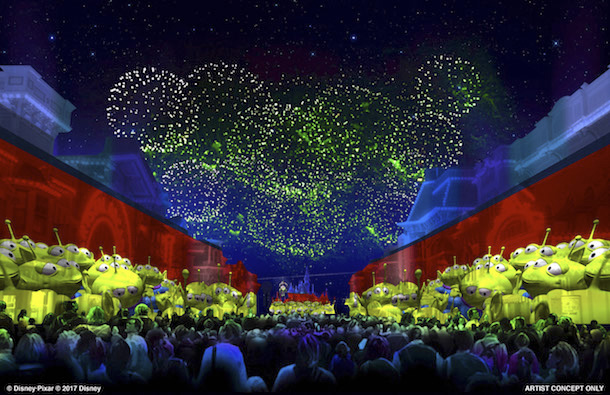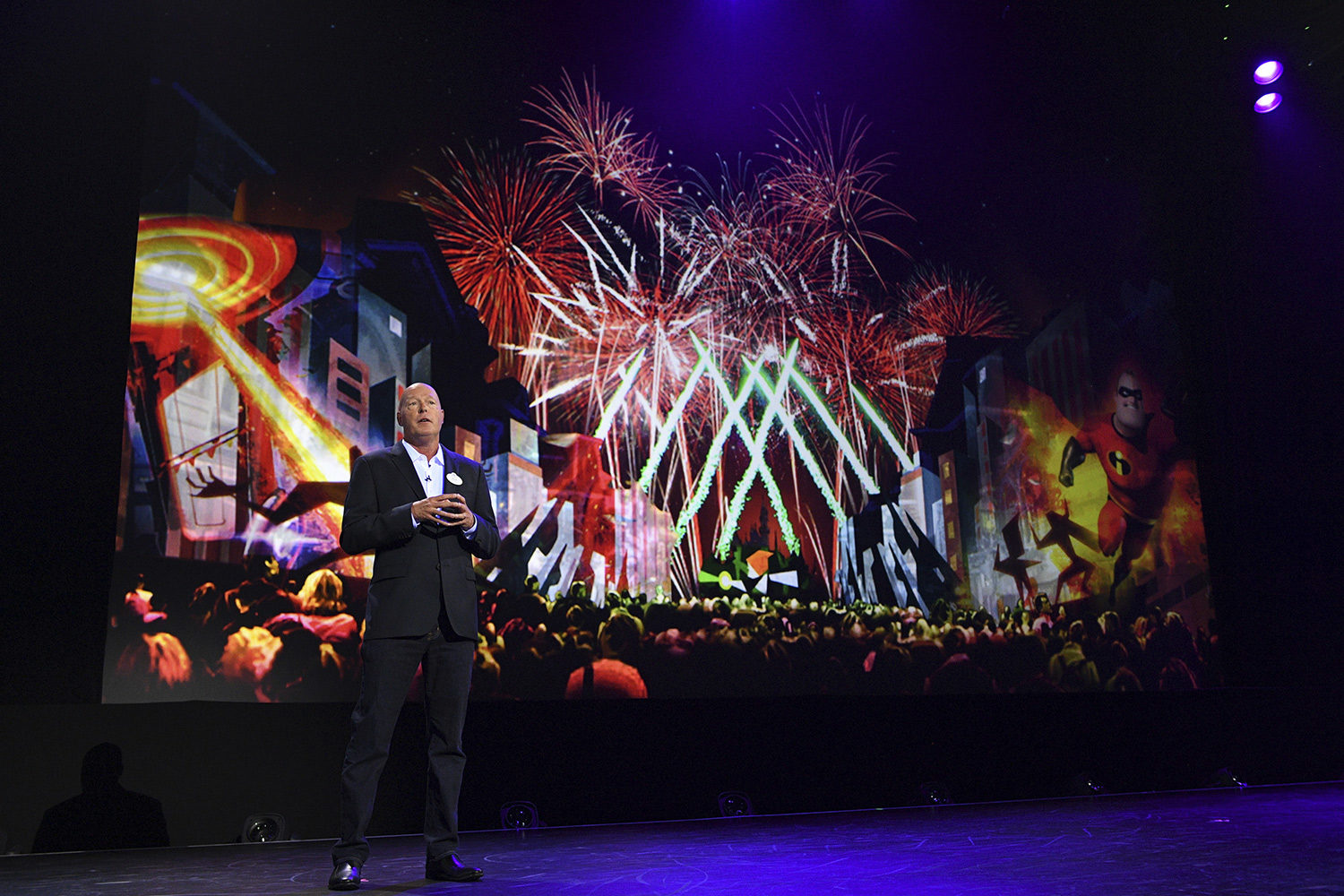 Guests hoping for something more concrete about a new Marvel land at Disney California Adventure came as a tease with no real details, but we're being told that Spider-Man and The Avengers are joining Guardians of the Galaxy: Mission Breakout in a completely immerisive Super Hero Universe in the park. That sounds like a new land and possibly new rides as well but we'll need to wait for further announcements as they're still being 'hammered' out. Does this mean the end of A Bug's Land? Maybe Ant-Man can take over?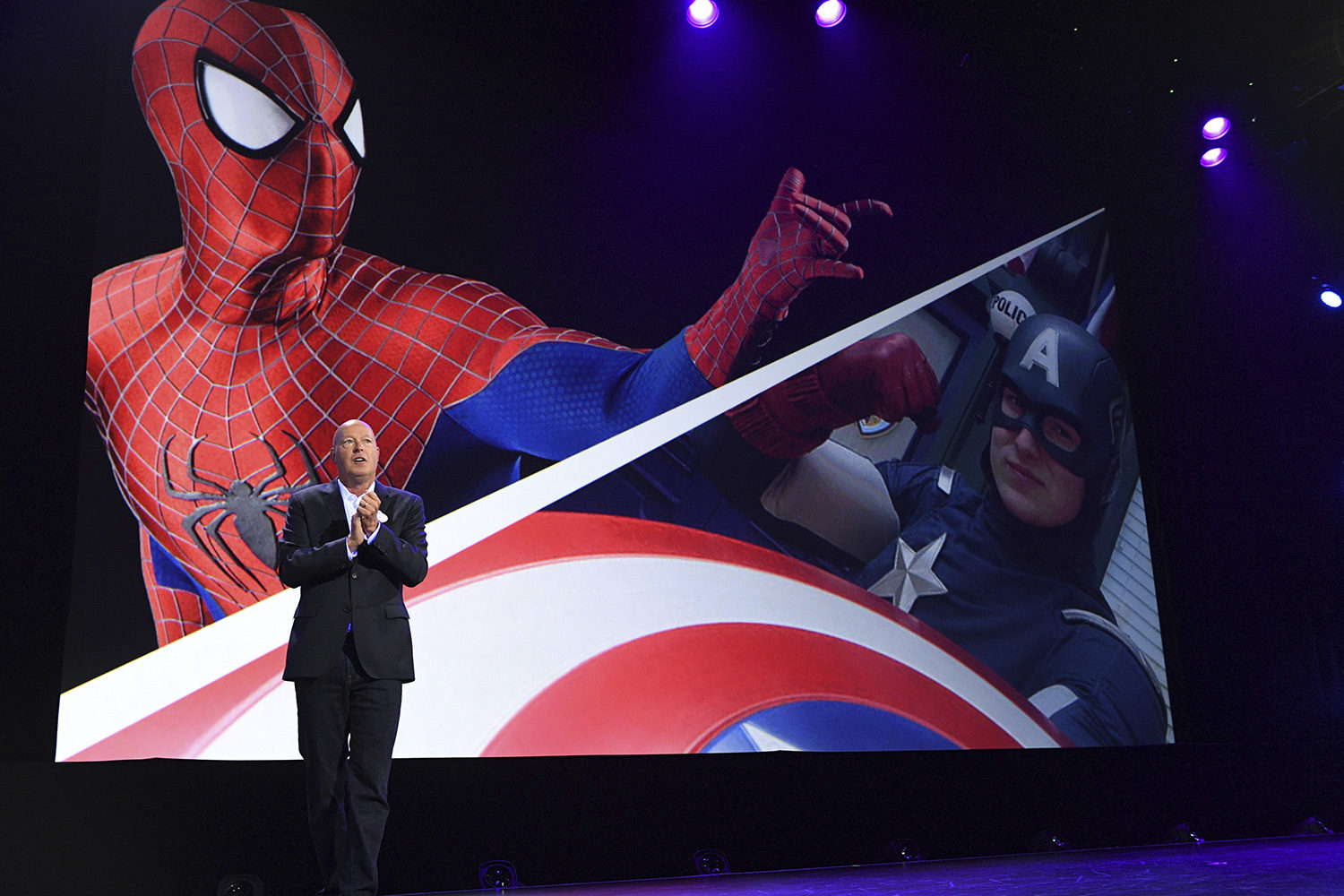 Marvel goes Merveille
Speaking of the Marvel Universe, the only news out of Disneyland Paris is that a new expansion to Disneyland Paris' Hotel New York will be coming. Disneyland Paris' Hotel New York – The Art of Marvel will bring visitors to the French resort that much closer to all things Marvel. It's a hotel that should make Tony Stark proud… filled with, well.. Art, costumes, props and the like. Of course no further details revealed aside from the concept art.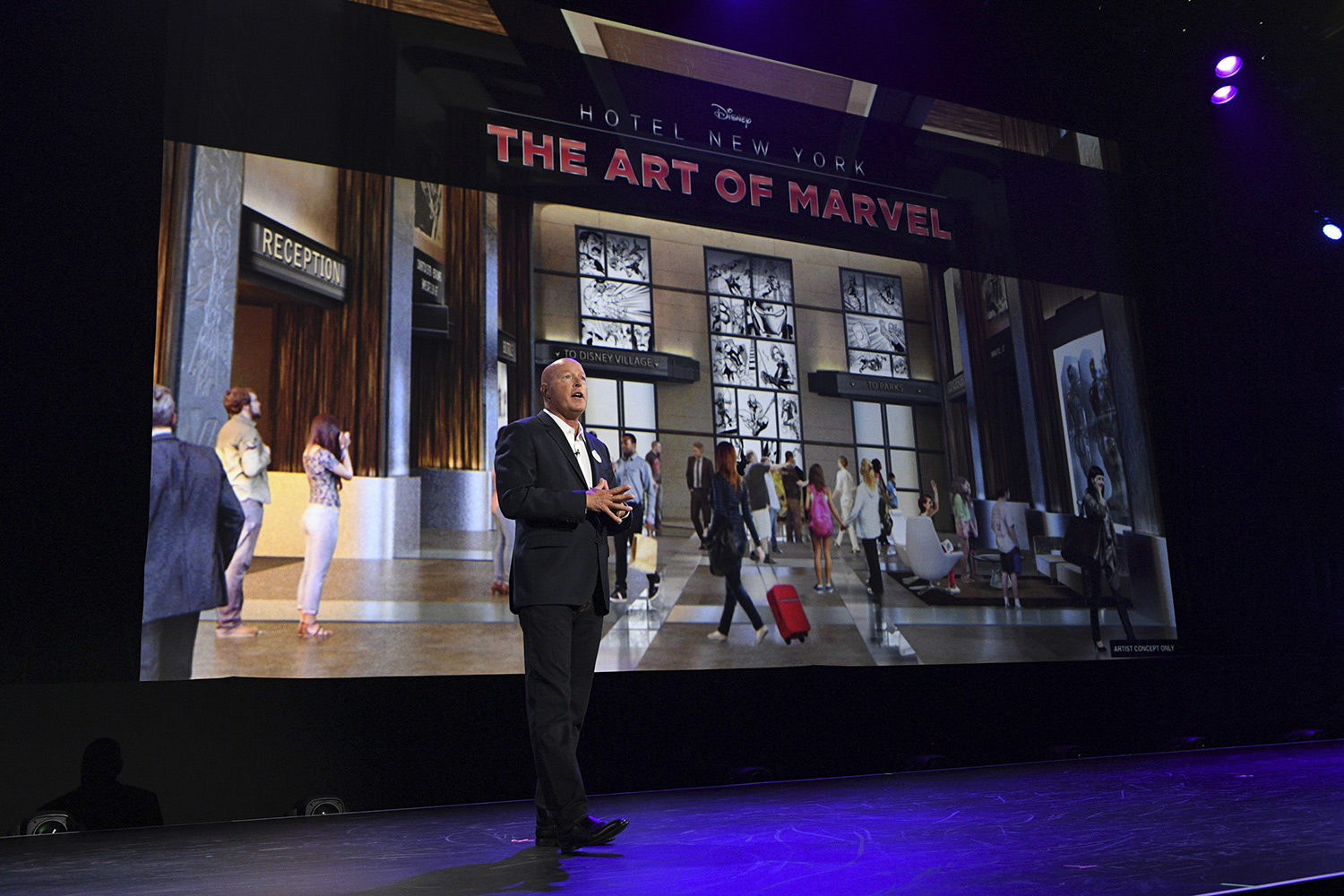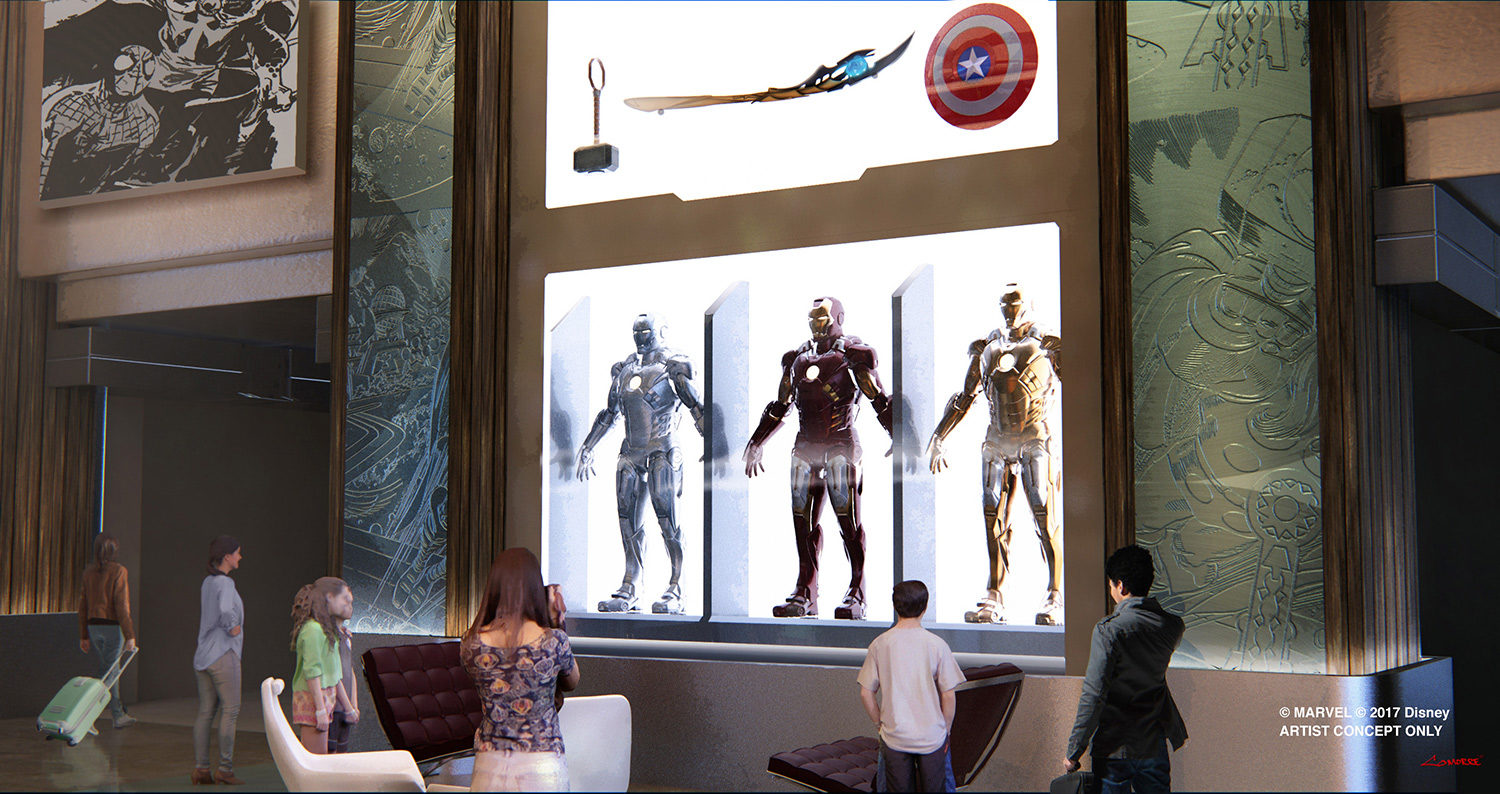 Disney Cruise Line x7
Last year it was announced that two new ships would be added to the fleet in 2021 and 2023. This weekend it was announced that a third ship will also be completed by 2022, with each ship expected to have their own unique experiences. The three new ships will be powered by clean-burning liquefied natural gas and be the same size as each other, but slightly larger than the Disney Dream and Disney Fantasy. Names and itineraries of the new ships are still under wraps but will most likely be revealed by the next D23 Expo.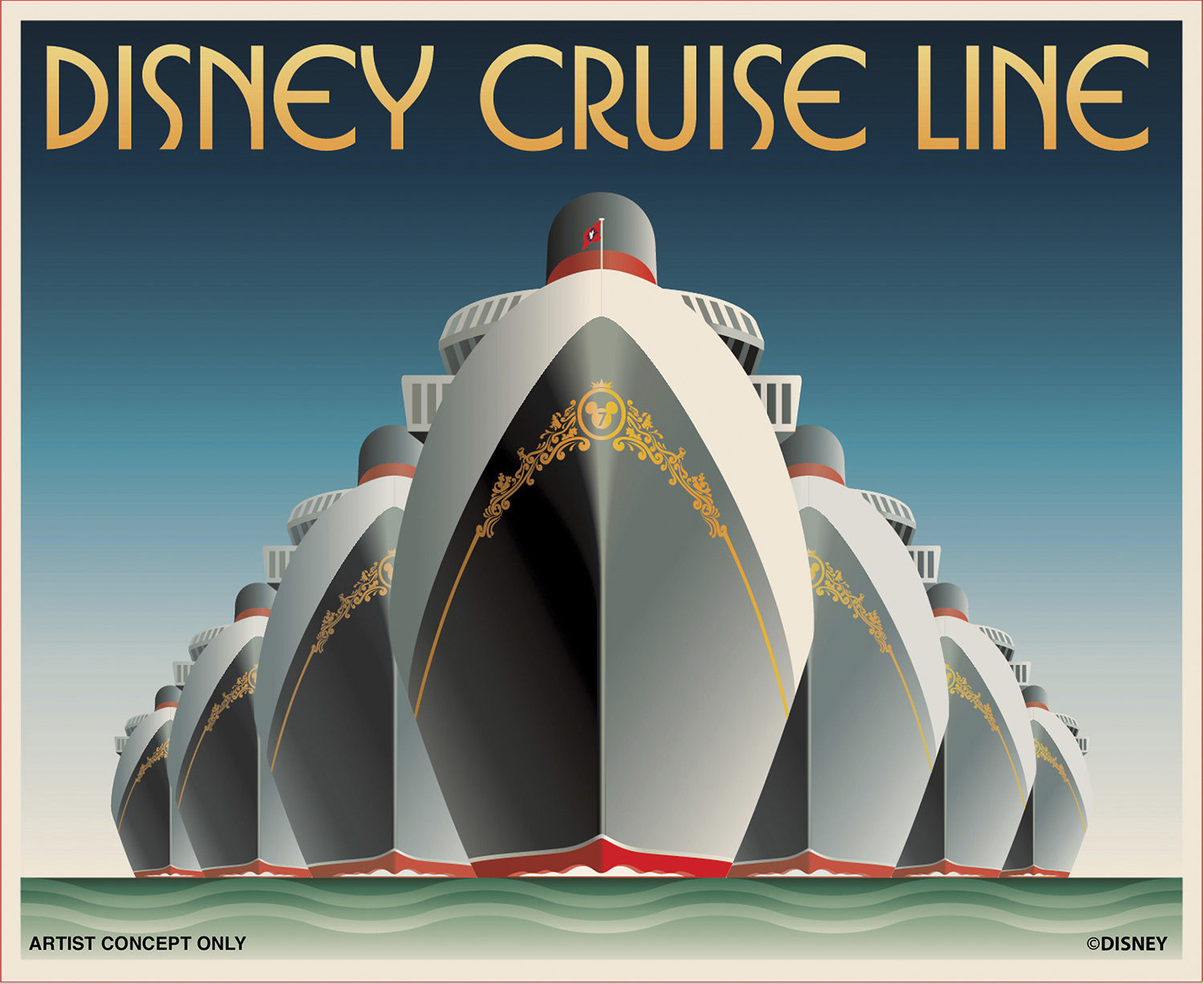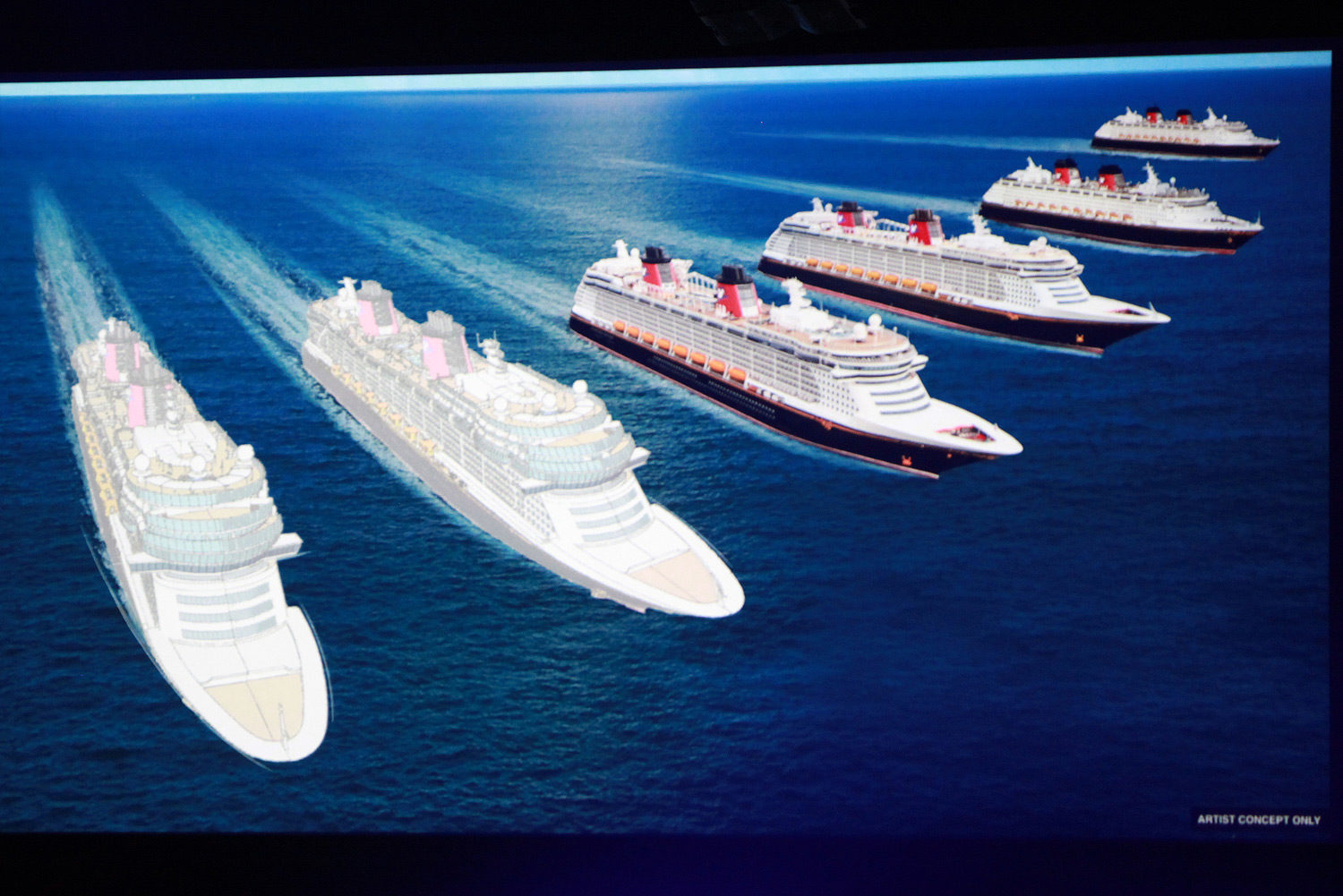 The new "Beauty and the Beast" stage show inspired by the live-action adaptaition of the animated classic is still coming to the Disney Dream this November. Behind the scenes footage was shown to fans with a live performance by some of the cast.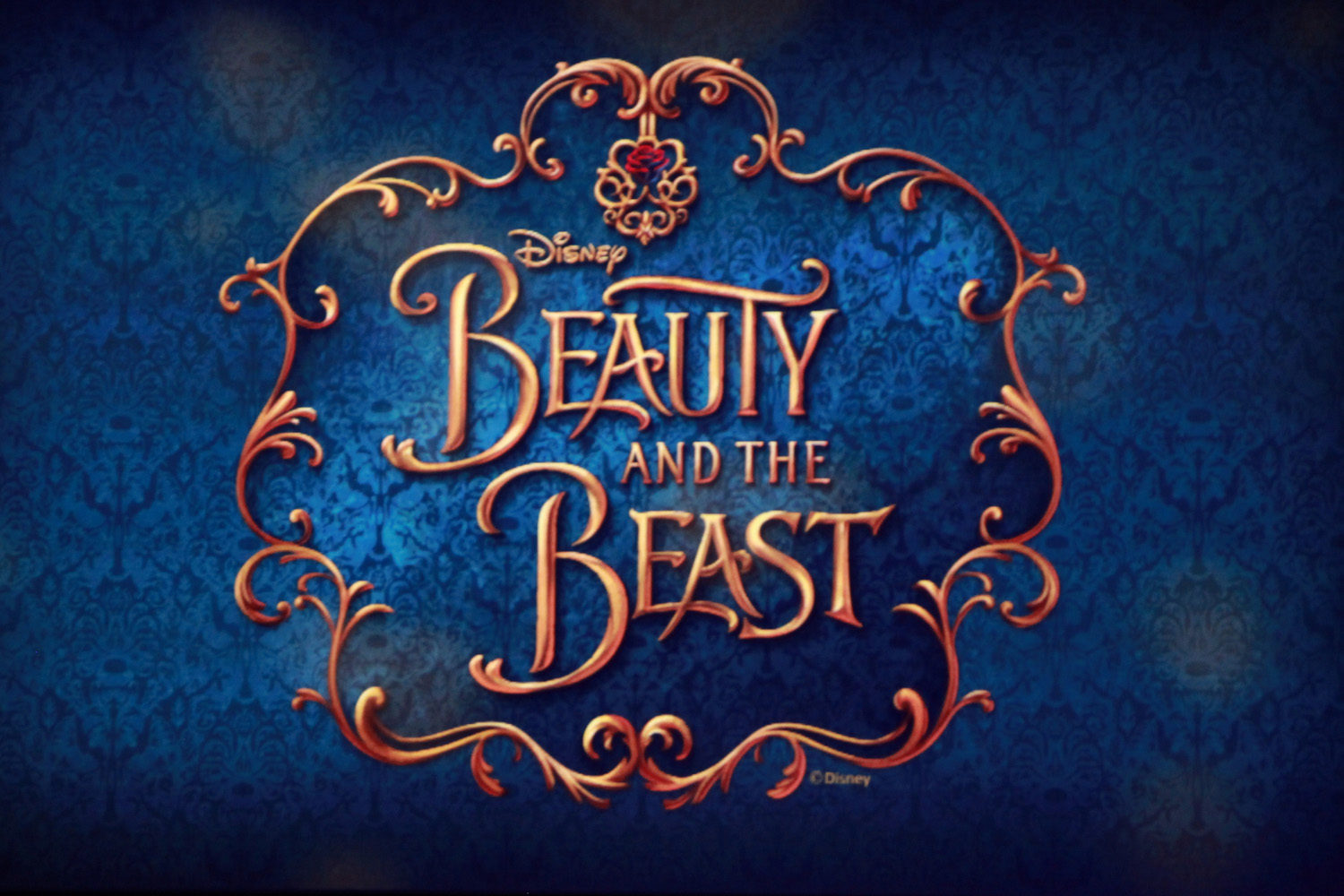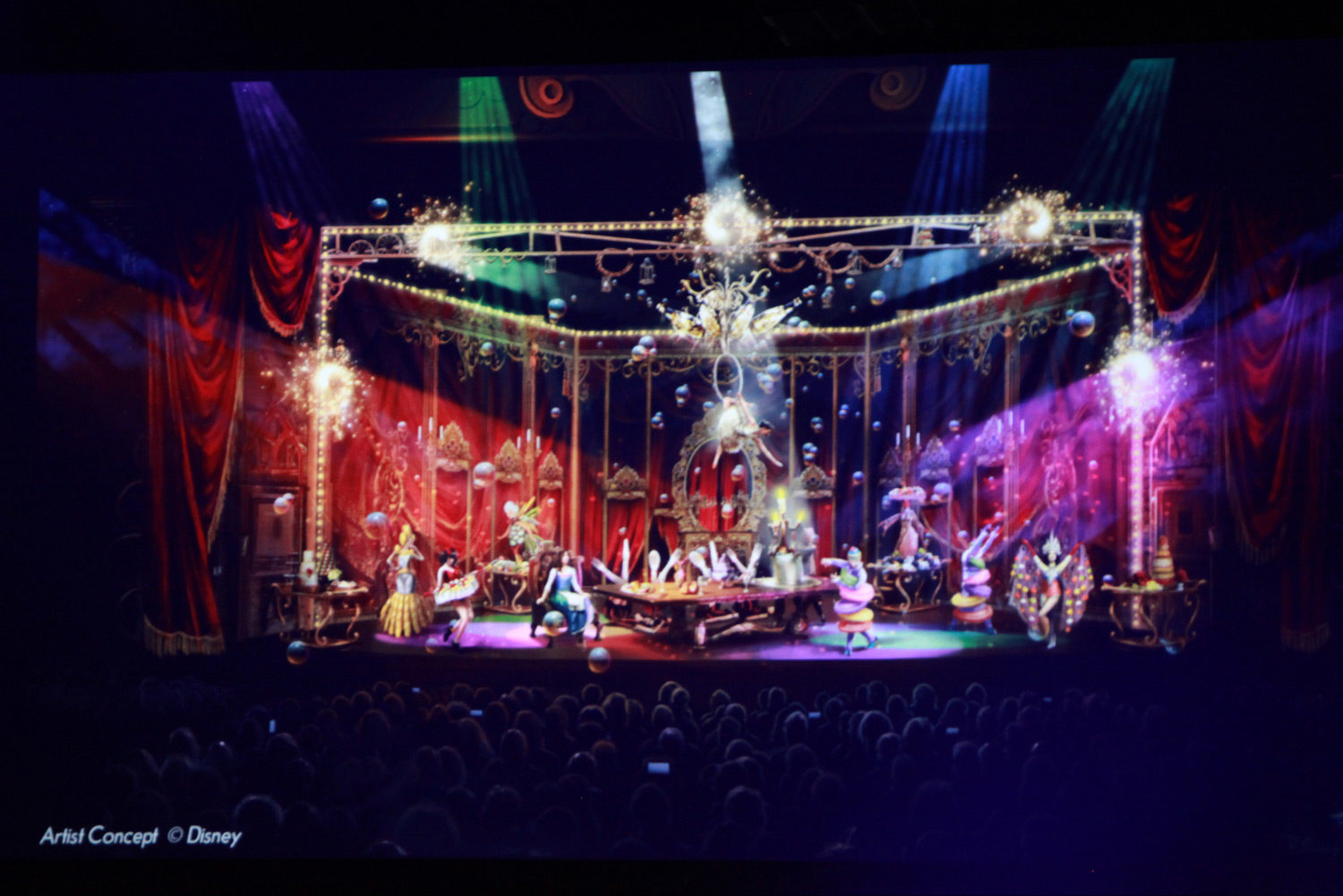 Around the Walt Disney World
I purposely left Walt Disney World for the end because it's a doozy. There is so much happening at the East Coast flagship resort – a lot of it is REALLY exciting but most of it is simply long overdue. We already mentioned Galaxy's Edge and the Star Wars-inspired Hotel above so let's skip to just about everything else. First up, transportation. It's usually a surprise to many visiting the Walt Disney Resort how big the place actually is and the amount of time it takes to park hop or just get from hotel to the park is longer than it should be. Adding to the fleet of Monorails and Busses will be two additional modes of transporation: Minnie Vans offering guests point-to-point drop off, much like Uber, but servicing only the Walt Disney World Resort. I do wonder if Uber and Lyft can continue servicing the resort but they might be more limited after Minnie Mouse struts her stuff.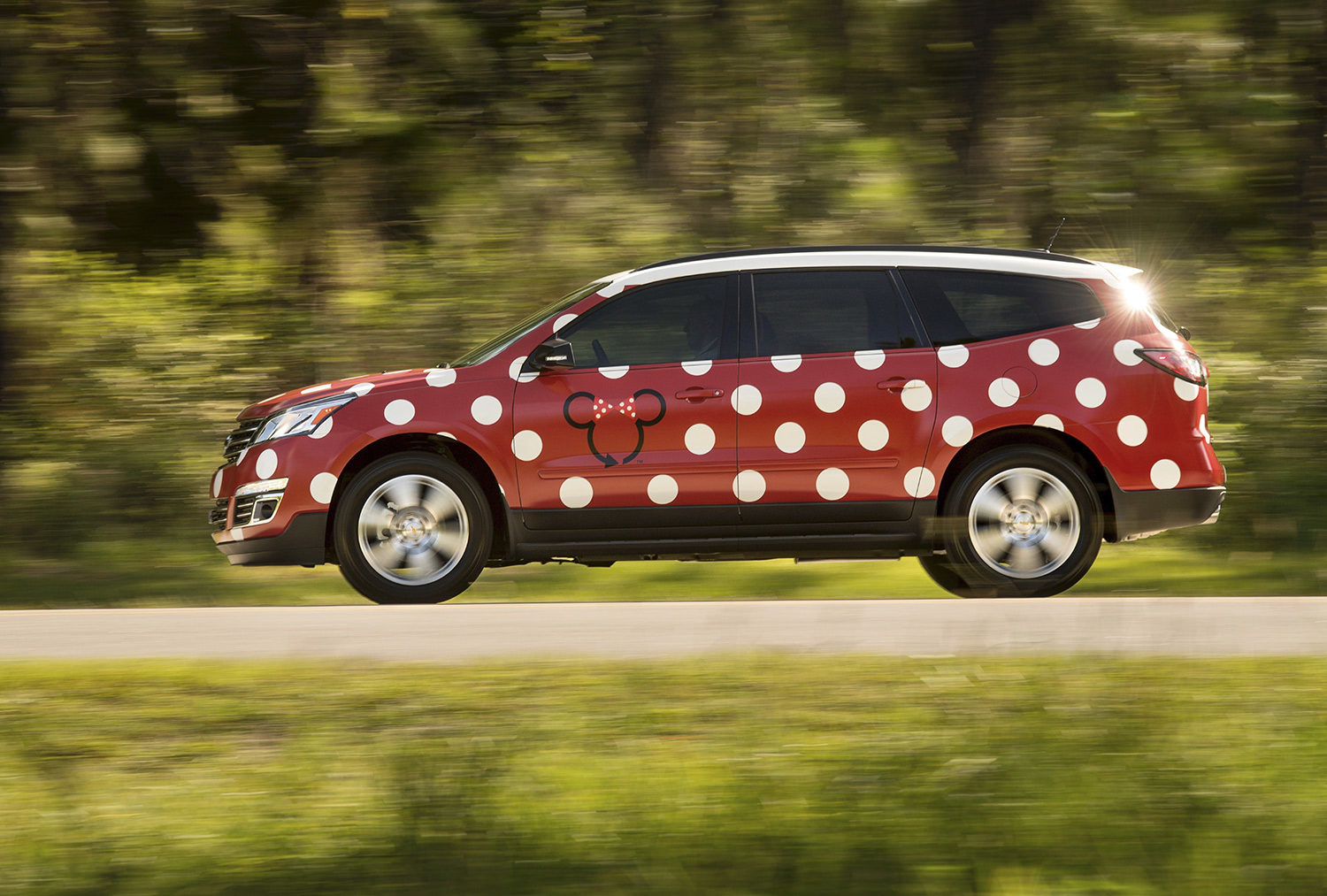 The second mode of transportation should excite longtime fans of the Skyway…. The Disney Skyliner gondola service will connect Disney's Art of Animation, Pop Century and Caribbean Beach resorts with other locations with Disney's Hollywood Studios and the International Gateway at Epcot. The gondolas will feature favorite Disney characters too and should be a fun way to get a bird's-eye view of Walt Disney World. No prices have been revealed for these new modes of transporation but look for the Minnie Van coming sooner than the Skyliner to the Walt Disney World resort.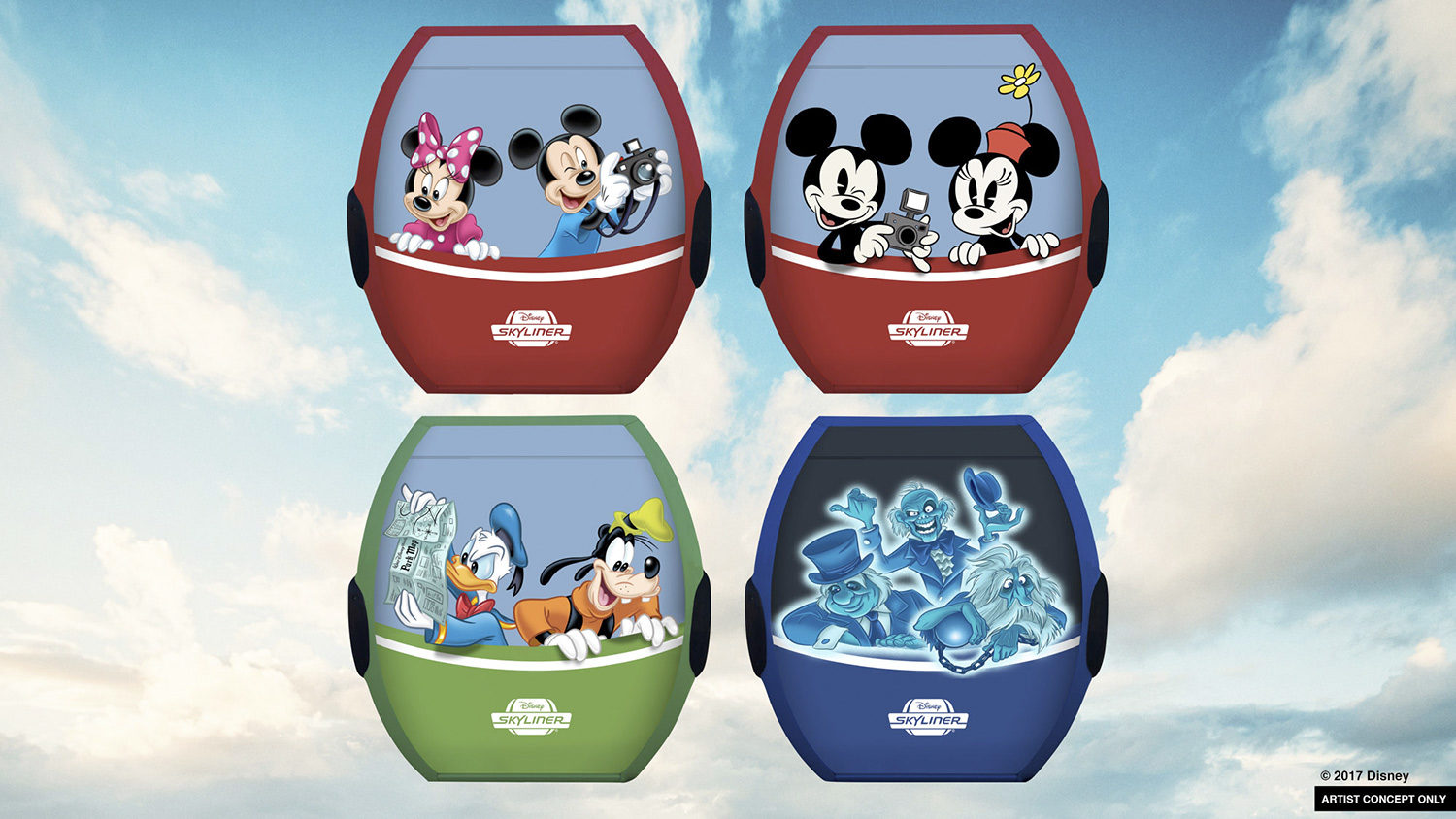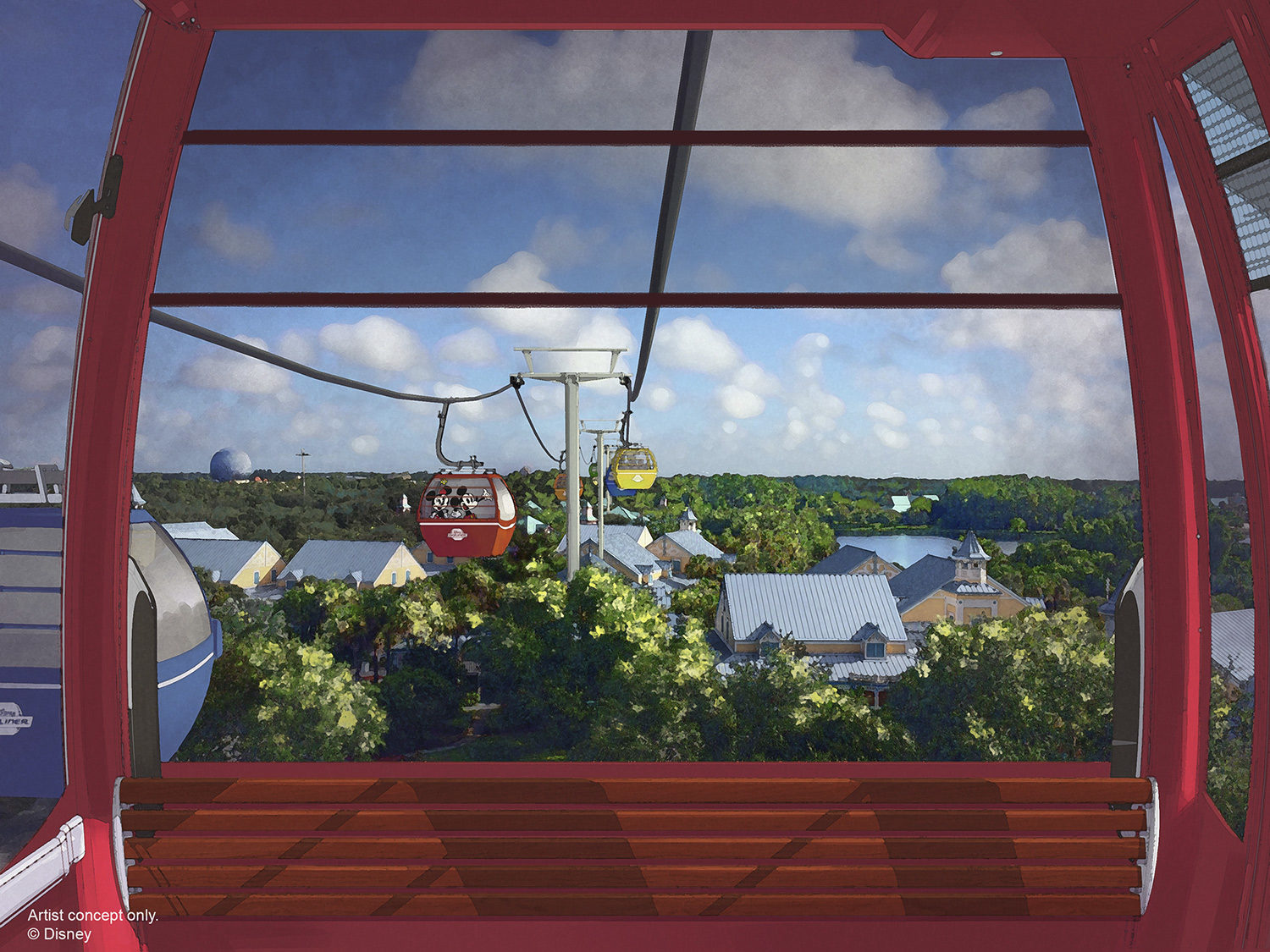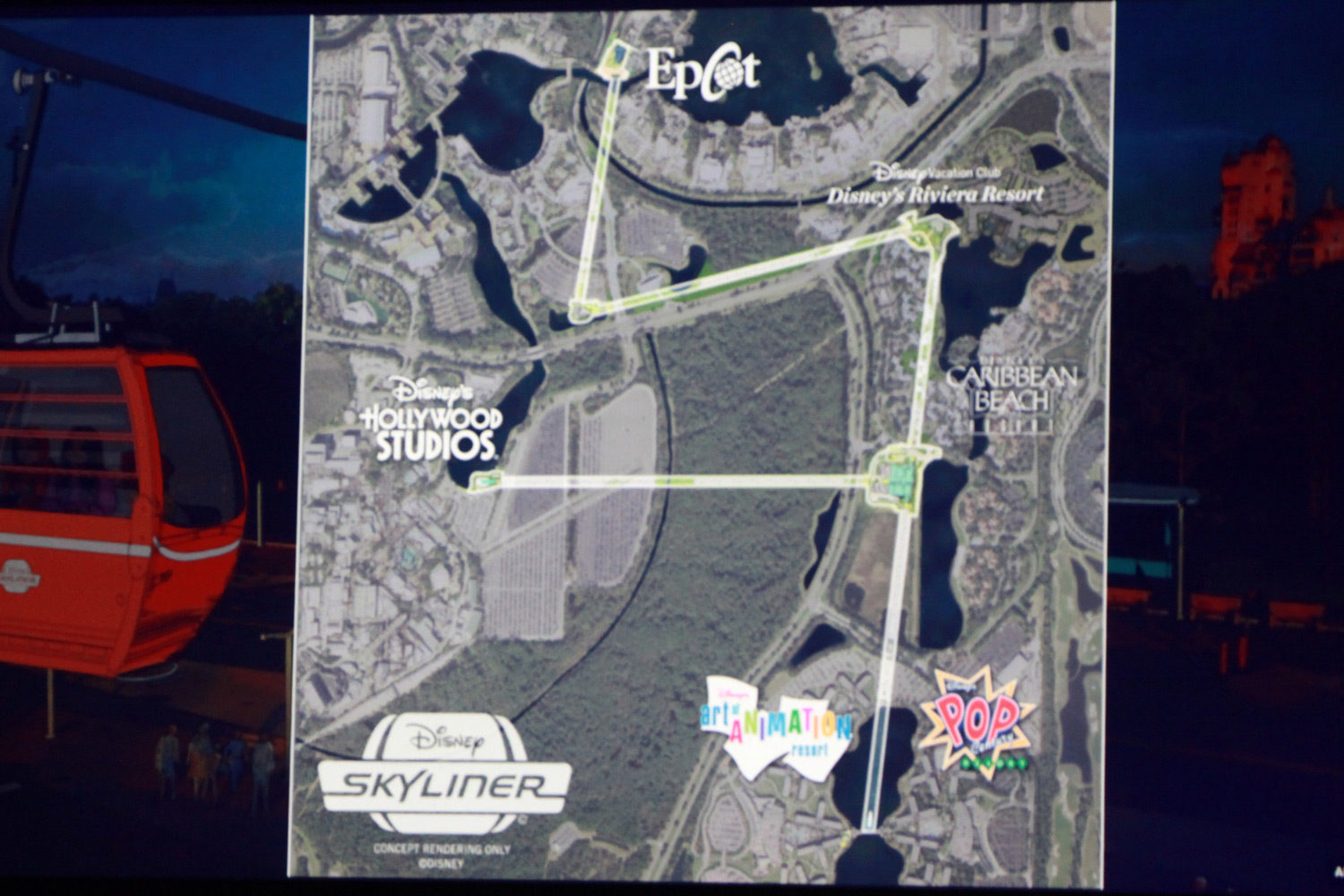 Toying Around in 2018
Disney's Hollywood Studios is currently getting TWO new lands under construction: Toy Story Land and Star Wars Galaxy's Edge. Coming out of the gate first in Summer of 2018 is Toy Story Land, a land that already exists in Disneyland Paris and Hong Kong Disneyland, but now being added to Shanghai Disneyland and Walt Disney World. Attractions you'll find in the new "Andy's Backyard Land" will be Slinky Dog Dash, a family coaster and Alien Swirling Saucer which definitely sounds like "The Claw" will be involved.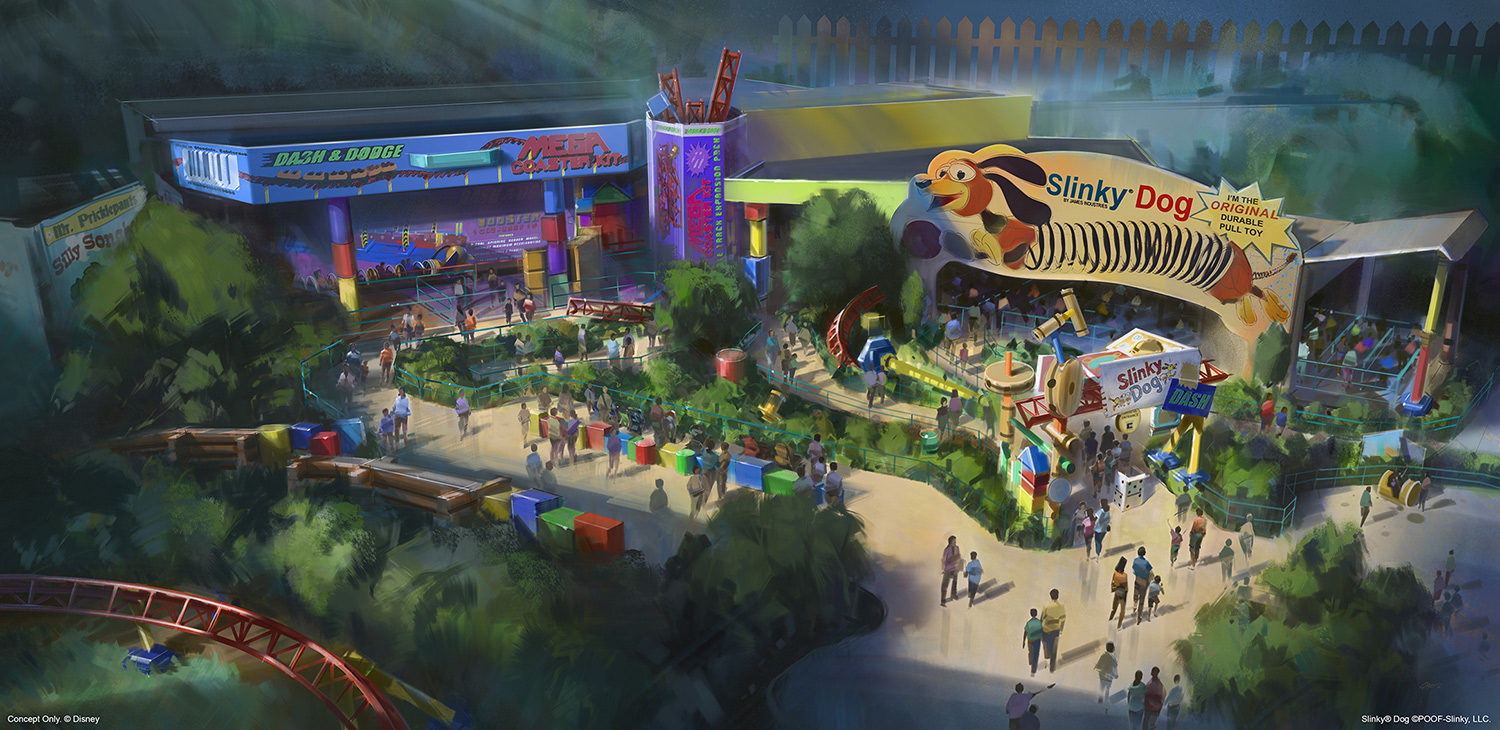 Mickey Mouse Calls "CUT!" on the Great Movie Ride
The Great Movie Ride will finally come to an end on August 13 in order to bring you a brand new attraction, the very first ride featuring Mickey Mouse. Based on the hilarious and popular Mickey Mouse shorts on the Disney Channel, Mickey and Minnie's Runaway Railway will feature a new story from the creative minds at Disney Toon Studios and Walt Disney Imagineering. In this adventure, guests will step through the movie screen and join Mickey and Minnie in an unpredictable adventure where anything can happen. If you're afraid of another 3D attraction, the Imagineers promise that this ride will be in "2 1/2 D", no glasses required! Mickey and Minnie's Runaway Railway will also feature the most amount of Hidden Mickey's EVER. Even if you ride it a zillion times, you may not be able to catch them all.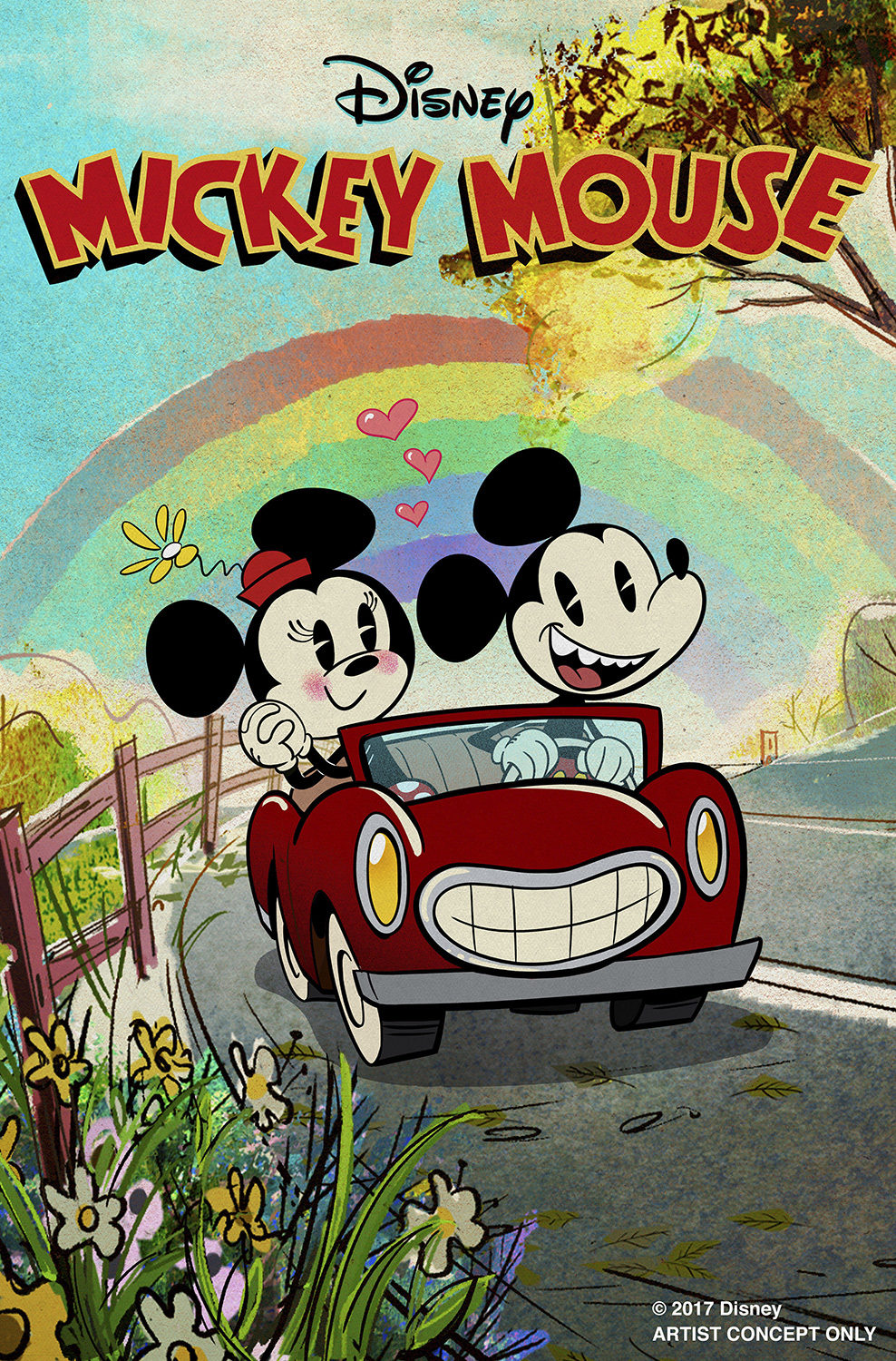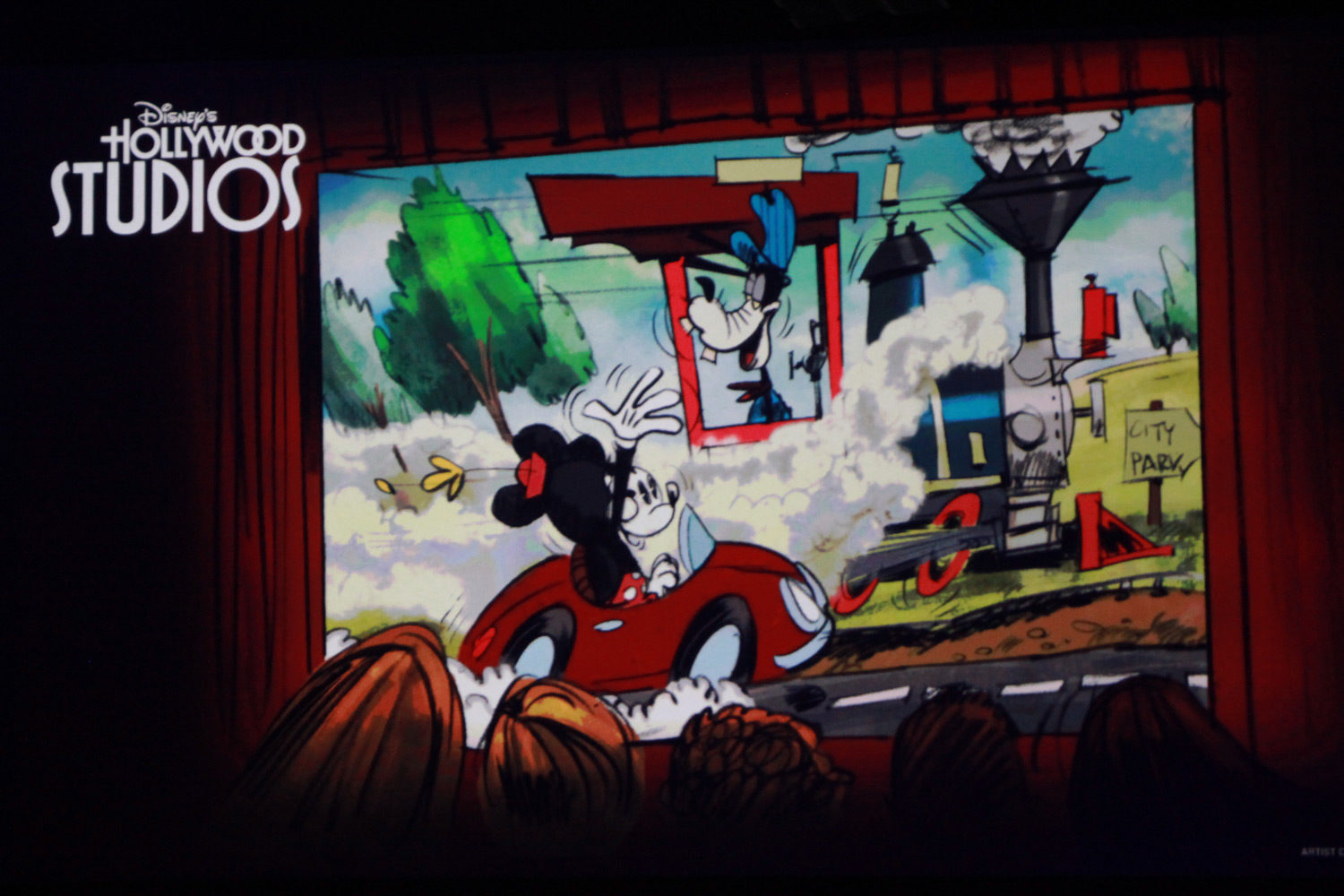 Rats and Trash Pandas to Invade Epcot
Epcot began as a park void of character, and it mostly got by from offering something that was unique and inspriing. But as time goes by and outdoor shopping becomes more common, the staleness of Future World and World Showcase needed to evolve. World Showcase already added Donald Duck and his Three Caballeros pals to Mexico and just last year the gang from Frozen stepped into Norway and soon became one of the most popular attractions in the park. The evidence was there and the proof was in the pudding. Epcot needed to bring more of that Disney magic into its own Disney World Showcase. First up will be Guardians of the Galaxy in Future World, replacing Ellen's Universe of Energy attraction, which will close August 13, 2017. If you're wondering how Disney can put Marvel into Walt Disney World, apparently that property wasn't part of the restrictions. As the story goes, they say Peter Quill visited Epcot when he was a kid and from the looks of it, appears to be a different type of attraction than Mission Breakout in California.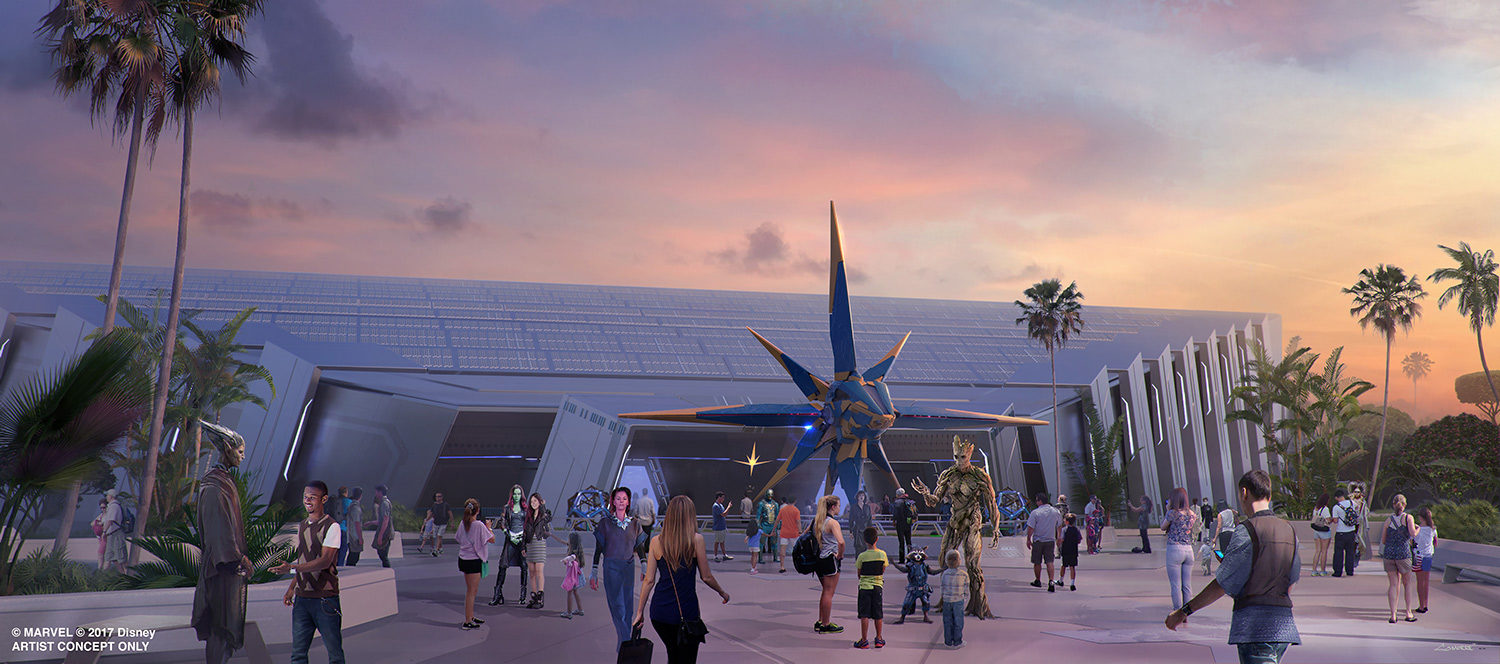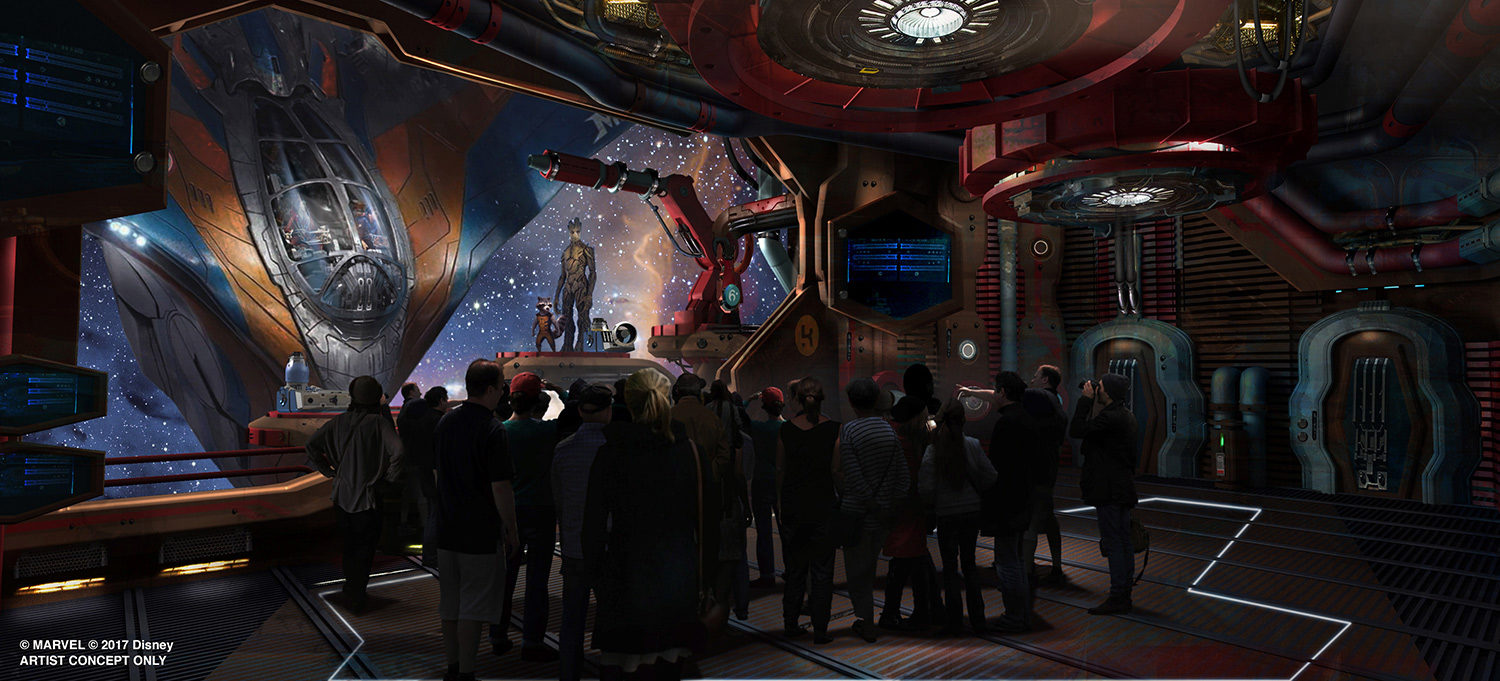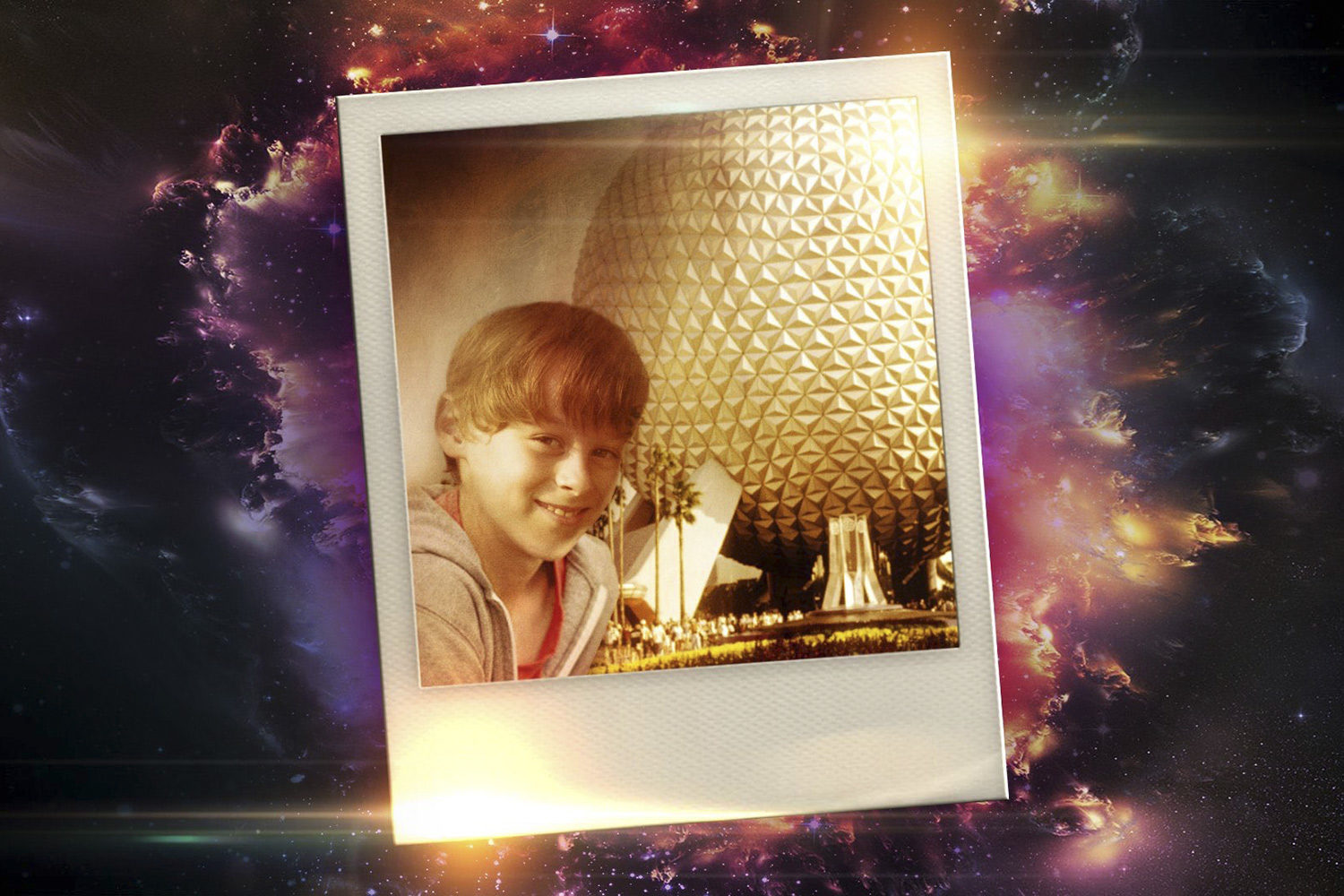 Also coming to Epcot is a clone from Disneyland Paris: Ratatouille: The Adventure, which shrinks guests down to Remy's size as they scurry around the kitchen of Gusteau's restaurant. Ratatouille will be added to an entirely new area behind the Eifel Tower in the France Pavilion of World Showcase. Both Guardians of the Galaxy and Ratatouille attractions will be ready by 2021.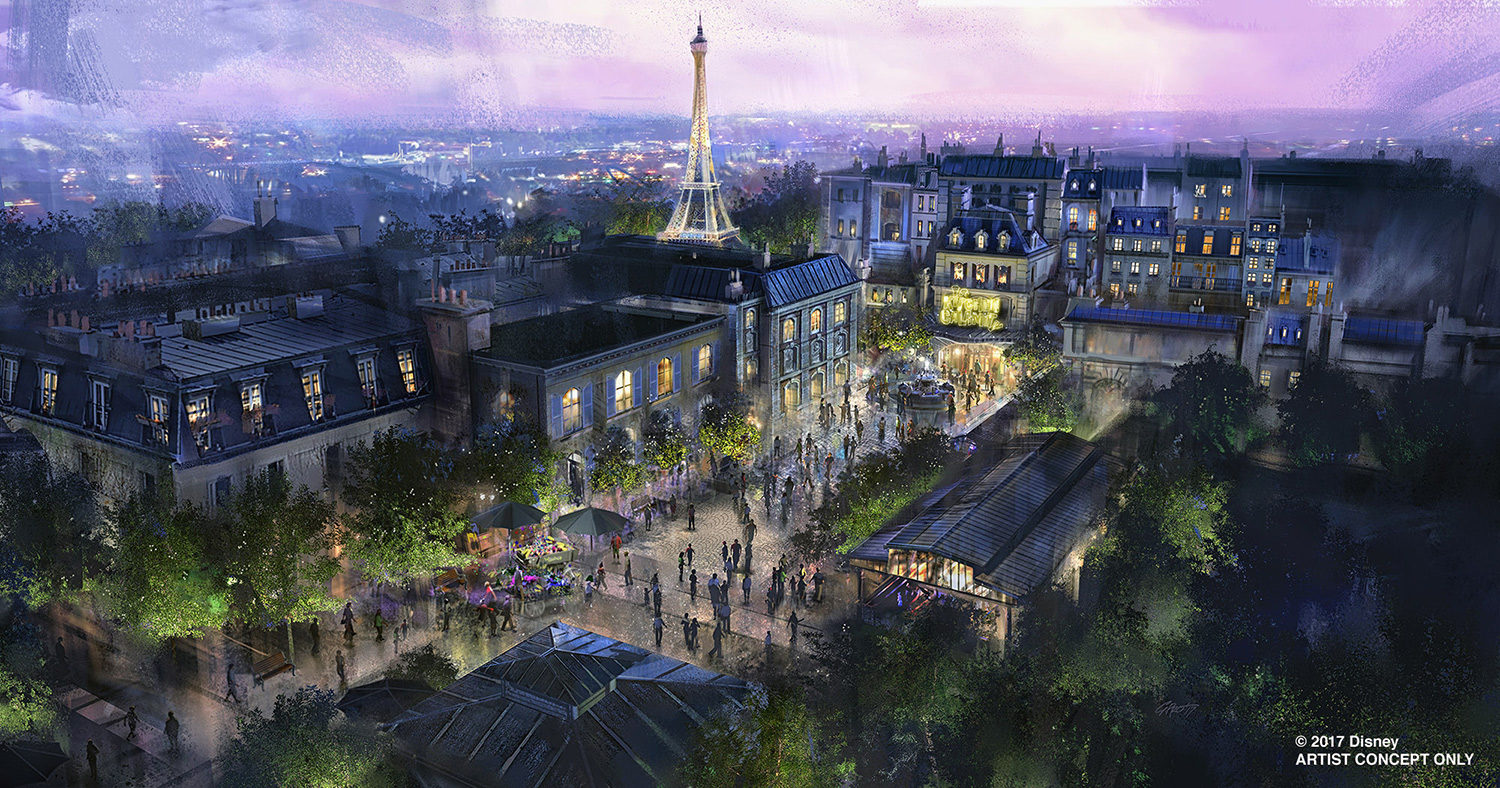 Seamless Circle Vision In Production
A new film is being created to replace the current Circle Vision film, Reflections of China in World Showcase using all new technology. A new digital camera rig will present the very first SEAMLESS Circle Vision Show for the China Pavilion.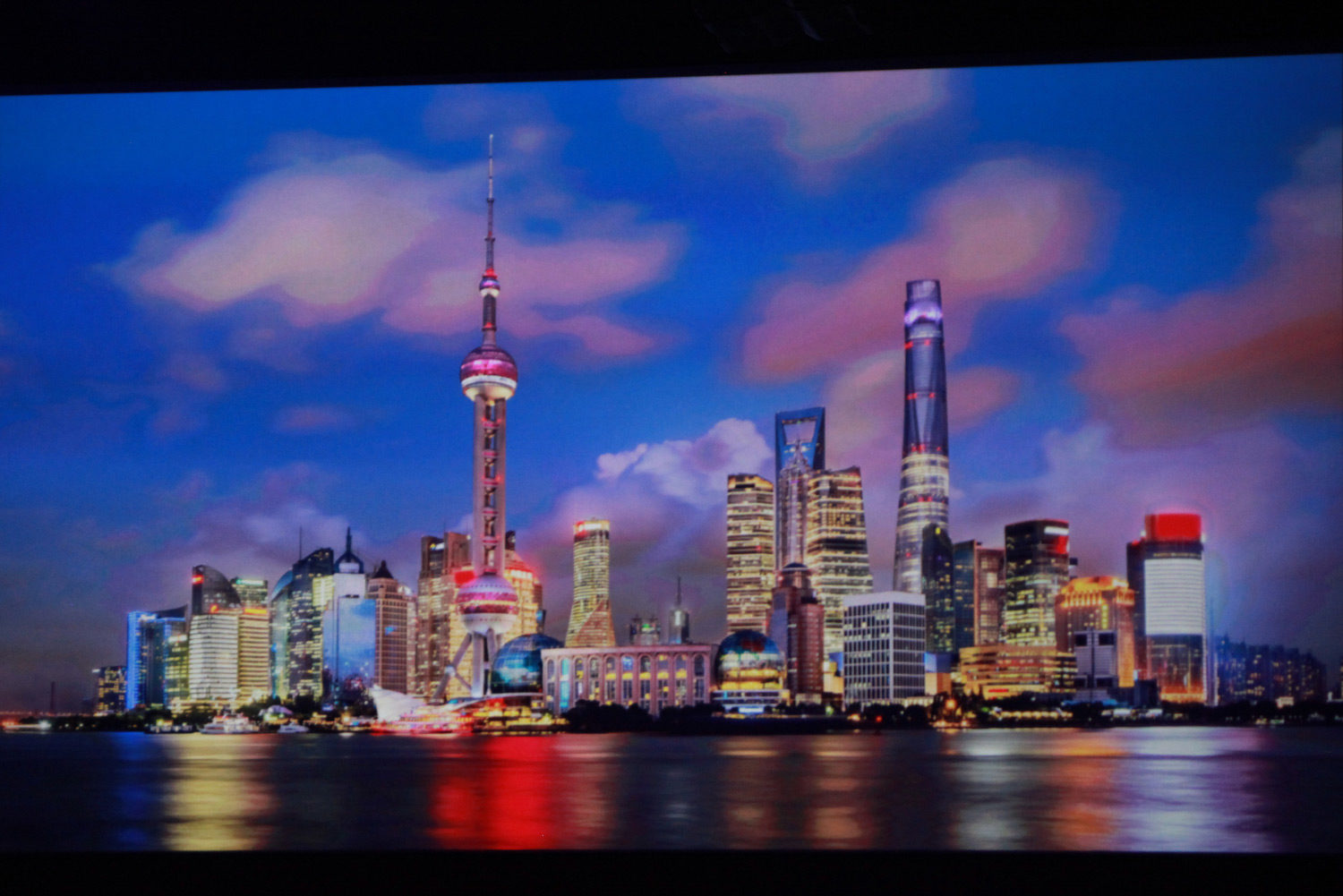 Mission: Space Continues
Bob Chapek discussed bringing more of a "Wow" factor for families to enjoy while at Epcot so there will be a few upgrades to Mission:Space. The more extreme-side will be getting updated visuals in their mission to Mars but the tamer side will be receiving an entirely different view of Earth for families to enjoy. Both visuals will be created by the visionaries at Industrial Light & Magic and debut when the attraction re-opens next month.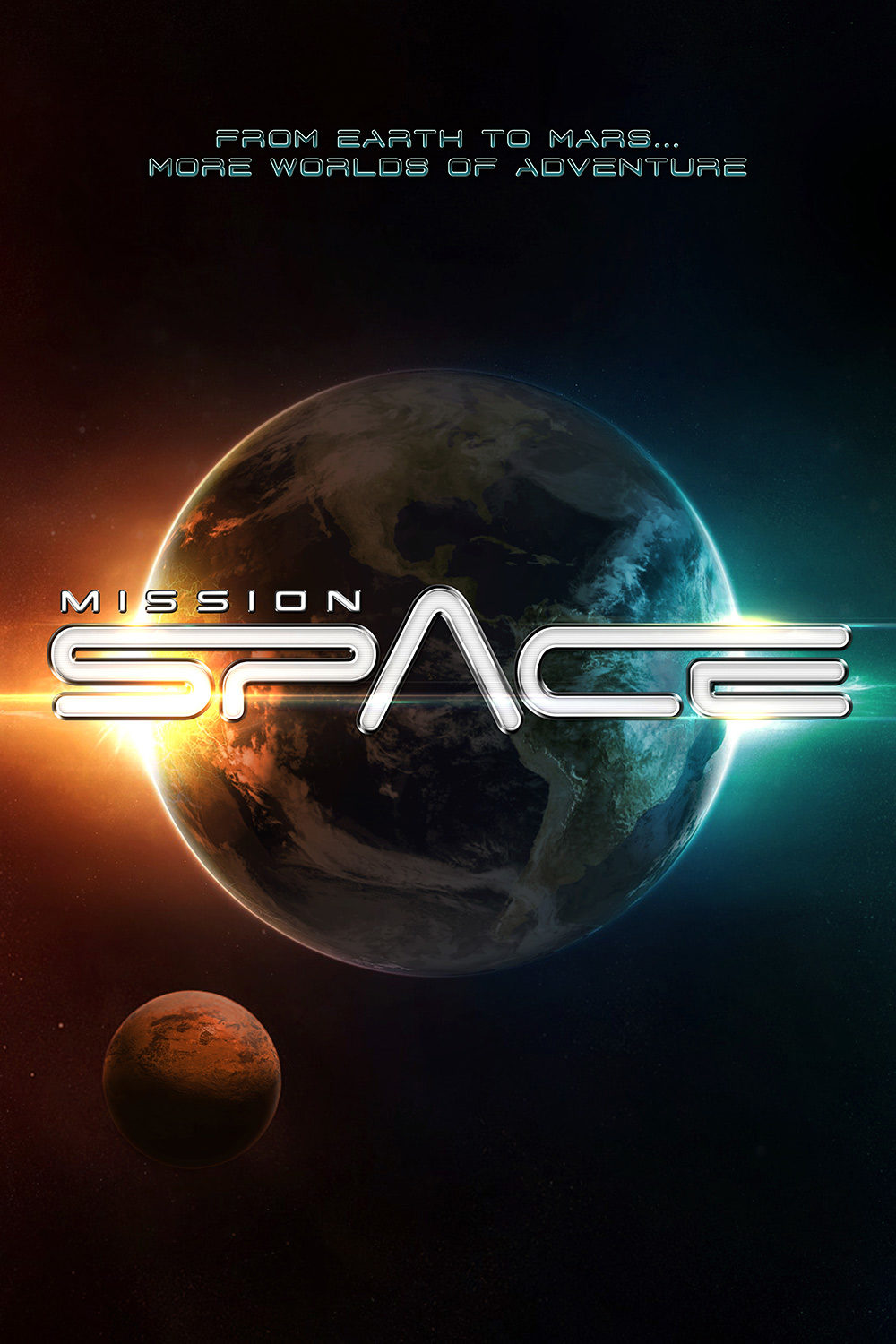 Also in Future World is a new sit-down dining experience I dub "Mission: Stuff Your Face", as it will be located next to Mission: Space and take diners into an eating experience that is out of this world, with views of, you guess it… space. Operated by the Patina Restaurant Group who also handles Tutto Italia and Via Napoli at Epcot, and Morimoto Asia in Disney Springs. This is a dining experience I want for Tomorrowland at Disneyland!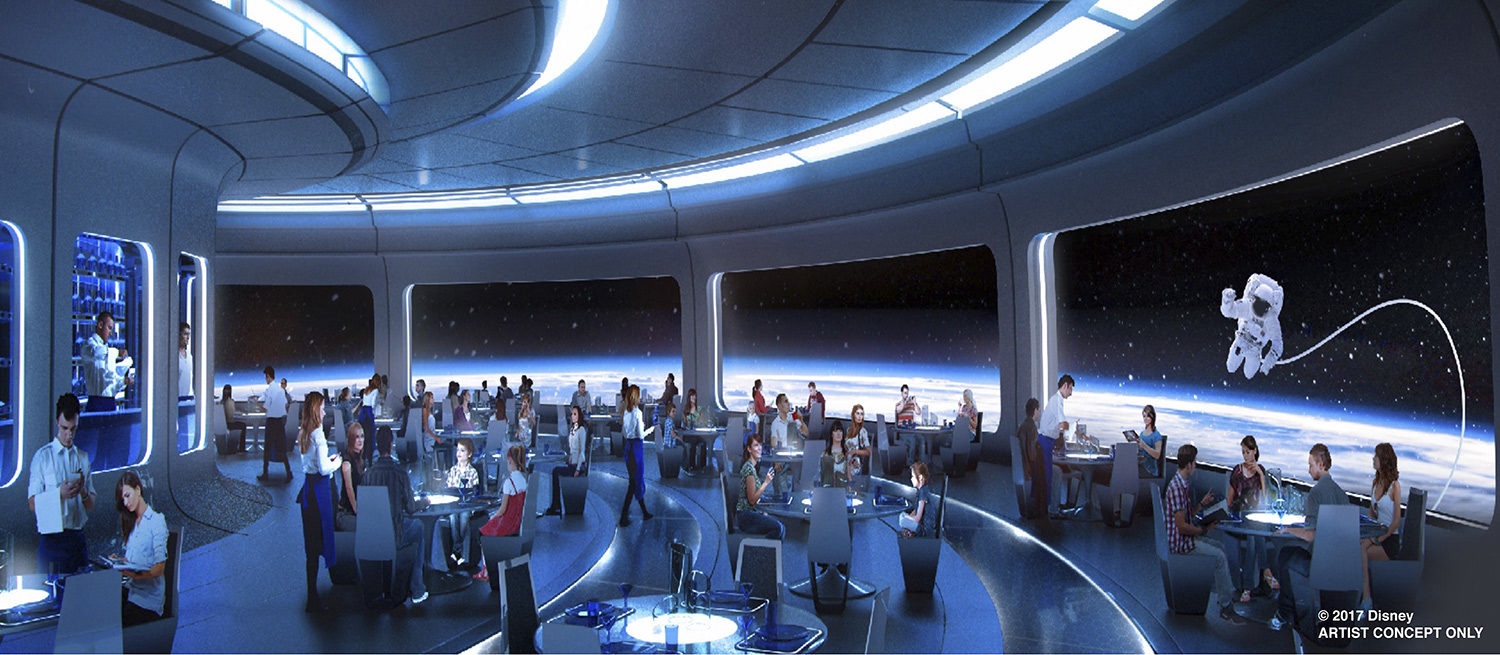 Lastly, a brand new entrance to Epcot was lightly discussed in its blue-sky stage. Tom Fitzgerald speaks about Epcot as a place where the real becomes fantastic, and also where the fantastic becomes real.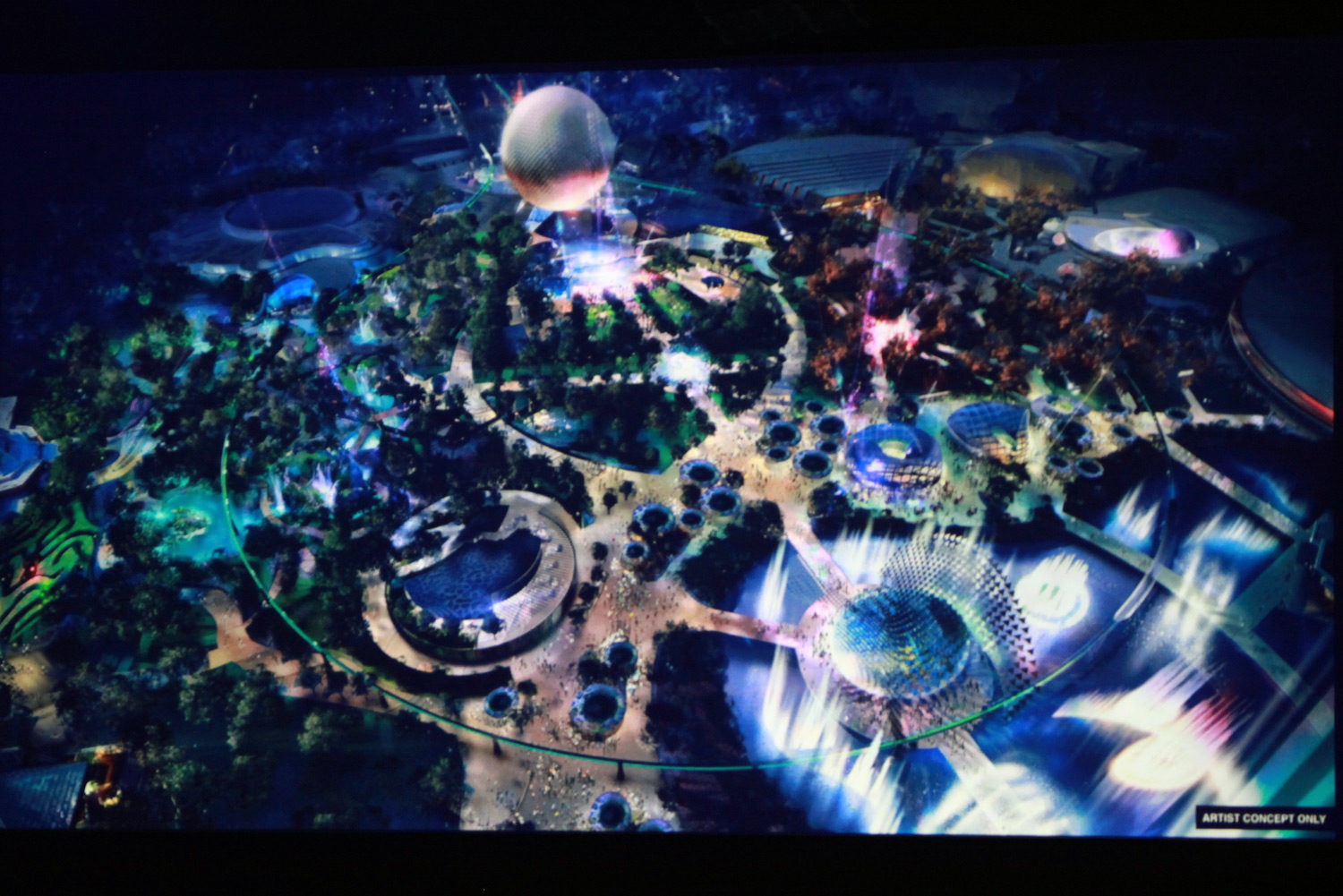 Flynn Lives at Magic Kingdom
That brings us to the Magic Kingdom. First on Main Street, a new theater will be installed resembling the Willis Wood Theater in Kansas City allowing Broadway-style shows similar to those found at Disney California Adventure to be shown at Walt Disney World.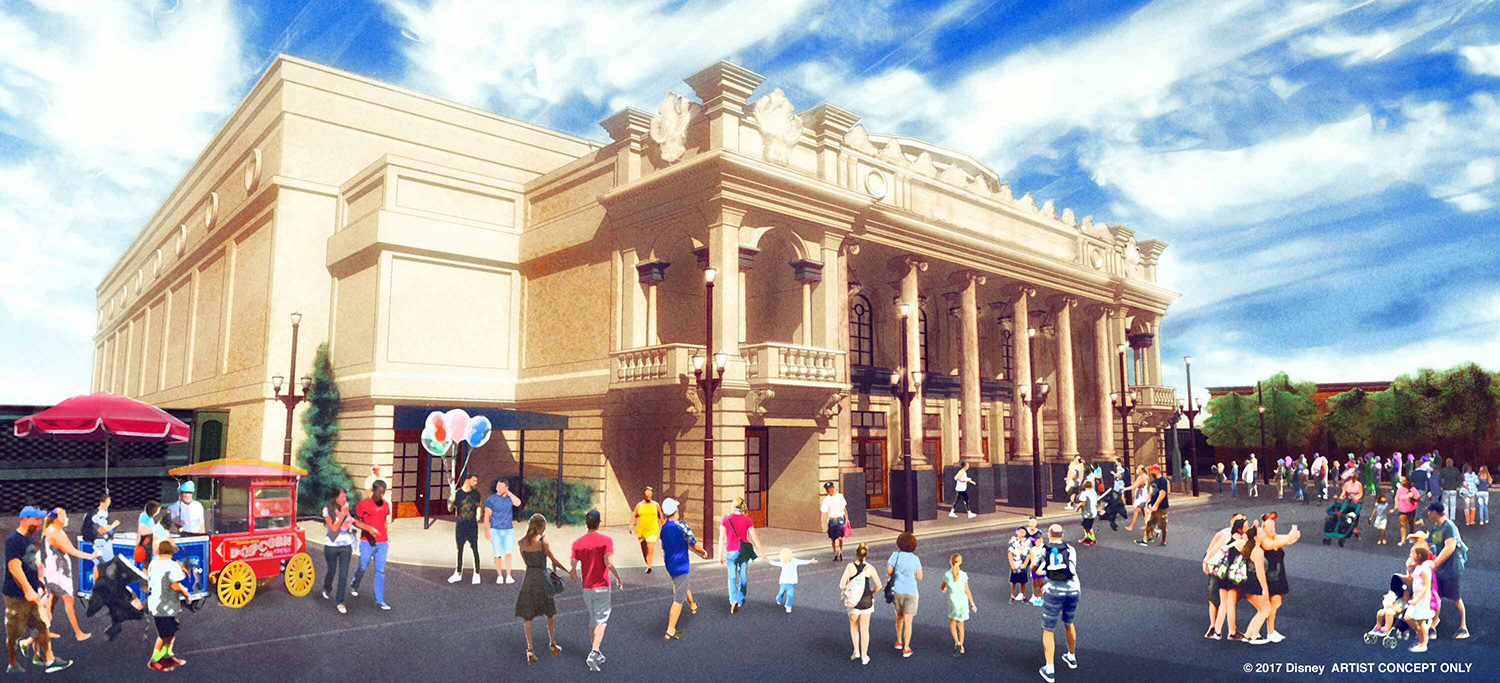 But another attraction set to open for Walt Disney World's 50th anniversary is TRON LIGHTCYCLE POWER RUN, a clone of the popular ride in Shanghai Disneyland. Said to inhabit a new area next to Space Mountain, fans of TRON should be ecstatic that the cult favorite will continue to have life in some form. Now maybe we can get a TRON 3 film greenlit? Expect TRON Lightcycle Power Run to also open in time for Walt Disney World's 50th anniversary in 2021.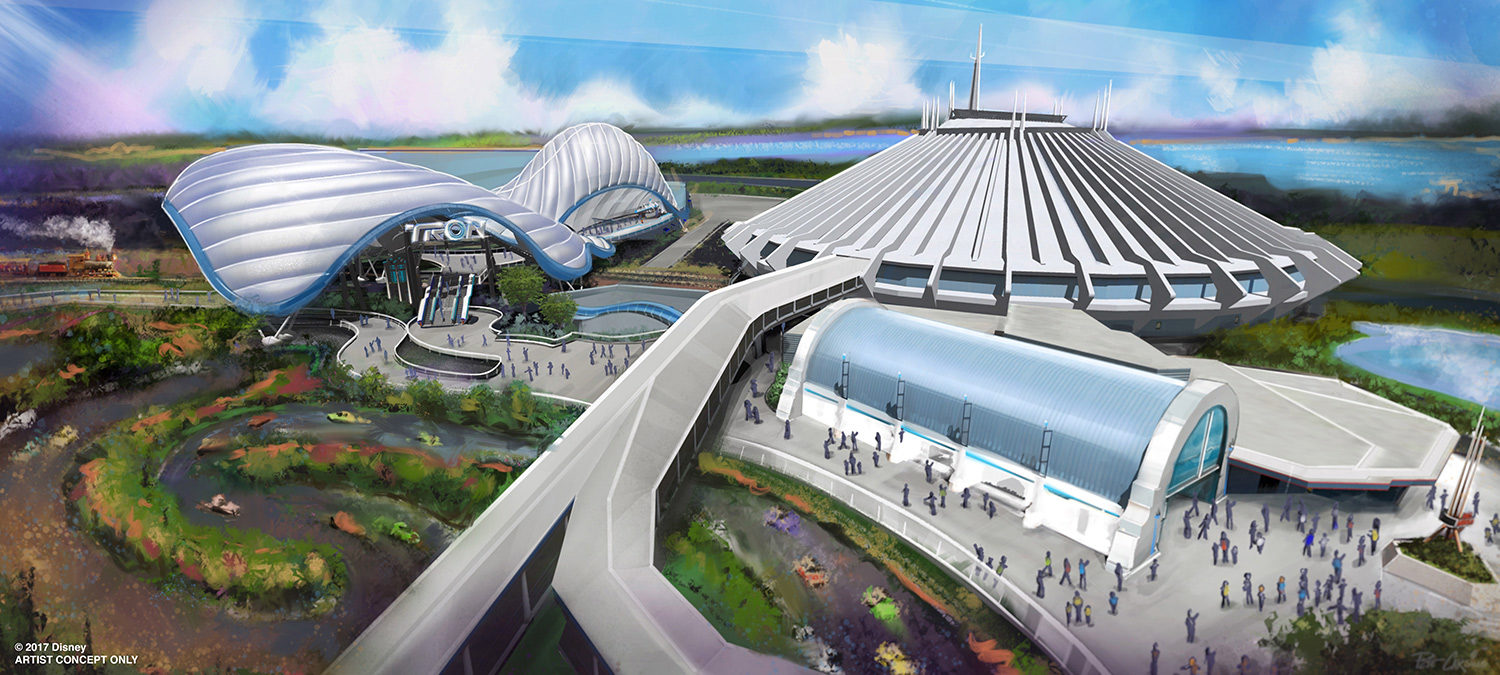 Wow, that's a lot happening in the world of Disney Parks and Resorts! What are you most excited about? Let us know!
Concept Art provided courtesy of Disney
Images of Bob Chapek courtesy Image Group LA
Additional photography of live presentation by David Yeh