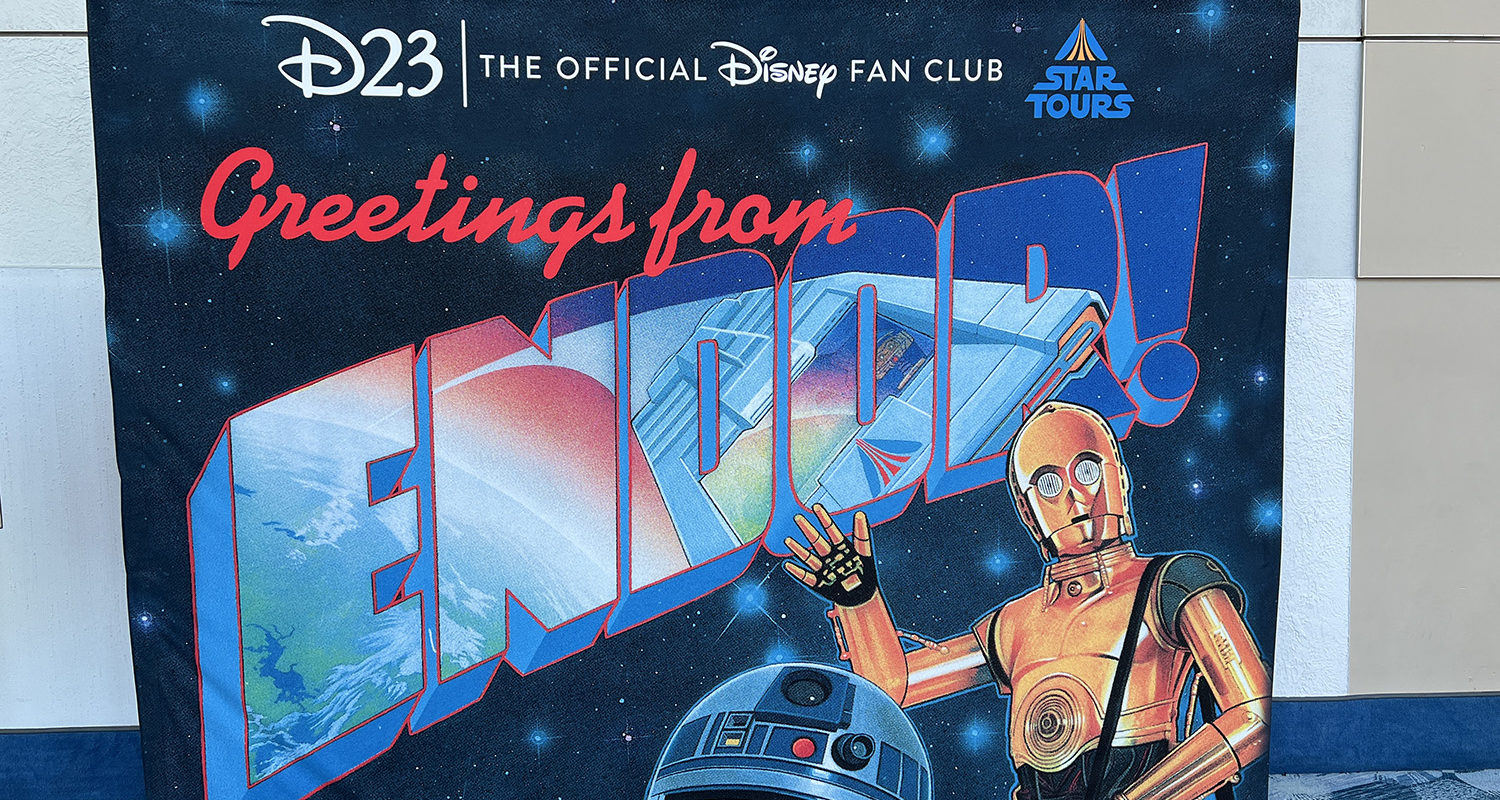 David Yeh
SWC: New Star Tours Destination In the Works
Article
June 3, 2022
It was a busy Celebration in Anaheim, with two panels back to back (in different locations) that left Star Tours fans wondering which panel to choose! First up was Disney Parks' From a Galaxy Far, Far Away to a Disney Park Near You at the Celebration Stage followed immediately by 35 Years of Star Tours Adventurers with D23 in the Galaxy Stage.

The first panel was a chronological journey through Star Wars experiences at Disney Parks around the world, starting with the earliest collaborations between Disney and Lucasfilm, Captain EO and Star Tours, leading all the way through to the newest immersive experiences. Star Wars: Galaxy's Edge (Walt Disney World and Disneyland Resorts), Star Wars: Galactic Starcruiser (Walt Disney World Resort) and Star Wars: Hyperspace Lounge (Disney Cruise Line).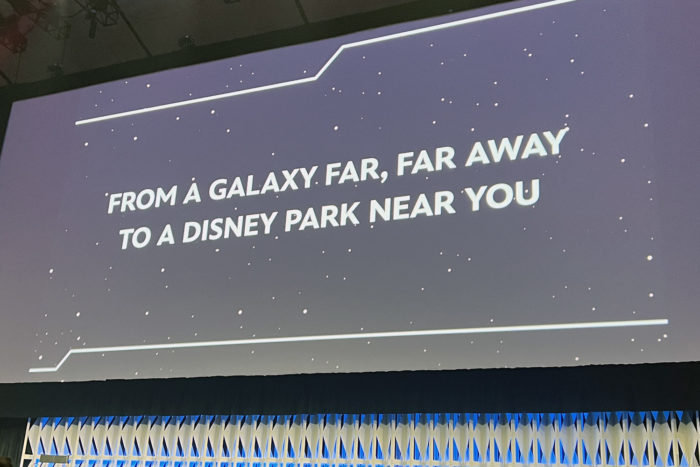 Moderated by Amy Ratcliffe, Panelists Scott Trowbridge (Walt Disney Imagineering), Tony Baxter (Walt Disney Imagineering (Retired)), Asa Kalama (Walt Disney Imagineering), Ann Morrow Johnson (Walt Disney Imagineering), and Matt Martin (Lucasfilm) discussed the history of Star Wars in the parks, from Star Tours to Galactic Starcruiser, and even offered some behind the scenes of Galaxy's Edge.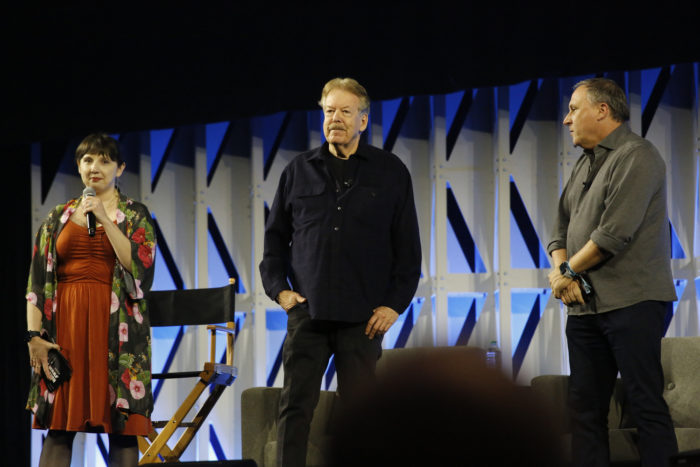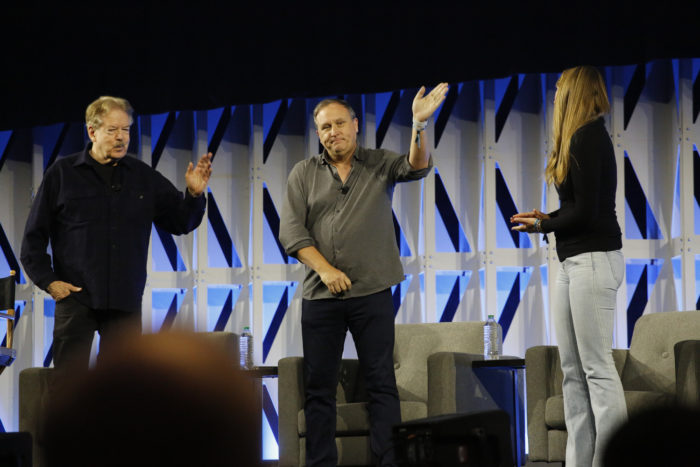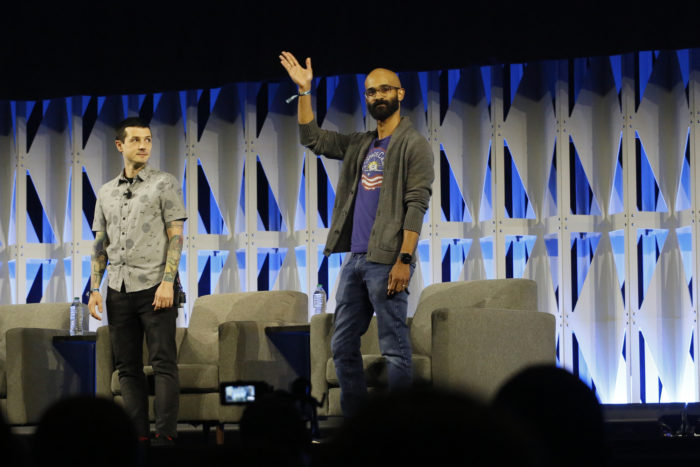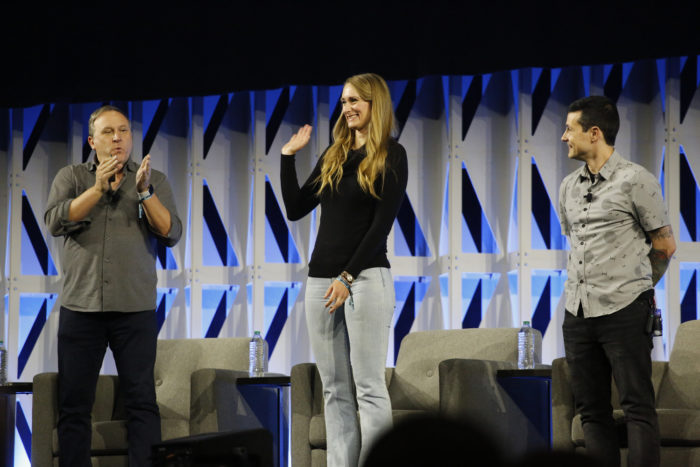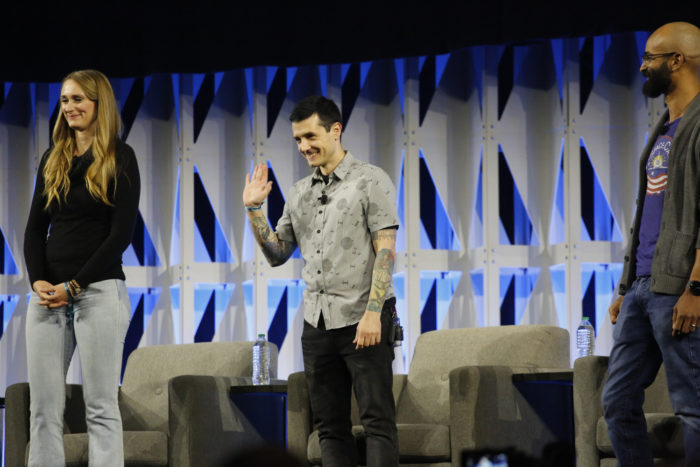 The earliest collaboration between Lucasfilm and Disney weren't in theme parks at all… but through records and storybooks…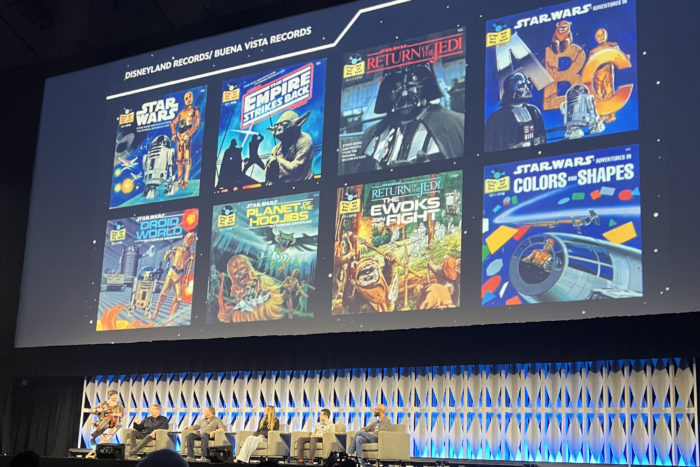 Trowbridge then gave us a this slide of Halyx, a Star Wars-themed rock band that performed in Disneyland's Tomorrowland in 1982. "I think it's time they make a comeback" Trowbridge said. Whether that's wishful thinking or an actual attempt from the inside, we'll have to wait and see!

You can watch Defunctland's documentary about the band in full below.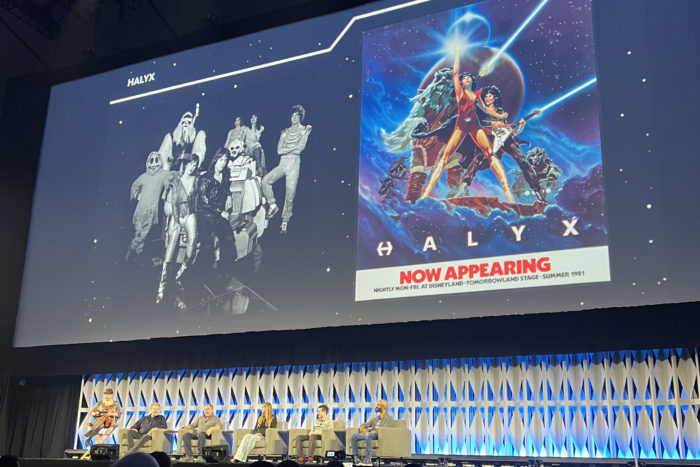 We were then taken down a history of Lucasfilm's involvement with the parks…. with the exception of Alien Encounter as well as the Indiana Jones properties. Tony Baxter tells the story he's told many times before about pitching the concepts for Star Tours and Splash Mountain to Michael Eisner's son, Breck, who was a young teenager and gave his C.E.O. dad the enthusiastic thumbs up. But Michael Eisner, who has worked in movies, wasn't quite prepared to learn about the time it takes to build rides, especially two big ones like Star Tours and Splash Mountain. They wanted something quick, and that's where Captain EO comes in, a musical sci-fi 3D adventure from George Lucas, Francis Ford Copolla, and Michael Jackson.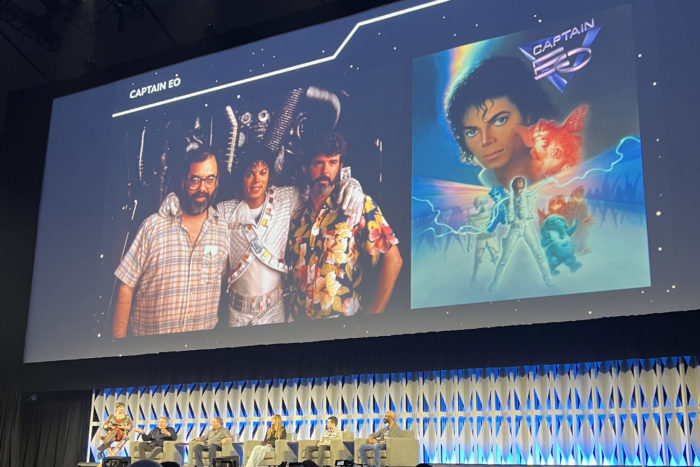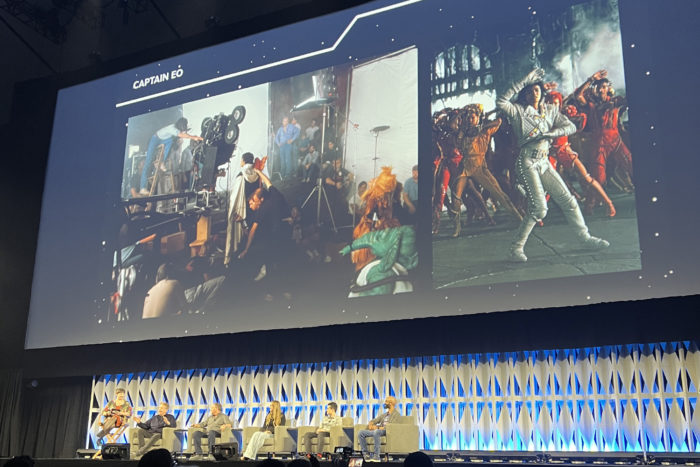 But back to the original Star Tours… opening on January 9, 1987. Disneyland remained opened for three days straight in attempts to satisfy the opening crowds. The introduction of Captain Rex (RX-24) has since paved the way for that type of droid to appear across several Star Wars properties, including the recent The Book of Boba Fett. They played an original Disneyland commercial for Star Tours without the sound, so here it is in all of it's glory below.

Tony Baxter, commenting on the power of Star Wars said "well… we're not at a Black Hole Convention".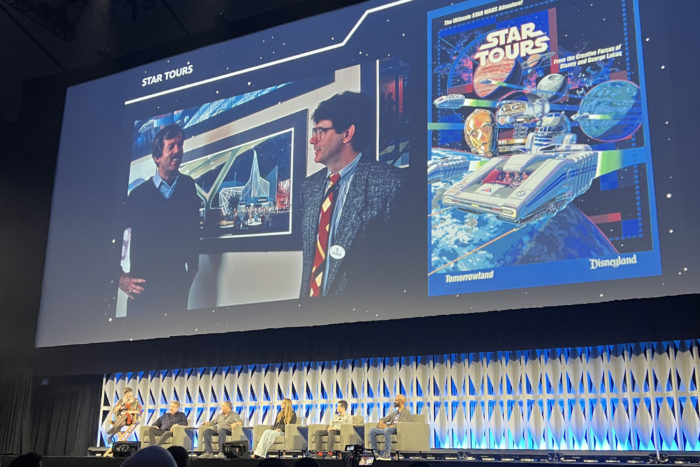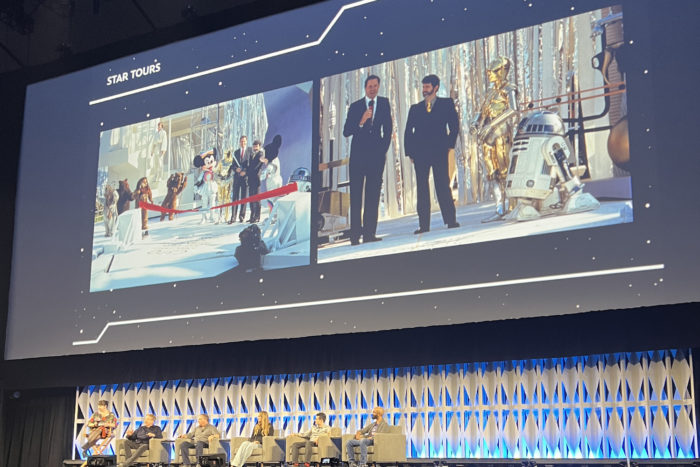 In 2011, the Adventures Continued, with a new branching technology allowing several different possible outcomes. Lucasfilm's Matt Martin was allowed to say on record that they are indeed working on more Star Tours, but not exactly where. (definitely think more of the Disney+ locations rather than the sequel trilogy)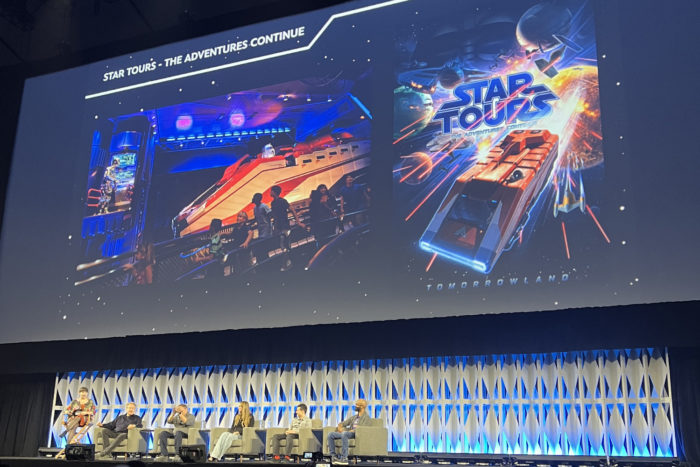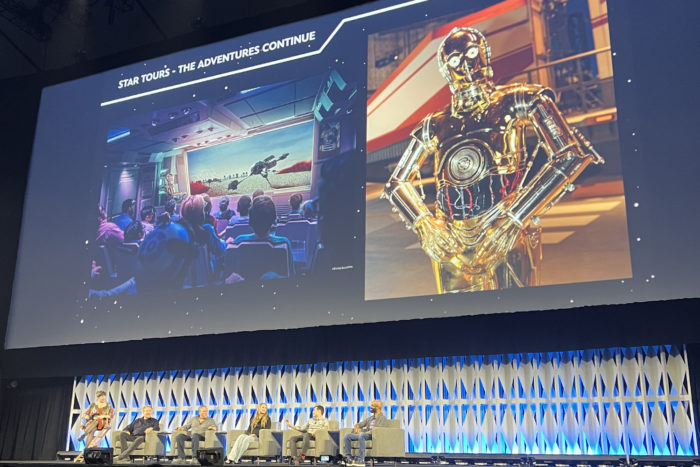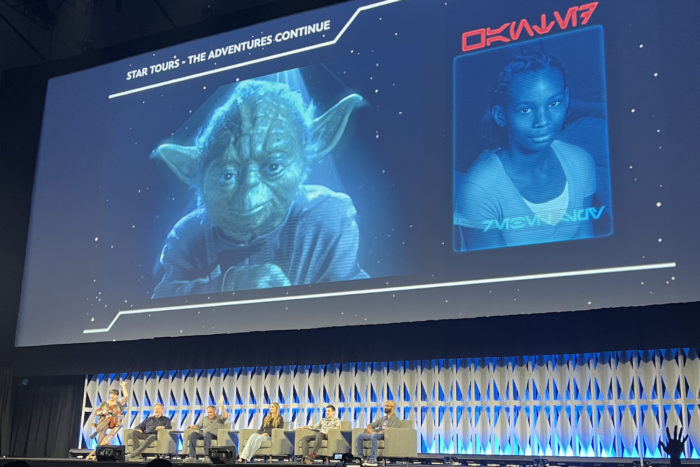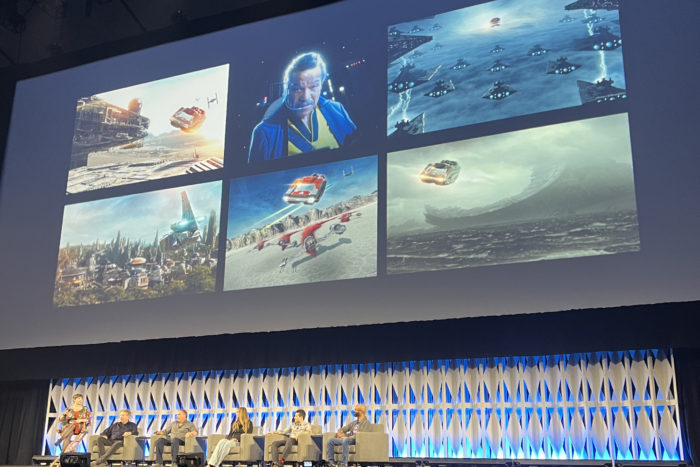 The Star Wars adventures didn't just stop at Star Tours… it continued on in the form of events such as Star Wars Weekends at Disney's Hollywood Studios. Beginning in 1997, Star Wars Weekends kicked off the fandom even before Star Wars Celebration did by two years! It gave fans a chance to pose with rare characters and meet several actors from the franchise before it ended in late 2015 to prepare for the construction of Star Wars: Galaxy's Edge.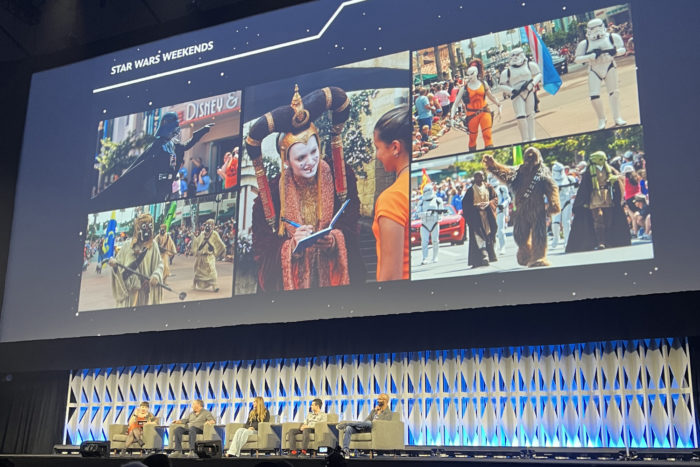 In 2015, several Disney Parks around the world put on Star Wars: Season of the Force, a new way to bring guests into the Star Wars galaxy, with Star Wars Launch Bay, where guests can see props and costumes from the films and take photos with some of the Star Wars characters. Path of the Jedi, a compilation film catching guests up to speed on the six Star Wars films). Jedi Training: Trials of the Temple, giving the young a chance to learn how to use a lightsaber and confront a Lord of the Sith. Hyperspace Mountain, a revamped version of Space Mountain with a Star Wars overlay (at Disneyland, Hong Kong Disneyland, and Disneyland Paris). At Disney's Hollywood Studios, they received Star Wars: A Galaxy Far, Far Away character shows and Star Wars: A Galactic Spectacular fireworks show paired with Star Wars music.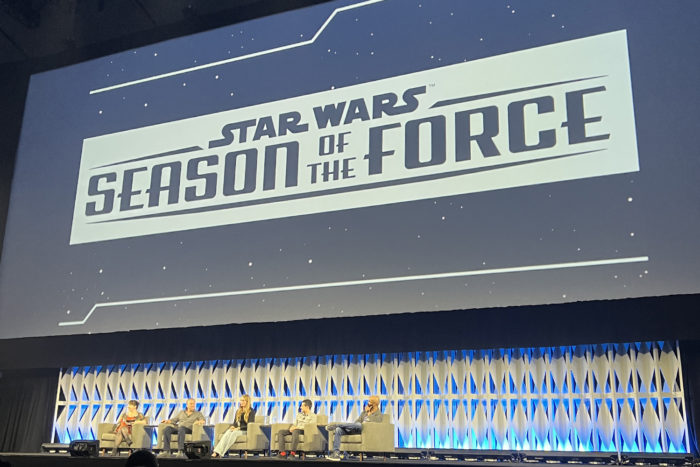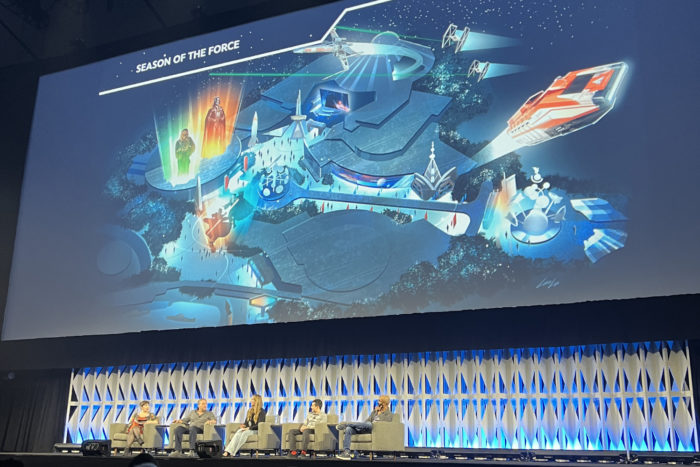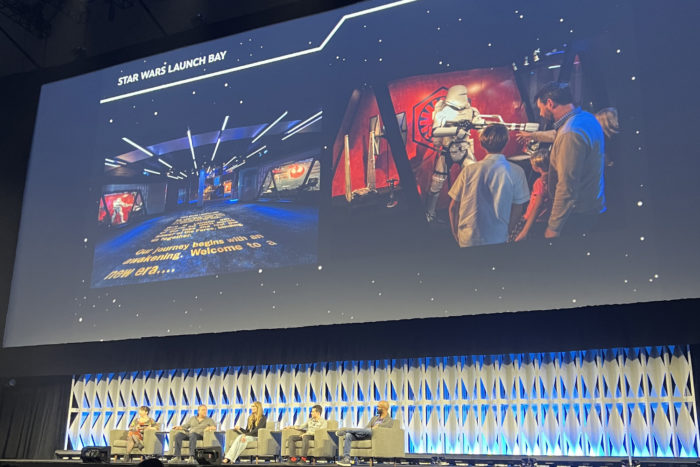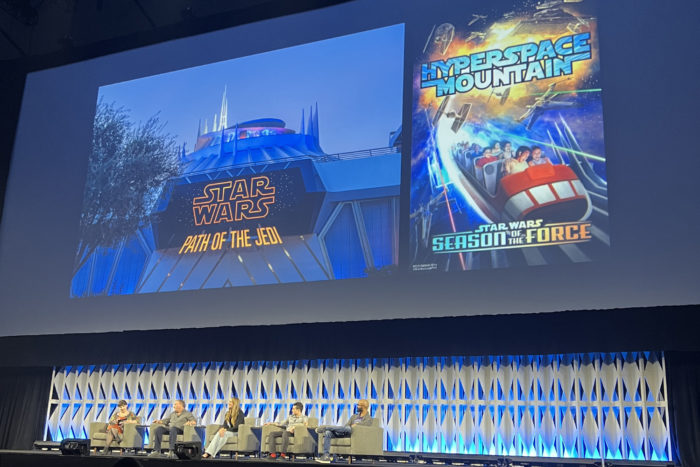 The Disney Cruise Line got into the act with Star Wars Day at Sea, and the upcoming Disney Wish will feature a brand new play area for kids as well as a Hyperspace Lounge for the grown ups. Looking out the window you will witness the ship hyperspacing around to different locations and seeing a variety of familiar ships. You might even get served a cool concoction inside a camtono case!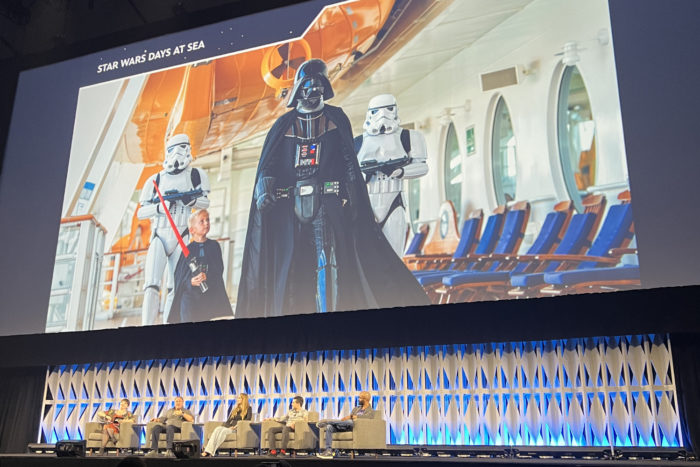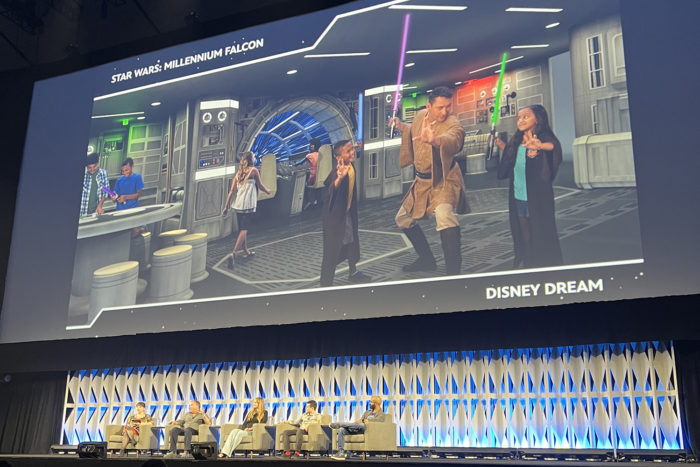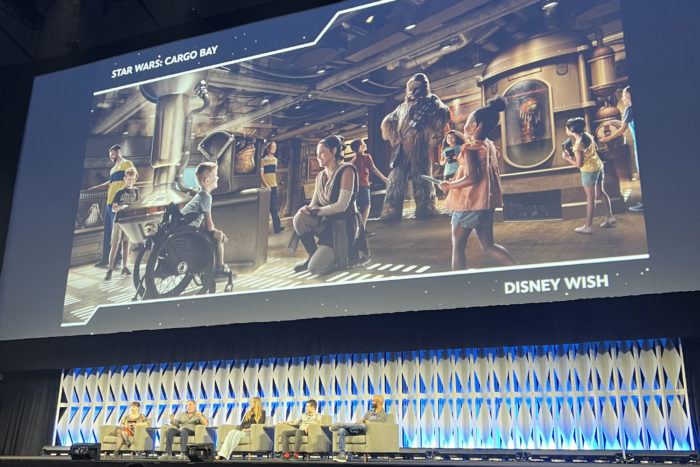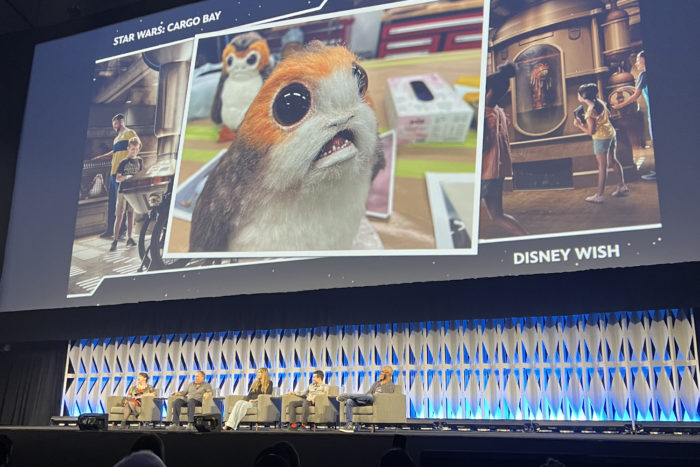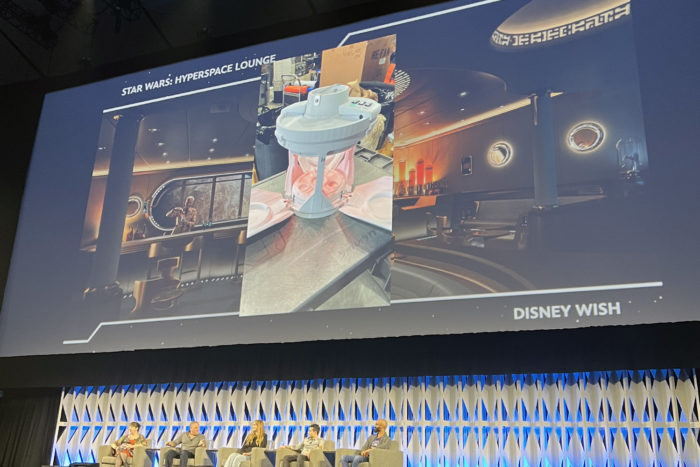 That finally brings us to Galaxy's Edge and the Galactic Starcruiser. We wrote about the making of Galaxy's Edge last year if you'd like to revisit that. Guests leaving this panel received a Star Wars: Galactic Starcruiser poster designed by Imagineer Greg Pro.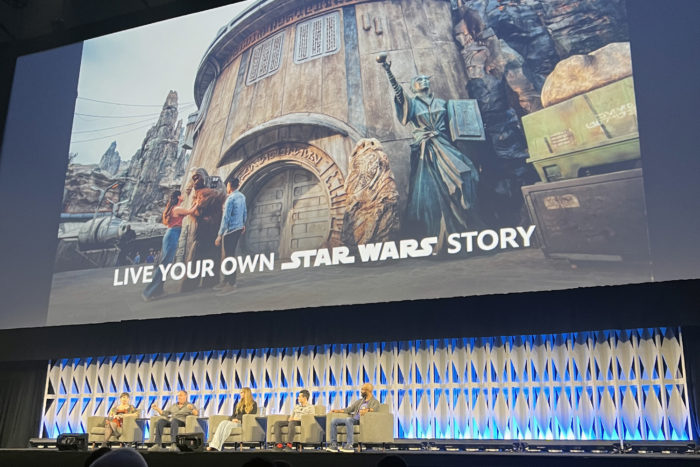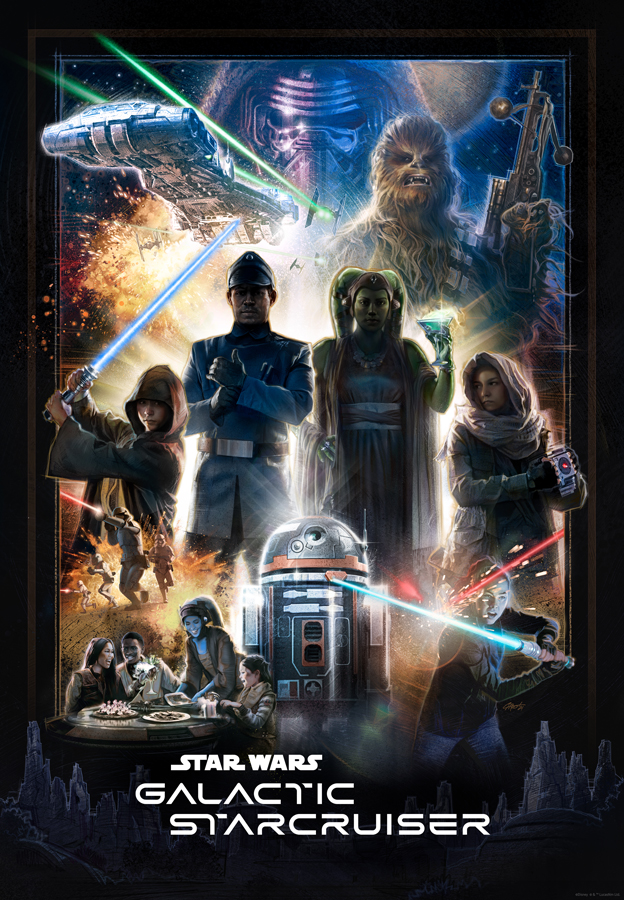 Jumping to D23's 35 Years of Star Tours panel moderated by Ashley Eckstein… this panel was a celebration of just Star Tours and it truly was a walk down memory lane. Before things kicked off, we got to revisit the original safety spiel from the original version.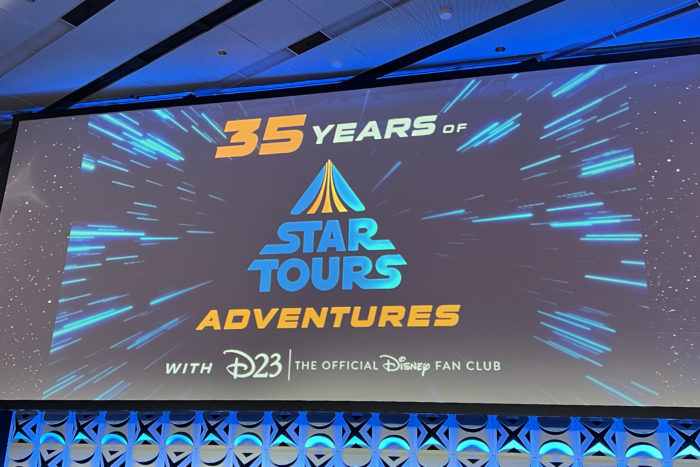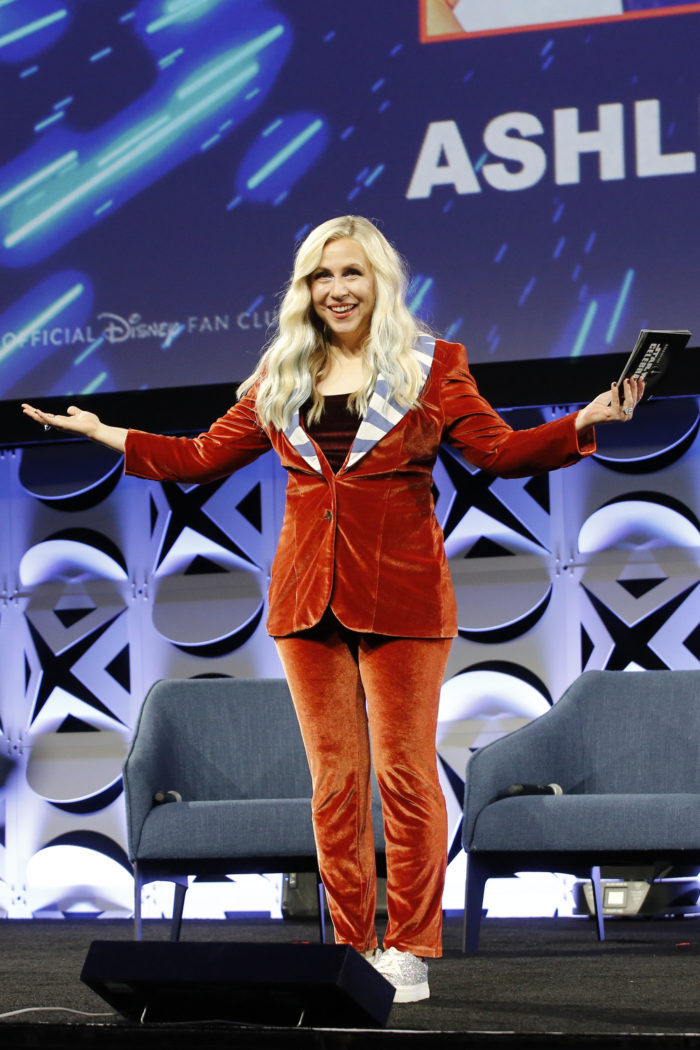 Head of D23, Michael Vargo came out wearing a Star Tours cast member costume and showed off his nerd cred with his ticket to the Star Tours Launch Party back in 1987.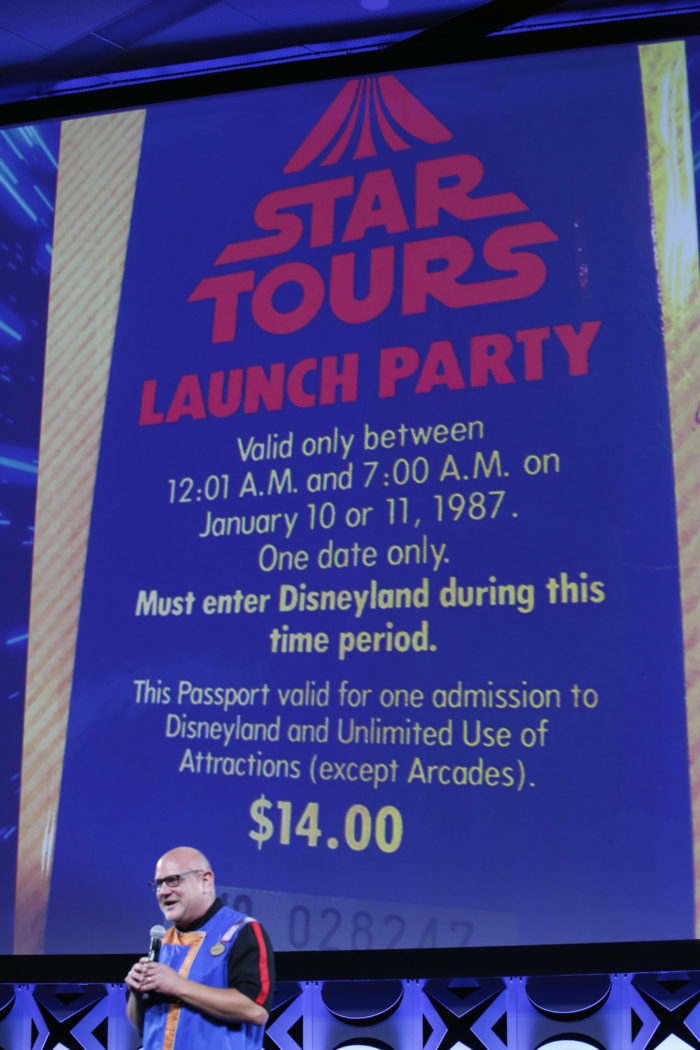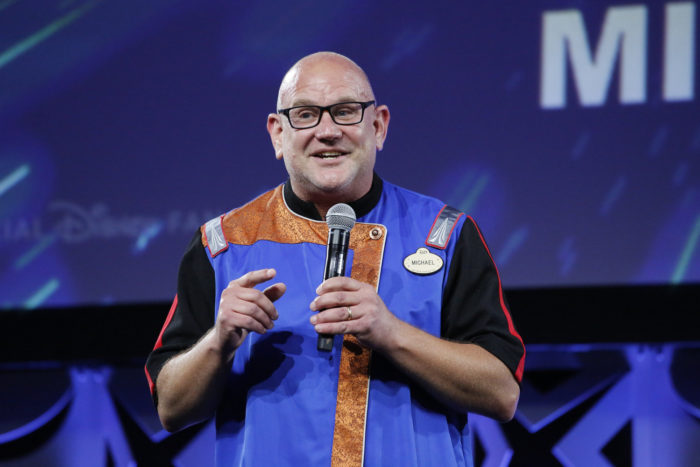 Guests at the panel were treated to a snippet of the 80s craziness that was the Star Tours opening festivities. View it here.

Retired Imagineer Tony Baxter pulled double duty, appearing on both panels back to back… giving us the original pitch once again, and talking about how Star Wars (and Indiana Jones) were properties outside of the company that seemed to really fit the Disney brand. And indeed it did.

He also brought up the Mighty Microscope from Adventure Thru Inner Space, an attraction he felt terrible shutting down, being snuck into Star Tours. He wishes he still has that piece so be sure to let him know if you have it! See photos of the Mighty Microscope in Star Tours here.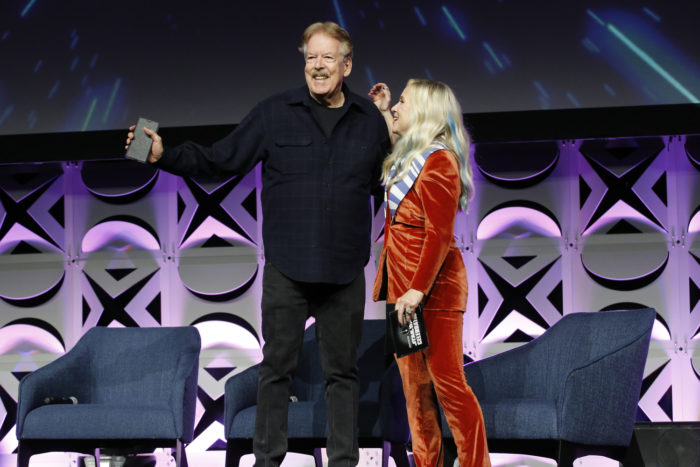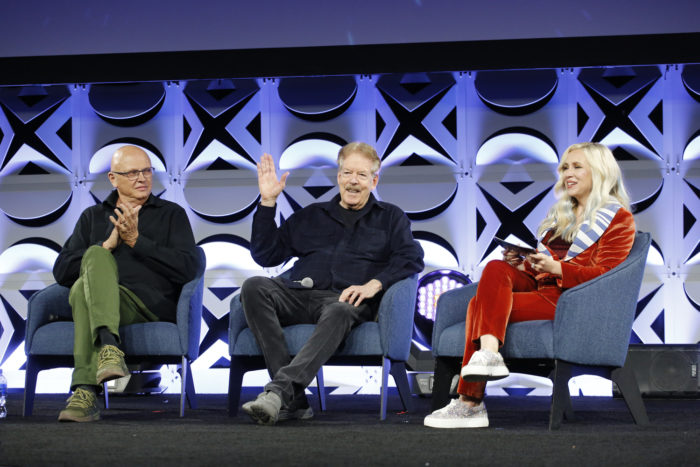 Panelist Chris Runco, designer of Captain Rex, considered working on Star Tours one of the best things he's ever done. Chris even gave a shout out to Imagineer Sonny Nguyen who designed DJ-R3X.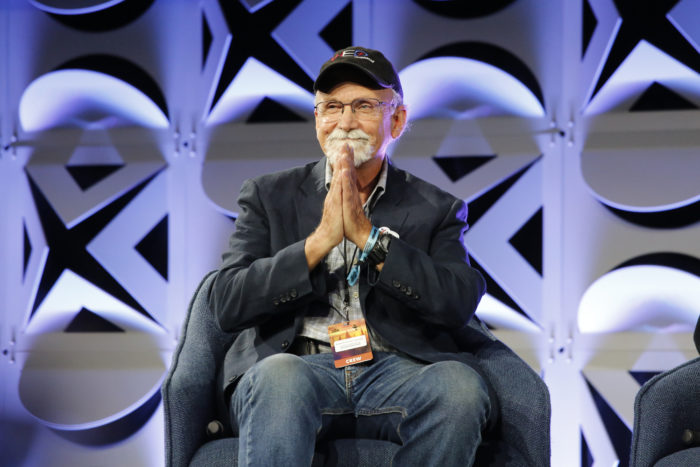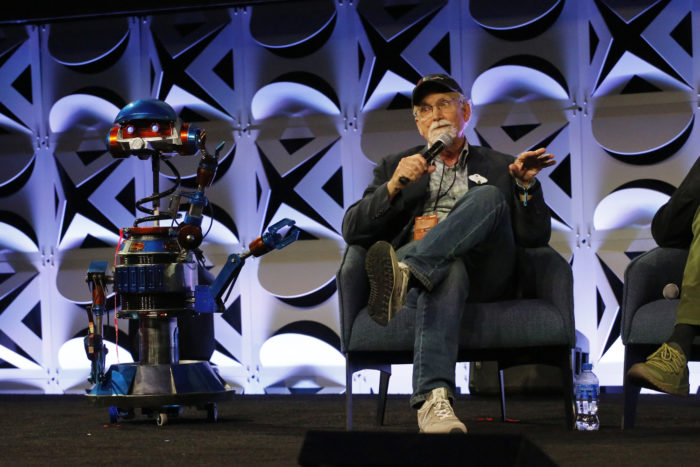 Chris Runco also talked about the creation of the G-2 droids, who had lives as geese in America Sings.


Industrial Light & Magic's Dennis Muren gave us background on creating the film portion of Star Tours, where it requires a cut every minute or so. The edits were masked by laser blasts or star fields, creating one continuous experience.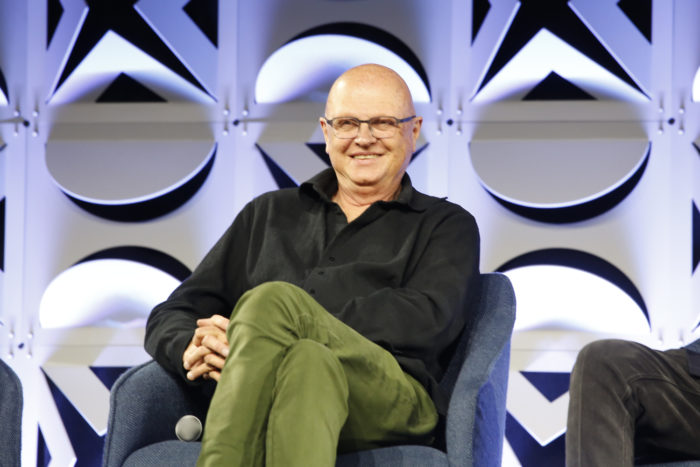 We were then in for a special treat, as the original video and audio of the Star Tours ride was played on three big screens in the front of the stage. The room wasn't a simulator but it was good enough! Seeing it again on a screen larger than a computer really brought it all back how special it was.

Ashley Eckstein then introduced two new panelists to the stage, Meghan Short from Walt Disney Imagineering and Bill George of Industrial Light & Magic. Both had a hand in creating Star Tours: The Adventures Continue. We were treated to test footage of employees acting out a scene for Maz Kanata's hologram as well as how they were able to recreate the hologram for Princess Leia (they used various cuts of the original footage along with a new lip recording with a different actor). We even got to see ILM artists throwing themselves onto a glass panel to figure out timing of Wookiees sliding down the front of the Starspeeder 1000.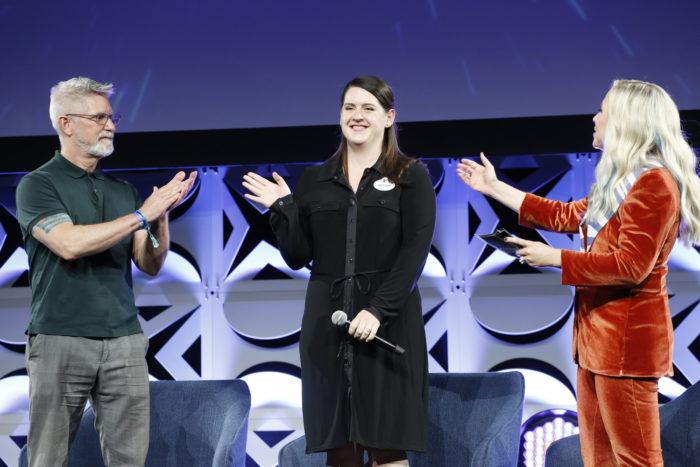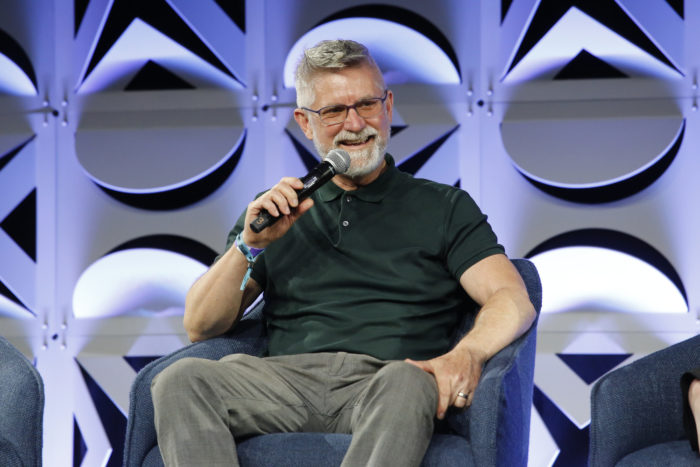 More secrets in the creation of Crait… those are crushed Jolly Ranchers!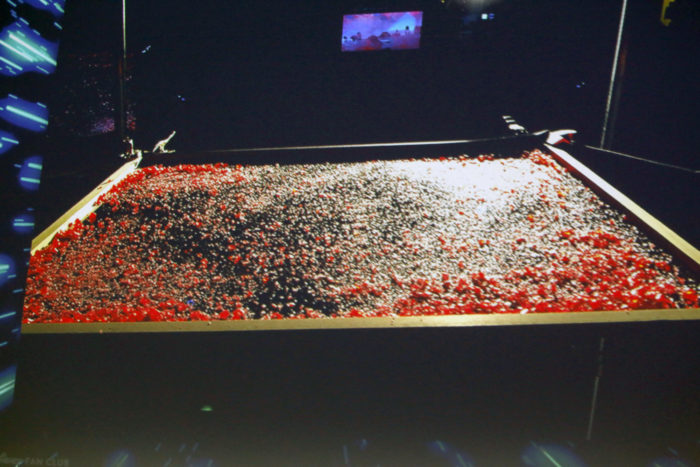 Bill George commented on the recreation of the second Death Star for the new Star Tours, where they went to the archives and scanned the original for use… another example of how old props still find their way back into the spotlight.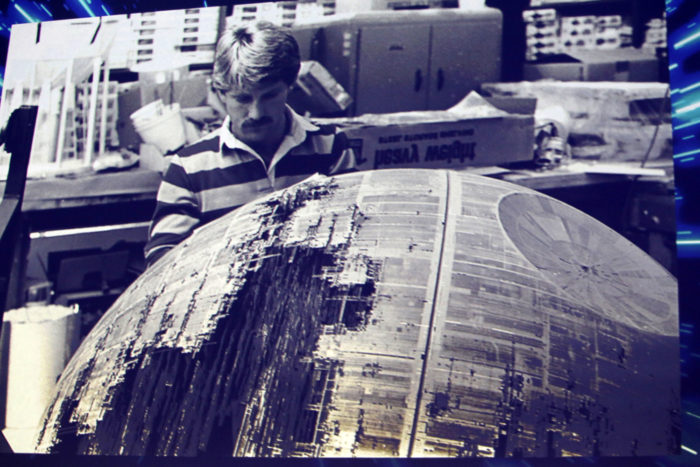 Read D23's recap of the 35 Years of Star Tours panel HERE.

We hope you enjoyed our look back of Star Wars and Star Tours in the Disney Parks and Resorts. Thank you very much to the folks at Walt Disney Imagineering and D23 for granting us a seat in the house!