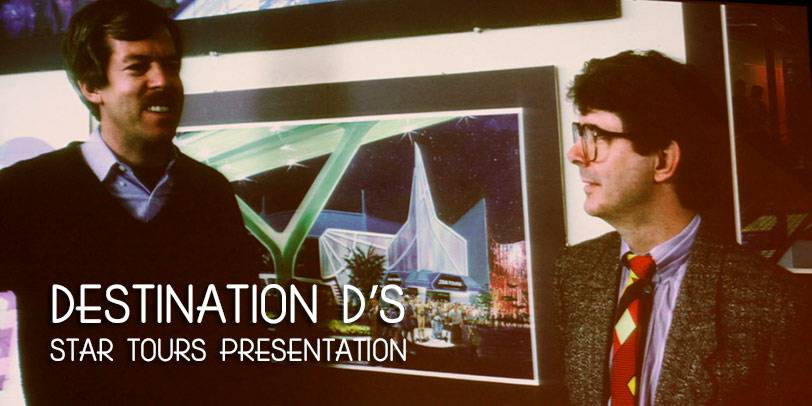 Kris Van de Sande
Destination D's Star Tours Presentation
Article
October 6, 2010
"A Long Time Ago…"
Destination D's Star Tours Presentation hosted by Tom Fitzgerald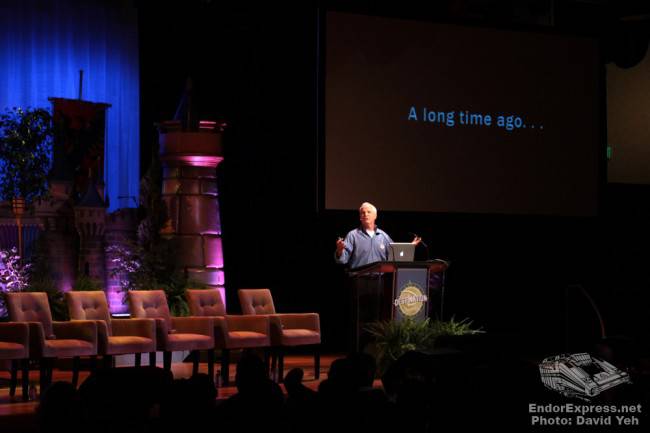 We've all seen the opening of Star Wars too frequently to count: A Long Time Ago in a Galaxy Far, Far Away. It is funny to think that the original Star Tours attraction at Disneyland can almost qualify as a long time ago since it made its debut in Disneyland, CA on January 9, 1987. With Star Tours: The Adventures Continues opening next year, it's only appropriate to revisit the original and see where it all started.
Tom Fitzgerald, Executive Vice President & Senior Creative Executive at Walt Disney Imagineering took guests attending D23's Destination D: Disneyland on a incredible non-stop flight through the making of the original and ending with a small taste of what's to come. A lot of what was presented has been seen or heard before, but there are always new details that arise.
Conceptual art and making-of photographs walk us each step of the way and we bring it here for you to enjoy.
So how DID it all start? Of course it all started with Disneyland 1955. George Lucas, being a frequent visitor and fan of the park, has always thought of his Star Wars movies as something very "Disney". And during the 80s, Walt Disney Productions was looking at Star Wars and thinking the very same thing. The then CEO Ron Miller (Walt's Son-in-Law) gave the go ahead to reach out to Lucas.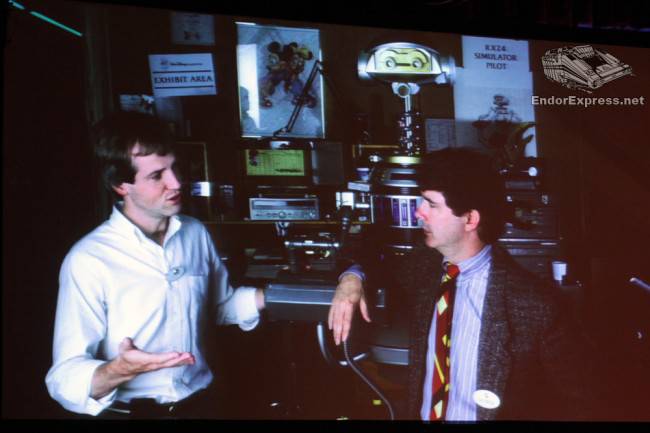 It all started with the Super Speed Tunnel? According to Tom Fitzgerald, George Lucas spent some time at WDI looking at their concepts and the conceptual art caught his eye as he asked "What is that?" From there, paired with the motion simulator technology found in London, they had the basic concept for a Leisure Entertainment Business in the Star Wars Universe. The original concept was closer to being an actual war, but Lucas was sensitive at the time of how his property was used. President Ronald Reagan's use of "Star Wars" certainly fueled that feeling. It was under Lucas' insistence that the attraction took on a more comedic route.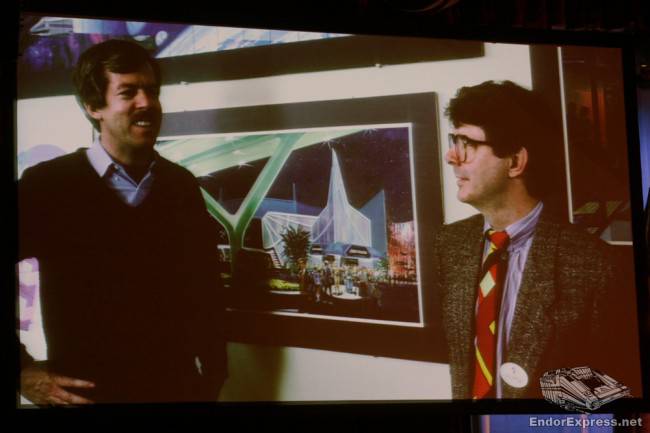 Star Tours still wasn't completely in the can yet. It was up to CEO Michael Eisner's 14-year old son to decide which attractions would get made. Tony Baxter pitched Star Tours (originally titled Cosmic Winds) first. It got the go-ahead. Splash Mountain was pitched next while ignoring the characters and music, Baxter focused on the tallest, steepest flume drop. It also got the go-ahead. But Eisner not realizing how much time it takes to build theme park attractions wanted something sooner, and that's how Captain EO got started, opening in 1986.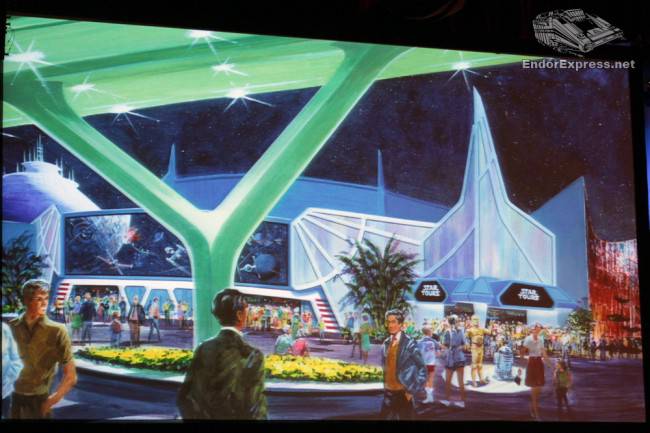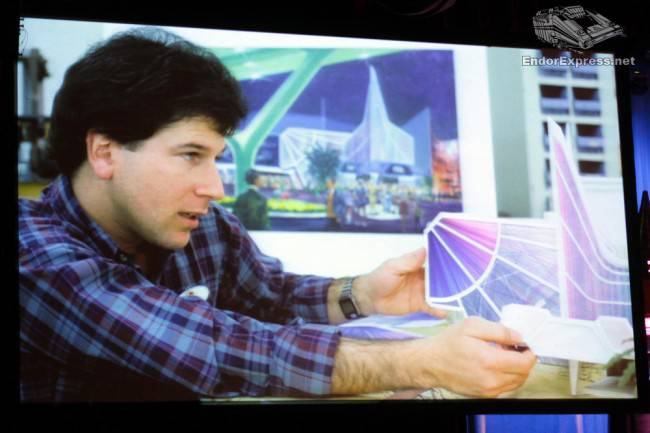 Work on Star Tours continues and we needed a pilot for our craft. Originally named "Crazy Harry", the pilot would evolve into what we all know as Captain Rex (or RX-24). Many voices were considered including a test done by actor Billy Barty. It was a good delivery but just wasn't quite there. Tom Fitzgerald and Tony Baxter felt that Rex needed to be more nervous since they shared a common bond: both had failed their first driver's test. The Disney film Flight of the Navigator would expose Imagineering to Paul Reubens who went on to perform the role we all know and love.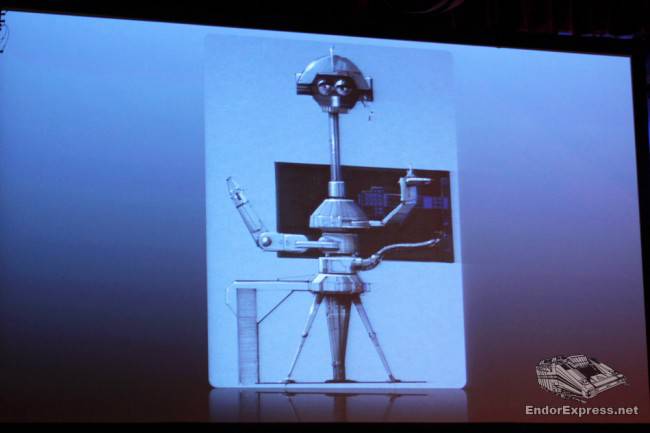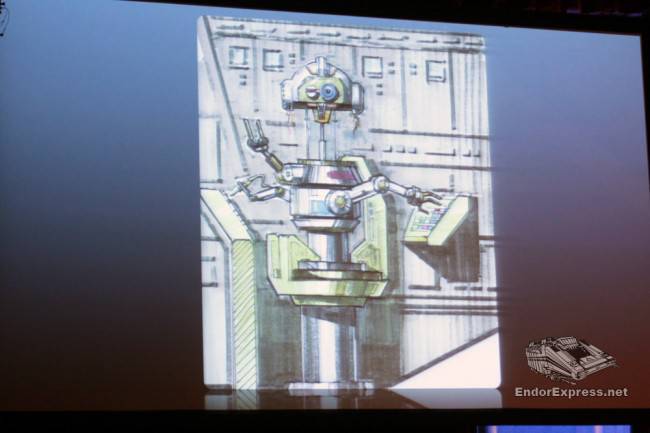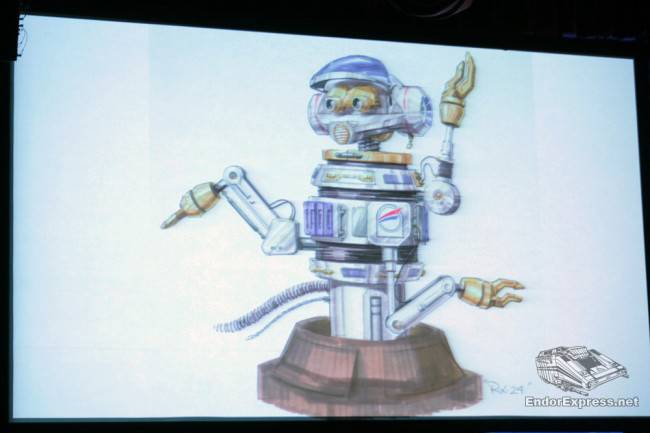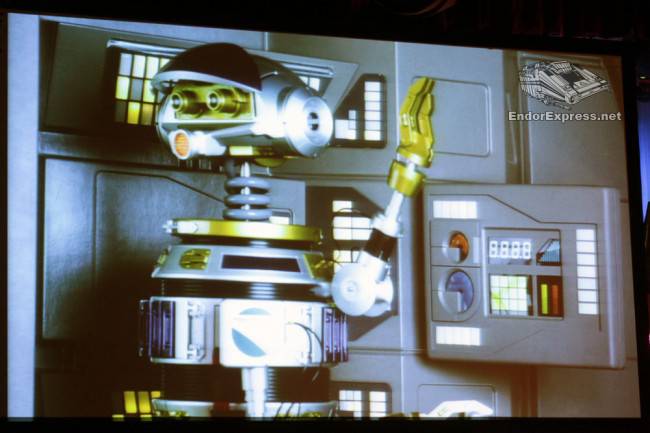 Many other factoids emerged from Fitzgerald's presentation. It was said very clearly that Star Tours was very much a "Disneyland" ride. The colors and lighting in the launch bay matched that of neighboring Space Mountain. They made sure the ride began on a track, fully convincing guests that this was just another ride.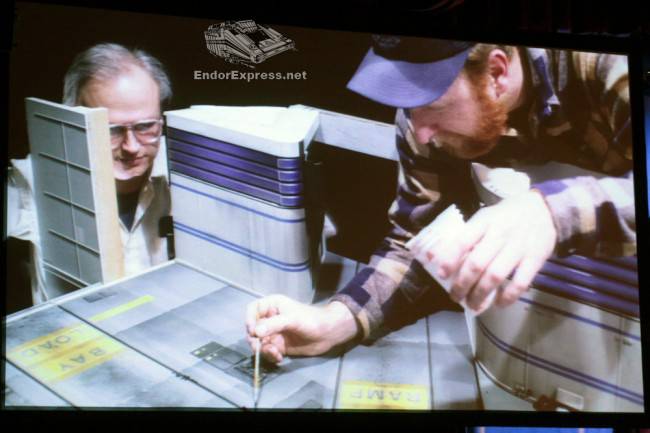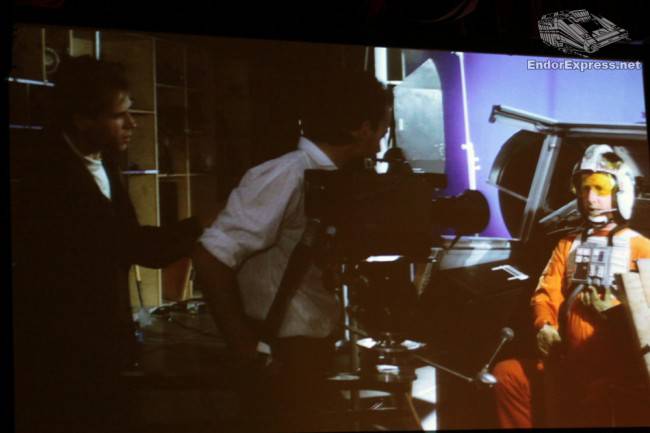 With Lucasfilm doing the effects, not everything goes as planned. The first pass of the Death Star Run sequence was rejected since it didn't match the swooping motion seen in the film. ILM went back and did it over.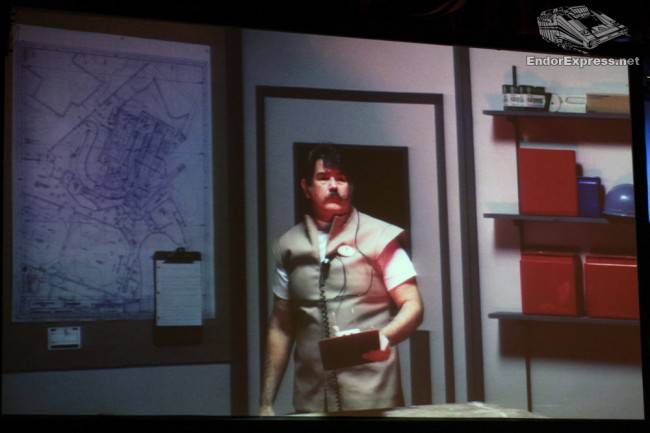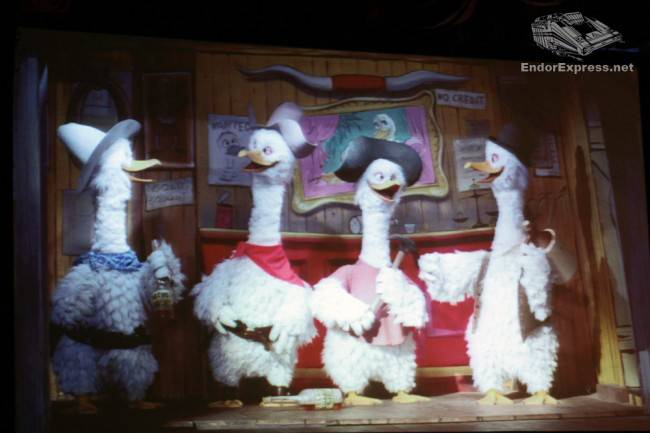 With Star Tours being an E-Ticket never before experienced, budget quickly ran out to build a proper Droid Room in the pre-show. It certainly helped that Lucasfilm found two extra Mon Calamari heads and shipped them down. Meanwhile two geese from America Sings were stripped to become the Goose Droids in Sector 2 (Splash Mountain would take the remaining cast members). The original plans were to have the droids speak in whistles and beeps just as R2-D2 does. Gary Rydstrom, the sound designer extraordinaire at Lucasfilm told Tom Fitzgerald that he couldn't do the job without a guide script, which "he needed yesterday." Tom quickly wrote up some lines for the droids and sent it off. Gary would do his thing and played it for Lucas. Lucas thought it was good but caught sight of the guide script and asked what it was. He began reading and said, "record that." Gary would call Tom once more with news that Lucas liked it, but he wants the droids to speak the lines…and he needs it yesterday. Fitzgerald quickly recorded the voice for G2-9T while Imagineer Mike West was recruited to voice G2-4T. They did it in one and a half takes and shipped it to ILM.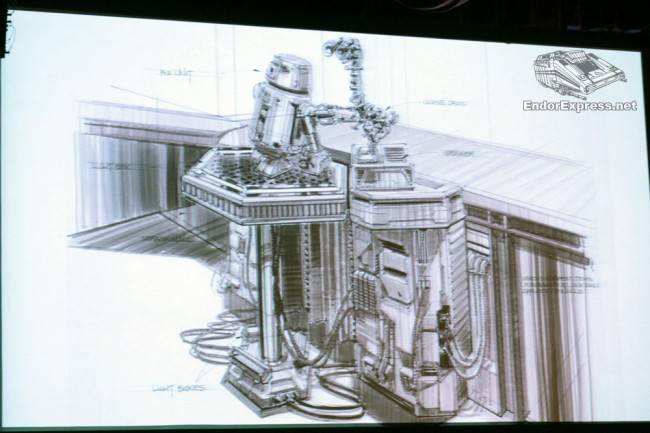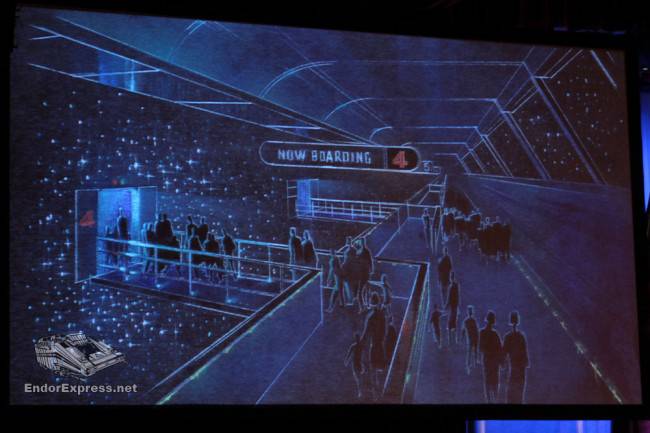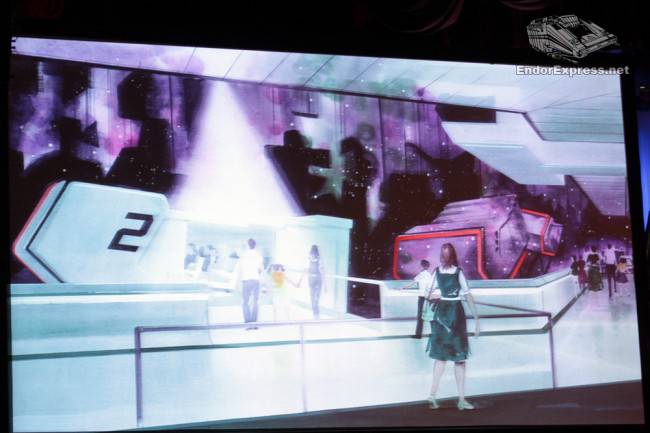 With the new simulator technology, WDI was having an internal dilemma in regards to presentation. Do they show the guests the simulator? The votes were 50/50 either way and there's some conceptual art that shows what this may have looked like. John Hench even came up with some concepts where you see walkways leading to floating doors in space. It was eventually decided that the story was the most important thing. Have the walkway lead into a cabin lit with warm colors and the guests won't even notice the box they're walking into.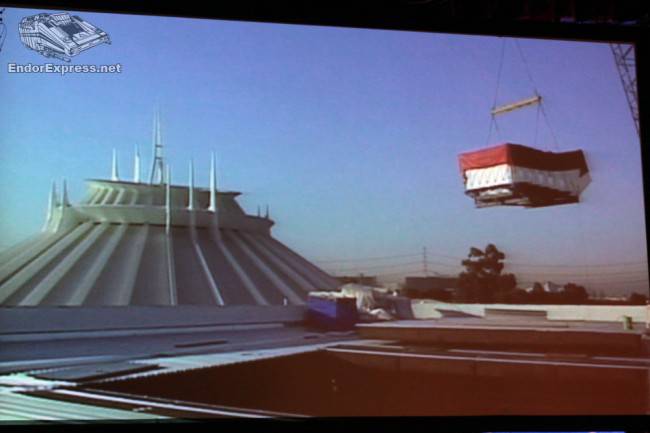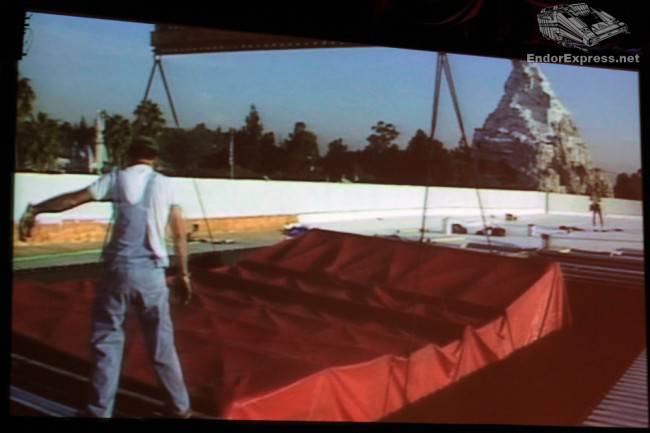 The presentation included some rare footage of how the motion simulators were installed into the building through towering cranes overhead. We even heard a music cue that was removed from the first few moments of the ride because it felt too much like a movie. Footage that could not be found was Anthony Daniels acting out his entire pre-show, which was used as a guide for the programmers on C-3PO. There's a slide of some notes and dialogue that Anthony recorded in Ewokese for the preshow.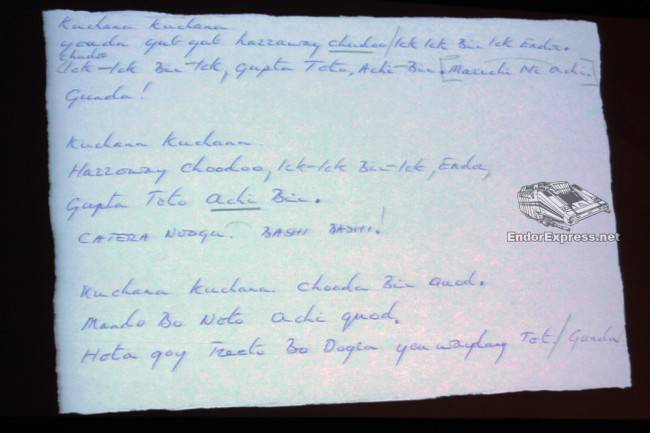 Star Tours opened and was an overnight success. The Tokyo version came online next. Everyone initially assumed a third version would be installed at Tomorrowland in Walt Disney World's Magic Kingdom, but the attraction was instead forced into Disney-MGM Studios by Michael Eisner. The fourth and final version was an opening-day attraction at the Park in Paris.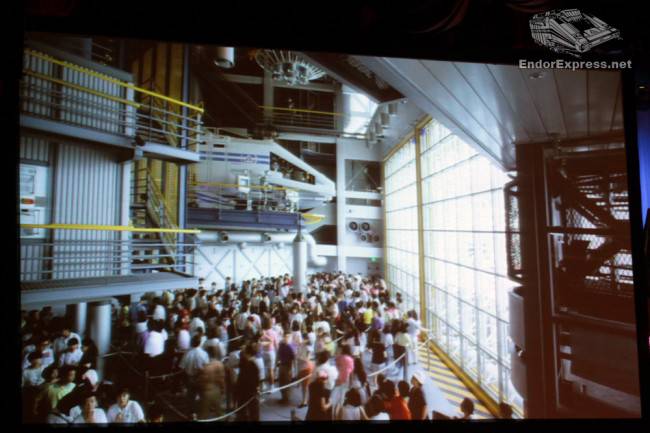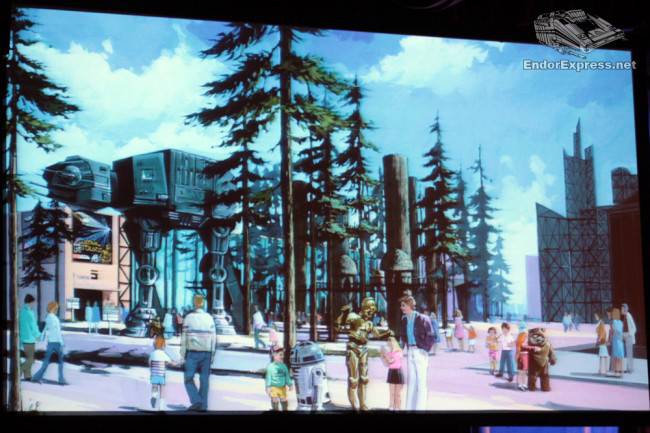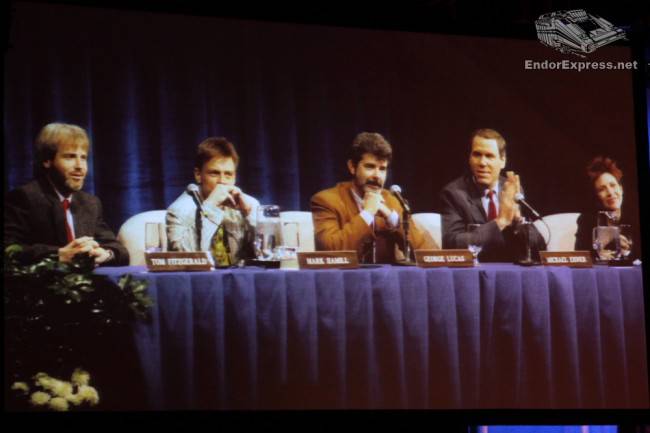 The idea for a NEW Star Tours has been around since the beginning, with the intention and belief that Star Tours would be easily reprogrammable. Episode 1 came to theaters and Imagineers had a script ready to go featuring Podracing., but decided to wait because they wanted to see what was in Episode 2, and then Episode 3.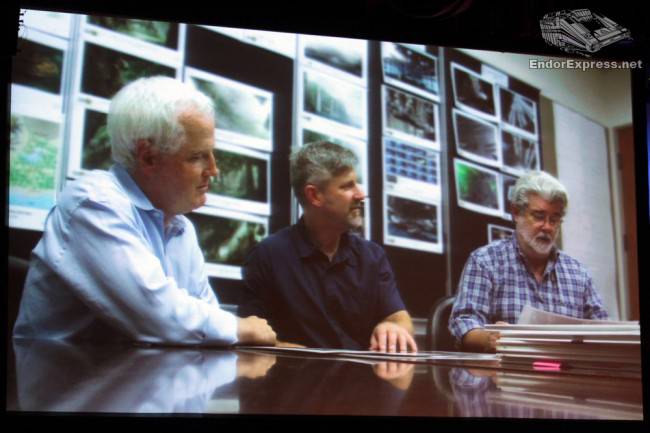 The new Star Tours is finally coming very, very soon and we are told that George Lucas is even more involved with the new Star Tours than he was with the old. We've already announced Aly San San right here on EndorExpress.net but the pre-show spokesbot was finally revealed officially. Lucas coined the name after voice actress Alison Janney. The new StarSpeeder 1000 pilot is Ace or AC-38, a more humanoid robot than his 'successor' Rex, but with a mug that resembles what's to come. The old jingle written by Richard Bellis will also remain in the new version of the ride.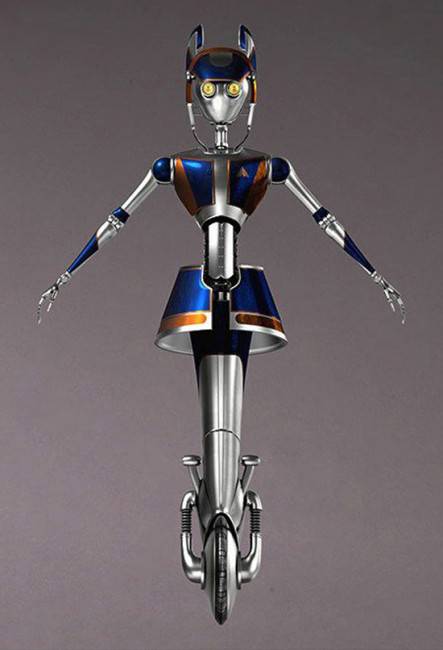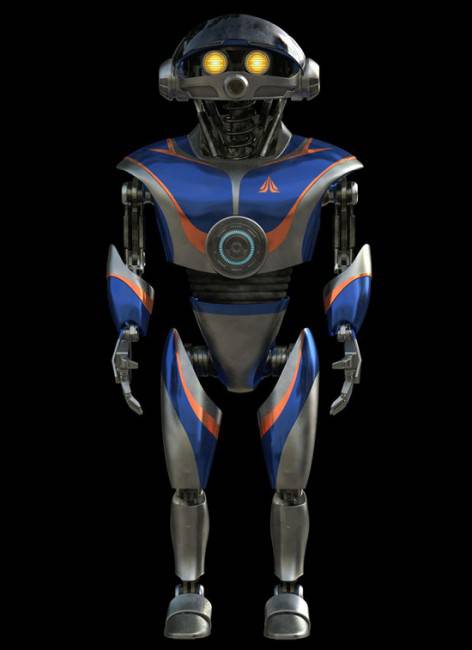 The conversation with Disneyland President George Kalogridis revealed that there will be a total of 54 different experiences.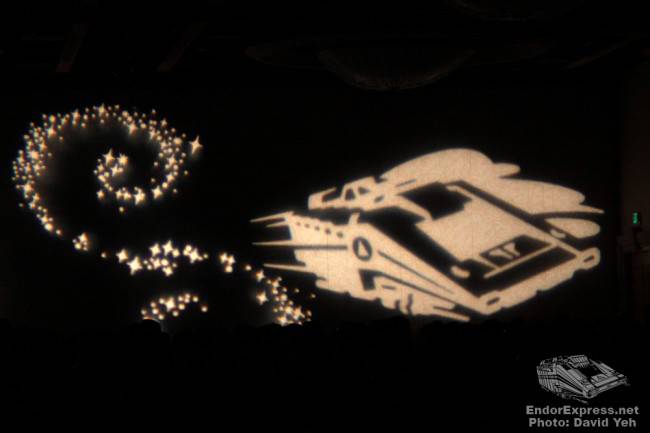 Check out more pictures below!