David Yeh
Disneyland Executive Chef Takes Us On A Crash Course of Batuu's Quick Eats.
Article
July 3, 2019

Star Wars: Galaxy's Edge is a visual feast for the eyes, but the team behind the foods of the newly opened land (opening August 29th in Walt Disney World) wanted to make sure that the treats found on Batuu was also a feast for our tastebuds as well. We spoke to John State (Executive Chef, Disneyland Resorts and Parks, Food and Beverage) for just a "Ba-taste" of what the new land has to offer.

(Apologies for "ba-taste")

We began our tour at Ronto Roasters at the Black Spire Marketplace, where the smelter droid 8D-J8 is stationed.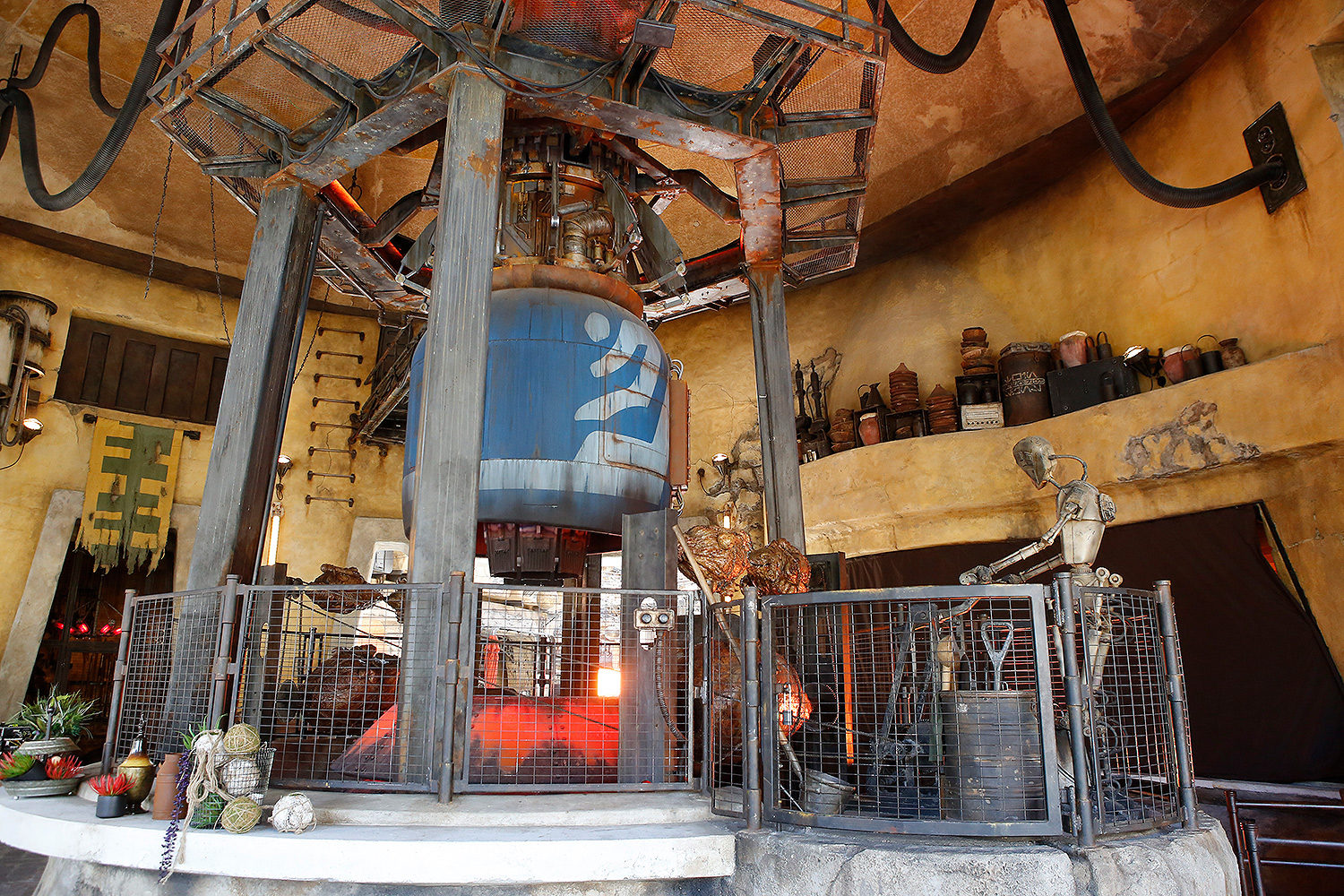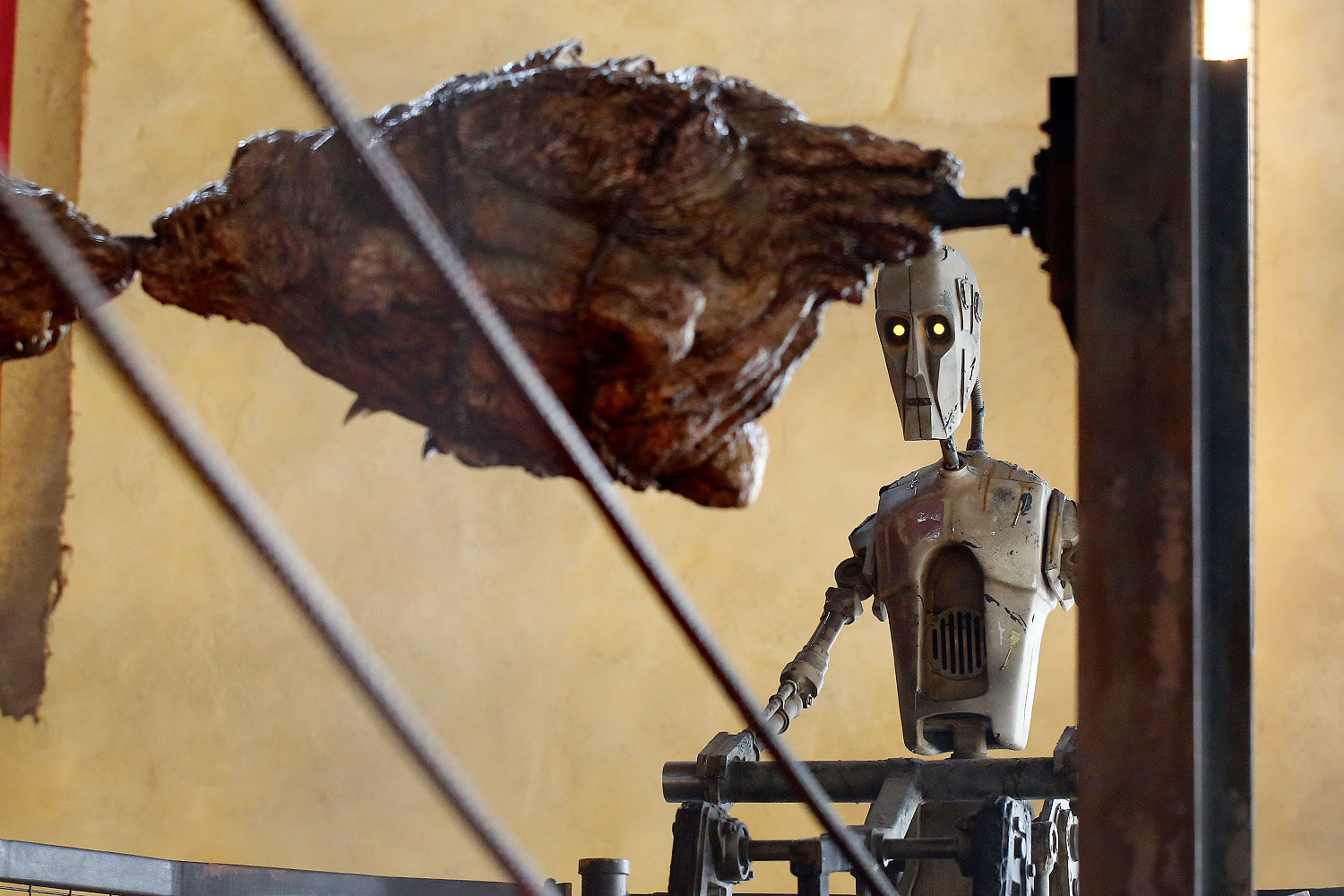 John State: First of all I'd like to offer you a Bright Suns, which is our welcome here on Batuu. You'll notice there's a lot going on here at Ronto Roasters. If you look behind me we have a repurposed podracing engine roasting rontos and we have a "happy faced" droid working hard…

EE: He seems very obedient…

John: He's perfecting the craft of roasting ronto!     
                                                                               
EE: Before you continue, there's a few carcasses roasting here that some guests may not recognize there in the pit…

John: The good thing is, he (8D-J8) knows what he's doing when it comes to roasting.  This is a ronto on the bottom and we have a Nuna Turkey over the top… plenty of nourishment here, plenty of ways to fuel yourself as you're visiting us here on the Black Spire Outpost. Ronto Roasters is known for their Ronto Wrap, one of my favorites. This is a grilled ronto sausage, grilled ronto meat… similar profile to pork, not chicken. It has slaw, a peppercorn sauce… this is one of the offerings here. The other is the Nuna Turkey Jerky. Two versions: one is spicy, one is sweet, and it's just another way to fuel yourself while you are here.  

(Editor's Note: The Ronto Wrap IS my must have treat in Batuu. The Jerky, less so)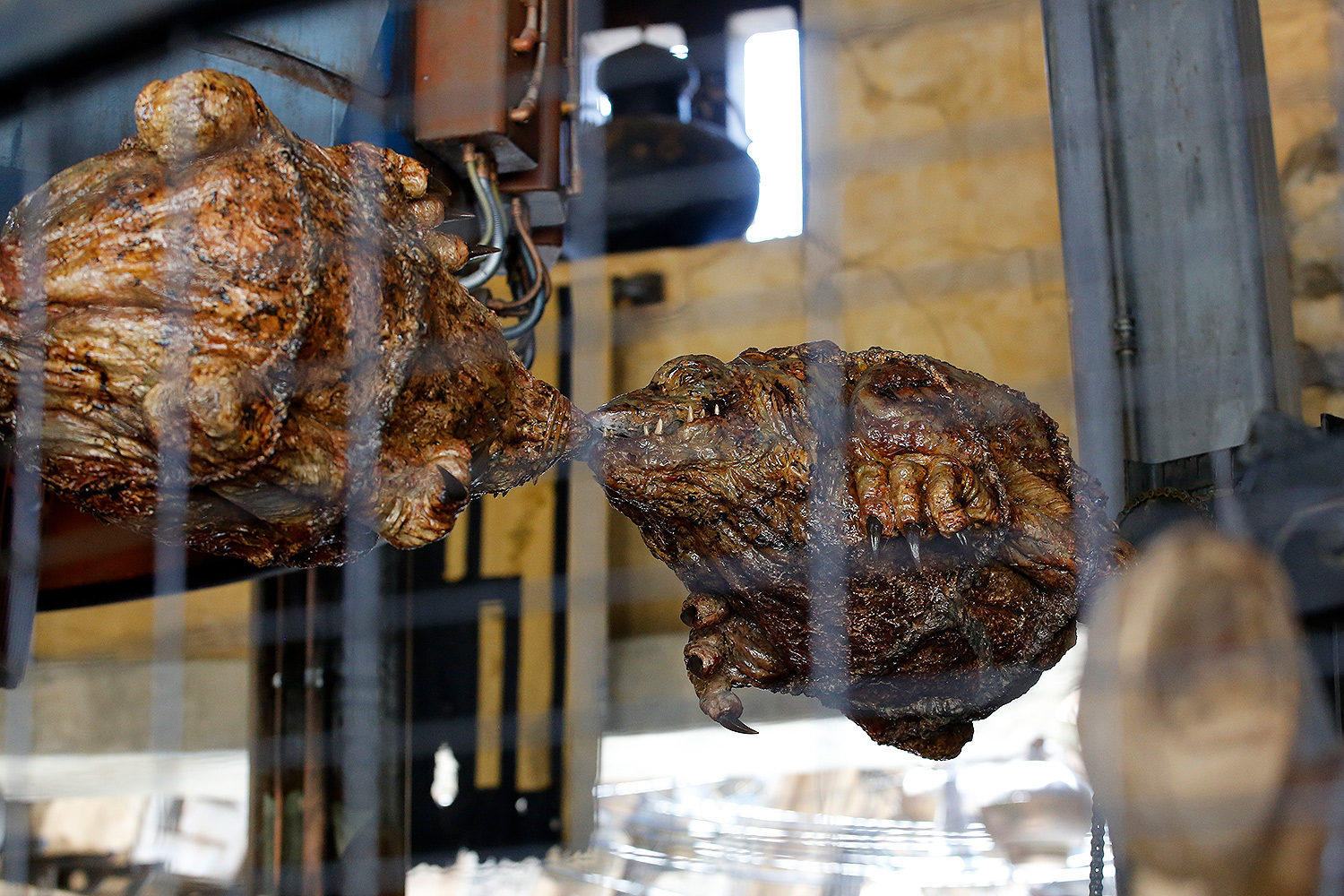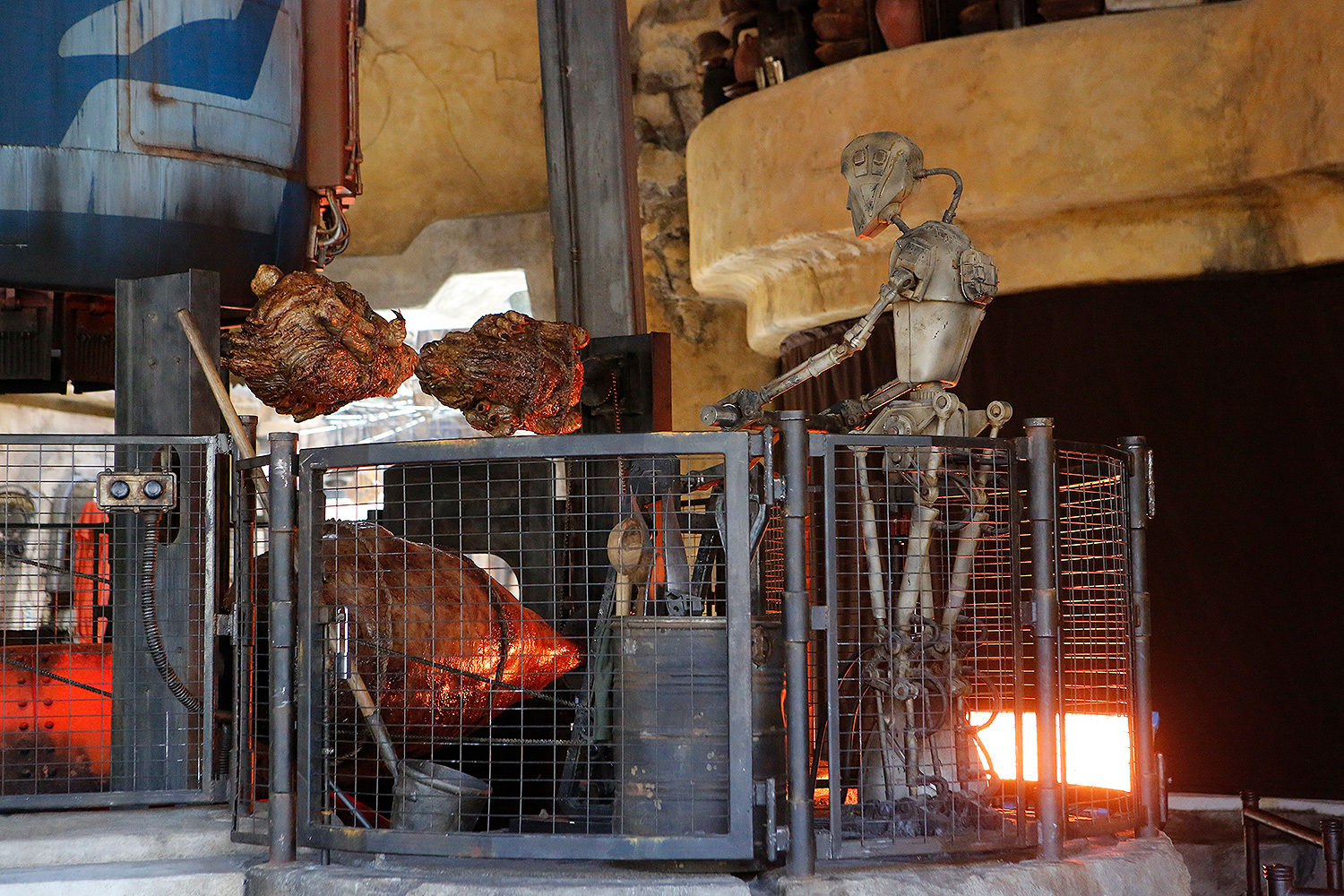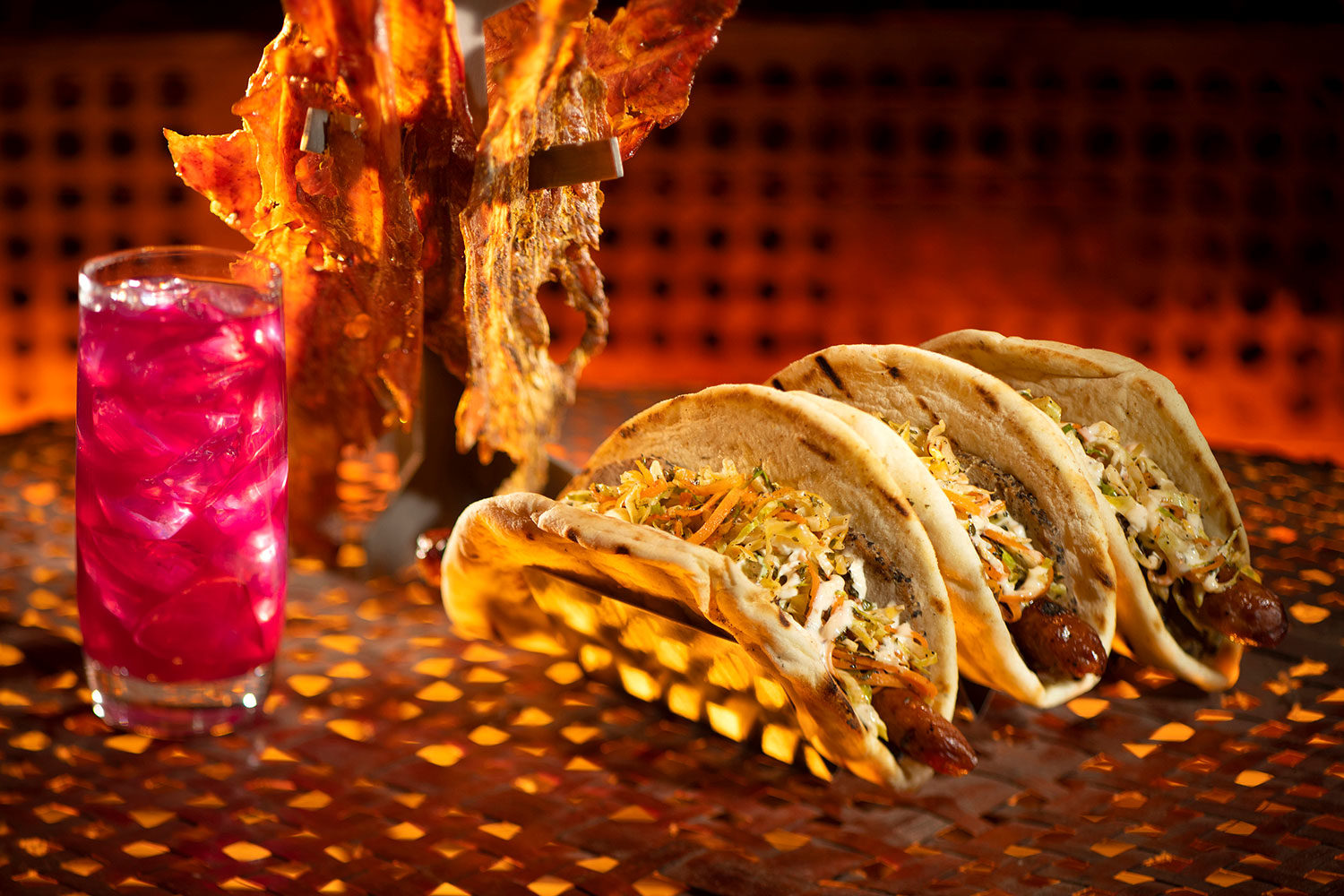 John: We also have, if you're interested, at Ronto Roasters, three non-alcoholic beverages:   Tatooine Sunset (Gold Peak Unsweetened Tea, Odwella Lemonade with Melon and Blueberry), Sour Sarlacc (Minute Maid Limeade with Raspberry and spicy Mango), and the Meiloorun Juice (Barrilitos Aguas Frescas Pineapple, Simply Lemonade with Blueberry, White Cranberry Juice, Lemon Juice, and Desert Pear).

EE: How did you come up with these flavor profiles for these beverages?

John: Well, if you think about it, we want our adventurers, our smugglers, our travelers, to feel like they're part of the story. We felt that these flavor profiles match the weight of the planet and the weather of this planet and the storytelling.  So it wasn't difficult, but it took a village to come up with these profiles. 

———-
We moved on from Ronto Roasters to Kat Saka's Kettle, right next door.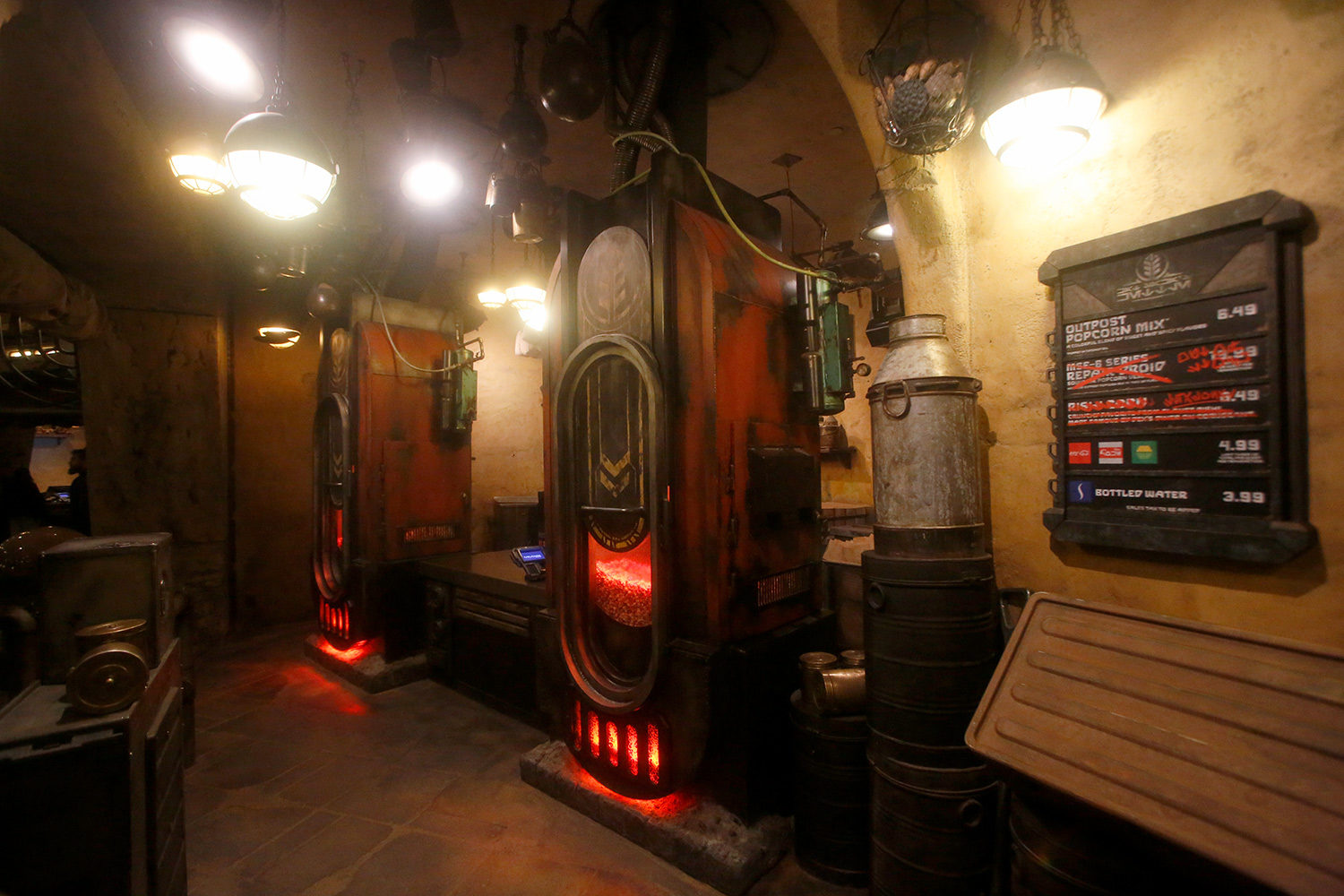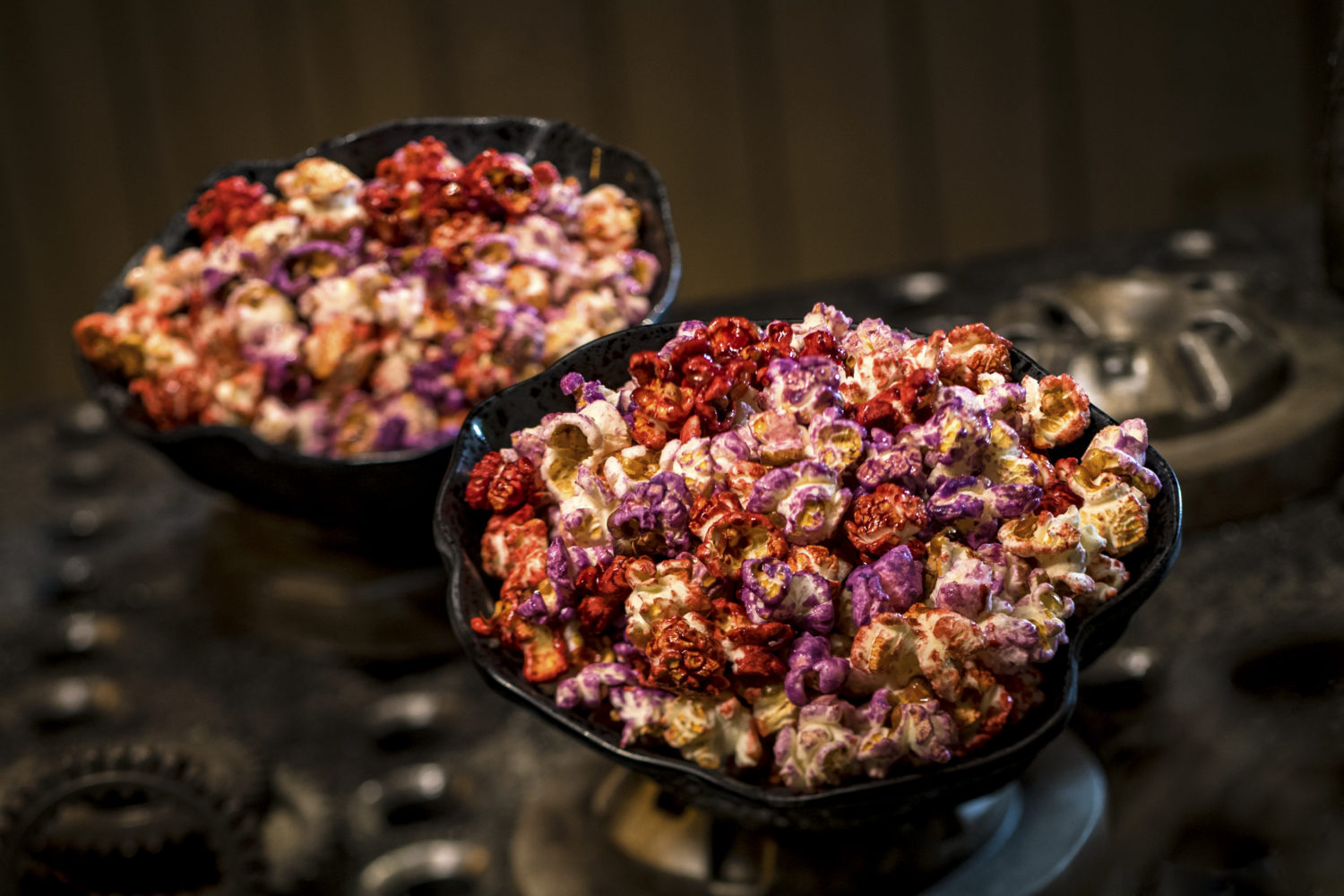 John: We have a snack for you right here, this is Kat Saka's Kettle. It has a unique flavor that I'd like you to try. I recommend the combination to experience the full flavor. 

EE: Now, what flavors are we about to experience here?

John: There's a spice, there's a berry… not typical of what you would see in popped kernels. It is on the sweeter side than on the salty side. The shape of it alone is what we would refer to as the "Mushroom Cloud", not the "Butterfly", so again, a different kernel. The flavor profile you may get berry, lemon, maybe pound cake, maybe chili.

EE: Trying this, it is very different than what one typically expects. Some bites taste like Froot Loops, sometimes something else… It's a really interesting flavor profile. What else do you recommend trying in the land?

John: The last thing I want to highlight here on Batuu is the Blue Milk from the Bubo Wamba Family Farm aka the Milk Stand. You might have had a chance to learn about this beverage forty years ago and maybe been wanting to try it.  It's more like a smoothie, and while the Blue Milk is popular, my favorite is actually the Green Milk… it's a very exotic, floral flavor profile and we'll leave it at that.  

EE: John, thanks very much for the quick eats tour of Batuu!

John: Til the Spire!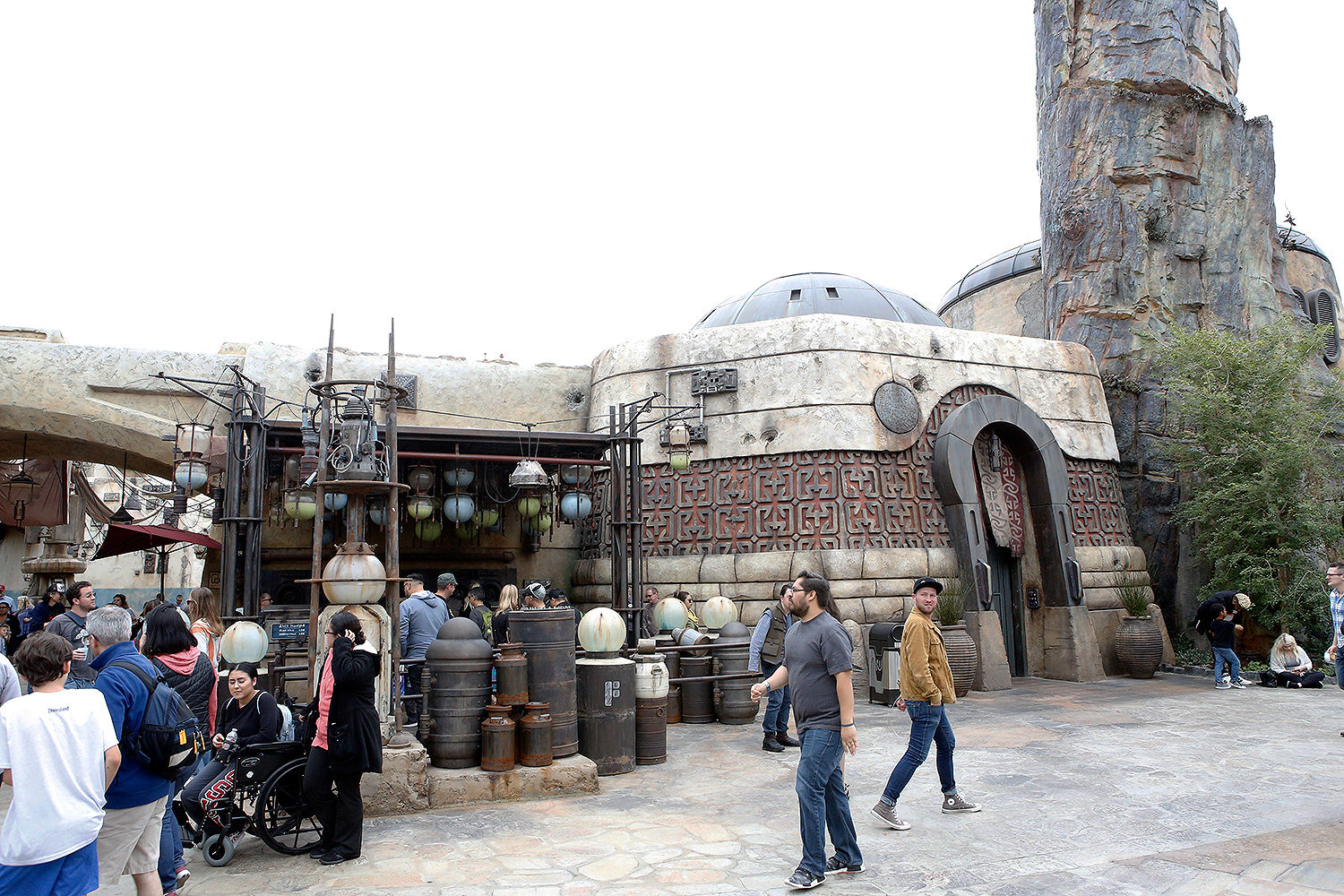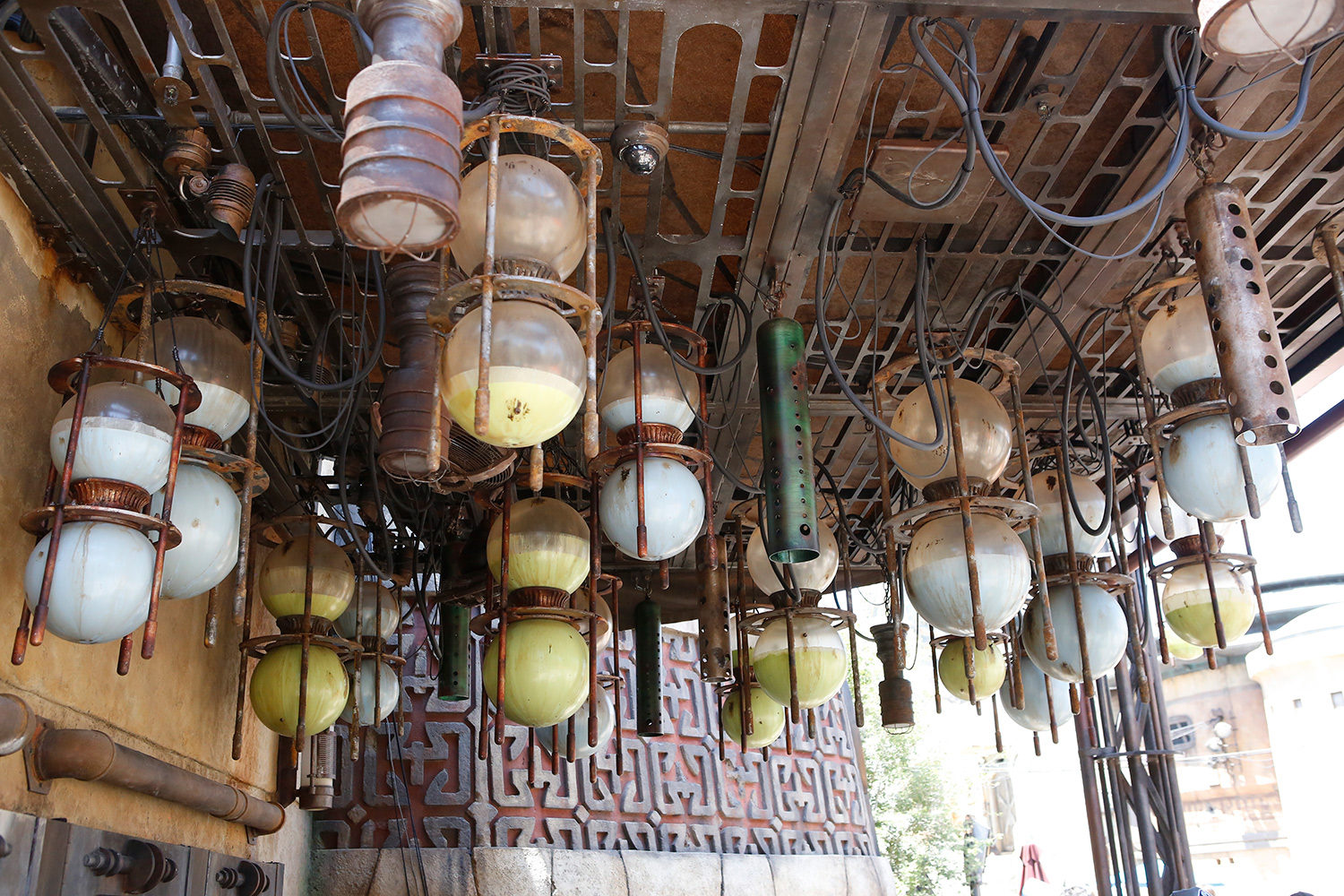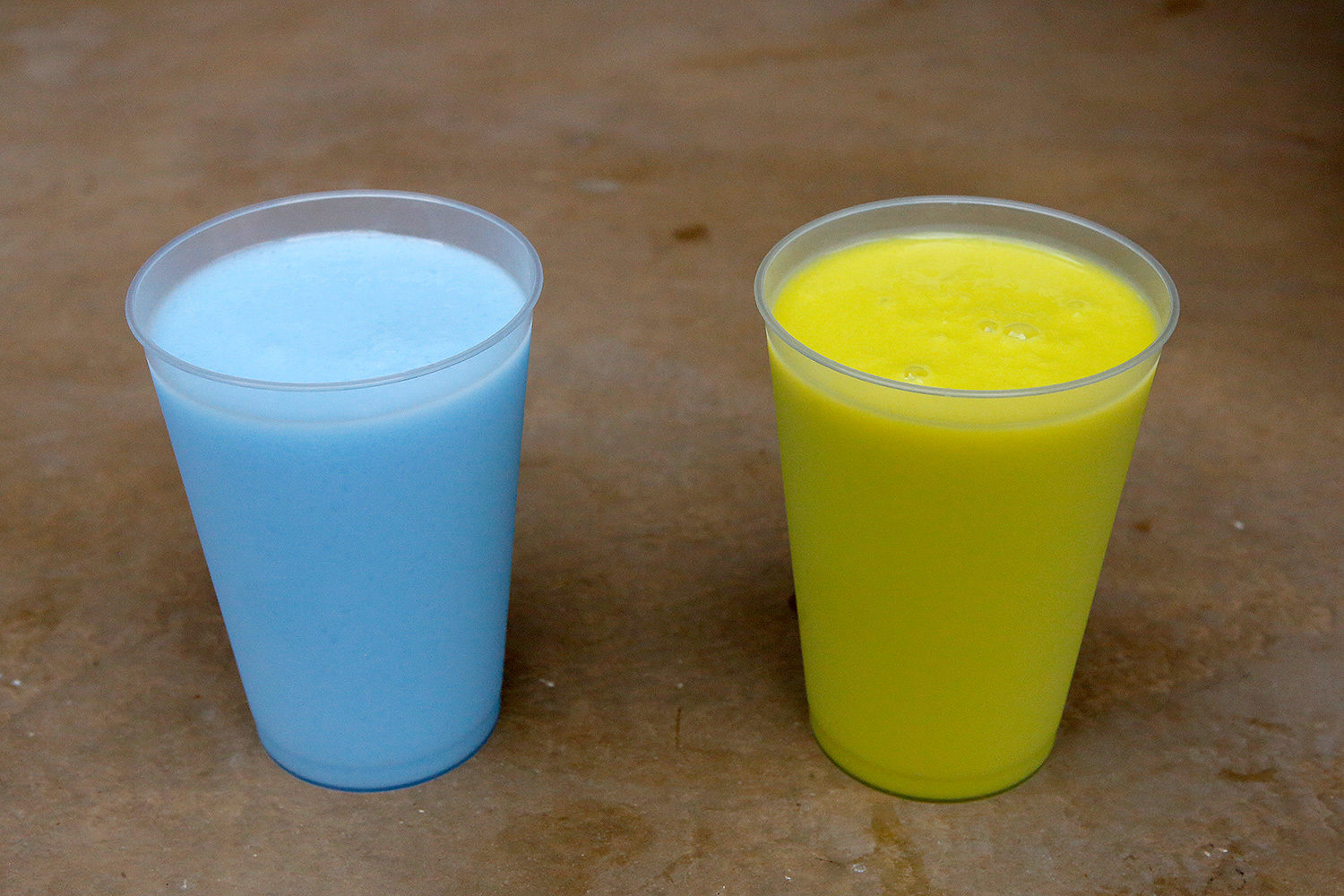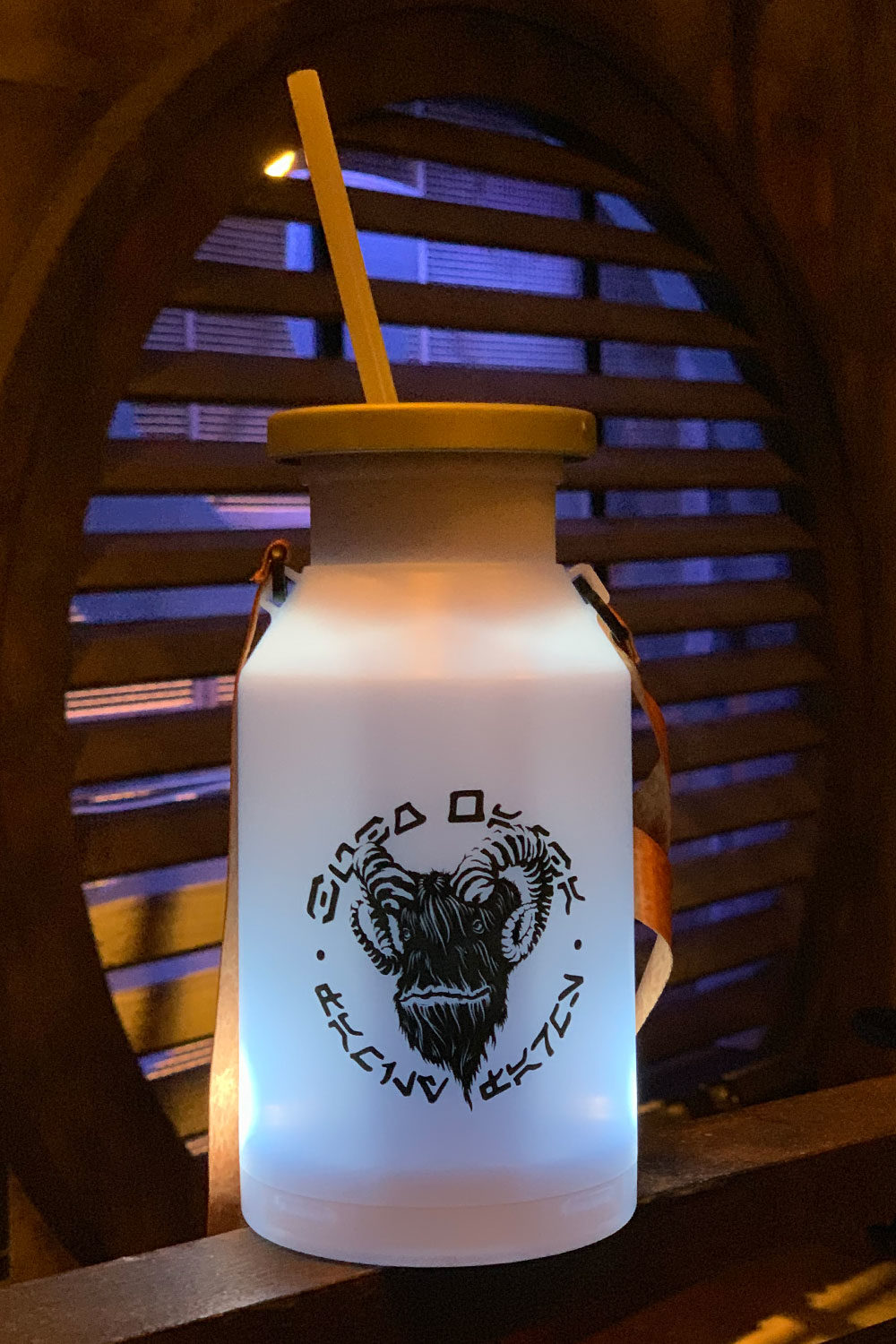 Star Wars: Galaxy's Edge is now open at Disneyland and opening August 29th at Disney's Hollywood Studios.

Places featured in this story: Ronto Roasters, Kat-Saka's Kettle, and the Milk Stand. Also don't forget you can get the special Coca-Cola brand and Dasani bottles designed specifically for Galaxy's Edge at Kat-Saka's Kettle and three other outdoor vending locations throughout the land (near the Resistance Supply, Salju's Garage, and near Oga's Cantina).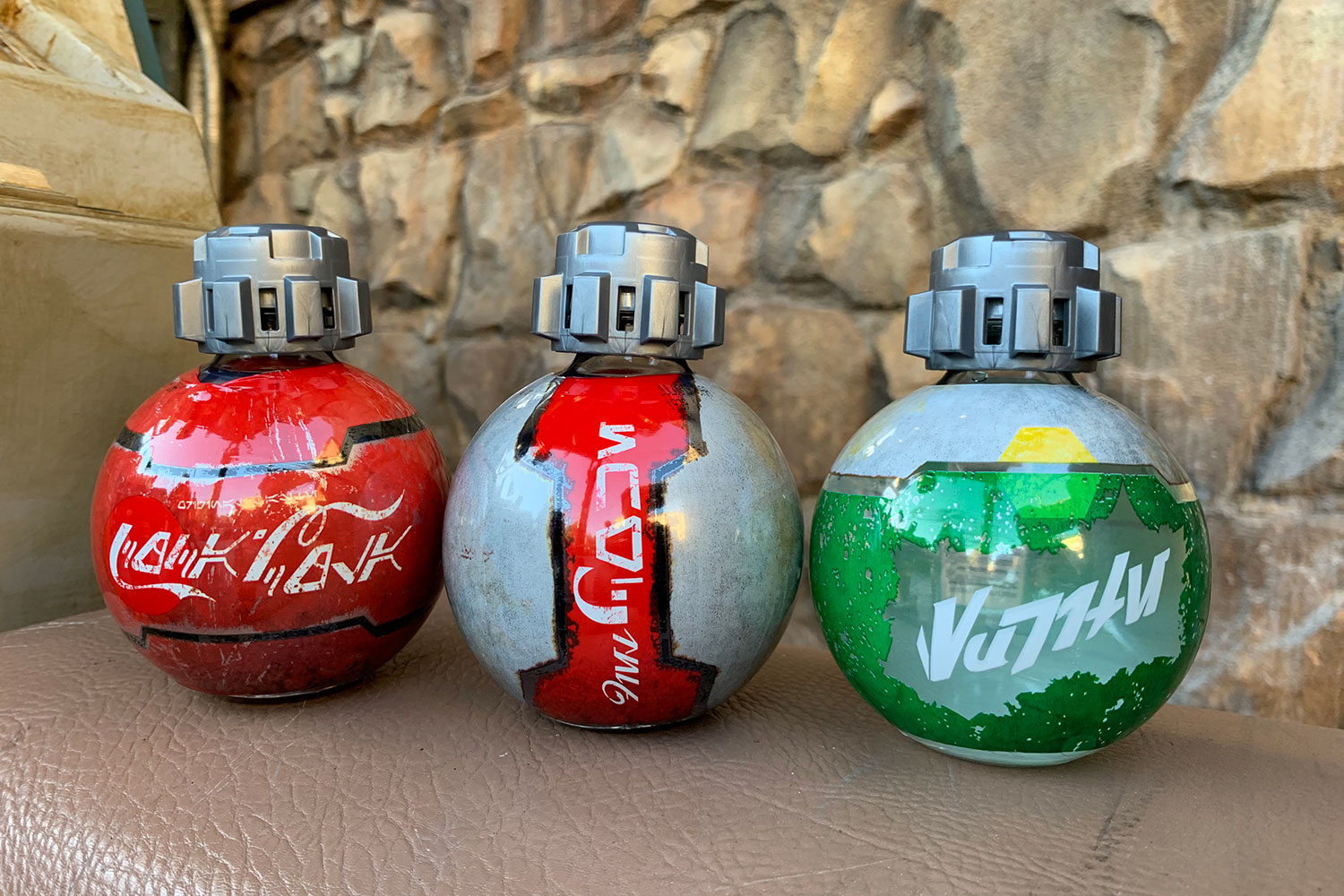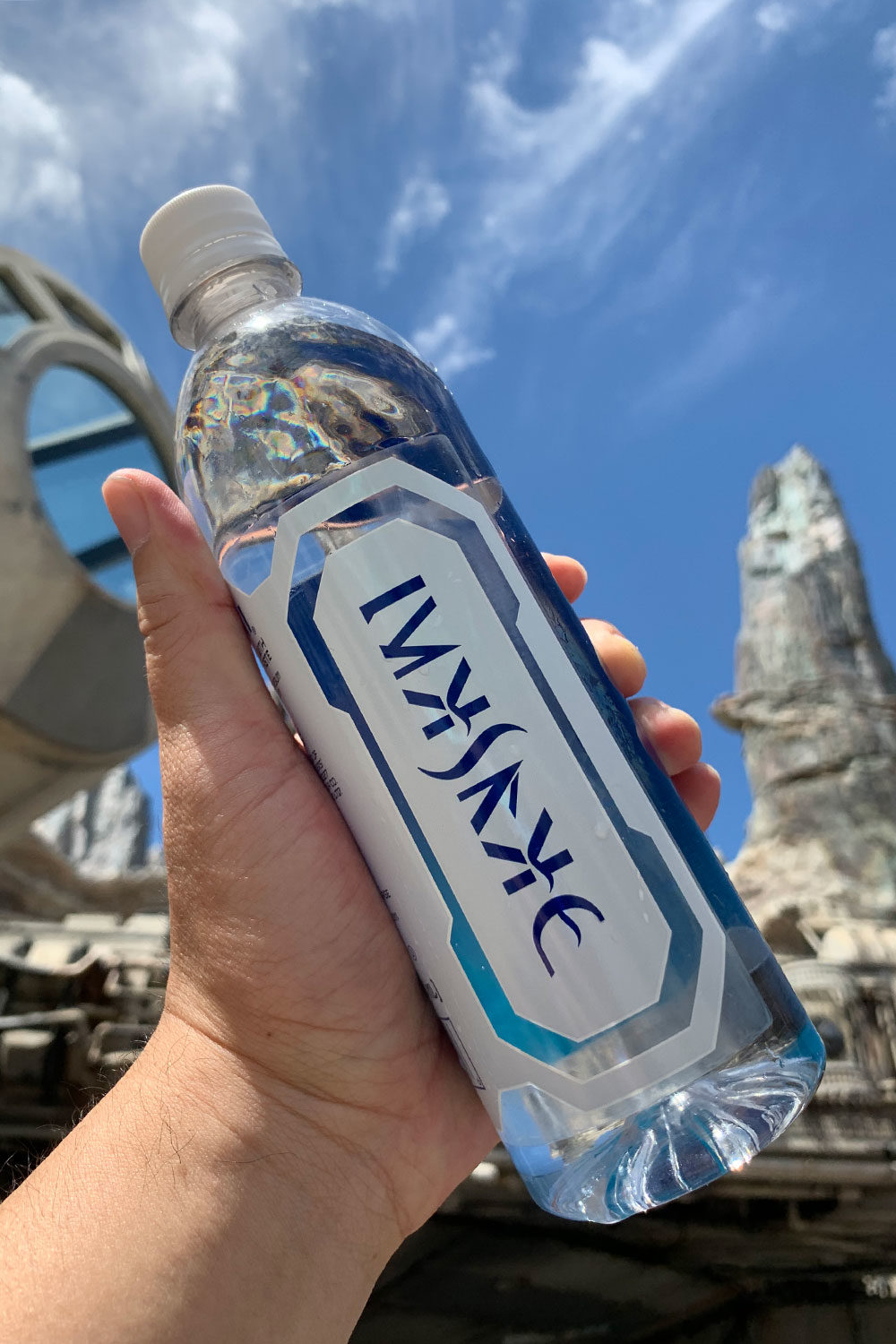 Photography by David Yeh, who definitely prefers the Blue Milk over the Green.