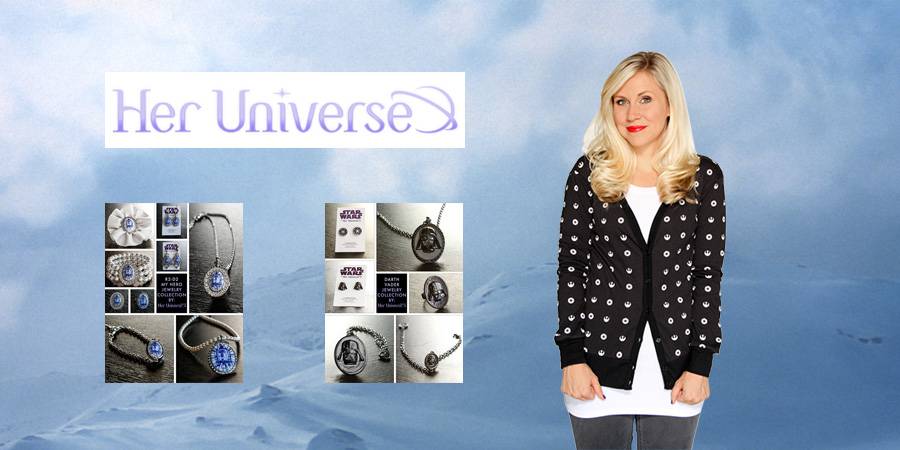 Brian Curran
9 Essential Holiday Gifts for Fangirls from Her Universe!
November 13, 2014
Here are some gift ideas for the 2014 holiday season from the folks at Her Universe;
Her Universe and Star Wars Actress Ashley Eckstein Reveal 9 New Essential Holiday Products for Fangirls.
Premiere of New Star Wars by Her Universe Darth Vader Collection Designed at the Sparkle Factory and Made in the USA
Press Release:
This Year it's Her Universe for the Holidays
NEW YORK, NY – November 13th, 2014 – Her Universe™, the groundbreaking fangirl fashion line, debuted today their new releases for the 2014 holiday season. These new designs, including cardigans and dresses, go on sale today to start the festive shopping season early. Her Universe customers will find a selection of new fashion-forward apparel debuting for the holidays to please any Geek Girl including a brand new Darth Vader jewelry collection (announced yesterday) to bring out your dark side diva. The Darth Vader jewelry collection is affordable luxury designed at the Sparkle Factory and made in the USA. In addition, Her Universe will continue its tradition by releasing a free Star Wars holiday pin and Ashley Eckstein autographed certificate with every purchase starting on Black Friday. Who will don the coveted Santa hat this year? Find out soon when you collect your bounty beginning on BlackFriday. This free gift has a $30.00 retail value.
"We are releasing our holiday products early this year because we have three new holiday dresses perfect for your holiday parties," said Ashley Eckstein, co-founder of Her Universe and the voice of Ahsoka Tano on Star Wars: The Clone Wars. "It's easy to be festive and be geeky at the same time!"
Her Universe customers will find the largest holiday selection of new fangirl fashion items ever offered of which only a few are highlighted here. Heruniverse.com is your one-stop holiday shopping destination for apparel from Star Wars, Marvel, Doctor Who, Star Trek, Transformers and The Walking Dead with new holiday items from Studio Ghibli exclusively available at retailer Hot Topic.
Give HER the Universe this holiday season with the Her Universe E-Gift Card!
NEW YORK, NY – November 12th, 2014 – Where there is light, there is dark. No matter the mood, leading fangirl fashion company, Her Universe™, has a new affordable luxury jewelry collection to match your dark side or light side leanings this holiday season. For those who like to flaunt the dark side of fashion, Her Universe has unveiled its new Darth Vader Jewelry collection featuring the Dark Lord of the Sith himself on necklaces, bracelet and earrings. Designed at the Sparkle Factory and made in the USA this new collection will bring out your dark side diva.
"Looking for the perfect gift for your loved ones this holiday season? Surprise them with designer Star Wars jewelry that I like to call affordable luxury," said Her Universe Founder Ashley Eckstein. "All of these collectible pieces will not break the bank but will last the test of time."
For those who prefer the lighter side of style, Her Universe offers the R2-D2 "My Hero Collection" featuring everyone's favorite little astromech droid from the Star Wars franchise. Also designed at the Sparkle Factory and made in the USA, this collectible jewelry line offers necklaces, bracelets, earrings, rings and a hair clip adorned with crystals and pearls.
All of these stunning high-end designer pieces, light side and dark side, are available now, between $40 to $85, and just in time for the holiday gift giving season at www.HerUniverse.com.