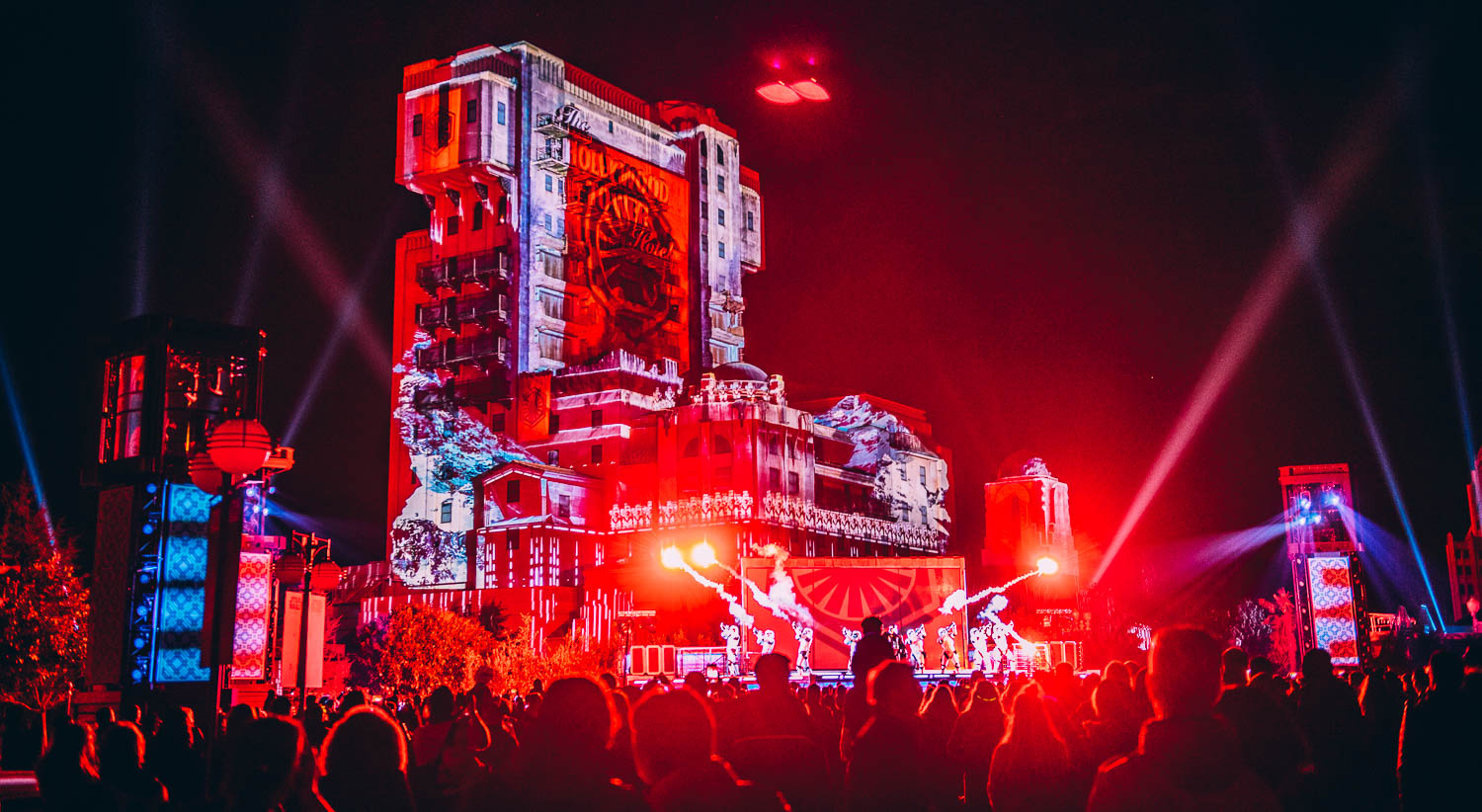 Kris Van de Sande
Season Of The Force returns to Paris
October 25, 2017
This should come as no surprise to anyone, but the Disneyland Paris will again be hosting the biggest Star Wars event of the year this side of the ocean. Ranging from Januari 13th to March 25th, it's Disney's response to the calm off-season peak and fill it with one of their biggest franchises. For now it seems like a successful repeat of last year's event. Also, don't forget to read our behind-the-scenes look at last year's Season Of The Force.
So let's delve in and see what Star Wars fans can expect during Season of the Force, both seasonal as permanent entertainment.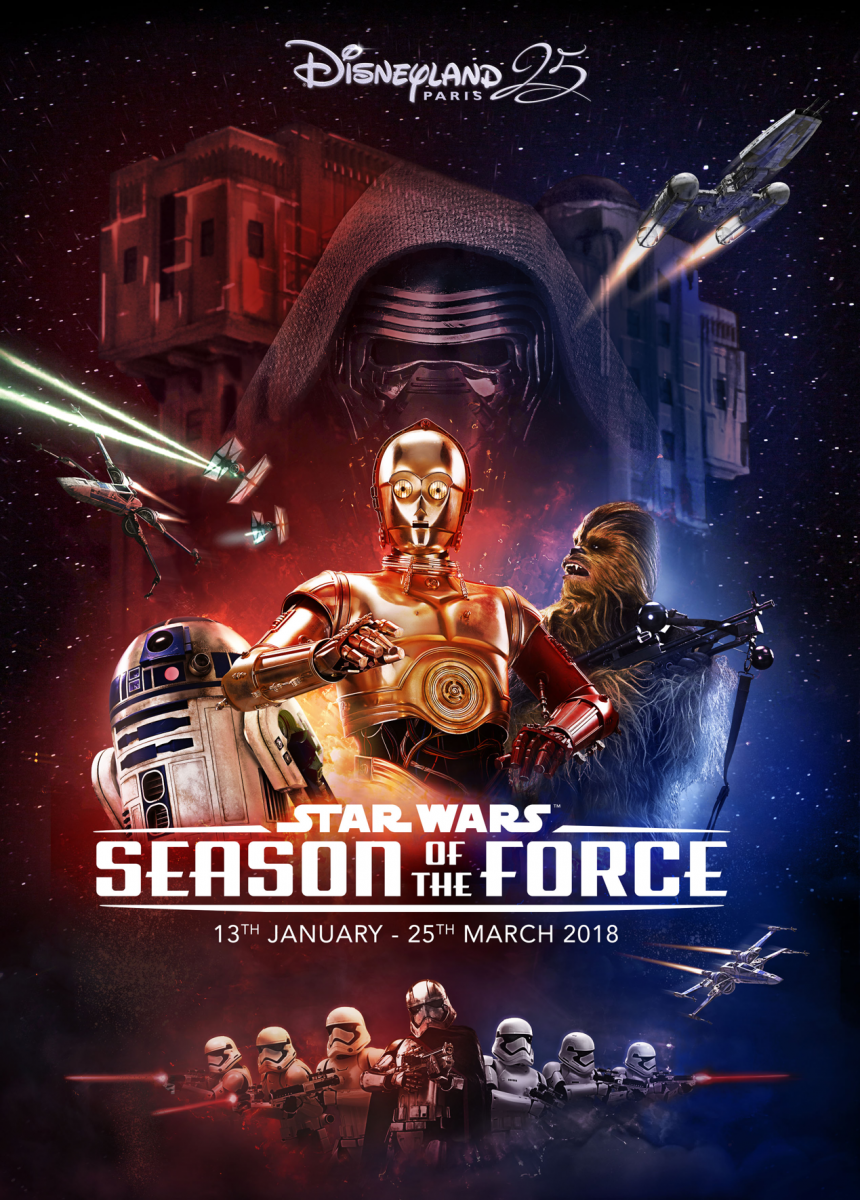 Walt Disney Studios Park
Star Wars: A Galactic Celebration
The nighttime spectacular again fills the The Twilight Zone Tower of Terror (Guardians Of The Galaxy: Mission Breakout to be?) with a visual celebration of Star Wars. As expected, the show will also feature scenes from Episode VIII: The Last Jedi. If the program is like last year, a French and English version will be shown, depending on timing.
Just imagine Walt Disney Studios Park lighting up in true Star Wars style at nightfall with a breathtaking sound and light show. Film projections, special effects and, of course, the Star Wars characters on stage! The legendary characters of the Empire, the First Order and the Resistance will make an appearance in this show celebrating the heroes of the saga.
Star Wars: A Galaxy Far, Far Away
The stage show is a character-lover's dream, with all of the characters you can see during Star Wars: A Galactic Celebration, but in the day time, and a whole lot more stage presence. Again, a French and English show are to be expected.
This production is offered several times a day and brings a number of the saga's legendary characters into the spotlight on stage. Chewbacca, C-3PO, R2-D2, Kylo Ren, Darth Vader and many more will be present in person for this fascinating show at Production Courtyard in Walt Disney Studios Park.
The First Order March
The last of the three seasonal exclusives of Season Of The Force is Captain Phasma walking with her First Order Stormtroopers through Walt Disney Studios Park.
The days at Walt Disney Studios Park are punctuated by epic appearances by Star Wars characters. Starting with the "First Order March", a parade of Stormtroopers, led by the daunting Captain Phasma.

Stormtroopers Patrol
These Stormtrooper Patrols have been performed most year round as they are a simple but very effective way of adding atmosphere to Paris' second gate.
A perfect opportunity to interact with the fearsome Stormtroopers. They patrol several times a day at Production Courtyard in Walt Disney Studios Park.
Parc Disneyland
Star Tours: The Adventures Continue
As we reported earlier, the planet Crait will be added as a destination for Star Tours, and this is no different in Disneyland Paris's latest updated attraction.
New experiences, new destinations, new characters, new technologies – the attraction returns, with more than 70 different mission combinations. More to come from 22 November 2017: a new adventure on Crait, featured in the upcoming film Star Wars: the Last Jedi will join the Star Tours experience.

Cutting-edge technology, digital 3D imagery, Audio-Animatronics characters, special effects, epic music and more… this journey is a total immersion into the many worlds of Star Wars. The Force is truly strong with Star Tours!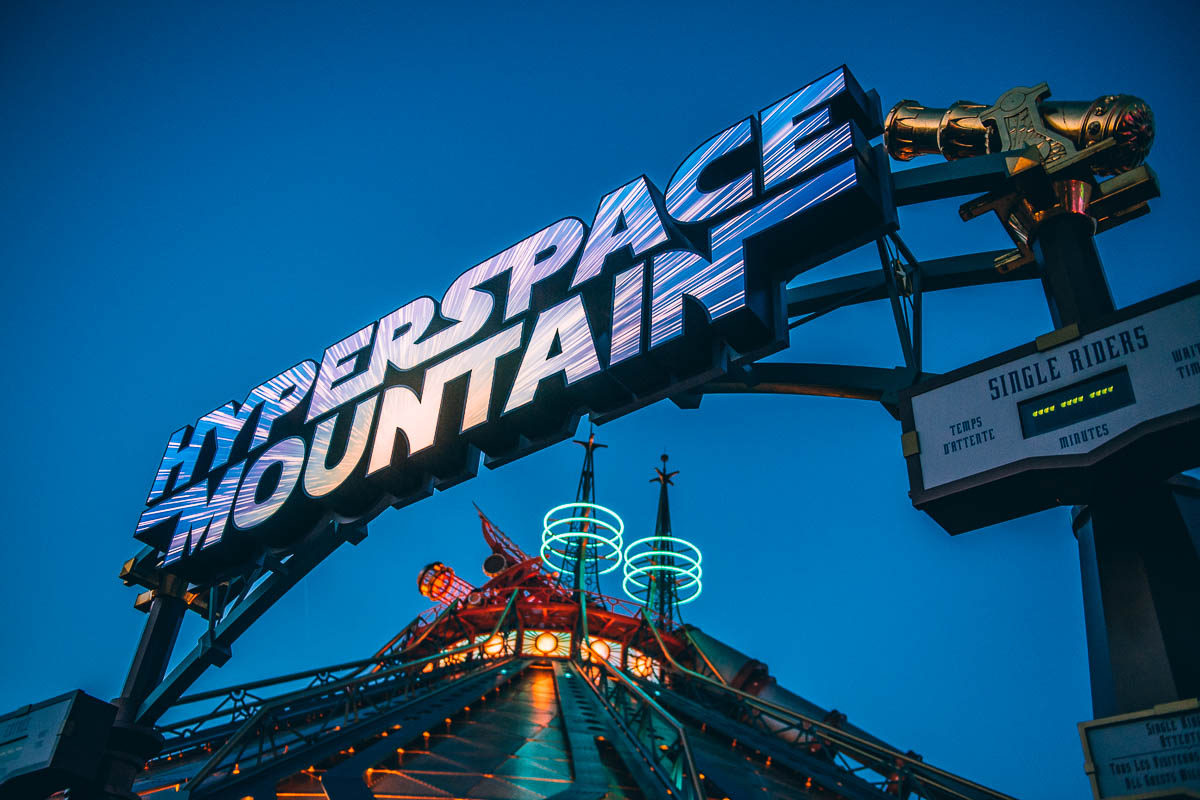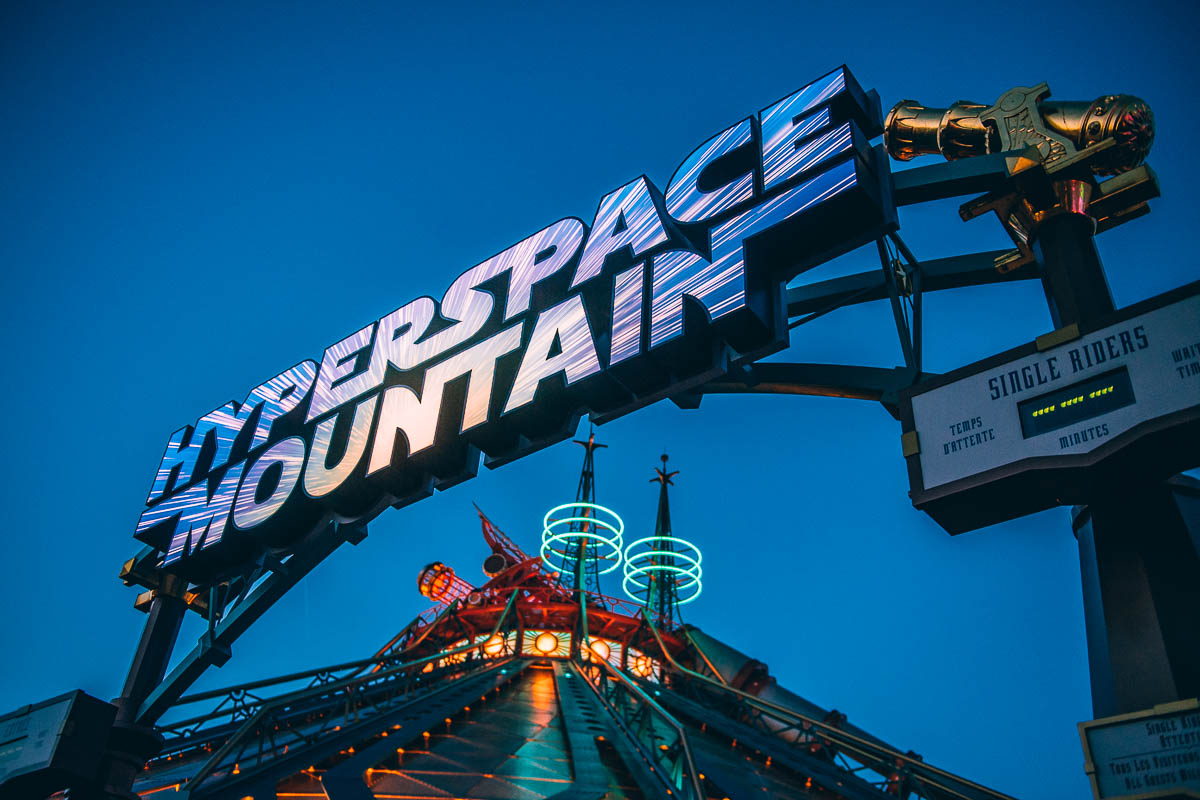 Star Wars Hyperspace Mountain
With Project Sparkle bringing many updates to Disneyland Paris, not every of those updates are without controversy. However, Space Mountain has always been the centre of controversy since the Mission 2 update in 2005. Pre-opening on the first Star Wars Nights, Hyperspace Mountain has been getting rave reviews, despite it just being a semi-permanent overlay.
For the 25th Anniversary of Disneyland Paris, Star Wars combined with an iconic Space Mountain to become Star Wars Hyperspace Mountain. With this new adventure, guests to Disneyland Park take flight to meet up with the famous Rebel Alliance and experience an epic expedition.
Meeting the Dark Side of the Force
Good news: you can stand up to Darth Vader at any age in Star Port! Come face to face him every day in a specially designed location in Discoveryland, near Star Tours: The Adventures Continue. A word of advice for your private meeting: don't drop your guard when the photo is taken.
Disney Illuminations
Nightfall also means a dazzling show in Disneyland Park: Disney Illuminations. This original show, inaugurated for the 25th Anniversary of Disneyland Paris, includes sound and light shows, projections, water fountains and fireworks to take your breath away. You will be guided through a multitude of adventures, particularly in a galaxy far, far away, featuring the Millennium Falcon, TIE Fighters, Stormtroopers and more. The Force is with you at Disney Illuminations, with a sequence of live action shots to delight all Star Wars fans.
Missing things
Path Of The Jedi, which is arguably the worst translated product ever to hit the parks isn't listed anywhere in the press materials, and neither is the fan favourite Jedi Training Academy. Ending their run back in september, the latest rumours are that the show will move into the Discoveryland Theatre, taking over Path Of The Jedi. While it will miss the massive audience that's eating in Café Hyperion, it's something that could bring a lot of life to this part of the park.